The coworking scene in Bristol is booming. As remote and freelance work becomes increasingly popular, coworking spaces are the place for individuals and businesses looking for an inspiring yet cost-effective workspace.
With nearly 18,700 coworking offices worldwide and counting, it's no wonder that an estimated 42% of freelancers and remote workers flock to these places. Bristol has many coworking startups that cater to a wide variety of professionals, from solo entrepreneurs to established companies.
Whether you're looking to grow your business, broaden your professional network, or simply get a change of scenery for your daily work grind, Bristol's coworking spaces have got your back. Indy invites you to discover the possibilities and opportunities that the city's flourishing coworking scene has to offer.
15 Best Coworking Spaces in Bristol
With a mix of community-focused spaces, niche hubs for creatives or techies, and everything in between, your perfect workspace awaits. Dive into Indy's hand-picked guide to coworking spaces in Bristol and unlock your business's full potential.
1. Runway East – Bristol
Look no further than Runway East for a contemporary coworking space that has it all. With two prime locations in Bristol near Temple Meads station and East Bristol Bridge, Runway East offers a relaxed yet inspiring environment designed with your business's growth in mind.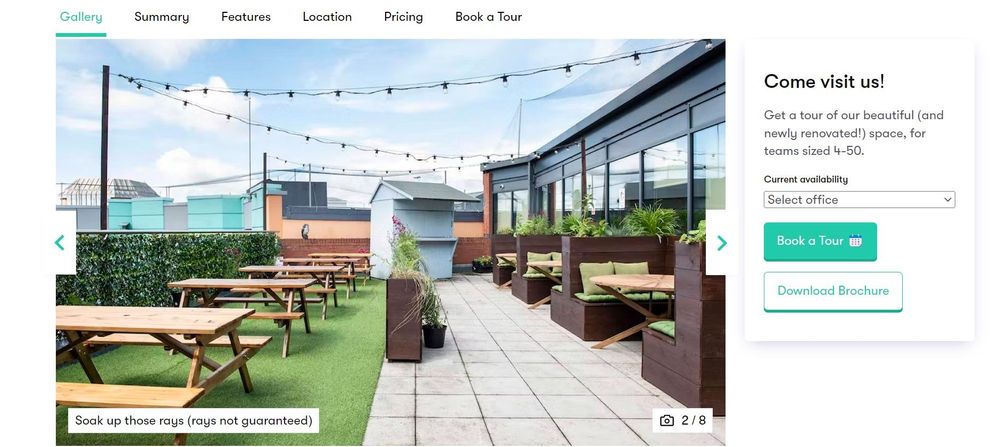 Runway East has everything your business needs to thrive, including lightning-fast Wi-Fi and an endless coffee supply to fuel your creativity. There are cozy private meeting rooms for your next client meeting or team brainstorming session.
Decked out in a stylish yet laid-back vibe with plenty of natural light, Runway East makes the ideal workspace to help you stay motivated and achieve your business goals. With its modern facilities, welcoming community, and convenient locations, it's no wonder the place is a top pick for Bristol's entrepreneurs and professionals.
Location:
1 Victoria St, Redcliffe, Bristol BS1 6AA
101 Victoria St, Redcliffe, Bristol BS1 6PU
Pricing: Dedicated desks are £310+VAT per month
2. Spaces – Castle Park
Spaces Castle Park's three-floor coworking space offers a vibrant and comfortable environment for businesses of all sizes. It's the perfect place for entrepreneurs, freelancers, startups, and established businesses.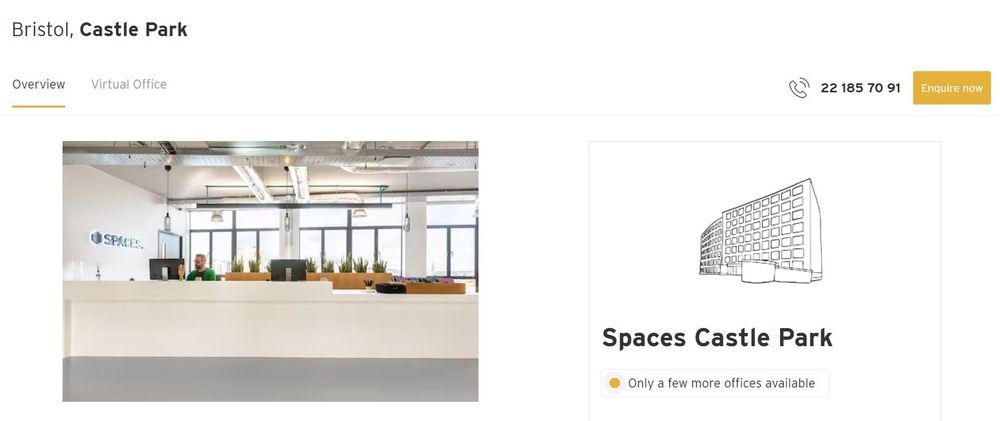 With fully customizable private offices, meeting rooms, event areas, dedicated desks, and drop-in hot desks, you can choose the workspace that suits your needs. And to ensure peak productivity, super-fast Wi-Fi and a steady supply of coffee and tea are on the house.
From startups to powerhouses, the Spaces community is full of driven professionals with a common goal—to grow their businesses. It works as the ideal launchpad for your professional career.
Location: Programme, The Pithay, Bristol BS1 2NB
Pricing:
£45 per hour for a meeting room
£89/month for a virtual office
£289/month for a dedicated desk
£295 per person/month for an office space
3. Flagship Spaces
Flagship Spaces focuses on becoming a flexible, fully functional workspace for any business or organization in the city. The Bristol outlet is designed to help you get more out of your workday.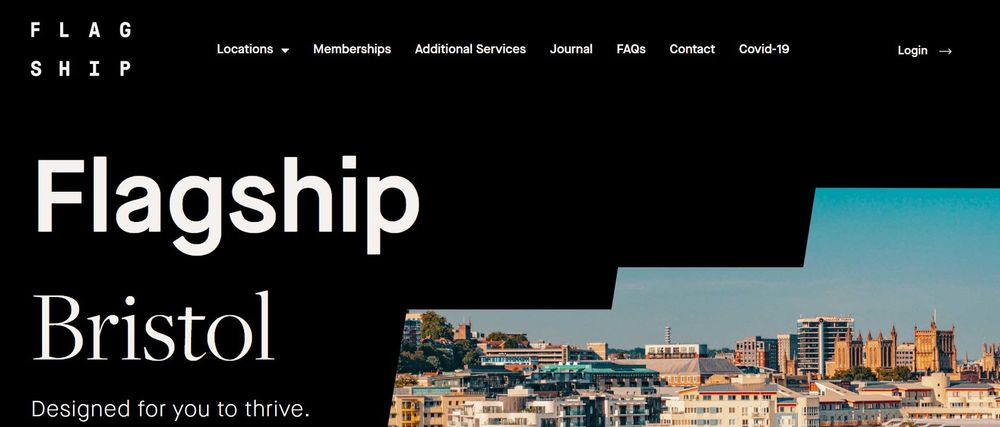 Whether you're looking for a dedicated desk space or want to drop in for a day, Flagship Spaces has it all. Enjoy high-speed internet, ergonomic seating, stylish meeting rooms, and a fully-stocked kitchen to fuel your creativity.
Private offices, dedicated desks, and hot desks with ample supplies let you work your way. And when it's time for a break, the lounge and kitchen are the perfect places to network and recharge.
With its great facilities, welcoming community, and convenient locations in the heart of Bristol, Flagship Spaces makes the ideal environment to drive your business forward.
Location: 37 Colston Avenue, Bristol BS1 4TN
Pricing: Enquire about various membership prices
4. Square Works
Square Works is a private coworking space and serviced office club like no other. Founded in 1999 as an exclusive hub for like-minded professionals, it remains devoted to creating an environment where work and play are in harmony.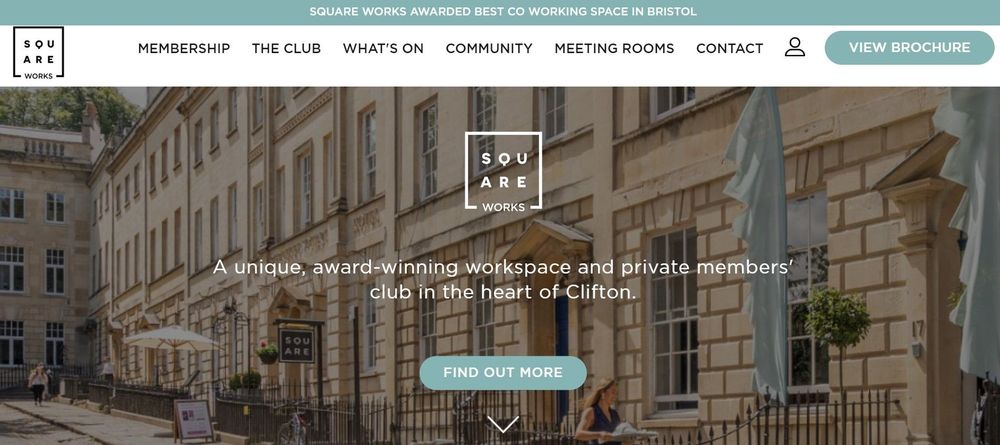 Square Works is the place to be for freelancers, entrepreneurs, and startups seeking an inspiring workspace. It offers Bristol businesses of all sizes a modern coworking environment for growth.
Enjoy high-speed Wi-Fi, stylish meeting spaces, and event areas with plenty of amenities. The prime Bristol location and motivating community also provide the perfect environment to gain new clients or collaborate with fellow professionals.
From solo workers to small teams, Square Works provides the space and community to help your business thrive. Discover the possibilities with Bristol's contemporary coworking space.
Location: 17-19 Berkeley Square, Bristol BS8 1HB
Pricing: A range of prices for hot desks and office memberships. Check all pricing here.
5. Landmark – Bristol City Center
Discover your perfect workspace with Landmark. Located in the heart of Bristol's city center, Landmark offers a coworking haven tailored to your needs. You can get a dedicated desk to call home or drop in for a productive work day.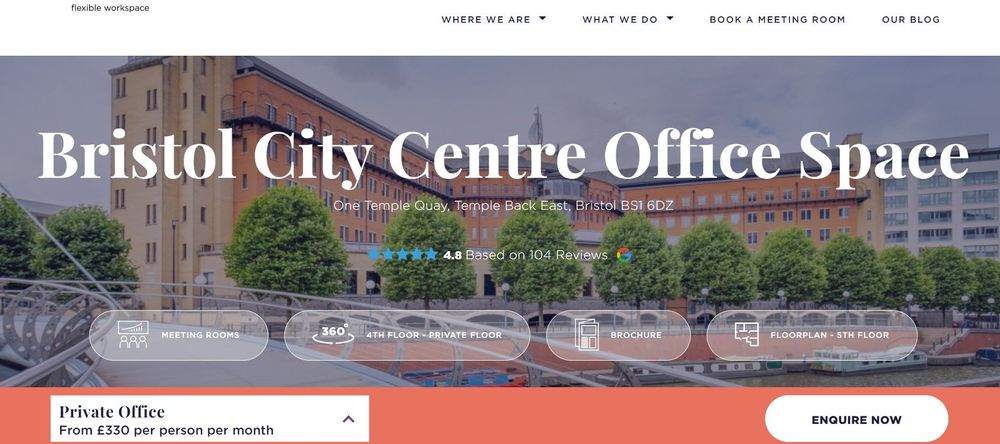 Create your ideal workspace with a fixed desk or work from the lounge and meeting areas. Their inspiring space, with fast internet and printing access, provides an energizing atmosphere perfect for tapping into your creativity.
Meeting rooms and event spaces also allow you to host client meetings, team catch-ups, or networking events.
Location: One Temple Quay, Temple Back E, Bristol BS1 6DZ
Pricing:
From £330 per person/month for a private office
From £150 for 5+ people for day office
From £56 per month for virtual office
6. Origin Workspace
In the hustle and bustle of Bristol's city center lies a coworking haven like no other. Origin Workspace offers a premium, flexible workspace crafted for productivity and community. It has a welcoming atmosphere for all types of businesses.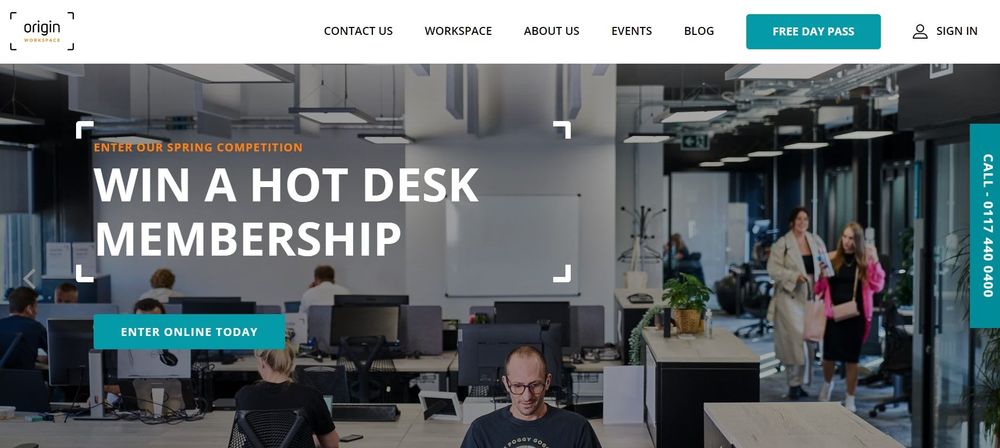 Choose from dedicated desks, shared stations, meeting rooms, and lounge areas—all equipped with the comforts and style of an upscale office. Enjoy panoramic city views, a breezy rooftop terrace, and monthly networking events at the workspace.
With its modern layout and vibrant community of business leaders and creatives, Origin Workspace inspires fresh ideas and meaningful connections.
Location: 40 Berkeley Square, Bristol BS8 1HP
Pricing:
From £300 PPPM for hybrid office space
From £410 pcm for dedicated desks
From £521 pcm for private offices
7. Orega
At Orega's contemporary workspace, you'll enjoy more than just a workplace—you'll gain access to a thriving hub of creativity, collaboration, and support.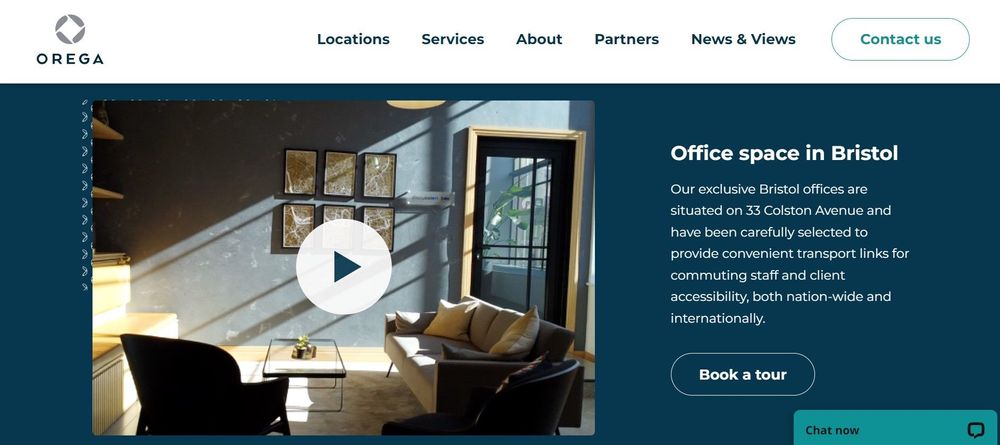 With dedicated desks, drop-in seating, high-tech meeting rooms, and vibrant communal areas, Orega delivers a flexible environment tailored to your needs. Meet like-minded professionals, join various events, and let your business shine with Orega's strong community and dedicated onsite community manager.
The place provides the warmth of an open office and the productivity of a private office. It will help you to reach new heights in your professional life.
Location: 33 Colston Avenue, Bristol BS1 4UA
Pricing: Contact them for a quote for serviced and virtual offices and meeting rooms.
8. Mild Bunch
In the heart of Bristol sits the city's longest-running coworking space. Mild Bunch offers an open workplace and community—perfect for inspiring your next big idea or growing your team.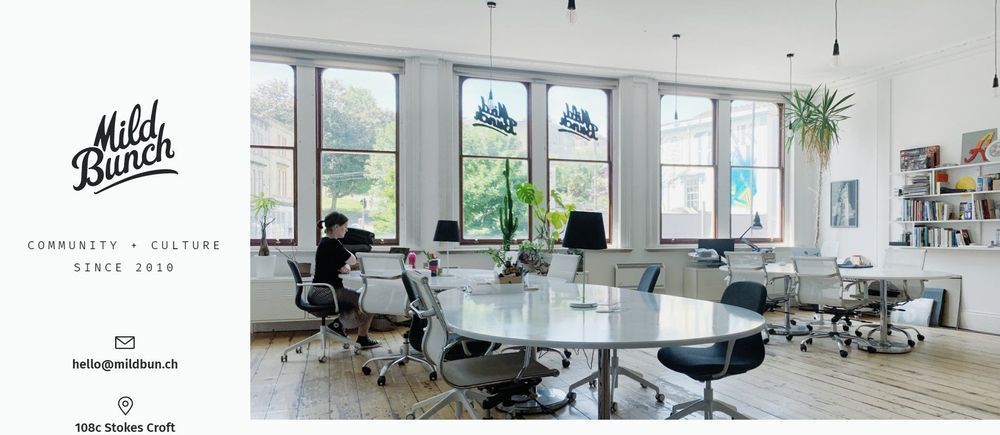 As a freelancer or founder, choose your ideal workspace. Enjoy drop-in hot desks, dedicated desks for your tribe, or private offices for client meetings. Once you've settled into your workspace, dive into Mild Bunch's events and pop-ups connecting Bristol's driven professionals and aspiring entrepreneurs.
With ample parking, nearby amenities, and reliable Wi-Fi, Mild Bunch makes your workplace hassle-free. Bring your work and dreams to life with the space and people to empower you.
Location: 108c Stokes Croft, Bristol BS1 3RU
Pricing: £250 for full-time/month and £125 per month for part-time
9. Rombourne
A hive of creativity and ambition awaits at Rombourne, Bristol's coworking space for the modern professional. It has three outlets, and all of them deliver a collaborative environment. The coworking spaces will impress with their sleek minimalist design and community of forward-thinking minds.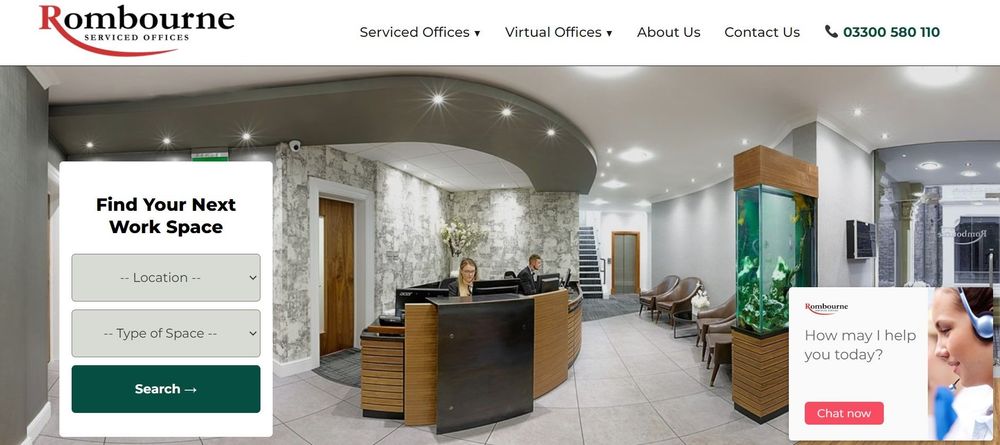 Rombourne provides remote workers and startups the ideal space to thrive. Choose your dedicated desk amid the open workspace or host private meetings in soundproof rooms. With 24/7 access, the place empowers you to work whenever inspiration strikes.
Whatever your goals, Rombourne's community and space fuel your success. Meet like-minded professionals, gain new clients, or transform your ideas into reality at Bristol's contemporary coworking club.
Location:
160 Aztec West, Bristol BS32 4TU
130 Aztec West, Bristol BS32 4UB
St Brandon's House, Bristol BS1 5QT
Pricing: Contact the branch where you want to rent a spot.
10. Redbrick House
Redbrick House is one of the top coworking spaces in Bristol. It delivers a modern shared office space crafted for productivity and community. The place provides a proper working environment at an affordable price.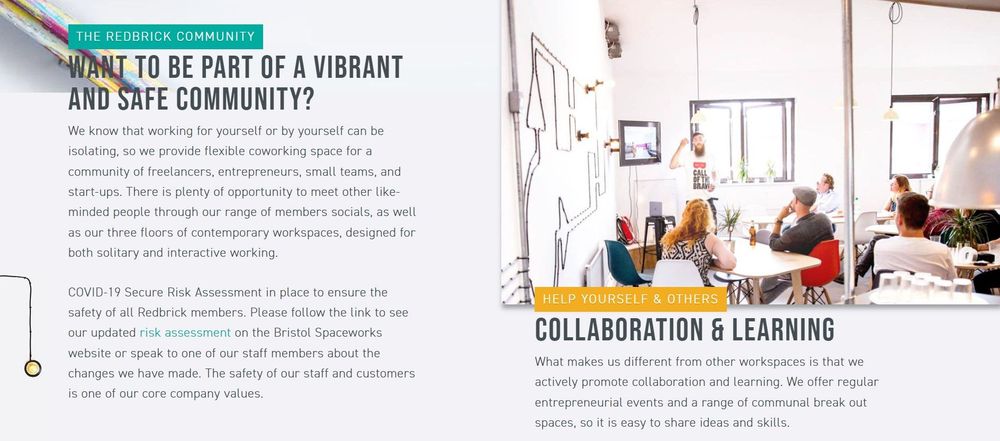 Leave the daily grind behind and gain a place to create, collaborate, and excel. Relish spacious desks, comfy chairs, and a welcoming atmosphere at Redbrick House. With high-speed Wi-Fi, printing, and 24/7 access, you'll have all the tools and time needed to transform your dreams into reality.
Location: 6 York Court, Wilder Street, Bristol BS2 8QH
Pricing: £100+VAT per month for 60 hours and £140+VAT per month for unlimited use
11. Gather Round – Brunswick Square
Gather Round Brunswick Square is one of the best coworking spaces in Bristol. This corporate office space is ideal for freelancers, entrepreneurs, and businesses looking for an inspiring workplace.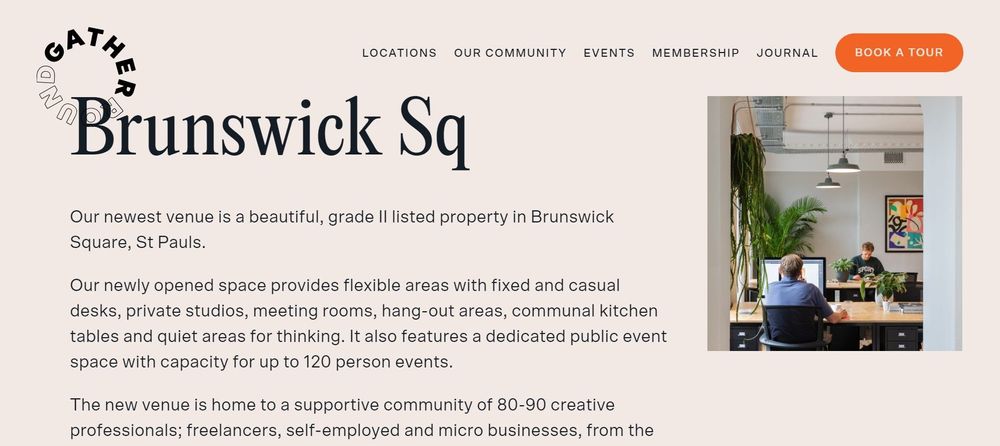 The open-plan layout and bright, airy spaces provide the perfect backdrop for creative thinking and problem-solving. Plus, you'll never feel stuck inside with plenty of natural light streaming through the large windows.
Gather Round provides the ideal backdrop for work, from impromptu team meetings to client presentations. Discover your workplace for growth at Bristol's community-focused coworking hub.
Location: 15-16 Brunswick Square, St Pauls, Bristol BS2 8NX
Pricing:
£40 p/m + VAT for virtual
£125 p/m + VAT for part-time
£195 p/m + VAT for full-time
£295 p/m + VAT for resident
From £640 p/m + VAT for studio
12. DeskLodge House
Whether you're an entrepreneur, freelancer, remote worker, startup, or growing business, DeskLodge House is a great place to make a workspace.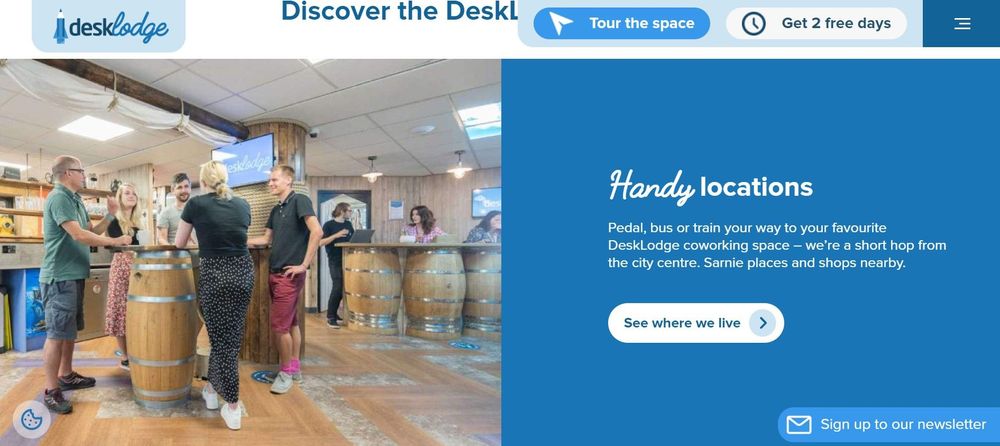 This Bristol coworking space offers a range of office sizes, workspaces, and amenities tailored to suit various needs. This means that whatever your business requirements, DeskLodge House have you covered.
Enjoy fast Wi-Fi, printing, and meeting rooms while networking with fellow ambitious professionals at DeskLodge House. With a range of drop-in seating, dedicated desks, and private offices, grow your business at your pace.
And when it's time for a recharge, relax in their lounge spaces while getting to know the community making waves in Bristol's business scene.
Location: 2 Redcliffe Way, Redcliffe, Bristol BS1 6NL
Pricing: The pricing varies widely, depending on the rent type. Check here.
13. Raw Space
The future of coworking has arrived at Raw Space. The place delivers an innovative shared workspace experience crafted for productivity and community. Forget sterile offices and isolation—Raw Space provides a dynamic environment where ideas are sparked, collaborations are formed, and businesses thrive.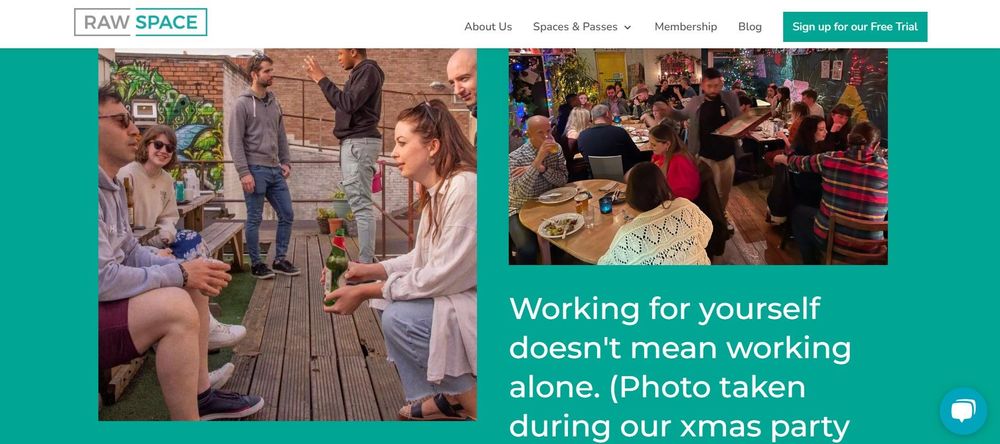 With state-of-the-art facilities, tailored amenities, and a supportive community, Raw Space empowers you to achieve your goals. Enjoy quiet zones, refreshments, and phone booths before networking on the rooftop terrace.
As a freelancer and entrepreneur, Raw Space offers an experience revolutionizing how we work.
Location: 111 Gloucester Road, Bristol BS7 8AT
Pricing:
£59 per month for 30 hours
£99/month for 60 hours
£199/month for unlimited access
£250 per month for a private desk
14. Clockwise
The Clockwise coworking space boasts a modern professional environment with quality office furniture and the latest digital communications technology.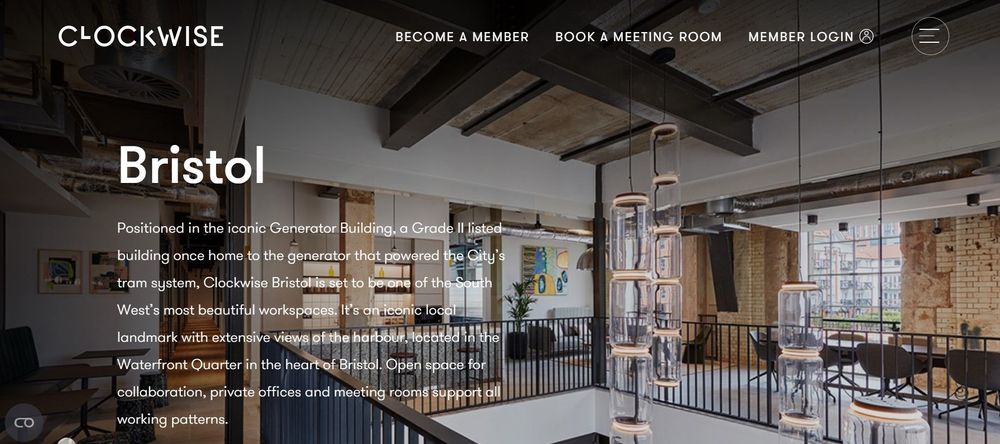 They offer a variety of spaces, including executive suites, shared offices, open-plan areas, and part-time offices. The coworking address also provides comfortable breakout spaces and communal kitchen facilities, allowing members to sit back, relax, and recharge.
Members can enjoy using the facility's meeting rooms for business presentations or interviews and access comfortable breakout areas with refreshment facilities.
You can also benefit from various related services, including printing, post, and parcel delivery services and professional event management.
Location: Finzels Reach, Generator Building, Counterslip, Bristol BS1 6BX
Pricing:
£25 per day for a hot desk
£50/month for virtual office
£125 per person/month for the club lounge
£300/month for fixed desks
£360/month for a private office
15. Pithay Studios
Pithay Studios is the perfect coworking space for modern-day professionals looking for a great place to get creative, productive, and connected. Located in the heart of Bristol, next to Temple Meads station, Pithay Studios offers an environment and amenities that are second to none.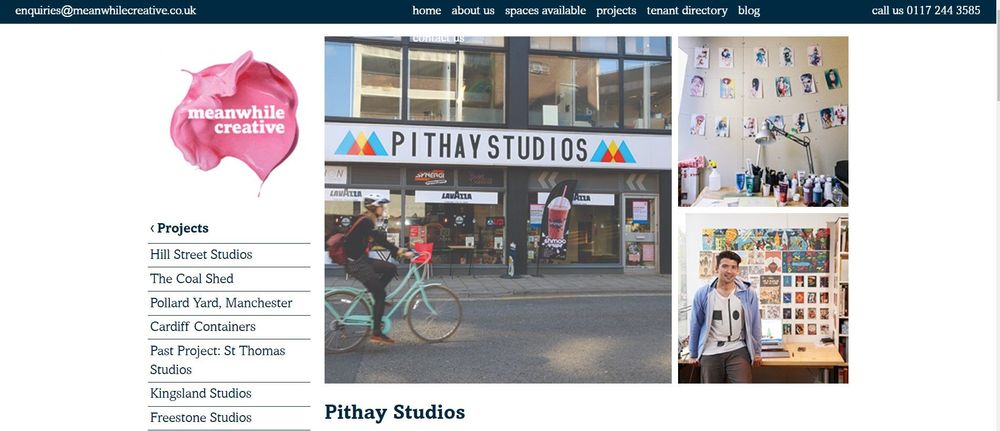 At Pithay Studios, they're committed to providing an inspiring, collaborative, and community-oriented atmosphere designed to foster creativity and collaboration. They've furnished private and shared office spaces, offered refreshments and snacks, and provided meeting and joint office space.
Their modern, open, and airy lounge area offers the perfect environment to sit back and relax with friends, catch up on some work, or enjoy some peaceful solitude. With comfortable sofas, lighting, and complimentary Wi-Fi, you'll soon feel at home in Pithay Studios.
Location: All Saints Street, Bristol, BS1 2LZ
Pricing: Desks at £99 per person/month, and private spaces range from £180 to £800 per person/month
Final Thoughts
Those were our picks for the best coworking spaces in Bristol. The future of work is here, and coworking spaces are leading the charge. With inspiring communities and tailored environments, Bristol's coworking clubs empower professionals and businesses to achieve more.
And when you are busy working and networking in these places, let Indy tools take care of your task management, contracts, and client communication. Check out Indy today and see how its tool suite can grow your independent business.