Entire agreement clauses are pretty standard in contracts, and freelancing ones are no exception. However, understanding what exactly they mean and the things they entitle can be a little complex. In fact, law experts have been discussing this clause since its inception, making it the subject of a lot of judicial analysis and litigation!
No need to worry, though. If anything, we've learned a lot during this time. In this article, we will explain all you need to know about the entire agreement clause, what the common approach to them is, and cover some examples so you can see how they can benefit you and your work. So, let's jump right in!
What are entire agreement clauses?
What is this clause, exactly? An entire agreement or whole agreement clause is a contractual provision designed to prevent parties from being liable for representations and statements made outside the contract (also known as prior agreements). What does this mean? Well, the clause just asserts that the contract in question constitutes the entire agreement, and anything that falls outside of it is not part of it or enforceable.
For example, before signing a contract, you might have carried out negotiations or discussions with a client. If these are not explicitly set out in the written agreement, they cannot be relied upon later by the involved parties. Let's suppose you discussed with the client you would produce some marketing collateral. As time goes on, though, both parties forget about this, so they are not mentioned as part of the deliverables in the resulting contract. Then, you would not be obliged to provide the assets, even if your client remembers this conversation and ask you for them.
If you didn't have an entire agreement clause, you might have to produce the collateral (perhaps for free). With this clause, the verbal agreement would be considered null because it happened outside the contract.
As you might guess after this example, the reason why these clauses have been the subject of heated debate has to do with the possibility of someone relying on pre-contractual misrepresentations. Nowadays, entire agreement clauses are interpreted rather strictly. If a party wants to exclude liability for representations that are not part of the contract, these will need to be included in a statement.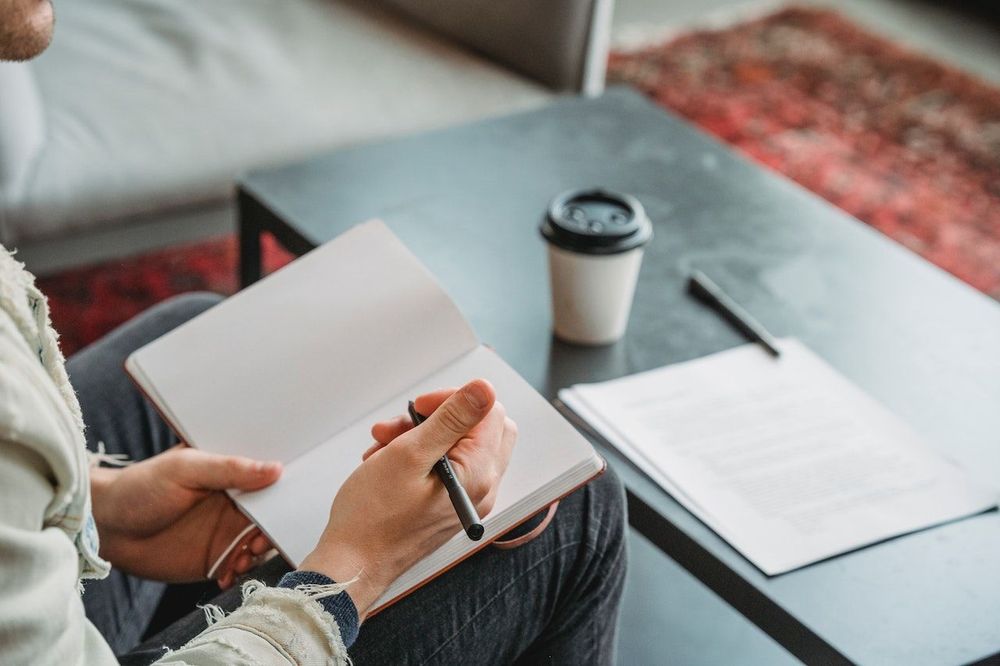 The elements of an entire agreement clause
An agreement clause has several provisions or parts. Typically, these will include one or more of the ones we'll list below.
Entire agreement statement: This statement declares that the document where it appears (and all documents it might refer to) contains the totality of the bargain reached by the parties.
Non-reliance clause: This clause typically states that the contract parties have not relied on any statements, claims, or representations when entering the agreement.
Express exclusion of liability: This part means that the parties are not to be held liable for damages resulting from particular actions such as misrepresentations or negligence.
No exclusion of fraud: This statement normally confirms that the entire agreement clause does not exclude fraud liability.
Restriction of remedies: This part limits the party's remedies (when they arise from misrepresentations) to contractual remedies alone.
It's important to note that contractual provisions can't be interpreted in complete isolation. A court will always consider a clause as part of a whole agreement, and boilerplate clauses are no exception.
An example of a case involving a disputed entire agreement clause
Let's look at an example that is typically referred to when talking about the entire agreement clause and its limitations: The case of two buyers who purchased all the shares in Nottingham Direct Football Club. This is the clause as it appeared on the contract terms:
"This agreement (together with the documents referred to in it) constitutes the entire agreement between the parties and supersedes and extinguishes all previous discussions, correspondence, negotiations, drafts, agreements, promises, assurances, warranties, representations, and understandings between them, whether written or oral, relating to its subject matter."
The people who purchased the shares brought a claim saying that the liabilities of the club were falsely stated in the pre-contractual documentation (and they had relied on them before entering the agreement). The seller of the shares denied this and instead relied on the entire agreement clause, which excluded the statutory misrepresentation claim. In the end, the court agreed with the seller.
This was a relatively straightforward decision; however, judicial analysis of these clauses tends to serve as guidance only. Most cases will be evaluated in their contractual context. This is why it's essential to get the clause drafted right from the get-go.
Key factors for an entire agreement clause
The entire agreement clause is a very important component of a contract and especially relevant for large-scale projects that have longer periods involving the exchange of a lot of information! Even when trying to implement the best practice protocols, you need to make sure you create or review this clause carefully. So, here are some key factors to do so.
Legal enforceability
Entire agreement clauses can sometimes operate as an exclusion clause because they can deny an otherwise allowed remedy to a party. The interpretation can vary from jurisdiction to jurisdiction, but language is an essential consideration.
For example, you should always use express and clear language to exclude a party's liability when it comes to negligent misrepresentation. Unfortunately, many contracts don't do this! So it's best to include additional confirmations for non-representations and non-reliance (even though many jurisdictions won't allow you to exclude gross negligence liability).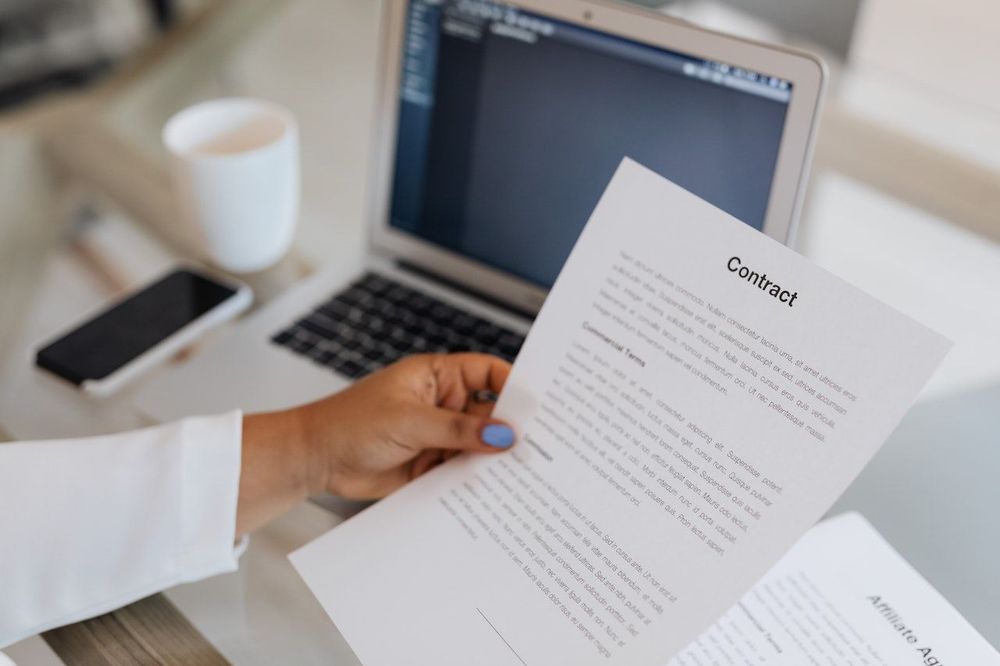 Prior agreements and parallel arrangements
If two parties enter an early services or works agreement, it's essential to ensure those prior arrangements are appropriately addressed. For example, will these prior agreements consider part of the new contract? And are their prices wrapped into the new documentation? If there are parallel arrangements that need to remain in place, these will also need to be expressly set and excluded from the entire agreement clause.
Exclusion of implied terms
If a contract is very comprehensive, some parties might prefer to exclude certain implied terms to make sure the arrangement is limited to the contract alone. These terms can be required to give efficacy to the agreement or be implied by statute. Of course, some terms cannot be excluded by law.
Interaction with other provisions
In some cases, an entire agreement clause can limit a party's liability for misrepresentations that are made within the contract itself (rather than before in pre-contractual statements). However, this is a relatively uncommon scenario. If the contractual parties want to limit the remedies for the breaching of warranties, they should instead use a separate provision for remedy types.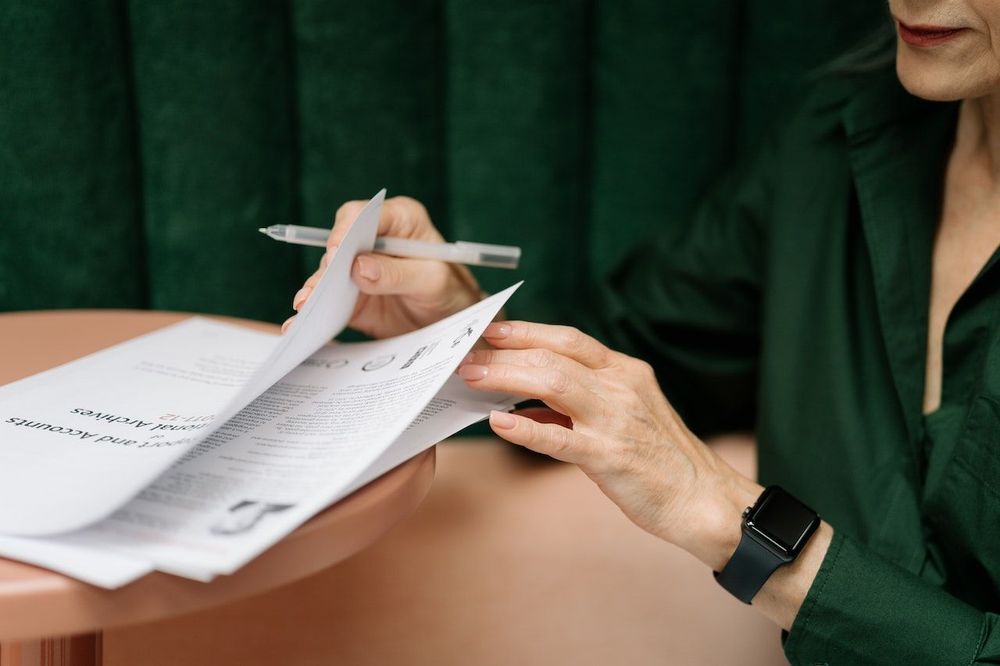 Examples of entire agreement clauses
We've covered a case dealing with an entire agreement clause, but this is just one possible way in which you can use the terms as part of a written contract.
Many boilerplate provisions are more specific when it comes to pre-contractual representations, extrinsic documents, and prior agreements being excluded from the final agreement.
So, here are some examples of clauses in use, courtesy of Law Insider.
"Entire Agreement. This Agreement contains the entire agreement and understanding among the parties hereto with respect to the subject matter hereof, and supersedes all prior and contemporaneous agreements, understandings, inducements and conditions, express or implied, oral or written, of any nature whatsoever with respect to the subject matter hereof. The express terms hereof control and supersede any course of performance and/or usage of the trade inconsistent with any of the terms hereof." From Receivables Sale Agreement Ocwen Loan Servicinf LLC, HLSS Holdings LLC and NRZ Advanced Facility Transferor.
"Entire Agreement. This Agreement (together with the other agreements and documents being delivered pursuant to or in connection with this Agreement) constitute the entire agreement of the parties hereto with respect to the subject matter hereof and thereof, and supersede all prior agreements and understandings of the parties, oral and written, with respect to the subject matter hereof." From 15,000,000 Units Armada Acquisition Corp Underwriting Agreement.
"Entire Agreement. This Agreement constitutes the entire agreement between the parties hereto with respect to the subject matter contained in this Agreement and supersedes all prior agreements, understandings and negotiations between the parties." From Agreement between Note Holders and CITI Real Estate Funding Inc.
Do you need an entire agreement clause as a freelancer?
The short answer is: Definitely. All contracts should have such a clause determining that the written agreement supersedes any prior agreement. No matter your industry or field, you should always make sure you are protecting yourself and any other parties from arrangements that should no longer have legal effect.
It's worth noting, though, that just because an entire contract clause is in place, this doesn't mean an agreement has no background! It's okay to include provisions and events that can form the basis for legal claims. For example, documents signed by the parties, heads of terms, oral statements, or letters of intent. All an entire agreement clause does is make sure the contract is limited to what's referred to in it explicitly and not things like informal arrangements and understandings.
As we mentioned, these clauses have a long history of judicial scrutiny. In time, they have taken many shapes and sizes, but there's one thing they all have in common: They cannot stop all claims. For each case, a court will evaluate the background of a contract and the precise terms.
This can seem a little daunting, but don't worry. If you want to be protected, all you need to do is make sure you are using a good boilerplate with solid entire agreement clauses that take into consideration the rich background of this legal concept.
Using contract templates with solid entire agreement clauses
You can write your own contract terms and include an entire agreement clause based on the examples we covered above. However, if you're not familiar with common law, you might have some trouble covering all possible scenarios that can potentially put your business at risk.
As we mentioned above, the easiest way to ensure you have a good contract in place is to use a template that's been legally vetted. So, how can you know a contract template is trustworthy? You could use one of Indy's!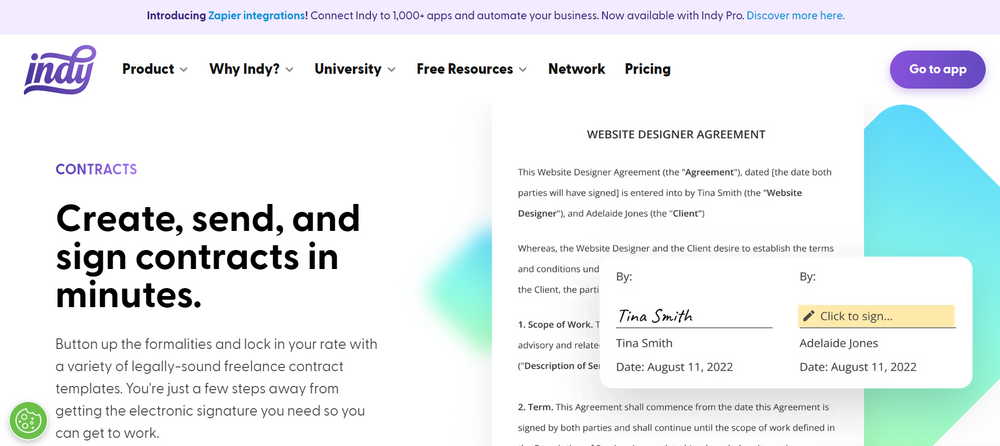 Indy is a powerful one-stop shop for freelancers and small businesses that want to save time and money. This solution can help you grow your company and simplify the process of sending proposals and invoices, tracking tasks and billable hours, messaging clients, and receiving payments. And, what's even better, Indy has a series of contracts you can use and customize to your liking.
All you need to do to get started is:
Sign up for Indy (it's free forever!)
Explore the contract templates available and pick the one that best fits your project. There are contracts for all types of freelancers and small business owners—from design and software development to event planning, photography, acting, influencing, and many more.
Customize your contract by adding your client's information and yours. You can also change any terms and clauses and include your own branding and identity elements and connect all the information to Indy's other tools (such as projects, tasks, etc).
Send your contract to your client, get it signed, and start working!
That's it. The receiving person won't even need to create an Indy account, they can just sign electronically and you'll be notified instantly. From then on, you can use Indy's other great tools to track work, send invoices, and get paid. As you can see, you can start working on your project in just minutes!
Conclusion
All contracts need an entire agreement clause that defines what provisions will fall outside of them. Their goal is to make sure no parties rely on preceding agreements or discussions that are not included in a contract. To be safe, you should always read the clause carefully and only trust templates that have been created and vetted by legal professionals.
By using Indy, you can be sure your freelancer contract will cover all the important information so both parties can understand what's expected from whom. So, what are you waiting for? Don't risk your business by working with incomplete or inconsistent contracts. Sign up for Indy and discover all the tools to grow your company or brand!