Close to 70% of businesses have over 1% payment error rate, which boils down to inadequate invoicing. Managing accounts, invoices, and finances have become an integral part of a freelancer or small business owner's job.
Many freelancers use FreshBooks to take care of their invoicing and accounting needs. There are many other tools like FreshBooks that offer the same or even better value for money.
Let's look at the nine best FreshBooks alternatives, along with their key features and pricing.
What Is FreshBooks?
FreshBooks is a small business management system that offers payroll management, inventory management, and accounting tools. It is a leading invoicing software solution with over $24 million users worldwide.
FreshBooks is suitable for four types of businesses:
Freelancers
Self-employed professionals
Businesses with employees
Businesses with contractors
With FreshBooks, you can manage all your invoicing, expense tracking, expense management, and time tracking requirements in one place.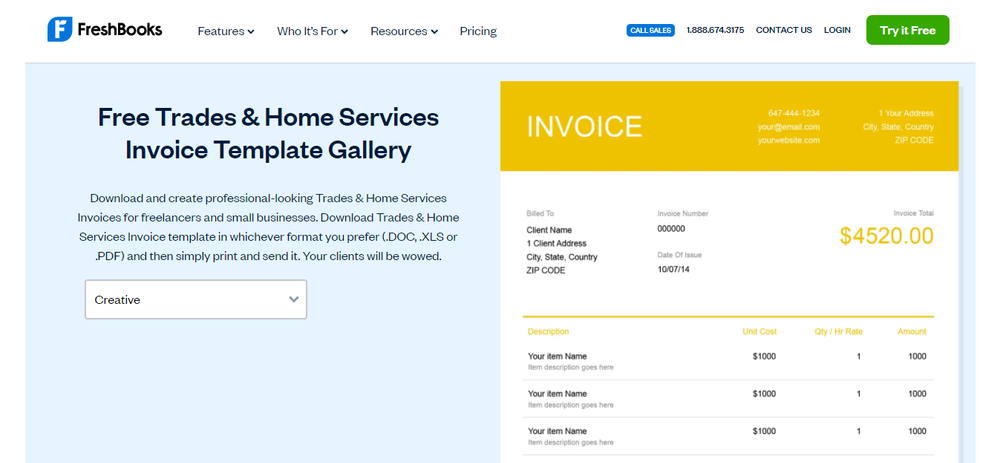 Let's look at some features of FreshBooks:
Accounting and bank reconciliation
Accept payments in multiple currencies
Send proposals and invoices
Time tracking and schedule management
Task and project management
Inventory and vendor management
Mileage tracking
Client portal and collaboration
FreshBooks integrates with over 100 useful apps, so you don't have to switch between tools now and then. It works with Bench, Stripe, Slack, Gmail, Mailchimp, and more.
FreshBooks has three plans:
Lite: $6.00 per month
Plus: $10.00 per month
Premium: $20.00 per month
You can also select a custom plan as per your specific requirements.
Does FreshBooks Support Inventory Management?
Yes, FreshBooks recently added inventory tracking functionality to its platform. Most freelancers don't need inventory tracking, but many service providers also sell products. For example, dog trainers may sell dog collars; psychotherapists may send stretching bands, etc. If you sell products, the inventory management module in FreshBooks will be helpful.
Importance of Accounting Software for Freelancers
When you take up full-time freelancing, you need to ensure you have all the resources needed to survive, thrive, and succeed as a freelancer. Freelancing essentially means running a business. You are your own boss, which means you need to handle all aspects of a business. These include invoices, payments, taxes, and even payroll if you have employees. If you sell products, you must handle vendor and inventory management as well.
Best FreshBooks Alternatives for Freelancers and Small Businesses
Indy is one of the best alternatives to FreshBooks. It's an all-in-one business management tool for freelancers, and everyone from very small businesses to large freelancing agencies can use it. The tool allows you to create invoices using invoice templates and send them to your billable clients. It also has all the basic features available in FreshBooks but at a much affordable price.
Let's look at the key features of Indy:
Chat rooms for clients and team members
File storage and sharing
Proposals
Send invoices and accept payments
Create contracts and get them signed
Calendar and time tracking
Task and project management
Advanced features like task management and live client communications make Indy one of the best alternatives to FreshBooks. The tool allows you to send unlimited invoices and accept online payments using various payment methods. Above all, it has an intuitive and easy-to-use interface.
Indy has two plans. The Free plan gives you free unlimited access to all the basic tools you need to manage your business, like task management, forms, time tracking, chats, and an intuitive calendar, plus 3 free invoices, proposals, and contracts a month. The paid plan, known as the Pro Bundle, charges $12 per month (or just $9 per month with the Annual plan) and provides unlimited access to the entire platform and all its enhanced features.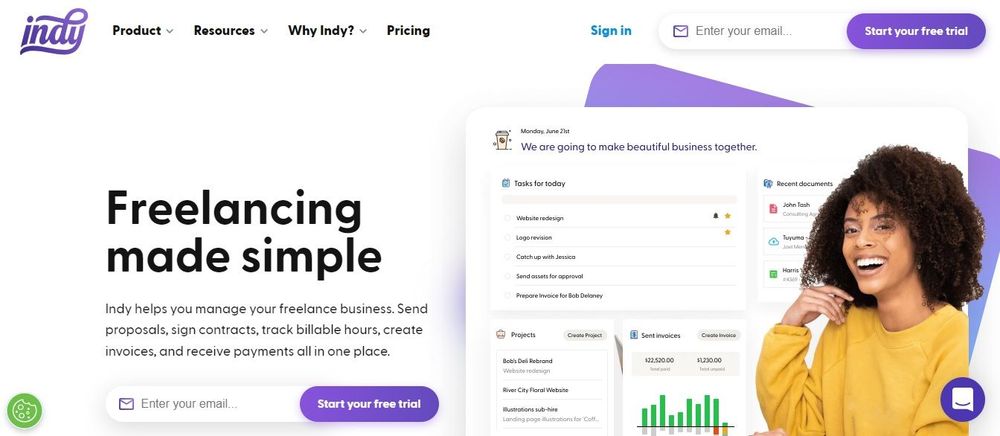 Besides Indy, there are many FreshBooks alternatives out there, all offering distinct features and benefits. Some tools focus on affordability and usability, while others provide a robust solution with many features and capabilities. The software you choose will depend on your budget, objectives, and challenges.
Check out these FreshBooks alternatives and select the one that best fits your requirements.
Xero
Xero is a close FreshBooks alternative with many features. It has affordable plans and allows you to add unlimited users irrespective of the plan you choose. Xero connects with your bank accounts, allowing you to manage all your financial requirements with ease. Whether you are a freelancer, small business owner, or bookkeeper, you can benefit by using Xero.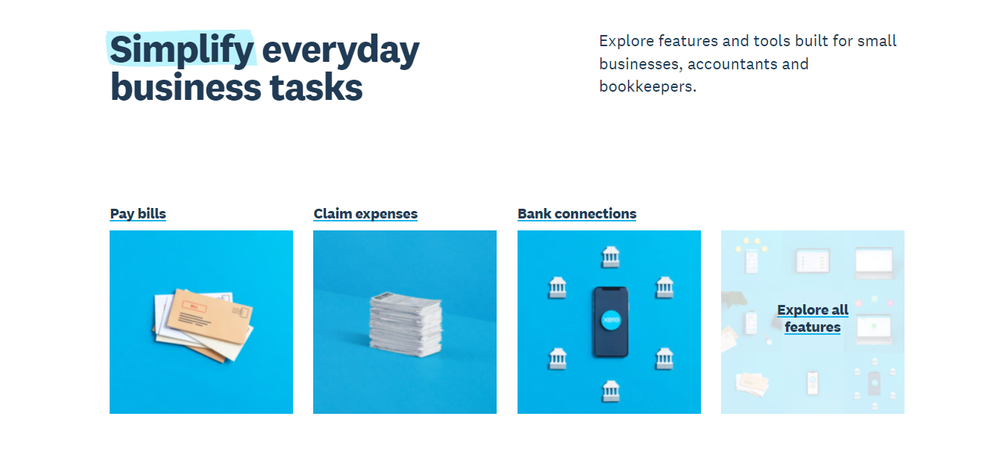 Key Features:
Pay bills and claim expenses
Connect with your bank account
Send invoices and accept payments in multiple currencies
Track and manage projects
Basic reporting and inventory management
Pricing: Xero has three plans: Starter ($22/month), Standard ($35/month), and Premium ($47/month). There is no free version, though Xero offers a 30-day free trial on all plans.
Zoho Books
Zoho Books is a lightweight, user-friendly invoicing tool with advanced invoicing, accounting, and tax management features. The tool also lets you automate business workflows, track and manage projects, and ensure operational efficiency. Zoho Books integrates with over 40 enterprise applications, including Google Suite, Office 365, PayPal, Uber, and more.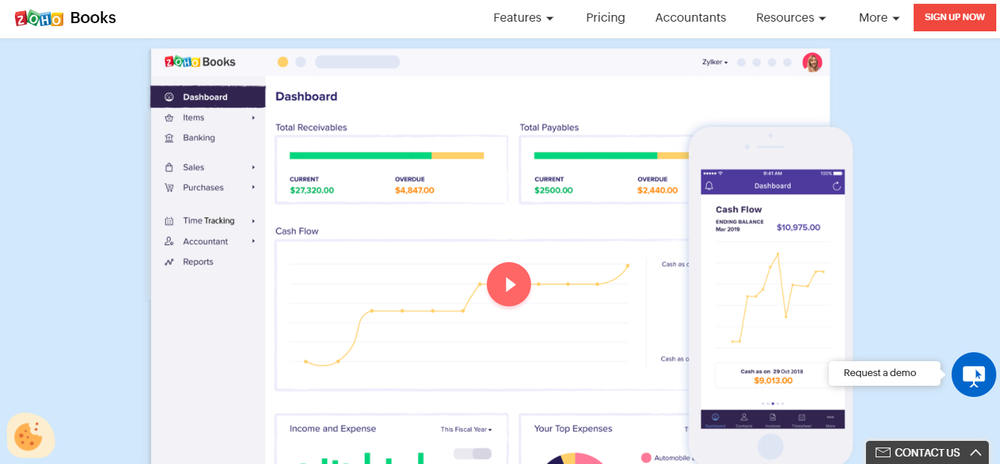 Key Features:
Accounts receivables and payables
Inventory tracking and asset management
Client and contact management
Online invoicing, proposals, and estimates
Banking and payment processing
Pricing: Zoho Books has six multi-user plans: Free (completely free), Standard ($10 per month), Professional ($20 per month), Premium ($35 per month), Elite ($70 per month), and Ultimate ($105 per month).
QuickBooks Online
QuickBooks is a small business accounting solution and one of the best alternatives to FreshBooks. Millions of users worldwide trust this for their accounting, inventory management, and project management requirements. QuickBooks Online makes it incredibly easy to create professional-looking invoices. It has both the QuickBooks Desktop version and a mobile app.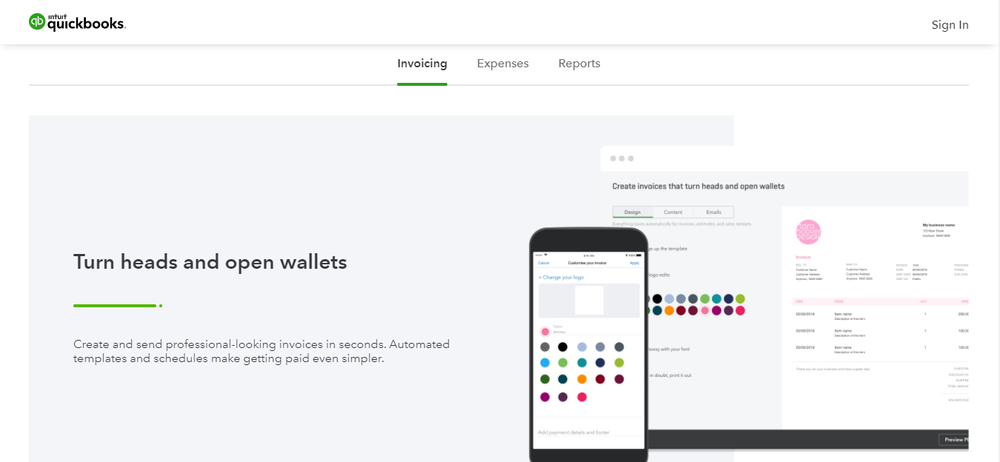 Key Features:
Unlimited invoicing from anywhere
Connect with your bank account
Live bookkeeping with a dedicated bookkeeper
Task and project tracking
Accounts payable and recurring invoices
Pricing: QuickBooks has multiple pricing tiers and paid plans: Simple Start ($7.50 per month), Essentials ($15 per month), Plus ($24 per month), and Advanced ($54 per month).
CloudBooks
CloudBooks is a small business account and invoicing tool that allows you to send custom invoices to your clients and get paid on time. The tool makes creating invoices easy. It comes with various other useful features, like time tracking and project management. If you need an affordable solution, CloudBooks can be an excellent alternative to FreshBooks.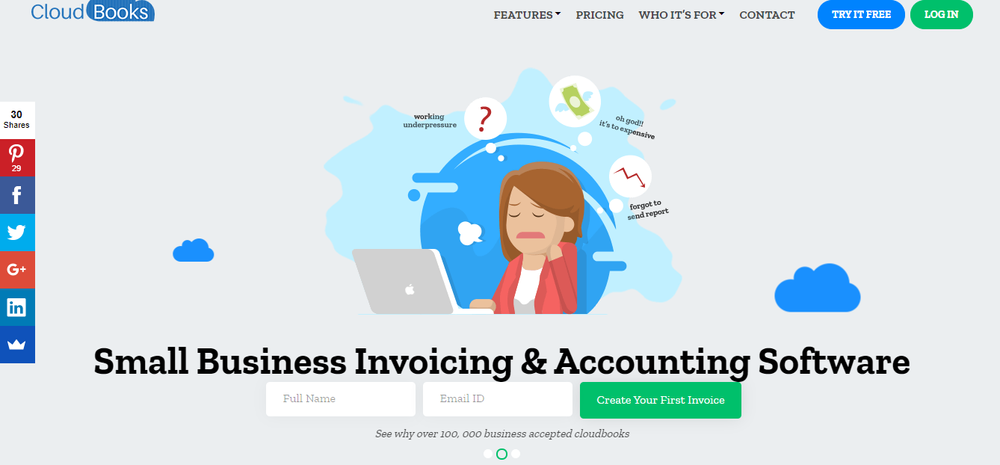 Key Features:
Create and send customizable invoices
Task tracking and project management
Time tracking and calendar
Bank transactions and payments
Reporting and analytics
Pricing: CloudBooks has three plans: Free, Team ($10 per month), and Agency ($20 per month).
Wave
Wave is a fantastic accounting and invoicing tool for businesses that have tight budgets. Wave is almost similar to tools like QuickBooks and CloudBooks in terms of features. It allows you to create and send invoices, manage your books, accept payments, and more. Wave has two separate tools: Wave Accounting and Wave Invoice.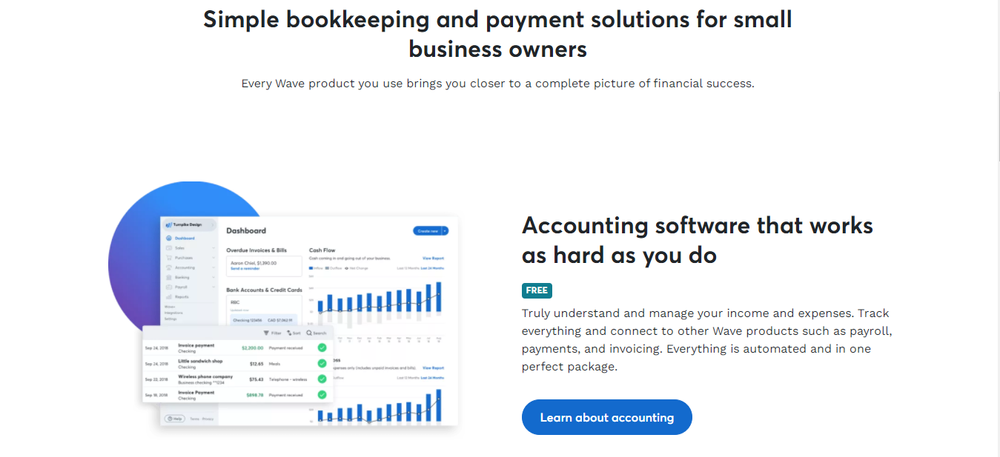 Key Features:
Create and send invoices
Accept payments and track expenses
Connect with banks and credit cards
Send invoice reminders
Set up recurring billing and invoices
Pricing: Wave is completely free. It has no paid plans, and you get access to the entire platform and all features for free.
ZipBooks
ZipBooks is a simple and elegant accounting software solution that offers numerous features and advanced tools to manage your freelance business. The software simplifies the accounting process for business owners, eliminating the need for expert accounting knowledge. ZipBooks also has an Intelligent Insights module that gives data-driven business insights.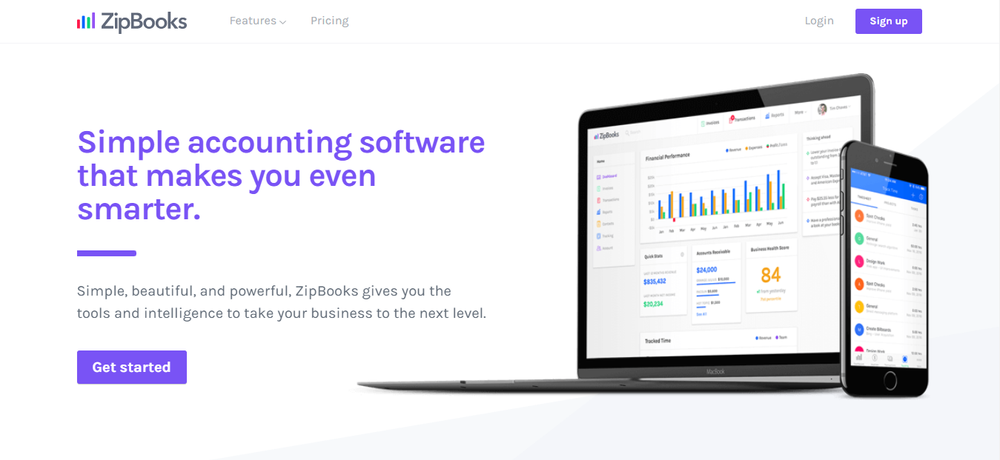 Key Features:
Effortless accounting and financial management
Billing and invoicing
Expense tracking and management
Intelligence reports for informed decision making
Project estimates
Pricing: ZipBooks has four plans: Starter (free), Smarter ($15/month), Sophisticated ($35/month), and Accountant (custom pricing).
AccountEdge Pro
AccountEdge is an accounting solution best suited for growing businesses. If you need a tool that grows with your business, AccountEdge Pro is the right pick for you. The best thing about AccountEdge Pro is that you can deploy it on the cloud or on-premise. If you sell products online, you leverage numerous integrations to run and grow your online business.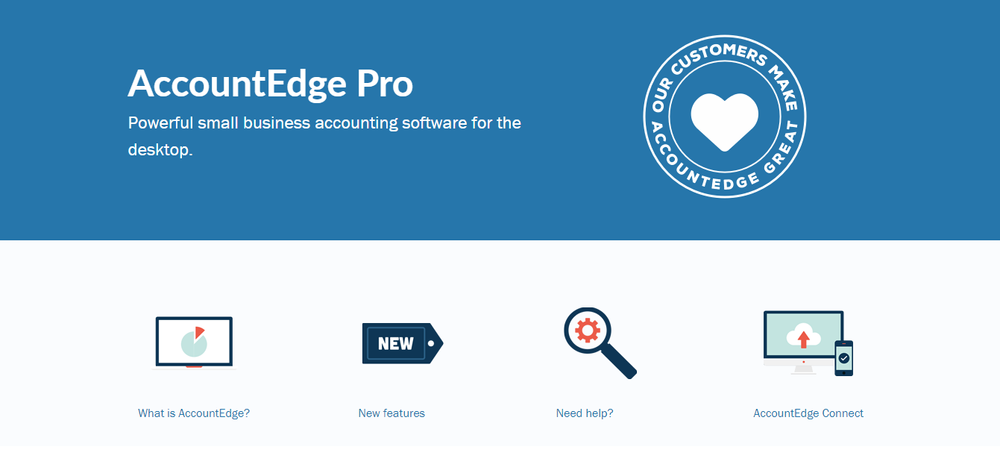 Key Features:
Accounts and balance sheets
Profit and loss statements
Sales tax reports
Accept payments in multiple currencies
Client and customer management
Pricing: AccountEdge Pro has two versions. One is the Pro version, available for $499 (one-time fee). The second is the Priority ERP version that comes with custom pricing.
Sage 50cloud Accounting
Sage 50cloud Accounting is a powerful accounting and financial reporting tool best suited for large freelancing firms and businesses. If you need a robust accounting system that takes care of all your financial requirements, Sage 50cloud can be a suitable pick. It provides all the features you need to manage finances, vendors, and projects.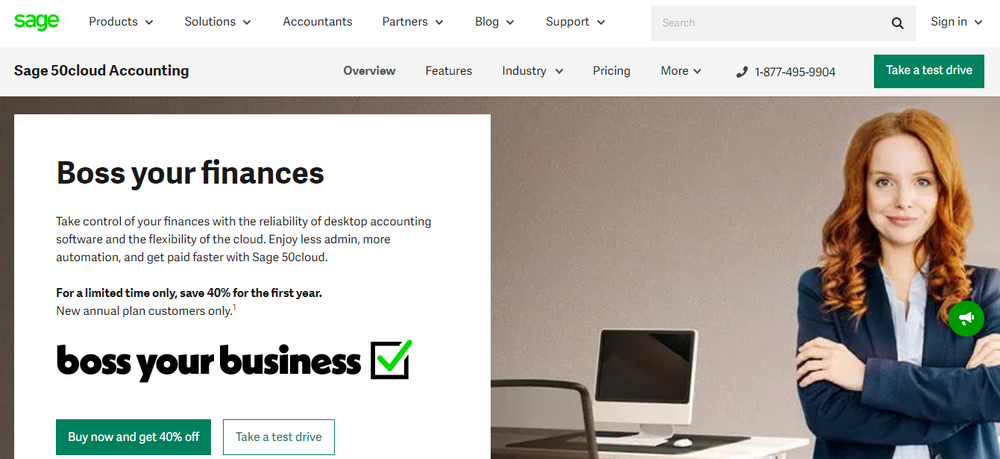 Key Features:
General ledger
Accounts payable and receivable
Bank reconciliations
Reporting and analytics
Integration with various tools
Pricing: Sage 50cloud has three plans: Pro Accounting ($16 per month), Premium Accounting ($26 per month), and Quantum Accounting ($43 per month). There is no free version, though you can test the software before buying.
Kashoo
The final FreshBooks alternative on our list is Kashoo. It's a user-friendly accounting app that allows freelancers and small businesses to manage their processes seamlessly. Instead of offering a full-fledged system, Kashoo has three products. It has a simple app for invoicing and accounting, a comprehensive accounting product suite, and a robust accounting system.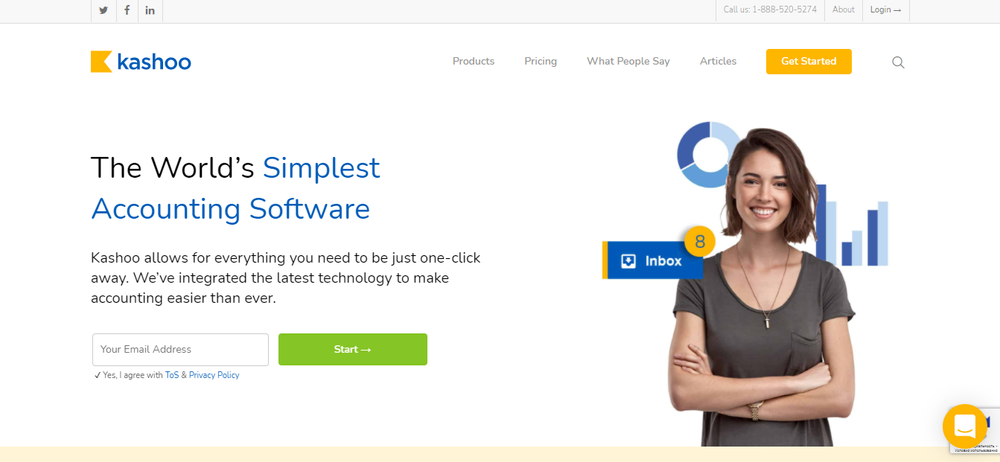 Key Features:
Generate critical business reports
Connect to over 5,000 banks and credit unions
Enter and manage repeating expenses
Import bank transactions
Create and send invoices
Pricing: Kashoo has three products: Truly small Invoices (free), TrulySmall Accounting ($20 per month), and Kashoo ($30 per month).
We recommend Indy as the best alternative to Freshbooks. Though Freshbooks has robust features, it lacks some essential functions like contract and proposals management that every freelancer needs. Plus, it has three pricing tiers, making the pricing structure complex. Indy is an all-in-one freelance management tool that provides all features at an affordable price tag of $12/month only.
Conclusion
Finding an alternative to FreshBooks is easy, with so many amazing tools available. Indy is the best FreshBooks alternative for freelancers. It's an all-in-one freelance business management tool that offers various helpful features at an affordable cost. It also has a generous free version.
Besides, you can choose a tool from the nine alternatives listed above. All solutions have their unique capabilities. For instance, Wave is completely free, QuickBooks has more features, Xero is more robust, and Sage 50cloud has better accounting features. So, determine your specific requirements and find an alternative accordingly. We believe that the best invoicing software for freelancers is Indy, because it was specifically designed for your unique needs. Get started today for free!