If you're new to the world of Client Management Systems (CMS), let's start with the basics. A CMS, also known as a Client Relationship Manager (CRM), is a platform designed to help small businesses efficiently manage their clients and projects. HoneyBook and Dubsado are both powerful CMS platforms that take client management to the next level by offering an array of features, including invoicing, questionnaires, proposals, contracts, emailing, reporting, lead management, and automation capabilities.
For freelancers, agencies, creative entrepreneurs, and service-based businesses, finding the right client management platform can be a daunting task. With so many options available, it's essential to choose the one that best suits your needs. In this article, we will compare two popular platforms, Dubsado and HoneyBook.
What is HoneyBook?

HoneyBook is a cloud-based invoicing and project management platform tailored to small business owners and creative geniuses like yourself. It offers a bunch of tools and features to streamline your business, from customizable invoices and proposals to a nifty client portal and online payment processing. Plus, it integrates smoothly with productivity tools like Google Calendar and QuickBooks.
The goal of HoneyBook is to be your all-in-one solution for handling the financial and administrative side of your business, so you can shine in delivering top-notch services and products to your clients.
Top Features in HoneyBook:
These 7 features make HoneyBook worth a look.
Invoicing system: HoneyBook's invoicing system allows you to add photos to each line item, making the invoices visually appealing.
Mobile app: HoneyBook has a mobile app for on-the-go access to manage your business efficiently.
Collaboration: Collaborate with other businesses within a job, making it ideal for industries like weddings where vendor interaction is common.
Table of contents: Organize long forms easily with HoneyBook's "Table of Contents" feature.
Payment processing: HoneyBook handles all payments directly, simplifying the process.
G-Suite integration: If you use G-Suite for business email, the HoneyBook Chrome Extension brings the platform directly into your Gmail inbox, streamlining operations.
Bulk job management: Handling multiple jobs at once becomes more manageable with HoneyBook's bulk job management.
Advantages of Using HoneyBook
HoneyBook is well-suited for beginner freelancers, offering advantages such as:
Quick setup times
Better templates for streamlined communication
Affordable pricing, especially with the current $1/month deal for the first six months
Disadvantages of Using HoneyBook
Some potential disadvantages of HoneyBook include:
Limited third-party integrations
Fewer scheduling features
Occasional email notifications landing in clients' spam folders
HoneyBook Subscription and Pricing
HoneyBook has three different plans: Starter, Essentials, and Premium. Start costs $15.20/month and covers all the basic features you need. Essentials costs $31.20/month and adds features like automations and expense tracking. And finally, the Premium plan costs $63.20/month and adds support for unlimited team members, multiple companies, and more.
What is Dubsado?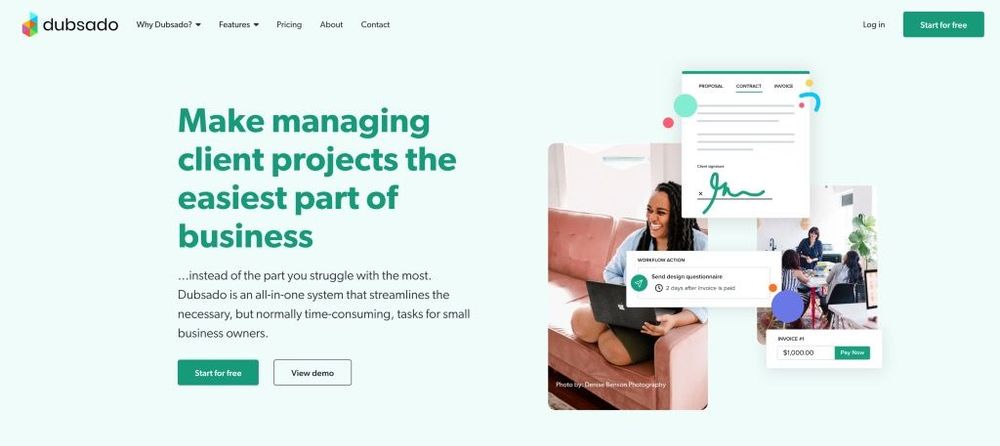 Dubsado is a popular business management software designed for small businesses and creative entrepreneurs. It is primarily used as a customer relationship management (CRM) and workflow automation tool, helping users organize and streamline various aspects of their business operations.
Dubsado offers features such as client management, project tracking, invoicing, contract creation, and email communication, among others. With these capabilities, it aims to simplify and centralize essential business processes, allowing users to focus more on their core work and less on administrative tasks.
Top Features in Dubsado:
These 6 features make Dubsado worth a look.
Consistent form blocks: Dubsado ensures all forms have the same blocks and options, simplifying the user experience.
Subcontracts: Dubsado offers "Subcontracts" for secondary agreements, perfect for obtaining signatures on design proofs or other additional agreements.
Multiple brands: Dubsado allows managing multiple brands within one account, making it suitable for businesses with diverse offerings.
Zoom integration: Dubsado integrates with Zoom for video conferencing needs.
Robust workflow automation: Dubsado excels in workflow automation with more options compared to HoneyBook.
Free trial: Dubsado offers a free trial that lets you work on three projects from start to finish, giving you ample time to explore and set up your account.
Advantages of Using Dubsado
Some notable advantages of using Dubsado over HoneyBook include:
Custom URLs for branding
Integration with Quickbooks for seamless bookkeeping
Task boards for project management
A comprehensive free trial for testing features
Disadvantages of Using Dubsado
Potential downsides of Dubsado reported by some customers include:
A steep learning curve due to the platform's comprehensive nature
Slower performance for larger businesses
Limited integration with third-party tools
Dubsado Pricing
Dubsado offers two base plans with pricing as follows:
Starter: $20/month - Suitable for simple invoicing needs.
Premier: $40/month - Includes integration features for more complex workflows.
Let's Compare HoneyBook vs. Dubsado
Now that we've seen the rundown of HoneyBook and Dubsado's best features, let's take a closer look at how they compare in these 7 key areas.
Getting paid and transaction fees
Let's talk about getting paid because, hey, that's what keeps the lights on! With HoneyBook, they've got a built-in payment processor, making it a breeze to accept credit card payments from your awesome clients. But, fair warning, they do charge some transaction fees. It's usually around 3% to 12%, depending on your plan and the payment amount.
Now, if you're a comparison shopper, Dubsado might be more your style. They let you pick your preferred payment processor, so you can sniff out the best deals on payment processing fees. And the cherry on top? No extra transaction fees from Dubsado for payments through other processors. Sweet deal, right?
Wooing your clients and user experience
Impressing your clients is crucial for any business, and both HoneyBook and Dubsado got your back. HoneyBook's got a smooth and easy-to-use interface, making project and client management a piece of cake. You'll be a pro in no time!
But hold on to your hats because Dubsado brings the customization game and client experience to the table! You can personalize the platform to match your style, giving your clients a wow-worthy experience. It'll have them thinking, "These guys really know how to treat us right!"
Costs and free trials
Alright, let's dive into the dollars and cents. HoneyBook has different subscription tiers, and you can dip your toes in with a more budget-friendly Starter Plan. But hey, keep an eye on those extra features in the higher-tier plans if you need 'em!
On the other hand, Dubsado has its own lineup of subscriptions, like the Essentials Plan, perfect for small setups. As your biz grows, you can level up to unlock more goodies. And don't forget, they might offer you a free trial to play around with all their cool stuff!
Handling invoicing and contracts
Invoicing and contracts can be a headache, but not with these platforms! Both HoneyBook and Dubsado got your back with customizable templates that'll make your clients swoon.
HoneyBook has a cool trick up its sleeve—its integrated payment processor lets clients pay directly from the invoices (but remember to keep in mind those transaction fees).
Dubsado lets you integrate with multiple payment processors, giving you more options and potentially lower fees. And the best part? No sneaky extra charges from Dubsado!
Keeping projects on track and team collaboration
Keeping your projects on point is crucial, and that's where HoneyBook's platform shines. It helps you create, track, and automate your projects, perfect for juggling multiple gigs like a boss!
Dubsado's no slouch either! Their project management tools keep things organized, and you can customize it to fit your team's style. Team collaboration made easy!
Integration with other tools
Alright, let's talk about playing well with others! Both platforms are good team players and integrate with other tools and services. HoneyBook loves Zapier, which opens up a whole new world of possibilities for you!
And don't worry, Dubsado's cool with Zapier too! Link up with other apps and make your life simpler. Take a look at their integration options and see what fits your business like a glove.
Payment processor options and costs
HoneyBook keeps it simple with its own payment processor. Just be sure to check those processing fees, so there are no surprises!
On the flip side, Dubsado gives you the freedom to pick your payment processor. Go ahead and shop around for the best deals, and keep those fees in check!
How Are HoneyBook and Dubsado Different?
HoneyBook excels in invoicing, offering mobile app access, enabling collaboration, and providing a Chrome Extension for G-Suite users. On the other hand, Dubsado stands out with robust workflow automation, custom code capabilities, subcontract features, public proposals for simple projects, and better file version management.
Here are some other key differences between the two:
Payment processing and currencies
HoneyBook processes payments directly from your bank account, while Dubsado integrates with Stripe, Square, and PayPal. Dubsado allows for multiple brands to handle different currencies, while HoneyBook currently lacks this feature.
Gratuity and collaboration
Both platforms offer automatic tip options on invoices, enabling clients to tip for your services. Collaboration is more straightforward in HoneyBook with its Workspace feature, while Dubsado plans to implement collaboration features in the future.
Lead tracking and reporting
HoneyBook provides lead tracking and reporting to analyze lead sources and improve business strategies. Dubsado offers manual entry of referral sources without integrated reporting.
Choosing between HoneyBook and Dubsado
The decision between HoneyBook and Dubsado depends on your specific business needs. HoneyBook is preferable if you prioritize payment processing in one place, require a mobile app, collaborate with other HoneyBook users, or use G-Suite. Dubsado is an excellent choice if you need custom coding capabilities, manage multiple brands, rely on second signatures, prioritize workflow automation, or require multiple currency acceptance.
In conclusion, both HoneyBook and Dubsado are exceptional CMS platforms that offer valuable features to streamline your business. Carefully evaluate your requirements and choose the system that aligns best with your business needs, ensuring an efficient and professional client management experience.
How Can Indy Help?
In the debate between HoneyBook vs. Dubsado, there's a third option you need to consider: Indy. Indy is an all-in-one tool created to empower freelancers, entrepreneurs, and small business owners, simplifying and enhancing their business management.
It combines a range of essential features and benefits for freelancers, including proposals, contracts, project management, time tracking, invoicing and billing, contact management, and the ability to sign documents online. Indy also provides popular services like PayPal, Google Calendar, Zapier integration.
If you're looking for an easy-to-use platform to manage and streamline your freelancing business, you can do all that and more for a fraction of the price of HoneyBook or Dubsado. Moreover, the responsive customer support team is always available to address any questions or issues. Get started today for free!
Wrapping Up
Both HoneyBook and Dubsado are powerful client management systems with their unique strengths. HoneyBook excels in invoicing and offers great collaboration features, while Dubsado stands out with robust workflow automation and custom code capabilities. The choice between the two depends on your specific business needs.
Additionally, Indy is another excellent all-in-one tool that simplifies and enhances business management for freelancers at an unbeatable price, making it the perfect option for those seeking a user-friendly platform with comprehensive features. Get started today with Indy's free plan!