In the world of business, managing finances and streamlining operations are essential tasks. Whether you are a small entrepreneur, freelancer, or a growing company, the right client management tools and accounting software can make a significant difference in your success. HoneyBook and QuickBooks are two popular platforms that offer unique features designed to help businesses manage projects, their finances, clients, and more.
In this comparison, we will delve into the strengths and weaknesses of HoneyBook and QuickBooks, including a look at their features, user interface, pricing, and more to help businesses and individuals make informed choices.
QuickBooks Online Accounting Software Overview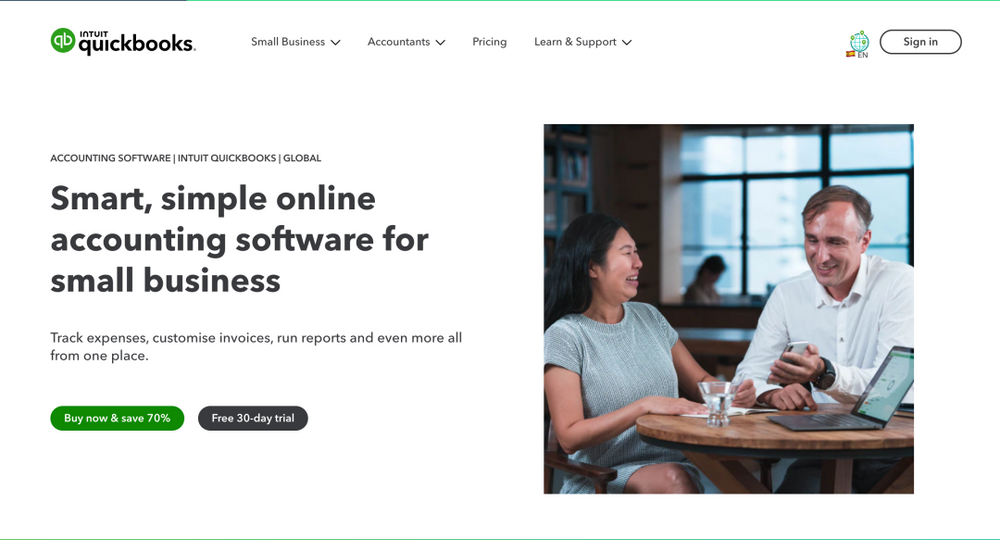 QuickBooks Online, developed by Intuit, is one of the most well-known and widely-used accounting software solutions. It serves a broad spectrum of customers, ranging from independent professionals to large corporate enterprises. The primary focus of QuickBooks is on billing, getting paid, expense management, bookkeeping tasks, vendor management, running payroll, and inventory tracking.
18 QuickBooks Key Features
QuickBooks, as a powerful accounting software, is considered one of the best accounting software, offering a wide range of features and multiple tools that cater to the financial needs of businesses. Here are some of the key features of QuickBooks:
Invoicing: QuickBooks enables users to create and send professional invoices to clients. Users can customize invoice templates, add branding elements, and track the status of invoices.
Expense tracking: The platform allows users to track business expenses by manually entering transactions or automatically and import data from linked multiple bank accounts and credit cards.
Financial reporting: QuickBooks offers a variety of financial reports, including profit and loss statements, balance sheets, cash flow statements, and more. These reports provide insights into business performance and help in making informed decisions.
Bank reconciliation: QuickBooks streamlines bank reconciliation by matching existing transactions from the bank account feed with those entered in the software. This feature ensures accurate financial records.
Payroll management: QuickBooks offers payroll services that facilitate easy calculation and processing of employee wages, taxes, and deductions. It also helps with tax filing and compliance.
Foreign currency transactions support: QuickBooks allows businesses to conduct transactions in multiple currencies, making it suitable for businesses with international clients.
Inventory management: For businesses dealing with products, QuickBooks provides inventory tracking tools to manage stock levels, sales reporting and sales operations, and reordering.
Time tracking: QuickBooks enables time tracking for employees and contractors, making it easier to calculate related tasks and billable hours for client projects.
Online banking integration: QuickBooks integrates with various financial institutions, allowing users to automatically sync bank transactions, reducing manual data entry and data transfer.
Payment processing: QuickBooks offers payment processing services that enable businesses to accept credit card payments directly from invoices.
Mobile apps: QuickBooks provides iOS and Android apps, allowing users to access their financial data on the go.
Tax preparation and filing: QuickBooks simplifies tax preparation by organizing financial data and providing tools to automate tax calculations.
QuickBooks integration with various third-party platforms and apps: QuickBooks integrates with numerous third-party applications, such as CRM systems, e-commerce platforms, and project management tools, extending its capabilities.
Budgeting and forecasting: QuickBooks enables businesses to set budgets and create financial forecasts to plan for the future.
Purchase order management: QuickBooks facilitates the creation and management of purchase orders, ensuring smooth procurement processes.
Client communication: QuickBooks allows users to communicate with clients directly from the platform, streamlining client interactions. This could also be useful for scheduling client meetings.
Customizable chart of desired accounts: Users can set up a chart of accounts that suits their business structure, making financial categorization more efficient.
Data import and export: QuickBooks supports data import from other accounting software and data export for external analysis in formats like Microsoft Excel.
These features collectively make QuickBooks a comprehensive accounting solution suitable for a wide range of businesses, from sole proprietors to large enterprises.
QuickBooks Pros and Cons
As with any software, QuickBooks has its share of pros and cons. First, let's start with the positives.
5 pros for QuickBooks:
Sophisticated financial reporting
QuickBooks provides an array of financial reports, customizable charts, and budget monitoring. With the Advanced subscription plan, users can create custom charts to track and monitor net/gross revenue, expenses, and segmented data. The platform's financial reporting capabilities are particularly useful for businesses seeking in-depth financial insights.
QuickBooks supports nearly every currency in the world from multiple bank accounts, making it ideal for businesses with global clients. Users can accept payments in multiple currencies, and the reporting automatically adjusts based on the currency used.
QuickBooks offers a very user-friendly interface for managing expenses. Users can simply snap photos of receipts, and the platform automatically tracks mileage. This feature is especially useful for self-employed individuals without dedicated accountants or bookkeepers.
QuickBooks boasts highly-rated iOS and Android mobile apps, allowing users to access their financial reporting and data conveniently on-the-go.
QuickBooks Online integrates seamlessly with numerous applications, including Square, PayPal, Shopify, Etsy, Gusto, and more. This integration expands the platform's capabilities and enhances productivity.
3 cons for QuickBooks:
While QuickBooks is an excellent accounting tool, it primarily concentrates on financial aspects and cash flow and does not cover other areas of business management. Businesses seeking a comprehensive project and client management platform might need to use additional tools alongside QuickBooks.
Unlike HoneyBook, QuickBooks lacks a pipeline view feature, which might be a drawback for businesses that prioritize project management and client tracking.
Limited invoice templates
QuickBooks offers fewer options for invoice templates and design customization compared to HoneyBook, potentially limiting the level of personalization for client-facing documents.
What are QuickBooks' Pricing Plans?
QuickBooks offers several pricing plans to cater to different business needs. Please note that pricing and plans may change over time, so it's essential to check QuickBooks' official website for the most up-to-date information. Here are the general pricing plans that are currently available:
Simple Start: This is the basic plan designed for self-employed individuals and small businesses with basic accounting needs. It includes features like invoicing, expense tracking, bank reconciliation, and financial reporting. Simple Start costs $15/month.
Plus: The Plus plan is suitable for small businesses that require additional features beyond the Simple Start plan. It includes all the features from Simple Start, plus additional capabilities like bill management, time tracking for employees, and the ability to manage multiple users. The Plus plan costs $45/month.
Advanced: The Advanced plan is the most comprehensive offering from QuickBooks and is designed for growing businesses with more complex financial needs. It includes all the features from the Simple Start and Essentials plans, along with additional features like inventory tracking, project profitability tracking, and the ability to manage and track multiple locations and classes. The Advanced plan costs $100/month.
It's worth noting that QuickBooks often provides promotional discounts and special offers for new customers, so it's a good idea to check their website or contact their sales team for the most current pricing information and any ongoing promotions. Additionally, the availability of specific features and plan details may vary depending on your country or region.
HoneyBook CRM Software Overview

Initially designed for wedding photographers, HoneyBook has evolved into a project-based Customer Relationship Management (CRM) platform catering to small business owners, freelancers, and creative entrepreneurs. Alongside its invoicing and expense management capabilities and accounting features, HoneyBook offers profit and loss reports, client management, automated workflows, customizable templates, scheduling, and more.
15 HoneyBook Key Features
HoneyBook offers a variety of key features that help users manage their clients, projects, finances, and more. Here are some of the key features of HoneyBook:
Client management: HoneyBook provides a centralized platform to manage client information, communications, and interactions. Users can store important client details, such as contact information, project history, and communication records.
Pipeline view: The platform offers a visual pipeline view that allows users to track the progress of their projects and client relationships. The pipeline view helps users prioritize tasks, identify bottlenecks, and stay on top of project deadlines.
Invoicing and payment processing: HoneyBook enables users to create professional-looking invoices and send them to clients. It also supports online payments, making it convenient for clients to pay invoices securely.
Proposal creation: Users can create and customize professional proposals with HoneyBook's templates. Proposals can include project details, pricing, timelines, and terms, providing a clear outline for clients.
Task and project management: HoneyBook helps users stay organized by providing related task management and project tracking features. Users can create tasks related to a specific project, set deadlines, and assign them to team members to ensure smooth project execution.
Automated workflows: The platform allows users to create automated workflows that streamline repetitive tasks and communications. Automated workflows help save time and ensure consistent client interactions.
Customizable templates: HoneyBook offers a library of customizable templates for invoices, contracts, questionnaires, and proposals. Users can personalize these documents with their branding and logo.
Expense tracking: HoneyBook provides basic expense tracking capabilities, allowing users to monitor their business expenses and associate them with specific projects or clients.
Time tracking: Users can track billable hours and time spent on projects, helping them accurately bill clients and analyze project profitability.
Scheduling and calendar integration: HoneyBook offers scheduling tools that allow clients to book appointments and consultations directly through the platform. It also integrates with popular calendar apps like Google Calendar, ensuring efficient time management.
Client portal: HoneyBook provides client portal software where clients can access project details, view invoices, make payments, and communicate with the business. The client management software enhances client communication and engagement.
Collaboration and team management: HoneyBook supports collaboration by allowing users to invite team members and assign specific roles and permissions. This feature facilitates efficient team communication and project coordination.
Ability to import and export data: Users can import their existing data into HoneyBook, making the transition to the platform smoother. Additionally, data can be exported for external analysis or backups.
Mobile app: HoneyBook offers a mobile app for iOS and Android devices, enabling users to manage their business on the go.
Support and training: HoneyBook provides customer support and training resources to help users make the most of the platform and troubleshoot any issues.
These key features collectively make HoneyBook a comprehensive CRM platform that streamlines client management, project coordination, and financial processes, helping businesses save time and improve efficiency.
HoneyBook Pros and Cons
Just like QuickBooks, HoneyBook has its own set of positives and negatives, but let's start off with the things people like about HoneyBook.
5 pros for HoneyBook:
HoneyBook offers a unique feature that allows users to see the pipeline of their entire business. This feature provides a clear visual representation of how many proposals are in each stage, helping users prioritize their attention. Whether waiting for a contract signature from a new client, reviewing an ongoing project, or delivering a final product, the pipeline view keeps businesses organized.
HoneyBook boasts a library of over 70 customizable templates for invoices, questionnaires, and proposals. Businesses can personalize their communication with clients, creating a professional and cohesive brand image.
The platform allows users to create workflows that seamlessly connect different parts of their business. Automating repetitive tasks saves time and ensures smoother operations.
For projects that require collaboration, HoneyBook offers unlimited team member access. This feature transforms the platform into a light project management tool.
HoneyBook enables users to brand client-facing items like invoices and proposals with their logo and colors, enhancing their professional image.
2 cons for HoneyBook:
Payment processor integration
Unlike some other platforms, HoneyBook does not natively integrate with external payment processors. Users are required to use HoneyBook's own processor for payment processing, which may result in additional fees.
While HoneyBook offers some expense tracking capabilities, it is not as robust as dedicated bookkeeping software. Users might find the manual process of tracking expenses to be less convenient compared to automated options.
What Are Honeybook's Pricing Plans?
HoneyBook offered several pricing plans tailored to meet the needs of different types of users. Again, though, keep in mind that pricing and plans may change with time, so it's essential to check HoneyBook's official website for the most up-to-date information. Here is a general overview of HoneyBook's pricing plans:
Starter: The Starter plan gives you unlimited clients and projects, invoices and payments, proposals, contracts, a calendar, professional templates, a client portal, and basic reports. The Starter plan costs $15.20/month.
Essentials: The Essentials lets you add 2 team members. Plus, you'll get a scheduler, automations, QuickBooks Online integration, expense management, profit and loss tracking, and standard reports, and you can remove the "Powered by HoneyBook" watermark. The Essentials plan costs $31.20/month.
Premium: The Premium lets you add unlimited team members and multiple companies. Plus, you'll get priority support, an onboarding specialist, and a dedicated account manager. The Premium plan costs $63.20/month.
As with any software or service, it's always best to verify the latest pricing details directly from the provider's official website to ensure you have the most accurate and up-to-date information before making a decision.
HoneyBook vs. QuickBooks: Main Differences
Now that we've seen the breakdown of HoneyBook and QuickBook's best features, let's take a closer look at the biggest differences between the two platforms and how they handle these 4 key areas.
Depth of financial reporting
QuickBooks provides advanced financial reporting with customizable charts, dashboards, and budget monitoring, making it ideal for businesses with sophisticated financial needs. In contrast, HoneyBook offers basic financial reporting, focusing more on attributing financial dollars to marketing spend.
Multi-currency support
QuickBooks supports almost all currencies globally, providing businesses that have international clients with a more friendly platform. On the other hand, HoneyBook offers support for USD and CAD only, which could pose limitations for businesses dealing with different currencies.
Client management
HoneyBook excels as a Customer Relationship Management (CRM) platform, offering extensive client management features beyond billing history. It includes vital client details, due dates for non-billing items, scheduling, and more. QuickBooks, while keeping records of clients and billing history, does not offer the same level of comprehensive client management features.
Pricing
HoneyBook has a straightforward pricing model, starting at $19/month or $228/year, with additional tiers based on business needs. QuickBooks, in contrast, offers various plans with different pricing, ranging from $30/month all the way up to $200/month, depending on the features required.
HoneyBook vs QuickBooks: The Final Verdict
The choice between HoneyBook vs. QuickBooks depends on the specific needs and priorities of your business. If your main focus is comprehensive financial management, scalability, multi-currency support, and sophisticated financial reporting, QuickBooks might be the better fit.
On the other hand, if you require a CRM-first approach with streamlined operations, personalized branding, project management, and a visually appealing client interface, HoneyBook could be the ideal choice.
How Can Indy Help?
There's a third option you need to consider: Indy. It has everything you need to manage your small business. With Indy, you can easily:
Track financial transactions, automatic billing, and accepted invoices
Use invoice, contracts, and proposal templates for free
Sign documents with e-signatures
Manage projects and task
Track time
Make secure online payments
Centralize all your company data (customers, vendors, other businesses, contractors, etc.)
Manage clients with Client Portal
Spend less time on billing, tracking, and accounting
Save money on accounting services
Automate recurring tasks
Plus, with an incredibly simple user interface, you can take command of your business the moment you sign up. Get started today for free!
Wrapping Up
When it comes to choosing between HoneyBook and QuickBooks, it's essential to recognize the specific needs of your business and what features align best with your priorities. QuickBooks is a powerful accounting software with sophisticated financial reporting, multi-currency support, and integration capabilities, making it suitable for businesses seeking comprehensive financial management.
On the other hand, HoneyBook shines as a project-based CRM platform, offering robust client management features, visual pipeline tracking, customizable templates, and automation to streamline business operations and enhance client interactions. However, if you're a freelancer or a small business owner, we recommend you check out Indy! It has everything you need to manage your business, from proposal to payment. Get started today for free!