Freelance project managers are people who work for themselves, stepping in to support a company's projects. They are responsible for managing project resources and schedules, as well as managing the project team. The project manager is responsible for overseeing everything and ensuring projects are completed successfully.
They often work with clients in different industries, managing more than one project at once, and work closely with their teams and clients.
But how do you become a freelance project manager? What's required?
The ideal candidate will have a mixture of project management experience and educational background. You can work your way up in project management by assisting on assigned projects before taking over the leadership role.
You can use various job boards and project management tools to support you on the job. In this article, we'll look at exactly how you can break into freelance project management.
What is a freelance project manager?
A freelance project manager is self-employed, managing projects for other businesses. Freelance project managers often work with multiple companies of varying types and sizes, managing projects or focusing on one client at a time.
The primary difference between a 'project manager' employed by a company and a freelance project manager is that a freelancer is their own boss.
There are plenty of perks to being a freelance project manager. Choosing your own hours and working for yourself instead of another company is a freeing experience. Covid-19 brought on a wave of remote working jobs, meaning freelancers were more popular than ever. More often, companies were looking for freelance project managers who could work remotely with little assistance. They want someone experienced who can manage a team. Smaller start-ups that don't have significant staff numbers often outsource their project management work to a freelancer to ensure projects are successful.
When you're a freelancer, you can choose your own clients, pursue your own opportunities, and gain experience in any industry. There are challenges, too, as there may be long periods where you don't have any work. This is likely at the start of your freelance career, but as you build up a network of contacts and get more project management experience, you'll be in higher demand.
Freelance project managers qualifications
Project management is a job where it's necessary to have qualifications to succeed in the role. There are undergraduate and master's degrees in project management that will look excellent on your resume, but if you've already completed your education, there are also a variety of project management courses to take. Completing a course will show your commitment and dedication to potential clients and boost your resume.
Skills to become a freelance project manager
Project management involves working closely with external and internal stakeholders and requires a defined set of skills to succeed. You'll manage tasks, support others, and network. When working in project management, you need to know it all.
Here are some of the primary skills freelance project managers need:
Conflict resolution
Leadership and management
Attention to detail
Time management and organization
Budgeting
Communication and listening
Marketing
Networking
Financial
Quite often, as a freelancer, you may end up managing multiple projects simultaneously. So you must be able to work in a fast-paced environment, set your own hours, and keep on top of all daily management tasks required in each project you're overseeing.
Finding freelance project manager jobs
There are plenty of ways to find freelance project manager jobs; you need to be capable of networking and marketing yourself to recruiters and companies. Whether it's a senior project manager post overseeing a large project or working for a start-up with a small team, you must sell yourself as the best candidate.
It will be easier if you're an experienced project manager as you already have proven results and positive references from previous projects. Recruiters value references, experience, and education in project manager jobs.
Let's go through the step-by-step process you can follow to find jobs in project management.
Sign up for freelance job boards
All new jobs will go up on job boards. There are a few popular websites that advertise freelance job postings, like Upwork. It's the best place to go if you're looking for a freelance project management job as it's the most popular freelancing site in any industry. Once you've signed up, you must complete your profile and look for projects. Consider what a recruiter will look for when they see your profile and sell your skills and experience.
You can also set up job alerts, which send vacancies directly to your inbox so you can get in there early.
Build your portfolio
A fundamental way to get a freelance project management job is to show your experience via a portfolio. You can use these tips to build a portfolio, set up a freelancing website, and provide testimonials to showcase your excellent work.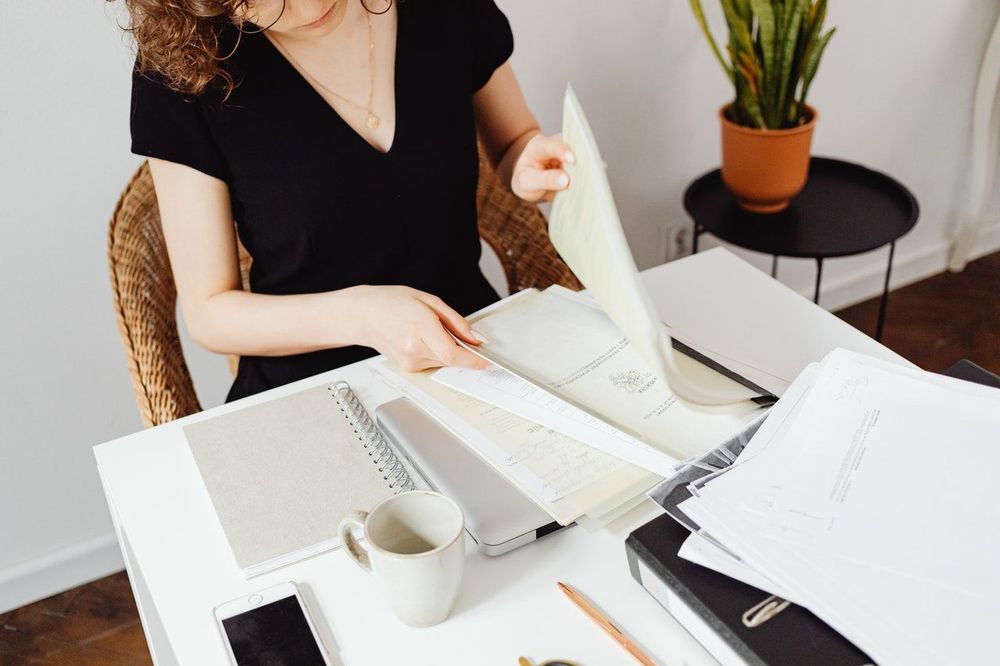 Recruiters are looking for the ideal candidate to be creative, develop new ideas, and be innovative with their approach. They want you to think outside the box and show an ability to think on your feet and remain calm under pressure. Don't be afraid to show the challenges you've faced in previous projects and discuss how you overcame them.
Network
Another vital part of becoming a freelancer in project management is the ability to network and develop relationships with companies. Start connecting with valuable contacts you think could generate jobs further down the line. You can also sign up for remote or in-person events that can serve as networking opportunities.
The most important part is getting your name out there. Word of mouth spreads quickly. If people know you're good at managing projects and are on top of things until the final delivery, they'll recommend you to others.
Submit proposals for jobs
When browsing job boards or hiring websites, you'll need to submit proposals to showcase your skills and experience and sell yourself to the hiring manager. Using software to support you will help you stand out from the competition. Indy provides an excellent Proposal tool, allowing you to make professional and exciting proposals that will help potential clients choose you.
You can pick from proposal templates and use the tool to monitor the status and progress of your proposal. Using Indy, you'll be able to track who has opened and read your proposals and test out different methods to measure success. You can customize fonts, logos, and colors to create something unique to your own personal brand.
Use project management software
Keeping track of all the necessary tasks, project schedules, and business goals can be challenging when you are working on assigned projects. You can use project management software to track progress and provide your managers with detailed reports as you progress through a project.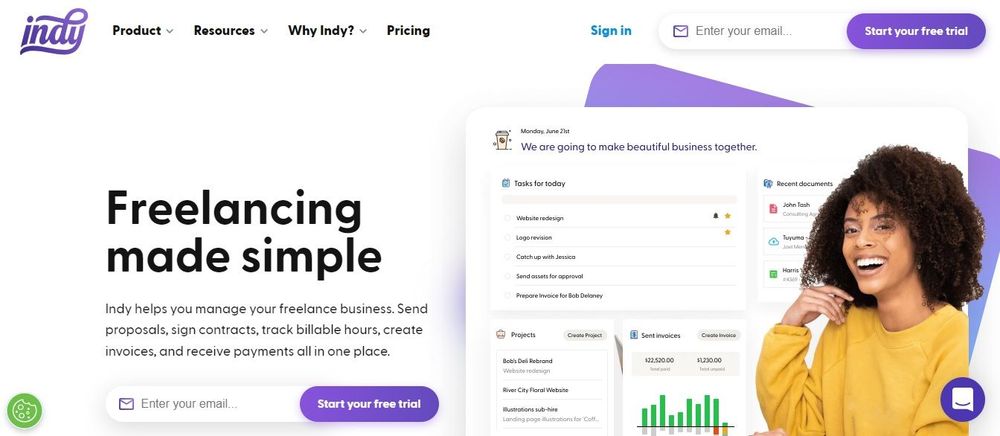 Indy offers excellent project management software for freelancers. You can share files, chat with clients, use a time tracker to keep track of your hours, create invoices, and work from a calendar to manage meetings. It's the perfect tool for freelancers working as project managers, especially if you're working on multiple different projects at once.
You won't have to keep everything in your mind. Instead, you can use tools to manage daily tasks and monitor ongoing progress.
In summary
In this blog, we've discussed all the steps you need to take to stand out and secure freelance project management jobs.
You'll need to sign up for hiring websites and job alerts and start connecting with companies to get your name out there. The key part is to create engaging proposals, you could be going up against dozens of other freelancers, so you need to stand out and be unique.
It's okay if you don't get it right the first time, you can track your proposals and determine success based on the number of times you're hired. To be a successful freelance project manager, you need to be capable of managing people, assigning and monitoring tasks, and having excellent communication and organizational skills.
Good luck. We hope you land your first freelance project management job soon!