It's not uncommon to see someone who is creating content similar to yours as the competition. But have you ever considered they could actually become a partner?
In this lesson, we will take a look at the best ways in which successful content creators use collaborative networks to meet like-minded creative professionals. We will explain the benefits of working with others, go through some exciting collab ideas, and cover everything you need to know about knowledge sharing. We'll even include some project management software advice, so you're ready to take on your next project! So, let's get to it, shall we?
Working together: It's more common than you think!
Most successful content creators are so because they bring something unique to the table. It can be a specific format or topic, very specialized knowledge, a favorite distribution platform, or simply an engaging delivery. No matter the case, if your point of view is distinctive, chances are you're not going to have too much direct competition.
This is the case even if there are other creators targeting the same audience. Just because there are similar people listening to you both doesn't mean they are doing so for the same reasons. Just to give a quick example, someone might watch parenting videos but also really enjoy true crime ones. Or listen to gardening podcasts and love livestreamed interviews.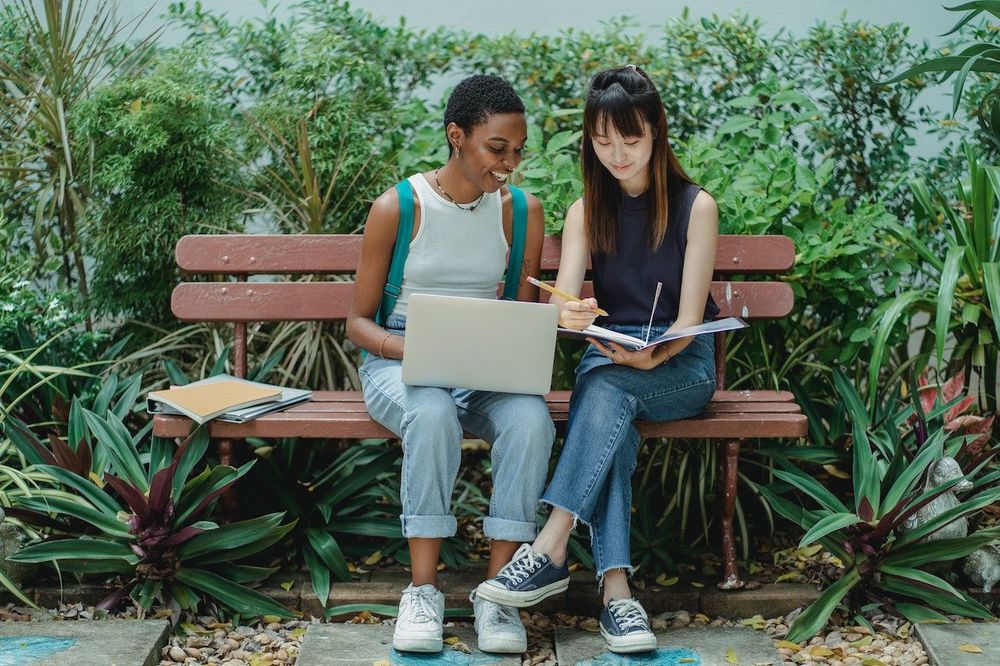 So, let's start with the basics: What do we mean when we say content collaboration? Many collaborations happen inside a brand; for example, a company's marketing team can work together with the development team to create explainer videos or tutorials. Many brands also work with influencers and partners to reach new segments.
We should look at some examples of successful collaborations and what made them special. Let's start with Ali Abdaal and Khe Hy. Ali Abdaal is a doctor, podcaster, and YouTuber. He held a live session with Khe Hy, the creator of RadHeads, to set up a productivity system using Notion. They discussed the principles of productivity and shared a course on how to use the tool. This wasn't the first time Khe Hy did a collab, for he had already worked with the Keep Productive channel. These are just two of thousands of collaborations across multiple social media channels. Many influencers and creators continue to create content this way every day, with brands joining the movement. For example, Dunkin' Donuts frequently partners with content creators as part of their influencer marketing, and the same can be said for Tinder, Magnum, Chipotle, Levi's, and many other giants.
We should face it: Working on collaborative projects is usually a lot more fun than creating things entirely on your own. But there's a lot more! So, let's go through some of the benefits of doing collabs in a more organized way.
Benefits of a more collaborative creative process
If you're used to being in charge of your content (from coming up with an idea to setting up the cameras, recording, and editing), you might be a little scared about what it actually entitles to work collaboratively. Don't worry; you're (literally) not alone. We'll soon share some ideas and tell you how to find creative partners, but let's first look at the benefits of joining a collaborative network or simply working with others to create content.
Benefit 1: You can choose your partners
Remember school projects? Dreaded school projects. The problem with them was that you usually got paired with random classmates—and if you've chosen a career as a content creator, chances are you were probably the one that ended up doing all the work! It's hard not to be entrepreneurial. Team dynamics are always a little complicated, but the game is very different when you can actually choose your partners. The first benefit of collaborating in content creation is that you pick people based on their experience, own ideas, and potential.
Benefit 2: You can reach new audiences and build your brand
Content collaboration can help you expand your audience and reach out to new people—especially if you share the effort with someone who already has followers. So, you both (or all) get more visibility and open the door to new business opportunities! Collaborating to create content is also inexpensive, mutually beneficial, and can expand both your network and your brand.
Benefit 3: You can get inspired
Creating meaningful partnerships can lead to a greater level of growth and engagement—not to mention, push your limits, so you try something new! You want to create value for your audience, and there are very few ways to do this that are better than just getting inspired by others and combining minds. In fact, scientific research has shown that collaborative networks can drive value creation. Working on teams has also been proven to encourage personal growth, reduce stress, and increase satisfaction. When working with others, people are also more likely to take risks that lead to innovation, giving better results overall.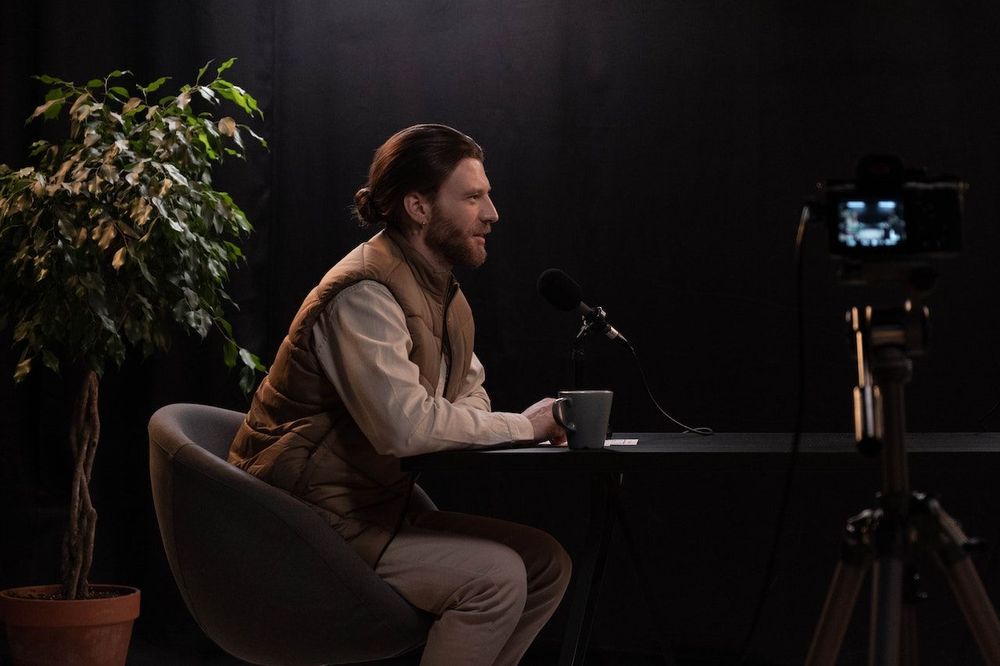 Benefit 4: It's really flexible
There are many, many ways in which you can do a collaborative project (we'll go through them in more detail soon). All in all, collabs are really flexible because you and your partner(s) get to decide what you will do—from videos to promotions and events. In most cases, you can also rely on the equipment you already have and lean on your existing and proven processes. Your biggest investment will be your time, and if you choose to collaborate, you can also take things slowly as you develop your joint ideas.
Benefit 5: It actually makes you happier
You read that right. If you're open to not just collaborating with others but are also able to show mutual respect and provide honest feedback, you are also more likely to report higher emotional well-being. If you're happy, you are also more productive. And who doesn't need a little boost when creating great content?
Finding other content creators to collab with
We've gone through the main advantages of collaborating with others to create content. Now... where do you actually find people to do so?
Write down some names
You can ask someone you follow and like, but it's always a good idea to approach the goal of finding partners more strategically. So, the first thing you could do is make a list of people you like who have a similar audience to yours. See what they're creating and talking about, and come up with some potential candidates for videos or content you could do together. If you're unsure where to find people, you can simply google "creator" alongside some keywords. For example, "recipe creator," "video game review creator," etc.
Be systematic!
A good next step is to check the selected people's social media profiles and websites. Explore their bios, and go through their content. What formats do they prefer? Have they done other collaborations? Who's their audience? If you think they could be a good match, write down their contact details. You can use a spreadsheet to keep things neatly organized.
Join a community
Another option you have if you're looking for other creators is to join a professional virtual community. These arrangements are designed to share knowledge. There are tons of people who meet in dedicated spaces, so you can reach out to those and see if there's anyone interested in doing something together!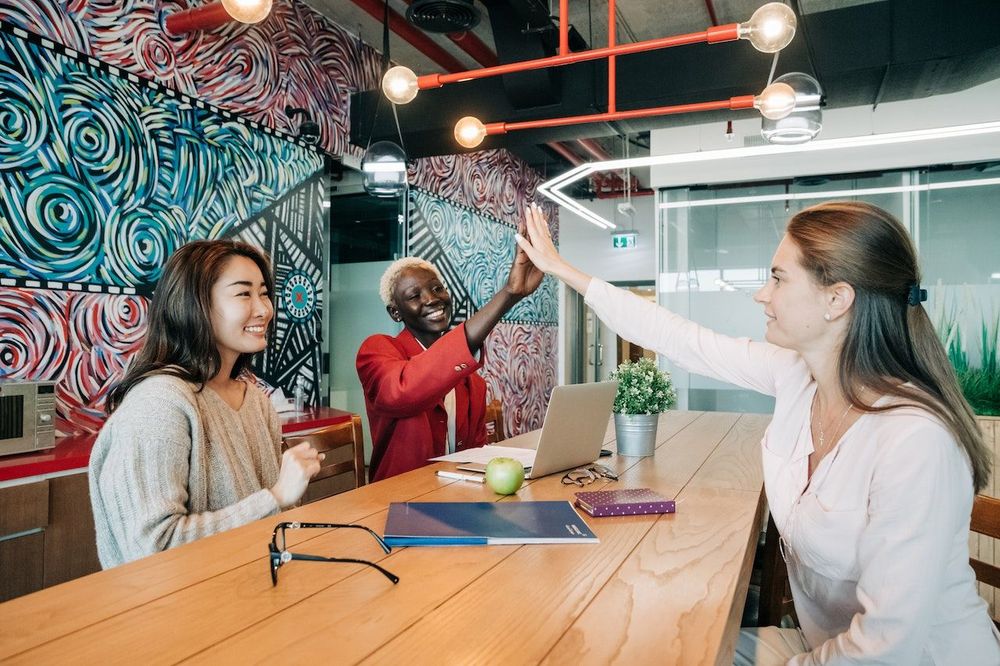 Reach out to others
If you know who you want to contact regarding a possible creative collaboration, it's time to reach out to them and ask. The first thing you should do is write some sort of creative brief that scopes what you want to do. You should include some goals and map tasks and deadlines. It's also important to establish a review process since you'll both be potentially working on the same content.
How to collaborate with other content creators: Ideas
When two people collaborate, both can grow professionally. Being a creator can feel lonely sometimes, so why not look at some ideas to try with others?
Interviews
An interview can be an easy way to access the many benefits of collaboration without having to try something entirely new. It also doesn't take too much time to do an interview. Who you interview (and for what purpose) will depend on your content strategy, but a common approach to this idea is to ask a leader (an industry leader, for instance) if you can ask them some questions. Most interviews take between 30 and 60 minutes and can generate a lot of interest.
Guest posts and case studies
Guest blogging and guest posts are great ways to collaborate, as you can bring traffic from your guest's audience to your site. Coming up with new topics for a blog can also be quite tiresome, so this is a way to get some fresh articles. If you have customers who liked your products, you can also ask them to incorporate them into a case study. If you choose this type of collaboration, something you can do is first have an interview focusing on how you solved a problem.
Content takeover
A more committed version of some of the ideas we have mentioned, a content takeover is when you let someone else create the entire content (of a video, newsletter, podcast episode, etc.) for your audience. For example, in March 2022, football player David Beckham gave a Ukrainian doctor his Instagram account so he could share stories about the war.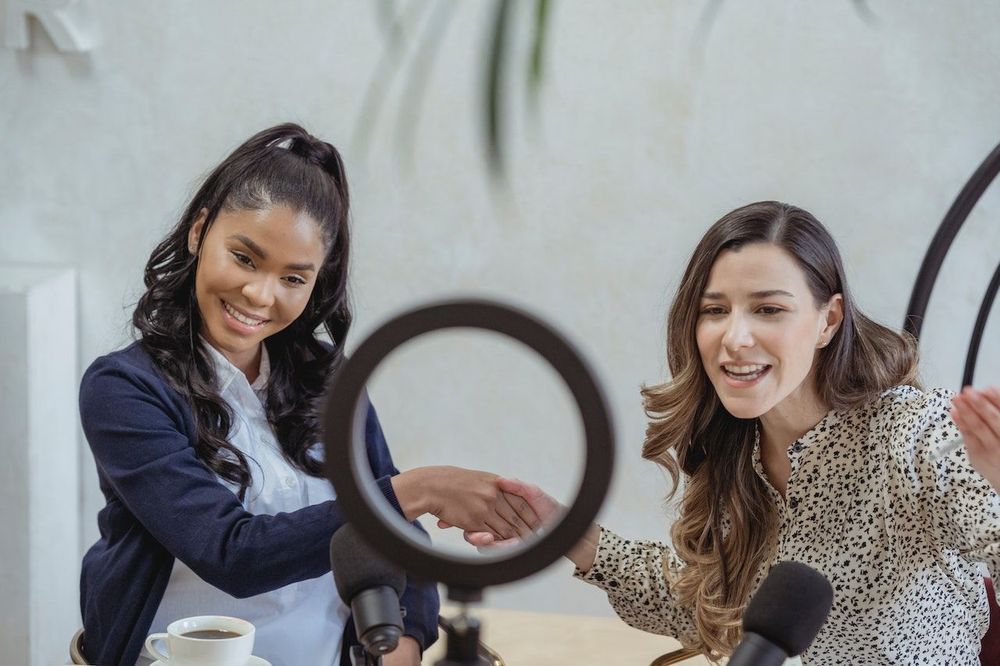 Sharing stories
The name for this idea is a little vague, but the idea is more straightforward: A good way to collaborate with others without actually having to be in the same room (or coordinate virtual activities) is simply to explain how another content creator has inspired you. You can use this method to share mutually or to reach out to someone you don't know yet. Basically, you explain in which ways a person has motivated you to try something, buy a product, visit a new restaurant, etc.
Challenges
A common way for many influencers and creators to collaborate is to run a challenge for your community. There are many options here. For example, if you have a creative channel, you could challenge someone else to do the same project and then compare results. Challenges have become quite popular, particularly in video channels, so you can expect to find a lot of ideas here. There are, for instance, food challenges (remember when everyone was trying to swallow a spoonful of cinnamon?), such as pancake art tasks and roulette games. There are also funny ones, such as saying YES to everything your friend says for a day or participating in a "no mirror makeup" challenge. And many, many more (speed drawing, try to keep singing, roast yourself, thrift flip, etc.).
Giveaways
Many creators work on collaborative giveaways for their audiences. This is a particularly interesting idea if you have a business selling products or services and you want to feature them. You can even ask an influencer or creator to do the giveaway for you! Of course, we're talking about real giveaways designed to bring attention to a featured item and not a spammy one that is only designed to gain followers. Remember, collaborations work best when they are designed to give audiences value.
Livestreaming
There are many creators whose content is perfect for livestreaming. Live events and videos bring a sense of freshness and spontaneity that can make audiences feel much closer. Today, it's quite easy to go live using platforms such as Facebook, Instagram, and Twitter. All you need is to press a button, and you will instantly provide a great opportunity for engagement. So, why not try it with others, too? You can take turns and go live on different channels, so you both have the chance to reach a bigger audience.
Podcasting
Similar to going live, doing a podcast episode with someone else tends to do really well in terms of engagement. Interviews are a great format for podcasts, but you can choose the style that best fits your brand. If you're unsure who to invite to a podcast, you can ask your audience, too! They probably listen to other creators and can make some excellent suggestions.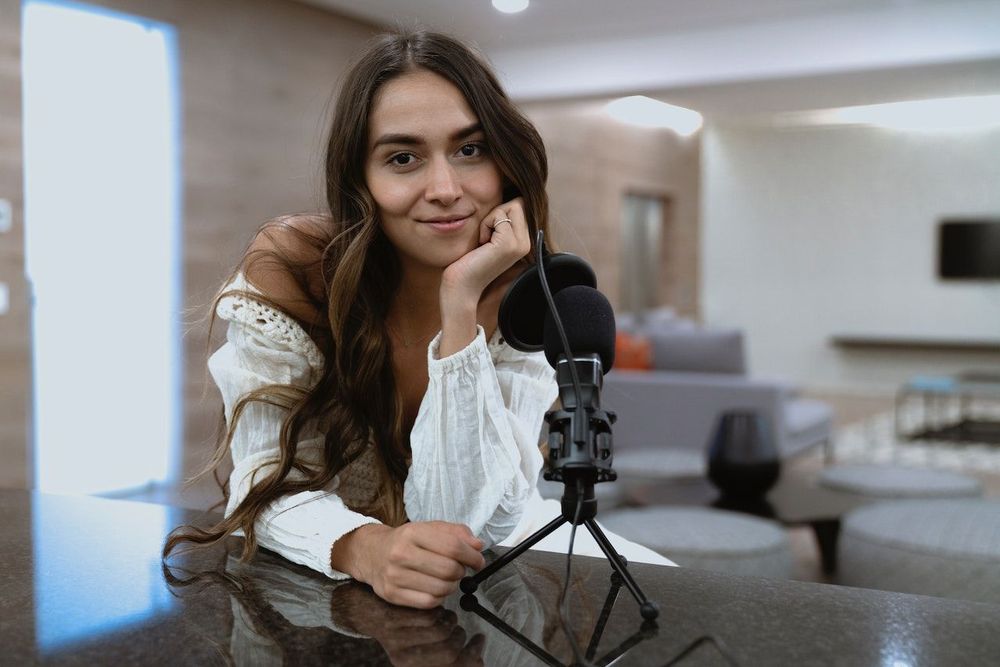 Collaboration tools and software
You can collaborate using just emails or messages, but... well, do you want to? When there are tools specifically designed to make the job much easier for you?
There's a lot of software out there dedicated to working with others. Generally, these are collaboration and communication platforms that allow you to share documents, create and assign tasks, and do a little workflow management and time tracking. There are also tools that allow you to schedule marketing launches and automate publishing. Luckily, you can do all of this using Indy, so let's explore the tools available through the platform and how you can use them for smoother collaboration.
Managing collaboration with Indy tools
Indy is a platform designed to help you manage your entire business ecosystem—from sending proposals and signing contracts to tracking hours, creating invoices, and getting paid. The platform was designed to make working together easier, so it's natural you can find everything you need for the perfect collab project here as well.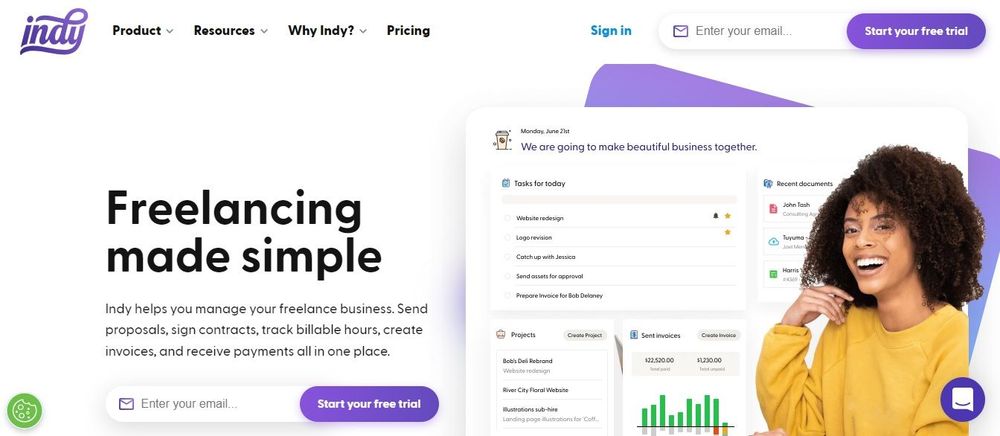 The Calendar tool
You can use Indy's Calendar to schedule planning meetings, recording sessions, and launch dates. This tool offers day, week, and month views so you can always be up to date with what you're required to do (or expect to receive from your partner!).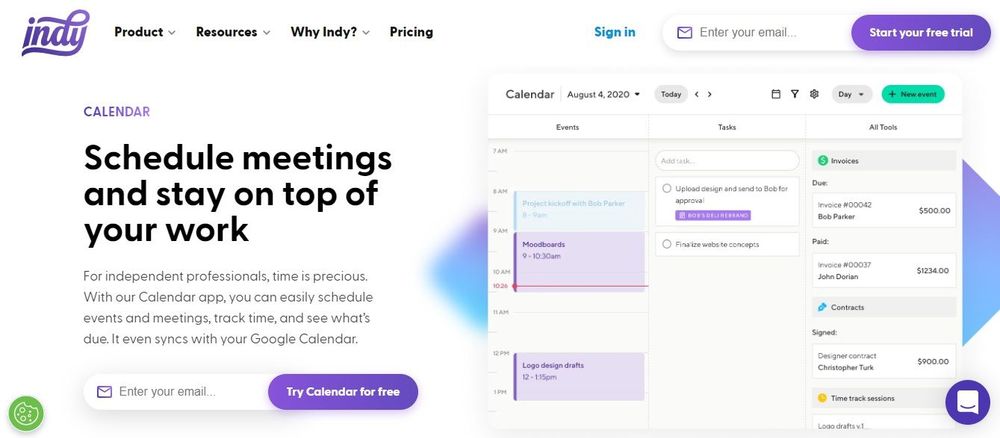 The Contracts tool
No matter what you're going to create, if you need to work with others, it's always a good idea to sign a contract. Indy has a simple editor where you can generate a template, sign it, and send it off in just minutes, so you don't need to worry about any legal terms. All of Indy's contracts are professionally vetted, can be customized, and support electronic signatures.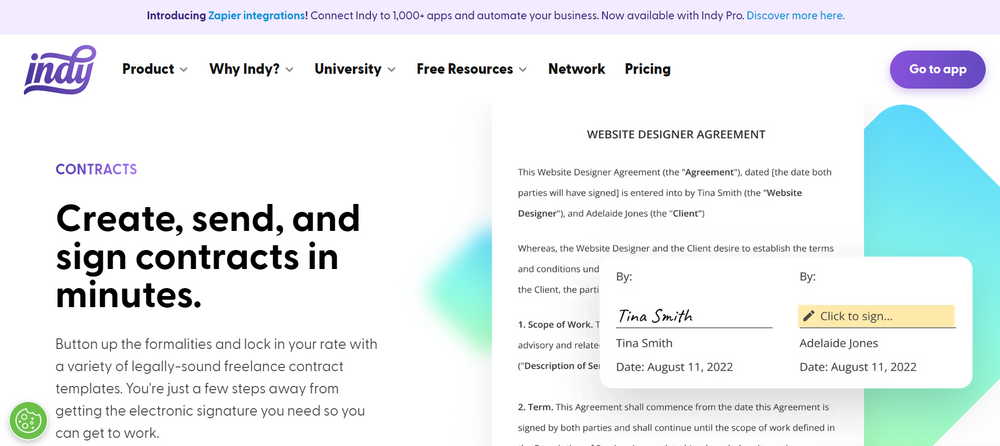 The Files tool
During your collaboration, it's likely you will need to share files with other people. Indy allows you to store any of them, track all revisions, and get feedback directly on your dashboard. Everything gets stored in the cloud, and you can choose what you keep private or share.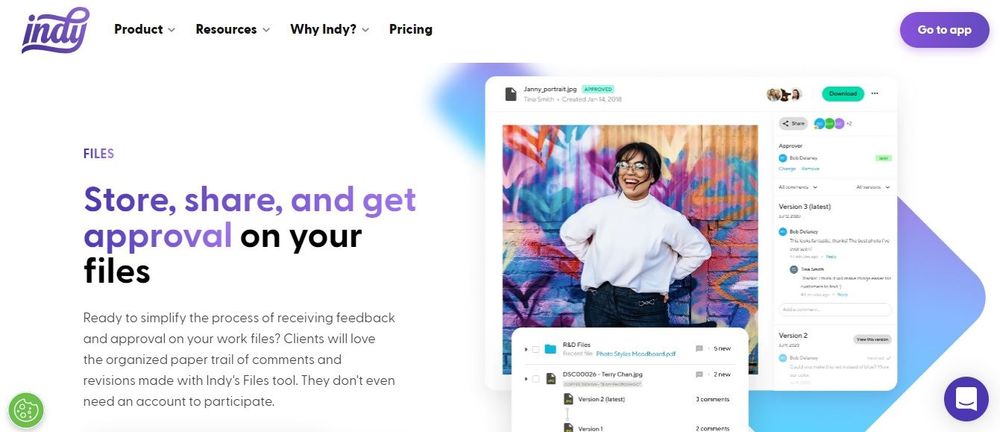 The Tasks tool
Understanding each person's responsibilities when working on a collaborative project is essential. With Indy's tasks, you can manage all your to-dos and get a clear picture of what's ahead. All tasks will appear on your calendar and can link to any project within the platform. Plus, you can use the board view to establish workflows using columns, drag and drop cards, and customize all elements.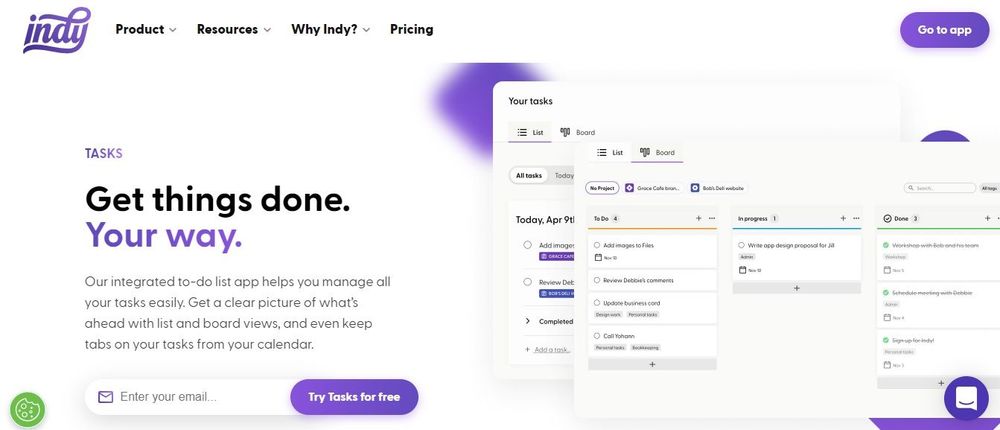 The Time Tracker tool
The platform includes a handy time tracker that allows you to record and report on all your tasks. All you need to do is click on a button; then, you can pause any time and add details of what you've done. There's also the option to input time manually and create invoices for all completed jobs.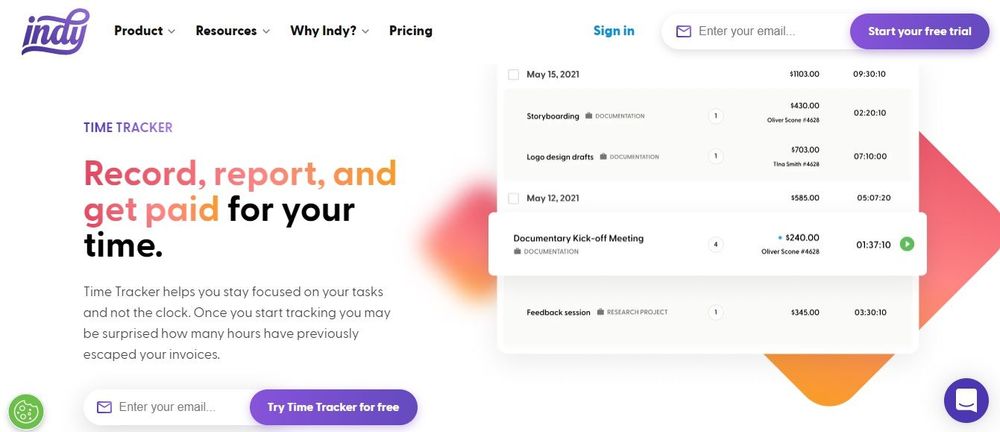 Other tools
Indy's suite of tools also includes forms, invoices, and proposals—everything you need to manage your independent business. And the best part? You can try Indy for free!
Conclusion
With partnerships on the rise, content creators are turning to collaborations (with other influencers and with brands) to try new formats, attract a broader audience, and just get inspired and boost their productivity. If you are considering doing a collab with other content creators, the first thing you should do is take a systematic approach. Write down the people that interest you, create a plan, and reach out to them. If you make content you love, people will want in. And if you can combine strengths... Well, two is better than one!
To help grow your network and your business, you can sign up for Indy's tool suite, which makes it easy to manage the content you create and share with collaborators. By joining Indy, you'll also get access to the Indy Network, which is a network that fosters collaboration with other content creators. Learn more about Indy today!