As a freelancer, have you ever felt burnt out or drowning in work and messages? The key to success is to create a list so you can track urgent and important tasks. This is one of the most valuable investments in time you can make, as 77% of freelancers say they have not achieved financial stability. Making a to-do list may take away from actual periods of paid work, but gaining the ability to sort tasks and focus on what truly matters for your work can pay dividends beyond the time spent.
Have you ever heard of the 80/20 rule? It means that 80% of your work is decided by only 20% of the effort required. So choose your responsibilities wisely, as tracking your work's progress can make or break a project. Use that knowledge to zero in on the 80% of results that matter.
Indy wants to give you 10 suggestions for how to prioritize tasks and decide how to focus on what is truly important to move your work forward and show the client that you have a plan.
1. Capture everything on a Master List and then break it down into monthly, weekly, and daily goals
A Master List is a great first start to organizing your freelance work and deciding how to prioritize tasks. It forces you to put everything on paper and examine all the time factors. This can also be done through digital tools, so just use whatever suits you best.
The 80/20 rule, or the Pareto Principle, is an example of this for setting daily goals. You want to minimize your efforts so you can focus on the most important results. That will allow you to maximize results.
Write it down
Make sure you capture everything on your Master List, so start by prioritizing tasks by monthly, weekly, or daily goals. This list can stave off a freelancer's Completion Bias, or the push to finish smaller tasks at the forefront rather than dialing into more complex tasks, both meaningful and urgent ones.
Having the wrong goals can impede your actual work because your attention is pulled in the wrong direction, so the right Master List according to your own specific practices is the key to success. You can go back and adjust them as needed to make sure you are still on the right track.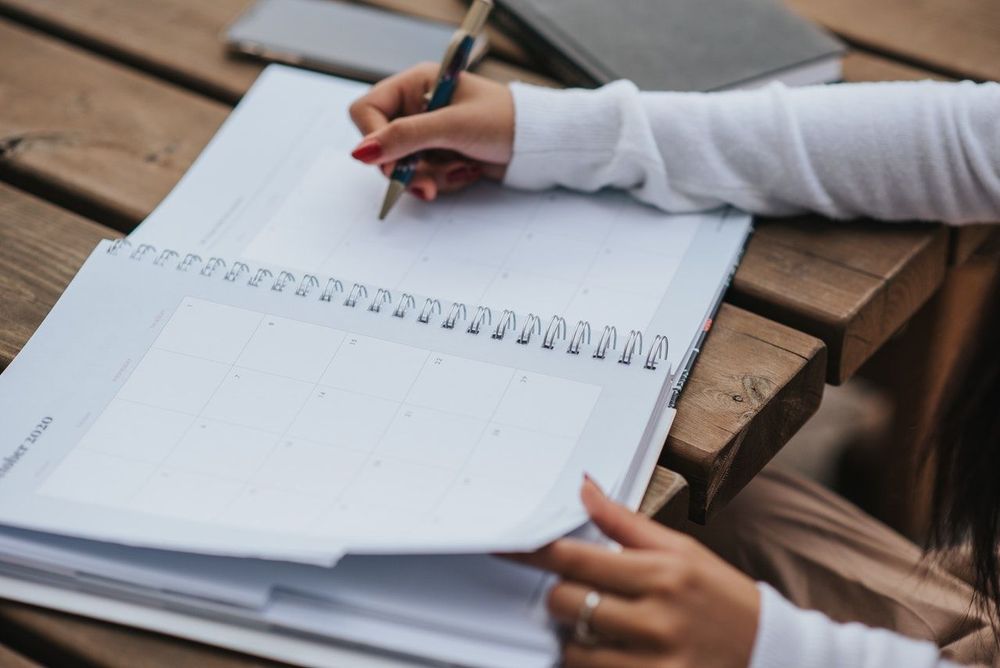 Here are the main points to follow when making a Master List:
It sounds like a simple exercise, but it is a vital step and one that is easy to overlook. You will want to break it down into monthly, weekly, and daily periods.
Identify all your daily/weekly tasks.
Take the time to mark everything down, no matter how small.
Identify key tasks.
Based on that, identify the most important tasks.
What are the tasks that give you the most returns?
Also, identify the tasks which provide the most return based on the effort given.
Brainstorm how you can reduce or transfer the tasks that give you less return.
Take this step by removing or cutting down on the small or inefficient tasks.
Create a plan to do more that brings you more value.
Finish by generating the Master List.
2. Separate the urgent from the unnecessary with the Eisenhower Matrix
To aid you in weeding out unimportant exercises, there are tried-and-true methods available for discovering your important task prioritization.
Developed by former US president Dwight Eisenhower, the Matrix is a simple four-quadrant table that helps you separate out "urgent" and "important" tasks. Sort the tasks into one of the four quadrants, and focus on the most urgent while avoiding non-urgent ones that do not move your progress forward.
Urgent vs. not important
The urgent ones are classified as ones that need a resolution right away, such as client emails. Important tasks are those that are less timely but necessary for reaching long-term goals and values.
To fill it out, create a table with four boxes with the following labels: Urgent & Important tasks/projects; Not Urgent & Important; Urgent & Unimportant tasks; and Not Urgent & Unimportant tasks/projects.
Put a specific undertaking in each quadrant based on urgency and timeliness; this will let you cross out the ones that do not add value to your projects.
3. Avoid competing priorities
Now there are certain practices that you should avoid if you do not want to risk your productivity. It is easy to get bogged down when you are working on multiple projects at once or trying to multitask. Despite that method's popularity, it has been linked to a decline in performance as the quality of attention on both projects decreases, according to productivity experts. Workflow matters, and hitting each step, in turn, requires you to stay focused.
So you will want to avoid competing priorities by sticking to one urgent effort at a time and making it your highest priority. Freelancers also need to identify distractions that can be rescheduled or avoided. Different priorities all need to be handled, but a good tactic is to focus on only one for good time management.
4. Consider effort
It is easy to be overwhelmed even with a thorough and fine-tuned Master List. A prioritized task list can be adjusted to prevent a burdensome timeline. Tools are available here on Indy to show time tracking. A solution for this is to rank tasks instead by the effort required rather than just urgency or priority.
Start with the projects that take low effort. Clearing them out first can let you catch up and open up space for more complicated efforts, and marking them complete on a checklist can improve your mood as you complete all your tasks.
5. Assess the value of your tasks
Making an assessment of the value of your tasks is essential in sorting out between equally important goals. Take a look at not only the financial gain but also how closely it aligns with your own practices and desires.
For a freelancer, seeing the big picture of your other tasks is essential for prioritization. Although it may seem that business is a sign of progress, that is generally not the case, and may lead to wasted time. Rather than padding the work day with many small tasks, only add those that have value.
6. Reorganize your tasks based on deadlines
In a similar manner to Suggestion 4, project progress can be planned out by deadlines for effective time management. Reorganizing tasks based on their due dates is an effective practice to keep you on track. It helps identify priority needs, and by planning a finish time cuts down on stress by showing you how long you have to finish something so you can plan ahead. Workflow success means keeping the end goal in sight as you work through all your tasks.
Ensuring you meet deadlines even for non-urgent duties also helps you stay on track; otherwise, you may keep pushing back important tasks that do not seem urgent, but would otherwise add value to your goals.
7. Know when to cut goals
Make sure you have goals
It is good that freelancers have ambition and want to constantly be on the job and strive toward their goals. Each case simply is not practical, however, so you will want to know when to cut goals that are not serving you. Make a priority for ones that have a high return for you.
Here is one method that can help. First, write down your top 25 goals, whether it is in life, career, or hobbies. Then circle the top five goals. Those are your most urgent and important ones. Then circle a second group that has value.
Cut goals
Any goal that does not have a circle goes on an "avoid at all cost" list. If you used the Eisenhower Matrix, it is the lowest quadrant. Those are ones that should be actively skipped, rather than waste time on only partially completing them on an ongoing basis. Having too many tasks does not serve your long-term priorities.
8. Identify your 20% task
Remember the Pareto Principle? It is important to keep in mind when planning your projects. The key is to identify your 20% task which offers the most value. Understand the work required for each task and know what outcomes it will produce.
A good tip is to find time multipliers. These are strategies and tools that create more time for the future. For instance, in construction, a tool such as a hammer is a multiplier because it increases your reach and connecting ability. For freelancers, these include digital apps and other platforms. Indy provides all of the productivity tools freelancers need to manage their business with just one website.
9. Don't let the bumps derail you
There are times when a project ends unsuccessfully, or a goal becomes unobtainable. Freelancers should not let those speed bumps derail their plans. Planning ahead and prioritizing can mitigate this.
Bumps can also be avoided by paying attention to the economic concept of the "sunk cost fallacy"—a feeling that we are compelled to continue doing something that we've already invested time and money into. In other words, we continue putting more time into a project that is not going to work out.
It is more important to your projects, in the long run, to avoid falling into this fallacy. For freelancers who find themselves hitting that speed bump, it is easy to reverse course. Just cut out work that cannot be completed and re-prioritize those that do add value.
10. Timebox/chunking
There are many tools and pieces of advice about how to prioritize. Some say to finish the easy projects first to remain productive. Others say write out your most important goals and only put your focus on those. Both approaches have merit, and it is up to each freelancer to adopt the approach that most closely fits with their values. The most important thing is to just do it. Prioritizing various tasks is vital for project success.
A final suggestion is to focus on the time required for a task, known as "timeboxing." Timeboxing encourages you to focus on time instead of tasks for your daily priorities. You allocate a certain number of hours or days, called a "timebox," to each activity, and move on when the time is done. This illustrates the time required for a task and where its value truly lies.
"Chunking" is more specific, and is the process of blocking whole chunks of a schedule for just one task. The work is focused just on that one thing, cutting out everything else for that period. It is similar to the Pomodoro Technique. Chunking a task allows you to focus on the workflow and achieve a successful project.
How can Indy help?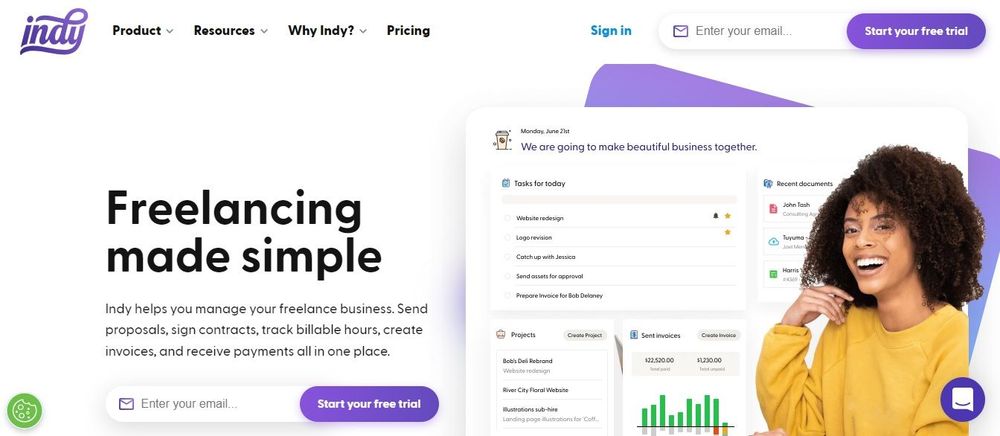 Every freelancer needs to know how to prioritize tasks based on their workflow requirements. These suggestions have shown how to identify specific project goals and how to identify the value of each workflow step.
One way to prioritize is to make sure your time worked is correctly monitored. Indy offers a Time Tracker for freelancers and a Tasks tool for deadlines. Reach out if you have any more questions or want more tips.