When it comes to customer relationship management (CRM) tools, two prominent names stand out in the industry: HubSpot CRM and HoneyBook. Both platforms offer unique features and benefits, making the decision of which one to choose dependent on your business's specific needs.
Today, we're taking a closer look at these two major players in the CRM world, including their key features, automations and integrations, and pricing.
What Is HubSpot?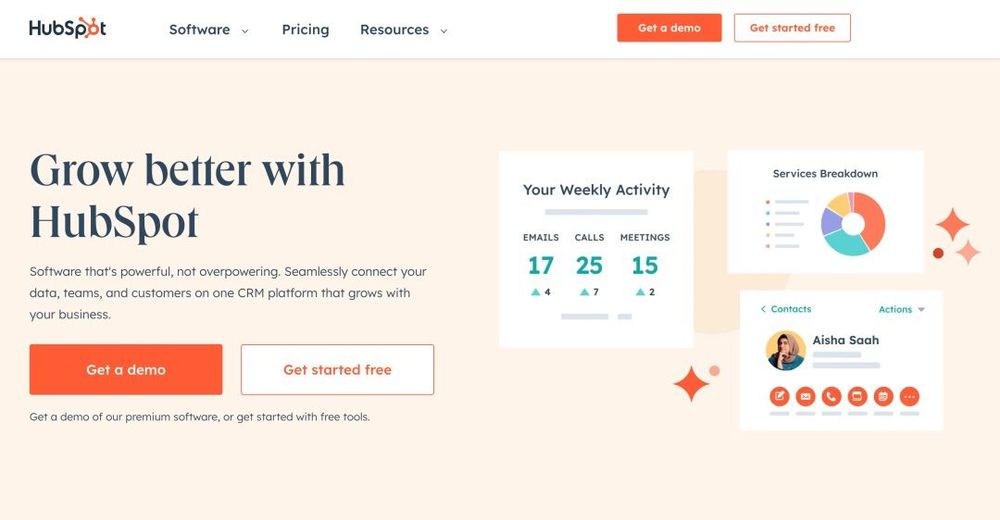 First up, we've got HubSpot, the crowd-pleaser when it comes to a comprehensive CRM offering. It's designed to help businesses with their inbound marketing, sales, and customer service efforts. It offers a suite of tools and features that enable businesses to attract, engage, and delight customers while growing their online presence and generating leads.
From managing customer relationships and automating marketing campaigns to tracking analytics and improving customer support, HubSpot provides a powerful set of resources for businesses of all sizes to succeed in the digital landscape.
HubSpot Key Features
While HubSpot is packed with robust features, let's take a closer look at some of the most important areas for your business.
Centralize and simplify with HubSpot
HubSpot's got an intuitive interface that'll make you go, "Wow, that was easy!" It's like a one-stop shop for all your customer interactions and data, neatly organized in one place. No more struggling to find those client emails buried deep in your inbox or hunting down essential details about your leads – HubSpot's got it all sorted.
A sales automation feature-packed wonder
Now, let's talk about the goodies that come with HubSpot. You get contact & company insights, email marketing scheduling (say goodbye to forgetting to send those follow-ups), and pipeline management to keep those deals flowing. And guess what? It plays well with HubSpot's other marketing and sales products. Talk about a power-packed combo!
Email marketing automation and sales analytics
HubSpot is more than just a CRM – it's an all-in-one marketing tool with powerful marketing automation and email automation features. You can streamline your sales processes, harness the magic of inbound marketing, and access all the tools you need to create stunning email templates and landing pages. Plus, the reporting features are top-notch, providing you with valuable insights into your sales and marketing efforts.
Free CRM for small businesses and enterprise plans
Did we mention that HubSpot comes with a free plan? That's right – you get access to some of the premium features without spending a dime. For larger businesses, there are paid plans with customization options and conversation intelligence to take your business to the next level.
HubSpot's Automations and Integrations
HubSpot is a powerhouse when it comes to inbound and email marketing, sales, and customer relationship management. Packed with a wide array of tools and functionalities, it's no wonder that HubSpot has become a go-to platform for businesses looking to grow and succeed. Let's explore some of the key features that make HubSpot stand out from the crowd:
Marketing automation: HubSpot offers robust marketing and email marketing automation capabilities, allowing you to create and execute personalized, automated marketing campaigns. From email sequences to lead nurturing, you can engage with your audience at every stage of their buyer's journey.
CRM integration: With HubSpot, you can centralize and manage all your customer interactions in one place. It's not just a standalone CRM. It seamlessly integrates with marketing and sales tools such as Salesforce, providing a unified view of your customers.
Sales tools and automation: HubSpot's Sales Hub equips your sales teams with powerful tools to streamline their processes and boost productivity. Services and features like email tracking, meeting scheduling, task queues, and deal tracking help your sales reps close deals faster.
Email marketing and templates: Create eye-catching and personalized email marketing campaigns using HubSpot's tools. With a library of customizable email templates, you can save time and deliver impactful messages to your audience.
Landing page templates: Designing landing pages has never been easier. HubSpot offers a variety of customizable landing page templates that help you create high-converting pages without the need for technical expertise.
Reporting and analytics: Get valuable insights into the performance of your marketing and sales efforts. HubSpot's reporting features provide data on website traffic, lead generation, email performance, and more, enabling data-driven decision-making.
Lead nurturing and automation: Nurture your leads effectively with automated workflows that deliver the right content at the right time. HubSpot's lead nurturing features help you build strong relationships with your prospects.
Custom objects and customization: Tailor HubSpot to fit your unique business needs by creating custom objects, properties, and reports. This level of customization ensures that HubSpot aligns perfectly with your specific processes.
Integration and extensibility: HubSpot boasts a wide range of integrations with other popular tools and platforms, making it easy to connect your existing tech stack and optimize your workflows.
User-friendly interface and onboarding: HubSpot is known for its user-friendly interface and excellent onboarding experience. Even beginners can quickly adapt to the platform and start making the most of its features.
Final Thoughts on HubSpot
From inbound and email marketing to sales automation and customer relationship management (CRM), HubSpot offers all the most important features to help your business thrive. Whether you're a small business or a large enterprise, HubSpot's comprehensive suite of tools empowers you to attract, engage, and delight your customers, ultimately driving growth and success for your business.
What Is HoneyBook?

Next up, we have another powerful player in the CRM world, HoneyBook. HoneyBook is a project-based Customer Relationship Management (CRM) platform tailored for small business owners, freelancers, and creative entrepreneurs. It's a comprehensive tool that streamlines various aspects of running a business, from client management and project coordination to invoicing, contracts, and payments.
With HoneyBook, users can create professional proposals, track expenses, manage tasks, and automate workflows, all in one centralized platform. It's designed to help users save time, improve efficiency, and enhance client interactions, making it an invaluable resource for anyone looking to grow their business in a more organized and seamless way.
HoneyBook Key Features
HoneyBook's powerful features make it another strong solution for creative entrepreneurs, freelancers, and small service-based businesses. Let's dive into some of the key features that make HoneyBook stand out from the competition:
Client management: HoneyBook allows you to efficiently manage clients and leads, keeping all interactions organized in one place. Never miss a beat with your clients, as HoneyBook helps you stay on top of deadlines and appointments.
Project and task management: Stay on track with your projects by using HoneyBook's project management tools. Create timelines, set tasks, and manage deadlines effortlessly, ensuring smooth project execution.
Online payments and invoicing: Get paid faster with HoneyBook's seamless online payment and invoicing system. Clients can make payments securely and conveniently, reducing payment delays and improving cash flow.
Proposals and contracts: Impress your clients with professional and visually appealing proposals and contracts. HoneyBook provides customizable templates, making it easier to create documents that align with your brand.
Automation and time-saving tools: HoneyBook's automation features are designed to save you time and effort. From automated email marketing sequences to task reminders, you can focus on your creative work while HoneyBook handles the rest.
Customization and branding: Showcase your unique brand identity by customizing your proposals, contracts, and invoices. HoneyBook allows you to personalize each client interaction, leaving a lasting impression.
Intuitive user interface: HoneyBook's user-friendly interface ensures that you can navigate the platform with ease, even if you're not tech-savvy. The intuitive design makes managing your business a breeze.
Lead and inquiry management: Never miss an opportunity with HoneyBook's lead management tools. Capture and track inquiries, ensuring you can convert potential clients into loyal customers.
Live chat and communication: HoneyBook offers live chat functionality, enabling real-time communication with your clients. Stay connected and respond promptly to their queries and concerns.
Analytics and insights: Gain valuable insights into your business performance with HoneyBook's analytics and reporting features. Track your revenue, project progress, and client interactions, empowering data-driven decision-making.
HoneyBook is more than just a business management platform; it's a community of creative professionals. You'll have access to resources, educational content, and support from like-minded individuals, fostering growth and success.
HoneyBook's Automations and Integrations
Just like HubSpot, HoneyBook has its own set of automations and integrations to help you breeze through your workload.
Email sequences: Set up automated email sequences to send personalized messages to clients at specific intervals, such as welcome emails, follow-ups, and post-project feedback requests.
Task reminders: Automate task reminders for yourself and your team members to stay on top of deadlines and project milestones.
Proposal follow-ups: Automatically send follow-up emails to clients after sending a proposal to increase the chances of conversion.
Payment reminders: Send automated payment reminders to clients for outstanding invoices, ensuring timely payments.
Questionnaires: Set up automated questionnaires to gather important information from clients before starting a project.
Contract signing: Automate contract signing requests, making it easy for clients to review and sign contracts electronically.
Client onboarding: Streamline the onboarding process with automated welcome emails and essential information for new clients.
Integrations with popular apps: HoneyBook integrates with QuickBooks, Google Calendar, Gmail, Zoom, Mailchimp, Calendly, Slack, and Zapier, so you can easily trigger events in your favorite apps right from HoneyBook.
Final Thoughts on HoneyBook
Whether you're a photographer, event planner, designer, email marketing freelancer, or any other creative professional, HoneyBook can be a great solution. With its client-centric approach, time-saving features, and user-friendly interface, HoneyBook takes the stress out of business management, allowing you to focus on what you love – your creative work.
HubSpot vs. HoneyBook: The Final Verdict
In the end, you can't go wrong with either HubSpot CRM or HoneyBook. Both platforms are powerhouses in their own right and cater to the different needs of businesses. It's like choosing between chocolate ice cream and a warm apple pie – they're both delicious, and it ultimately depends on your personal taste!
How Can Indy Help?
In the showdown between HubSpot vs. HoneyBook, there's a third contender you need to consider: Indy. Indy is an all-in-one platform designed to empower freelancers, entrepreneurs, and small business owners, making it easier and more efficient to manage their businesses. The platform is packed with essential features you can take full advantage of, such as:
Proposals, contracts, and other free resources
Project management
Time tracking
Invoicing and billing
Real-time chats
Client management
File storage
Automated workflows
Integrations with PayPal, Google Calendar, Zapier, and Stripe
E-signatures
Payments
And so much more! Plus, Indy University gives you all the knowledge you need to overcome the biggest challenges in freelancing, while Indy Community lets you connect and collaborate with other freelancers and even gain client referrals.
This all-encompassing platform helps you streamline your operations, saving countless hours so you can focus on what you do best. Indy's intuitive interface makes it easy to get started the moment you sign up. Get started today with our free plan!
Wrapping Up
In the fast-paced world of customer relationship management (CRM) tools, HubSpot CRM and HoneyBook shine as two prominent contenders, each offering a unique set of features and benefits. Ideal for small to mid-market businesses, HubSpot CRM brings the power of a comprehensive, free CRM solution to the table. On the other hand, HoneyBook stands tall as an all-in-one business management platform crafted for creative professionals and small service-based businesses.
The decision of which platform to choose comes down to your specific needs and requirements. However, if you're a freelancer or a small business owner, we recommend you check out Indy! It has everything you need to manage your business, from proposal to payment. Check out Indy's free plan today!