The exciting part about being a freelancer is the ability to continuously work on new projects with new clients. But this is just one side of the coin—learning to effectively manage multiple projects and clients is one of the main challenges that freelancers face.
Most of us begin freelancing because of a skillset in a particular area, like writing, photography, or graphic design. However, we often quickly learn that there's another skill in need of development: running a business. This means managing our finances, building client relationships, and staying organized.
But what comes first is ensuring that you're producing high-quality work for all your clients—and across all your projects. If you don't have a strategy in place for managing everything that's on your plate, you might risk failure on a client project or damage one of your business relationships. This is why we've put together a freelancer's guide to make you a pro at managing multiple projects.
6 Pro Tips for Managing Multiple Projects
You can make life easier with some good habits and effective tools in place. We've put together our top six tips to ensure that you're making your clients happy and delivering top-quality work.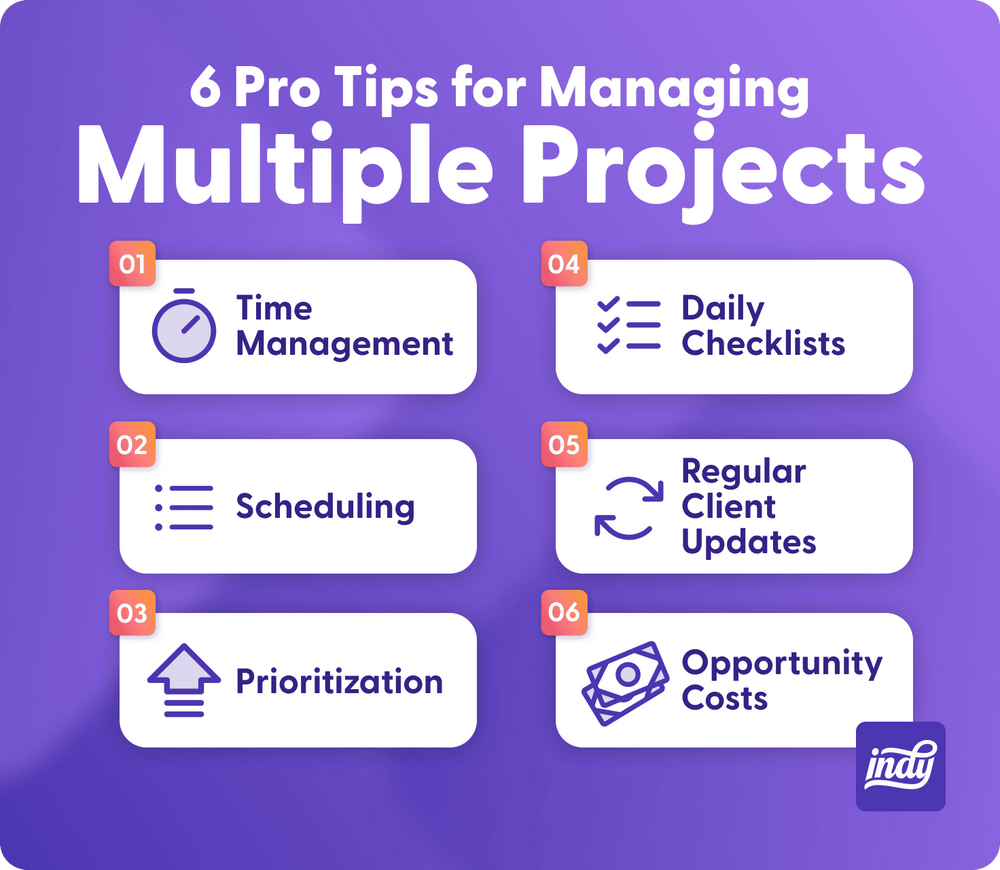 Time Management
Managing your time is essential for staying on top of your work—especially when you have a lot of it. What can be a game changer here is proactively checking just how much time you're spending on your work. Before I started time tracking, I thought I was earning great rates based on how much time I assumed I was spending per project. Turns out, they weren't as great as I thought.
You can avoid my error with time tracking apps, like Toggl (free) or HourStack (paid). Physically seeing how much time you're spending will help you avoid distractions and focus on the task at hand. There are a bunch of different time tracking apps out there. Check out this link for a more comprehensive list to find out which might fit your needs the best.
Scheduling
One massive challenge freelancers face is being able to allot adequate time for all project tasks. Set a schedule. If you properly lay out all of your client work, you'll prevent yourself from getting overwhelmed and overworked, and understand exactly what you need to accomplish. Being able to quickly check what's next in the pipeline will save you time.
And here's an important note: your schedule is more than just work. Schedule free time. Schedule TV time. Schedule time with friends. If you constantly have work in the back of your mind, you'll become less productive and you'll be less present when you're doing non-work activities. Don't be afraid to make sure that you're living a life outside of freelance work.
Prioritization
This goes hand-in-hand with scheduling. It's critical to prioritize assignments based on deadline and importance. Once you have everything in your schedule, it's easier to understand what needs to get done first, what might take longer, and where you have the strictest deadlines.
When I was an editor for an online magazine, we used Trello boards to visually see the progress of our tasks, get checkpoints on project performance, and understand which items were of the most importance. It was excellent as project management tool and teamwork tool, but I've found that it's also helpful for a freelancer with multiple projects.
Daily checklists
This is a big personal one for me. I'm a big fan of technology and how it helps us. Yet, I might just be a bigger fan of the old-fashioned checklist in my notebook. I start all my mornings writing out a list of the things I need to get accomplished that day. Being able to physically cross them off throughout the day is both a motivator and a way to stay accountable.
Regular client updates
You might be working vigorously throughout the week on the projects you have for multiple clients. And you might know that all your work will be delivered in time, but if you aren't giving your clients updates on the checkpoints you hit, they might worry that you aren't doing the work they're paying you for.
Make sure you give your clients occasional updates. Although "no news is good news", we're all human. And no one's immune to the tendency of overthinking things when they don't get updates.
Consider the opportunity costs
Having many clients as a freelancer is cool. Multiple people or organizations want to hire you and utilize your services to help them with their businesses. It must mean you're doing well. But the reality is that not all projects are created equal, and if you accept every client offer that comes your way, you might end up being less efficient and earning less money than you would have if you were more selective.
For example, two clients approach you for a project that pays $1,000. The money sounds great, but because of the specifications and requirements, one takes you about 4 hours, and the other takes you about 10. If you're brand new to freelancing, you'll want to inhale everything that comes your way. But as you grow and build your portfolio and clientele, try to ensure you're only taking on projects that allow you to truly use your time more wisely.
The truth about freelancing
When you became a freelancer, you probably didn't think about the fact that you were simultaneously a business owner and a project manager—but here you are. And that's a good thing.
There's nothing to fear about running a business if you take the steps to do so efficiently. Some extra work in organization and management throughout your journey as a freelancer will ensure that you're always ahead of the game.