Electronic signatures and entire document workflow and management are crucial for businesses, and that's why everyone's talking about "PandaDoc vs DocuSign." If you're trying to figure out which one's better for you, keep reading!
PandaDoc and DocuSign are two leading platforms in the arena of electronic signatures and document management, each offering a unique blend of features. Businesses often find themselves at a crossroads, trying to decide which one suits them better. This article will provide an in-depth comparison between PandaDoc and DocuSign, considering various parameters like functionality, pricing, and user experience.
Which Digital Tools Can Help the Entire Document Workflow?
Ever find yourself drowning in piles of documents that need signatures? Need a template library and a helping hand to create proposals or an audit trail? And wouldn't it be great if the tool you use is mobile-friendly and fully compliant with your CRM? Well, good news! There are plenty of software and digital tools out there to manage your contracts and sales documents seamlessly. Check out these options:
Several digital tools for signing documents can be beneficial for you and your sales teams. Two prominent options are DocuSign and PandaDoc.
DocuSign provides a dedicated e-signature platform that focuses on security and compliance. With its extensive integration options, it seamlessly integrates into your existing workflows.
On the other hand, PandaDoc offers an all-in-one document workflow and management solution, combining e-signatures solutions with document creation, tracking, and collaboration features. Its drag-and-drop editor and advanced organization tools make it easier for your sales team to create and customize documents efficiently.
Both platforms offer a mobile app for on-the-go signing, ensuring flexibility and convenience. By utilizing these digital tools and examining their many features, you can automate and optimize your business agreement processes, streamlining your sales operations and enhancing productivity.
First, let's compare DocuSign and PandaDoc to see who comes out on top, followed by a third choice that might be an even better option for you!
What is DocuSign?
DocuSign is a highly reputed electronic signature platform that allows businesses to digitize managing documents and signing processes in contracting or sales processes. It offers legally binding e-signatures, which are accepted in most parts of the world.
With DocuSign, not only can you send contracts or any business documents for signatures, but you can also track the signing process in real-time, keep records, and manage workflows. Its user-friendly interface, robust security measures, and comprehensive integration capabilities make it a preferred choice for many businesses, irrespective of their size and industry.
What is PandaDoc?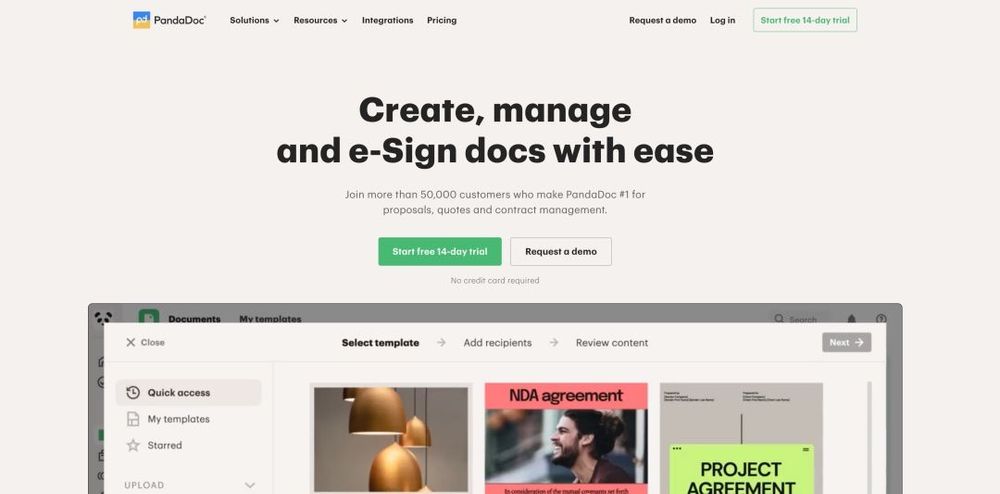 PandaDoc is a comprehensive document automation software solution that revolutionizes the process of creating, sending, tracking, and electronically signing documents. It provides an all-in-one software platform that is not only limited to e-signatures but also includes features like proposal creation, contract negotiations, and CRM integrations. All features are available via PandaDoc's mobile app.
PandaDoc is lauded for its customizable templates, content library, and interactive quoting capabilities, which make it stand out in the market. Its efficient document workflows help in streamlining processes and improving efficiency, making it a popular choice for businesses, particularly those in sales and HR. PandaDoc's integration with popular CRM tools further enhances its appeal, providing a seamless experience for its users.
PandaDoc vs. DocuSign: Which Is Better for the Entire Document Workflow?
PandaDoc and DocuSign are two leading electronic signature and document management solutions that are transforming the way businesses handle their paperwork. Here's an overview of PandaDoc and DocuSign's key features, differences, pricing, security, interfaces, and more!
Key features
Both DocuSign and PandaDoc offer electronic signatures, audit trails, templates, mobile apps (iOS & Android), and document storage. But here's the catch: PandaDoc goes the extra mile. It's better for creating documents, tracking analytics, and collaborating with others.
Key differences
DocuSign rocks with e-signature solutions, while PandaDoc is an all-in-one document management solution that you can easily customize. DocuSign has a massive 350+ integrations, while PandaDoc comes up short with 30+ integrations.
Plans & Pricing
DocuSign's pricing starts at $10 per user per month, billed annually with basic features and e-signature needs. There's also a $25 plan for professionals who work with small to medium-sized sales teams. Finally, DocuSign has a $40 enterprise plan that has some analytics features that collect data, as well as other tools for streamlining and enhancing the management of contracts and agreements.
PandaDoc has a free plan for new starters. PandaDoc's paid plans begin at $19 per user per month (annually) for Essentials and $49 per user per month for Business.
Both DocuSign and PandaDoc have a tailor-made customized plan that software sales teams can take advantage of if they need even more options.
Support & security
Both platforms have online support, phone support, and live chat support, but PandaDoc might win in the responsiveness department. When it comes to security, DocuSign has more certifications like GDPR, HIPAA, SOC 2, and ISO 27001.
User-friendly interfaces
DocuSign keeps things simple with a focus on signatures, while PandaDoc offers a clean interface with advanced tools for document creation and management.
Collaboration tools
PandaDoc takes the crown here with real-time editing, comments, version tracking, document status, and approval workflows. In light of this, DocuSign's collaboration features are a bit basic compared to PandaDoc.
Storage and organization
DocuSign offers secure cloud storage with basic organization, while PandaDoc goes above and beyond with custom content blocks, tags, folders, and document analytics.
Mobile-friendly
Both platforms offer legally-binding electronic signatures, and you can use them via their mobile app too.
So which one wins?
The winner depends on your needs. DocuSign is great if you want a dedicated, custom e-signatures solution with top-notch security. But if you need a complete document management platform to sign documents online with advanced features and killer collaboration tools, PandaDoc might be the better choice.
How Can Indy Help?

Indy is a powerful tool for freelancers, entrepreneurs, and small business owners. And unlike PandaDoc and DocuSign, it's not just a document editor. Indy has many different kinds of templates (contract templates, proposals, invoices, etc.) to help you manage your business from proposal to payment.
With Indy, you can breeze through sending documents that need your contractor's signature. Plus, you get the flexibility to create proposals tailored to your specific needs. On top of that, you'll get many other amazing tools for task management, time tracking, invoicing, managing clients, and more!
It's all here to make your life easier and more efficient. And when it comes to the e-signing process, Indy has its own signature solutions. You can either upload a picture with your signature or create one while using Indy.
You'll save countless working hours that you can put towards closing more deals and growing your business. It's super convenient to use on your mobile device, and you'll get email notifications to stay on top of things. Why not try the free plan and see how it works for you?
Wrapping up
Choosing the right electronic signature and document management solution is crucial for businesses seeking efficiency and productivity. Both DocuSign and PandaDoc offer impressive features and benefits, but the choice ultimately depends on your specific needs and preferences.
If you're a freelancer, entrepreneur, or small business owner, take a closer look at Indy. Not only can you sign documents with e-signatures, but it has every tool you need to run your entire business. Get started today for free!