Since the invention of Henry Gantt's Gantt charts at the turn of the 20th century, project management has been a thing. But during the past ten years, contemporary project management technology has made these ideas more widely applicable in the workplace.
So what exactly is project management? According to the Project Management Institute, a project is a brief, one-of-a-kind initiative that has "a particular set of activities designed to fulfill a distinct purpose" and frequently entails collaboration across many organizations.
Following that, the project is managed by using knowledge, skills, tools, and methods to project activities in order to achieve project requirements. Five steps make up the project management life cycle:
Initiation
Planning
Execution
Monitoring/controlling
Closure
The key objective of the entire procedure is to finish tasks quickly while delivering superior outcomes.
Why use project management software?
In general, project management software helps organizations by monitoring the status of initiatives, campaigns, resources, and task allocations within an organization. Project managers and team leads can keep teams on the same page by using project management software to have a better understanding of how organizations and teams are progressing.
Teams without project management software have found it difficult to stay on top of all remote work and project updates in light of the current move to remote and hybrid work. This is because we can no longer rely on in-person meetings to transmit information. Because of this, project management software will be more important than ever in 2022, whether you're beginning a new independent business or searching for methods to modernize an already successful one.
The following are some major advantages of adopting project management software:
Fosters collaboration and improves communication within an organization.
Provides a macro-level picture of project progress for leadership, which aids teams in maintaining perspective and understanding priorities.
Aids in monitoring the budget and cost of resources; assists in allocating resources; minimizes team burnout.
Helps teams who are scattered or use a mixed work paradigm to collaborate remotely.
The 10 best project management tools
There are many project management tools available out there—all with different target audiences, features, and use cases. We'll run through some of the more popular platforms to help you make a decision.
1. Jira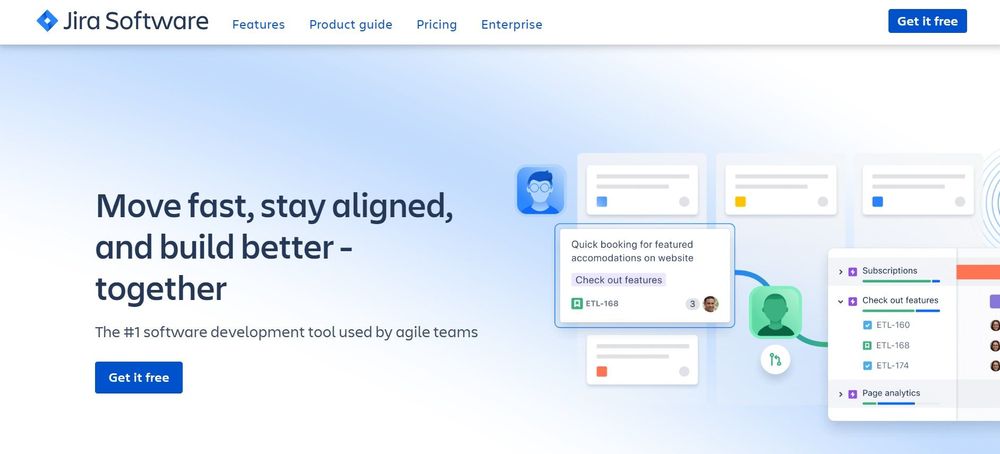 Originally, Jira was created as a bug and issue tracking tool for software teams. But now, Jira employs agile project management, which is just another way of saying that a project is broken up into smaller phases. Software engineers use it regularly, but it has also become a well-liked project management tool.
Jira has a very straightforward interface. It may be used by agile teams to monitor workflow, with several parts indicating what is "to do," "in process," and "done." Jira's agile approach is all about helping development teams remain on top of what needs to be done; issue tracking helps with this.
Jira has a number of key features, but some of the main ones are:
Define project milestones - It's much easier to visualize the completion of a project when you know the steps that need to be taken along the way. You can create a hierarchy of issues with Jira to plan what needs to be done by when.
Dependency management - Jira refers to larger tasks as epics, and you can put in an orange line that connects different epics with information on how they relate to each other. To see how the different projects rely on each other shows the importance of dedicating the right amount of time to each of them. As a freelancer, you can link your biggest projects and plan how you will finish them all within deadlines.
Project permission control - With any project, there may be certain information that should only be seen by some people. You can set permissions so that any sensitive information will only be accessed by those who need to see it. This is a useful function for building trust with clients.
Jira has four pricing tiers:
Free Version: Allows for up to 10 users and has the basic features needed for a small operation, including scrum & kanban boards, backlog, agile reporting, customizable workflows, apps & integrations, basic roadmaps, single project automation, and 2 GB file storage.
Jira Standard: Costs $7.50/user/month and is best for teams who are starting to grow. Jira Standard includes everything from the free version plus session duration management (desktop), project roles, advanced permissions, audit logs, anonymous access, and 250 GB of file storage.
Jira Premium: Costs $14.50/user/month and is best for organizations looking to scale how they collaborate and track work. Jira Premium includes everything from the Standard plan and has more advanced features such as global and multi-project automation, advanced roadmaps, advanced dependency management, capacity planning, project archiving, admin insights, sandbox, release tracks, and unlimited file storage.
Jira Enterprise: For the Enterprise plan, you'll need to contact Jira to get the pricing. Jira Enterprise includes everything from the Premium plan with added support features for organizations with global scale, security, and governance needs.
2. Microsoft Project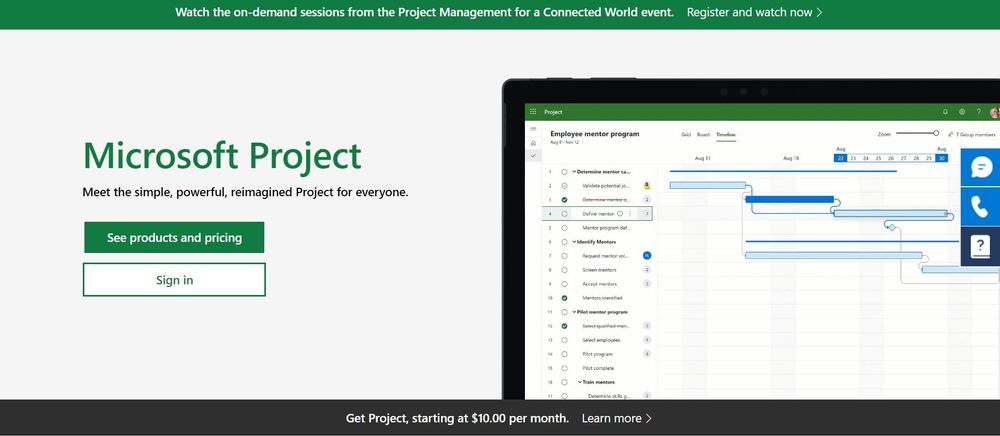 Many of the people who use Microsoft software were not even born when it first hit the market. And since Microsoft Project was one of the first project management solutions that hit the scene, it offers the majority of the capabilities you will want. This includes all the elements we have come to expect from project management software, such as kanban boards, calendars, and project management tools. Although it has a steeper learning curve than most other solutions, Microsoft Project is regarded as a powerful project management tool for teams with expertise.
Microsoft Project has a number of features. Let's look at a few of the most popular ones:
Dynamic scheduling: This method uses intelligent software to create a schedule for you based on a variety of variables. It will consider the availability of your workforce, your company's general goals, and any roadblocks. Plans for workflow management for each employee will result from this.
Business intelligence - To transfer data across several apps, you may use interactive dashboards. This makes it easier for your team to work together on reports and other projects using the same information.
Workflow automation - Automating certain activities may help your team operate more efficiently and save a lot of time. You may, for instance, set tasks by sending emails to the workforce and managing each project's progress.
Microsoft Project has three cloud-based pricing tiers:
Project Plan 1: Costs $10/month and features reporting, project planning, and scheduling capabilities, as well as allowing data to be displayed in different ways. This includes Gantt charts, grids, and tables.
Project Plan 3: Costs $30/month and allows for resource management. You can request resources for your team and assign them to different team members.
Project Plan 5: Costs $55/month and has some advanced features like demand management. You can analyze project ideas from anywhere in your organization. This will give inspiration for new ideas and projects.
3. Airtable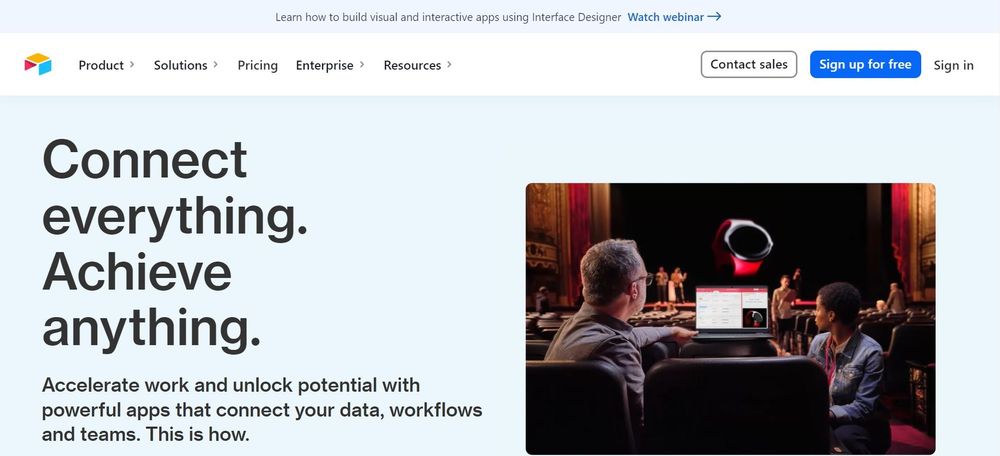 For many people, the finest feature of Airtable is that it comes with the fundamental components needed to get started quickly. Of all project management tools, it may be the easiest to use. This could also imply that it has more limitations than other software. What you need to use it for will determine how big of an issue this could be. Task management might be difficult at first, but Airtable's straightforward spreadsheet software will enable you to automate various data kinds and connect records.
Here are some of Airtable's biggest features:
Ready-made templates: Airtable's spreadsheet approach means there are hundreds of templates available to help you with projects.
Interface designer: You can make interfaces in your Airtable bases without needing any coding experience.
Views: Keep track of deadlines and the status of various projects by using the calendar view. Find files and photos by displaying them in gallery view. There is also a kanban view where several cards for the tasks you are working on may be stacked.
Automations: You can develop a multi-sequence process using triggers and actions in Airtable, or you can just create a single notice to send out.
Airtable has three pricing tiers:
The free plan offers unlimited bases, up to 5 creators or editors, 1,200 records per base, 2 GB of attachments per base, and 1 sync integration.
The Plus plan comes in at $10/month and offers 5 GB of attachments per base as well as 5,000 records per base, 3 sync integrations, automatic table syncing, and a 6-month revision that will help you plan going forward.
The Pro plan comes in at $20/month and offers 20 GB of attachments per base as well as 50,000 records per base, 7 sync integrations, and Gantt and Timeline views. There are also more sharing options, plenty of integrations, and field & table editing permissions.
4. Smartsheet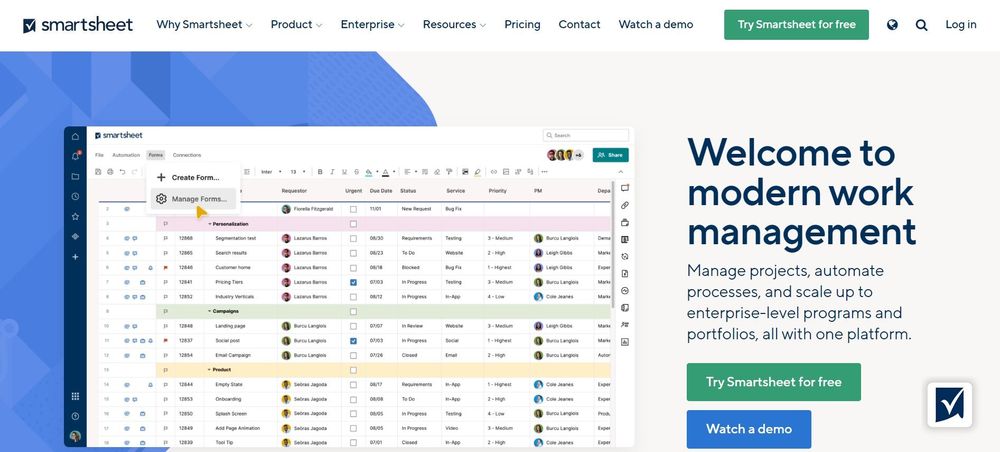 Smartsheet was launched in 2006, nearly 15 years before global lockdowns forced remote working on so many. It was created as a tool for tracking projects by whole teams from anywhere that uses spreadsheets. From a single location, it's simple to access all of Smartsheet's capabilities and more. And when necessary, it's easy to add new tasks to your projects thanks to drop-down options.
This project management software is now reportedly utilized by 9 million users globally, including Google and Netflix.
There are dozens of Smartsheet's significant features, but here are a few of the more crucial ones:
Shared sheets: Similar to Google Docs, shared sheets allow you to invite individuals to see and modify your sheets. Any number of persons might be involved. A different option is to post sheets online. This makes it possible for small and big teams to collaborate. There may be any number of members on the team.
Shared workspaces: Create a safe environment for your team to work together using shared workspaces. You may also include stakeholders or customers who need to witness your initiatives in action.
Emailing sheets or updates: Sheets may be updated through email without logging in. This implies that anybody on the team may simply and rapidly keep you all updated on the status of the project.
Upload files: Adding files from any source to pre-existing sheets is simple, making it easy to include crucial information in projects.
Smartsheet has three pricing tiers:
The Pro plan is just $7/month and has unlimited sheets/viewers, but storage is quite limited, with 20 GB. There are some integrations available, including Microsoft 365.
The Business plan is $25 per month and allows much more storage with 1 TB of available space, access to professional support, on-demand training, along with many more integrations.
For the Enterprise plan, you will have to contact the company for pricing. There are a wealth of extra features, including unlimited storage, 24/7 phone support, and detailed reports that will help you streamline your work going forward.
5. Asana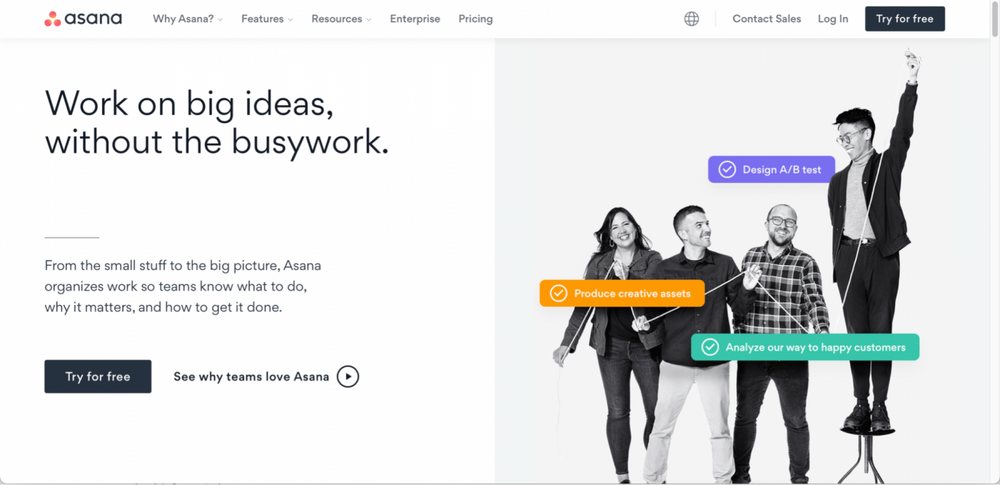 Asana was co-founded by Dustin Moskovitz, Mark Zuckerberg's undergraduate roommate, in April 2012. It provides project management automation, multiple project views, agile and scrum support, and team collaboration. Asana is great for tracking large, complex projects within project teams with kanban boards, task lists, and calendar views. You can also add assets related to projects like screenshots, documents, and sheets right into the task itself.
There are plenty of more features in Asana. On the website, they are all listed and divided into several categories. If we were to choose just a few:
Mobile App – Asana has worked hard to ensure that its mobile app has excellent functionality, since in the USA, mobile devices account for more than half of all online traffic. The majority of Asana's capabilities are accessible via the mobile app, albeit they may vary across devices and the desktop app.
Work, project, and task management – Asana includes all the tools you would come to expect to help you manage projects successfully. This contains the ability to define due dates, due times, and dependencies to indicate which tasks are prepared for work, as well as the option to organize projects into kanban boards.
Top Integrations – Asana is designed to be seamlessly linked with other programs. It is possible to link with Google Drive, Microsoft 365, Salesforce, and other services in order to successfully coordinate work utilizing various technologies that may be needed.
Asana has three pricing tiers:
Asana Basic is the free version. Collaborate with up to 15 team members at once with unlimited tasks, projects, and storage, and also time tracking (through integrations with other platforms).
Asana Premium costs $10.99/month and has various extra features to help with workflow, reporting, and task management. It is slightly cheaper per month if you pay annually, and you will also be able to set up private teams and projects.
Asana Business costs $24.99/month. It allows you to create portfolios and set rules, but perhaps the best feature is integration with Salesforce, Adobe Creative Cloud, and other platforms.
6. Notion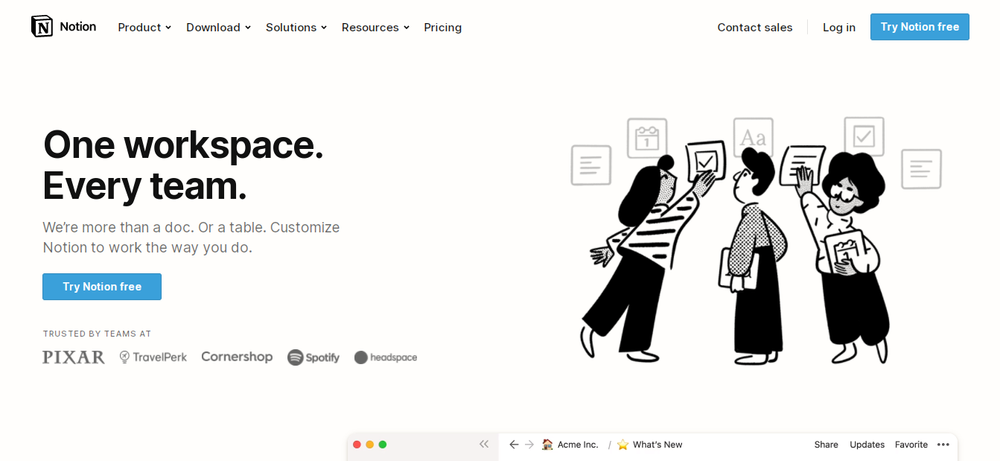 Notion, which has only been in operation since 2018, may be seen as a newcomer in the field of project management software. Nevertheless, it is a well-liked platform, and we'll look at why.
Notion is a robust note-taking app that can be used as a simple task manager. You can use what they call "pages" to organize everything from notes to setting reminders or creating to-do lists, and pages can be interlinked and nested within other pages. This makes Notion great for managing your daily tasks. Here are a few features that Notion has to offer:
Great note-taking: Notion is, first and foremost, a note-taking app, and it really excels in this area. You can organize everything into a personal or collaborative workspace and create a note for just about anything—from daily tasks and brainstorming ideas to bigger documents like employee training manuals.
Kanban boards: Though Notion's features may be limited when it comes to project management, you can use kanban boards to organize your to-dos and get a view of what work needs to be done.
Database views: You can access all the data pertinent to a project using a calendar view, a table, or a task list. To enable a detailed examination of each individual assignment, they can also be grouped into project pages.
Notion has four pricing tiers:
Personal: This is Notion's free plan and includes unlimited pages & blocks. You can share with five guests and sync across devices.
Personal Pro: Costs $4/month and allows unlimited file uploads and unlimited guests. It also has a 30-day version history.
Team: Costs $8/month, and the extra features include a collaborative workspace, sharing permissions, and admin tools.
Enterprise: You will have to contact the sales team for a price. It includes everything the other versions have, plus an audit log, a dedicated success manager, advanced security controls, and more.
7. Hive Project Management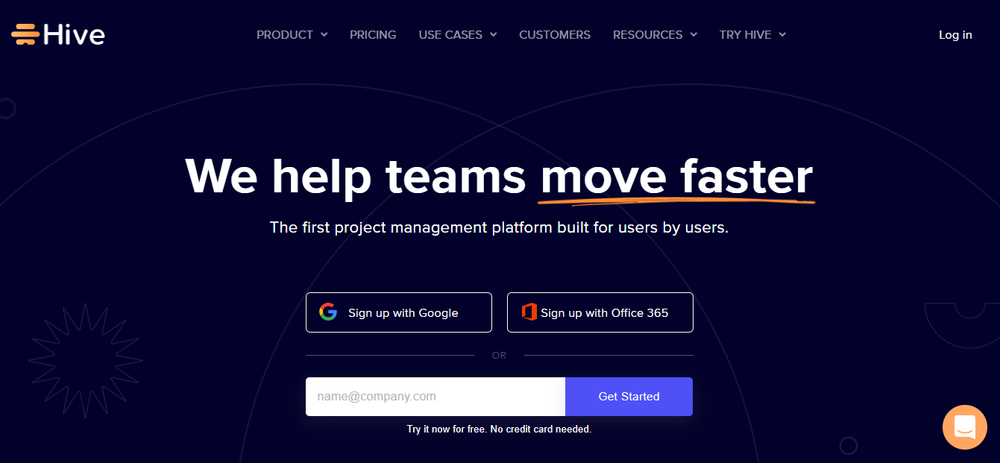 Hive is a project management tool that places a high importance on teamwork. It was started in 2015, and depending on user input, it is often updated. By contributing to the hive mind, anybody can have a say in how the program evolves in the future. Hive offers over 1,000 integration options.
There are many features in Hive, and new ones are routinely introduced based on input from outside users. Some of them are as follows:
Flexible project hierarchies: This makes it easier for you to manage all of your projects. You may represent "parent projects" with "child projects" as subtasks using kanban or Gantt charts, for example. Every project is unique and contains unique components that are essential to the whole.
Seamless agile management: Based on their availability and diverse skill sets, team members can be assigned to various "sprints," which stand in for project stages.
Hive Chat: A collaboration application that resembles Microsoft Teams or something similar. With Hive Chat, teams can stay in close touch even when they aren't gathered together in one location, keeping remote employees linked to those who work in offices.
Hive has three pricing tiers:
Solo: This is Hive's free plan, and it includes unlimited storage, unlimited projects and tasks, and unlimited collaborative notes. It also includes Gantt, Kanban, calendar & table views.
Teams: Costs $12/month. You get access to everything in the Solo plan, plus time tracking, seven flexible add-ons, sharable forms, an in-app calendar, and external guest access.
Enterprise: You will have to get in touch to find out the cost and exactly what it offers, but this will be a conversation worth having if you're not sure the base package has all the features you need.
8. Shortcut (formerly Clubhouse)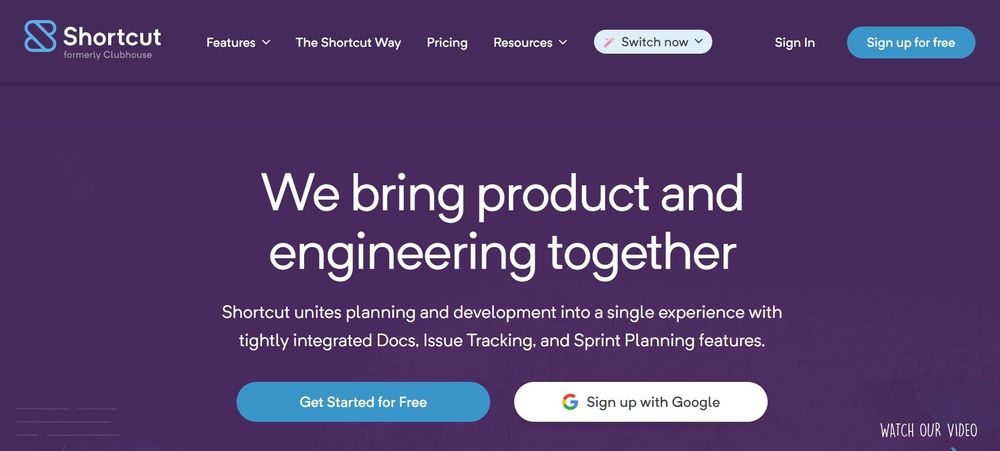 Clubhouse changed their name to Shortcut when they believed a new name was necessary since their brand expanded so swiftly. They sought a catchy, memorable phrase that captured their perspective on software development. The new name was intended to reflect the fact that they had expanded to become a broader project.
Shortcut makes use of a variety of features to enable you to operate in the manner most appropriate for you. However, they do demonstrate a knowledge of what is required to handle projects properly, even if most of them are quite comparable to other project management tools. Let's examine some of them in more detail:
Project management - You can see the status of your projects to see how near you are to finishing them. When progress is updated, it creates greater openness and transparency between team members.
Advanced filtering options - With only a few clicks, engineering teams or other teams may locate the data they need.
Kanban cards - You can monitor individual tasks using kanban cards, which are tiny components of a kanban board.
Integrations - This platform has a number of integrations, including those with Github, Slack, and GitLab.
Shortcut has three pricing tiers:
Shortcut Teams: At $8.50 per month, which allows multiple teams to collaborate rather than just a single team to operate.
Shortcut Business: At $12 per month, which is for modern teams to accomplish their goals by distributing work across the organization.
Shortcut Enterprise: You will need to get in touch with the sales team to find out the price. This is for large organizations and has unlimited access to all its features.
9. Trello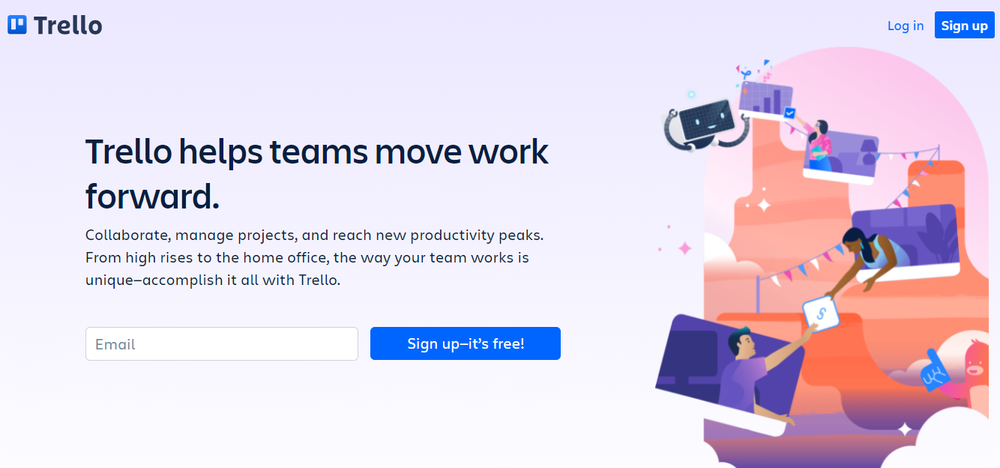 The task management software Trello is renowned for its simplicity. Although it lacks financial tools, it is an excellent project management software if you work in a freelance team.
Trello is kanban-based, making it simple to manage your various tasks, whether you're working alone or with a team. Does it meet your needs for project management software? Well, using it is quite simple. It presents information in an understandable manner, and you can add extra data to let others know exactly what is required of them for each assignment.
Kanban-based management: Use boards, lists, and cards to manage the project timeline and keep teams in sync.
Automation: No-code automation is built into every board. You can create rules, buttons, and commands to automate actions.
Easy organization: Trello helps you organize assignments with labeling, tags, comments, checklists, and drag & drop editing.
Trello has four pricing tiers:
The free plan offers unlimited cards, up to 10 boards per Workspace, unlimited Power-Ups per board, unlimited storage (10MB/file), 250 Workspace command runs per month, and more.
Standard: Costs $5/month and includes unlimited boards, advanced checklists, custom fields, unlimited storage (250MB/file), 1,000 Workspace command runs per month, and more.
Premium: Costs $10/month and includes different views (calendar, timeline, table, dashboard, and map), workspace views (table and calendar), unlimited workspace command runs, admin and security features, and more.
Enterprise: Costs $17.50/month and includes unlimited Workspaces, organization-wide permissions, organization-visible boards, public board management, multi-board guests, and more.
10. Indy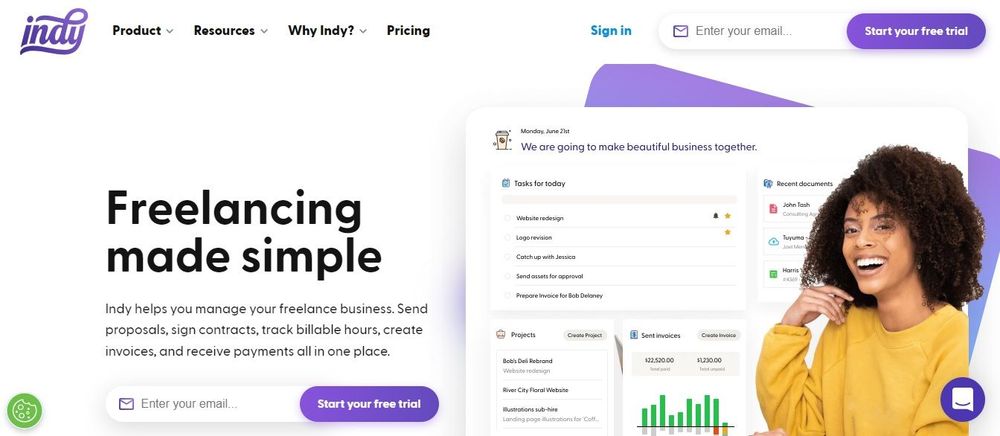 Indy has been designed from the ground up with freelancers and small businesses in mind, meaning it has all the tools you need to manage your independent business. While many platforms try to add as many features as they can to try to appeal to everyone, Indy understands the importance of designing tools that can help manage your work from beginning to end. You can organize projects, send invoices, and track your working hours easily.
Let's take a closer look at how Indy's nine robust tools help you throughout the entire workflow:
Onboarding: You can generate new leads and onboard new clients using ready-made templates for proposals, contracts, and forms. These templates help you quickly plug in the details you need and can be customized with your branding and logo for personalization. You can also easily add additional content to expand on templates if needed.
Project management: Manage your work with task management (boards and lists), file storage, chats, an intuitive calendar app, and automatic time tracking to create a streamlined workflow.
Wrapping up: When projects are finished, you can generate an invoice in seconds and customize it with your business branding and logo. Invoices can be sent manually or set up as recurring. You can also accept multiple payments, including PayPal, Stripe, Zelle, direct deposit, and more.
Indy has two pricing tiers:
Free Forever: With our Free plan, you can use our basic tools as much as you want each month, free forever.
Pro: The Pro Bundle costs just $12/month for unlimited access to all features.
By freelancers, for freelancers - could there be any better advertisement than that? There are stacks of information on Indy's website that will help you discover the wealth of features available through this platform.
Conclusion
There are plenty of options to choose from when it comes to project management. And while many have similar features, each platform has different target audiences and use cases. So the best way to make a decision for yourself is to break down the reasons you need it.
Do you need to work with teams? Or are you looking for a way to keep your own business organized? If it's to help you organize and manage your independent business, you'll want to find software that's been designed for that specific purpose.
Indy was created by freelancers, for freelancers. And has a better understanding of the tools needed to get work started, get work finished, and all the little tasks that freelancers deal with in between. Indy makes freelancing simple, and you can get started for free.