Time management has never been more important. But how do you assess productivity? Is it measuring the performance of the team? Or the amount of time spent on projects, or the actual number of minutes worked? For many firms, online time monitoring software is the solution. One of the most popular options is Clockify because it offers a free version.
That free version, however, offers very few amenities. We at Indy, therefore, came up with 5 great alternatives. We also delve deeper into our time tracker app.
Clockify: The Free Time Tracking Tool
Clockify is a time-monitoring software. It gives users the choice of a free or paid version. In addition to its core capabilities of automatic time tracking, Clockify is loaded with features for budgeting and billing. It can also function as software for tracking employee attendance.
Clockify contains critical features in the best time management software, including capabilities for keeping track of and tracking time spent, generating reports, and managing employees. However, some of its tools are only available with paid plans.
Some of Clockify's features include:
Timekeeping: You can have your mobile devices, desktop computers, or a shared on-site kiosk keep track of the time automatically or manually, respectively.
Project tracking: Give members of the team specific project tasks while keeping an eye on the overall progress and budget.
GPS tracking: Verifying when and where employees spend their time will help you maintain accurate timesheets and invoices.
Integrations: Connecting Clockify to the apps that your team already uses will make it much simpler to keep track of working hours.
Reports: View various reports and dashboards to improve your decision-making ability based on real-time and historical data.
Clockify Alternatives
1. Indy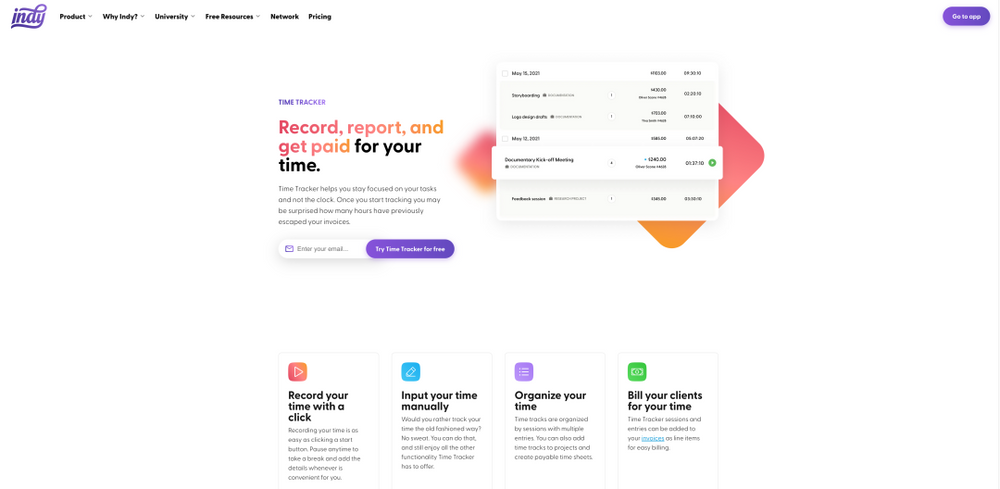 Indy's Time Tracker is a powerful and user-friendly tool designed to help freelancers and independent professionals effortlessly manage their work hours, bill clients, and improve productivity. With a plethora of features and seamless integration with other Indy tools, it simplifies time tracking and invoicing, making it an essential part of any freelancer's toolkit.
Pros
Start and pause timers with ease for accurate time tracking
Streamlines the invoicing process with seamless integration
User-friendly interface that requires minimal learning curve
Cons
Mobile version currently in Beta, with limited capabilities
Lacks advanced features without upgrading to Indy Pro
Top Features
Increases productivity by providing insight into time spent on tasks
Organize and filter time tracks by sessions, projects, and invoices
Bill clients directly by adding time tracks to invoices as line items
Pricing
Indy offers a Free plan including time tracking capabilities. You can track time and attach time sheets to invoices with that plan. While the Indy Pro plan provides advanced cross tool automations integrations with third party apps, for a monthly subscription fee of $12.
Indy is a comprehensive tool package for freelancers, not only offering a robust Time Tracker but also a wide range of other tools to power up your freelancing life. These include invoicing, contracts, and task management solutions, all designed to make your work as a freelancer more organized, efficient, and profitable. With Indy, you can simplify and streamline your workflow, giving you more time to focus on delivering exceptional work for your clients.
2. ClickTime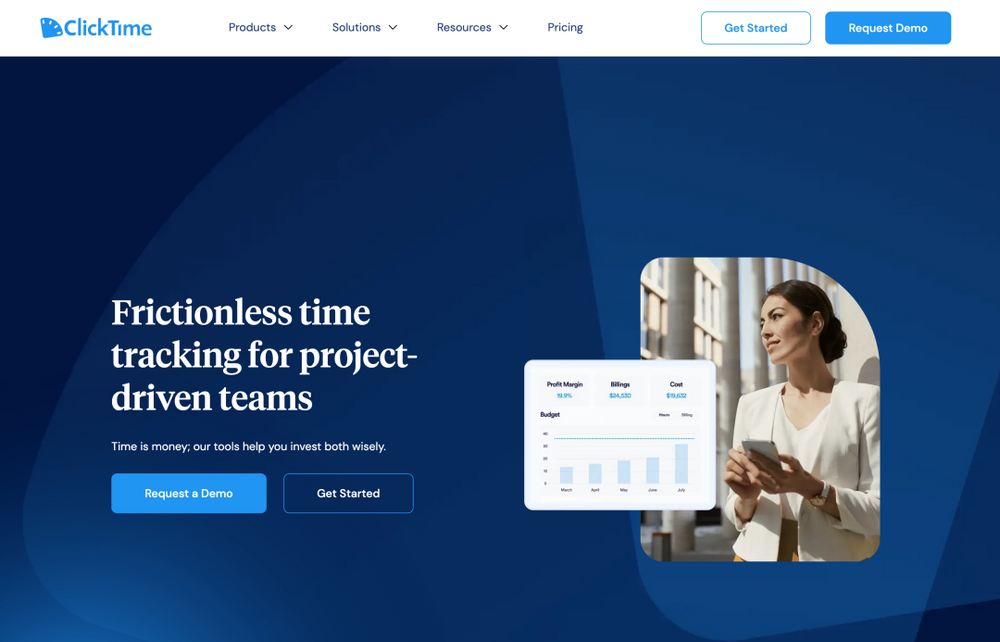 ClickTime is a time-tracking tool that, in many respects, is comparable to Clockify in its feature set. It helps track the amount of time spent on various projects and tasks. Several users express their appreciation for the user-friendly layout, which makes it straightforward to record and manage time, monitor spending, and produce reports.
Pros
It is a simple software for tracking time, simplifying the collection process of timesheets.
Cons
The tool's user interface could be simpler.
Top Features
One of the most useful features of ClickTime is the ability to rapidly determine how much of the allotted budget is still available, in addition to the project hours to billing equivalency.
To gain an overall picture of who spent time on what, you may run reports on time spent on the various clients.
Keep an eye on the prices of the project to keep an eye on their budget in real-time. Assisting in the planning and delivery of projects on schedule, within budget, and without compromising scope.
Reminders on the timesheets can assist in making your team's time tracking more accurate.
Streamline your timesheet management with bespoke fields designed to meet your requirements.
Pricing
Users have their choice between four distinct pricing tiers for the ClickTime service. The first plan is the Starter plan, with a monthly cost of $10 per user. The second type of plan is the Team plan, which costs $13 per user. The Premier plan is the third and most expensive option, which costs $24 per user per month. The final option is the Enterprise plan. It requires consumers to contact ClickTime for pricing information.
3. Harvest
Harvest was developed with team collaboration in mind, and it also assists in determining the profitability of a project. Despite this, you can still use their time monitoring services for your freelance work. Their app allows for recording both time and expenses, in addition to providing time-based reports. You can generate visual reports from the data you collect, which will assist you in making informed decisions regarding your company.
Pros
You can easily prepare and send correct invoices using the time and expenses already managed in Harvest for your team.
Cons
It is more expensive than comparable tools and has no sophisticated functionality.
Top Features
You may put the time and expenses that your team has monitored into invoices using the capabilities for invoicing and payments, and you can collect money promptly using the integrated online payment options.
The reporting capabilities of this tool provide you with an in-depth analysis of which projects and tasks are causing the most time and financial strain for your team.
Tracking internal spending and evaluating data from completed projects can help you better understand project costs and advise future project scope and estimates.
Forecast's companion app enables businesses to plan their employees' work weeks.
Reminders to submit a timesheet that is programmed automatically
Quickbooks, Google Calendar, and Slack are other easily integrated applications.
Pricing
Harvest gives its clients the option to pick between two distinct pricing plans. The first plan is called the Free plan, which costs $0, indicating that it is free of charge. The second option, called the Pro plan, has a monthly cost of $12 for each user.
4. Everhour

Everhour is one of the best Clockify alternatives because it relies on its online time-tracking features. The remote work movement is here, and Everhour is one of its best tools. Time tracking software is most useful for distributed teams because it enables members to accurately record the time they put in, regardless of where they are physically located.
One aspect of the Everhour option that several users have mentioned as something they dislike is that it is not available as a mobile app for Android devices. Moreover, they do not allow offline time tracking at this point.
Pros
It allows you to correctly track the time spent on each project your firm works on without requiring you to exit the browser.
Cons
It does not have a native app for Android, and its app for iOS is still in beta testing.
Top Features
Thanks to the timer and manual timer modes, you can keep track of time in whichever manner you like. Start and stop your timer as needed throughout your task, or record your hours worked manually afterwards.
Create time and cost estimates for the project so that you can monitor and keep track of the budget.
If the budget is over, the options for the budget give you the option to prohibit reporting time for anyone.
Thanks to flexible billing modes, including non-billable, time and materials, or a fixed price, you can choose the most suitable charging method.
Keeping tabs on a project's finances
The timesheets of employees can be locked by managers (useful when employees forget to clock out)
It is simple to arrange resources in the appropriate locations.
Pricing
Everhour allows its consumers to choose from one of three distinct programs. The first plan is known as the Free plan, and it does not have any associated costs, meaning it is completely free. The Lite plan is the second option, costing $5 per user monthly to subscribe to it. The third type of plan is the Team plan, which costs $8.50 per user.
5. Toggl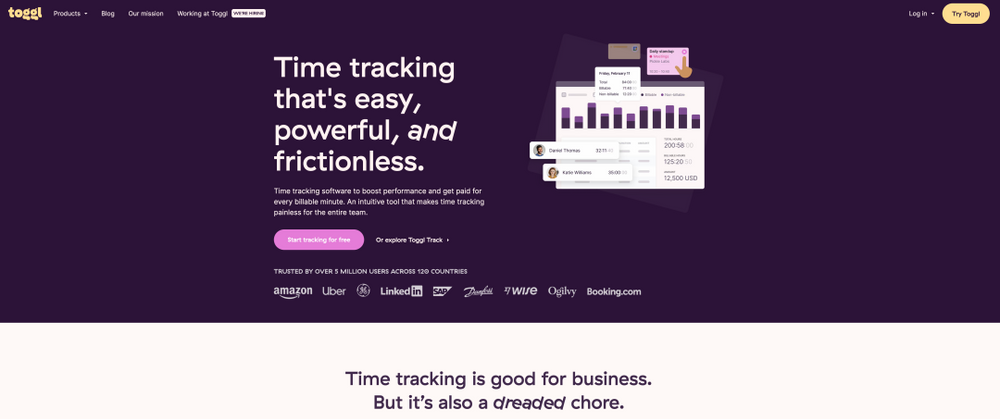 Toggl is yet another time-tracking tool that can be found on our list. It is also one of the more well-known alternatives to Clockify. Toggl can perform this vital task of real-time productivity monitoring, which is essential for resource management and tracking billable hours.
The elements of resource management give managers the ability to know what their staff are working on and whether or not there is an adequate amount of work for them to do. Time monitoring software such as Toggl allows team leads to check in on their employees and verify that they have a manageable workload, which is especially helpful for remote teams.
It is the most effective method for holding the entire team accountable and gaining deeper insights into the performance of individual employees. Toggl users will find that the tool that allows them to manage their timesheets and "detect idle time" is one of the app's most valuable additions.
This time-tracking tool provides team leads with insights into which team computer users are idle and unused. After that, it can track time spent through computer usage instead of minutes spent doing nothing on the computer to measure against total billable hours. While this could be considered intrusive for internal teams, it could be the perfect solution for outsourced support when exact time tracking is paramount.
Pros
It's one tool with one purpose and it does it really well.
Cons
The best features are reserved for the premium plans, which means that to get the most out of the software, you will need to pay.
Top Features
Time tracking options for employees enable your staff to log time across numerous platforms with just a button.
The features of project time monitoring allow you to better preserve budgets and gain insights into the profitability of each project.
Comprehensive-time tracking and reports on productivity to help you understand how your team members spend their time. You may generate more meaningful reports by filtering the time entries based on the project, the team, or the date.
Help you cut down on the time you spend processing payroll by acting as a tracker for your payroll and providing billable rates for your entire team or individual projects.
Monitoring billable hours in real-time eliminates the need for guesswork and saves time previously spent entering data into a cluttered spreadsheet. Track as you work with just one click to create a record of your workday. This works similarly to traditional timesheets but saves you the hassle of manually filling them out.
Pricing
The first choice is a free plan with a maximum capacity of five users. The Starter plan is the second choice, costing $9 per user monthly to subscribe to it. The Premium plan is the third choice, costing $18 per user per month to subscribe to it. Lastly, the Enterprise plan provides pricing that can be individualised to the user and their requirements.
6. DeskTime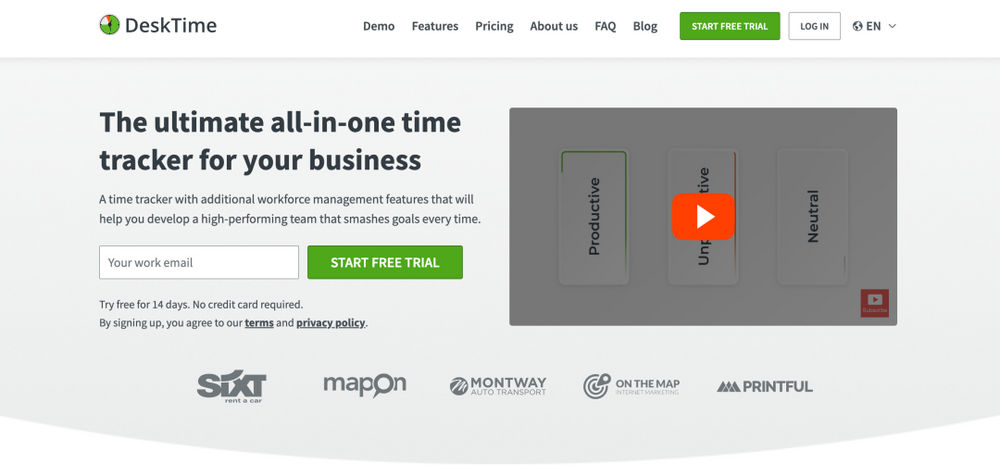 DeskTime is a time-tracking tool that also includes key features for managing your workforce. These features will assist you in building a high-performing team that consistently exceeds its goals.
Using a single platform, you can manage shifts, monitor employee absences, keep tabs on remote employees, and run a hybrid office.
Pros
It contains an automatic time monitoring capability that may identify the websites, apps, or pages that a person visits while using it.
Cons
It has several employee surveillance functions, which many customers find objectionable.
Top Features
It is useful for monitoring the time spent in front of a screen and recording the time spent engaging in internet-based activities.
Maintain an accurate record of time spent and which programs are effective and inefficient.
Employees can use an absence tracker to record their time away from the office along with an explanation for their absence, and supervisors can assess these entries and either accept or reject them.
Make use of the many data filters available to generate bespoke reports and obtain comprehensive statistics regarding the performance of each employee.
Pricing
DeskTime allows customers to choose between three pricing tiers: Pro, Premium, and Enterprise. The price per month for the Pro plan is $7 per user, while the Premium plan is $10 per much for each user. The Enterprise plan is the most expensive option, paying $20 per person monthly for subscription fees.
Final Thoughts
When you work as a freelancer, you manage many different elements of your business. Because of this, you will require a comprehensive set of features that will assist you in addressing all aspects of project management. Why bother signing up for many different tools when you can use one and be done with it?
If you want a web app to manage all your freelance activity, you can sign up for a free account with Indy. Get started right away in keeping track of your time!