As a freelancer, client relationships are at the heart of what you do. You not only have to deliver an excellent standard of work to your clients but stay in touch to make sure they send more work your way while also actively pitching to new leads.
What is HubSpot?
HubSpot is often called a CRM or customer relationship management tool, but it does a lot more than that. HubSpot integrates with both digital marketing tools and help desk tools to provide a full suite of useful services to their customers. You could describe Hubspot as a CMS and operations software suite for businesses of all sizes. It's primarily used by marketing teams and support teams, but anyone can benefit.
HubSpot is a great platform to get content onto your site, manage your sales process, gain insight into your performance and analytics, and engage with your prospects before and after they become your customers. It's also packed with helpful user resources.
HubSpot may be really powerful, but it's only part of the equation when it comes to marketing and sales or customer service. You'll need several other tools to manage your marketing and client relationship efforts in an efficient way. The problem with that approach is that you spend an awful lot of time transferring customer data between Hubspot and your other sales tools. If you cooperate with the marketing teams of several clients or have several collaborators, this makes it even harder to juggle.
Fortunately, there are several HubSpot integrations that can help you master your marketing efforts from start to finish. All you need is Zapier.
What is Zapier?
Zapier is an online platform that enables you to automate workflows by connecting the apps and services you use every day. You can use this functionality to automate the tasks that take up your time unnecessarily.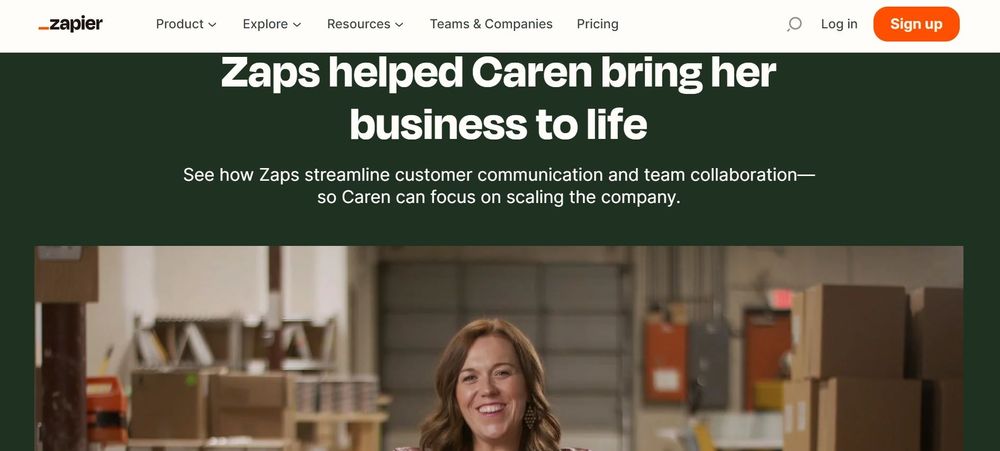 For example, let's say you create a blog post with HubSpot COS. Instead of manually logging into every single social media platform and sharing your contact with your followers, you can simply set up automation between your HubSpot CRM platform and various social media pages that publish the link. This can be a big time saver for small businesses or freelancers who don't have huge marketing teams at their disposal.
These automations are called "Zaps." Zaps are automated workflows consisting of a trigger and an action or several actions. In the example above, the blog posts are the triggers, and the tweet is the automated action.
Zapier can link your HubSpot CRM platform to more than 5,000 integrations. This means you'll benefit from the power and flexibility of HubSpot's marketing, sales, CRM, customer service, and support functionality, along with the functionality of all of the other tools your business may be using on a daily basis.
The best Zapier-HubSpot integrations for freelancers
There are several Zapier integrations that can enhance and connect your apps and Hubspot CRM and operations software on one platform. Here are just a few of our favorites:
If you work in social media, you definitely need a YouTube integration. YouTube is one of the most popular video platforms in the world. The site receives more than 1.8 billion visits every single month, and it's also a great place to find your next client. If you see a YouTuber you'd like to collaborate with covering a topic in your field of interest, you can use their latest videos as an opportunity to engage.
Simply connect HubSpot to YouTube using a Zap, and create a new engagement in HubSpot for a contact. You can send a simple text or email saying that you've seen their latest video and were wondering if you could be of service to them or if you could work together. It's a great way to automate your follow-ups with minimal effort on your part.
During your career, you are going to meet hundreds (if not thousands) of people, including clients, the people who work for them or with them, sales and marketing teams that want to sell you something, and more. You never know when these contacts will come in handy, so you have to be diligent about logging their contact info after every meeting.
The problem is that sometimes your day is so packed with meeting after meeting that you forget to update your contacts. Fast forward a few weeks down the line, and you are desperately combing through your calendar, trying to remember the name of that graphic designer who helped you on a client project. It's not the ideal situation by a long shot.
Don't worry; there is an integration for that! Simply connect HubSpot to your Calendly or Google Calendar app. Zapier will create or update a contact whenever an invitee schedules an event. It's a great way to keep your contacts up to date without manual data entry.
Google Analytics is a leading web analytics service that you can use to analyze performance, search optimization campaigns, and marketing efficacy. Google Analytics goes hand-in-hand with all of your marketing tools, including HubSpot. Sometimes you can get so bogged down planning and executing your campaigns that you forget to check in on how they are performing.
You can set up an integration that runs a report whenever a specific action is completed, e.g., sending a social media message or email. Of course, you won't be able to see the results of a campaign immediately, which is why you can add another useful integration to the mix: Delay by Zapier. That way, you can collect information for a set period before running a report in order to get more accurate results.
Zendesk is a cloud-based help desk management solution. It offers all of the tools you need to build a customer support portal, knowledge base, or community. It comes with a customizable front-end portal and plenty of live chat features.
While Zendesk offers integration with Salesforce and Google Analytics (among others), you can improve your customer experience, offering even more through integration with HubSpot. You can create a new ticket every time a new form is submitted or whenever a new product is created or updated. HubSpot connects your most important interactions with Zendesk, thanks to Zapier.
Like HubSpot, Typeform is hard to classify. In essence, Typeform is a web-based platform you can use to create surveys from apps without coding while keeping the collection of information conversational and comfortable. You can easily link HubSpot and Typeform to keep customers' information up to date through Zaps.
Every time a new form is completed in Typeform, Zapier will ensure that the information is automatically synced in your HubSpot portal. It's a good way of keeping track of survey responses, as well.
Are you addicted to Google Sheets? Resembling Excel but with much greater flexibility, Google Sheets is an excellent tool for capturing and analyzing information. If you like working with this popular spreadsheet tool, why not link Google Sheets to HubSpot? When Google Sheets and HubSpot are integrated, you can optimize the data you've captured even more through enhanced communications and analysis.
Slack is an internal communication tool that enables collaborators to work on projects, share instant messages, or chat via video. If you use Slack to keep in touch with your customers, you can keep them abreast of campaigns through a simple integration with HubSpot. For example, you can send a notification to a specific client channel every time a new email is sent or a marketing campaign is launched in HubSpot.
Scoro is an easy-to-use collaborative platform that enables you to choose the way you can get work done with end-to-end work management software. If you take care of your customer service, CMS, and operations in HubSpot but handle everything else in Scoro, integration just makes sense. For example, you could add comments to Scoro projects every time you add a new company, post a blog or launch a campaign in HubSpot.
Leads (and customers) can come from anywhere. LinkedIn is the world's most popular business networking site. If you use LinkedIn to gather leads, you definitely need a HubSpot integration to make sure you keep track of your prospects. You can use this integration to add new LinkedIn Lead Gen Form submissions as HubSpot form submissions, create or update contacts on Hubspot based on form submissions, or add new leads from LinkedIn to Hubspot as contacts and to Zoom as webinar registrants.
Leadpages is an inbound marketing tool that uses landing pages to gather leads and collect subscribers. They offer great solutions, including attractive templates for lead magnets, webinars, or A/B tests. By linking HubSpot and Leadpages, you can collect your leads and nurture them throughout their entire relationship with you with minimal effort.
Hosting a virtual event can be stressful. Whether you are hosting your own webinar or hosting one on behalf of a client, keeping track of the flood of RSVP emails is tough. You not only need to remind attendees to log in on the day of the event, but you also need to send follow-up emails to ensure your event actually pays off. The easiest way to keep track of attendees (before, during, or after a webinar) is to connect to Zoom and HubSpot. Zapier automatically sends new contacts in a sign-up to your webinar registration list.
Sometimes the best marketers are terrible at keeping tabs on social media. If you don't have time to keep an eye on Facebook, set up a Zap to do it for you. You could send a thank you email or WhatsApp to loyal clients who give you a Facebook recommendation or post on your page. If you don't have much time to post content from your website or blog to your social media, you can also set up an integration to share your content on every relevant platform.
Your marketing efforts are also as good as the contacts you are trying to reach. If you work in email marketing, you probably already know Bouncify. Bouncify is an email cleaning/scrubbing tool that eliminates fake and dead emails before emailing your subscriber list. If you primarily use HubSpot to keep in touch with customers, getting integrated with Bouncify is the best way to improve the deliverability of your emails and your reputation as a sender.
As a freelancer, you have to send and sign a lot of documents. There are client agreements, insertion orders, booking forms, non-disclosure agreements, and more. DocuSign is a quick and reliable way to sign documents digitally from any device, anywhere in the world. It's not only great for the environment but a great way to handle your administration without endless printing and scanning. You can make things even easier through a HubSpot integration so that deals are automatically updated once the agreement has been signed.
Lone Worker by OK Alone is a very interesting app for remote workers or co-workers who occasionally share a space. We can all agree that work isn't a destination anymore, but sometimes you want clients or collaborators to know when you'll be in the area—for collaboration or safety reasons. Lone Worker's app shares your location with authorized people for that very reason. If you want to, you can add a location to a specific client or collaborator, so you know where they are working on any given day.
Conclusion
The apps mentioned in this article are all designed to make your life a little easier, but very few of them are designed specifically for freelancers or solopreneurs. Indy is a little different. It's a complete suite of business apps just for freelancers. You can create and send invoices, manage tasks, or use resources, including email templates, to become even more streamlined and successful as a freelancer, consultant, or solopreneur.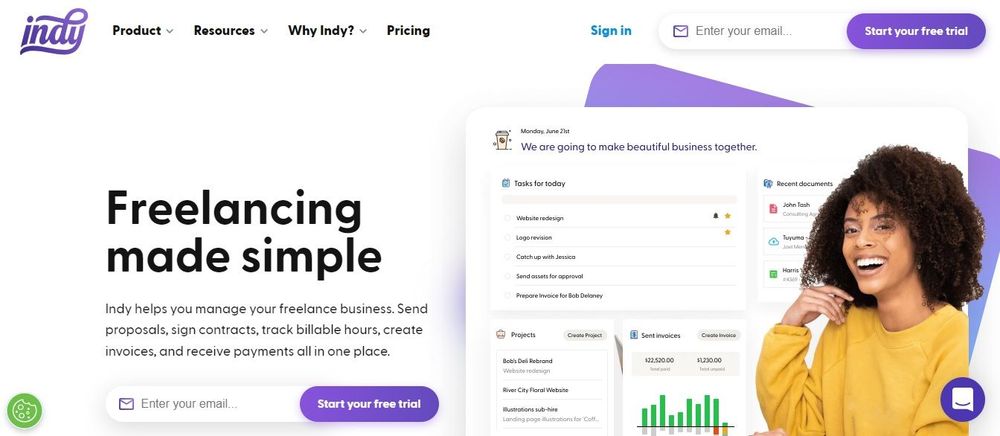 The good news is that Indy integrates with Zapier—making it even more useful and accessible for busy freelancers. And when you connect Indy to Zapier, you can automate your tedious tasks to get more work done in less time. Check out how Indy can streamline your freelance business today.