If you work in the legal industry, you've probably heard about Clio, a cutting-edge practice management software solution. Clio manages the needs of hundreds of legal offices across the globe. You can use Clio to streamline your court interactions, set up virtual meetings, organize cases, modernize serving court documents, manage paralegals and legal assistants, and more.
Anyone that wants to start a law firm or who is a freelancer for a law firm should consider implementing practice management software like Clio to make their lives easier, but you probably use several tools in addition to Clio, including Slack, Gmail, and Google Docs.
Don't worry; we'll show you how you can integrate and extend Clio with Zapier to get the most out of your Clio account.
The best Clio integrations for solo law firms and freelancers
Zapier lets end users integrate with web applications to automate otherwise repetitive tasks and workflows through "Zaps." Each Zap consists of a trigger and an action sparked by that trigger. Here are some of our favorite Zaps:
RingCentral is a cloud-based contact center solution that can help you, along with Clio, manage client communications. You can set up a Zap so that RingCentral automatically sets up a call when the status of a legal matter has changed, when a new activity is created, or even when an invoice has been paid. This will help you keep clients informed about the latest developments in their case and improve relationships for good.
Airtable is a simple relational database tool. It closely resembles Google Sheets, but you can link tabs to related categories to manage workflows and tasks. You can connect Clio and Airtable so that your Airtable is automatically populated with information when a new activity is logged, an invoice is paid or sent, communications are sent, or calendar entries are made. As a freelancer, this can help you keep track of your finances and to-do list without spending hours manually updating Airtable or spreadsheets.
Thousands of law firms use Gmail to stay in touch, but very few attorneys have the ability to stay on top of their emails all the time. Zapier makes it a little easier. You can set up a Zap to automatically send an email when new activities are logged or if the status of an activity changes. You can also email notes automatically or add labels to emails to keep your inbox organized.
Law practice management requires project management, and many firms use Trello. Trello is a Kanban-style project management board that enables you to share tasks and collaborate with one another with ease. Using Zapier, you can automatically create a card on your Trello board when a new matter is raised, a note is made, or a new activity has begun, so you never lose sight of the tasks at hand.
Slack is a useful internal communication tool that enables teams to send instant messages or documents or set up video calls with ease. If you spend the majority of your time on Slack, you'll love this integration. You can send reminders to yourself about notes you've made, bills that need to be followed up on, or just send notifications to a channel about new activities that require their attention.
Cognito Forms is a handy form designer. You can use pre-made templates to collect intake information, manage RSVPs for events, or create surveys. You can automate the way you collect information by making forms available when a new activity is created or closed. You can collect client feedback or information or use Cognito to collect essential information from your clients.
DocuSign is an electronic signature tool that can be used to collect signatures without printing and scanning documents. This Clio integration will go a long way toward reducing administrative headaches by automatically creating signature requests when new documents are created. Signing contracts and documents will become so much easier.
Dropbox is one of the most popular cloud storage apps in the world. If you keep your files in Dropbox, this Clio integration can help you organize cases and contracts in storage. Rename a bill from unpaid to paid automatically, create a new folder for new activities and clients, and do so much more.
Conclusion
It's easy to see how Clio benefits offices by better managing client and court interactions with technology, but if you really want to make practice management with Clio complete, you should look at Indy.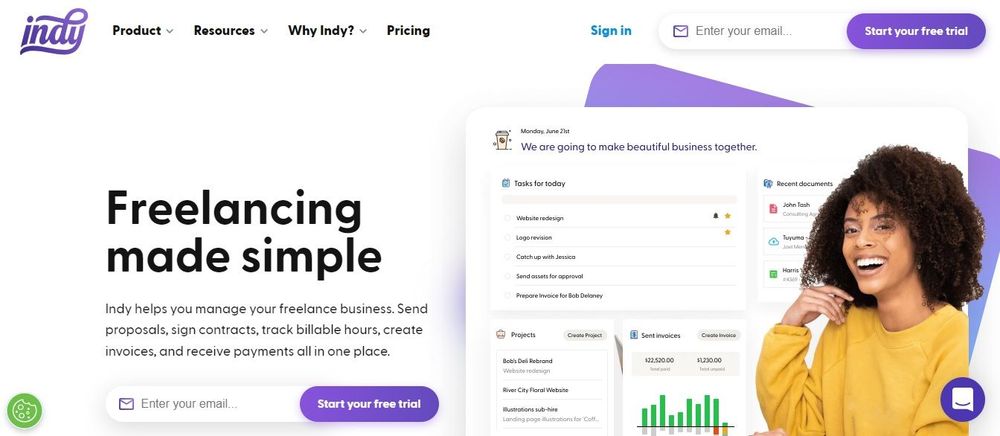 Indy is a workflow management tool for freelancers that offers all of the business admin functionality you need to succeed, along with numerous other resources that help you manage client relationships and other important tasks along the way.
Indy is the perfect tool for managing your business as a freelancer. You can send invoices, manage and assign tasks, schedule meetings, keep track of time, and keep track of your accounts with a single tool. We have some good news, too: Indy integrates with Zapier, which means you can link your Indy account to Clio (and all of the other integrations we've mentioned). Managing your business will become even easier!
Check out Indy for more information, and get started today for free.