Nashville, the Music City, is not just about honky-tonks and country tunes. This bustling metropolis is also a thriving hub for freelancers, remote workers, and those with flexible schedules seeking a harmonious blend of work and inspiration. As the city strums to the rhythm of productivity, many professionals turn to Indy, the software platform designed for freelancers, to manage their admin tasks and work more efficiently.
The city's coworking and shared office spaces offer a high note of creativity and collaboration, providing the perfect backdrop for professionals to tune their way through their to-do lists. With a diverse range of private offices, shared desks, and all the essential office amenities, Nashville hits all the right chords for an exceptional coworking experience. So, pull up a chair and tune in as we present the Best Coworking Spaces: Nashville Edition, where you'll find the perfect stage for your next office encore, supported by the power of Indy.
1. e|spaces Burton Hills
e|spaces Burton Hills offers a variety of office spaces in Nashville to meet all business needs, including private offices, coworking spaces, and meeting and conference rooms. Conveniently located on Burton Hills Blvd., this location is near Downtown Nashville, Lipscomb, Belmont, the Green Hills Mall, and Music Row, making it an ideal choice for professionals seeking a central workspace.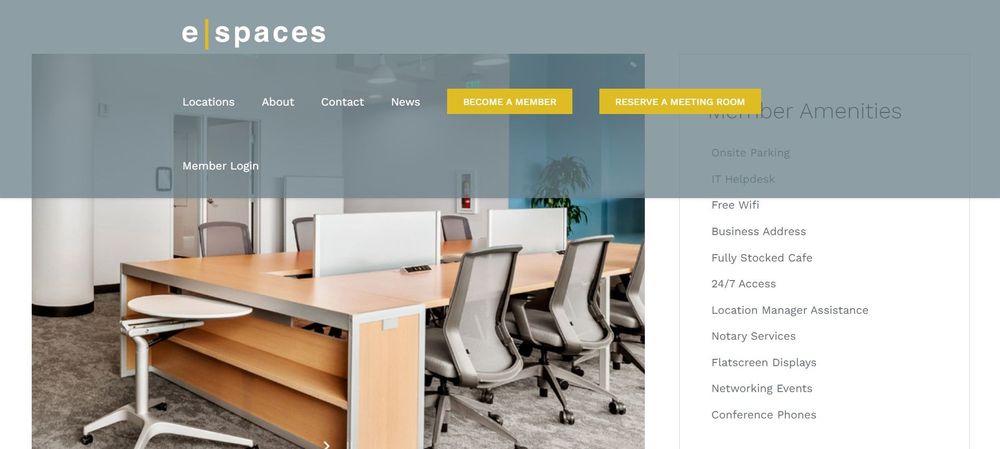 What sets e|spaces Burton Hills apart is its all-inclusive, state-of-the-art business amenities and access to all e|spaces locations with a clientship. The facility provides a beautiful and professional environment that fosters productivity and collaboration.
Amenities:
On-site parking
IT helpdesk
Free WiFi
Fully stocked cafe
24/7 access
2. Three One Three Germantown
Located in the heart of the vibrant Germantown community, Three One Three offers a versatile coworking space with various membership options to suit your work style. From communal desks to private offices and dedicated desks, this coworking space provides a range of options for professionals seeking a collaborative and productive environment.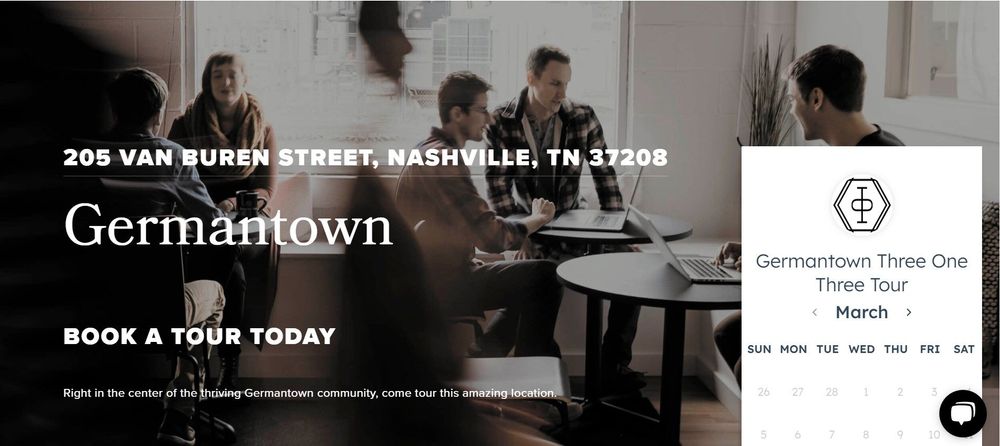 Three One Three stands out for its unique offerings, such as its warehouse membership designed for small and growing businesses. The space also caters to various events, providing an excellent venue for networking or hosting gatherings with fellow professionals.
Amenities:
Free conference room booking
Stay Golden Coffee
Free printing
Free parking
Daily parcel-shipping pickup
On-site gas fill-ups
3. Center 615
Center 615, located in the heart of East Nashville, is a vibrant campus boasting private office spaces, coworking areas, meeting rooms, and event spaces. The campus features three buildings—Main, Bricks, and Loft—situated on Main Street, just a short distance from downtown Nashville. Members can enjoy various membership plans with 24/7 access to all the unique common areas and amenities across the campus.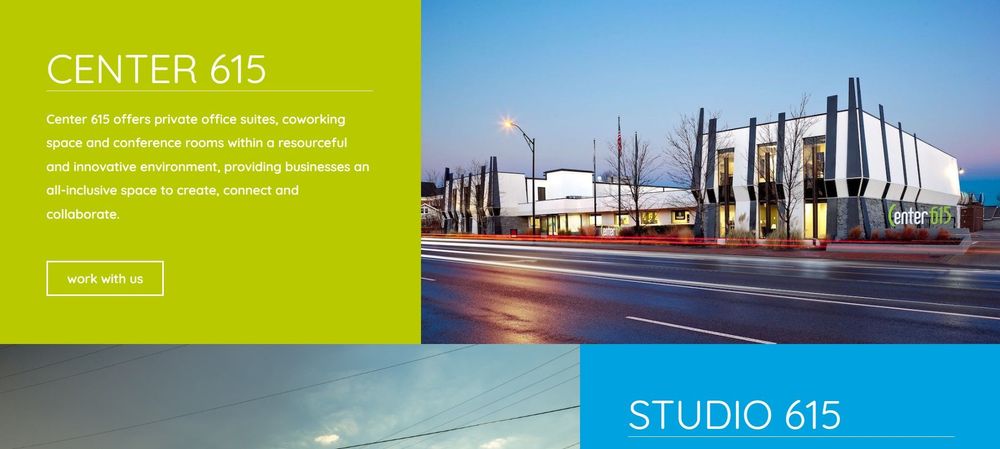 What sets Center 615 apart is its focus on fostering innovation and offering a variety of spaces to cater to different work styles. With several indoor and outdoor common areas, a fitness room, nap and meditation rooms, and a strong emphasis on productivity and design, Center 615 creates a stimulating and supportive environment for its members.
Amenities:
On-site parking
24/7 campus access
Free meeting room use
Google Fiber
Coffee & tea with seasonal options
Pet friendly
Fitness room & showers
4. Office Evolution
Office Evolution Nashville, situated in the up-and-coming Nations neighborhood, offers tailored workspace solutions for businesses and entrepreneurs seeking to rent office space for private offices, coworking spaces, or virtual business plans. This modern facility houses spacious private offices and well-equipped conference rooms to accommodate client meetings and collaborations.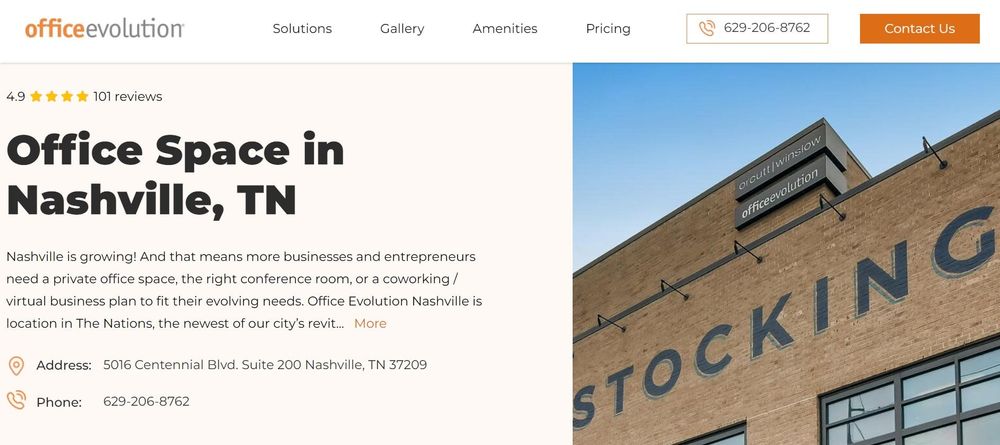 What sets Office Evolution Nashville apart is its dedication to fostering a professional environment where like-minded individuals can work independently while being part of a thriving community. The space is fully equipped and managed by a Business Center Manager who is always available to support and assist members with their needs.
Amenities:
Business community
Complimentary coffee and tea
Community kitchen
Conference rooms
Coworking space
5. Nashville Entrepreneur Center
Located in the vibrant heart of downtown Nashville, the Nashville Entrepreneur Center provides customized workspace solutions for entrepreneurs and businesses in need of private offices, coworking areas, or virtual business services. The contemporary facility features roomy private offices and well-appointed conference rooms designed to host client meetings and foster collaboration.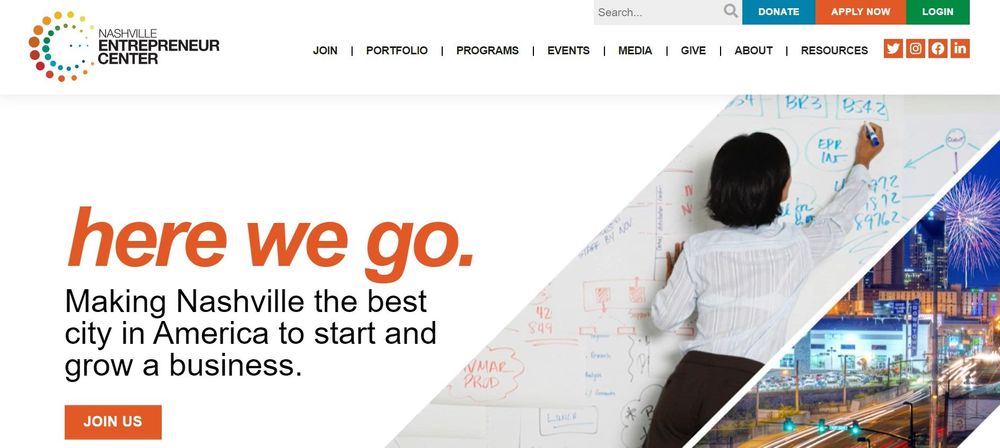 The Nashville Entrepreneur Center distinguishes itself by cultivating a professional setting that encourages independent work while simultaneously nurturing a sense of belonging within a dynamic community. A dedicated Business Center Manager is always on hand to offer support and assistance to members as needed.
Amenities:
Engaging business community
Free coffee and tea
Shared kitchen space
State-of-the-art conference rooms
Inviting coworking environment
6. Industrious Gulch
Situated between Music Row and downtown Nashville's most vibrant neighborhood, Industrious Gulch offers an inspiring coworking space and private offices for businesses and entrepreneurs. With top-notch services and amenities, this workspace creates a warm and inviting atmosphere designed to optimize productivity.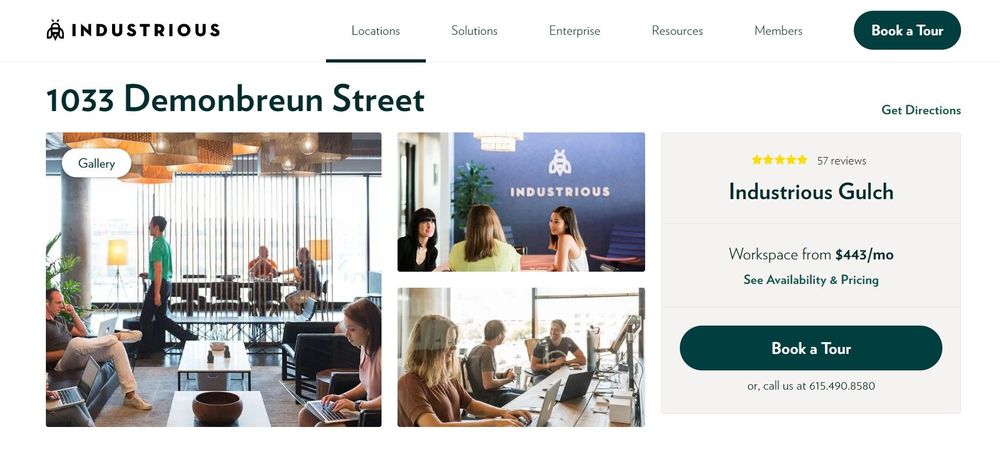 Industrious Gulch stands out for its creative ambiance and comprehensive offerings, including on-demand meeting spaces, flexible coworking options, and private offices for teams of varying sizes. The workspace also features a dedicated Member Experience Team to support and assist members throughout their workday.
Amenities:
Fast, secure WiFi
Office supplies
Private conference rooms
Unlimited color printing
Wellness room
7. Green Hills Office Suites
Green Hills Office Suites offers a premier business address and a professional office environment in Nashville, providing affordable and flexible workspace solutions for businesses of all sizes. With furnished executive office suites, dedicated offices, and meeting rooms available on-demand, members can focus on growing their businesses while enjoying exceptional office services and amenities.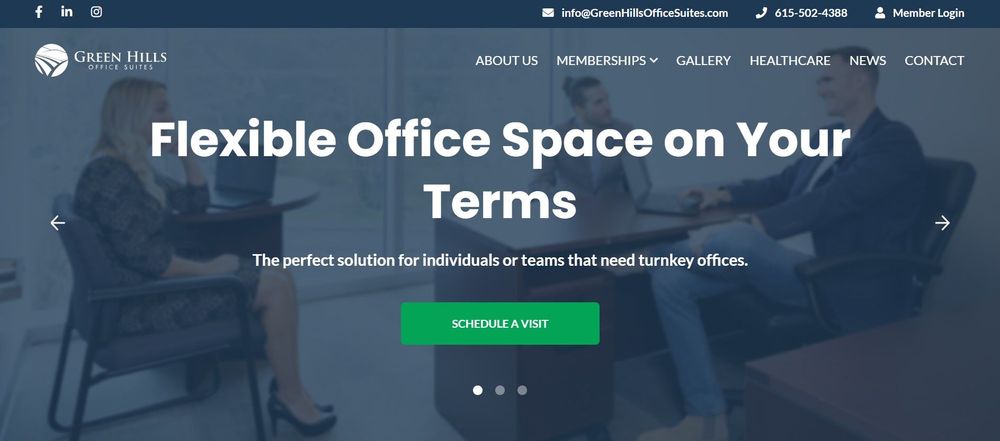 What makes Green Hills Office Suites unique is their dedication to providing a fully serviced office experience for small businesses, mid-size corporate satellite offices, professional service firms, and individuals seeking short-term or interim office space. The workspace also has on-site services and offers virtual office solutions for those needing flexibility and a prestigious address.
Amenities:
Furnished executive office suites
Meeting rooms
High-speed Internet and WiFi
Professional receptionist services
Flexible workspace solutions for various needs
8. Expansive 5th Avenue
Centrally located in downtown Nashville, Expansive 5th Avenue workspace offers a diverse range of office solutions within its contemporary seven-story building. With close proximity to the Financial District and the 5th Avenue of the Arts, it provides an inspiring environment for individuals and businesses alike.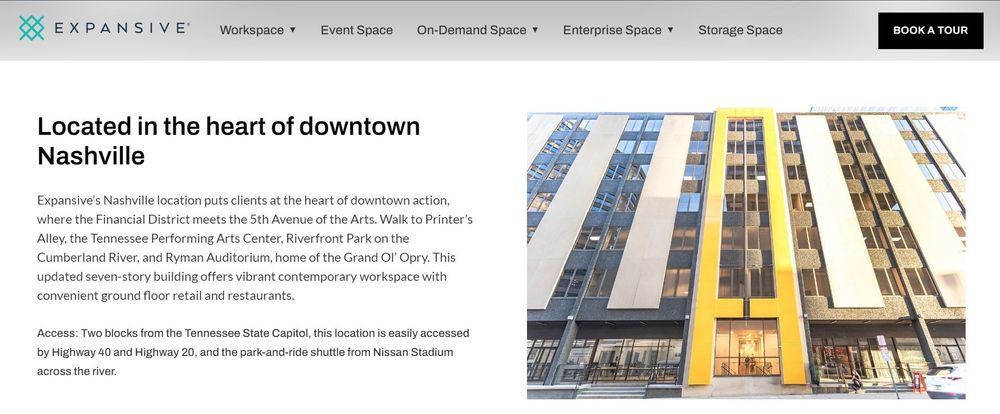 What makes Expensive 5th Avenue unique is its commitment to flexibility and productivity, catering to the evolving needs of its clients. As a property owner, Expansive can offer a more extensive selection of spaces and benefits at a lower cost, ensuring a stable and vibrant community experience.
Amenities:
Indoor lounge area
Conference rooms
Phone booths
Bike storage
Training room
9. WeWork One Nashville Place
Situated in the heart of Nashville, WeWork One Nashville Place offers an inspiring coworking space that spans four floors of the iconic skyscraper. With a modern design, art-filled common areas, and a vibrant community, this workspace caters to businesses of all sizes, from small startups to established enterprises.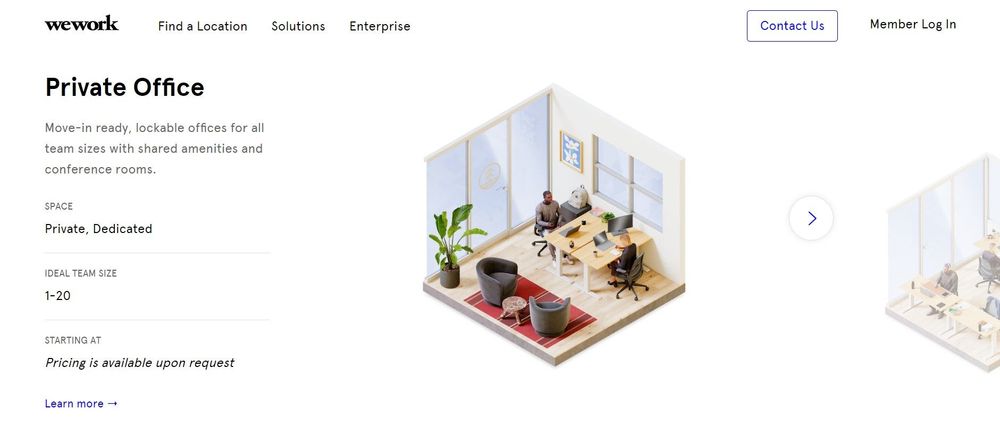 One Nashville Place, affectionately known as "R2D2" by locals, showcases a unique design inspired by the city's rich music history and Broadway's neon signs. The space combines vintage charm with modern touches, and its country aesthetic is sure to energize both teams and guests.
Amenities:
Cleaning services
Event space
Recreational games
Tech services
Meeting rooms
10. InDo Nashville
InDo Nashville offers over 11,000 sq. feet of coworking and office space designed to cater to entrepreneurs and growing startups. Conveniently located in the SoBro area, it is close to Music Row, The Gulch, Wedgewood Houston, and Downtown Nashville, providing a creative atmosphere for inspiration and productivity.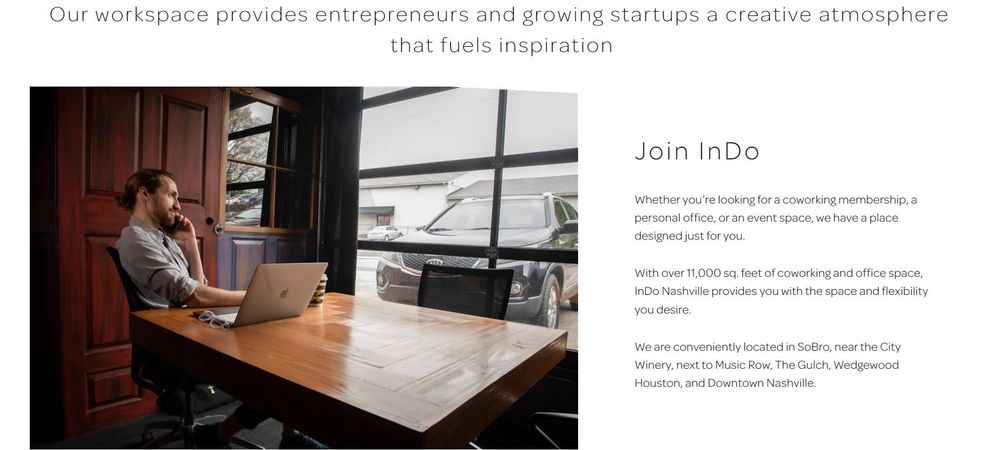 What sets InDo Nashville apart is its curated common spaces, designed to foster collaboration in a creative and productive environment. With a wide range of membership options, it caters to various needs, from day passes to dedicated desks.
Amenities:
High-speed WiFi
Free on-site parking
Conference room
Private phone booths
Dog-friendly
11. Collective615
Collective615 is a coworking space specifically designed for women, providing a community that embraces creativity, encourages diversity, and empowers women to live their best personal and professional lives. Located within L&L Marketplace, a restored 1929 hosiery factory in west Nashville, Collective615 offers a modern and flexible workspace.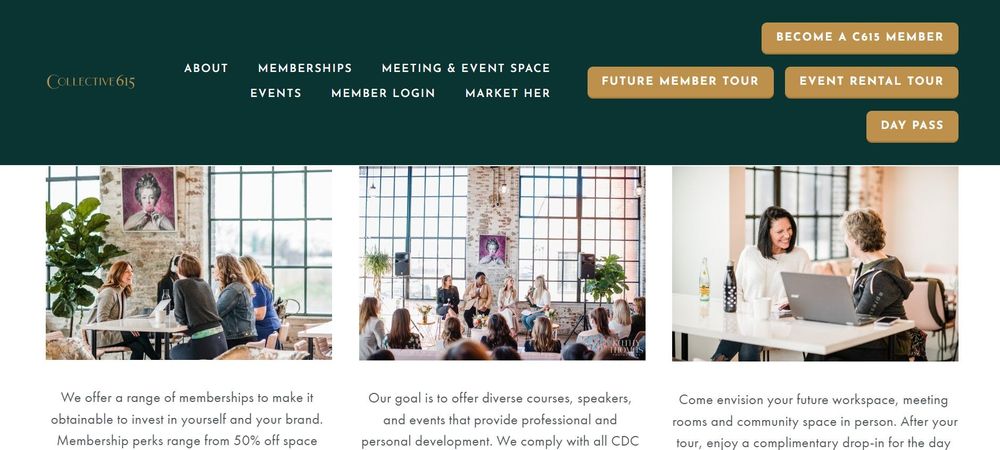 Unique aspects of Collective615 include its focus on collaboration, community, creativity, and professionalism. The coworking space hosts educational programs, networking events, and keynote speakers, and offers a range of membership options and perks, including discounts at businesses inside L&L Market.
Amenities:
One-of-a-kind conference rooms
Break-out rooms
Lounge areas
Outdoor patio
Luxury café
12. The Lodge Franklin
The Lodge Franklin is a premier coworking space in Franklin, offering a comfortable environment filled with creative and friendly people. With its relaxed atmosphere, The Lodge Franklin aims to provide a space where members can be highly productive while enjoying a sense of community.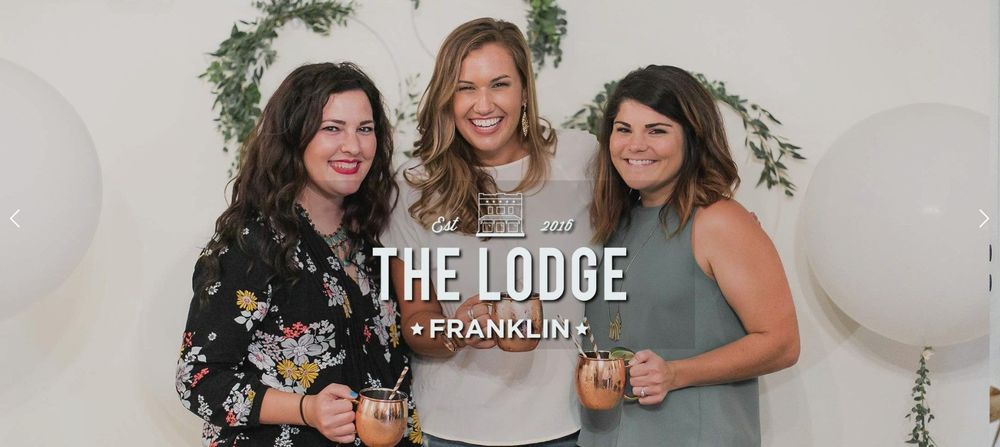 What makes The Lodge Franklin special is its dedication to providing a cozy and inviting space that promotes creativity and collaboration. With flexible membership options, including Pioneer and Explorer/Day Pass, it accommodates the needs of various professionals.
Amenities:
24/7 access to the communal workspace (for Pioneer members)
Free parking
Conference room access
Free use of The Parlor for scheduled phone and video calls (for Pioneer members)
Mailing address (for Pioneer members)
Free printing and shredding services (for Pioneer members)
Use Indy to level up your coworking time
Nashville, the Music City, is a vibrant and diverse metropolis featuring a rich tapestry of coworking spaces for remote workers and freelancers who dance to their own rhythm. Whether you're looking for a cutting-edge office space with a contemporary twist or a charming artistic haven, Nashville's dynamic creative landscape offers something for every professional. With a plethora of unique workspaces to explore, you'll find the perfect spot to work, collaborate, network, and draw inspiration from the city's creative energy.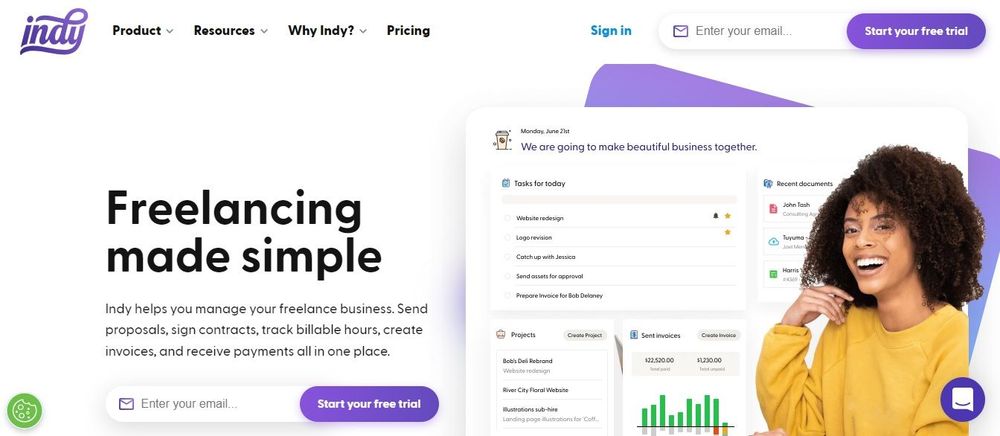 To elevate your freelancing game, you can count on Indy, a platform that simplifies and streamlines your freelance business management. Indy harmonizes a range of practical tools, allowing you to:
Compose professional proposals and contracts
Track your time and expenses for each gig
Send invoices and receive payments online
Gather feedback with automated and embeddable forms
With Indy, you can focus on the melody of your work while the platform takes care of the business side of freelancing, making it the perfect sidekick for remote workers in Nashville and beyond.
Conclusion
Those were our favorite places to work from in Nashville. As a remote worker or freelancer in Nashville, you're surrounded by a chorus of coworking spaces, each offering a unique and inspiring experience.
And to amplify your freelancing success, there's no better tool than Indy. With its user-friendly platform and extensive suite of helpful features, like task management, contracts, and invoicing. Indy is like having a personal manager to help you orchestrate and grow your business, no matter where you are. So why not give Indy a whirl today and discover how it can help you hit the high notes as a freelancer in Nashville and beyond?