Houston has many qualities that make it an attractive choice for freelancers and business owners. There's the year-round warm weather, of course, but Houston also has a low cost of living, zero income tax, and a job market filled with opportunities.
At Indy, we believe everyone should have a great place to do work. If you're tired of freelancing from home and would like to find a location where you can bring your projects with you, do some networking, and drink some good coffee, you should consider joining a coworking space.
In this article, we will show the best coworking spaces in the Houston area and what they have to offer, including plans for private offices, dedicated desks, meeting rooms, and event spaces, as well as amenities and additional perks. So, let's get started, shall we?
1. WorkLodge Woodlands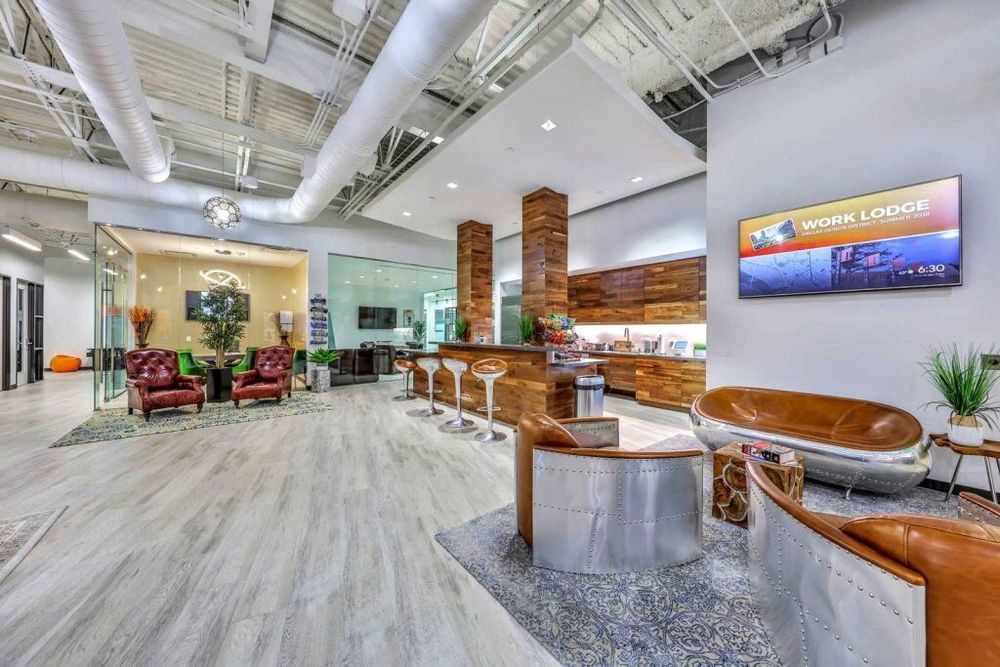 Source: WorkLodge Woodlands
WorkLodge Woodlands is an office and coworking provider with top-rated spaces and meeting rooms in North Houston. WorkLodge offers a professional and friendly atmosphere, enterprise-grade WiFi, unlimited coffee, and 4K LED displays supporting Airplay and Microsoft.
There are a few different membership options to choose from here, from renting a private office (ideal for small businesses, enterprise businesses, and solopreneurs) to coworking (better suited for freelancers and remote workers). This space also offers different meeting rooms fitting 3 to 16 people.
2. Sesh Coworking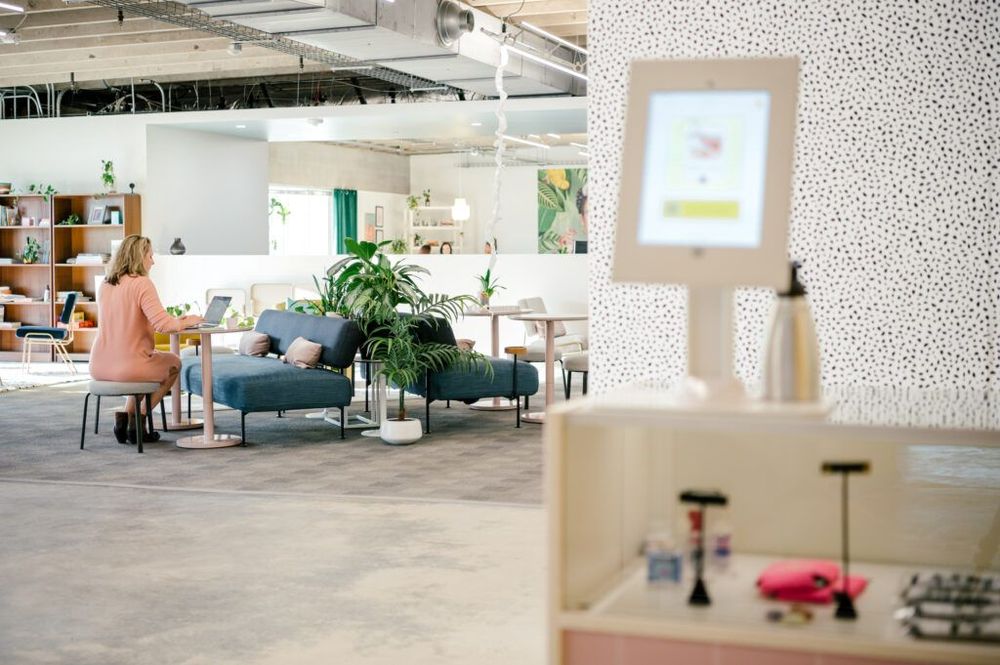 Source: Sesh Coworking
Sesh Coworking is a 20,000 sq. ft. coworking space for consultants, freelancers, startups, and small business owners. They offer four types of spaces: Shared areas with floating desks, dedicated desks, offices for one to eight people, and event areas that can fit more than a hundred guests.
Sesh also has a receptionist, super-fast WiFi, parking spaces, and complimentary coffee and tea. Women and genderqueer people are particularly welcome. A perfect coworking option for brands, teams, artists, creatives, and freelancers located right in downtown Houston and nestled among some of the best restaurants, shops, and gyms.
3. The CoWork Lab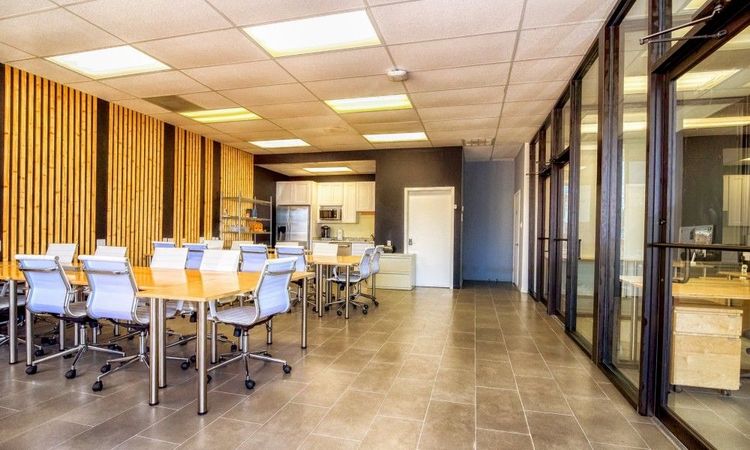 Source: The CoWork Lab
The CoWork Lab is a coworking space in Houston Heights, ideal for entrepreneurs and independent businesses. This productive and low-cost environment offers many opportunities for networking and provides bottomless caffeine and professional meeting rooms.
You can try The CoWork Lab using day passes (you can use them for hot desks or private offices) or purchasing a membership. There are several options available, including month-to-month plans and annual plans for desks and office space.
4. The Ranch Office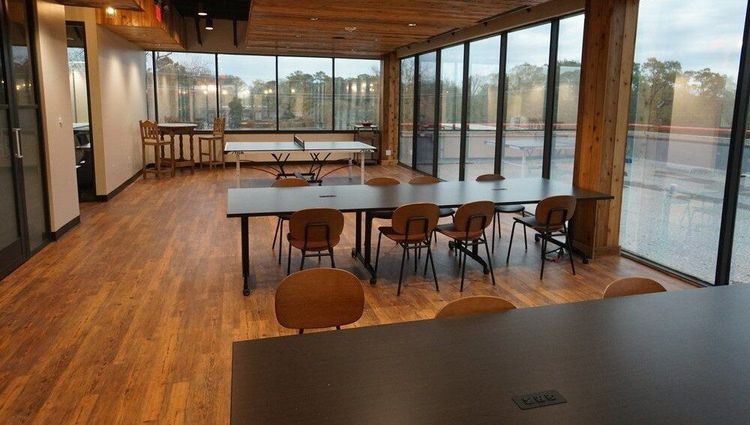 Source: The Ranch Office
The Ranch Office is a uniquely Texan coworking space combining a homey atmosphere and southern hospitality. The Ranch was made for businesses, entrepreneurs, and freelancers looking for flexible working and meeting spaces and private offices.
Its membership perks include local brews on tap so you can be your most productive and a fully-customizable fitness facility to maintain a healthier lifestyle. This wellness room includes cardio equipment, showers, and a changing room.
Located between the Energy Corridor and downtown Houston, this place will allow you to try hot desks, private offices, and virtual offices to find your perfect coworking space in Houston.
5. Common Desk East End Houston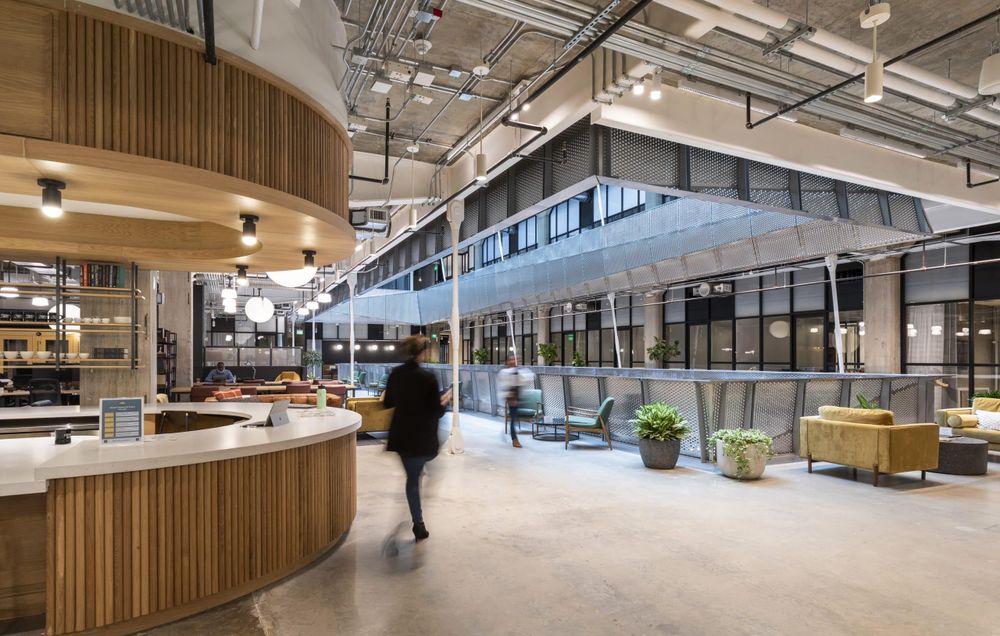 Source: Common Desk
Common Desk is a WeWork company offering coworking spaces between downtown Houston and the East End. As it's become the norm with this company, this office space is situated in one of the most walkable, desirable, and artistic neighborhoods and offers an energetic environment that individuals, startups, growing teams, and even enterprises can enjoy.
Common Desk offers several memberships to choose from, including hot desks, conference rooms, and private office spaces – all with bottomless coffee, patio, and green spaces, super-fast secure WiFi, and community offerings (plus, members get access to all other Common Desk locations).
6. WeWork Galleria Office Tower I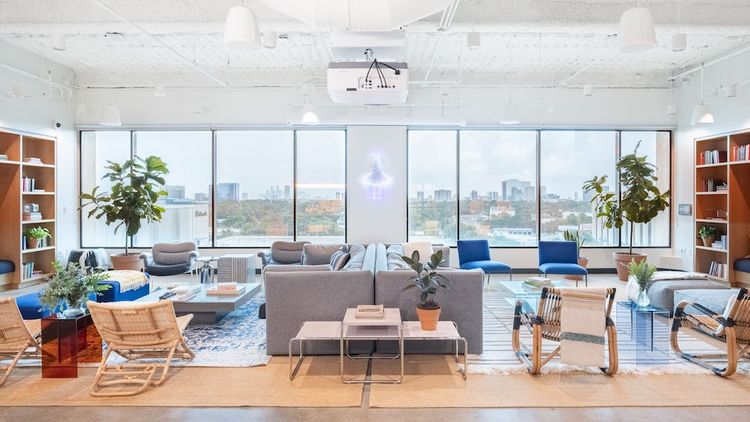 Source: WeWork Galleria Office Tower I
WeWork Galleria Office Tower I is a Texas-sized commercial hub and one of the centerpieces of Uptown Houston. This coworking space is designed to be dynamic and optimize the way you work.
That's why it offers desks, private offices, phone booths, and regularly scheduled events. Also included are cleaning services, parking, a mother's room, a wellness room, event space, a food hall, and tech services. You can try WeWork Galleria using a day pass.
7. Headquarters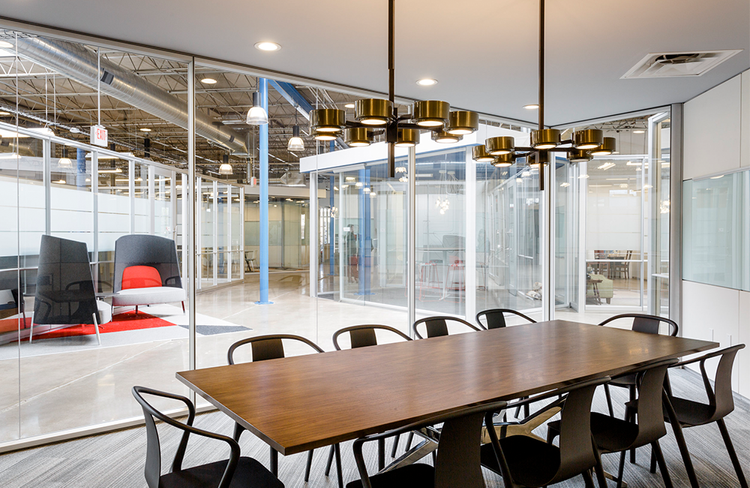 Source: Headquarters
Headquarters is an excellent space for growing businesses in East Downtown Houston. Headquarters offers spacious coworking spaces with amenities designed to help you focus and turn your ideas into reality.
No matter what you rent, you get everything this place has to offer – from secure 24/7 building access, free on-site parking, fiber-optic internet, a coffee shop, a mother's room, and unlimited conference room bookings. Plus, there are several break rooms, including a courtyard with a garden, various lounge areas, and a games room.
8. Washington Office Co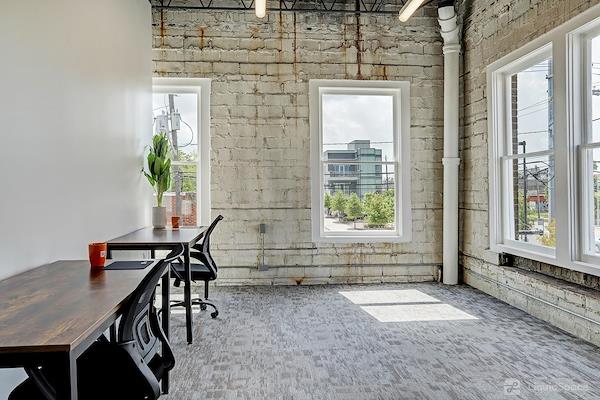 Source: Washington Office Co
Washington Office Co offers coworking office space for modern professionals in Houston. This place is located on West Downtown Washington Avenue and has been renovated with a minimalist and flavorful style.
Some of the shared amenities include free parking, meeting rooms and phone booths, business addresses, open and private spaces, enterprise-grade fiber internet, a happy hour bar, stand-up coffee, and community networking. You can rent desks or offices, and there are no rigid leases required.
9. The Annex HTX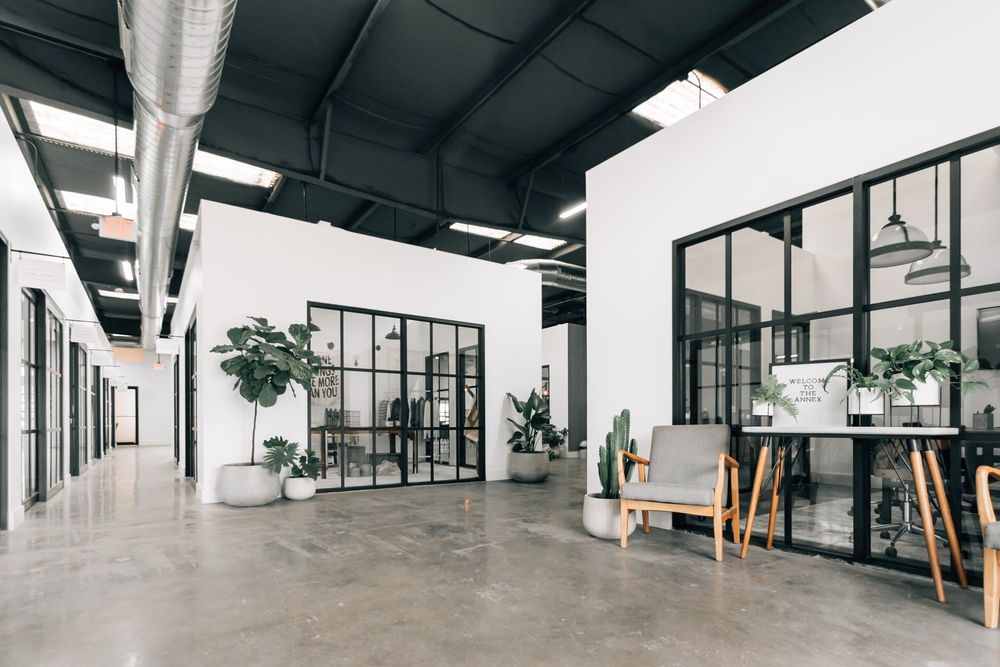 Source: The Annex HTX
The Annex HTX is an innovative coworking community in East Downtown Houston. This space was designed for freelancers, artists, writers, entrepreneurs, and small business owners to work and collaborate with each other. The Annex HTX has multiple types of spaces you can use, from storefronts to permanent desks, private offices, and virtual ones. There are memberships for using them by the day, the month, or the year. Lastly, this place's perks include fiber-optic internet, a front-desk receptionist, access to conference rooms, fax and copiers on-premise, suite mailboxes, a resource library, lounge areas, and greenway coffee served daily.
10. FirmSpace Houston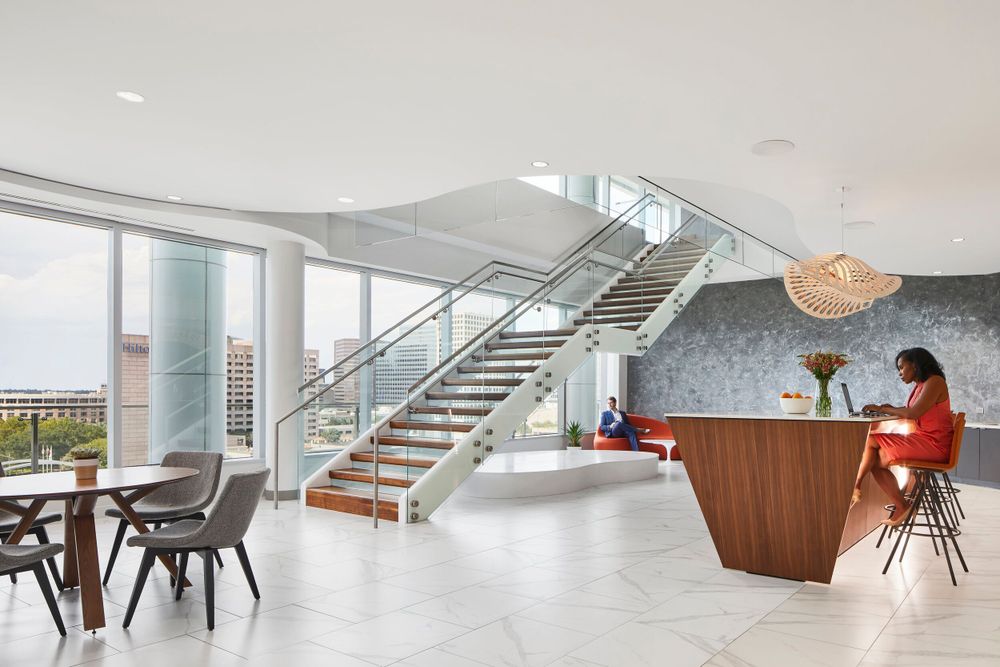 Source: Firmspace
Firmspace offers private offices with all-inclusive memberships in the heart of Houston. Each of them is enclosed in floor-to-ceiling thick privacy glass and has security cylinder locks that only work with a keycard. There's also blazing-fast fiber internet, on-site IT services, and conference rooms equipped with all the latest technology.
Firmspace's memberships are all-inclusive and include concierge services, fully-furnished offices with standup desks, mail service, printing services, weekly lunch catering, private event space, and complimentary refreshments. The building is also centrally located and close to prestigious businesses, excellent restaurants, and Memorial Park (an urban wilderness park).
11. WorkLodge Vintage Park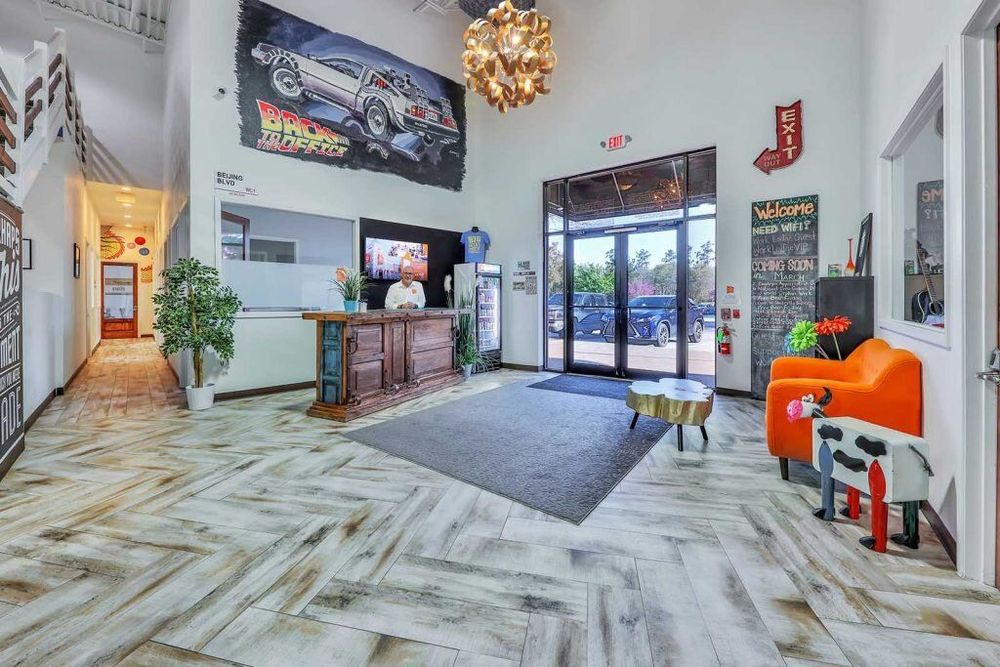 Source: WorkLodge Vintage Park
WorkLodge Vintage Park is a clean, quiet, and cutting-edge coworking space in Northwest Houston. Here, you will find private offices and flexible desks, as well as 24/7 security and all-inclusive amenities.
For example, you get complimentary, unlimited house blend coffee and fruit-infused water, super-fast fiber internet, LED displays, whiteboards, and free parking. There are four membership options for WorkLodge: Coworking, Office, Enterprise, and Virtual, all of which include the use of meeting rooms that can fit up to 18 people.
12. Local Office West University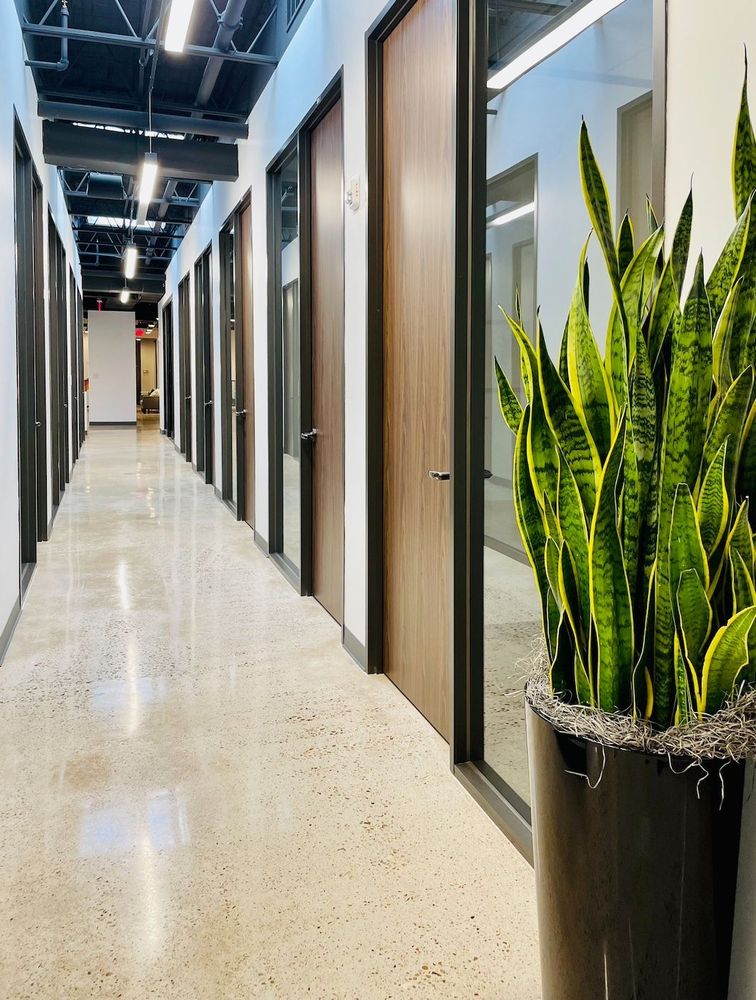 Source: Local Office West University
Local Office West University is a modern shared workspace for entrepreneurs, businesses, and solo practitioners that offer a community environment that can help you reach your true potential. Local Office West University has plans for private offices, hot desks, meeting rooms, and virtual offices.
Its amenities include 24/7 access and video security, fiber optic internet, complimentary snacks and drinks, fully furnished offices, on-site parking, conference rooms, printing and scanning service, private phone booths, and notary public services. Plus, unlike many other coworking spaces in Houston, Local Office is pet friendly!
13. Common Desk The Ion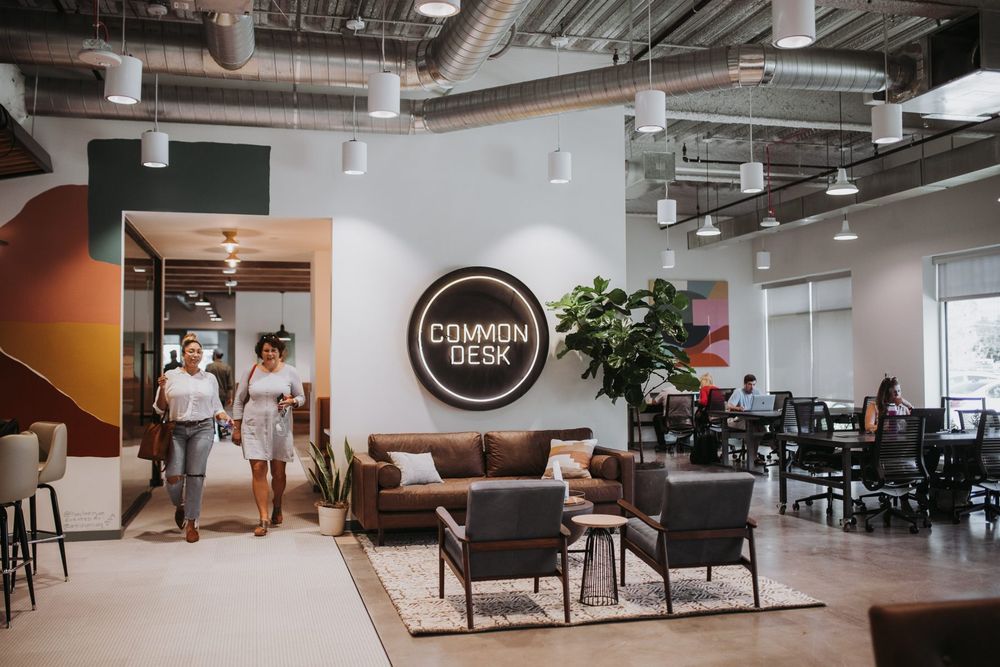 Source: Common Desk The Ion
Common Desk The Ion is in the historic Sears Building on Houson's main street. This coworking space, designed to foster innovation and community, spans 58,400 square feet and has stunning design, not to mention some pretty impressive amenities.
There are membership plans for drop-in desks, day passes, shared desks, dedicated desks, and private offices. You can also book conference rooms and fully-serviced event spaces. The Ion is located just 1.5 miles from Med center and 100 feet from the light rail.
And, like other Common Desk locations, it offers bottomless craft coffee, community events, sit or stand desks, and freaky-fast secure WiFi.
14. Workplace 1919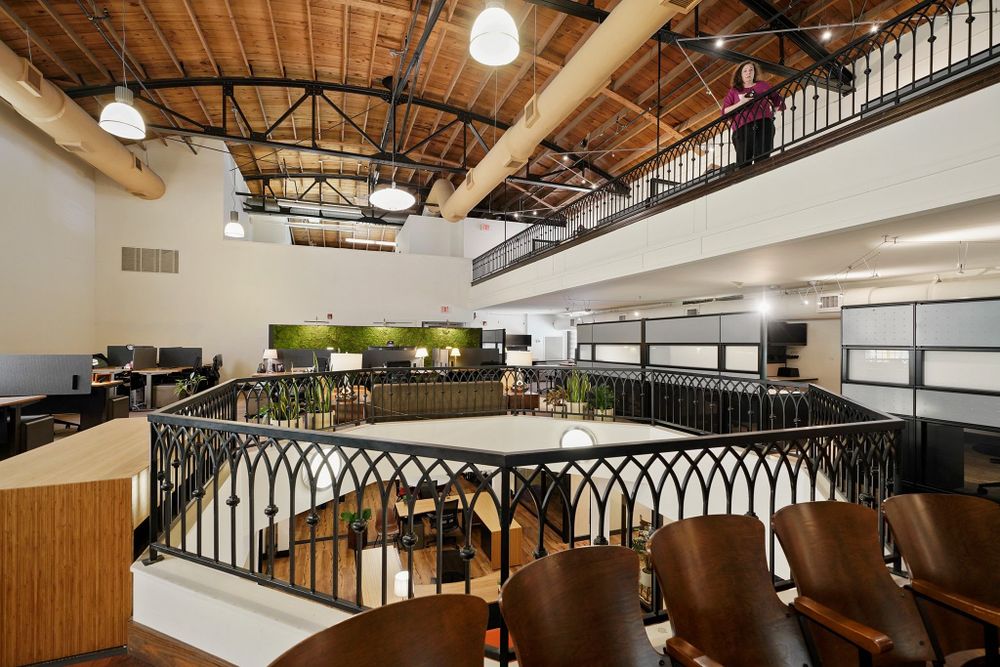 Source: Workplace 1919
Workplace 1919 is a coworking space rooted in history but offering countless modern amenities. Located in a beautifully restored building in the heart of Houston's Old Sixth Ward, this unique office environment provides private offices and dedicated workstations you can lease.
Not only is this coworking space perfectly located (and looks simply beautiful), but it also offers 24/7 secured access, high-speed fiber internet, two conference rooms, free parking, a full kitchen, large-format plotter and scanner, full-color printers, and free coffee, tea, and filtered water. Around, you will also find plenty of restaurants.
15. Origin Cowork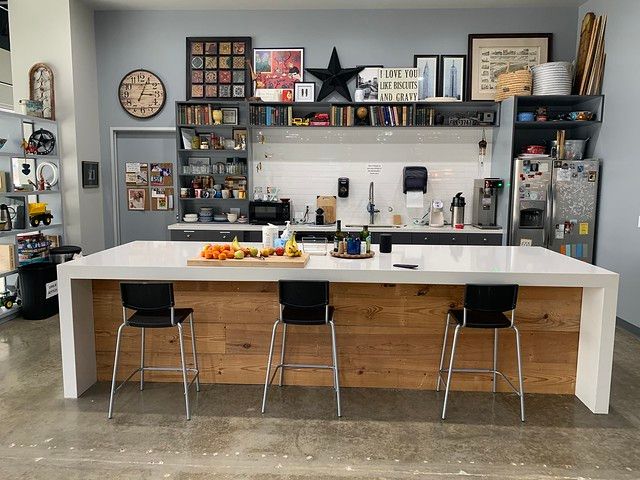 Source: Origin Cowork
Origin Cowork is a convenient and comfortable coworking space in the heart of Houston. Its amenities are tailored to fit your needs as a freelancer, entrepreneur, or small business owner.
This place offers 24-hour member access, free parking, high-speed internet, private phone booths, and access to huddle rooms and conference rooms. Origin Cowork is a place to work and meet others. You can book desks, virtual offices, and private office suites directly through their website.
16. FUSE Workspace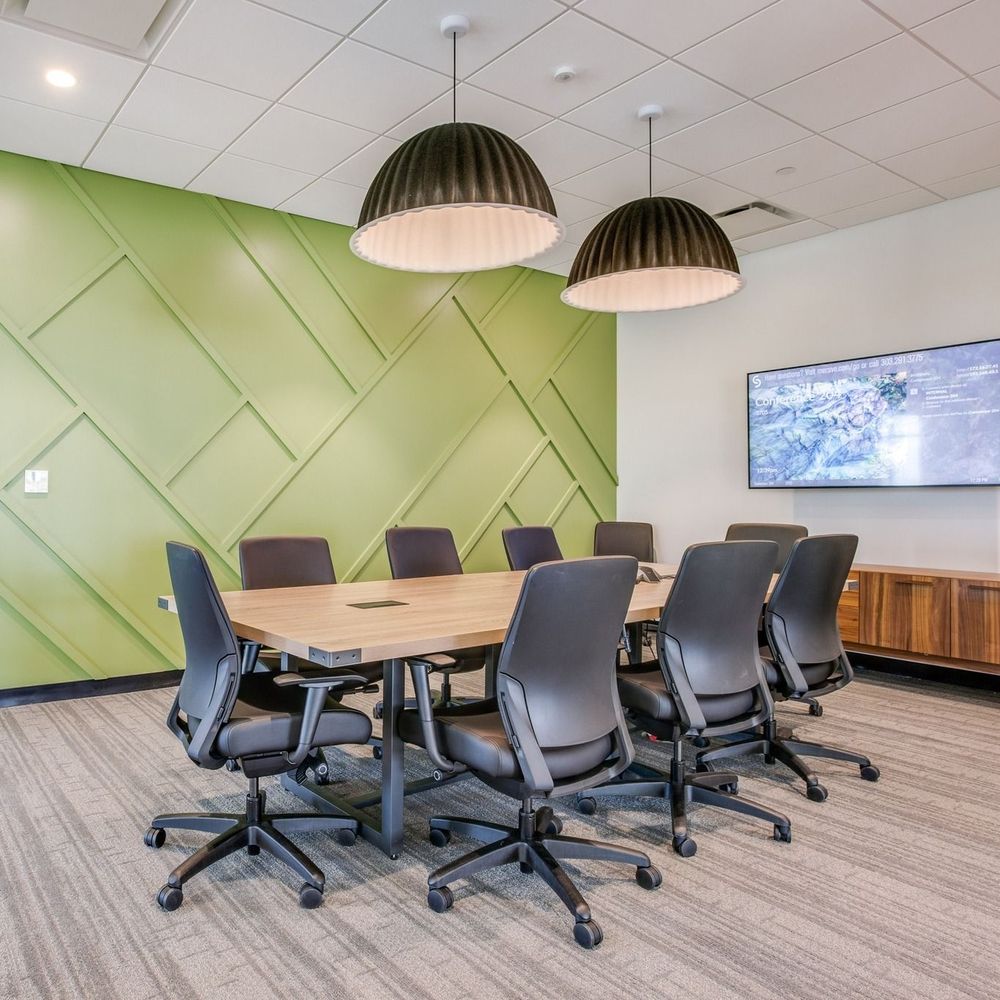 Source: FUSE Workspace
FUSE Workspace combines office workspaces with excellent hospitality to allow professionals to thrive. FUSE's location in Houston is just minutes from I-10, Highway 8, and several public transportation options. Both offer private offices, dedicated desks, coworking areas, meeting rooms, podcast studios, event space, and virtual offices.
Memberships also include 24/7 building access, enterprise internet, phone systems, grab-and-go coffee, mail service, concierge, printing, and free parking. FUSE is also close to hotels, restaurants, and shops.
17. The Cannon West Houston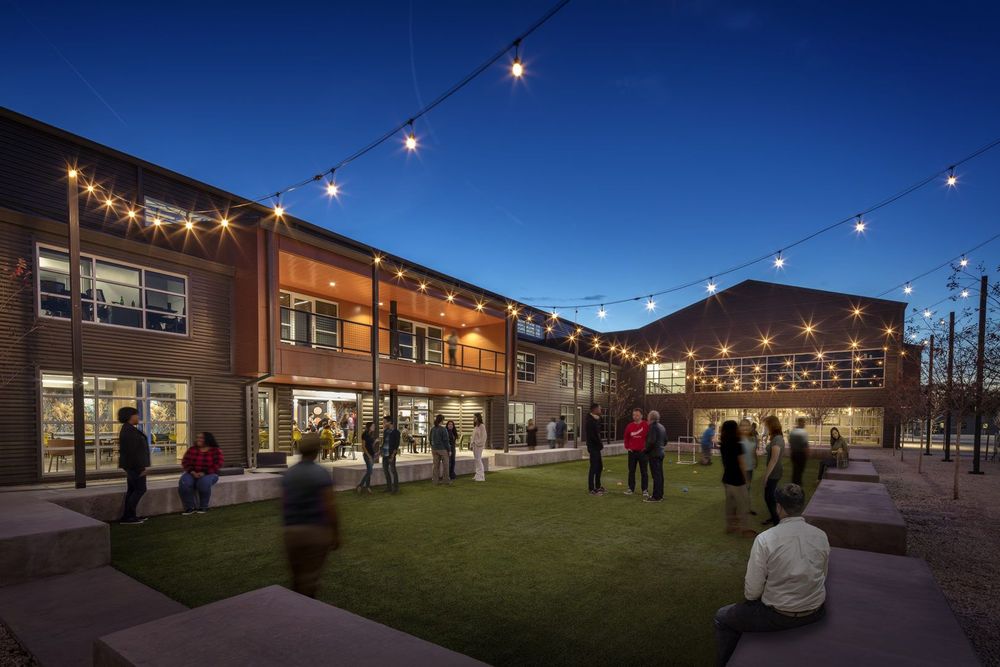 Source: The Cannon
The Cannon is an entrepreneurial community built for innovators. This West Houston coworking space offers free parking, 24/7 secure access, a professional mailing address, and no added fees. One thing that also sets this place apart is that it can provide access to health insurance and benefits.
The Cannon is in the growing Founders District, strategically located just north of the city center and east of the Energy Corridor. There are flexible, resident, and enterprise plans (and they all include access to all Cannon locations up to 5 times a month).
18. The Work Well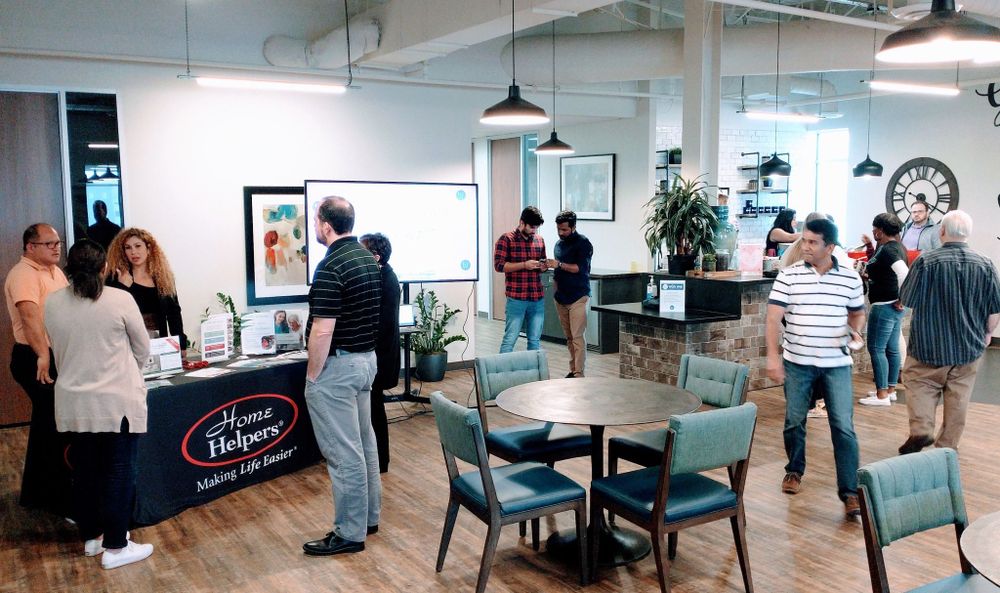 Source: The Work Well
The Work Well is an innovative executive suite and coworking community in the heart of Northwest Houston (at Highway 290 and FM 1960).
This place offers many benefits for its members, including fully furnished private offices, equipped conference rooms, a podcast studio, large break rooms, a kitchen, professional business addresses, concierge services, 24/7 secure access, printers, copiers, scanners, and private phone booths.
Members also get premium coffee bars and engaging networking events and opportunities. The Work Well offers short-term and flexible options, too.
Coworking spaces Houston: Final thoughts
As we've covered, Houston has multiple excellent options when it comes to finding the perfect desk or office to work on your business. Choosing the best coworking space is not always easy, but here are some things you should keep in mind when doing so: First, make sure the place you pick has different coworking modalities (for example, a flexible desk and/or dedicated desk option, private offices, meeting rooms, free parking, phone booths, etc.). Location is also important, particularly if you need to commute. Lastly, don't forget to check which perks are included in memberships and which are additional. And, before you commit to any long contracts, try to test the place using a day trial.
Once you've found the perfect coworking location in Houston, all you need is to ensure you have all the tools you'll need to create or grow your business. Here's where Indy can come in handy! Indy includes nine tools to save time and money, including contracts, proposals, invoices, and time tracking.