As a freelancer or solopreneur, you have a lot on your plate—without the benefit of other team members or assistance. Workflow automation software can help you save the time you would have spent on repetitive tasks through automation workflows. Instead of manually entering data between tools or making updates on individual social media sites, your workflow automation software will take care of it for you.
In this article, we'll look at workflow automation software and which tools you should consider to make your life as a freelancer a little easier.
What is workflow automation software?
A workflow is a business process that completes a series of tasks. It often involves people, systems, and information.
Workflow automation software refers to the applications used for business process automation. It's used by companies with repetitive, time-consuming, or extremely resource-intensive processes to improve employee productivity or optimize the use and allocation of resources across various departments.
Workflow automation can complete tasks and activities without requiring manual inputs from human beings, making work faster and more consistent. Processes become more efficient as the need for manual processes and the manual completion of simple repetitive tasks are reduced.
Every workflow contains manual tasks or activities that can be automated to a certain degree, but automation capabilities can vary between tools. Some workflow automation examples include:
Sending automatic calendar invites
Turning completed forms into service requests and tickets
Distributing tasks between team members
Sending alerts or notifications when approvals are required
Delivering messages received in one channel to another (e.g., Slack, WhatsApp)
Delivering sales contracts for e-signatures
Creating or updating reports based on incoming data
In general, any simple, repetitive, predictive, and scheduled task can be automated to save time. The best workflow automation software is integrated with other apps and tools, which enables even more complex workflow automation.
The 18 best workflow automation software for freelancers
In order to automate workflows in your organization, you need to first identify the various tasks that make up a job and then create the rules and logic that govern how these tasks ought to be completed. The rule-based logic deployed by these software systems usually consists of if-then statements that instruct the software what to do and how to move from one task to the next. These tasks are completed from end to end and no longer require human intervention.
Here are just a few of our favorite workflow software tools for freelancers:
Zapier is the most popular workflow automation software solution on the market. It's perfect for beginners in any industry and can connect more than 5,000+ applications, with more apps added every single day. Zapier connects multiple apps to automate tasks that you would otherwise have to complete manually.
Every automation (known as a Zap) consists of one or more actions and a task. You can build a Zap with just a few clicks using pre-made templates designed to automate everything from lead generation to social media marketing. You can customize your workflows easily by adding additional steps or logic.
Zapier is probably the easiest and most practical workflow automation tool for freelancers because it's affordable, simple, and extensive. For example, if you manage social media for a client, you can set up Zaps to automatically publish your latest blog post on Facebook, Twitter, Instagram, and LinkedIn, without jumping from platform to platform.
There's a free plan that offers access to existing apps and 100 tasks per month, which is more than sufficient if you just want to automate a few tasks, e.g., billing or data entry. Paid plans start at just $19.99.
Integrify allows business users to create custom workflows and automated processes, dynamic forms, and even fully-fledged self-service portals. You can use Integrify to track your performance through easy-to-read reports and dashboards, with audit trails that help improve and analyze problems.
While businesses of any size can use this, it's very useful for companies made up of several teams, as it can improve visibility between your IT, human resources, and sales teams with just a few clicks. It's available in the cloud as well as on-premises, and thanks to an API, it can connect easily to your ERP or CRM to move data between systems as part of your automated workflows.
Comindware Tracker is perfect for small businesses or freelancers looking for low-code workflow automation software. Comindware Tracker runs parallel to their business process management software. It's designed to simplify business operations and streamline workflows that aren't served by highly structured software systems.
You can use Tracker to build workflows that transfer easily from mobile to desktop and use their drag-and-drop interface to get started almost immediately. Software security is top-notch.
Kissflow is an end-to-end workflow automation software solution that enables users to set up low code automation to manage all of their projects from a single integrated platform. The user interface is extremely simple, with drag-and-drop editing and simple visual workflows to simplify the entire process.
Kissflow uses a combination of WebHooks, APIs, and Zapier to automate redundant tasks and connect all of your techs in a single platform. It's reasonably priced at $12 per month per user, which includes a workflow designer and automated routing. There's also a free trial, so you can "try before you buy."
ClickUp is a cloud-based workflow process automation and team collaboration platform. It's one of the most popular workflow tools for agencies and freelancers that have to collaborate with a number of other role players. ClickUp enables you to assign tasks to other team members or collaborators, set statuses and alerts, and manage everything you need to do via an intuitive interface.
You can create combinations of triggers and actions to automate tasks and replace manual data entry. There are hundreds of pre-built templates you can use if you don't have the coding knowledge to create custom automation, but there are plenty of advanced options for those who have the know-how to use them.
ClickUp is, at the heart of it, a project management tool and offers all of the integrations you'd expect, including Slack and Zapier. It starts at just $5 per month, but you can also use their free plan, which is more limited in terms of features.
Flokzu is a visual workflow management software solution that uses icon-based flow charts where you can map your business processes. The interface is task-oriented, and Flokzu will integrate with several applications through Zapier and other web services. The workflows will adapt based on your individual processes and tasks, but you're provided with a template when you log in to inspire your first setup.
Flokzu places a lot of emphasis on security and offers end-to-end encryption for the safety conscious. It's great for reporting as it comes with a full suite of process statistics that you can analyze to improve your business processes even further.
Comidor is a hyper-automation platform for businesses that want to scale quickly. It's user-friendly, with drag-and-drop components and AI tools you can use to automate workflows from start to finish. Intelligent robotic process automation mimics repetitive human behaviors and forecasts outcomes with ease, while analytics will help you keep on top of your performance every step of the way. Pricing starts at as little as $8 per month.
Smartsheet is one of the most popular workflow management tools on the market, with plenty of automation to help you speed up your daily outputs. You can use Smartsheet to plan, track, and manage your projects and automate actions and scenarios in the same workflow. There's a recurring reminder system to help you stay on track and streamline the approval process.
Smartsheet is perfect for freelancers, consultants, and solo entrepreneurs, but it can integrate with multiple enterprise-level suites, including Teams and Salesforce. It starts at $7 per month per user.
IFTTT stands for If This, Then That. IFTTT connects your accounts and apps and performs actions based on triggers from those apps. For example, you could set IFTTT to save a copy of every photo you upload to Facebook in Dropbox or Google Drive.
You can also use simple conditional statements to execute simple tasks when specified conditions are met. There is a free plan with limited automation capabilities, while paid plans start at $3.33 per month.
Mavenlink was designed for professional services businesses, so it may not be suitable for everyone. Nonetheless, if you fit the bill, Mavenlink is a robust tool with several project management and workflow automation features that can easily replace manual inputs. In addition to setting up automated tasks, you can use Mavenlink for forecasting and connect it to your existing CRM and financial systems.
Coupler.io is a data integration service that enables you to sync data between your apps and platforms automatically or by request. Couplier.io is a no-code tool, so you can easily export important information from HubSpot, Trello, Shopify, and other popular platforms, back up your data or build dashboards to track important metrics.
You can also seamlessly sync data between sheets and databases, e.g. moving Airtable data to BigQuery. The free plan enables 100 data runs per month, with 1,000 rows per run; paid plans increase the data runs and import sizes from $24 per month.
Boom Flow is a multi-cloud platform with a simple interface that makes it easy for anyone to build a workflow. You can use Boomi Flow to convert diagrams into fully-fledged apps and set automation into motion with a single click on any device or platform.
Boomi Flow is known for its speed and innovation, with very few barriers to usability. It uses the Flow Services Server to integrate with a number of useful tools, including CRM, HRIS, and ERP software. There is a 30-day free trial available if you want to give Boomi Flow a spin, but pricing for the paid plans is only available on request.
Scribe is an automation software solution with documentation in mind. It captures your screen as you complete the process and turns clicks and keystrokes into screenshots and written instructions. It's a great way of creating a user guide or manual.
Scribe is available as a free Chrome extension or paid desktop app. You can integrate with several workflow automation software solutions and embed your Scribes in wikis or help centers. The Pro plan starts at $29 per month per user and comes with desktop recording and screenshot editing tools.
Nintex enables businesses to automate critical processes and gain timely insights to improve their operations and save time. More than 10,000 companies already use Nintex, and it runs 1 billion workflows per year. Nintex uses a browser-based drag-and-drop user interface that doesn't require coding. Pricing starts at $910 per month, which enables ten workflows with unlimited users.
Jira isn't a tool you would purchase as a standalone workflow automation solution, but if you work in software development, you are probably already using it. Jira has a no-code rules-based automation builder based around events within the system, so you can automate any task or process. There are also hundreds of pre-built workflow templates you can use to speed up work even further.
If you already use Jira, it's time to investigate the global automation feature. You can use this handy feature to create a single rule that automates tasks across all of your projects, including advanced roadmaps, admin insights, and sandboxing. Jira also integrates with a number of useful tools through the Atlassian marketplace, like Slack, Zoom, and others. Jira has a forever free plan, and paid plans start from $7 per user per month.
TrackVia uses visual workflows to facilitate automation using apps you've already built into your processes. It's designed specifically for businesses that work in manufacturing and warehousing, so if you are a consultant, this nifty tool can build connections between operational silos and provide greater visibility and communication between departments.
End-to-end data encryptions will keep your data safe, while the web and the mobile-ready user interface is perfect for working on the go. There's API access for developers, but you can also form connections using Zapier.
Snov.io is an outreach platform designed for automating workflows for deal management, lead generation, and email sending and tracking. Snov.io makes it easy to scale your entire email outreach process from start to finish with personalized triggers, email drip campaigns, and tools for verifying contacts and tracking their process.
Snov.io includes a free CRM that can be used to build custom pipelines or grow revenues. Paid plans start at $39 per month, but the free renewable plan is perfect for freelancers with a small email database and up to a hundred drip campaign recipients.
Conclusion
Every freelancer has a moment where they feel like there are not enough hours in the day, which is why workflow automation software is so useful. You can manage your time much more efficiently and direct your efforts where they matter most.
You can also use a tool like Indy to save time and boost your performance as a freelancer. Indy is a full business suite of tools built especially for freelancers. You can create and send invoices, manage your to-do lists and calendar, and even take advantage of useful email templates to improve client communications.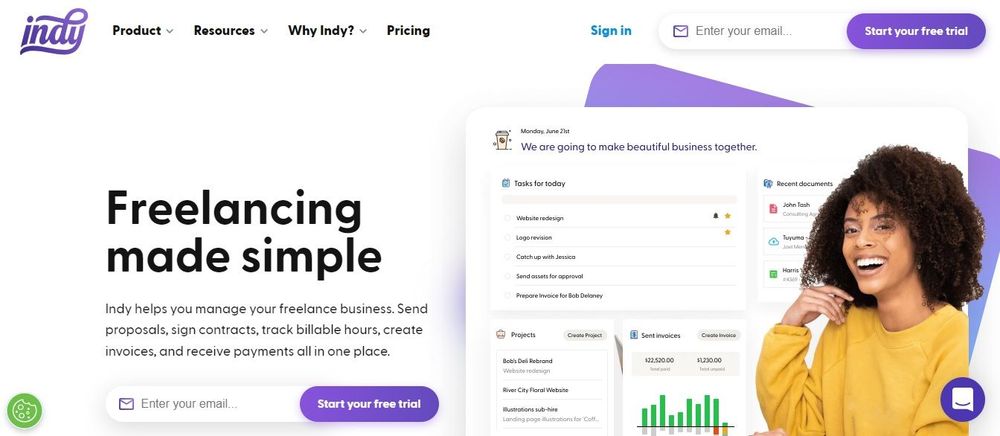 Indy will soon integrate with the world's most popular workflow automation software solution, Zapier, extending its functionality even further. Check out how Indy can streamline your freelance business today.