If there is one skill every freelancer needs to have, it's project management. You need to juggle multiple clients, multiple projects, and your own admin and billing, all at the same time. You need a set of tools to help you keep track of it all.
Trello is one of the most popular ways of keeping track of your projects. In this article, we'll look at how you can take your Trello account to the next level using a Zapier integration (or two) to link your favorite apps to Trello.
What is Trello?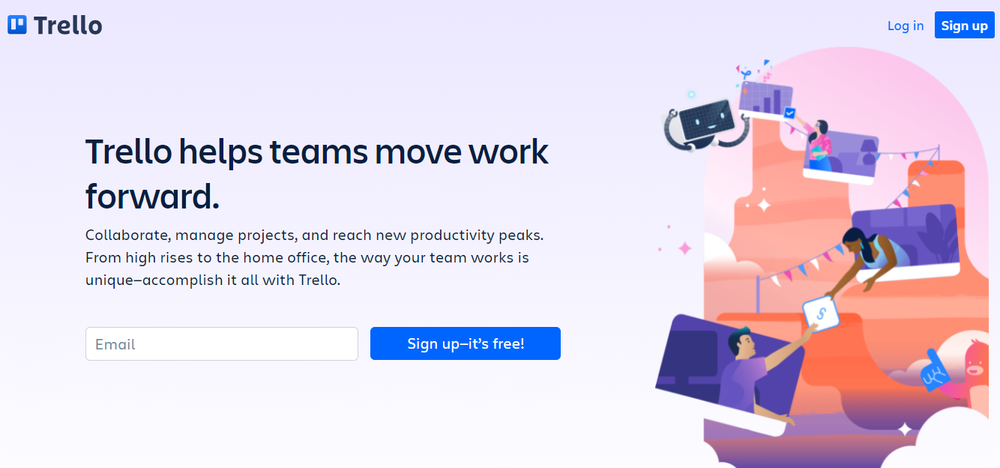 Trello is a visual team collaboration tool that empowers you and your collaborators to manage any project, workflow, or daily tasks. Trello boards resemble Kanban boards. When you log in, you'll see your Trello board right up front. You create Trello cards and tasks to track the most important work you're busy with. You can add a due date, labels, resources, and data to manage your tasks.
Trello has some automation, but you can add even more by using Zapier. Zapier is a workflow automation tool that can connect your Trello account to various apps. An action in Trello or the app will trigger an action. For example, you can connect Trello to Facebook Messenger. Every time a client sends a query through Facebook Messenger, Zapier triggers will ensure that a new card is created, asking you or a team member assigned to the card to respond to them. This is just one of the many Trello triggers you can add; there are thousands of other apps, triggers, and actions you can add through your Zapier account.
Best Zapier-Trello integrations for freelancers
Project management is all about working more efficiently. These are just a few integrations you can use to automate tasks and save time through Zaps. Zaps are Zapier integrations that consist of a trigger and an action event. An event could be a task or action that you or a client completes, which will then trigger an action.
Slack is an instant messaging and collaboration tool that you can use to communicate with your clients and team members. If you spend a lot of time managing tasks and communicating in Slack, it may be worth linking your Trello account to your Slack account with a Zap. You could, for example, create Trello cards every time you save a message in Slack.
If you use Gmail as your email platform of choice, you can easily manage your inbox through Trello cards. Just set up a Zap that triggers a new checklist item in an email-related Trello card every time you receive a new email.
Most freelancers use Google Calendar or a similar calendar app to keep track of client meetings and other important events. If you like using your Trello board to report on all your client activity for the month, you can use a Zap to automatically move client meetings to a Trello card related to their account.
Todoist is a task management app that lets you do everything, from managing your day to overseeing a large project. Some people prefer to keep their tasks in Todoist and larger projects in Trello. If you are one of them, just create a new Zap to link the two. You can create a new task in Todoist every time you create a Trello card and vice versa.
Evernote is a popular note-taking app. You can easily jot down notes and use them to organize your ideas in a meaningful way. You don't want to move data between Trello and Evernote manually, so automate it with a Zap. You could set up a new card or checklist item for every new note created or moved to a notebook.
Airtable is a popular cloud collaboration app that you can use to manage resources or specific workflows. Its UI resembles Google Sheets. As a freelancer, you use a number of tools—and so do your clients. If your clients like to use Airtable to manage their workflow, and you use Trello, it can create an admin headache. Thankfully, you can use Zapier to add a new card on Trello whenever an item is added to Airtable.
Both Dropbox and Google Drive are helpful cloud storage solutions that you can use to back up and share important documents, videos, and images. This can be very handy if files need to trigger actions, e.g., receiving an invoice that has to be paid later or a contract that has to be signed. You can create Trello cards whenever files are added to a specific folder in Dropbox or Google Drive, so you never forget to take action when you receive your documentation.
GitHub is a popular code hosting platform that is often used for version and collaboration. If you work as a freelancer in the software development field, you can easily work on projects together using Github. If you collaborate with other developers or clients on GitHub but prefer to manage your projects on Trello, you should set up a Zap to create Trello cards whenever someone logs a new issue in Trello.
Xero is a popular accounting tool used by freelancers and small businesses alike. If you use Xero to keep track of your finances, you can easily tick finance-related items off your to-do list using a Zap. For example, you can mark an "invoice due" to-do list item off a client card as soon as a new sales invoice is added in Xero.
10. Trello and Indy (coming soon)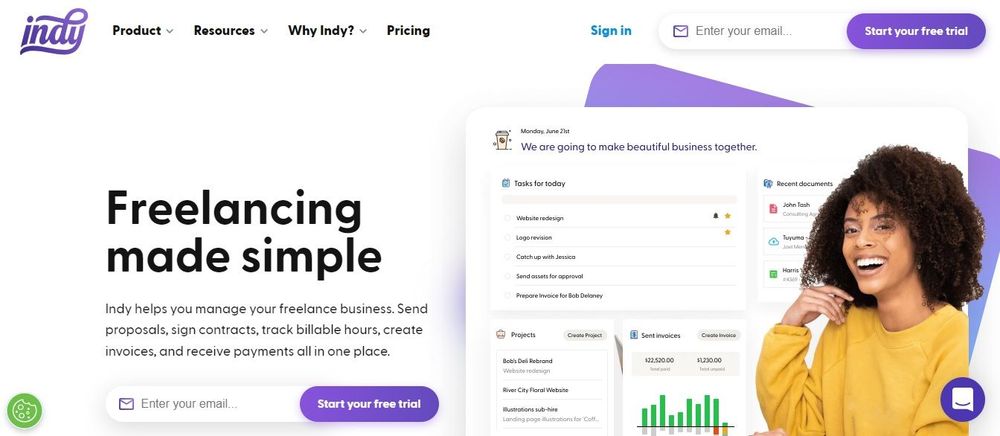 Indy is a complete admin suite for freelancers, contractors, consultants, and solopreneurs that can build their success through powerful marketing, workflow, and payment tools. You can use Indy to create and send proposals, contracts, and invoices, keep track of time, share files, and manage the entire project timeline. While you can't integrate Indy and Trello through Zapier yet, it will be added to the list of Zaps soon.
Final thoughts
We hope you found this article helpful for organizing and streamlining workflows as a freelancer, but if you still need additional help, visit Indy. Indy has all the tools a freelancer needs to manage their day-to-day business, from task management to finances to daily meetings.
Teaming with Zapier, Indy can become the best automation tool, so you can improve how you do business. Get started today for free!