If you're a freelancer, this will be a common scenario: You meet a new client, you send a proposal, and you agree on a budget. Before you can start work, you both need to sign a legal agreement or contract. Perhaps you have your own document, or maybe you are sent one by your customer. In both cases, it can be handy to have a contract review checklist to ensure all parties involved have the correct rights and responsibilities.
In this article, we will cover everything you need to consider when it comes to contract reviews. We'll go through the must-have clauses of commercial agreements, payment terms definitions, termination and renewal aspects, intellectual property details, and all the key aspects of signing these legal documents. So, let's get started.
Why you should always have a contract
Reviewing contracts is essential to make sure there's a balanced, transparent, and fair distribution of responsibilities and rights for all parties involved. You don't want to leave this critical written document entirely to the client, even if they work with a legal team at a law firm. The goal should always be for both parties to be comfortable adding their signature! And when it comes to project terms, deliverables, payment terms, and revisions...you should have a say. But why exactly do you need a contract?
Any freelance work contract can protect both your interests and your client's. A contract is a legally binding agreement between two or more parties that defines the work you're going to do, how much you will charge for it, and what the responsibilities are for everyone involved. There are many benefits to using this type of document. For instance:
Both sides can agree in advance on important dates, deliverables, and payment terms.
You can reduce misunderstandings and disagreements, and outline how you're going to handle them should they arise.
Both parties become legally bound to specific contractual obligations, which also means they will each have their own protections.
Without a contract, you might find yourself having to deal with non-payment issues, scope creep, and no way to enforce what was previously discussed—not to mention additional liabilities and legal ramifications or long legal battles that will require the help of experienced lawyers.
This is why it's essential to always work under a contract. But not just any contract! If you want to make sure all parties are covered, you should implement a thorough contract review process. And what better way to do this than by using a checklist?
A checklist for contracts: 10 elements to review
We've gone through the main reasons why it's essential to work under a contract. Next, we will cover the ten elements that all agreements should have and what you should check when you're going through them as part of your contract review.
1. Description of services and work (or scope)
The first thing a contract should include is a good definition of what you're going to do for a client. The more detail there is here, the better. Make sure this section includes things like start date, work scope, milestones and deadlines, and payment rates.
2. Payment terms
Your contract review checklist should always go through the agreement's payment terms, as this is a crucial component! For example, will you be paid by the hour or by milestone? Is there a minimum or maximum hourly requirement? Also, check when you're going to be paid, if you will use a deposit, who is responsible for expenses and material costs, and what happens if a client pays late.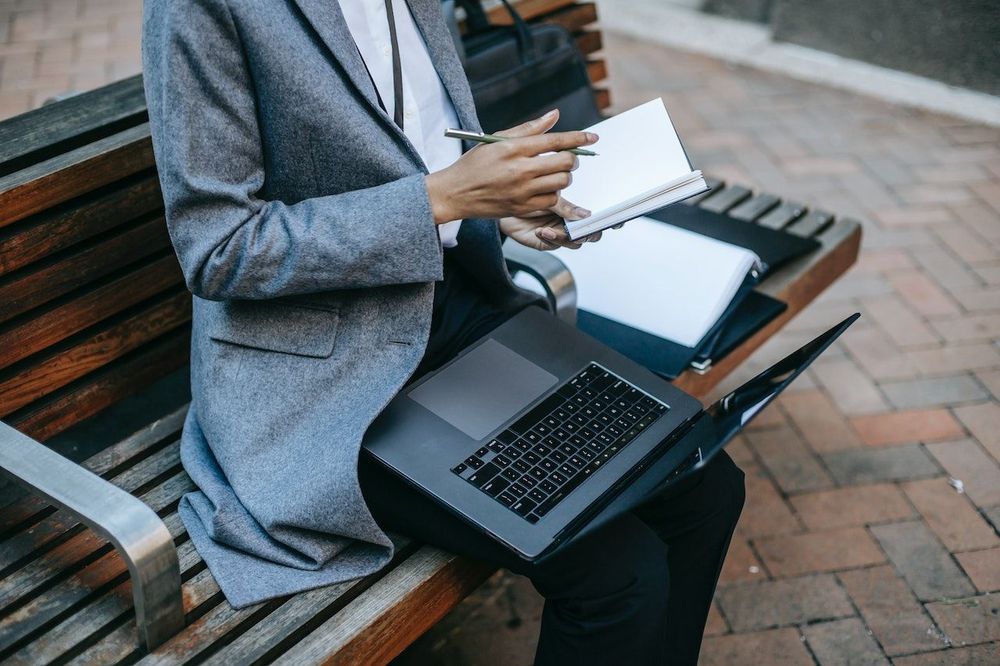 3. Copyright and ownership
If you're a freelancer, it's essential to make sure there's a clause defining who owns the resulting work. In most cases, the rights are transferred to the client, so another consideration is how they can use the deliverables (the usage terms). Typically, there should also be a mention of whether you can show the result as a part of your portfolio. If you're unsure about this section, it's always a good idea to consult with a contract review lawyer that specializes in copyright law.
4. Termination and renewal terms
Make sure there is a definition of how the contract can be terminated. Typically, both parties should be able to do this, but it's good to outline the most common reasons for ending the agreement, such as poor communication or missed deadlines. Expenses and penalties should also be specified. Most contracts should also include a Force Majeure clause, which excuses parties from their obligation in case of natural disasters or other circumstances outside their control.
5. Exclusivity
As a freelancer, it's critical to communicate whether the client will have exclusive access to your services—or you'll be able to work on other projects, too. This policy should be outlined, and if you're going to work exclusively for someone, the duration should be defined as well.
6. Confidentiality clause
In order to protect all parties involved, all freelancer contracts should include nondisclosure or confidentiality clauses detailing how each will deal with proprietary processes, client lists, financial information, etc. In some cases, you might also have to sign a separate NDA to further establish a confidential relationship.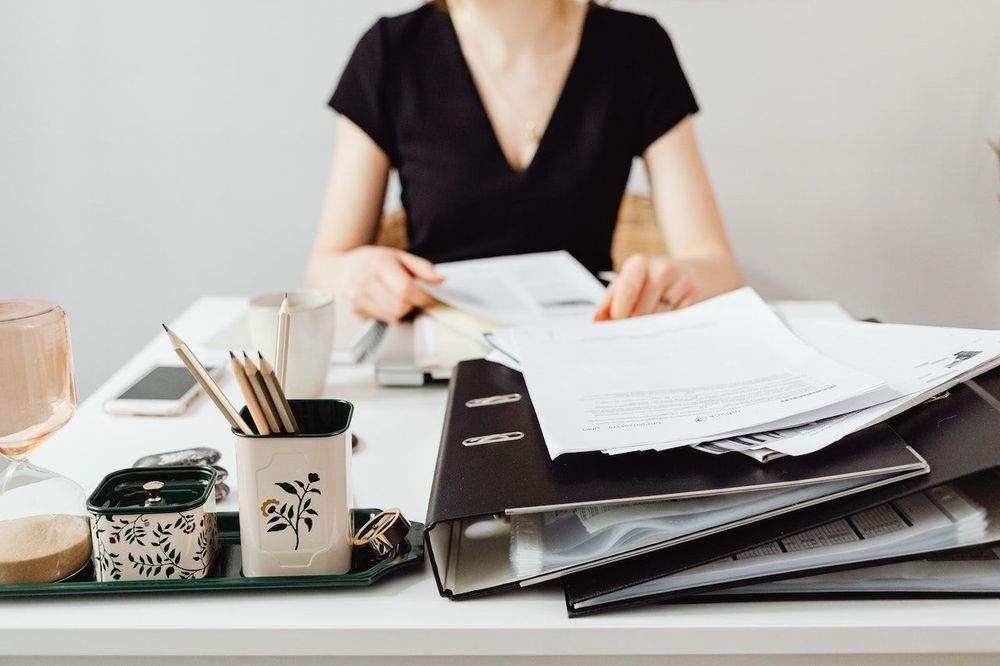 7. Revisions
For freelancers, this clause is one of the most important ones! The last thing you will want to do is endlessly revise your work. So, when doing a contract review, always make sure there is a specification for the number of changes you'll include and the charge for any additional edits to your deliverables.
8. Indemnity
It's also important to make sure your contract includes a clause that specifies who will be responsible if something goes wrong. For example, if a party decides to breach the agreement. A common choice is a mutual indemnification, in which two or more parties agree to compensate the others should there be losses resulting from a breach.
9. General clauses
General clauses are catch-all clauses that include more specific considerations. Typically, things that are particular to a project or client. For example, there can be an arbitration clause for dispute resolution. Other general clauses can refer to protections and legal disclaimers.
10. Signatures
Lastly, in order for a contract to be legally binding, it needs to be agreed on and signed by all parties. Make sure everyone involved has added their name before you start any work!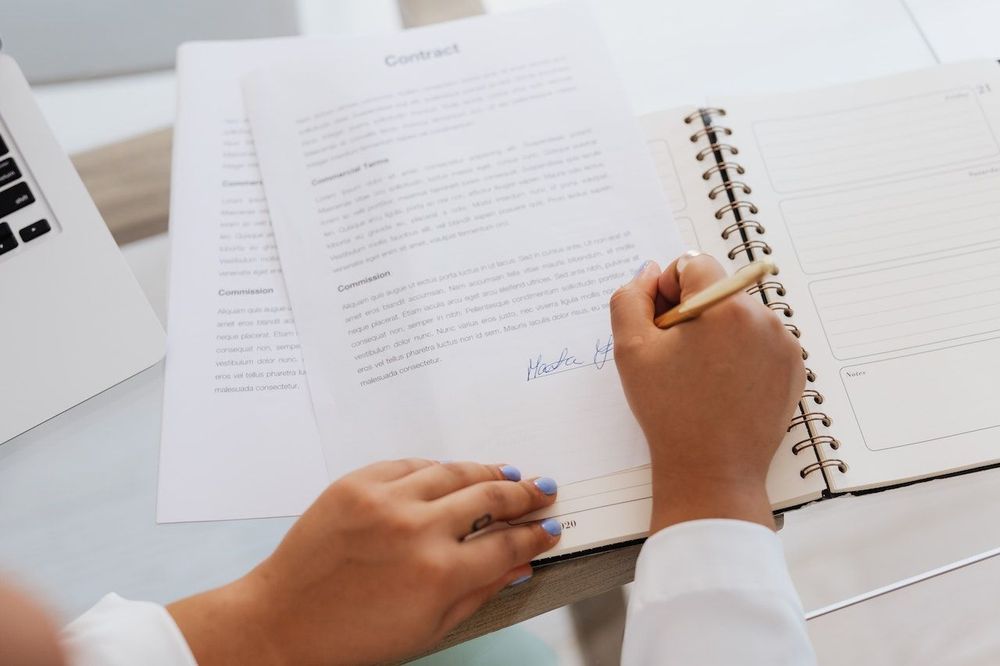 Using a template as a contract review checklist
If you're new to freelancing or you don't feel confident enough to write your own contracts from scratch, you can use templates from existing services.
Indy is a platform designed for freelancers to take their businesses to the next level. Apart from nine powerful tools to get it all done from a single place (you can create and send proposals, invoices, and forms, follow tasks, use time trackers and calendars, and share files and chats with clients), Indy offers excellent contract templates for different industries.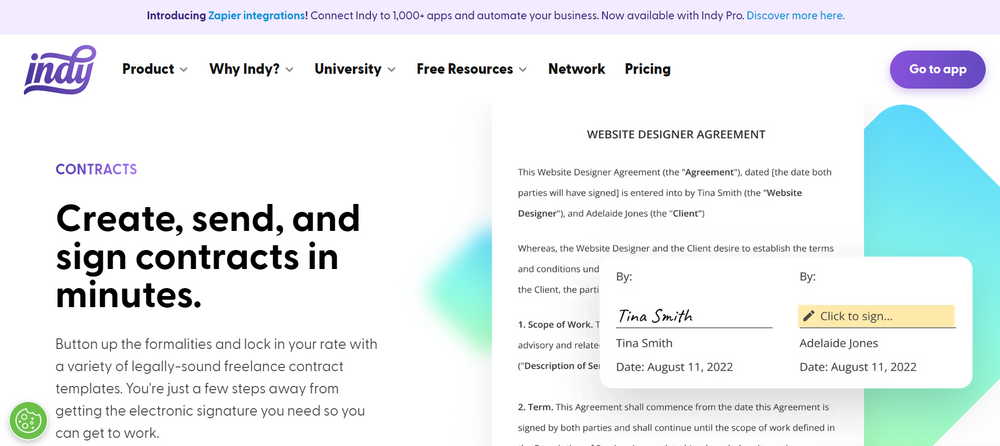 These templates allow you to create contracts in just minutes and easily populate them with your and your client's information. You start with an agreement based on your profession and then just add details relevant to your project!
The advantages of using Indy's contract templates
By using contract templates, you don't just save time. You can also be confident the final document will include everything needed to protect both you and your client. Indy's contracts are reviewed by lawyers to ensure they include all the definitions required to take projects to completion while keeping everyone involved protected and happy.
But there's more. Because Indy is a comprehensive solution, you can actually connect your legal agreement to specific client information, proposals, invoices, project details, and time trackers for hourly jobs. In short, everything you need to manage and grow your freelancing business!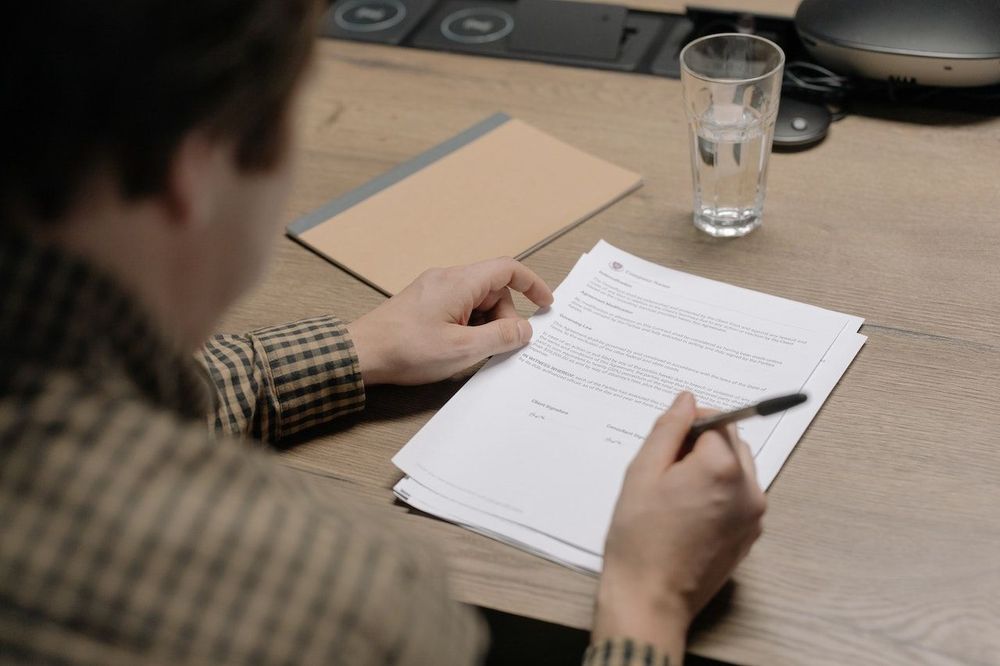 Conclusion: How to best review contracts
Contracts are an essential formality and an excellent way to support a transparent and fair working relationship. As a freelancer, these legal agreements can also help you reduce disagreements and misunderstandings, control scope, and make sure you are paid on time.
The best contract review checklist is one that ensures there are clauses for all important aspects of the project. For example, description of services, payment terms, revisions, confidentiality, and termination considerations. If you want to make sure all of these are covered, you should consider using a contract template library.
Indy's contracts are legally sound, cover a number of industries, and support electronic signatures. Plus, they connect with the other tools offered by the platform.