Content creation is a great way of using your creativity and earning a good living at the same time. As a content creator, you'll generate ideas, write and design content that informs and engages your audience, and promotes your brand or the brand of the companies you work with.
Whether you want to be a full-time content creator and a brand in your own right, or whether you want to use content to promote your own business or the business you represent as a marketer, you need to understand the content creation process.
In our Ultimate Guide to Content Creation Strategy, we'll take you through the various stages of the content creation process, from finding new ideas to planning and research, distribution, and promotion—so you can create high-quality, engaging content that speaks to your audience.
A brief introduction to content creation: What is it, and why does it matter?
Content creation can be defined as the process of generating, writing, and designing content that either educates, informs, entertains, or otherwise engages your target audience.
Content creation has become a critical component of any marketing strategy. Businesses use blog posts, videos, podcasts, infographics, and social media posts to build their brands, increase their visibility online, and attract and retain their customers. By providing information, solving problems, and keeping your audience entertained, you can become an expert in your field and a sought-after content professional.
Is content creation a good career choice?
Content creation can be a great career choice if you are passionate about writing, designing, and digital marketing. The demand for talented content creators continues to grow as businesses are starting to realize the importance of a strong online presence.
Content creators with a strong portfolio and a diverse set of skills can easily find business and job opportunities in fields like digital marketing, publishing, media, and online advertising, but it does require hard work and continuous learning to stay up to date with the latest trends and technologies.
If you have a creative mind, good communication skills, and a real passion for all things digital, content creation will be a fulfilling and lucrative field for you to work in.
The challenges of being a content creator
Creating content professionally may seem easy—most of us create content all the time for our social media pages. However, coming up with fresh, new, and engaging ideas can become challenging week after week.
Competition is fierce, and producing interesting content that captures the attention and meets the expectations of your audience won't be easy. There are 138 million TikTok accounts in the US alone, and 83% of those users have uploaded content. 3.7 million videos are uploaded to YouTube every single day. Every 24 hours, there are 4.4 million blogs published across multiple platforms.
Even if you are very creative, you'll need to find a balance between producing original, creative content and remaining practical and data-driven. You'll need to wear multiple hats as a creator, marketer, client liaison, editor, and administrator.
There can be an emotional toll, too. Not all feedback you'll get will be positive, and dealing with negative comments from your viewers and readers and critical feedback from paid sponsors can be disheartening at times.
Remember that content creators may take a while to hit their stride. If you are really passionate about what you do, you can turn your creativity into a great, long-lasting career.
How to become a content creator
Becoming a content creator doesn't necessarily require a degree or special skills, but it does take time, dedication, and hard work. Here are just a few ways you can start building your career as a content creator:
Getting an education
You don't strictly need an education to get started as a content creator; most sponsors (and viewers or readers) will judge you purely on the quality of your content. However, a degree in journalism, marketing, communication, or other related fields can be really helpful for content creation.
New York University (NYU), the University of California (UCLA), and the Massachusetts Institute of Technology (MIT) offer a range of courses in content creation and digital media, including video production, graphic design, and social media marketing.
If you don't want to study full-time, you can easily teach yourself the basics through online courses, workshops, and learning resources. Coursera and Udemy are online learning platforms that offer several affordable and free courses in content creation as well.
Choosing your content
One of the most important things you'll need to do as a content creator is to choose the right content niche. (You can read more about choosing your niche here). Choosing the right content ensures that wherever you produce resonates with your target audience and achieves your goals. We'll elaborate on the ways you gain more insight into audiences and set your content goals later on in this guide.
There are many different types of content you should consider, and if possible, use a combination of a few of the types to see which ones work best:
Blog posts: A blog post is a written piece of content that is published on a website or blog. Blogs are typically longer than other types of content and are used to share information and opinions on a variety of topics.
Infographics: Infographics are visual representations of information or knowledge in a way that is easy to understand and share. Infographics use graphs, charts, and illustrations to express ideas.
Videos: Videos can be used to showcase products or services, entertain, share tutorials, and provide insights. Videos can be of any length, but shorter videos perform better.
Podcasts: Podcasts are a series of audio or video recordings available for download or streaming. They are hosted by one or several individuals and cover a range of topics and niches.
Social media posts: Social media refers to text, images, videos, and other types of content shared on social media platforms like Facebook, Twitter, and Instagram.
Different formats have different audiences and results, although there is some overlap. Video and podcasts are very engaging and allow for deeper connections with the audience. Blog posts are often associated with sharing in-depth analysis, have SEO benefits, and are popular with corporate clients. Social media posts are a quick and easy way to share updates or entertain your audience.
Getting your gear
The type of content you'd like to create will dictate the type of equipment you'll need. Ideally, you don't want to invest too much in expensive equipment or software subscriptions when you are just starting out. The best advice is to start with the basics and work your way up as you become more successful. At the very least, you'll need the following:
A camera: A professional-level digital camera, mirrorless camera, GoPro, or even a smartphone camera can work if you want to specialize in visual content. If you want to use visuals in your work but don't necessarily require original visual content, a stock photo subscription will be useful.
Audio equipment: A good-quality microphone (e.g., a shotgun, lavalier, or USB microphone) will go a long way to improving the quality of your audio in your videos and podcasts.
Tripods and lighting: Tripods or gimbals can be useful for stabilizing shots but aren't always necessary. Lighting, on the other hand, is essential if you want to create more professional-looking videos and photos. Consider buying a lighting kit or continuous lighting. For product photography, a backdrop can be useful.
Video editing software: Adobe Premiere Pro, Final Cut Pro, or iMovie are some of the common options you can use. We cover a lot more free and paid options in our Best Tools for Content Creation article.)
Storage: Consider buying external hard drives or a cloud storage subscription to back up and organize large media files. You never know when your client needs you to resend extra work or make edits.
You may also need to build a website of your own, as well as non-digital marketing materials like business cards.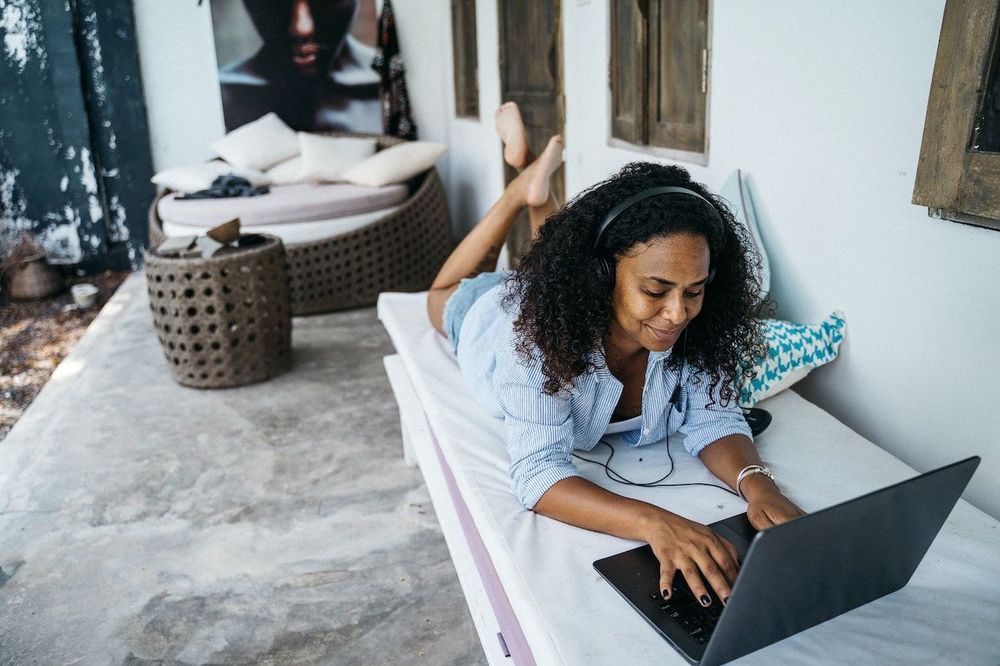 Building a portfolio
If you want to start producing content for brands or want to access sponsorship opportunities, you need to build a portfolio that shows off your skills and style. You can start with a blog or social media account, write for your favorite websites, or just create a body of work with podcasts, videos, and infographics. Alternatively, look for small one-off jobs on freelancer sites on Upwork or Fiverr to get started. You never know where these opportunities might lead.
Develop your skills
You need to stay on top of your skills as a content creator. You can attend free workshops, watch video tutorials, or read books. It's a good idea to stay up to date with industry trends and technology by following the latest blogs, news sites, and competitors in your particular niche.
Join a community
There are several content creator communities you can join and connect with on- and offline. Whether it's on Reddit, Slack, or in-person, networking will help you find advice, support, and even opportunities for collaboration.
Find clients or a full-time job
Once you have your portfolio and have started working on your skills, it's time to get serious about your career. Use your network, online job boards, and professional sites like LinkedIn to find clients or job opportunities. If you aren't sure how to pitch to clients, Indy has a number of pitch emails and proposal templates to get you started.
Finding new ideas
One of the biggest challenges a content creator faces is coming up with fresh new ideas and angles. Building a loyal following means posting regular content, ideally weekly or daily. You can look for inspiration in a number of places:
Follow websites, blogs, or social media accounts that are relevant to your niche. Set up Google Alerts for keywords related to your field, and sign up for RSS news feeds so you can get news updates in your inbox every day. You can comment on breaking news and events, write reviews, or even comment on the opinions of others.
Analyze the competition regularly. Make sure you follow your competition online, examine the topics they are covering, and what type of content resonates with their audience.
Ask your audience for topics and suggestions, and pay close attention to their feedback. Once you've built a loyal following, they'll start contributing ideas you can use. Tag your followers in your videos or posts to boost engagement and suggestions even further.
Collaborate with others. Make crossover videos, stitch content together, or appear as a guest on their blogs, podcasts, or videos. You'll be able to generate fresh content and will probably gain a few followers along the way.
Use social media and online listening tools. Brand24, Hootsuite Insights, and Google Trends can help you track conversations and topics related to your brand, competition, and industry online. (Don't forget to check out our article, The Best Tools for Content Creation, if you need more advice on this topic).
Switch up formats. Try experimenting with different types of content, like podcasts, videos, and live streams, to find new ways of engaging your audience.
What is a content creation strategy?
A content creation strategy refers to the plan for the creation, publication, and distribution of your content in order to reach specific goals and engage with a target audience. It usually includes:
Defining your target audience and what their needs and interests are
Setting goals and determining what the content aims to achieve
A detailed competitor analysis to provide insight into your competitors and their content
Creating a detailed content calendar that determines the frequency and timing of content
An analysis of the best distribution channels for promoting your content
Plans and metrics to measure the success of the content and make adjustments to the strategy as required.
Having a clear content creation strategy in place will provide direction for the creation and distribution of your content and reduce the time and resources you'll spend putting your content together. Taking the time to do the research and compile content with intent will also mean that you are creating content tailored to a specific audience, which will boost engagement and interaction. This, in turn, leads to a better return on investment for you, as you're actively driving the results you want.
Compiling your content strategy
Putting a content creation strategy in place will ensure that the content you produce is consistent in tone, style, and message because you'll know exactly what you are working towards. With a clear strategy in place, it's far easier to measure the success of your content and to make data-driven decisions that will improve outcomes over time.
There are many different ways of compiling your product strategy, but this outline will cover all of the most critical aspects.
Understanding your target audience
Understanding your target audience is a critical component of successful content creation. You need to know who your audience is, what they are interested in, and what their challenges and needs are. Once you know who you are speaking to, you can create content that is more relevant, valuable, and engaging.
Demographics
Demographics is probably the easiest information to track down. This includes the basic details, including age, gender, location, and income of your target market. The information can help you understand who your audience is and what they might be interested in. Most content creators already have some assumptions about who their audience is, but you can use tools to confirm the details. The social media platforms you use will have some native analytics tools, but you can also use Google Analytics, surveys, or third-party research firms to supplement your information.
Use demographic information to:
Create tailored content relevant to the needs and interests of the audience
Improve your targeting and increase the chances of engagement and conversion
Improve your return on investment by boosting actions and engagement with your content.
If you want to obtain sponsorships or work with brands, you'll need to present them with this information, so it's a good idea to keep track of visits, likes, and engagements over time.
Interests and behaviors
Interests and behaviors refer to the things that people like and the actions they take, respectively. Interests can include the niches, topics, hobbies, and activities that your audience enjoys, likes hearing about, or is just passionate about in general. These interests will be useful in guiding the type of content you produce.
Behaviors, on the other hand, refer to the actions that your audience takes after or while viewing your content. They might purchase a product you recommend, click on a link, or just like and subscribe. You'll need to track these behaviors to prove the ROI of your campaign to your sponsors and corporate clients, and they'll provide insight into how effective your content is as part of a larger monetization strategy for your business.
You need to understand both interests and behaviors if you want to know what motivates and resonates with your audience.
There are several tools that can provide more insight into audience interests and behaviors, including Hotjar, SEMrush, Ahrefs, and Crazy Egg. These tools analyze user behavior and how they interact with websites. You can access heat maps, view click-and-scroll patterns, and analyze engagement and user experience data. You can also use a simple tool like AlsoAsked.com to conduct keyword research and see what questions your audience is asking.
Pain points and challenges
Understanding your target audience's pain points and challenges can help you create content that addresses their specific needs and problems. Let's say you run a fitness blog, and you discover that most of your audience is interested in losing weight. You may want to include free weight loss programs, diet advice, or encouragement as part of your content plan or include tips for avoiding weight gain during the holidays.
Discovering what your audience's pain points are isn't always easy. You can conduct email surveys, use social listening and monitoring tools to uncover hashtags and mentions related to your niche or ask your audience to comment or send DMs related to the content they'd like to see. #AskMeAnything days can be useful for gathering content ideas and insights into the most pressing issues your customers are facing. If you don't have a big enough audience for analysis yet, take some time to analyze the content and messaging of your competitors. Which pain points are they addressing? Which pain points haven't they addressed effectively? You can use these insights to uncover and address gaps that may exist in the market.
Defining your content goals
Setting goals is important. Your goals provide a measurable benchmark for success so that you can track your progress and evaluate your results. Goals will also provide focus so that you can put all of your time, effort, and resources into achieving clear goals rather than wasting time on activities that won't have a significant impact. The goals you set now will also provide the framework you need to do your planning, creating a roadmap for your success with key milestones along the way.
Your goal doesn't always have to be to make money from your content (although it can be!). Here are just four common goals that content creators may have:
Awareness
Awareness refers to the degree to which someone is familiar with a particular brand, product, issue, or service. If your goal is to raise awareness, your content should focus on increasing visibility and recognition of your brand, your products, or a particular issue you may be aware of. A health and wellness blogger educating their readers about the impact and early detection signs of cancer or a personal finance vlogger that teaches others how to budget properly are both good examples of content creators who want to spread awareness.
You can measure your awareness goals through brand awareness surveys, website traffic metrics (like the number of unique visitors and page views), social media metrics (such as likes, follows, and shares), search engine metrics (like keyword rankings, backlinks, and organic traffic) and media coverage metrics (like mentions and interviews).
Engagement
Engagement refers to the level of interaction and involvement that an individual has with a particular brand, product, or service, including likes, shares, comments, and other forms of social media engagement, as well as website visits, email opens, and other metrics related to audience interaction. When your goal is to drive engagement, your content is designed to encourage the audience to interact with you. The more interactions and engagement you have, the more likely you are to attract corporate sponsors. Engagement is almost always the goal of content creators in the social media domain.
All social media platforms have a wealth of built-in engagement tracking tools, e.g., likes, shares, comments, and click-throughs. If you are using different channels, you may have to work a little harder to find the information you need. You can track email engagement through open rates, click-throughs, conversion rates, and website engagement through the time spent on the site, bounce rates, pages per session, and more. For podcasts, you may want to look at downloads, reviews, shares, or app store rankings.
Conversion
Conversion rates refer to the act of turning a viewer, reader, or listener into a paying customer. This could be a sale of a physical product, a sign-up for a service, a subscription to your channel, or upgrading to a paid-for version of your content (e.g., joining Patreon).
If your goal is conversion-related, your content needs to turn the engagement you are getting into a tangible result, whether it's buying a product you are promoting or signing up for a weekly newsletter.
Conversions are usually easy to track through submissions, product purchases, coupon codes, and sign-ups, but improving conversion rates can be tricky. You may want to explore landing page optimization by testing the effect of incremental changes to things like headlines or call-to-actions. You can also A/B test content to see which landing page, call to action, or subject line gets the best conversion rate.
It can be hard for content creators to find a balance between actively selling products and producing free content that their viewers/readers/listeners love. Your fans probably aren't interacting with your blog or podcast because they want to shop for something; they want to be informed or entertained. You need to ensure that you don't become solely focused on pushing products but provide great value to your audience through inspiration, entertainment, and educational content. Try to mix promotional and non-promotional content by utilizing how-to guides, behind-the-scenes footage, bloopers, storytelling, and humor to keep your content engaging.
Loyalty
Loyalty refers to commitment and repeat business, including subscribing to regular content, advocating and recommending the brand, or positive word-of-mouth. If you want to become a brand or influencer, loyalty is key but hard to establish. You'll need to create positive experiences, establish trust and credibility and build long-term relationships with your audience.
You can only foster loyalty if you regularly provide valuable information, entertainment, and inspiration to your audience while building a strong emotional connection. Posting regularly and keeping on top of the data to see what content resonates with your audience the most is essential.
Performing a competitor analysis
Next up: performing a competitor analysis. The goal of a competitor analysis isn't to emulate your competitors but to gain insight into what they are doing and how you can differentiate yourself from them.
Identifying the competition
Start by identifying your direct and indirect competitors. Search for keywords related to your niche and see who comes up in the results, check social media for relevant hashtags, and examine your audience data to see who your followers are engaging with online. Try not to fall down a rabbit hole of competitors—the list is probably long! Narrow your search down to the top ten competitors that are leading the market.
Analyze their content
Once you've narrowed down your list of competitors, start looking at their content. What types of content do they produce? What topics do they cover, and which of those topics perform the best? What is their tone and style like? What are their strengths and weaknesses? This exercise should provide inspiration and help you find gaps in the market you can exploit.
Find unique opportunities
Now that you've had a look at the competition's content, what will you do to stand out from the crowd? You can cover unique topics that they haven't covered, issue a rebuttal on opinions you don't agree with, or take a different approach to common themes. (If you aren't sure how to do that, take a look at our article on finding your unique niche.)
Creating a content calendar
As a content creator, you should plan on posting as often as possible without repeating yourself or boring your audience. This may seem easy when you are just starting out, but when you have been creating content for a year, you might find yourself running out of inspiration pretty quickly. A lot of your time will be taken up by filming/recording/writing, not to mention editing, measuring, and admin. As the adage goes, failing to plan is planning to fail.
The best way to ensure you always have ideas in the pipeline is to create a content calendar. Your content calendar is a tool you can use for planning, scheduling, and organizing content. Here's how to create yours:
Plan your content types and topics
Start by identifying the types of content you want to create, such as blog posts, videos, infographics, and topics you'd like to cover. Create a folder or Google sheet where you can note down ideas as they pop up. That way, when you find yourself stumped for ideas, you can go back to the folder and use one of the ideas in your pipeline.
Scheduling and deadlines
When you work with clients, you'll need to keep close track of their deadlines. If you are building your own brand, you should determine which day you want to publish new content and stick to it as closely as possible. Posting regularly on the same day means your followers are far more likely to visit your profile or website to view it because they know you always release new content on a specific day.
The number of times you should post every month will vary depending on your platform, audience, and the type of content you produce. Generally speaking, you should post 1-2 blog posts, videos, and podcasts every week to keep your audience engaged, while social media content creators should post daily or multiple days a week.
Reporting
We'll dive deep into this topic a little further on, but you should decide how and how often you will measure the success of your content. When you work with a brand over a longer term, they may want weekly or monthly reports, so ensure that you include those needs in your content calendar when you are doing your planning. You should also schedule monthly and quarterly "health checks" for your own channels at regular intervals.
Optimize your content
Consistently producing high-quality, unique content is the best way to capture the attention and loyalty of your audience.
Try adding visuals and multimedia, including images, videos, and infographics, to your work to engage your audience and make your content more appealing and shareable. You can use several free or affordable tools for this, including Canva, Inkscape, GIMP, or Adobe Photoshop.
Always make sure that you optimize your content for SEO, as well. SEO can increase your visibility and drive more visitors to your website, YouTube channel, or social media pages:
Videos
You can optimize your video content for SEO by choosing descriptive, keyword-rich titles and descriptions. Improve search engine visibility even further by using transcriptions and closed captions for better accessibility, and always use relevant tags, categories, and metadata when you upload your video content. When you embed videos on a website, remember to use descriptions, header tags, and optimized web page titles.
Blogs
Conduct keyword research to find relevant and high-traffic keywords or use SEO tools like SEO Surfer or Copyscape to improve rankings as you write. You should include keywords in titles, headings, sub-headings, meta descriptions, and throughout the text and use alt-text to describe images. Tools like Ubersuggest will help you find the best keywords for your blogs. If you run your own blog or website, optimize website speed, mobile responsiveness, and user experience as much as possible. You can use internal and external linking to strengthen the relevance and authority of the blog, so speak to your network about collaborating and cross-linking content.
Podcasts
You can optimize podcasts in a similar way to videos and blogs. Choose descriptive and keyword-rich titles and descriptions wherever you upload content, and include transcripts and show notes with relevant keywords for every podcast. Encourage your listeners to leave reviews and subscribe, as this can improve your sponsorship opportunities and rankings and garner additional promotional support from podcast sites.
Social media posts
The social media landscape is very crowded, which is why increased discoverability is so important. Just like podcasts, blogs, and videos, you'll need to use keywords in post descriptions, captions, and hashtags. Make sure that you familiarize yourself with all of the social media sharing and embedding features to drive traffic to other channels you may have. Most important of all, make sure that you post high-quality content as often as you can. If you produce longer-form videos and content, produce 15-second cut-downs that you can use to promote longer videos.
Promoting your content
While optimizing your content will go a long way toward helping people discover your work, you need to actively promote your content if you want to increase your reach and followers as quickly as possible.
Sharing on social media
Even if your focus isn't on creating content for social media, you need to share your work on social media platforms like Twitter, Facebook, and LinkedIn. If you have some budget, use the paid advertising options to reach even more people.
Guest posting and influencer outreach
We've mentioned building a network with other content creators several times in this guide, with good reason. If you need to promote your content, you can reach out to other content creators to see if you can collaborate and feature your work on their channels. This can help you reach a similar audience.
Repurposing content
Once you've landed on a piece of winning content, you should repurpose it. Make an infographic summarizing your most popular video, or turn your blog into a podcast discussion. You can also reuse your content in email campaigns, webinars, and other marketing tools and channels to reach more people and drive more engagement according to your content goals.
Measuring the success of your content
If you want to achieve your goals and improve your content, you need to continuously measure the success of your content over time. Start by setting KPIs or key performance indicators. KPIs are the key targets you need to track to make sure that your content will have the biggest impact possible. KPIs can include boosting engagement rates, improving the number of unique visitors that view your content or the length of time visitors spend watching a video or viewing your website, or upping your conversion rates.
Engagement rate
Your engagement rate measures the level of interaction a piece of content has generated from the audience. This can be measured by likes, comments, shares, and reactions. You can calculate and measure your engagement rate by dividing the number of engagements by the number of views and expressing the result as a percentage. High engagement can increase the reach and visibility of your content, so if your goal is to raise awareness or sign sponsors, you should track this metric carefully.
Traffic to content
How many visitors have actually seen or read your content? By tracking the number of visitors to your content with tools like Google Analytics (or the analytics dashboard on your website or blog), you can evaluate how well your marketing efforts are performing so you can optimize your campaigns.
Time on site/page ratios
While the traffic-to-content metric tells you how many visitors have seen your content, the time-on-site metric tells you how much time they actually spent watching, listening, or reading the content. It's a good indication of how engaging or valuable your content is and how you can make improvements to the user experience. The more time visitors spend on your content, the more engaged they are. You can use this metric to see which format or platform is most effective.
Conversion rate
We've already touched on conversion rates—the percentage of visitors who complete a goal after interacting with your content. Remember, this doesn't have to be tied to making purchases. Signing up for a newsletter, downloading a podcast, or hitting the subscribe button are all good examples of successful conversions. The conversion rate metric indicates how effective a piece of content is.
Return visits
If building a loyal following is your ultimate goal, you need to measure return visits. The return visit metric measures the number of repeat visits to a website, podcast, or specific piece of content. By measuring return visits, you can establish which pieces of content are resonating with their audience and which are not, which can guide your content strategy going forward.
Once you've gathered and started tracking your metrics, you can use the insights you've uncovered to make important decisions backed by data. Data that measures the performance of the content on different platforms or in different formats can be used to make adjustments to content formats, make decisions about where to place and promote your content, or which content topics should be expanded upon. Measuring the engagement and completion rate of a video versus a blog, for example, can reveal whether or not your audience prefers visual over written content or vice versa.
You can also use the insights you've undercovered during your analysis to support your monetization strategies, which we'll cover in the next section. You can analyze your engagement data to find out which users are more likely to click on ads and what type of content leads to the most conversions.
Monetization strategies
Not every content creator wants to make a living from their work, but if you want to pursue content creation as a full-time job, monetization is a part of that. Luckily, content is a valuable commodity, and there are a number of monetization strategies you can follow as a content creator, from sponsored content to direct sales. Here are just a few strategies you can try:
Advertising
If you want to make money from advertising, you need a large following that is interested in your particular niche. You can make money from advertising from display ads by selling ad space directly to advertisers or by joining an advertising network, such as Google AdSense. AdSense places ads on the site and shares revenue with the creator.
You can also work as an influencer marketer. Influencers work with brands to promote their products or services to their audience. You can offer sponsored content, as well as product reviews, discounts, or giveaways. Influencer marketing is a popular option for content creators who have a large following on social media because you can monetize your reach.
Content creators that focus on making videos or vlogs for platforms like YouTube can make money from video advertising, including display ads, sponsorships, or influencer marketing initiatives. As a content creator, you can sell ad space directly to advertisers or by joining an advertising network, such as YouTube's Partner Program, to monetize your videos.
Sponsorships
Sponsored content involves creating content for a brand and incorporating its product or service into your content. Sponsored content has numerous forms, including influencer posts on social media platforms, such as Instagram or YouTube, sponsored blog posts and reviews, and sponsored video content, like product demos, tutorials, or reviews, created by YouTubers or other video content creators. Media companies will often publish branded content, such as articles, videos, or social media posts, as part of paid sponsorship deals.
The goal of sponsored content is to create a connection between the advertiser and the audience through the content creator, but it will only be effective if it is relevant, authentic, and valuable to your audience.
We cover this topic in greater detail in our article, How to find paid sponsorships for your content.
Subscriptions and memberships
Subscriptions and memberships are a direct way for content creators to monetize their work. Subscriptions usually involve charging readers/viewers/listeners a fee to access exclusive content, receive early access to new content, or get discounts on products.
It's a popular monetization strategy for creators who have a loyal following, and it allows them to offer their fans a more personalized experience and direct access to their work.
Subscriptions and memberships could include online courses with additional support from the instructor, Patreon memberships, blogs or websites with a paywall, or podcasts with bonus episodes and exclusive merchandise.
Direct sales
Direct sales involve selling physical or digital products related to your niche directly to your audience, like books, courses, or merchandise. If you want to follow this route, you'll need to understand your audience really well and implement a well-defined sales process. We often see this strategy implemented by beauty and fashion influencers who sell their own branded beauty or fashion products, cooking or food influencers who sell their own branded cooking or food products, and parenting influencers who sell baby products, children's toys, or parenting resources.
They are able to use their personal brand and their followers' trust to promote and sell products or collaborate with brands or create their own products, leveraging their content platforms to drive sales.
Crowdfunding
Crowdfunding is an interesting monetization strategy. We often see content creators use this strategy to create a campaign on Kickstarter or Indiegogo to raise funds from their audience for a specific project. You'll often find this strategy deployed by independent filmmakers who use crowdfunding platforms to finance their films or comic book artists and writers who use crowdfunding to self-publish their work.
In 2014, Matthew Inman of The Oatmeal webcomic used his platform to raise money to buy and preserve the Nikola Tesla Museum in honor of the famous inventor and scientist. The campaign was a huge success and raised over $1 million from nearly 34,000 backers. The money was eventually donated to the Tesla Science Center at Wardenclyffe, a non-profit organization dedicated to preserving Tesla's laboratory and creating a museum in his honor.
The Tesla Museum campaign is a great example of the way content creators can leverage the support of their community to bring important cultural projects to life.
Affiliate marketing
Affiliate marketing sees content creators promote someone else's product or service and earn a commission for each sale generated. It's often used by bloggers and social media influencers. If you want to follow this marketing strategy, you'll need to find affiliate programs in your niche, sign up for the program, and promote their products or services to your audience. Every time a reader or viewer makes a purchase through your unique affiliate link, you earn a commission on the sale.
Not all affiliate marketing programs will be suitable for your audience, and not all offer a fair commission, so choose your program carefully. It's important to incorporate affiliate links into your content in a way that feels natural and doesn't get in the way of the user experience. Always provide honest, useful reviews and information. Bear in mind that you need to disclose your affiliate relationships to your audience in accordance with laws and regulations, e.g., the Federal Trade Commission (FTC) in the US.
A few examples of content creators using affiliate marketing include travel bloggers who promote travel products and services (such as hotels, flights, and tours), food bloggers who promote kitchen appliances and ingredients, or fitness influencers that promote supplements and workout gear.
Recap
Becoming a content creator is a great way of using your creativity to spread your message, share your passions, and make a living doing something that you love. It doesn't mean that the journey will be an easy one.
Content creators need to put in a lot of work to understand their audience, grow their skills, create and promote their content, and stay up to date with the latest trends and technology if they want to remain competitive. They also need to consider their monetization strategies carefully.
If you are thinking of becoming a content creator, either full-time or part-time, head to weareindy.com. You'll find useful admin tools, proposal templates, and project management tools that can help you along the way.