We are in a different era of freelancing and entrepreneurship. Every day we see influencers and celebrities launch businesses through their TikTok pages. These businesses then become profitable in no time.
You may wonder if you can also grow your freelance business on TikTok as a regular, average person. The answer is yes! There has never been a better time to start a business than now.
TikTok has made it easier to launch and grow every kind of freelance business.
If you are starting your freelance business or want to scale it up and pick new clients, TikTok is the platform to do it on. With its user-friendly, highly personalized algorithm, you can build your business.
How can being on TikTok help your freelance business
You may have heard of TikTok as a dancing app for GenZ. Or maybe you were told it is an intrusive app used by the Chinese government to spy on you. None of these are true. Well, the dancing part is, but that is not all TikTok is.
TikTok is a video-based social media platform. It allows you to create, share and discover short-form videos up to 10 minutes long. Creators leverage royalty-free music to create dances, trending sounds, and much more. TikTok was originally Musical.ly.
The app gained popularity during the 2020 lockdown as teens flocked to it for a break from reality. Since then, TikTok has become a place to share short vlogs, dances, recipes, stories, cinematic masterpieces, and other snippets of life.
TikTok key features
The main feature of the TikTok app is video uploading. TikTok also has advanced video editing features that require user experience to navigate. You can shoot, edit and upload high-quality videos using the TikTok app and create viral content.
TikTok also has impressive filters and effects. The filters on the app are outrageous but also realistic. From Shrek dancing in the sky to an eerily natural Megan Fox filter, there are hundreds of effects you can add to your videos. These filters and effects make entertaining content that guarantees user engagement on the platform.
Social sharing is another key feature of TikTok. You can share your videos across multiple platforms like Twitter, Instagram, and Facebook. TikTok also allows you to react to other's videos in real-time with duets and stitches. You can add any thoughts, comments, or questions. Duets and stitches allow for authentic user engagement on the social media platform.
TikTok allows you to Livestream and even enable geolocation tagging. It makes it easy for news channels to share their content on-site. Livestreaming is advantageous to musicians, artists, and people who love to share their lives in real-time.
The TikTok hashtags, likes, and shares add to the personalized feel of the app. The hashtags of the videos you upload, share, and like help you get more content you love.
TikTok has two pages: The For You page and the Following page. The For You page is an explore and discover page showing videos that match your interests as detected by the algorithm. The Following page is videos from accounts you follow.
Who uses TikTok and what businesses benefit?
TikTok is available in over 150 countries and has over 1.2 billion users. The key target audience of TikTok, accounting for 28% of all users, are between the ages of 18 to 24. The next significant demographic is 24 to 35, who make up 31% of the users. Women account for the majority of users in every age bracket on the social platform.
Source: MarketSplash
Businesses that target the above audiences benefit from using the social network. Your business will grow if you capitalize on viral content with creative ideas for your video clips. TikTok has many trends that come and go. These trends peak after a few weeks, and people move on. This quick trend cycle is beneficial to businesses with good marketing strategies.
Advantages of using TikTok for freelance businesses
So how can TikTok help your freelance business?
Promote your services & products
You can promote any products you sell or services you provide on the social media platform. You can promote anything if you never violate community guidelines and remain PG-13. Content creators promote bath soaps, writing services, trading services, courses, shaving creams, and much more on TikTok.
Increase brand awareness
You can increase brand awareness with entertaining content and the right marketing strategies. TikTok's short videos allow you to create many videos in a day. Well-curated content will draw in users who want to know more about what you sell.
Increase your reach
TikTok reaches over 1 billion people worldwide. You can reach these people without spending a lot on advertising as a freelancer. The social platform has fun-loving audiences that spend an average of 99 minutes a day on the app.
Bring in new business
With an increase in brand awareness and reach, you will get new clients. TikTok generates hundreds of millions of dollars in revenue every quarter. Content creators on the social media platform make millions each month. The more people know about you and your business, the more likely it is they will buy what you are selling.
Improved engagement
It is easy to build user engagement on TikTok. The algorithm is great at sending targeted videos and ads. As long as you keep creating entertaining content, your video clips will get pushed to the right audience. Your target audience will find you and connect with your page.
How best to use TikTok to grow your freelance business
Social media marketing is utilizing social media platforms to promote a product, brand, or service. TikTok is one of the most used and trusted social media platforms, especially for younger audiences.
By creating short-form video content on the platform, businesses can reach today's short-attention-span world.
TikTok is one of the few social media platforms left that allows for authentic growth. Here is how you can best use TikTok to grow your freelance business:
Switch to a pro account
A professional account on TikTok will give you access to creator tools. These tools include TikTok analytics, insights, early access to sounds and filters, and many more. With creator tools available on TikTok Business accounts, you can make a better marketing strategy.
To turn your account into a TikTok pro account, go to your settings and click manage account. You can select a business account or a creator account according to what your freelance business does.
Collaborate with influencers & industry leaders
Collaborations with industry influencers make the most of TikTok's great influencer marketing. You can choose to start by collaborating with micro-influencers. They tend to have loyal and engaged, albeit small audiences.
Once your freelance business has more marketing capital, you can work with mega-influencers to promote your products or services. Influencer marketing capitalizes on social proof meaning people will copy what they see their favorite influencer doing.
Source: MarketSplash
Show off your work using different types of videos
When it comes to social media marketing, you need an effective strategy. One of the easiest and most effective strategies you can use is to simply put your work out there. If you provide a service, use different video styles to show the advantages of the service. If you are selling a product, showcase its benefits and results with different kinds of videos.
The key is to push your work to the For You page (FYP) so that more people see it and interact with it. TikTok allows for up to 10-minute videos. This means you can play around with the length of content you put out. You can also use different tones to see which one captures your target audience better.
Make use of UGC
User-generated content (UGC) is any social media content that is created by people and not brands. This is the backbone of influencers and influencer marketing. Instead of having a business rave about its products and services, have social media users talk about it.
UGC makes people feel connected to a brand. It gives off an authentic aura that businesses and corporations cannot. If your freelance business feels like a brand, it may rub your target audience the wrong way. Working with micro-influencers can help you get user-generated content. Another way is to start an affiliate marketing program that encourages clients to talk about your freelance business.
Have fun & be unique
With all your social media content, you want your personality to shine through. This is especially important on TikTok. The allure of the social media platform is that it was not overrun by celebrities. People could be unique, raw, honest, weird, and unprofessional on TikTok. This was unlike any other popular social media platforms like Instagram or Facebook.
You need to give your freelance business the same vibe. Add personality to your videos and interactions on TikTok to make it feel like something your target audience can relate to. Salesy language on the app will not translate well, especially if your target audience is between the ages of 18-30.
Use different effects
TikTok has perfected the art of special effects. They have different sound effects and filters that make the app fun, engaging, and entertaining. Make use of these different special effects regularly.
You can use sound effects to emphasize a point during storytime. Or, you can use a trending filter to create a video that relates to your business or promotes your brand.
Edit your videos to ensure they are of a high quality
Editing your videos can improve the clarity, picture, and sound quality, and overall watching experience for users. You can use the app to shoot and edit a video perfectly as long as you understand how to do it. All you need is a phone with excellent camera quality and basic editing skills, and you can create masterful videos.
To take it up a notch, you can edit using software like CapCut. Separate editing software is tricky to use, especially for beginners. However, you can find many easy-to-follow tutorials online, including on TikTok, on how to use different software.
Use the right TikTok hashtags + create your own
TikTok hashtags are the best SEO tool to land on the For You page of your target audience. You want to spend a few days curating an FYP that reflects what your business does. Are you a freelance writer? Then search for and watch videos on freelancing, side hustles, writing, freelance writing, and the like for several days. Your FYP will start to mimic that of your target audience.
Once you have the right FYP, you want to pay attention to the hashtags used in the videos you see. Start using these hashtags on your videos so that they land on the FYP of your target audience. Create relevant hashtags and use them often to link them to your business.
Source: MarketSplash
Compliment your video with a song
Music is an essential part of TikTok's algorithm. The royalty-free music made the app famous and continues to draw new users. You will notice that even videos that require no music will use a TikTok sound and mute it.
Start by using trending songs and sounds. You will get recommendations from TikTok on trending songs based on your location and your FYP. Mastering the addition, editing, and syncing of sound to your videos is crucial to TikTok success. Afterward, learn to search for new sounds and songs and create your own.
Create anticipation in your videos
Anticipation is an integral part of storytelling. When you start doing storytimes, embrace pauses and storytelling techniques. Users like Elyse Myers and Madeline Argy have mastered the art of TikTok storytelling.
Another way to build anticipation is to use trending sounds. Different sounds allow for riveting storytelling and hilarious punchlines. Watch a few videos to understand the use of the sound before shooting your video. Use the trending sound to create anticipation and interest in your product or service.
Try out a challenge or TikTok trend
As mentioned before, TikTok is not a serious app. Bring out your silly, goofy side. TikTok allows you the creative freedom to explore, fail, and do juvenile things. You do not need fleshed-out content ideas, and often the videos that go viral are happy accidents.
Take part in hashtag challenges and TikTok trends regularly. The key is to find a way to link the trend to your brand or business. Duolingo and Ryanair had outstanding social media managers who perfected this art.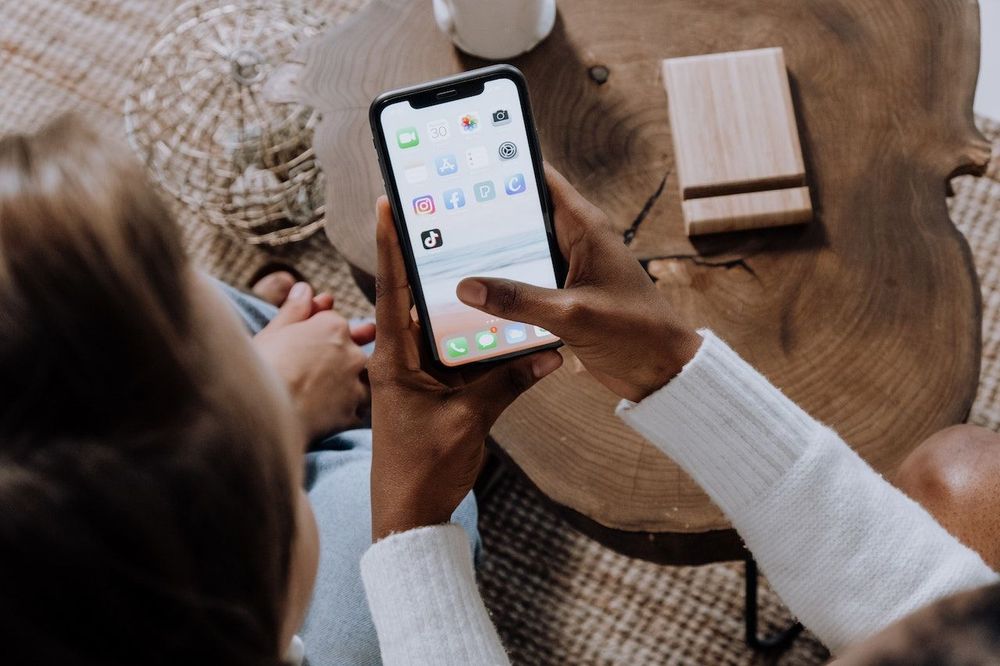 Keep an eye on your competitors
Follow and check up on what your industry influencers are doing. Look at their TikTok pages and see their engagement on videos. Try to mimic their strategy to help build your engagement. If they are up for it, reach out to them and ask for pointers to help you grow your business.
Invest in TikTok advertising
There are many advertising options on TikTok. You can use influencer marketing, or you can create targeted ads. TikTok lead generation allows you to cultivate prospects and engage with them on TikTok. Simply:
Create a campaign on TikTok Ads Manager, and select Lead Generation as the advertising objective.
Define your target audience using TikTok Ads Manager's targeting tools.
Upload your creative or choose a TikTok post to use in your ad.
Customize your Instant Form.
Publish your campaign.
Always link back to your website
In your TikTok bio, include a bio link. The link should be a clickable link to your website that showcases your products or services. Ensure that the landing page is user-friendly and funnels clicks to your products or services.
Show off your brand identity & tell your story
The type of content you post on TikTok should change regularly. Trending sounds, hashtags, and music can only take you so far. Space these out with videos that tell the story of your business. You can use the story time, motivational, or educational format.
Post often & at the right times
Like on any other social media platform, featuring on the FYP is the best way to grow on TikTok. Your content strategy should focus on producing and posting content regularly. Create a content calendar that schedules your video creation, editing, and posting without overwhelming you. If a trend comes up, quickly shoot, edit, and publish a relevant video immediately. You will maximize your exposure, attracting your target audience.
Monitor your analytics
TikTok analytics is a great tool available to creators on the app. The analytics are in real-time and allow you to shift your content and marketing strategy as you go. TikTok analytics are in-depth and provide information like profile views, likes, video views, and more.
Engage with your audience
Audience engagement is paramount if you want to build a brand. Notice any active users on the platform and engage with them through comments and duets. Reply to comments on your videos and encourage stitches and duets. Engaging with your audience makes it easier to convert them to paying clients.
Wrapping up
TikTok is essential for freelancers looking to attract new clients and grow their businesses. Download the app and learn how the algorithm works. Ensure you engage with other accounts within your field and interests to develop authentic connections. Like, comment, duet, and stitch videos you find funny, entertaining, or educational.
To grow your business, use your creator or business account to post and promote content related to your business.
Participate in trends by using trending hashtags, songs, and audios. Use user-generated content if you are creatively stuck. Pay attention to your analytics and adjust your marketing strategy accordingly.
Remember that TikTok is ever-growing and changing. Don't despair but keep posting and engaging. Good luck!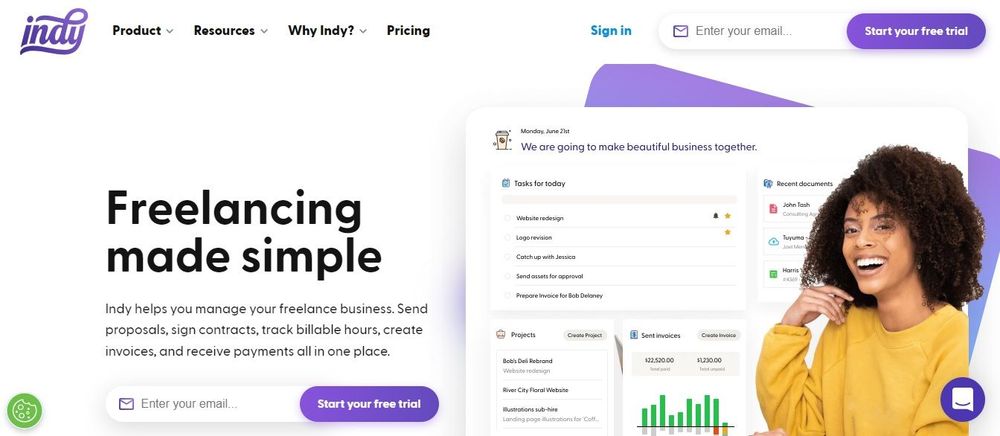 If you're looking to improve your TikTok game, then try out Indy. As a freelance business, you can use Indy Forms to help you generate new leads from TikTok (just link to the landing page with the form), and you can use Indy Calendar to create a schedule of when videos need to be posted.