Birmingham is the entrepreneurial hotspot of the West Midlands, so if you're looking to build a business from scratch, this is where you want to be. The city has more renovated factories than you can count, and creative hubs are popping up left and right. They're the perfect place to meet like-minded people, bounce ideas off each other, and find your next business partner.
Finding the ideal coworking space in Birmingham with all the amenities you need and not breaking the bank can take time and effort. But Indy's got you covered. We've rounded up the top coworking spaces that won't burn a hole in your wallet.
Best coworking space Birmingham: Top 9 picks
A coworking space provides a better ecosystem than common work spaces like public libraries or cafes. You can experience a communal feel and an effective networking environment in these places.
With everything from high-speed internet and free coffee to private meeting rooms, these places have it all. Here's a list of the best affordable coworking spaces in Birmingham.
1. Alpha Works
If you're looking for fancy private offices with plenty of space for you and your team, Alpha Works is one of your ideal coworking spaces. It spans three floors of Birmingham's iconic Alpha Building and features meticulously crafted interior design.
Alpha Works is ready to serve whether you want to run businesses, enterprises, start-ups, or freelancing agencies. They've developed their office design with the architecture firm Orms.
Alpha Works has three different-sized meeting rooms equipped with an air conditioner, TV screens, and coffee, tea, and water facilities. Depending on availability, you can book these meeting rooms for 30 minutes to a full day.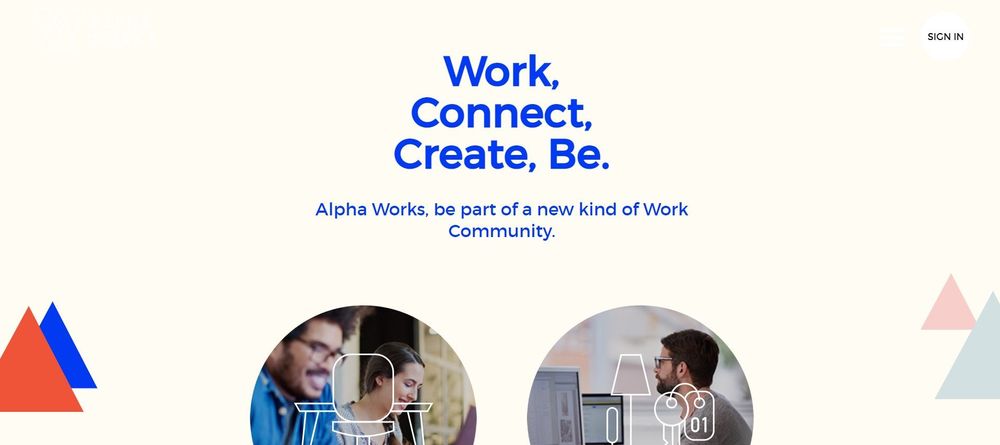 More than 25 people can arrange a meeting in the large room equipped with a projector screen and wireless connectivity. You can have a virtual tour on their website before visiting in person.
Key Amenities
High-speed internet connection
Bike and cycle storage
Desk lockers
Shower and changing space
Kitchen
Alpha cafe
Sound-proof phone booths
Gym and workout space
Pricing
Hot desk £10/month
Coworking space £300/month
Private office £375/month
Location
Alpha Tower, Suffolk Street Queensway, Birmingham B1 1TT, United Kingdom
2. The Transfer - The Old Print Works
If you're looking for a sustainable, eco-friendly coworking space that won't break the bank, The Transfer is your go-to pick. They are environmentally conscious and cater to a wide range of creative souls, from gallery owners to yoga enthusiasts.
Located in a heritage building, The Transfer's interior design is nothing short of eye candy. But don't let the pretty decor fool you; they mean business when it comes to helping you jumpstart your creative endeavors.
With 40 studio spaces available for rent, you'll have plenty of room to design, create, and innovate to your heart's content. They also offer four communal areas perfect for hosting exhibitions and networking events. Also, they keep things interesting with a wide range of low-cost entertainment options, from workshops to music nights and even theater performances.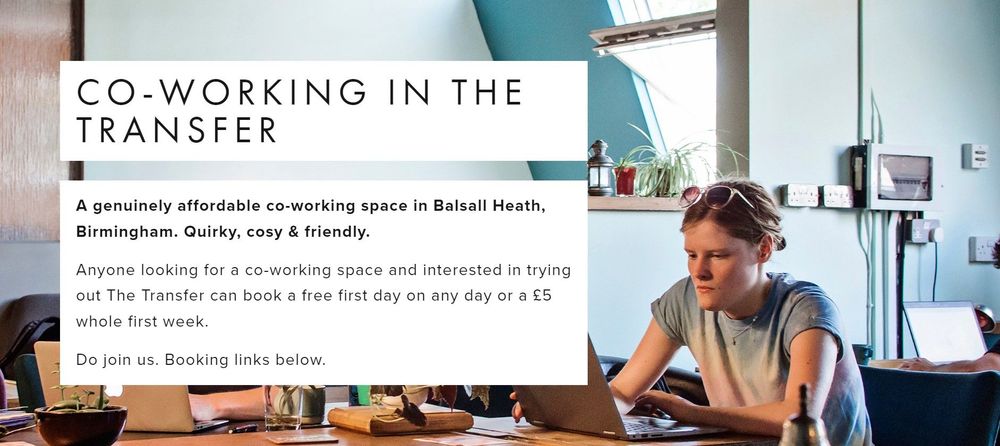 And all these things come at a budget-friendly price. You can test out their space with a free day or book a trial for a week for just £5.
Key Amenities
Private meeting room
Free Wi-Fi connection
The mixed community cafe
Receptions
Pricing
£25 for a month
£8 for a day
£75/month for long-term membership
Location
506 Moseley Rd, Balsall Heath, Birmingham B12 9AH, United Kingdom
3. Landmark
The best part about Landmark is its easy access through Birmingham Canal or Central Square. You'll be zipping to work in no time!
The company is a big-time player in the Birmingham coworking scene, known for offering top-notch amenities and that elusive "business-class experience." Rent your own private office or snag some coworking space; either way, you'll be in good hands.
Need to host a big meeting or event? Landmark's spacious meeting rooms can accommodate hundreds of people with all the caffeine and snacks you'll need. If you're looking for something more relaxed, the lounge areas have recently been spruced up and are perfect for a chat with clients.

Networking opportunities abound in the collaboration zone, where you can rub shoulders with other professionals and swap stories over a cuppa. And with 24-hour access, affordable prices, and plenty of natural light, it's no wonder Landmark is a popular choice for freelancers, SMEs, start-ups, and even the occasional corporate hotshots.
Key Amenities
Bike racks for secure cycle storage
Local IT support
Climate control
Car parking areas
Club spaces
On-site security
Shower and changing facilities
Pricing
£210/month for private office
£68/hour for the Hayton room
£53/hour for warner room
Location
3 Brindley Pl, Birmingham B1 2JB, United Kingdom
4. Custard Factory
The Custard Factory should be on the radar of every creative folk. This place has an interesting backstory. Built by Alfie Bird in 1906, it used to churn out eggless custard. But now, it's a hotspot for the creative and digital community, with its exposed steel, high ceilings, and Crittall windows making it an Instagrammable haven.
The coworking place has six spaces available to rent, making it ideal for start-ups and independent retailers like the Prince's Trust and ASOS. And if you're looking to host networking events, this is a great option too.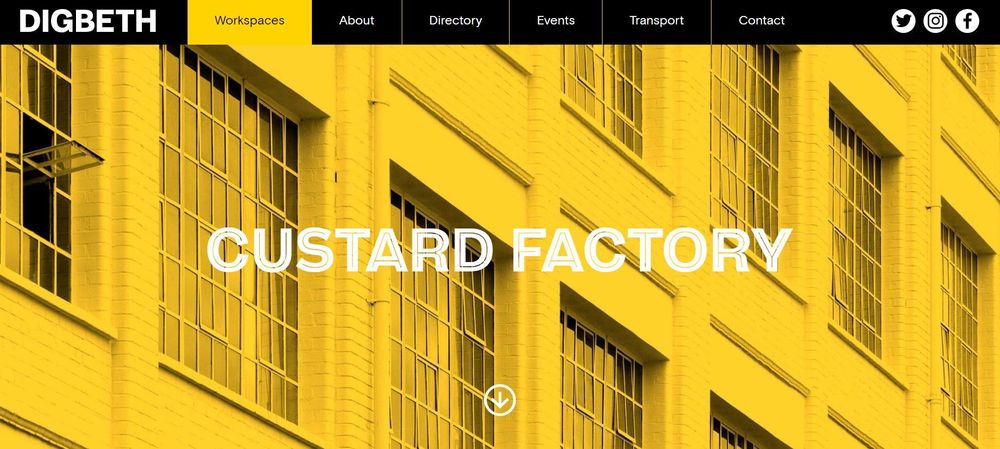 Key Amenities
Modern conference rooms
High-speed Wi-Fi
Secure storage for vehicles
Gym, bar, and cafe spaces
Proms, weddings, and party celebration spaces.
Pricing
Starts at £275/month for two-person office spaces
Location
Gibb St, Deritend, Birmingham B9 4AA, United Kingdom
5. Melting Pot
Melting Pot is a cozy coworking space perfect for networking and collaboration. With art-filled lounges and bespoke decor furniture, the place provides a welcoming environment for creative businesses to flourish.
Choose from a variety of coworking spaces to fit your needs:
The Lounge: A casual workspace with islands perfect for small businesses, complete with breakout spaces in the business lounge.
The Loft: Similar to the Lounge, but with additional spacious open-plan areas and meeting and conference rooms.
The Lab: A bright workshop with a roller shutter entrance, ideal for those managing larger projects.
The Void: Like the Lab, but with even more space for innovation and collaboration between SMEs.
Melting Pot offers short-term hot-desking solutions if you're a hybrid user. And dedicated desks are also available for those looking for a more long-term rental.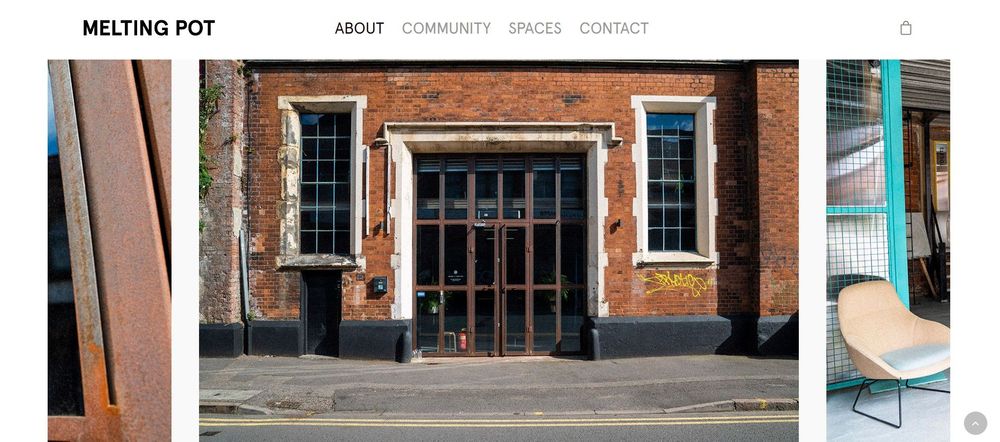 Key Amenities
Lockable storage
CCTV monitoring
Fully equipped kitchen
High-speed internet connection
Many working spaces for multiple purposes
Pricing
£250/month for private office
£150/month to own a dedicated desk
£10/day for renting hot desks
Location
Smithfield Garage, Meriden St, Birmingham B5 5LS, United Kingdom
6. Regus
If you're looking for a quiet coworking space, Regus is the perfect spot. Since it's located near the Birmingham airport and motorway service stations, you'll have no problem getting to the office.
With 2,000 locations worldwide and nine across the UK, Regus is an ideal place for international businesses to call home. The site offers hot desking spaces and well-furnished offices. However, if you're looking for a hybrid solution, you're out of luck.
Regus offers three different spaces for training, conferences, and meetings. And the best part? You can book a meeting space for just an hour. So, why not swing by Regus and impress your colleagues with a high-quality business lounge?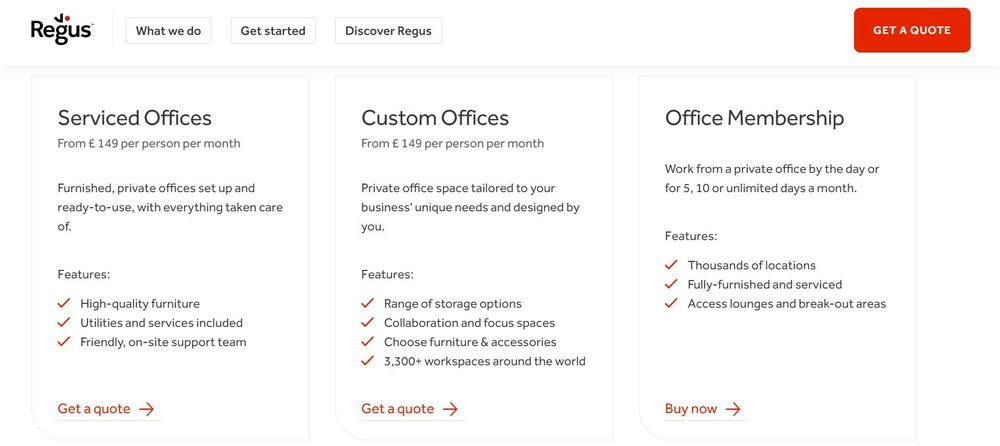 Key Amenities
Arranges for networking events
On-site admin support
Printing facilities
Extra privacy at the ThinkPod desk
Pricing (Per Person)
£190/month for coworking space
£170/month for office space
£80/month for virtual office
Location
1 Victoria Square, Birmingham B1 1BD, United Kingdom
7. Assay Studios
The Assay Studios offers a modern coworking space in Birmingham. This place is the OG of the Assay offices in the UK and has something for everyone, whether you're an established business or a start-up.
Their units can accommodate up to 60 workers so that you can bring the whole squad along. Plus, getting there is a breeze with its convenient location just 15 minutes away from New Street.
After a productive day at work, you can unwind and visit some nearby bars, cafes, and restaurants with your colleagues. And if you're feeling fancy, Queen's Arms —a lively pub with period fireplaces—is nearby.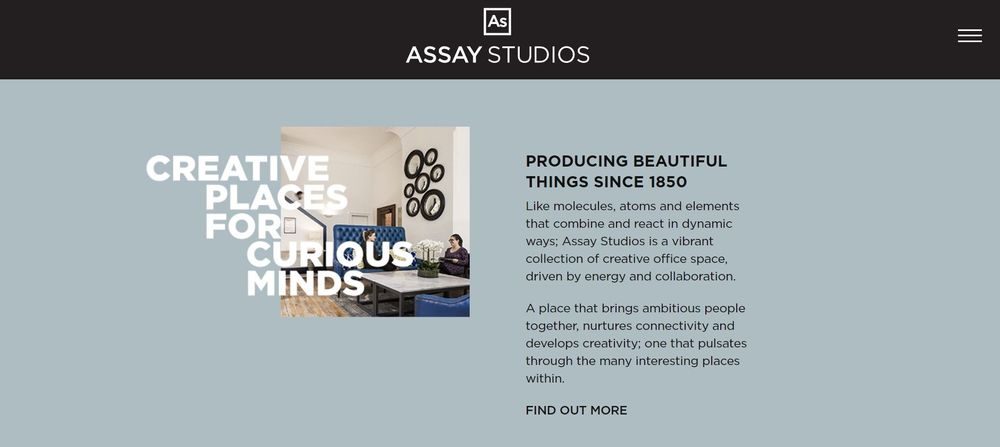 Key Amenities
Bike storage
Breakout spaces
Post room
Showers
Disabled access to specific units
Pricing
£180/month for coworking space
Location
141 Newhall St, Birmingham B3 1SF, United Kingdom
8. Grosvenor House
Step right up and feast your eyes on Grosvenor House, a coworking space that combines classic Georgian charm with modern amenities. Getting to the place is a breeze as you can hop on a bus or take the metro.
The company offers spacious coworking spaces with flexible package options to suit your needs. Plus, if you're looking for a bit of privacy, they also provide private and virtual offices.
Grosvenor House has six stylish meeting rooms available for hire by the hour if you need to host a meeting or event. Need to impress clients? They've got you covered with their sleek and modern meeting areas, with all the necessary bells and whistles like fast Wi-Fi and air conditioning.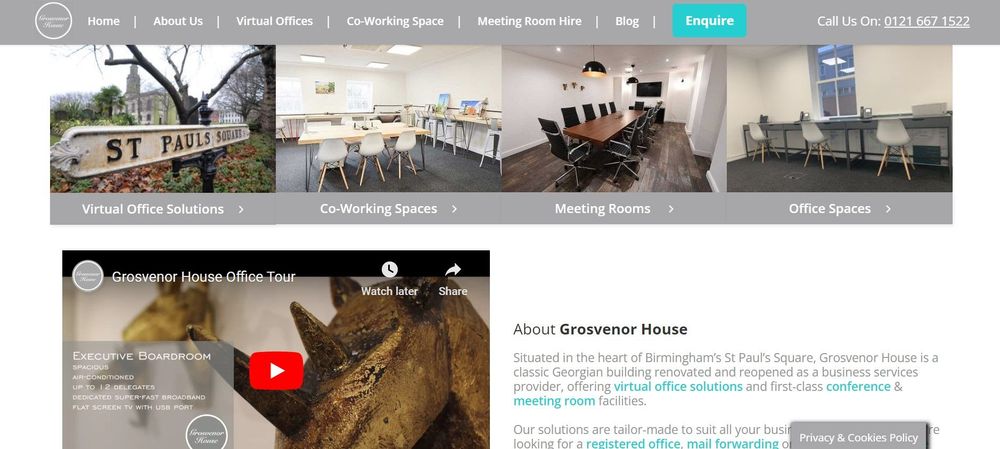 And if you need a break, pop into the kitchen to get lunch or grab a cold drink from the fridge.
Key Amenities
Cleaning dispensaries
High-level security
Fast internet connection
Meeting and conference rooms
Pricing
£30/day + VAT for a hot desk
£25/hour for conference spaces
£25/month for virtual office solutions
Location
11 St Paul's Square, Birmingham B3 1RB, United Kingdom
9. Innovation Birmingham
Are you ready to innovate and change the world? Innovation Birmingham might be just the place for you. This tech-friendly coworking space is buzzing with excitement and potential for start-ups and established players. And with the West Midlands on track to create thousands of new technology-related jobs, there's no better time to get involved.
While Innovation Birmingham doesn't offer any hybrid solutions for remote workers, it's a perfect spot for those who thrive in a lively and collaborative work environment. You can connect with like-minded tech enthusiasts and tap into the growing networking community of 150 entrepreneurs and start-ups.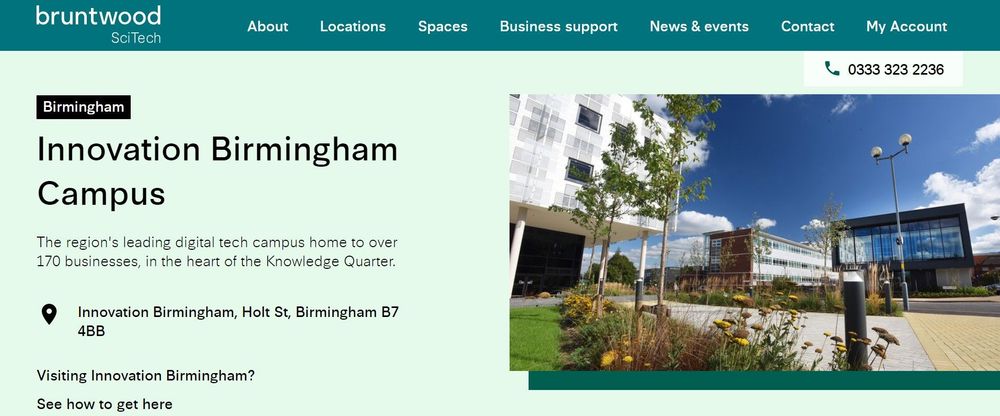 And if that's not enough, Innovation Birmingham offers 140 free virtual events for virtual membership at just £40/month. Now that's what we call a smart investment!
Key Amenities
Indoor and outdoor meeting space
Health and well-being program
Car parking and electric charging
Complimentary tea, coffee, and water
Extensive business support program
Pricing
£25/hour for meeting rooms
£20/square ft per month for office spaces
£145/month for coworking space
Location
Innovation, Holt St, Birmingham B7 4BB, United Kingdom
Final Thoughts
Networking is a critical aspect of coworking offices, and it's one of the main reasons people choose to work there. They bring together a diverse group of professionals, making it easy to connect and collaborate with others in your industry. By joining a shared office space, you're not just renting a workspace but gaining access to a valuable network of like-minded professionals.
Furthermore, project management tools like Indy can benefit individuals and small businesses working in coworking spaces. Indy allows you to create and manage your proposals, contracts, tasks, and invoices in one place, which is particularly useful when working in a shared space with different people and businesses.