Glasgow, the fourth most populous city in Great Britain, has recently emerged as a hub of creativity. Various possibilities have made the city a prime destination for entrepreneurs, enterprises, and startups from Glasgow and beyond. However, succeeding in such a competitive marketplace is no mean feat, especially when working alone or running a small company.
At Indy, we understand the importance of networking and an organized workspace where you can focus on your work without disruptions. So, we've rounded up the best coworking places in Glasgow to help you stay organized.
Best Glasgow coworking spaces to check out
Glasgow has many shared workspaces for everyone—from those who have just started to seasoned professionals. We've gathered some of the best coworking spaces that offer a dynamic setting for you to work alongside other like-minded individuals.
1. Glasgow Collective
The Glasgow Collective, situated at 15 E Campbell St, is a remarkable coworking space in Glasgow, offering various membership options. This shared workspace is perfect for individuals seeking to expand their knowledge and experiences through a welcoming, creative professional community. Regular events are organized so you can foster stronger bonds and networking opportunities with other coworkers.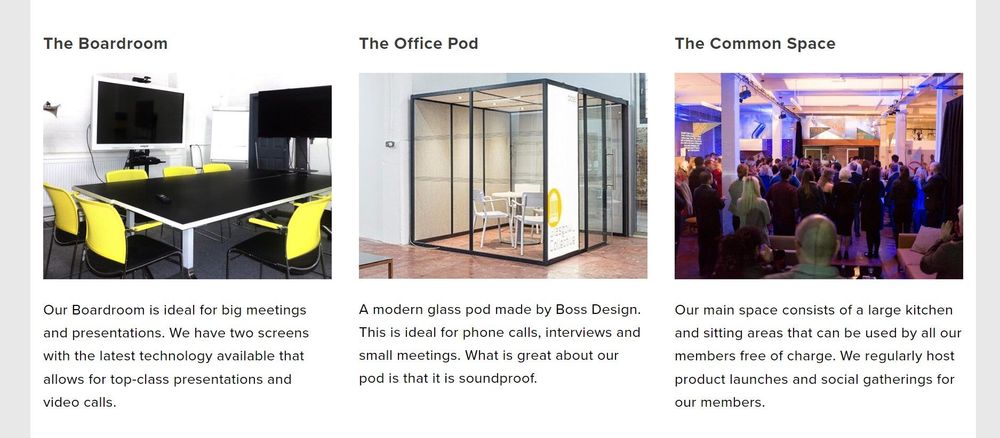 In addition, members can enjoy unlimited coffee and tea during work hours, access several meeting pods for emergency meetings, and even have an official business address. A large kitchen with comfortable seating provides a relaxing space to unwind during breaks.
The Glasgow Collective is a fantastic coworking space that values community and comfort, making it the perfect spot for anyone looking to work productively and comfortably.
2. Clockwise Glasgow
Clockwise Glasgow coworking space is ready to welcome all the professionals out there. With its high-rise office space on Savoy Tower at 77 Renfrew St, you can get a view worth the rent.
But it's not just the view that'll make you fall in love with this place. Clockwise Glasgow is home to professionals from all industries, so you know you'll be surrounded by unique ideas in a friendly and welcoming environment. This proactive and creative community will inspire you to reach for the stars.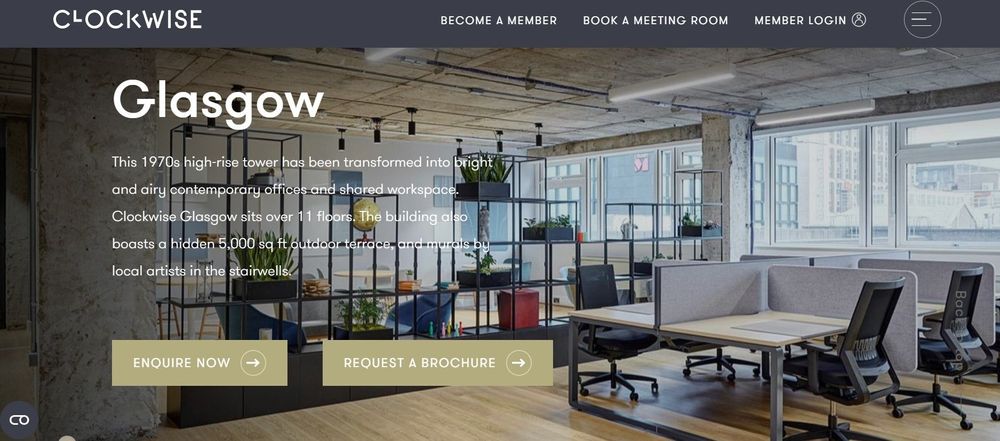 And when you need some alone time, head to the hidden terrace; it's around 5 thousand square feet and perfect for socializing or relaxing alone.
And the best part? You can make private phone calls to your clients and bosses anytime with the soundproof booths in this office. And for those of you who can't bear to be away from your furry friends, this office is dog-friendly.
3. The Pentagon Business Centre
The Pentagon Business Centre is like the secret lair of the hardworking and ambitious. You can find this coworking space in Glasgow at 36-38 Washington St, just a 10-minute walking distance from the bustling city center. But hold your horses; parking your ride might be as challenging as getting an elephant to fit in a Mini Cooper.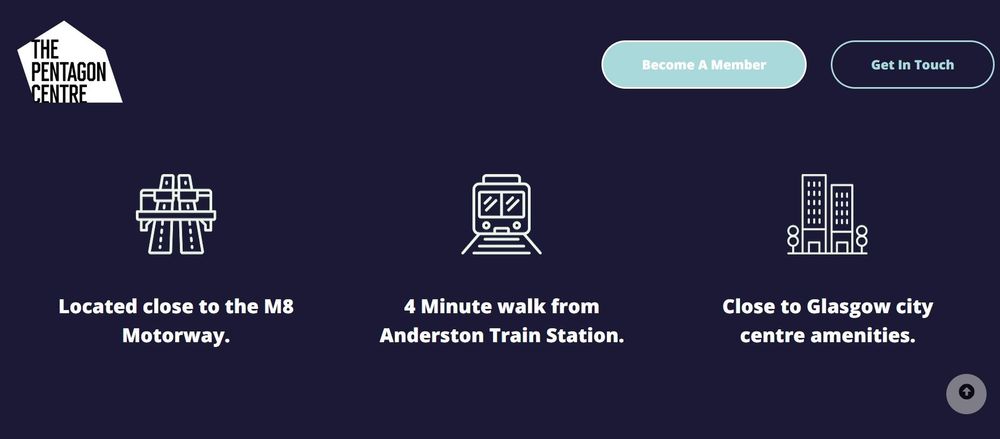 Luckily, if you're a member of this fabulous coworking space, you can have 24/7 access and work anytime. Since the place is right in the middle of the Glasgow Financial District, there are many lavish cafes and restaurants nearby. Have a nice meal or coffee when you're ready for a break. The rooftop terrace is fantastic for meeting people or just enjoying the view.
4. The Whisky Bond
The Whisky Bond offers the perfect escape from the bustling city without being too far away from it. Its location is near Cowcaddens and St. George's Cross subway stations, just a stone's throw away from the city centre. Plus, free on-site parking and access to communal bikes and a bike shelter mean you won't have to worry about the hassle of transportation.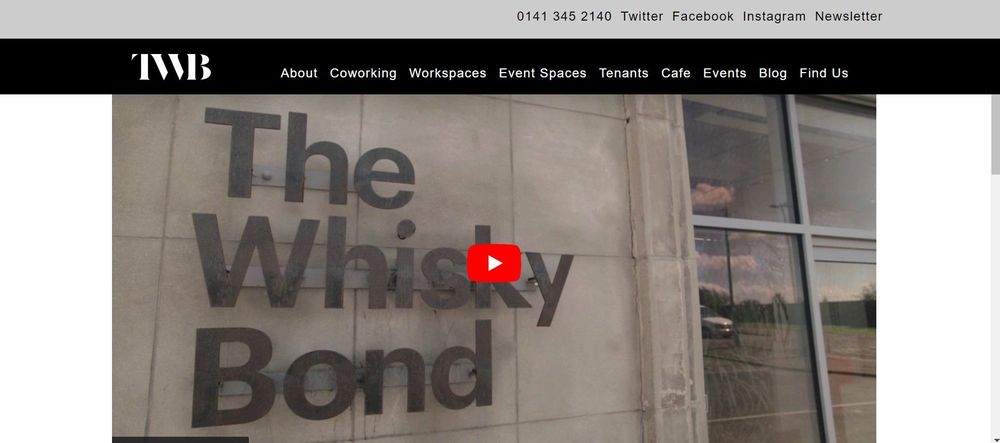 But what sets this coworking space in Glasgow apart is its vibrant community of creatives, including filmmakers, artists, designers, and tech startups. As a member, you can communicate with other professionals who are always up for exchanging ideas over a cup of coffee.
And let's not forget about the perks: secure lockers, shower facilities, private offices, and more. And for all you foodies, there's an on-site café with delicious cakes, soups, sandwiches, and coffee.
Whether you prefer to work in private or collaborative serviced offices, The Whisky Bond has these facilities. Also, professional meeting rooms are included in your membership, so you won't have to break the bank for those important business meetings. Cheers to that!
5. Collabor8te
Are you looking for a buzzing coworking space in Glasgow? Check out Collabor8te, located at 22 Montrose Street, just a short walk from important sites in the city.
With a warm and inclusive community, members from all backgrounds can join this coworking space and let their creativity flow. Enjoy a spacious office room with bright natural light, high-speed WiFi, and complimentary tea and coffee to keep you fueled throughout the day.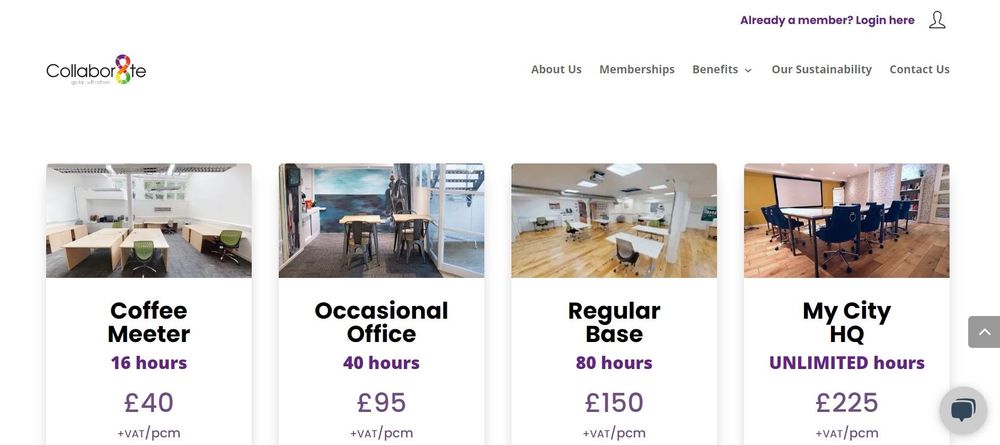 Whether you're working solo or as part of a team, Collabor8te has a huge range of rooms, offices, and breakout spaces to suit your needs. And with reception staff on hand to assist, hot desks available, and a variety of meeting rooms and serviced offices, it's perfect for tech startups and other innovative businesses.
Plus, keep your valuables secure in individual lockers only accessible to members. All this at an affordable price makes Collabor8te an ideal option for full-time on-site work.
6. Red Tree Business Suites Bridgeton
The Red Tree Business Suites in Bridgeton is located at 33 Dalmarnock Road. This modern coworking space in Glasgow is the place for like-minded individuals who want to succeed in their endeavors.
It is conveniently located near all the restaurants, cafes, bars, gyms, and leisure facilities and offers unlimited coffee, showering facilities, and changing rooms. Plus, there's a soundproof meeting room, a public library or learning center, and admin support.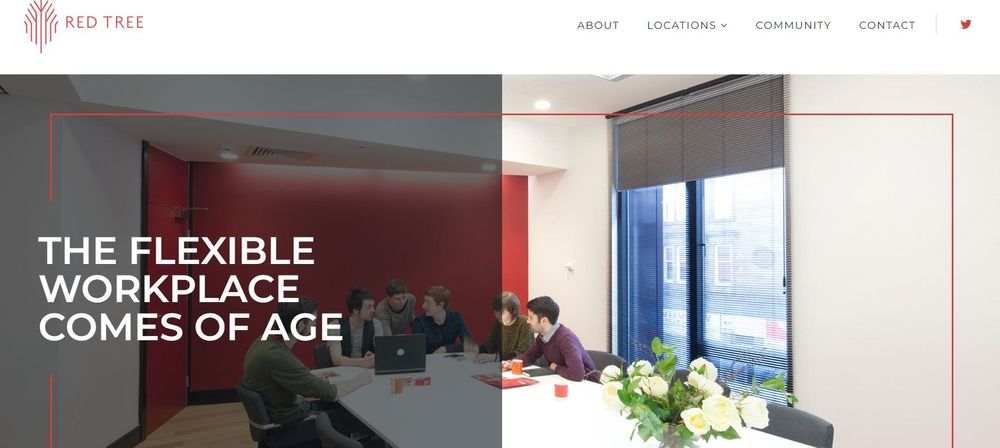 With flexible membership options, you can choose the suite that suits your needs without worrying about rent. It's time to get your business on track!
7. Spaces West Regent Street
Would you like to work in a coworking space that will make you feel like a global jet-setter? Look no further than Spaces in West Regent Street. Since it's in the city centre, you can easily hop on public transport to and from the office.
Located in the heart of Glasgow, this modern and stylish coworking space offers more than just a desk and chair. There are customizable working packages, whether you're looking for a private or shared office space.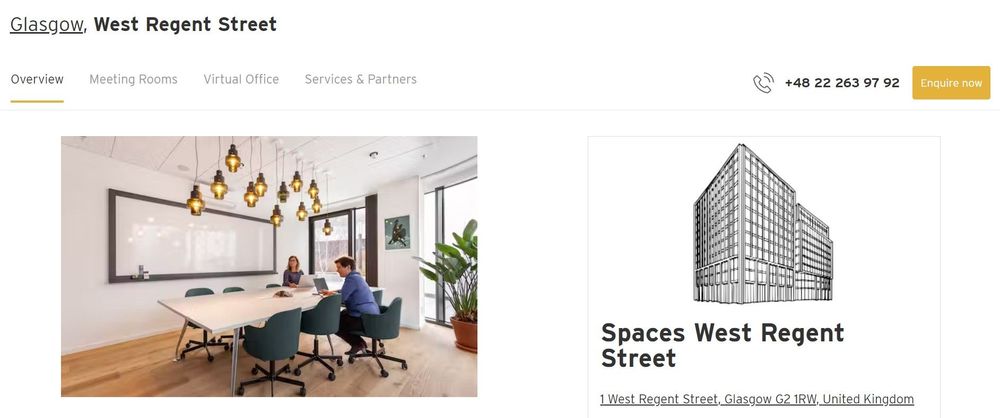 And if you're a frequent traveler, you'll love that Spaces has worldwide locations you can access as a member. The only downside? Their luxurious services and rent may not fit into every startup's budget.
Final Thoughts
Coworking spaces in Glasgow are all the rage for freelancers and remote workers. Not only do they provide a great alternative to working from home, but they also allow for better networking opportunities within a vibrant community of like-minded people. Plus, let's face it, working from home can get lonely, and the coffee shop scene can only do so much.
If you're a freelancer or startup owner, join Indy today. It will take care of your clients, proposals, and projects when you're busy growing your network and gaining more experience.