Welcome to the ultimate guide to Toronto coworking spaces! As freelancers, entrepreneurs, and small business owners continue to thrive in our city's bustling economy, it's no surprise that coworking spaces have become a popular choice for those looking for an affordable and flexible workspace.
With so many options available in Toronto, we've curated a list of the best coworking spaces with perks and prices that will help you make the right decision for your work style and budget. Whether you're looking for unlimited coffee or 24-hour access to state-of-the-art amenities, read on to find out which Toronto coworking space is perfect for you!
Coworking that works for you
There are a few things to consider when choosing a coworking space.
The first is location. A great location depends on you – do you want to be in the heart of the city, near public transit, or in a more suburban area? Would you rather be in the financial district or the entertainment district? Remote workers might not care as much, but a conveniently located coworking space with a dedicated meeting space or a studio space with a rooftop patio sure sounds nice!
The second is price. How much are you willing to pay for a coworking membership? Do you need a dedicated desk, or are you okay with a hot desk? People who need glass-walled private offices or large project spaces might need to cough up a bit more cash monthly.
And lastly, what kind of amenities and perks are you looking for? Do you need a screening room, editing suites, and cafe booths? Are you looking for the perfect space with high ceilings on the top floor? Or are you more into outdoor patios and the right space with an artistic vibe?
A good workspace should have comfortable seating, plenty of natural light, a supportive community, and a variety of amenities. Additionally, members should have access to reliable WiFi, printing services, and phone booths.
A coworking space provides an ideal environment for like-minded professionals. Not only do they offer an alternative to working from home or in a coffee shop, but they also come with the added bonus of networking opportunities and professional development resources that foster collaboration.
1. WeWork Toronto, 240 Richmond St W
WeWork, one of the most iconic coworking businesses in the world, provides a dynamic coworking environment with all the facilities your company could want. You may choose from a selection of private offices, collaborative spaces, dedicated desks, and meeting rooms at one of the 10 coworking spaces spread out around the city of Toronto.
Amenities include WiFi, IT support, 24-hour access, daily cleaning, office supplies, high-quality printers, coffee, tea, and beer, private phone booths, on-site management, a conference room, and access to the WeWork community around the world.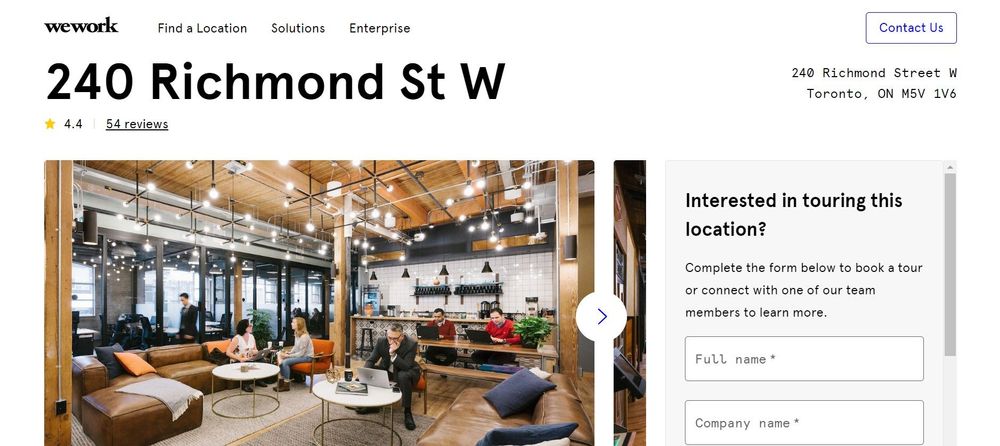 Prices differ depending on location. But with WeWork's flexible coworking space, you can rent a hot desk for $470+/month, and a dedicated desk for $570+ per month. Private offices go for a bit more, at $1,650 per month.
You can also buy a day pass for $25 a day to use a seat in one of our coworking locations and enjoy services. For as little as $20 per seat per hour, you can reserve a meeting room to connect with clients and coworkers.
2. Workplace One Coworking Space
Workplace One has been providing upscale office spaces in Toronto's prime locations since 2011. These coworking spaces in Toronto provide your team with the ideal environment for innovation and achievement.
Workspace One is one of the coworking spaces in Toronto that offers completely equipped, safe, and accessible private offices. With a monthly all-inclusive fee, you get access to printers, conference rooms, and even a wellness room. If you don't need as much space, you can choose a private desk with access to all Workplace One coworking amenities.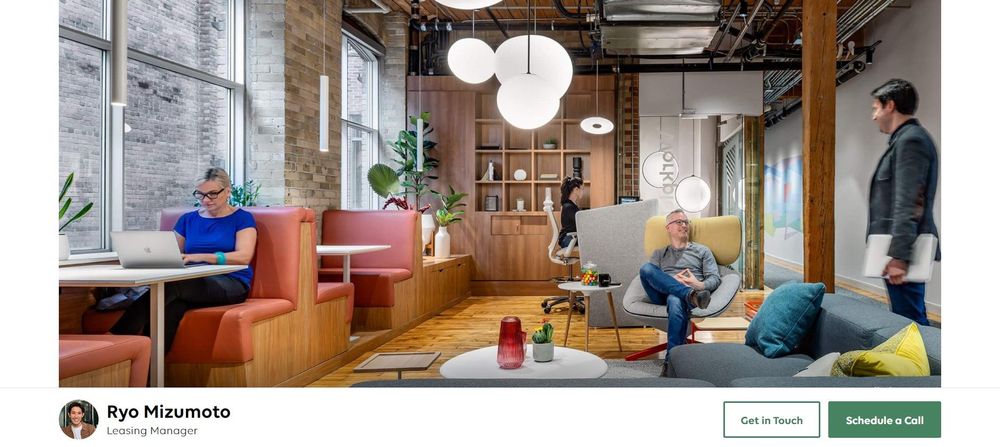 You may also select completely equipped private offices with extra features like lounges and conference rooms that were designed for larger teams.
Workspace One is proud of its inclusive, honest, and self-sufficient community, which brings out the best in everyone. To enable everyone to relate to the common work culture, the entire workspace is created to mirror the personality of each member. Workspace One's ultimate objective is to ensure that you are productive at work and are free from minor concerns.
At $300 per month, Workplace One membership enables you to use a coworking desk. A dedicated desk costs $450 per month, while a private office costs $565 per month. You can also join this coworking community by purchasing their Virtual Office, which costs $99 per month.
3. East Room Toronto
East Room is a collaborative coworking space in Toronto that is yet another example of where collaboration is at its best.
You will be able to express your ideas, be creative, interact with like-minded others, and, most importantly, develop personally and professionally.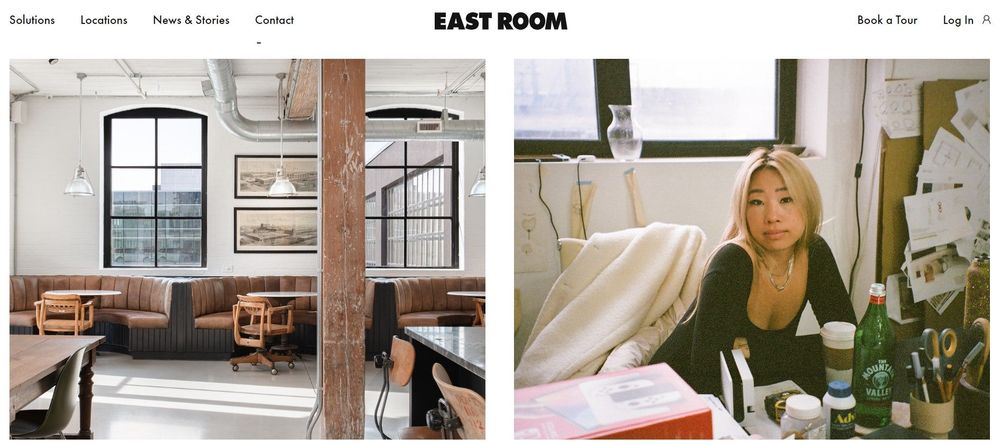 For a private, secure office area, you may select a Dedicated Desk with lockable storage or a Standard Office. A private, lockable office suite is also available in East Room.
Among the amenities are an on-site staff, social events and programming, boardrooms, a lounge area, phone booths, on-site food and drinks, high-speed WiFi, business class printers, mail and packing services, and an exclusive app that serves as both your mobile key to access the coworking space and your office.
At East Room Toronto, you may use dedicated workstations, office spaces, and hot desks in communal work areas. The cost of coworking spaces in the lounge area is $250 per month. The monthly dues for resident members remain at $650 and $3200, respectively. The amount of people you may have in a single office and the hours that the boardroom is available varies depending on the package you choose.
4. Workhaus Toronto
Toronto's Workhaus is a coworking facility where the local community is valued highly. The intention is to motivate creative workers to work harder and develop their creative side. Workhaus Toronto is an expert in offering first-rate office solutions for people and businesses of all sizes and levels.
They have everything, whether you are a lone freelancer or the biggest business in the city. There are community-based initiatives, health initiatives, social gatherings, and other such activities that are guaranteed to improve the members' potential for work. Not to mention, the community managers and knowledgeable staff are always at your disposal.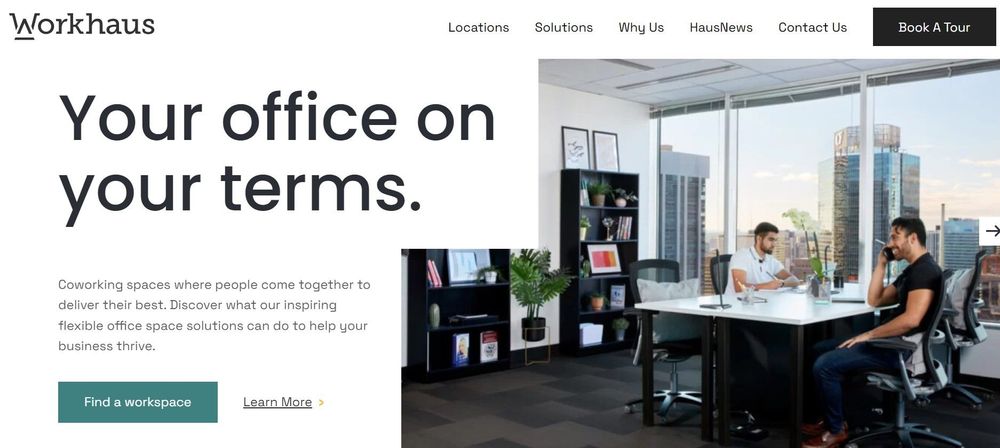 A coworking membership will get you a dedicated desk at Workhaus for $495 per month, and a hot desk is available for as little as $350 per month. In this coworking space, private offices with unlimited access are accessible for only $1600 a month.
5. Regus Toronto
Toronto is home to approximately 55 Regus facilities, one of the most well-known shared office spaces in the world.
With Regus's private office space in Toronto, you can give your company a home. Everything is taken care of at Regus' serviced offices, including the high-speed WiFi and furnishings. You can concentrate on growing your business thanks to the flexible terms that allow you to rent office space for anything from an hour to years. Perks include access to all locations, discounts on products and services, business support, and networking events.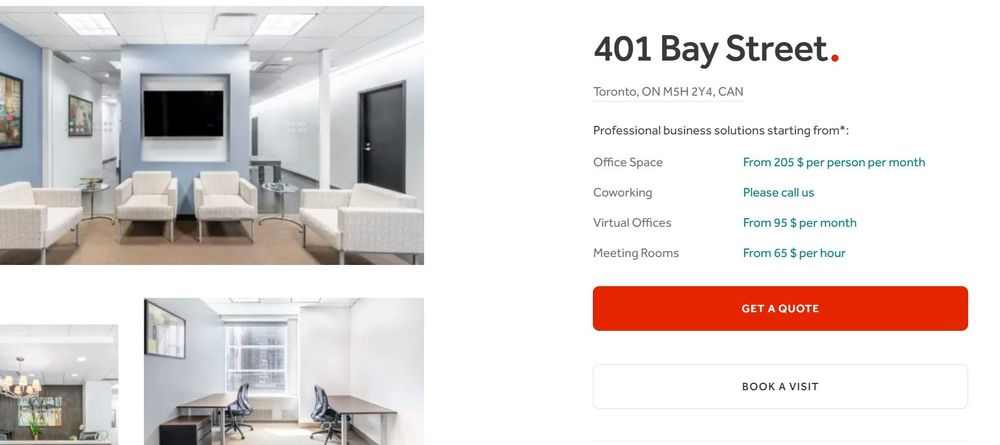 In upscale districts, Regus offers its clients private offices, coworking spaces, virtual offices, and meeting rooms. There are several amenities available, including super-fast WiFi, a lobby, coffee/tea service, conference rooms, a global network, phone booths, parking, a printer/scanner, networking events, and more.
You'd need to get in touch with Regus personally to find out the cost, as it is not disclosed on the website.
6. District 28 Workspaces
District 28 Workspaces is a unique coworking environment in Toronto that offers reasonably priced workstations and offices. The diversity of the industries represented among District 28 members aids each member's own horizon-widening.
This coworking space in Toronto may significantly enlighten your professional network because talks will start there, and interactions will lead to the development of connections. Also, you may lease the breathtaking event venues.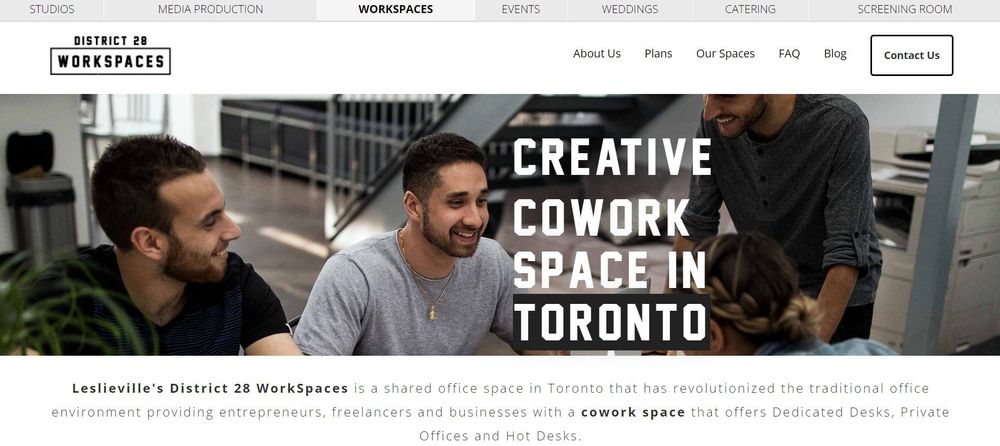 With the variety of work choices available, District 28 is one of the best coworking spaces in Toronto. You can choose between the hot desks and the creative plans, which cost $245/month and $200/month, respectively. By paying only $375 a month, you can also get a permanent desk and work from your own private space. At this coworking space in Toronto, private offices start at $1100 per month.
7. The Fueling Station
A fantastic coworking facility in Toronto that supports entrepreneurs is called The Fueling Station. The owners of this shared workspace have a strong entrepreneurial spirit. The goal is to eliminate every obstacle in the way of successful entrepreneurship. They then encourage the growth of startups and business owners by challenging one another. It is ensured that the business owners operating here concentrate entirely on their job.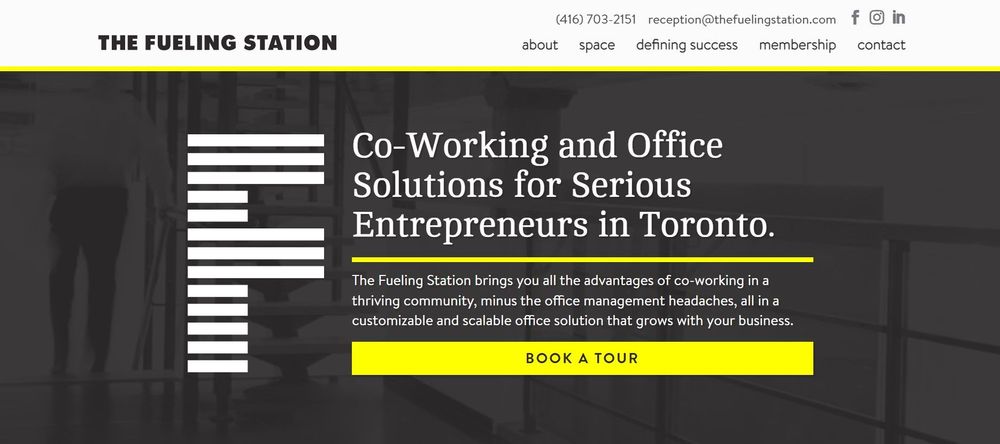 You are looking at a dedicated office here, which will run you $465 per month. Although The Fueling Station does not provide hot desks, they do offer virtual memberships, which range in price from $150 to $295. You can also choose a private office space for $1200 a month.
8. Startwell Coworking
Startwell in Toronto offers a distinctive atmosphere. They provide their members with a wide range of amenities and facilities.
Startwell features everything you need to run a business in one location, from a podcast studio to an espresso cafe. Three buildings make up the campus on King West in downtown Toronto, and it has the greatest range of conference spaces and an extensive event space in the area for business events.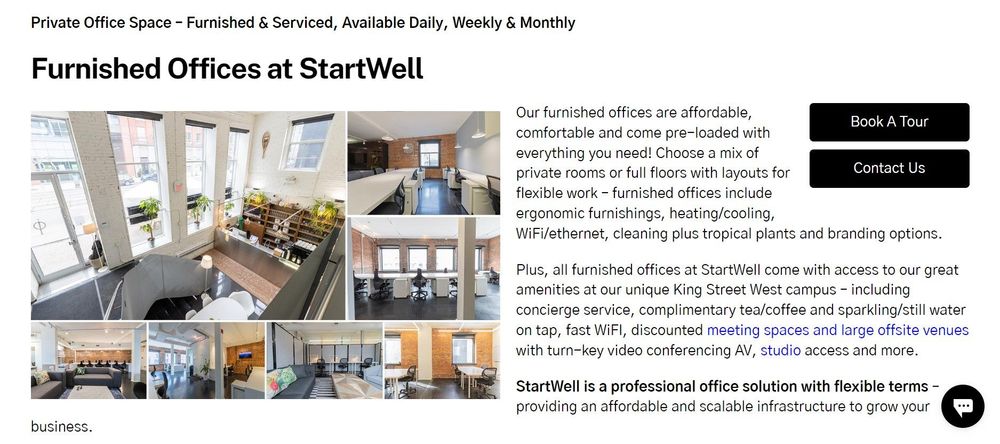 Membership in a coworking space (hot desk) costs just $50 per day or $350 per month, and you'll get free espresso bar service, 24/7 access to call booths, lounges, and hot desk spaces, invitation-only event access, and savings on media studio and meeting room rentals.
Private offices are also offered inside the shared office spaces, and costs start at $1300 monthly for two seats.
Indy can help freelancers thrive in coworking spaces
Toronto is a thriving city, bustling with opportunities for freelancers, entrepreneurs, and small business owners. With numerous coworking spaces available, it's essential to find a workspace that suits your needs and fosters collaboration. Enhance your freelance experience with Indy, a platform designed to streamline your business management, while working from a coworking space in Toronto:
With Indy by your side, focus on your passion while handling the business aspects of freelancing, whether you're working from home, a coworking space in Toronto, or anywhere around the globe.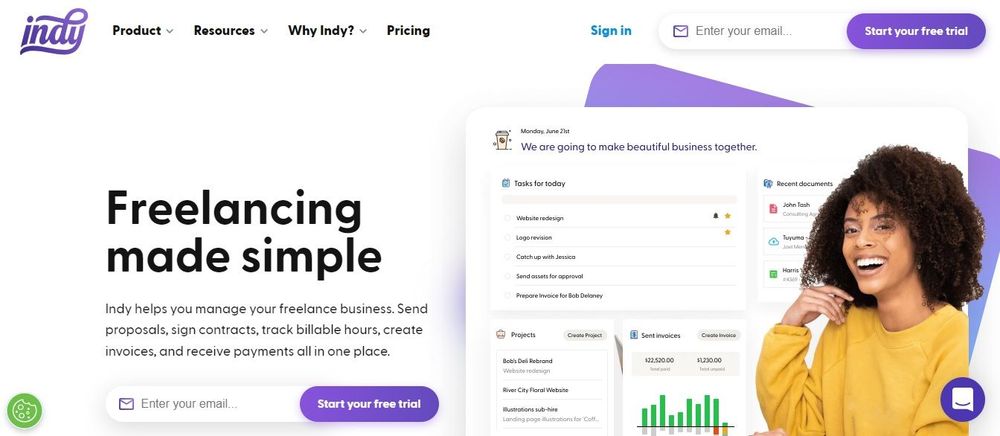 Conclusion
Working from home can be great, but having a dedicated coworking space can make all the difference. Toronto offers some of the best coworking spaces for professionals, with amazing perks and prices that are hard to beat. With so much variety and low costs associated with these shared workspaces, it's no wonder why people are flocking to local coworking spaces!
Once you've made a decision about your perfect coworking space, the next step is to make sure you have all the tools required to do the job. Here's where Indy can help! Indy comes with nine exclusive and powerful tools that will help you save time and money, including contracts, invoices, proposals, and time trackers.