Project management skills separate successful freelancers from those who struggle to get work done consistently. One tool for effective project management is Trello. Trello makes it easier to manage projects by creating a flexible and visual representation of your entire project. Trello users love its easy-to-use interface and how simple it is to manage various projects at once.
In this article, we'll go over the basics of Trello, how to use it, some advantages and disadvantages of it, and we'll show you a brilliant alternative designed especially for freelancers.
Before we dive in, let's give you the world's fastest summary:
Trello is great for project management because it is easy to use, visually appealing, and very flexible. However, it also lacks some features freelancers need, such as billable hours and invoicing. For these, check out Indy. Indy uses a Kanban project board but also has all the other features you need as a freelancer.
But we'll come back to that soon. For now, let's get into the basics of Trello.
Overview: What is Trello?
Trello is a Kanban project management tool. It uses a visual method of organizing and presenting tasks in a clear workflow based on boards, lists, and cards. This makes it easier to track project progress because you can see what is happening at a glance.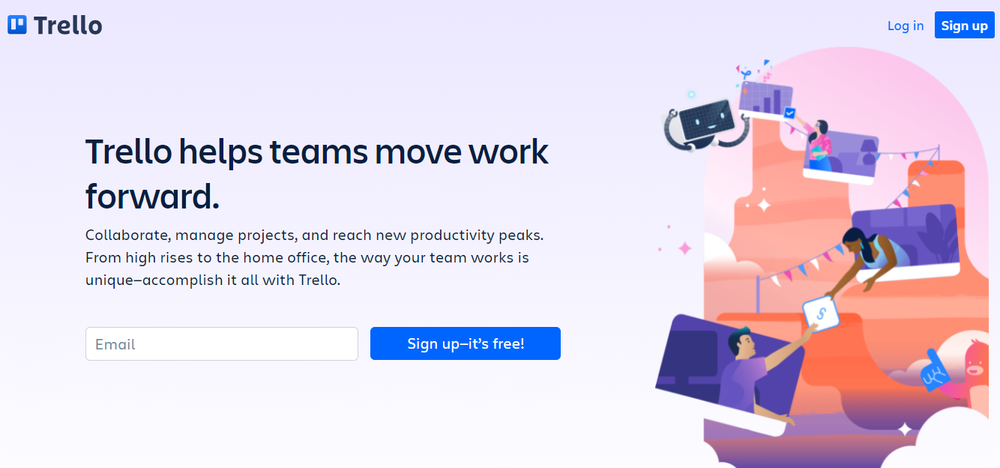 This tool is great for most projects, as long as they don't have to do with money, because Trello doesn't have any budgeting or billing features.
Trello has three main parts
Project managers can keep everyone organized with Trello's Kanban workflow. It's made up of three main parts:
Boards: Imagine a big whiteboard where you can write and draw to organize your work. This is your board on Trello. You could use more than one board for things like marketing and research in your business.
Lists: You can draw three or more big boxes on your whiteboard. These could be marked with the words "To Do," "Doing," and "Done." Each box is a list on Trello. Each list will have specific jobs added to it.
Cards: You could write specific tasks on a post-it note. Each note would go on the correct list. These are the cards for Trello. Each card can have a label, a description, and a checklist.
These are the most important parts of Trello for managing projects. Now, let's look at what each card can be used for.
Cards: The heart of Trello for project management
When you're just starting out with a new tool, it's helpful to know what features it has so you can build your workflow around them. Most of the things you can do with Trello are related to its cards.
Members
Trello is not only a tool for planning, but it is also a way for people to work together. Invite your team members to the Trello board so that everyone can see it and, if you give them permission, even change it. Then, give tasks to the people who can do them. This will help your team understand what you want them to do.
Comments
Your team will talk to each other better if you use comments. Leave comments, ask questions, and talk about the task right on the card. This keeps everyone on the same page, and if you need to go back and check what you were talking about, you can always look at the card.
Attachments and a brief summary
Use attachments and descriptions to tell people more about the task and the results you get when it's done. The card will hold a description of the task, any necessary details, relevant files, and links, so you can get to them whenever you need to without wasting time looking for them.
Checklist
Checklists give you more detail. It's very common for a task to need to be done in a certain order. By writing them down, you show people what steps make up their work.
Dates and deadlines
Deadlines are important when running a project. So, Trello lets you put start and end dates on cards so you can see when the deadline is coming up.
Labels
Labels help you see things clearly. You can give them your own name and use them to mark your cards. They are shown in different colors. Labels are used to give the card more information, such as the type of activity, the client you're working for, the department in charge, the status, etc.

Archive
When a task is finished, you can move it to the "Done" list or, if you don't want your board to get too full, you can archive it. In this case, the card will go away, but it can still be brought back.
Search
There is a search option that makes it easier to move between cards. It can sort cards based on different criteria, or you can just start typing the name of the card you want to see.
How to use Trello for project management
Trello has a great way to get started and set up, so make sure to use it to its fullest for your first project.
Step 1: Setup the board and make tasks
The first step in setting up is to fill in the fields that will be used to make your board lists. These lists, like the ones below, show the steps that must be taken to finish the project.
While you work, your tasks will remain in these kanban lists. If you need to add additional steps to your kanban board, scroll to the right to construct a new list.
Step 2: Make task cards and give them to the right people on your team.
Now that you have your lists, it's time to plan your project and make the task cards.
If you start using Trello in the middle of a project, you can add tasks at any time by clicking "Add another card" at the bottom of any list. If not, you'll probably add tasks to the first step on the Kanban board that shows progress.
This button opens a new task window. You may enter project information, such as:
Due dates
Cover photos for cards
Descriptions
Users
Comments on Task progress
Labels that put your tasks into groups and order them by team, importance, function, etc.
Attachments, which can be files, images, documents, work breakdowns, and so on
Make sure the card has a checklist and a percentage of completion so you can see how far along a task is. This way, you'll never be left in the dark when you're tracking its completion.
Last, put the team members' names on the card. Click "Members" in any task window's right-hand menu to change members.
Once you've added them to the task, they'll get all project notifications, like comments, changes, and when a card moves from one step to the next.
Step 3: As each step is finished, move the Trello cards along the board.
You may drag and drop tasks from planning to completion as you execute your project.
As you work on your project, you can use "Power-Ups" to automate certain Trello functions that will make the project management process easier. These automated functions will help you:
As tasks move through the workflow, put new ones at the top of the lists.
Make new cards with the same action on them as needed.
Sort the cards by their labels, due dates, users, and so on.
Archive cards from time to time
Automation frees up your time so you can focus on being a project manager without having to worry about small details and actions that aren't important.
Step 4: Close out the project upon completion
Once you've finished all the tasks in your project, it's time to wrap it up and do a post-project analysis to see how your team did, what you learned, and what you could do better in the future.
Back to Trello's "Power-Ups," there are a number of analytics and reporting add-ons that will help you figure out how well your project is going.
After collecting data using these add-ons, you may create a report for your team and project stakeholders.
Step 5: Use the template for your Trello board for other projects.
Why recreate your Trello board if you want to do a similar project in the future? In the menu, choose "more" then "copy board" to make a new board based on your previous work.
Building on prior boards is a simple method to develop consistent processes and save time during project planning. Just reset your cards and change your lists as required.
What are Trello's main advantages for a project manager?
Trello is a great tool for managing projects because it is easy to use. The popular platform has a range of features that make it the perfect project management tool:
Real-time sync for Trello boards
Real-time Trello syncs keep everyone together. When a workspace member modifies a task, you'll notice it immediately. This feature lets board members know what to do at all times.
Add relevant team members easily
It's very easy to add team members to boards. Click the board you wish to invite someone to, click the invite button, and then click "Send Invitation." You can also use a link to invite people to join.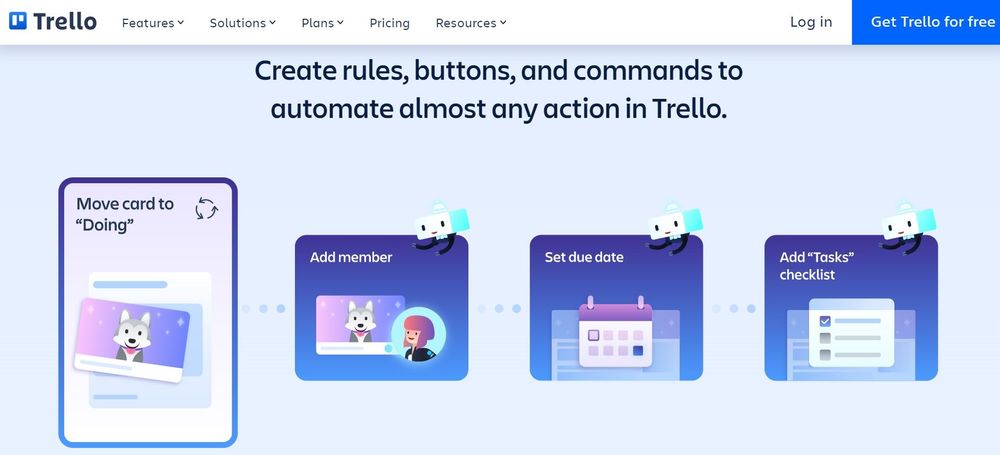 Notifications
Trello's notification system ensures you never miss team updates. You'll be notified when a board is modified. Email updates ensure you never miss a development.
Monitor card activity
All action on a Trello card is logged under "activity." The activity section shows when and who added a card to the board, as well as all other changes.
Very user-friendly to reduce training time
Trello's interface is one of the easiest to learn and utilize. One of Trello's finest features is the ability to drag and drop cards across lists, which facilitates the rapid iteration of processes.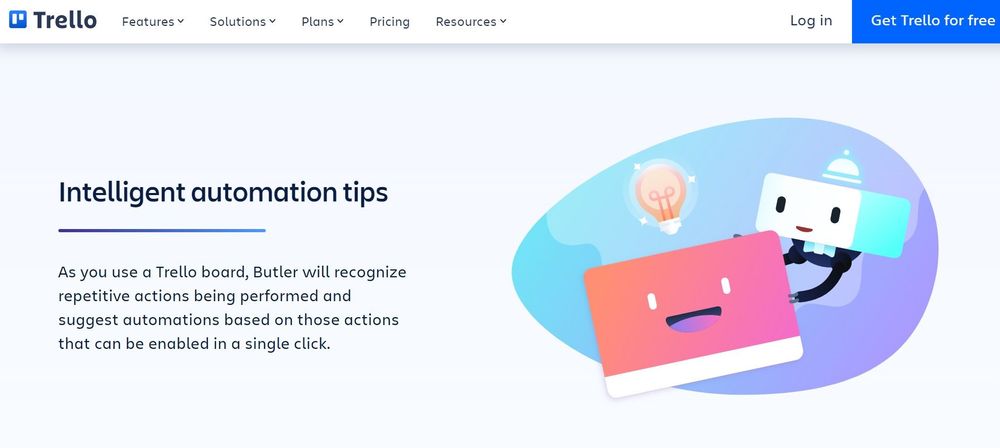 Needs improvement: Where Trello falls short
Trello is one of the most popular project management tools on the market, but it does have its fair share of shortcomings.
Users have said that the project management tool falls short because of problems with the interface, platform compatibility issues, and a general lack of useful data.
But what do these problems really mean for people who use Trello? Let's explore them a bit closer.
No budgeting or invoicing features
Trello doesn't have budgeting or billing features like other project management tools.
It's one thing to track projects, but how do you know what they're costing you? If you can't see labor, materials, and training costs, it becomes challenging to stay on budget. Time tracking is a basic part of managing each team member. Trello doesn't have it.
Using spreadsheets or special software, you can keep track of each of these things separately. You could also upgrade your Trello plan to get some basic invoicing features.
Limited upload sizes
When you're managing your projects with Trello cards, you might want to share files you're working on.
While you can do this in Trello, you might experience some frustrating storage limitations. In the free version, you're limited to just 10 MB uploads. This is pretty small, depending on your line of work.
Other tools like Hubstaff Tasks are more enticing to designers, content creators, and other creatives that frequently share large files.
There's too much freedom
Trello has changed over time and gained new features. While this makes it a flexible tool, it can be confusing to use, too. For instance, users have expressed frustration with the inability to close down cards.
Trello lets you archive cards, but there's no way to mark them as done. This makes it really challenging to manage larger, complex projects across multiple teams.
If you have tasks that need to be completed across multiple projects, that can be a challenge to organize. Other tools for managing projects do this by using Epics. Trello misses the mark here, which is too bad.
Managers may also be frustrated by the inability to see each team member's responsibilities.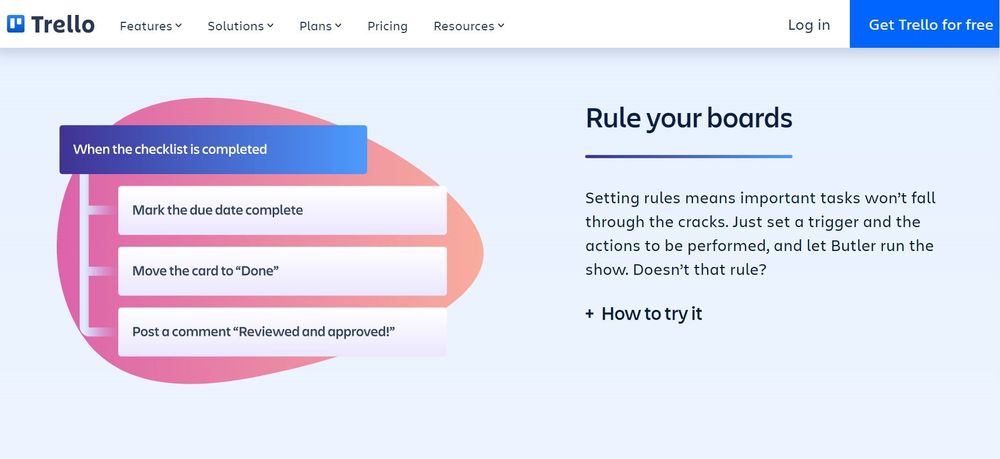 Few organizational elements
Individual team members have difficulty viewing their own responsibilities. Trello does not come with to-do lists, sprint views, or other ways to organize information out of the box.
Other project management tools let you isolate your tasks from the project as a whole. You can also drag and drop your assignments to put them in the order of most important to least important.
While you can label boards based on priority, they contain tasks that others need to complete as well. This can get pretty confusing, especially for people who need to work on more than one board at the same time.
You can "watch" cards that you're affiliated with, but you will invite even more notifications for subtasks within the card that don't directly apply to your workload.
No Gantt charts or dependencies
Trello has a nice timeline view, but it doesn't really hit on what it sets out to accomplish.
Gantt charts are different from timelines because you can add dependencies to them. Gantt charts show, instead of one linear timeline with due dates for tasks, what tasks need to be done before you can move on to the next phase of your project.
The lack of a true Gantt chart feature makes it difficult to see these dependencies. With other tools, you can see which of your tasks are triggered by the completion of others. Some tools even change the due dates of all tasks in a project when you change the schedule of just one subtask. This makes it much easier to prioritize work, provide progress updates, and avoid and eliminate bottlenecks.
Relies heavily on integrations
Trello works well with several other tools, just like most project management software. Some of these Power-ups are great additions that can help you solve unique challenges. Others, on the other hand, only fix mistakes.
For example, a Google Calendar sync and a Power-Up with the popular storage tool Dropbox are there because Trello's basic features aren't powerful enough for many teams.
Since Trello relies so heavily on Power-Ups, you can expect to need a lot of them to get the functionality you want.
Trello pricing
Trello has four pricing plans, the first of which is free. Each plan's price is per-user. For example, the Standard plan costs $5/month/user. Thus, the package costs $25 per month for five employees. Every package includes infinite Power-Ups, or integrations, so users may customize their experience. Trello's Butler allows users to automate tedious chores and construct processes without coding.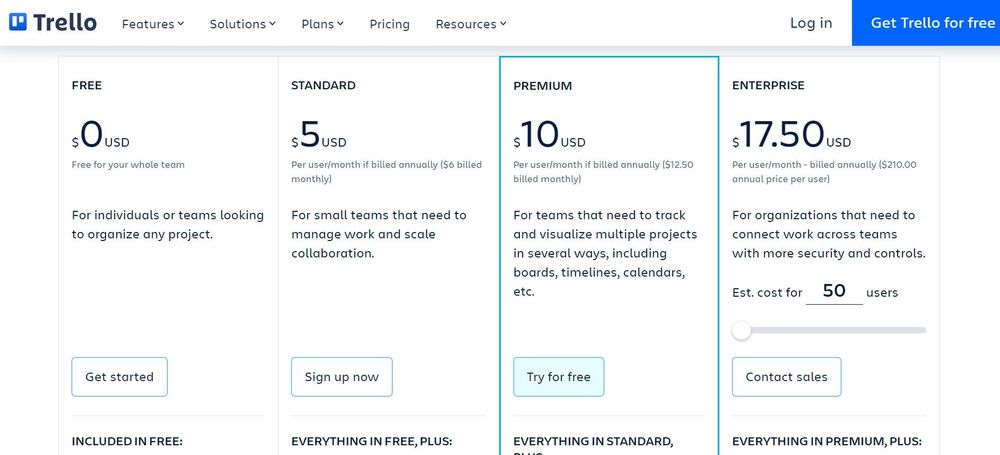 Free
Trello's free plan includes all key features. Free card-making on up to 10 boards. The free plan includes limitless Power-Ups, unlimited storage with a 10 MB file upload restriction, personalized backgrounds, and unlimited activity logs. Trello's Butler allows users to establish actionable rules. For example, when adding a new card to a to-do list, a rule may automatically add a checklist. The free plan includes 250 monthly automations.
Standard
Trello's Standard package costs $5 per month if paid annually or $6 per month if paid monthly. Everything in the free plan is included. The Standard package allows unlimited boards, which is perfect for big teams working on many projects.
The Standard package gives teams sophisticated checklists to divide tasks, custom fields to update card information, and 1,000 automated actions each month. Unlimited storage (250 MB per file), guest access to a single board, and saved searches are included.
Premium
Trello's Premium package costs $10 per month if paid annually or $12.50 monthly. It features infinite cards, boards, and activity logs like Basic, but also adds additional project views. The dashboard display shows your team's progress in real-time. The timeline view helps project managers plan, monitor, and organize their work. Users may sort and filter projects in a spreadsheet-like list. Calendar view provides start/due dates and advanced checklist items.
This strategy enables you to utilize your Butler whenever you want, so you don't need to conserve your automation quota. With Custom Fields, users may maintain vital information on card fronts. Advanced checklists divide tasks to speed up large projects. There are also stronger content and user privacy and permissions.
Enterprise
Trello's "Enterprise" package connects several teams with increased security and management. Plan costs $17.50 per user per month when invoiced annually. The Enterprise package provides unlimited workspaces, multi-board guests, and hundreds of Power-Ups, including Slack, Confluence, Google Drive, and Dropbox.
The Enterprise plan allows administrators to restrict attachments, govern access on an individual, board, or company-wide level, and use a single Admin Dashboard to manage permissions and security.
Indy: A great Trello board plus all you need for future projects
Freelancers double as project managers for their own work. So, they need a way to oversee their own project workflow and work as efficiently as possible. But, they do not have the time to learn a complicated software program or jump between multiple tools.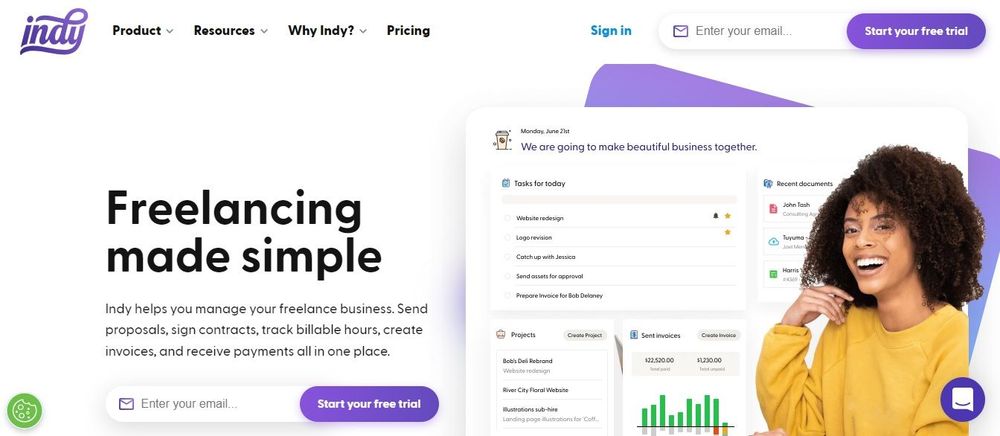 Indy solves these problems by offering its own board in Kanban style plus the other tools a freelancer will need. Here are some of the things you can do with Indy:
Manage multiple boards to keep track of every due date, complete tasks, and add labels to view their work by each client.
Use Indy's editors to create, send, and track proposals and contracts for new projects.
Stay on top of time management with Indy's Time Tracker.
Invoice clients quickly with the invoice tool that connects to the Time Tracker for automatic importing of billable hours.
Indy was designed for freelancers from the beginning. Get started today for free.