So, you are a freelancer, and you are at a stage in your career where you need a platform to assist you in managing your business. You need a project management tool. You are currently debating between Trello or Notion. How do you choose which one to utilize, or how do you determine whether or not there is another platform that would better fit your specific needs? To decide, you must have a comprehensive knowledge of each instrument.
In these articles, we'll go into the features of Trello and Notion. We will discuss how they differ from one another and how much they cost. Finally, we'll analyze Indy, an alternative to Trello and Notion.
What is Trello?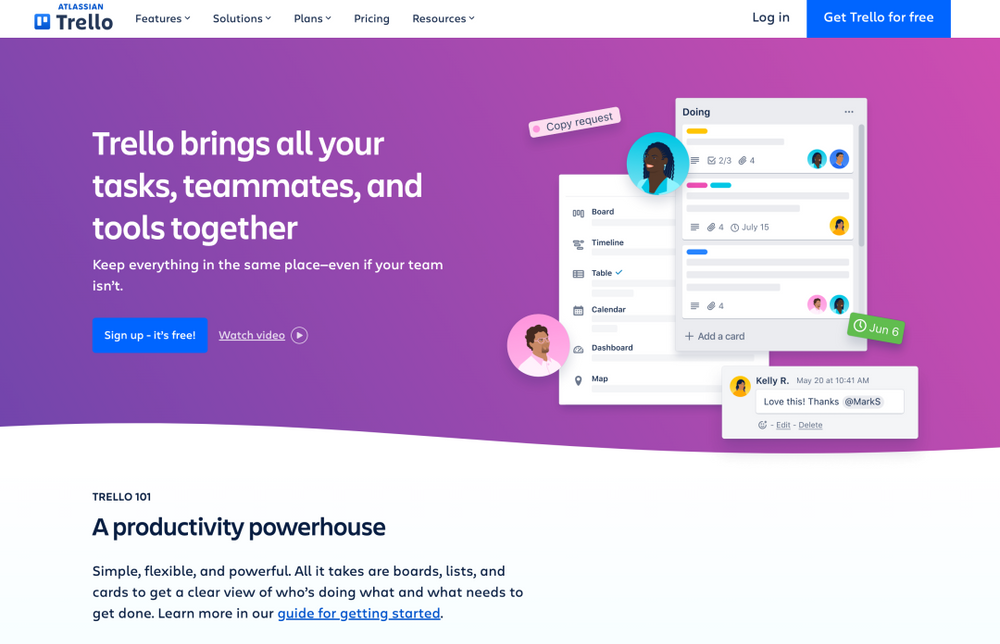 When it first launched, Trello was a straightforward online Kanban board. Since then, it has developed into a dynamic app that continues using Kanban but now has additional functionality. If you are part of a small team and want to become a Kanban connoisseur without needing complete reporting features, shared forms, or customer assistance on the weekend, then you can use Trello.
Trello is owned by Atlassian, which offers a different project management tool called Jira that is geared towards software development, Trello offers similar features but in a simpler, less technical form.
The ease of use is Trello's primary selling point. Trello is a specific project management solution entirely optimized for one purpose. Trello has lately enabled new ways to graphically organize your tasks, such as Dashboard, Timeline, Table, Calendar, and Map, in addition to its illustrious Kanban board, the company's most well-known feature. Note that you will only have access to these additional views if you subscribe to the Premium plan offered by Trello.
Compared to Notion, Trello offers fewer features; however, it makes up for this shortcoming by being easier to use. It makes the process of getting started with the tool and being productive as easy as possible, capitalizing on the instrument's inherent ease of use to become one of its primary selling features.
Although it is still being actively developed, Trello has undergone relatively little evolution. Compared to Notion, its user interface could give some people the impression of being a little bit dated. Nevertheless, Trello has earned the allegiance of thousands of clients by staying within the features that its users have grown to adore about the platform.
How does Trello Work?
Trello is one of the most user-friendly options if you're looking for a Kanban board. The Kanban board's lists each represent a stage in the process for the project. On each list, there will be cards that represent the tasks. When a job is completed, updated, or otherwise processed in any way, it is moved from the previous list to the next.
You can add 10 megabytes of descriptions, photographs, links, comments, and attachments on each card. There is no cost associated with any of the functions above.
Automating workflows with Butler is the feature that stands out the most among those made available upon upgrading to a subscription plan. Your activities on the board are analyzed by Butler, who then makes recommendations regarding which actions could be automated.
For instance, you could develop a rule that enables the automated addition of a checklist to every card created in a particular list. Butler's automation is fantastic for removing monotonous and repetitive chores from your staff's workflow.
Pricing and Subscription Options for Trello
Trello offers a free plan in addition to two paid premium subscriptions, which are as follows:
Free: The free plan of Trello allows users to create an unlimited number of personalized cards and lists, but each team is restricted to a maximum of 10 boards. The level of automation is low.
Business Class Plan: The Business Class plan costs $9.99 per user monthly. Teams have more control over what happens on the board, can program unlimited automation actions, and can access two additional views. The more advanced administrative and safety functions have been activated.
Enterprise: The Enterprise plan of Trello has a starting price of $17.50 per user per month for a team of 20 people. The proposal includes a greater degree of automation in addition to administrative and security options, such as power-up management and permissions that apply throughout the entire organization.
Customer Care Service
Trello provides priority support for subscribers of its Business Class and Enterprise plans, ensuring an email response within one business day. Users also have the option to enter the community forum and search through Trello's database to obtain solutions to frequently asked questions.
Why You Would Consider Trello
Trello is a web application that is completely optimized for project management and does not attempt to perform excessive tasks simultaneously.
It is much simpler to get started using Trello, as the basic setup needs a little setting and can be finished in minutes.
Because Trello has fewer capabilities and settings than Notion, it is much simpler for a full team to quickly become proficient in using it.
Compared to Notion, the collection of Power-Ups and integrations offered by Trello is far more comprehensive.
What is Notion?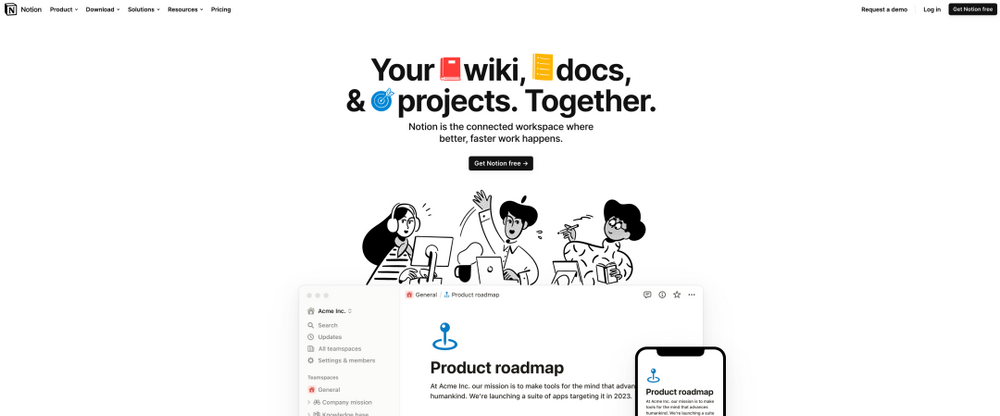 Since its humble beginnings as a tool for taking notes, Notion has undergone significant development and is now capable of much more. Today, it claims it is an "all-in-one workspace" that teams can use to bring their work together, thereby replacing various technologies.
It is successful as a result of the remarkable adaptability it possesses. Kanban boards may be found in both Notion and Trello; however, the Kanban board in Notion is just one of many ways that you can graphically organize your information in Notion. Because of this, the options are practically endless; for example, you can create a wiki, document your product roadmap, organize meeting notes, post your blog, and do much more.
The steep learning curve is one of the drawbacks of having access to such a rich feature set. New users should be prepared to devote sufficient time to learning how to use the tool because they may feel overwhelmed by all the choices and possibilities. But considering your requirements, it may be the best compromise for you to make.
How Does Notion Work?
In contrast to Trello, Notion requires a few days to get up and run. This is not because the tool is difficult to use but due to its extensive range of functions and customization options.
The wiki is the first of the three primary elements included in Notion. It functions similarly to Wikipedia, including sections for things like a staff directory, main objectives, and policies, among other things.
As part of its project management capabilities, Notion is equipped with a standard Kanban board that can be used to display the current status of a task or project. Cards can be customized infinitely, and activities can be separated using labels and due dates.
Although it is difficult to dig into all of Notion's features for project management, the platform uses commands, lists, tables, and notes to assist in creating an automated workflow.
Notes are the final of Notion's primary features to be discussed. It functions like that of Evernote and Google Keep, in which you may make text notes or files, as well as checklists, and distribute them to various parties.
Pricing and plan considerations
Notion offers a free plan in addition to three paid premium options, which are as follows:
Personal: This plan is free for one individual to use. You can build unlimited pages, but the size of any files you post is restricted to 5 megabytes. Users can access more than 40 different content kinds and more than 50 templates.
Personal Pro: Individuals who upgrade to the Personal Pro plan are granted access to version history, priority customer assistance, and early access to Notion's future application programming interface (API). When you join an annual plan, you pay only $4 per month for all of these features, but if you pay month-to-month, it will cost you $5.
Team Plan: For a cost of $8 per person per month on the annual plan, the Team plan enables an infinite number of team members to produce unlimited content. Creating a location for collaboration can be accomplished through admin control and advanced permissions.
Enterprise: With the enterprise plan, large teams can get individualized price quotes, access to additional features, and various security choices. When there are more than 100 persons on a team, a dedicated manager is given to that team.
Customer Care Service
Notion provides support for customers via email and live chat. If you utilize a paid plan, your question will be given priority. In addition, Notion includes a comprehensive database of manuals, tutorials, and frequently asked questions. The business does not provide a response-time guarantee on its website.
Why You Could Consider Notion
Notion is more adaptable and configurable than Trello and has a wider range of features.
Because it can serve not only as a tool for managing projects but also as a wiki and a database, Notion may effectively use several different applications for collaborative work.
Some people believe that the user interface of Notion is more up-to-date and sophisticated.
What are Some of the Key Distinctions Between Notion and Trello?
Trello is an excellent choice if you are looking for a Kanban-specific project management application. However, Notion is a comprehensive workspace platform and, as a result, a more adaptable alternative. The primary distinction between these two platforms is that Trello is concentrated primarily on Kanban project management, whereas the Notion platform is more all-encompassing in its functionality.
The needs of your team will determine which option is best for you. However, the following are some guidelines that may be helpful:
Although both tools are effective for straightforward workflows, Notion provides greater flexibility than other options.
There are hundreds of different integrations for Trello.
Since Notion allows for a limitless number of web pages, you may tailor your site to be as complex or straightforward as you see fit.
Notion offers more cost-effective pricing alternatives for teams.
Trello's workflow is so simple that even inexperienced users can quickly become productive.
There may be a requirement for lengthier durations of adjustment for Notion.
Indy: The Alternative to Trello and Notion

Freelancers and independent contractors will find Indy an ideal replacement for Notion and Trello. It is quite helpful for independent contractors to have Indy handle their projects from start to finish. There are integrated tools available for creating proposals and contracts, managing data for storage and client approval, and tracking billable time to issue invoices.
The Projects tool is an important component of Indy. Here is where you can integrate all of your work, and a clear dashboard will allow you to assess how you're doing overall. To maintain order and keep track of everything, your projects can have associated contacts, files, tasks, time tracking, and invoicing. You may display your work on a board organized in the Kanban style, if you connect your Google calendar to Indy, making it easier to stay on top of everything.
When managing a client, you may be required to work on many projects simultaneously, communicate with customers in a fast-paced atmosphere, and regularly track various advertising campaigns and commercials. Indy is a powerful tool for managing projects that can assist you in keeping things moving in the right direction and dedicating time to what really matters instead of admin tasks and project management.
Indy provides the following capabilities to assist freelancers in better managing their customer relationships:
Filter your tasks, organize them, and pin them in whatever way makes the most sense to you. In addition, search makes it much simpler to go through your tasks.
Create and manage tasks from within your projects and link existing tasks to the appropriate projects. Additionally, you can use tags to organize your workload and the flexibility to work in whatever manner best suits you.
Because Tasks is connected to Calendar, you can create and organize your to-do lists without leaving the context of your day's activities. When new tasks are added to your Calendar, a due date will be assigned to them automatically. This date, however, can be readily adjusted if necessary.
Final Thoughts
When contrasting Notion and Trello, there is no clear winner. Both of these tools are popular for various reasons, and the one that is best for you relies on your specific needs and preferences. People who are aware of an intricate user interface and are looking for a robust and versatile tool in which they may compile all of their work may find that Notion is an excellent choice. And for those searching for a straightforward, user-friendly project management application that doesn't require all of the additional bells and whistles, Trello can be a more suitable alternative.
If, on the other hand, you want the best of both worlds and place a high emphasis on both ease of use and adaptability, consider Indy. We give you the simplicity of Trello and the customization of Notion. On top of that, we give you several other tools, like a proposal tool and a time-tracking tool, among others. So, why not start now for free?