Freelancers contribute over £100 billion to the UK's economy and a staggering $1.4 trillion to the US economy every year. Despite this economic activity many freelancers still struggle to earn a consistent monthly salary, largely due to the irregular nature of their work.
As a freelancer, a retainer agreement can give you the income stability that you might miss from a 'normal' job. However, there is a bit more to a retainer than simply signing a retainer agreement with a client. Luckily for you, we are here to take you through everything you need to know about retainer agreements, and why you should consider it as an independent contractor.
How does a retainer agreement work?
Retainer agreements are a contractual agreement between a freelance service provider and their client for scheduled payments for an agreed upon scope of work. What this means is your client will pay a fixed rate monthly, or quarterly, for you to provide a set amount of your service. A retainer agreement is usually established for a fixed period of time which can be anywhere from a few months to a year.
As a freelancer it changes the way you get paid. Rather than getting paid on a per project or hourly basis you get paid in advance on a monthly basis for work you will carry out for a client. It also means you have a regular stream of work, so you have to spend less time digging up new leads.
Prior to signing the retainer agreement, you should find out from the client the scope of work they would like carried out every month. You create a price, by working out the number of hours it will take you to provide the deliverables, which you then quote to the client as a retainer fee. You can also include clauses in the contract that states what happens if the scope of work is exceeded, to prevent scope creep.
Pros of a retainer agreement
Retainer contracts can be really advantageous for you as a freelancer. They can help create income stability, retain great clients to work with, and lead to long-term success.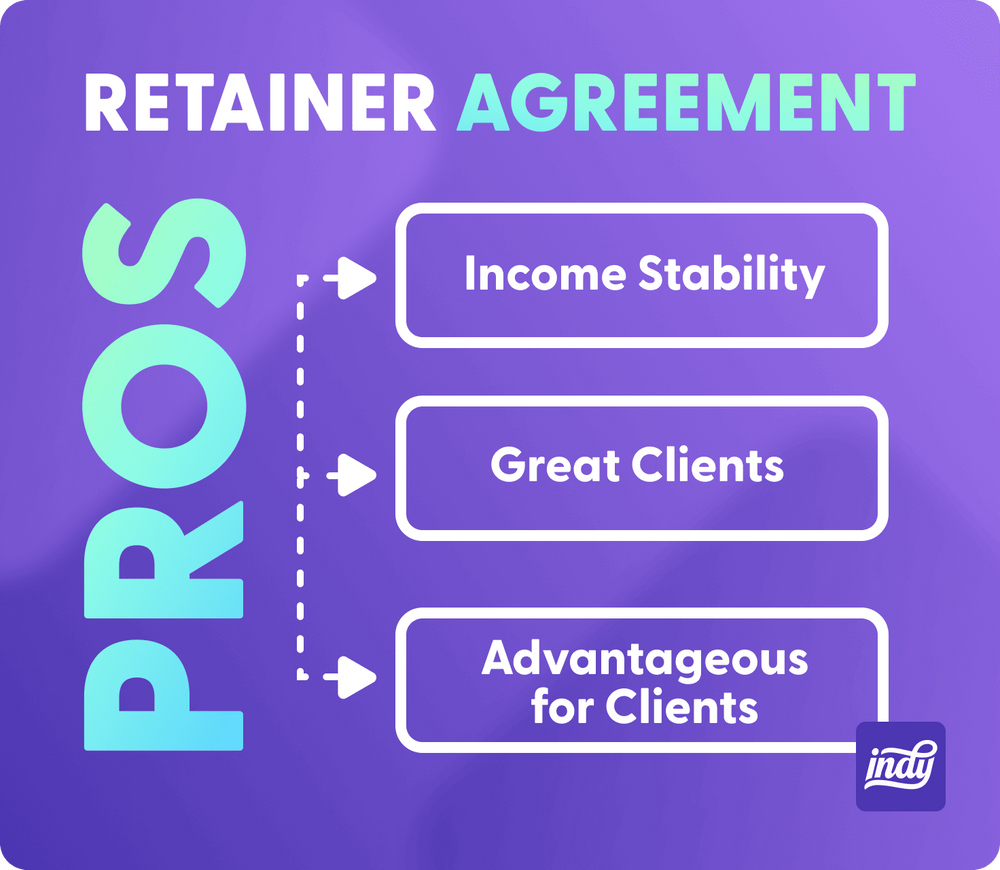 Income Stability
Getting a client to agree to a retainer agreement will give you, the service provider, a great deal of income stability. Having a client provide you with a regular stream of work and a monthly payment is the closest thing you can get to a normal salary as a freelancer, as it offers consistent income. You can also include a kill fee in your contract, which will ensure you continue to get paid for a certain period of time if the client prematurely ends the agreement.
Great Clients
Typically, if you are entering a retainer agreement with a client you will have carried out previous work for them. They trust you and you like the way they operate as a business. This means you spend less time working with new clients and more time providing your services to clients who you like working for.
If a new client is asking for a retainer agreement, it's best to ask to carry out a few projects for them off retainer. This will allow you to get a feel for how demanding the client is, which will in turn influence your retainer rate depending on the services performed.
Retainer Agreements are Advantageous for Clients
A client that trusts you and likes the quality of service you provide will probably be happy to sign a retainer with you. Mainly because it benefits them as well as you. By signing a retainer agreement, you are making that client a VIP. It assures the client your services, which they value, are available to them whenever they need. A regular monthly payment is also easier for a business to factor into their overhead costs.
How to get a client to agree to a monthly retainer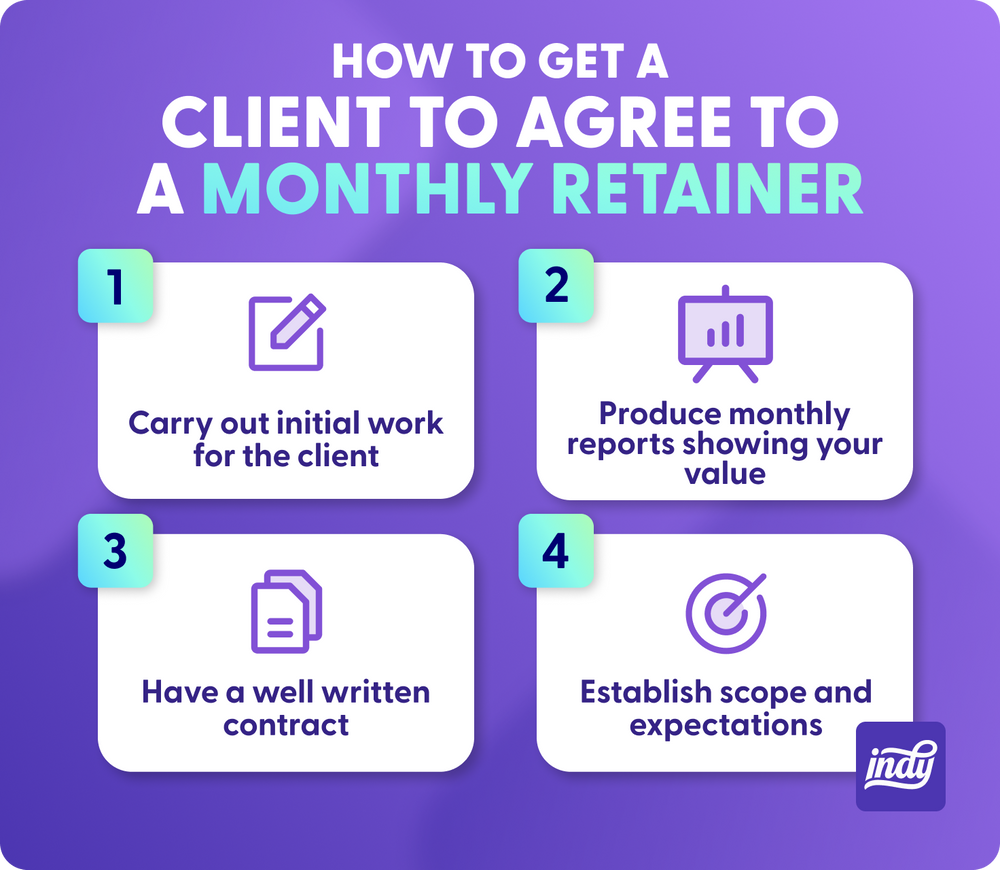 1. Carry Out Initial Work for the Client
It isn't a good idea to try to get a new client straight onto a retainer agreement. You don't know how hands on they are or what their expectations are of you. Instead carry out a few projects for them to build a working relationship. This will also help you learn their target audience and how their business functions, which is important for you to deliver exceptional work. Retainer agreements are best suited to long term clients you have experience working with.
It's important at this stage to take note of how many hours a project takes to complete for the client. Do they request a lot of revisions? Do they operate on short time frames with rush fees necessary? This will inform the rate that you quote when you begin discussing retainer agreements.
2. Establish Scope and Expectations
When you first broach the topic of a retainer agreement to a client you need to quickly establish the scope of work they are looking for and how you can provide value to their business. Reiterate with the client the success of previous work you have carried out for them and let them know how a retainer agreement will help them secure your time and services for the future.
Then establish the scope of work they are looking for. This depends on the industry you work in. If you are a writer, it could be a set number of website articles per month. Alternatively, you may offer a certain number of hours per month depending on the type of service you perform. Show the client that you understand what they are looking for and that you can deliver this for them on a month to month basis.
Establishing the scope of work to be carried out monthly is vital to prevent scope creep. Scope creep is when the client pushes for work to be carried out that was not in the initial agreement. It can happen very slowly and be hard to recognize, but you should always be on the lookout for clients trying to get more out of you than they are paying you for.
3. Have a Well Written Contract
This is arguably the most important aspect of a retainer agreement. You need a contract that protects both parties involved. If you aren't familiar with contract writing it is wise to hire a lawyer to ensure you are legally protected. Having a good contract will give your client confidence when entering a retainer agreement with you.
If you feel you can write a contract yourself, make sure you take your time and carry out thorough research and planning. You need to consider every potential outcome. Clarity is key so make sure you spell out exactly what is included in the retainer contract.
Here are some key points to address in your contract.
Establish a clear scope of work
Cost and type of services provided
What happens if additional work is required
Clauses that cover early termination of the contract by either party, like a month's written notice
Deadlines for monthly deliverables
Payment schedule
What happens to unused hours, if applicable
4. Produce Monthly Reports Showing Your Value
As part of your retainer agreement, you should provide a monthly report to your client outlining exactly what you provided that month. If relevant you should include performance metrics, or KPI's (key performance indicators) that show the success of the projects you are working on.
It is never a bad thing to reiterate to clients the value you bring to their business, this will go a long way to keeping your client happy while on retainer. Everyone likes to know they are getting good value for money and your clients are not different.
Exactly what you should report depends on what type of service provider you are, as social media managers will have different KPI's compared to virtual assistants. Here are some examples to get you thinking.
Number of article readers
Growth in number of unique visitors
Time spent on page
Growth in sales
Engagement increases on social media
Number of new followers
The list could go on and on, but you get the idea.
How to ensure the success of your retainer agreement
If you have entered a new retainer contract with a client there are a few things you can do to ensure the success of the retainer relationship. You need to ensure you get fairly compensated for work done and that your client feels like they are getting good value for money.
1. Work in terms of hours
Considering your retainer in terms of hours can be a good way to ensure its success. In order to ensure your retainer is profitable you should track the hours you work for every client per month. Luckily, tracking your hours is easy to do with a website like Indy who offer a comprehensive suite of freelance tools. You can then look at what you are charging them monthly to work out your hourly rate. This can give you a good benchmark to determine if you are undervaluing your work or charging about the right amount.
It can also be good to work in hours, so the customer knows how available you are. A retainer can make it seem like they have access to you 24/7. Clearly laying out the number of hours you are available every month will help the client manage their expectations. If they want you available all the time then they must pay for that privilege.
2. Stay flexible
While a retainer is typically a fixed agreement the requirements of businesses change regularly. It could be due to a change in management or a change in ideology. Your client may need you to make changes to the way you are servicing their needs. Try accommodating your customers needs, after all it's better to make changes to keep their business than lose it entirely.
It may be a change in scope of work or alterations to the workflow you had previously agreed upon. If the client is proposing a change, take time to determine how it will influence the number of hours you need to work on the project and if there are budget implications. Having good communication skills will help facilitate these types of transitions, if you feel it will help schedule a meeting with your client to discuss the changes.
3. Conduct regular reviews of your retainer arrangement
This somewhat goes hand in hand with the previous point. Conducting regular reviews with your client can be a proactive way of adjusting the retainer as their needs, or your own, change. Having a regular review period will help keep both parties happy.
Having a successful retainer is all about making sure both parties feel the engagement is fair. Regularly reviewing how things are going gives you a chance to make improvements or changes. If one side of the agreement feels like they are being exploited it's unlikely the retainer will be successful.
FAQ
What does it mean to work on a retainer?
Working on a retainer means you have signed a contract with a client to carry out a predefined amount of work for a regular monthly salary. The work can be valued in hours or in terms of completed projects with the salary corresponding to how much time it takes you, the freelancer, to complete the scope of work.
How does a retainer salary work?
As a freelancer you first have to establish the scope of work the client needs. That is the deliverables they would like to receive every month. You then work out how many hours per month it will take you to complete this work which you multiply by your desired hourly rate. If your client agrees, they will pay you the predetermined retainer fees at the start of every month.
What is the difference between a retainer and a contract?
A retainer is used to secure the time of a service provider, and the salary is typically paid at the start of every month with work carried out after payment. A contract is typically longer term and payment is made after the work has been carried out by the service provider.
What is a retainer agreement used for?
A retainer is used to provide a medium to long term agreement between a client and a freelancer for the delivery of specified services. The amount to be paid is often agreed upon in advance depending on how much work the client needs carried out every month.