As a graphic designer, your main task is to communicate a concept using visuals. It's up to you to know how to inspire, inform, or captivate consumers using the most appropriate graphic. And while you may have artistic skills, you'll need tools to bring your ideas to reality.
Tools will make your work easy. Tools will help you create compelling visuals that sell an idea effortlessly.
And due to the ever-changing technology, you will need tools that can easily transfer your ideas to match our modern world. These tools can elevate your work and put you one step ahead in your freelancing career.
Here are 35 graphic design freelance tools you should consider, whether you're just starting your journey as a graphic designer or are at the peak of your career.
"People who don't use the tools given to them only injure themselves." - Debra Wilson
Hardware
You'll need the right hardware to be able to run your projects. Without the right hardware, it's impossible to use the software needed to bring your ideas to life. Aim to have the following hardware at hand.
1. Pen and paper
A pen and paper are very convenient for transferring your ideas from the mind to the real world fast and easy, especially during those "Aha" moments.
Research also shows that using a pen and paper to write and doodle increases brain activity to recall tasks. It also boosts your creativity, focus, and ability to use your critical thinking.
Therefore consider getting a pen and a notebook, and keep them close to you whenever you're in the zone to get some work done.
2. Computer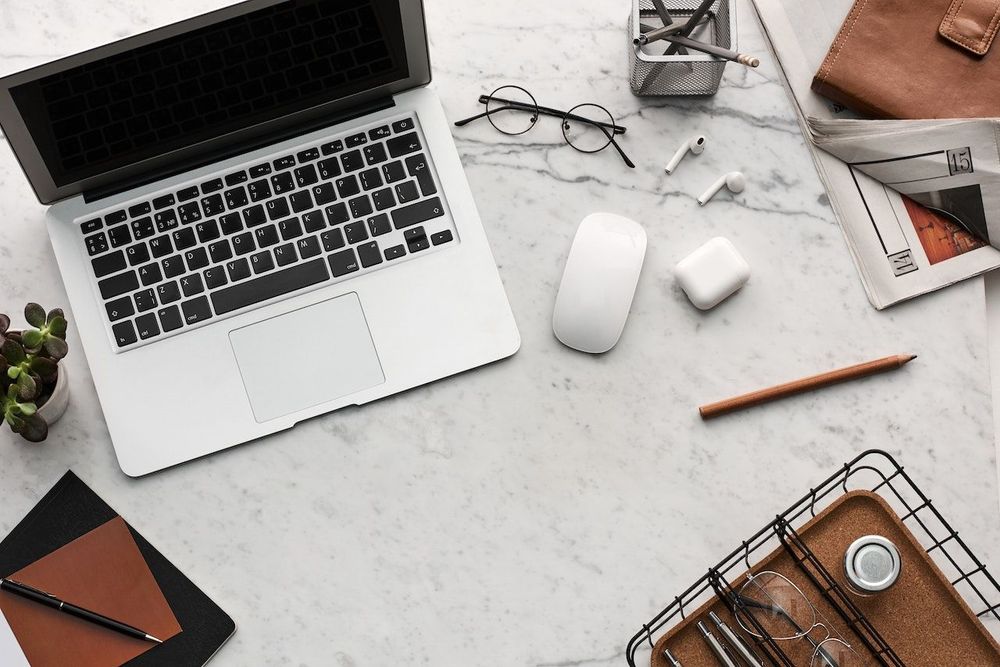 A computer will do all the heavy lifting for you. It'll help you manage and support all the programs you'll use for projects.
And while you don't need to buy the latest or the most expensive laptop on the market, you need to ensure the one you're using is standard and won't crash. It should be efficient.
But the good thing is, any decent laptop will most likely get work done.
3. Camera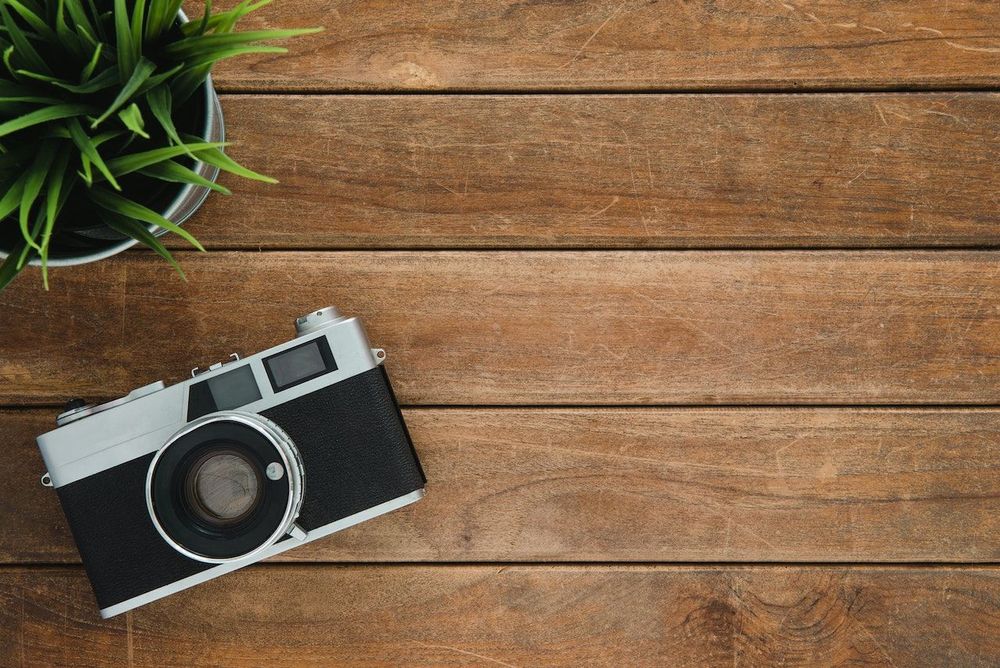 Having a good camera is a plus as you'll need to take and create compelling and realistic three-dimensional photos and videos for work projects or when creating your portfolio.
You can decide to go with a mirrorless or DSLR camera. They are great quality but also pricey, meaning if you're on a tight budget, you can just get an alternative.
4. Smartphone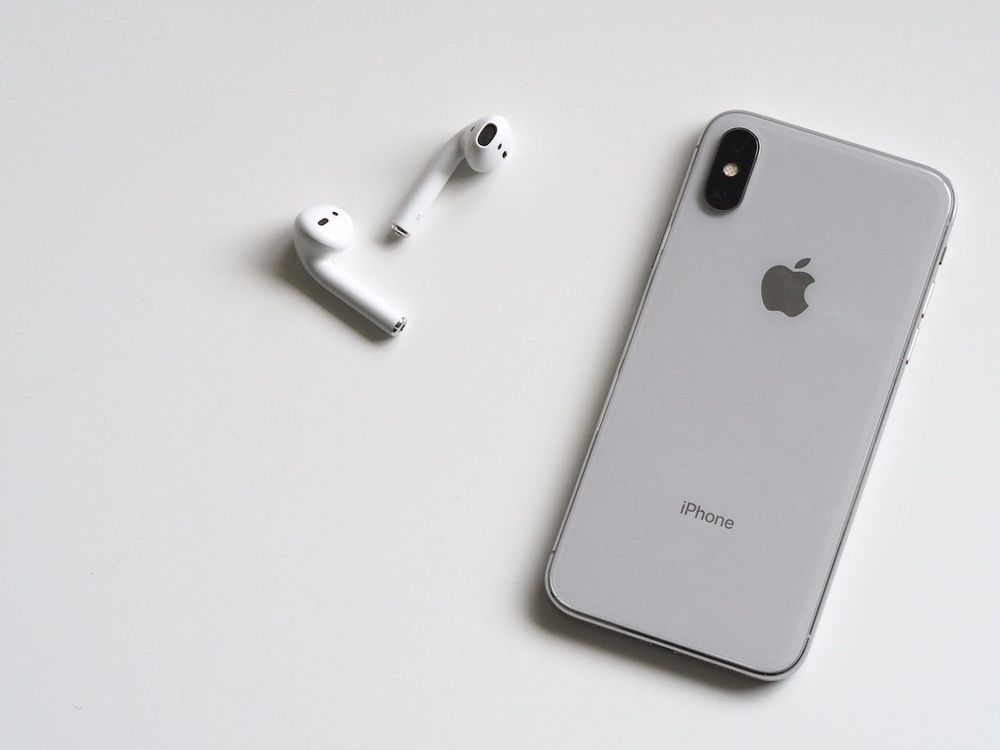 Smartphones are used for various functions, including connecting with friends, family, and workmates.
But for graphic designers, smartphones can be used for other important functions. For example, you can use your smartphone to take decent photos when you forget your camera at home.
Smartphones can also help you confirm whether those graphics you're working on will fit on a mobile screen. You don't want to spend hours on a project only to find out your designs don't look as great on a small screen as you thought they would.
There are many smartphones in the market, and as you would guess, graphic designers don't have one specific mobile model they prefer over the other. Probably the one you have can do the trick. Just know how to use it like a graphic designer.
5. External Hard Drive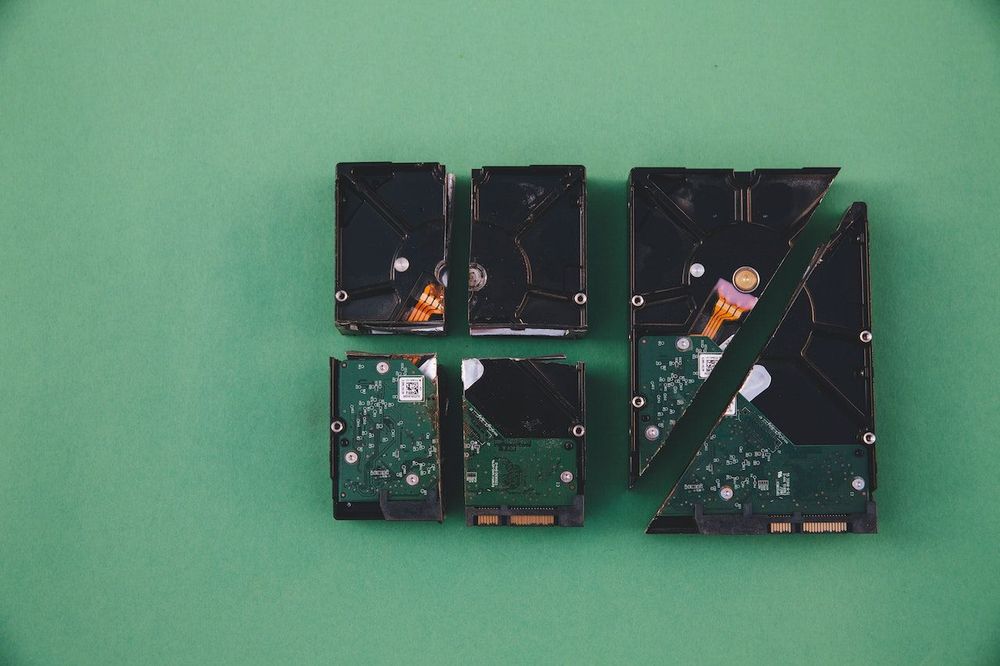 As you'll be working with many files, you should consider using high-capacity, portable storage devices to help you backup your projects.
The hard drive should be reliable, durable, energy-efficient, and super-fast in processing data which makes solid state drives (SSDs) a great option.
A storage device with one terabyte of storage is a great choice. Also, don't forget to buy a hard, shock-proof case to keep the hard drive safe.
Graphic design software tools
One of the most important parts of working as a graphic designer is using the best graphic design software to help you create spectacular custom designs. These types of software can elevate your work and make a significant difference between you and other graphic designers.
Graphic design software will give you control and the flexibility needed whether you're a total beginner or an experienced designer. And the best part is most of them have free trials; you can sign up to see how they work before committing. Here are the top graphic design software you should consider using.
6. Adobe Creative Cloud
Adobe Creative Cloud has Photoshop, InDesign, Illustrator, XD, Lightroom, and much more.
Adobe Creative Cloud is arguably the most popular software used by thousands, if not millions, of graphic designers all around the world.
Adobe Photoshop will help you create posters, banners, logos, websites, and much more. It'll also enable you to make edits, create naturalistic artwork, isolate elements in the background, and so much more.
Adobe Indesign can be used to design info sheets, magazines, books, posters, PDFs, brochures, and much more. The software can also be used to adjust the layout to customize text and graphics.
Adobe Illustrator is used for creating designs used for business cards, billboards, and 8k screens. The software is also used to draw, mix, and refine artwork, icons, posters, and more.
Adobe Creative Cloud has a $54.99 per month subscription plan billed monthly. It comes with all 20+ products, meaning you don't need to buy all of them. But since you're a graphic designer and you'll most likely work with clients requesting different designs, having an all-inclusive subscription is the best decision—if you can afford it.
7. Lunacy
Lunacy is free graphic design software for UI, UX, and web design. It was designed by designers for designers, and its main focus is to smoothen the workflow and minimize distractions.
The software can be used on Windows, macOS, and Linux.
Lunacy will give you access to thousands of icons, illustrations, and photos, saving you the time you would normally spend googling for graphics.
Two unique things about Lunacy—most of its features work offline, and the interface can be used in 21 languages.
The app is also AI-powered, which enables it to automate routine tasks such as background removal, image upscaling, text generation, and much more.
8. Placeit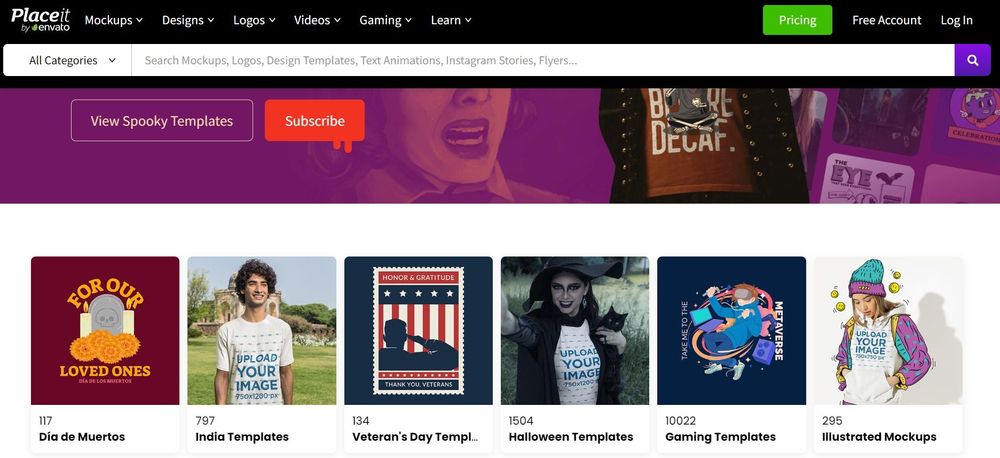 If you're looking for a platform where you can create all your branding designs, Placeit is a great tool! With more than 50K templates and a growing library of designs made by professionals each day, you can create eye-catching images. Make everything from logos and videos to your social campaign with branded images in minutes.
Just select your favorite video template, customize your text, change the color of backgrounds and shapes, and add your images or video clips.
All their videos are made by a professional team, so you can rely on them being eye-catching templates for your campaigns. Once you have customized your template, simply click the download button
9. Canva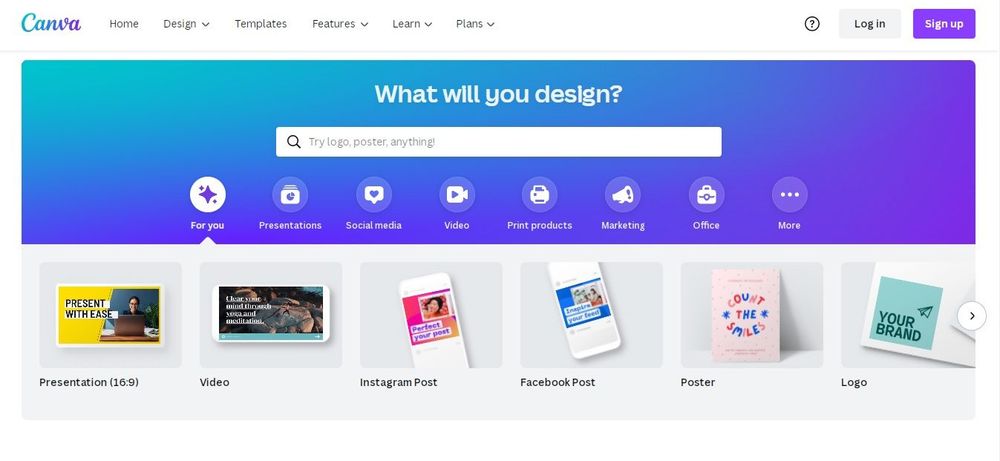 Canva is another great software program you'll want to check out. Most clients are familiar with it and may want you to use it for their designs.
Canva is a great option for digital designs such as online PDFs, social media graphics, virtual advertisements, and website logos.
It's also very easy to use—you don't need to be a pro graphic designer to use Canva.
It has a free version which you can use forever. However, their $12 subscription plan is quite worth it—you'll get access to their wide range of stock photos you can use for your design projects
10. CorelDRAW Graphics Suite 2021
CorelDRAW is used to create professional vector illustrations. It has several customization options that can be used for designing logos, web designs, and even print design graphics.
The software is powered by AI technology which enables users to LiveSketch. It also has Corel Photo Paint for photo editing and Corel Font Manager for font management. It also has CAPTURE, CorelDRAW.app, and AfterShot 3 HDR, all used to create awesome graphic designs.
The software has over 100 file formats, allows multi-page view and multi-asset export, and has flexible purchasing options.
Project management software
You'll need tools to help you plan, track, and manage projects effectively. You'll also need tools to help you communicate and collaborate with other designers, allowing you to accelerate your projects to meet your set goals. And that's where project management tools come in.
The following project management software is the best in the market right now.
11. Indy
Indy has all the tools you need to manage your business as a freelancer, including tools to help you send proposals, create and sign contracts, track billable hours, create and send invoices, and much more.
Using Indy will allow you to save time and money as you'll no longer need to subscribe to other project management tools. The platform gives you access to nine tools all in one place.
You'll also be able to organize your projects like a boss, all within Indy. For example, you can schedule meetings, manage project tasks, and keep tabs on your work with day, week, and month views. Indy's system will also link all your clients and their project information and give you updates at a glance.
In addition, you can manage each project's status, tasks, chat messages, and related documents from one dashboard.
See what other graphic designers say about Indy:
"It's my one-stop-shop for running my freelance business, and that makes me so happy because I was dipping my hand in so many different pots at one point; it gets frustrating and overwhelming. I just love how everything is in one place."
- Marissa Dougherty
Graphic Designer & Illustrator
12. Trello
Trello is another option that can be used to manage your workflow. The application allows you to create Kanban boards that can be used for tracking projects.
You can easily organize tasks using lists and cards. You can also customize your workflow as needed.
The best thing about Trello is that you can add as many team members as you want—even 2,000 if you want.
13. Asana
Asana works as a project management and file storage platform. It also allows collaborations and management of team projects.
It's easy to use Asana due to its simplistic layout. It allows you to choose your project view—roadmaps, boards, or timelines. You can also set milestones, create rules, and customize forms to submit work to clients.
The platform integrates with over 200 applications, including Dropbox, Slack, Outlook, Everhour, and Sharepoint, to ensure you communicate smoothly and have coordination within your team.
Cloud storage for all your design files
Most graphic design software, including those mentioned above, will save and store your projects within their application. However, you'll need another safe space to store your designs. You should save your designs at least one year after a client purchases them. This allows you to have a version you can always revise in case a client comes back and asks for some edits.
Saving your past work safely in a cloud allows you to access it anytime using any device when you want to share it with new clients. Additionally, it's also a great practice to collect all your clients' files in one place, making it easy to remember where you stored them.
A cloud storage device is the best place to store your files. It's safe, and you can access it anywhere. It's also cheap, and the chances of losing your files are slim to none.
Here are two cloud storage applications you should consider using as a freelance graphic designer.
14. Google Drive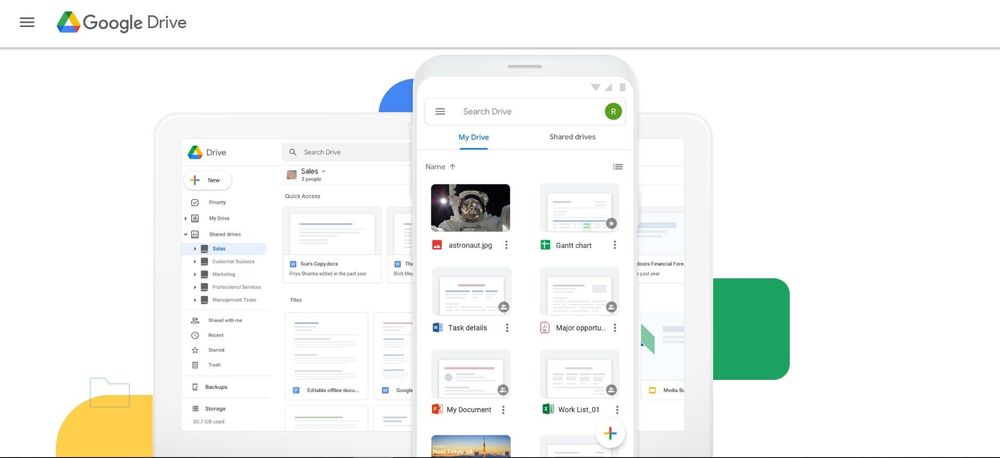 Google Drive has a paid version which comes with 100GB or more depending on what you plan to store. It also has a free version which works just fine.
The drive allows file management, backup, sharing, and storage.
Google Drive has an easy-to-use interface. It allows you to share files with a custom link and has SSL encryption.
It allows integrations with apps such as Slack, Trello, Evernote Business, and Hive, which expands its usage. Google Drive also lets you store files in more than 100 formats which is a plus for graphic designers who need to store different design files.
To access Google Drive, you only need a Google account which you can create using your Gmail account.
15. Dropbox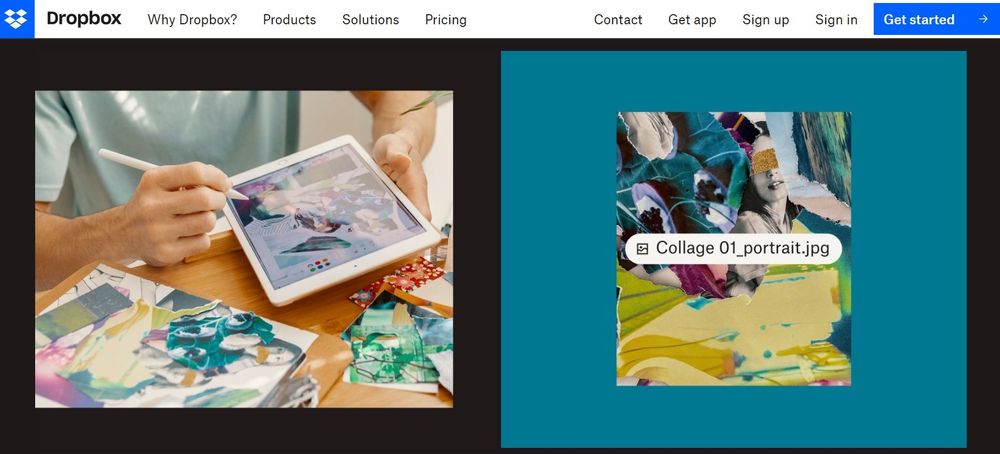 You can easily download Dropbox on your laptop to conveniently upload files when needed. It's like adding a folder saved somewhere in the clouds.
Dropbox will store, share, and back up all your files. It also allows restoration or recovery of data from deletion, unwanted edits, viruses, or hackers for up to 30 days.
Dropbox integrates with Adobe Creative Cloud, Zoom, Slack, and much more.
And just like Google Drive, Dropbox is safe and easy to use. You can also get away with their free version.
A plus for Dropbox is that its file organization is better, and the search function within the application makes it easy to locate your files.
Essential color tools
As a graphic designer, you're mostly working with colors to create graphics, and having tools to help you make things easier for you should be a priority.
The colors in your graphics are what will draw a viewer or client. It's what people will notice first and it helps strike an emotional connection.
According to research, colors can affect how customers interact with a business. It can increase a buyer's willingness to read a package by 80%.
Therefore, to be able to use this color psychology wisely and help your clients make sales, it's a no-brainer that you need to have tools to help you play around with colors.
Here are four tools to consider using.
16. Pantone Color Guides
Pantone will give you access to over 15,000 colors.
Pantone allows you to pick colors and save them in your palettes to use on all your projects. You can even use the matching system to extract any color you see in a digital file to identify the nearest Pantone color match to use.
With Pantone, you can share and collaborate with others to ensure everyone is working with the same color sample. And the best part is if you're using Adobe Creative Suite, you can use Pantone as an extension.
17. HueSnap
With HueSnap, you can take a photo of an object and extract its color from the image to use in your graphic designs.
HueSnap also allows you to create customized palettes and share your creations with others.
Very soon, HueSnap will be able to sync between devices, meaning you'll be able to access it on your computer, tablets, or mobile phones.
18. Color Hunt
Color Hunt allows you to search for already created color palettes. You can search for new color palettes, trendy colors, and most used color palettes, or just pick any random palette and test to see how it will work for you.
The tool also allows you to create your palette and share it with others. In addition, you can save any palette on the site as an image to your device. How cool is that?
19. Adobe Color CC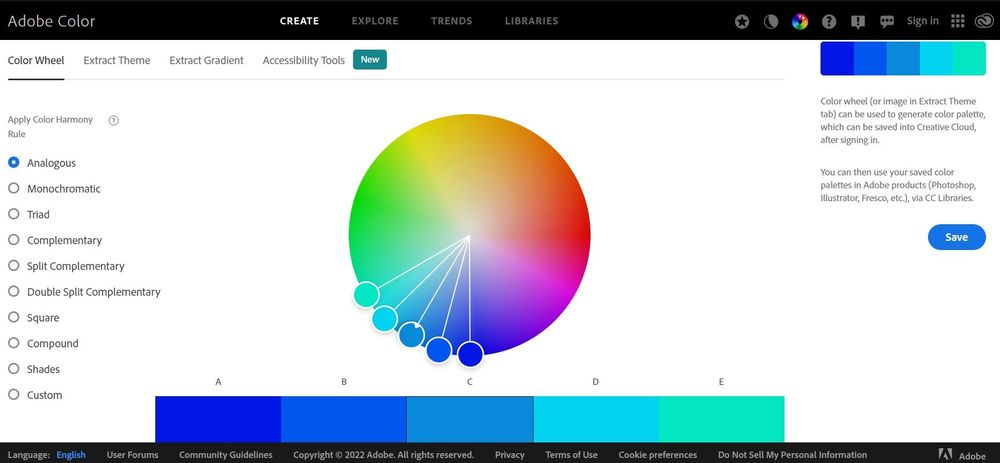 Adobe Color CC enables color extraction from an image. You can also easily create color palettes from the provided color wheels, or use your saved color themes from Adobe products.
The tool is user-friendly and can be used for easy customization. For example, it has safe themes for protanopia, deuteranopia, and tritanopia, which allow users to custom-make all-inclusive designs—bearing in mind that nearly 8% of the world population has color blindness.
And the best part is this tool is completely free to use.
Motivational tools for graphic designers
Working as a graphic designer will require consistency in your creativity. You'll need to be able to boost your mind with ideas that can help you stay sharp at work. The following tools can help push your design ideas to reality.
20. Momentum
As a graphic designer, you're always using the Internet, and you can use it more to your advantage by adding a Chrome extension that can help you stay inspired.
With Momentum, you can transform every tab you open into a beautiful image and a motivational quote. Just the perfect way to boost your Momentum and kick in some new ideas. The best part is that the tool is completely free!
21. Typeform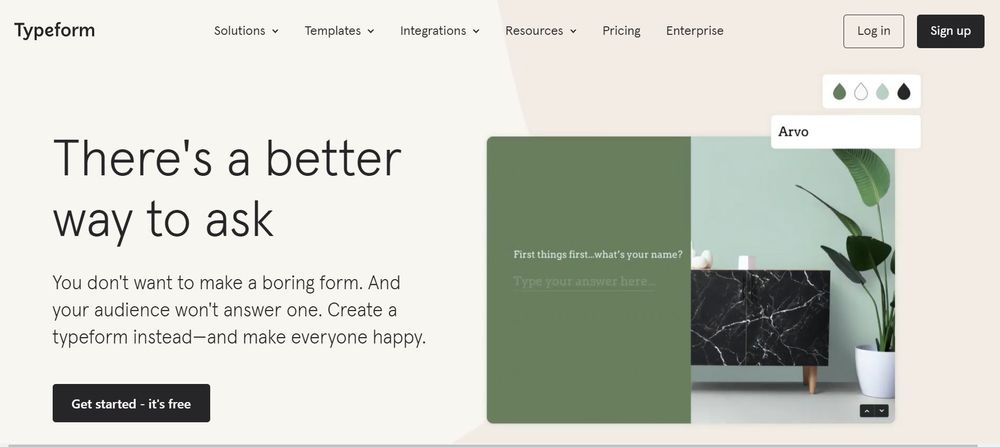 Honest and reliable feedback can greatly affect how you approach your work. It can help you see ideas you previously didn't see. It can also motivate you to continue doing better, pushing you to learn more ways to improve your craft. And what better way to ask for feedback other than using customized forms?
Typeform allows you to customize your questions to sound more like a conversation and less of an interrogation. You can even use photos and images to bring questions to life.
The tool can integrate with Google Analytics, Slack, Canvas, Microsoft Team, and many more applications, which make your feedback collection workflow super smooth.
22. Freedom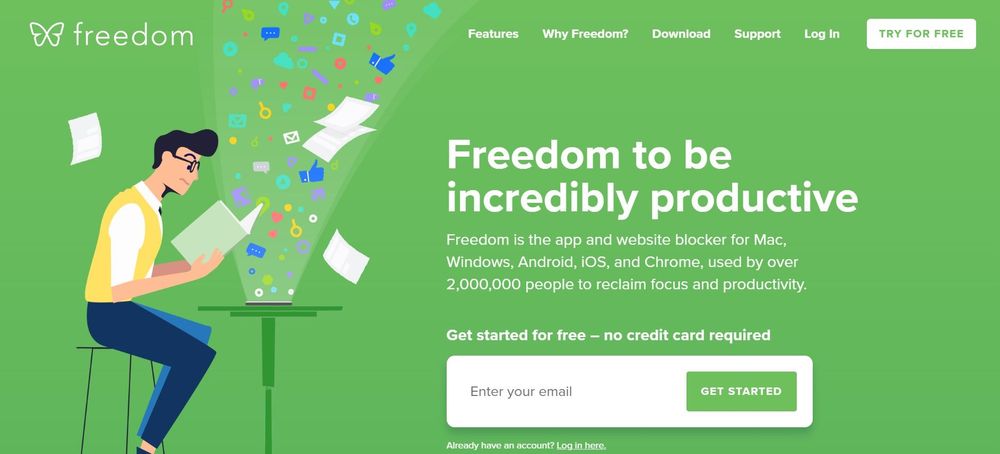 Freedom allows you to block sites and apps that you know will distract you while working. Freedom gives you a sense of control, especially if you can't spend an hour without checking your socials.
It allows you to reclaim your focus and productivity, which can motivate you to get the larger part of your to-do list done before you jump to the couch and start checking your Facebook or TikTok.
The best part about Freedom is that it can sync with all devices and works across Mac, Windows, Android, iOS, and Chrome. You also get to choose what to block and when to block it.
Portfolio service tools
To be able to showcase your creations to clients, you'll need to create a portfolio. A portfolio will help you make your pitch to employers solid. It'll prove you have the needed skills to get work done.
If you're a beginner and don't have anything to put on your portfolio, you can always reach out to charities and small businesses and request to create graphics for them for free. If they like it, they can keep it, and you can use it for your portfolio.
Here are some of the best tools graphic designers can use to create portfolios.
23. Adobe Portfolio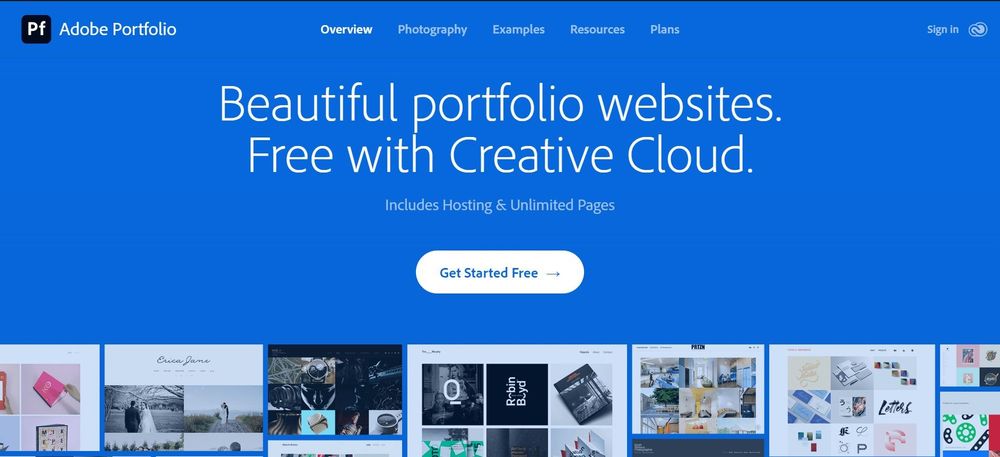 Adobe Portfolio is free when purchased as part of the Adobe Creative Cloud plan. But it has a stand-alone plan that goes for $9.99 per month.
The tool allows you to create your own full or single-page independent portfolio website. The website will have your collection of work and a contact page which you can modify as needed.
Adobe Portfolio has cool features such as personalized URLs, lightroom photos, photo grids, and password protection.
24. Behance Portfolio
Behance is also incorporated into Adobe Creative Cloud but can also be used as a stand-alone application. The portfolio will allow you to share your work-in-progress as well as finished projects, even when you're offline.
With Behance, you can view what other graphic designers have in their portfolios. You can sort by most viewed, most discussed, most recommended, or even filter by date. This great feature can help you get an idea of what to put on your portfolio in case you're stuck.
Behance also allows you to email other designers for collaboration if you like their work.
And the best part is that you'll get access to job postings in Behance, and it's also completely free to use it.
25. Wix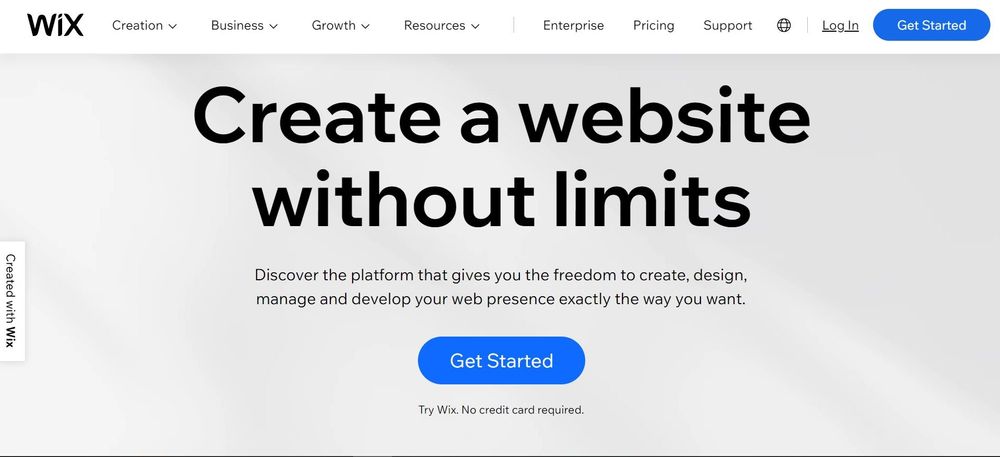 Wix is generally used for creating websites but can also be used to create customized portfolios.
It's quite easy to create a portfolio with Wix. The platform uses drag-and-drop editing tools, which let you customize your portfolio in whichever way you want.
First, you'll need to find yourself a domain name and choose a website builder to be able to use Wix. Once you have these two tools, you can go ahead and customize and publish your work. The application has over 40 templates specifically built for portfolios.
26. Squarespace
Squarespace, just like Wix, isn't specifically meant for portfolios—it's a general website-building service. But it does a great job creating online portfolios. It offers one of the best ways to present a portfolio professionally.
Squarespace has elegant themes, unique layouts, and effective functionalities, which makes it easy to navigate through the portfolio.
It allows you to build a portfolio website with a work page, a contact me page, and the about me page where you can write your bio, your story, or even share your CV.
Squarespace will also give access to their email campaign as well as the liberty to add social media integrations to grow your following.
Additionally, Squarespace makes it quite easy to customize your portfolio. It gives you full control over blank and pre-built sections, texts, imagery, and videos.
27. Dunked

Dunked is another great portfolio builder used by many creatives. It uses a drag-and-drop interface and comes with elegant, responsive themes.
The application allows full customization of your portfolio, it integrates with Vimeo, YouTube, Flickr, and SoundCloud, and you can even create a custom URL to share with clients.
28. Fabrik
Fabrik has a drag-and-drop interface. It also has beautiful responsive themes, and it integrates with YouTube, Vimeo, Slate, Soundcloud, and Google Analytics.
With Fabrik, you can easily switch layouts without affecting your projects. The application also promises to load your images fast and give them a full resolution to any viewer on any device. This is a plus for graphic designers as you probably have several images you want to share on your portfolio—and in the best way possible.
29. Morpholio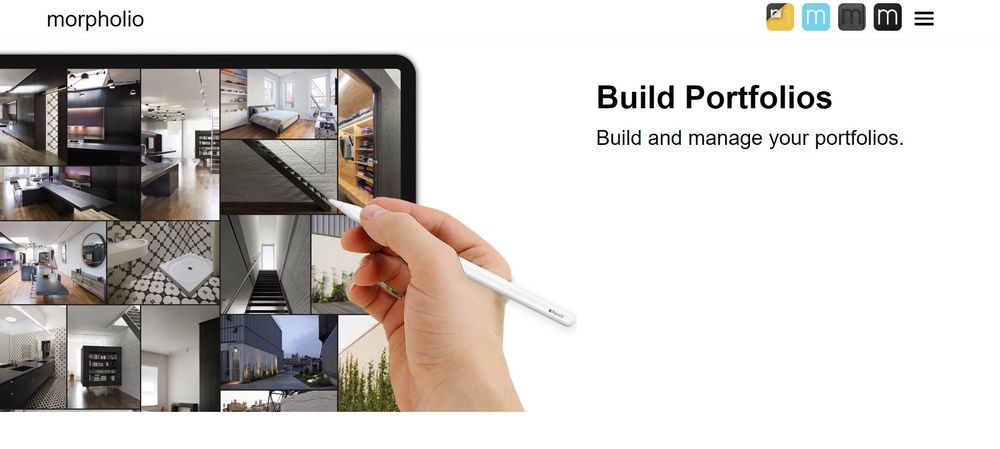 If you already have a portfolio and would want some extra pairs of eyes on it, Morpholio is a great place to start. Morpholio will let you upload your collection of work and have other creatives critique your designs.
You can also use the platform to discuss work or ideas in private or public forums.
However, if you would rather keep your work to yourself, you can still use the platform to build and manage your portfolio.
The application recently added the Morpholio Board, Morpholio Trace, and Morpholio Journal, all meant to improve your experiences.
Training courses for graphic design
The field of graphic design keeps changing due to the developing technology and market shifts. What may seem standard today may be outdated tomorrow. This means, as a graphic designer, you need to always learn new tricks that can help you improve your craft. This way, your designs will always be relevant and meaningful to your audience at all times.
Here are courses that can help you sharpen your skills.
30. Skillshare
Skillshare is one of the best places to get tons of new ideas and skills, whether you're just starting as a graphic designer or have been in the field for decades.
The platform offers several graphic design classes from industry top leaders and professional teachers. And the best part is, you can get a glimpse of what will be taught before joining a class.
You can view how long classes will take, the level of student to enroll (beginner, Intermediate, or expert), and even access class ratings.
Whether you want to learn or improve on vector graphics, Adobe Photoshop, 3D design, 3D modeling, topography, or illustrations, you'll find classes for all that on Skillshare.
Skillshare offers a seven-day free trial which allows users to get access to unlimited classes. After the free trial, you'll need to pay a monthly subscription of $13.
31. GoSkills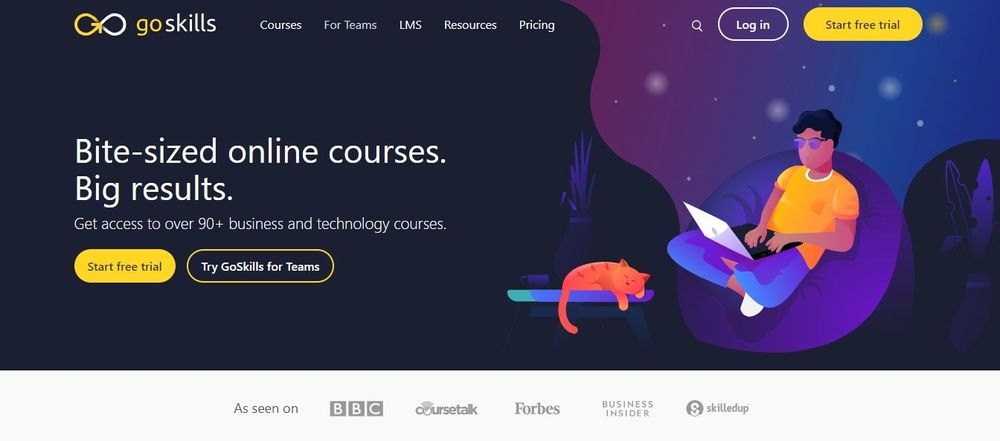 GoSkills has courses for photoshop and illustrations, both for beginners and advanced levels. Their training will teach you to create graphics, design vector art, retouch photos, and make animations.
You will also get an overview of the syllabus before enrolling and even get access to the course ratings. The courses have unlimited tests and quizzes, and at the end of the classes, you get a certificate which you can use on your portfolio to show clients your skills are certified!
GoSkills has a seven-day free trial where they offer unlimited access to all courses, among other perks. They also have a $29 monthly subscription as well as plans for teams (2–50 and 50+ people plans) which are billed depending on the number of learners.
32. Udemy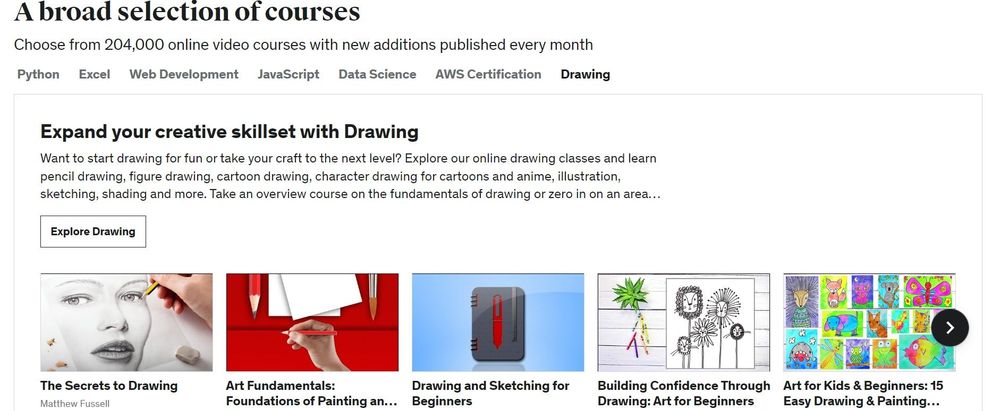 Udemy has quite a number of courses on graphic design offered by industry experts. You'll find courses both for beginners and advanced levels.
You'll also get to preview the course before purchase, check the course ratings, and learn a thing or two about the creator of the course.
With Udemy, you don't need a subscription plan. Just key in your name, email, and billing address to checkout.
Resource tools
As a graphic designer, you definitely have an eye for graphic arts, which can also mean you'll, in most cases, need inspiration. You may get it from the immediate environment, but at times you'll need to seek it elsewhere.
There are design-focused websites that help you stay motivated and fill up those creative juices in you.
Some of the websites that should be on your list of resources include:
33. Behance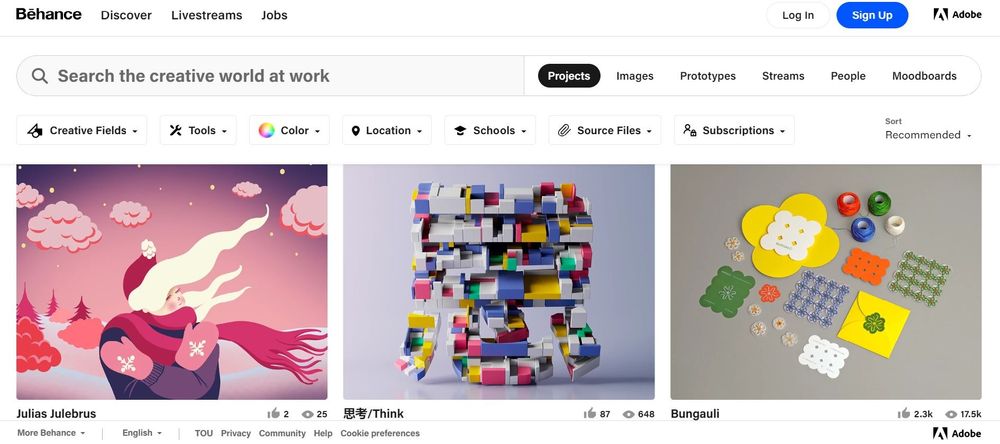 We discussed Behance as a portfolio tool, but the platform can also be used as a resource tool. Behance allows you to check out thousands of other creative works. You can follow fellow designers, like their work, and even comment.
The platform has millions of users and over 60 million page views per month, meaning it has a lot to offer.
34. Abduzeedo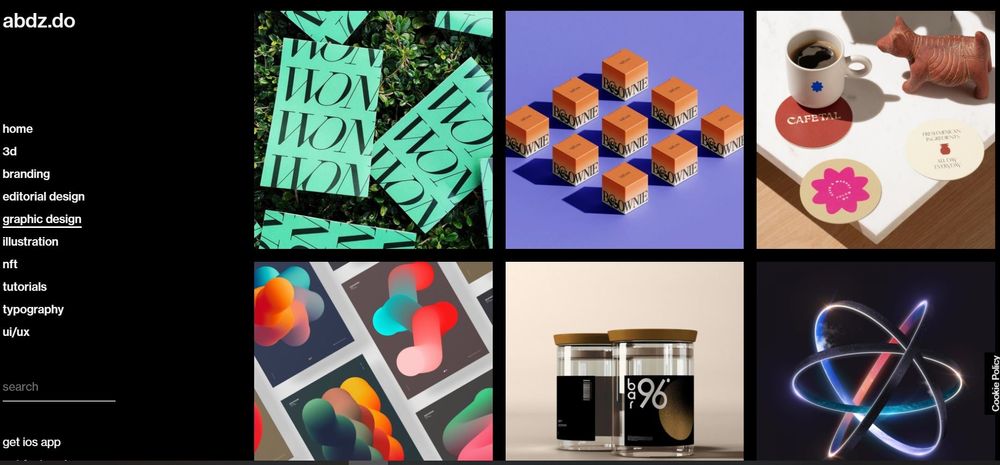 Abduzeedo has individual writers that share articles about design, photography, and UX. It also has some tutorials on photoshop and other graphic design tools.
The website also shares daily inspiration graphics, and you can search for whatever you want using their search functionality.
35. Dribble
Dribble is an online community used by designers to showcase their artwork. It operates on only-invite membership to ensure the quality of designs shared is from skilled designers and not just from a random person. Members are given a handful of invites to freely share with other designers.
36.Envato Elements
Envato Elements is a great resource if you're looking for templates and design assets for your creative projects. The subscription-based service gives you access to an unlimited library to choose from, including videos, graphics, presentations, website templates, stock videos, and WordPress themes.
Your subscription entitles you to unlimited downloads and is charged monthly and in advance, starting from the date you subscribe. If you decide so, you can cancel anytime but must have an active subscription to use the downloaded items.
Envato Elements offers millions of world-class templates and creative assets to make your design workflow more effective.
Final thoughts
Working as a freelance graphic designer may be your dream. Maybe you're just beginning your career journey, or maybe you're already living the dream.
No matter where you are, the one thing that will remain constant is your skills. Your graphic design skill is what will speak for you. It will differentiate you from other creatives and set you up for high-paying gigs.
But there's a caveat. You need tools to use your skills. Tools will help you learn new ideas and improve on what you already know. Tools will help you manage your projects and keep you motivated whenever you need inspiration.
You don't have to use all the tools mentioned above. You just need to pick one tool from each category and test how they work. For example, for project management, you can pick Indy as it has all the productivity tools you need to manage your freelance work like a pro. From proposals to task management to invoices. Get started today for free!