Short-form videos like Instagram Reels are an opportunity for designers and creatives everywhere! Such a visual profession translates easily to video, meaning you have plenty of options when it comes to Reels. With just a few informative, entertaining, or funny videos about design and your process, you could be raking in the views - and, if you're lucky, new clients!
What are Instagram Reels?
Instagram Reels are the social media giant's answer to vertical and mobile video. Basically, Instagram's way of competing with TikTok. Using Reels, you can share videos with a whole new audience on the social network. Reels can be up to 90 seconds, allowing you to show a lot of different things depending on what you want to share.
There are two key ways to do this:
Share a reel to your feed, just like any other photo or video post.
Share a reel, but don't post it to your feed. This helps you reach a whole new audience through Instagram's algorithm and recommendations.
Similar to TikTok, Instagram is experimenting more and more with recommended content, essentially trying to emulate the For You Page. On TikTok, when you open up the For You Page and scroll down, you'll see a new TikTok recommended to you based on your usage of the app. Basically, the algorithm shows you what it thinks you'll engage with the most.
With Instagram Reels, sharing the reel without posting to your feed has a similar effect, and you can reach a massive audience. As a creative person, it shouldn't be hard to come up with some fun ideas to take advantage of Instagram Reels. But if you still need some inspiration, then you've come to the right place.
In this article, we'll be sharing six ways that designers can use Instagram Reels to show off their talents. This is an easy way you can organically reach more people who may hire you, so don't ignore it!
1. Create a time-lapse of your process
Everyone loves a good design, but many people may not know just how much work goes into creating a beautiful logo or digital painting. When working, just screen-record your process and edit it into a short time-lapse. Add some catchy copyright-free music to make it more interesting for people listening with their volume on.
If you want to go the extra mile, you can add subtitles explaining the steps as you go through them. Time-lapse videos work really well at bringing viewers in, and they're also not very hard to make. So if you're looking for an easy place to start with Reels or any short-form vertical videos, try filming some time-lapses to see how they perform.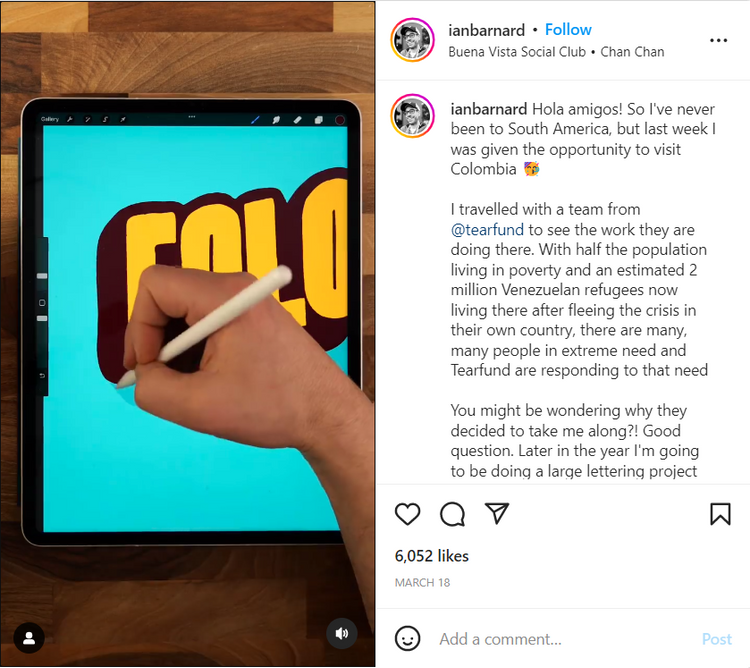 Source: @ianbarnard
2. Post a personal message
Show the face behind the designs! While the quality and style of your designs are a big selling point for you, clients also want to know what kind of person you are and how you communicate. Show a bit of your personality, as well as your face. You can show off your workspace, give a peek into your personal life, or just record a thank-you message for your followers.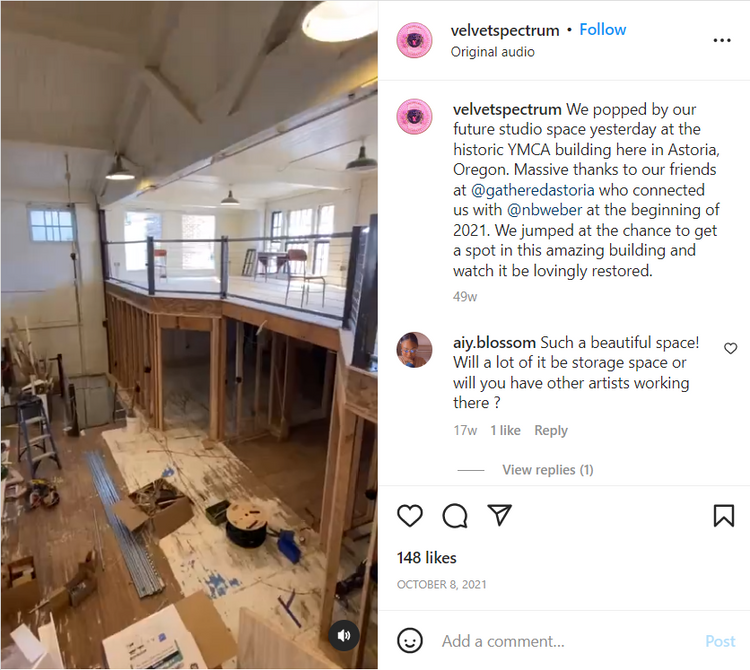 Source: @velvetspectrum
3. From sketch to final product
It's always fun to see how an idea started. Whether you sketched out the design, took inspiration from several existing pieces, or just had a list of ideas, the final design had to begin somewhere. This before and after can be fascinating to other designers, as well as non-designers. They'll be blown away by how you took an idea from concept to reality! If you have the client's permission, you can also show how you took a client concept or old design and turned it into something incredible.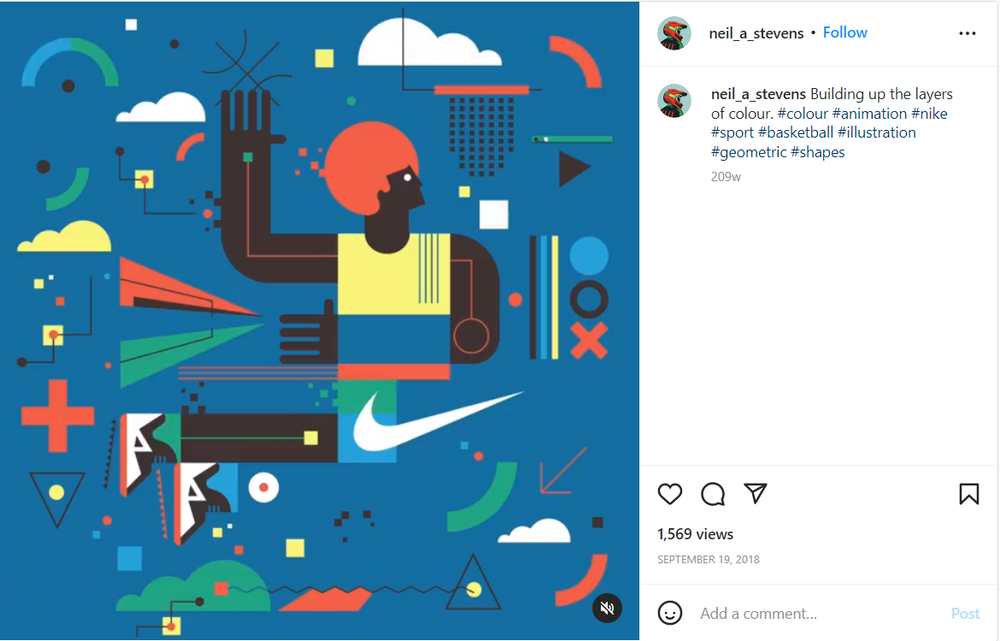 Source: @neil_a_stevens
4. Make viewers laugh
Plenty of Instagram Reels viewers are looking for comedy. Show your funny side by highlighting hilariously bad designs, design fails, and design tropes like overused fonts. They're easy to find in the wild, but you can get a mountain of content from the r/CrappyDesign Reddit community. Just highlighting the funny aspects of design fails would be entertaining content. You can add even more value by also mentioning how you would improve the designs as well as the mistakes you found. People want to be happy and laugh, so give them a break from their work day with a funny reel that is sure to cheer someone up.
5. Showcase your portfolio
Non-designers love to see awesome designs and compliment you on them. Meanwhile, potential clients would love to see your best work. Try to use Instagram Reels as a killer portfolio, showcasing multiple pieces in a single video. Just make sure to sprinkle these in among educational or entertaining content. No one likes someone who only self-promotes, so don't overdo it.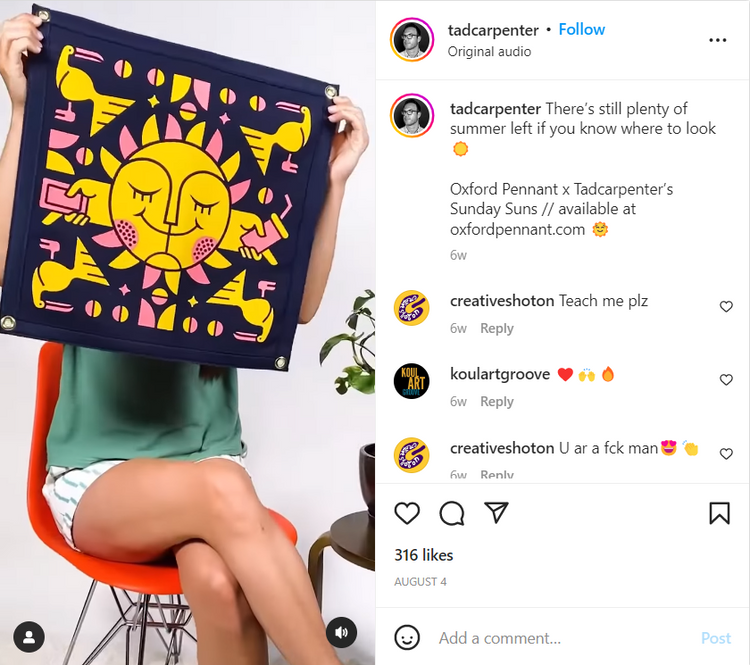 Source: @tadcarpenter
6. Graphic design education
Graphic design may be your bread and butter, but others are still learning! Help your followers unlock the mysteries of graphic design with Instagram Reels that educate and inform. You should certainly keep some secrets, but there are plenty of little tips and tricks that can fit into a short Reel. Create Reels defining graphic design terms, showing off shortcuts in design programs, or even tips on landing clients! The options are practically limitless and will grant you a lot of goodwill for sharing with the community.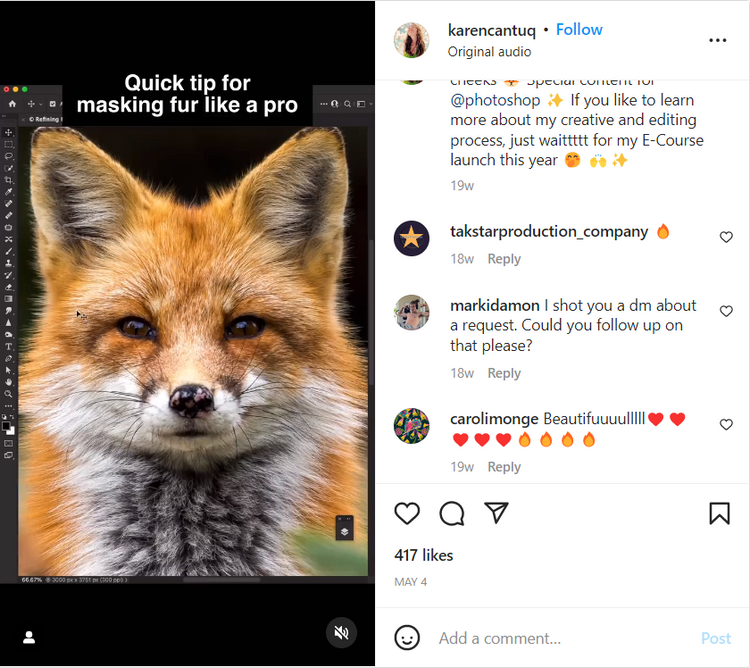 Source: @karencantuq
What are some of the benefits of using Reels for freelance designers?
Reels are Instagram's fastest-growing feature worldwide, attracting a much larger audience in different regions like India and Asia. There are a lot of benefits to using reels, especially for creative entrepreneurs like designers, photographers, and UI/UX freelancers. You have the opportunity to show people your expertise, take them along for the ride, and give them an exclusive look at what your work/life really looks like.
Here are the top five benefits for freelance designers when using Instagram Reels:
Reach a new audience that isn't already following you.
Show off behind-the-scenes videos of your work to help people see all that goes into your finished products.
Grow your following steadily and increase the value of your work.
Build a video portfolio of your work to attract new clients who may respond better to visuals than a website portfolio.
Get brand deals and other benefits from growing your influence as a freelance designer.
Conclusion
In conclusion, Reels are a great way to reach more customers and build your audience as a graphic designer. There are a ton of options for you, including these six easy ideas to get started.
Looking for tools to help with your freelance design career? Indy has plenty! Check out our tools for Proposals, Contracts, and Invoices to help you manage all the new clients you get from your Reels.