When it comes to marketing strategies, email is one of the most affordable options for freelancers. U.S. companies can expect a return on investment (ROI) of 4,300% or more from their email marketing campaigns, according to the Direct Marketing Association. This is because email marketing is straightforward to execute, lets you stay in charge, and promotes personal interaction with your customers.
In this article, we're going to show you how effective email marketing can be, some email marketing platforms you can use, and some ways automated workflows can make email marketing as simple as possible for you.
Why should anyone use email marketing services?
Skeptical about the effectiveness of email marketing? Here are six of the most compelling arguments I've seen in favor of growing your email list.
Email goes directly to the person. Email reaches a user's mailbox. You aren't competing with others just to be seen.
Email is purposeful. A person signs up for your email list and confirms their email to receive updates. They want to hear your message.
Targeted email. The customer already likes your product or content. This makes it easy to target them with relevant offers.
Email list ownership. Facebook, Twitter, and Google aren't yours. Changes to social media and SEO regulations might ruin your campaigns. You control your email list, therefore it's not affected by other companies' actions.
Email can build trust. You can build trust with people through email because they can ask questions or respond privately. Email is essentially private.
People check email really often. Facebook has 1.4 billion daily users, while Twitter has 100 million. You may not know how many people use email daily, but the estimates are close to 3.8 billion.
Every internet user has an email. Smart businesses have email lists for this reason. Big businesses understood this lesson long ago; therefore, they spend millions on social media campaigns to build their email address lists.
Email marketing is the ideal long-term strategy with a better return since people will keep getting your message at a cheap cost for a long time.
Because they are in charge of ensuring that your emails really get sent, the email marketing software you pick will have a significant impact on the success of your email marketing campaign.
If you aren't attentive, you might waste a lot of money on poor email deliverability and fewer marketing tools (which causes you to lose even more money).
Why you should automate email marketing platforms
We've made a strong case for using an email marketing service. They are just too valuable to ignore. However, they can also become a big time sink. Without some form of marketing automation, you can get lost in all the tasks there are to do.
When it comes to digital marketing, automation software is what makes tasks like sending emails, posting on social media, writing blog articles, and updating web pages much less time-consuming and far more manageable. Thus, marketing automation software makes it possible for smart, innovative efforts to yield positive outcomes.
Here are some of the benefits of automated email marketing tools:
Campaigns may be arranged in advance, freeing up time that can be used toward other tasks. While this may be accomplished on other channels, a marketing automation platform's ability to schedule content tailored to certain demographics is a significant advantage.
Automation in marketing reduces the amount of time spent on mundane chores, allowing your team to focus on more strategic initiatives.
The ability to make each customer's experience special and distinctive may greatly improve retention rates and revenue.
Manage your marketing campaigns across several channels from a single interface with multi-channel campaign management.
The continuity of your brand's voice can be ensured by a coordinated set of marketing efforts.
Increased return on investment (ROI) due to more effective use of marketing funds by narrowing in on the ideal audience.
Now that we know how valuable marketing and automation are together, it's time to find the best email marketing tool for your needs.
8 best email marketing services and marketing automation tips for each one
When you are putting together your email marketing strategy, you should consider which platform is going to match your efforts. You might want to consider how well it integrates with SMS marketing, multiple landing pages, and email templates.
Let's take a look at ten of them and see how they can help your business.
1. Constant Contact
For the vast majority of people, we advise using Constant Contact. Email marketing veterans will quickly see the time savings that Constant Contact can provide to their team, while newcomers will appreciate the extensive and straightforward toolbox that Constant Contact provides.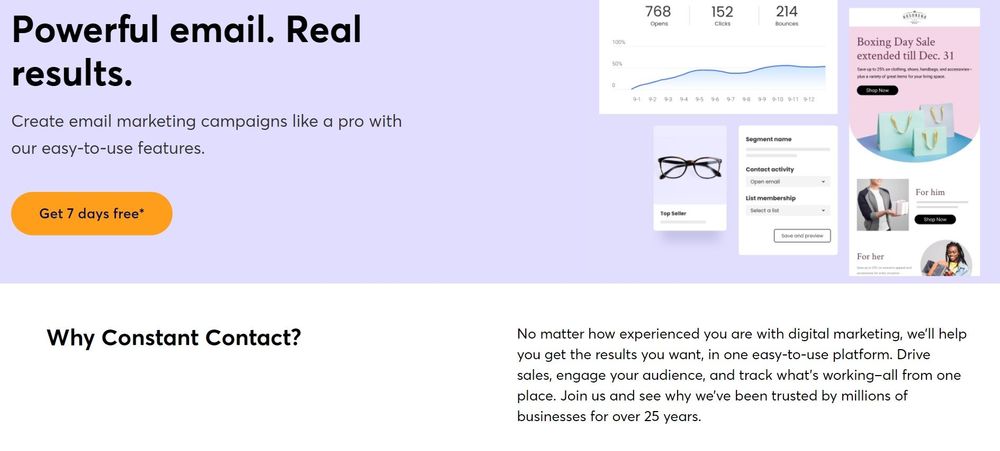 And don't bother worrying about learning email layout. Their drag-and-drop email builder makes it simple to create fresh emails that are both visually appealing and consistent with your brand's aesthetic, with no coding experience required. Including things like text, photographs, videos, discounts, polls, and events in a message is easy.
It's an extremely user-friendly system to put your skills to use on. Even non-technical people will soon be able to create professional-looking newsletters. The number of available, pre-made, mobile-friendly templates exceeds one hundred.
Constant Contact also has the added bonus of being automated. You can put a lot of the grunt work on autopilot. New subscribers may automatically get a welcome message, and you can tailor your drip marketing campaigns to each individual's behavior.
You can be certain that Constant Contact is tracking your campaign's success in real time from the moment you push send. Each subscriber's statistics, from open rates to click-through rates, will be displayed for your perusal.
This is crucial, as it will show you which tactics are successful and which ones should be placed on hold.
The email marketing platform Constant Contact has transparent pricing. You may choose from two different plans: Core and Plus.
Your fee will depend on the size of your mailing list, as is the case with most email marketing services. In both packages, you may send as many messages as you want.
Some examples of plan costs are as follows:
Core
From $9.99 per month for up to 500 subscribers
Beginning at $35/month for 501-2,500 Subscribers
Starting at $55/month for 2,501-5,000 Subscribers
From $80/mo. for 5,001-10,000 subscribers
Plus
From $45 per month for up to 500 subscribers
Beginning at $70/month for 501-2,500 Subscribers
Starting at $95/month for 2,501-5,000 subscribers
Pricing begins at $125/month for 5,001-10,000 subscribers.
Both packages include price levels that work up to a maximum of 50,000 users.
The lower package is sufficient for professional and basic email needs. But for those of you who want to get the most out of your email campaigns, we highly recommend Email Plus.
Some of the more sophisticated capabilities of this plan include A/B testing for subject lines, dynamic content, and automated behavioral marketing. Coupons, surveys, polls, and polling data are all tailored to your specific interests and needs.
How to automate Constant Contact with Zapier:
Constant Contact is a solid email marketing solution, and it gets even better with Zapier's automation. Here are some of the things you can do with these two together.
Constant Contact row from Google Sheets - Make use of Zapier's automation to easily incorporate contact information from your database into your marketing efforts. New rows added to a Google Sheet will be automatically added as contacts in Constant Contact, thanks to the two services' seamless connectivity. Streamline your marketing efforts and start interacting with your new consumers right away.
Constant Contact integrates with Google Contacts - Use a merged consumer list to send out timely promos and alerts. Make use of this automation, and whenever you add a new contact in Google Contacts, Zapier will automatically connect them to Constant Contact. Sending out email newsletters to all of your subscribers is a breeze with this automation.
Register fresh leads from Facebook Ads as contacts in Constant Contact - You don't have to wait to export that user data; you can utilize it as soon as it's submitted. By establishing this connection between your Facebook Lead Ads and Constant Contact, it will handle the creation of a new contact in Constant Contact for each new lead who responds to your Facebook Lead Ads.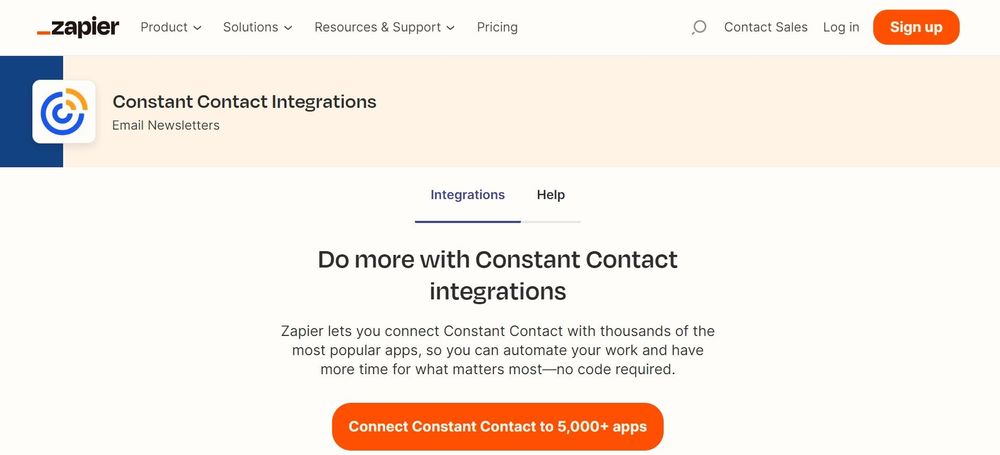 There are many more advanced automation features you can set up. This makes Constant Contact and Zapier one of the best email marketing solutions for freelancers and small businesses.
2. MailerLite
To get the job done with little fuss, MailerLite has everything you need. Trying it out is risk-free since it's free for the first 1,000 members.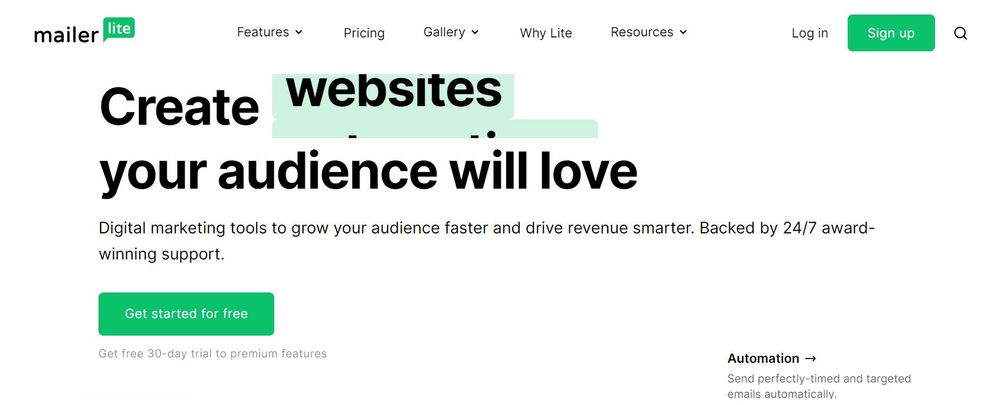 For those seeking an easy-to-use email marketing solution, this is a fantastic choice. Those extra features might not be necessary for you since you're a creative person who might not need all of them to get started. Your newsletter or campaign can get off the ground with only the necessary tools.
The benefits extend to group efforts as well. Since no one would be scared away by this simple system, its essential functions can be used by any user.
You are not completely shut out of the platform, since there are still options for automation, landing pages, pop-ups, and surveys. The user interfaces, however, are uniformly minimal and uncomplicated.
With MailerLite's drag-and-drop editor, even the most inexperienced user can produce a professional-looking email in minutes. You may improve personalization by using subscriber segments and deploying A/B testing to fine-tune your ads.
If you're looking for cheap, straightforward email software, we suggest giving MailerLite a try.
MailerLite's pricing structure is as follows:
Up to 1,000 subscribers — $10 per month
1,001 – 2,500 subscribers — $15 per month
2,501 – 5,000 subscribers — $30 per month
5,001 – 10,000 subscribers — $50 per month
10,001 – 15,000 subscribers — $75 per month
15,001 – 20,000 subscribers — $100 per month
20,001 – 25,000 subscribers — $120 per month
25,001 – 30,000 subscribers — $140 per month
The price levels keep going up by about $20 to $40 for every 10,000 subscribers. If you sign up for MailerLite's annual billing, you can save 30%. This makes it among the cheaper alternatives on our list.
A free plan is available for up to 1,000 subscribers, however, only 12,000 emails may be sent out each month. In most cases, the cost of the premium plan is less than that of competing email marketing solutions.
How to automate MailerLite with Zapier:
With no coding experience necessary, you can use Zapier to integrate MailerLite with hundreds of other services. This will allow you to save time to focus on what really matters.
You may import new Mailchimp subscribers into MailerLite - Intent on making sure both MailChimp and MailerLite have access to the same contact lists? Once this Zap is set up, adding those subscribers will only need to be done once. Every time a new subscriber is added to Mailchimp, a matching subscriber will be added in MailerLite immediately.
Add Shopify users to MailerLite mailing lists - Maintaining contact with your customers is a breeze. When a sale is made via your Shopify store, clients will be added to a mailing list in MailerLite automatically.
Subscribers for new Stripe payments can be created or edited in MailerLite - Easily prepare sales follow-up processes using this Zap. After you activate this connection, every time a payment is made in Stripe, a new subscriber is created in MailerLite, or an existing one is updated.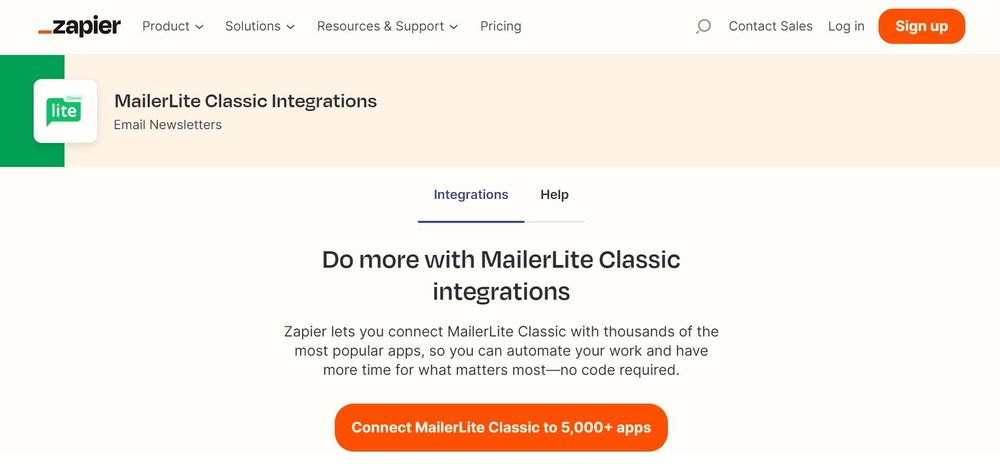 You can automate many more complex tasks if you want. In this way, MailerLite and Zapier are some of the most effective email marketing tools for freelancers and small firms.
3. HubSpot
For every organization, HubSpot's email marketing service is an excellent choice since they are the undisputed leader in marketing automation.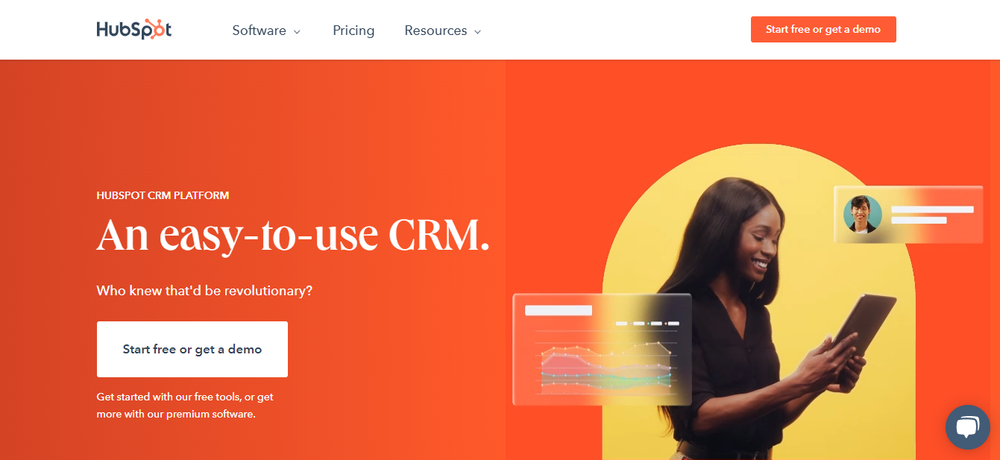 Without the help of designers or IT staff, you can quickly and simply generate, customize, and optimize your emails using Hubspot's service.
The software's strengths lie in the kind of automation it provides for routine tasks. As a result, you can simply turn leads into buyers by using triggers for your email subscribers (or whatever else you want them to do).
You may send them along multiple paths in your email campaign based on the choices customers make.
When it comes to marketing tools, Hubspot is like a Swiss Army knife, with the email marketing service being just one of several. It may function alone or in conjunction with their other products like the Marketing Hub and their CRM. Utilizing both of these tools together can greatly enhance the effectiveness of your email marketing strategy.
Hubspot also provides a large number of ready-made email templates to help you achieve your goals. Emails of professional quality may be made quickly and easily, no coding or programming skills required, using their drag-and-drop builder.
HubSpot is user-friendly and flexible, allowing you to adjust the look and feel of your site, integrate calls to action and graphics, and adjust text and background colors to reflect your company's identity.
You may easily increase your email's open and click-through rates by making use of their sophisticated personalization options. Using the subscriber's contact information, you may send them emails with customized subject lines, content, links, attachments, and calls to action.
The technology they use for A/B testing is excellent. After sending out a batch of emails, use this tool and investigate the comprehensive statistics to see which ones were most successful and why.
Take use of this information to fine-tune your email subject lines, content, and calls-to-action in order to boost conversions and revenue. It may also be used in tandem with opt-in forms and landing pages to provide a more precise measure of the value of email marketing efforts.
Up to 2,000 emails may be sent each month for free using the HubSpot email tool, with subscription options beginning at $50/month.
HubSpot is a free service that allows you to compose and send emails that look great on any device, thanks to its responsive design. Once your business grows, the value of the HubSpot plan will be clear.
How to automate HubSpot with Zapier:
In order to save time and focus on what really matters, you can automate repetitive tasks by linking HubSpot with hundreds of other popular applications with Zapier.
Lead replies from Facebook Lead Ads can be imported directly into HubSpot - The targeted nature of Facebook Lead Ads makes them an excellent tool for boosting form submissions. But once the leads are on Facebook, it might be difficult to manage them since you can't take any action. With this Zapier connection setup, any new Facebook Lead Ads entries will be uploaded to HubSpot as a form submission.
MailChimp users may be edited or imported into HubSpot - If you use Mailchimp and HubSpot together, you won't have to worry about keeping track of new subscribers on both platforms separately. After a new subscriber is added to MailChimp, Zapier will either add them as a contact in HubSpot or update any existing contacts.
Create HubSpot contacts from new Shopify buyers - This Zapier integration will help you centralize your client data so that you can conveniently manage your customer support. After you connect your Shopify and HubSpot accounts, any new Shopify customers will automatically be added as HubSpot contacts.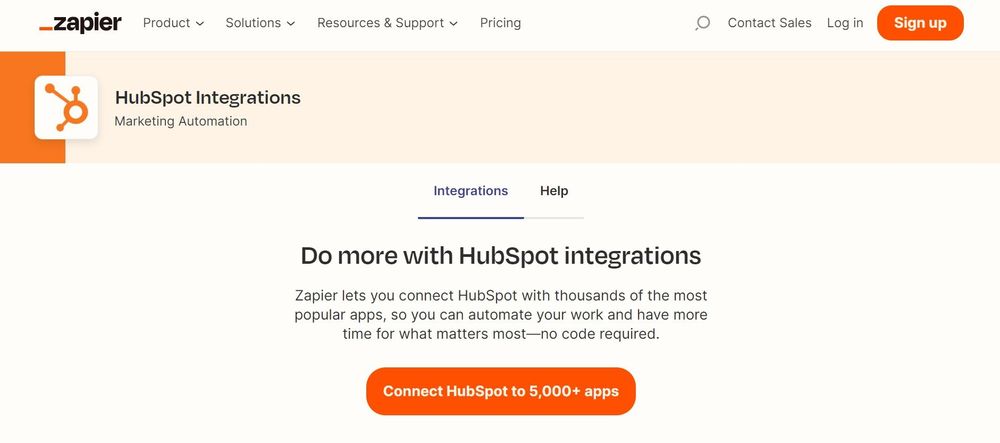 HubSpot is regarded as the best email marketing software by many people. By connecting this leading email marketing system with Zapier, you can get more accomplished with less effort.
4. SendinBlue
SendinBlue is an all-in-one solution for SMS and email marketing that is ideal for enterprises. They are rapidly becoming one of Europe's most popular email marketing tools.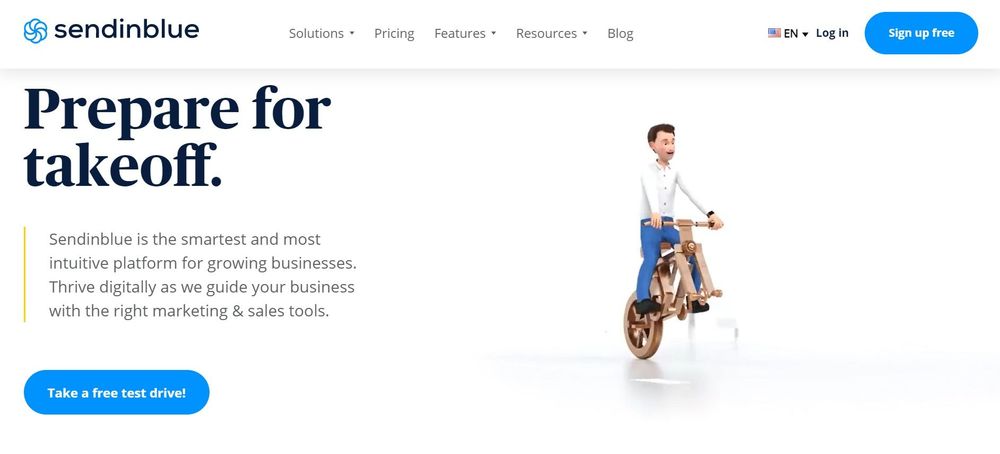 Create stunning, attention-grabbing emails with ease with the user-friendly platform's powerful editor. Their drag-and-drop email editor makes email marketing easy, even for those with no prior knowledge.
SendinBlue's marketing automation features make it easy to send transactional emails, set up processes for sending automated follow-up messages, and divide your user base into specific target groups. As an added bonus, it can use its AI algorithms to determine when is the optimal moment to send a large number of emails at once, optimizing both their send time and their chances of actually being received.
You may use SendinBlue's email marketing platform for free, and they'll let you have as many subscribers as you want. With their free plan, you may send up to 300 emails every day, but they'll all have their logo.
The Lite plan costs $25 USD per month. You may also add SMS to your account, albeit the cost will change depending on how often you send.
Landing page creation, real-time customer service, a customer relationship management system, and Facebook ad integration are just some of the latest upgrades made to their Premium plan. To put it another way, this implies customers are getting a greater benefit at the same cost.
For sending automatic or transactional emails from your WordPress site, you may utilize SendinBlue's dedicated SMTP bulk email marketing solution. This isn't required for email marketing campaigns, but it's a wonderful feature to have if you have a large website and want to send out timely, relevant emails based on content.
How to use automation with SendinBlue and Zapier:
SendinBlue is one of the many popular applications that can be easily integrated with Zapier. By doing so, you can save time and focus on what really matters by automating repetitive tasks.
Make new or updated Google Contacts become subscribers in SendinBlue - Integrate your Google Contacts list with SendinBlue so that any new or updated contact information is immediately available. To keep your outreach on track, this Zap will automatically add a new subscriber to a specified list without requiring any more action from you.
Update your SendinBlue list with new Shopify clients - Use Zapier to connect your Shopify and SendinBlue accounts for seamless customer communication. You'll be able to contact your customers by email and text message much more efficiently.
Connect SendinBlue with your PayPal account to add new clients to your list - With this Zap, once a transaction is completed in Paypal, a new contact is added in SendinBlue. You'll be able to contact your clientele by email and text message much more efficiently.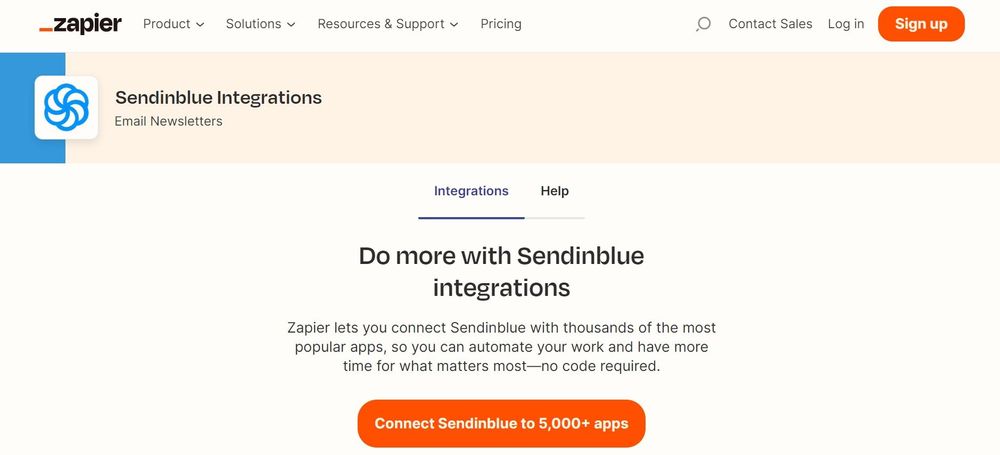 SendinBlue could be the best email marketing service for those who use a lot of PayPal and SMS marketing. The free plan with unlimited contacts is great value for those who are just getting started with their email marketing campaigns.
5. Drip
The Drip platform has only been around for a short while. It is a customer relationship management system that provides email marketing for online retailers.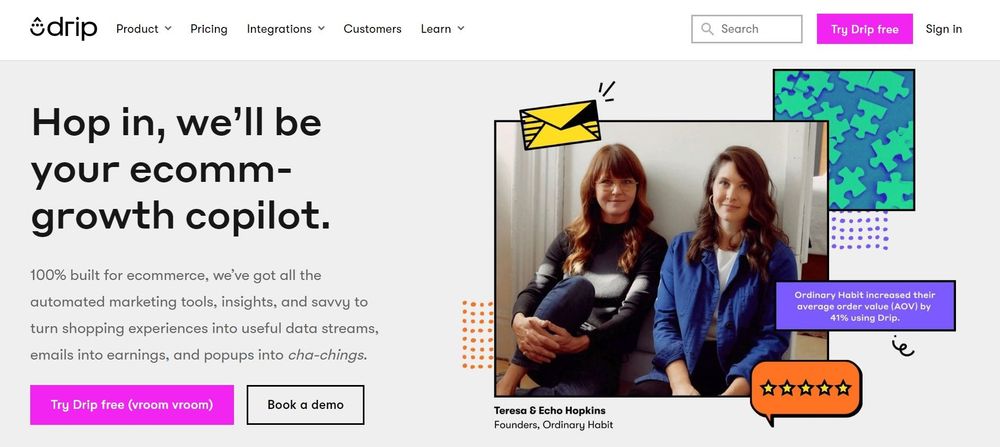 We appreciate Drip because they are excellent for new e-commerce merchants. Their emphasis is on delivering smaller, independent businesses the same strong automation and segmentation capabilities for email marketing as bigger e-commerce stores. This is why they are so great for new e-commerce merchants.
As a result, they are ideal for emerging businesses that are searching for a competitive advantage.
You are able to measure vital commerce data relating to consumer intent and transaction behavior with the help of Drip.
You will have the ability to differentiate between new website visits and repeat clients. Targeting consumers who have abandoned their carts is another option provided by Drip.
Drip provides you with tools that make it simple to target the appropriate individuals with timely offers, allowing you to get right to the point without having to spend hours mining data.
Their CRM makes it easier for you to communicate with consumers through a variety of internet touchpoints, including email. Drip also has a revenue attribution function, which provides you with a more precise understanding of whether campaigns are, in fact, profitable for your business.
To reiterate, this is the perfect solution for online retail stores.
Drip provides you with everything you need to be successful with email marketing, including features for personalization and classification, extensive choices for segmentation, and thorough statistics.
The pricing is determined depending on the total number of clients who are associated with your account. Every package includes all the same perks and features by default.
1-500 subscribers — $19 per month
501-2,000 subscribers — $29 per month
2,001-2,500 subscribers — $39 per month
2,501-3,000 subscribers — $49 per month
3,001-3,500 subscribers — $59 per month
3,501-4,000 subscribers — $69 per month
4,501-5,000 subscribers — $79 per month
5,001-6,000 subscribers — $99 per month
6,001-7,000 subscribers — $109 per month
This extends all the way up to plans that permit up to 140,000 subscribers before the price gets individualized for each company.
Every package offered by Drip includes customer service through live chat and email around the clock. You will not be charged during the trial period of 14 days, during which you will have access to all the features.
How to use Drip with Zapier automations:
You can link Drip with hundreds of today's most popular applications with Zapier, which enables you to automate your job and free up more time for the things that are most important to you.
Send a Slack message when Drip gets a new subscriber - Do you want your team to be notified as soon as possible whenever Drip receives a new subscriber? Because Zapier is integrated with both Drip and Slack, once a new subscriber is created in Drip, it will automatically send a message to Slack. You will never again fail to be informed when a new subscriber signs up for the service.
Add a new subscriber from MailChimp to Drip - The Mailchimp-Drip integration is perfect for you if you want to add great lifecycle email marketing to your Mailchimp email list. Add new Mailchimp subscribers to your list of Drip subscribers so that it's easy to send marketing emails through the Drip lifecycle. You can also use this integration to let Drip subscribers know when they have signed up for your Mailchimp email newsletters. This is a quick way to keep track of who has signed up for both.
New leads from Facebook Lead Ads are sent to Drip - Adding new leads to your mailing lists as soon as possible keeps them interested. After this integration is set up, it will run automatically when anyone fills out your Facebook Lead Ad. This will add them to a campaign on Drip, so you don't have to export them by hand.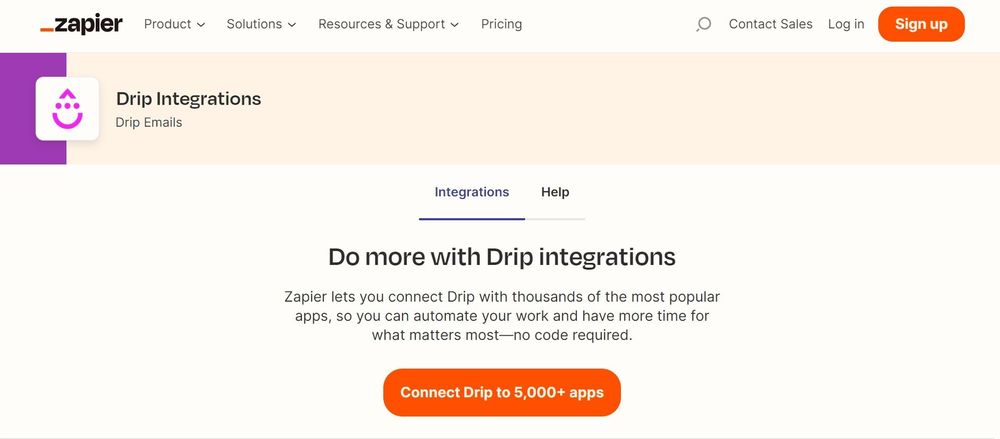 Drip is one of the best email marketing providers for e-commerce businesses. You can send unlimited emails since the pricing is designed to reflect the number of subscribers. And Drip offers the most email marketing tools at its lower price point.
6. ActiveCampaign
Another popular email marketing platform, ActiveCampaign is well-known for the marketing automation it offers. Because it's so simple to use, the email builder makes it possible to put up a newsletter in record time. In addition, the email marketing software gives you access to a variety of templates, which simplifies the process of creating emails and saves you time.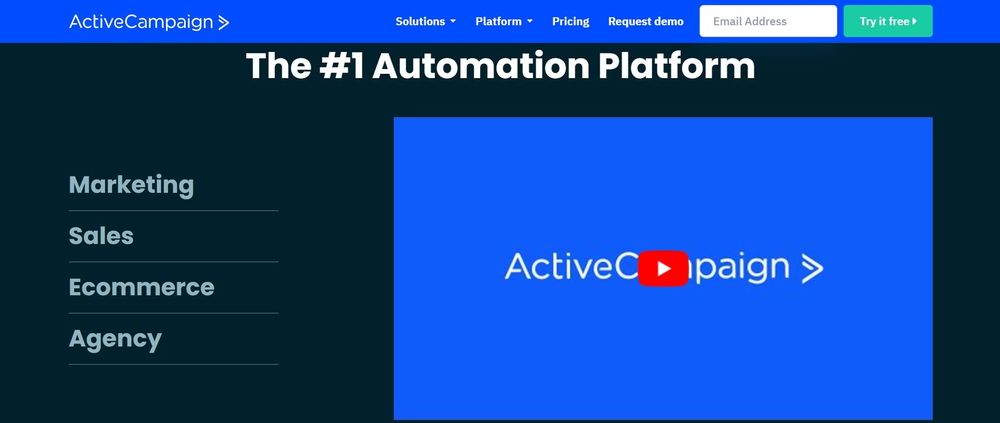 In addition to this, the platform gives you the ability to make the most of your connections by using the CRM features of ActiveCampaign in the most effective manner possible. You will also have the ability to utilize labels and make notes, in addition to scheduling appointments and DM contacts.
In addition, the event tracking feature is an excellent tool for keeping tabs on the exact activities carried out by your contacts. You will be able to make your marketing messages more successful by using the data that is sent to your email marketing platform from those activities. You can also utilize the data to tailor the content you distribute.
In general, ActiveCampaign provides advanced automation tools that are ideal for email marketers that have years of experience under their belts. On the other hand, in contrast to other ActiveCampaign rivals, the tool could be tough to use if you just want to design straightforward sequences.
Email marketing service features provided by ActiveCampaign:
Automation builder with simple drag-and-drop interface
Options for event tracking that allow for a high degree of customization
An interactive user interface that walks you through each step of the procedure.
Integrated customer relationship management software that simplifies the sales process
Integrations of many kinds that help you work more efficiently.
Costs for using ActiveCampaign:
ActiveCampaign, while being a popular email marketing service, provides customers with a trial period of just 14 days so that they may evaluate the platform. Email marketing, online forms, automation, and more features are included in its four premium plans, which start at $15 per month.
How to automate ActiveCampaign with Zapier:
No coding is necessary in order to use Zapier to link ActiveCampaign with hundreds of today's most popular applications. This will allow you to automate your job and free up more time for the things that are most important to you.
Contacts in ActiveCampaign may be updated using information from ClickFunnels - Adding your contacts to several accounts is boring and unnecessary when you have other things to do. When a new contact is added, or an existing one is updated in your ClickFunnels account, Zapier will instantly create or update the corresponding contact in your ActiveCampaign account. This prevents you from having duplicate contacts and ensures that your contact information is consistent across all of your accounts.
Integrate new Eventbrite attendees into existing ActiveCampaign lists - Use Zapier to have new attendees' emails and other information added to an ActiveCampaign list without having to manually import a CSV file. This Eventbrite-ActiveCampaign interface allows you to automatically add new attendees to your email marketing list once it has been set up.
Add or edit ActiveCampaign contact details with new Stripe transactions - Since they are paying you, you must ensure that your message reaches them. Set up Zapier to check your invoices in case you overlooked anything. As soon as you put this Zap up, it will activate whenever a payment is made via Stripe, updating your ActiveCampaign customer database with any new contacts or existing customers.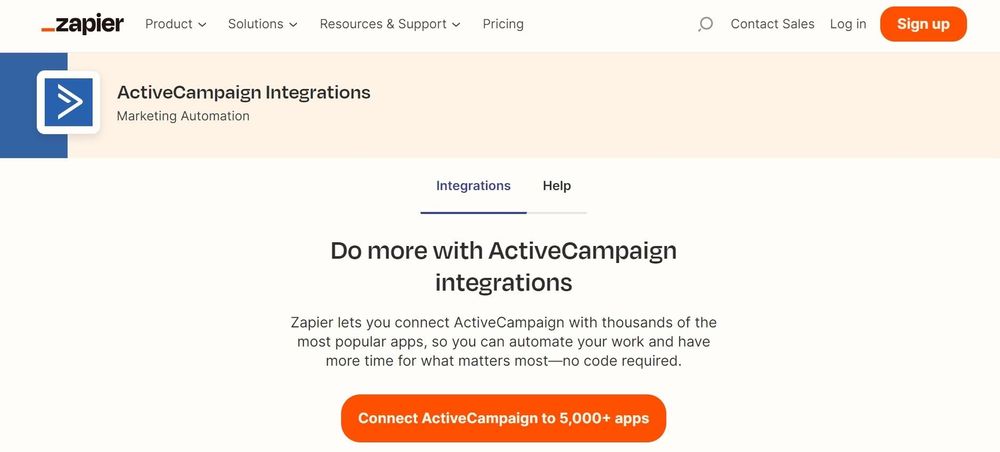 ActiveCampaign is one of the best email marketing platforms for people who have already done successful email marketing. It's probably not the easiest to use for newcomers, but it will produce great results once you learn how to use the full email marketing tool.
7. AWeber
AWeber is one of the world's oldest and most well-known companies that offers email marketing services. They provide a diverse selection of solutions for managing email marketing for companies of all sizes, from sole proprietorships to multinational corporations.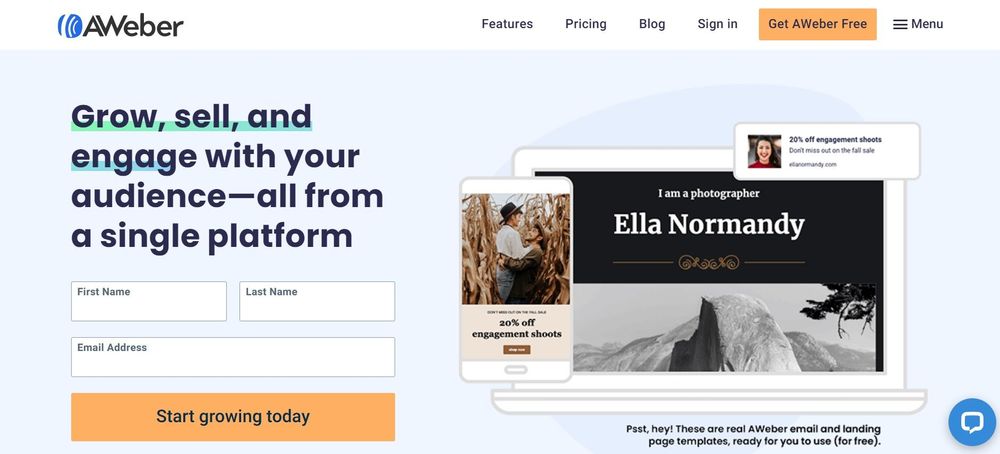 AWeber makes it simple to get started with their service. It connects without any problems to a wide variety of platforms, including WordPress.
You will get access to ready-to-use HTML email templates, list management, and autoresponders, as well as A/B testing and email tracking with extensive insights.
AWeber also includes a number of additional advanced features for email marketing, like automated RSS-to-email conversion for blogs, tag-based subscriber segmentation, and AMP emails.
Assistance options include live chat, phone support, email support, live webinars, and a wide collection of how-tos and tutorials. Live chat is the newest addition to the support choices.
AWeber has a free subscription with restricted features that allow for up to 500 subscribers. After that, their paid plans begin at $19 per month for the lowest plan and include more advanced email marketing services. You may sign up for plans on a monthly, quarterly, or yearly basis to save even more money.
How to automate AWeber with Zapier:
Zapier works with most email marketing platforms, and AWeber is no exception. You can connect these two to connect even better during the entire customer journey.
Add new subscribers from Facebook Lead Ads to AWeber - Don't bother manually exporting those new leads. Instead, turn on this integration. When someone fills out one of your Facebook Lead Ads, the integration will be set off, and they will automatically be added as a new subscriber on AWeber.
Subscribe Stripe customers to AWeber - Spend less time managing your email lists and more time talking to your customers. After you set up this integration, whenever a new Stripe customer is accepted, an AWeber subscriber will be made automatically.
Add people who signed up for a Zoom webinar as new subscribers in AWeber - Some of your best new leads are the people who signed up for your Zoom webinar, so you want to be ready to keep in contact with them following the webinar. This solution enables you to do just that by adding your Zoom webinar signups to an AWeber mailing list as soon as they come in.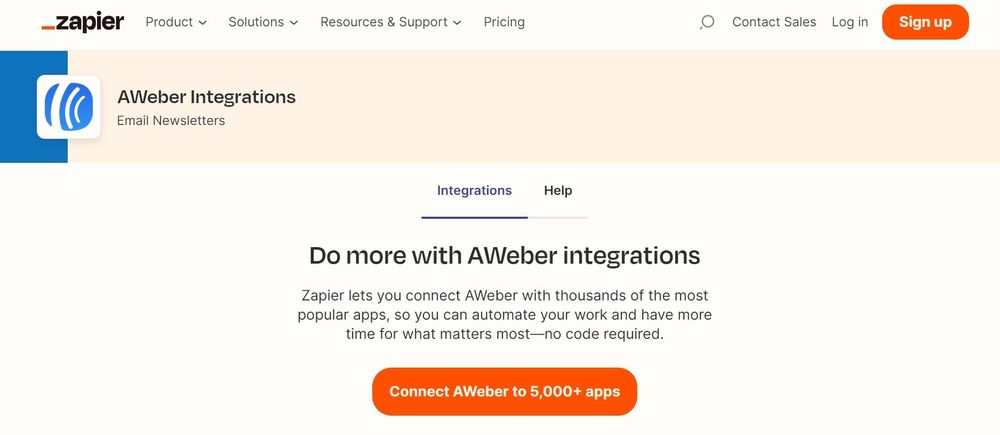 AWeber is great for drip campaigns, responsive email templates, and its landing page builder. Freelancers can use its more advanced features when they get their email lists sorted out.
8. SMTP.com
When it comes to high-volume emailing, SMTP.com is one of the most reliable relay services available. You may send as little as one email or as many as a million. Which comes first, the bills or the goods? It's not an issue at all.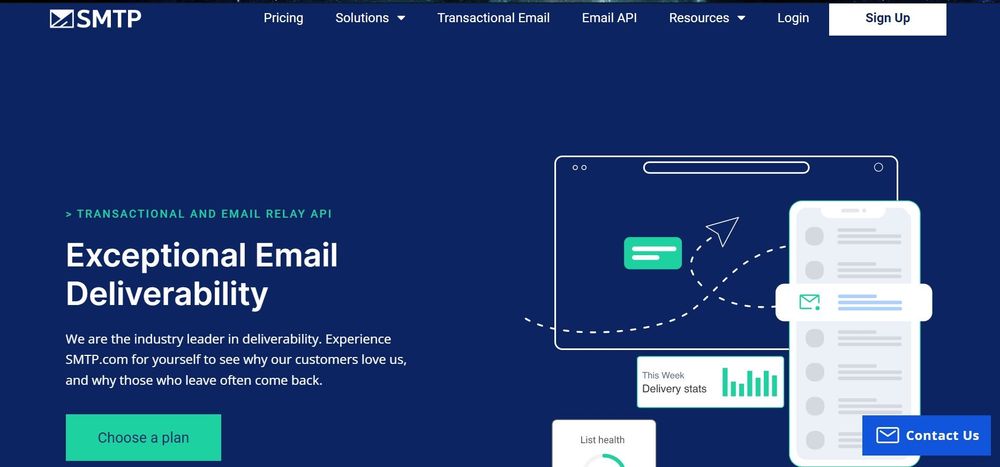 Problems with mails not being received are the worst. After spending several hours perfecting your email list, segmentation, and design, only to have the whole thing halted due to an IP problem is super frustrating.
In order to prevent any problems with your emails not being delivered, you should use the SMTP.com email relay service. If you're running an email marketing campaign, SMTP.com is the "last mile" solution you need. Send emails to as many people as possible, keep tabs on the metrics that matter, and report back.
You won't find anything to help you with email campaign planning, strategy, or management here. Instead, it's a targeted solution that will deliver your well-crafted message straight to the mailbox of its intended reader.
It's up to you how you put SMTP.com to use. Managed services are available for those that want a hands-off approach, while the Email Relay API may be used by organizations that want more direct management.
SMTP.com is safe and scalable regardless of how it is implemented. Integrations take minutes, not days, and help is accessible around the clock.
It's an excellent option for businesses that often communicate with customers through transactional emails, such as those related to bills, accounts, e-commerce, and so on. Quickness is essential for these communications to maintain client satisfaction and protect sensitive data. Sending an email using SMTP.com guarantees that it will arrive.
Packages for SMTP.com's services start at different prices, and high-volume senders may negotiate special rates.
Essential: $25/month for 50,000 emails per month
Starter: $80/month for 100,000 emails per month
Growth: $300/month for 500,000 emails per month
Business: $500/month for 1 million emails per month
Importantly, the Essential package includes a shared IP address. A dedicated IP is included with all other plans. SMTP.com provides a unique large-volume package with a dedicated IP and mail transfer agent for those that need to transmit more than 250 million emails per month (MTA).
The Reputation Defender service from SMTP.com, which protects your IP address against both soft and hard bounces, may be added to any plan.
How to make automated workflows with SMTP.com and Zapier:
Set up SMTP.com with Zapier so you can connect the most advanced marketing features from other platforms to the exceptional deliverability offered by SMTP.com.
To account for additional SMTP.com hard bounces, add new rows to a Google Sheets spreadsheet - To keep track of all the times something didn't go over, you'll need a list. With this add-on, each time a hard bounce happens on SMTP.com, a new row will be created in your Google Sheets spreadsheet. You may process the data in the spreadsheet by exporting it to a CSV file or linking it to another Zapier connection.
Update your Google Sheets with the latest unsubscribes from SMTP.com - A real-time stream of all unsubscribe events for your sent emails is available to you through SMTP.com. In Google Sheets, the addresses of those who have unsubscribed are inserted into new rows.
Update Shopify customer records when new complaints about SMTP.com come in - When someone marks one of your emails as spam, SMTP.com sends you a real-time spam complaint event. Whenever this happens, the integration will edit your Shopify customer to mark whether they receive marketing emails and set it to false instantly. If you listen to what your customers say about what kind of emails they want to get, your marketing emails will always have the highest rates of being opened.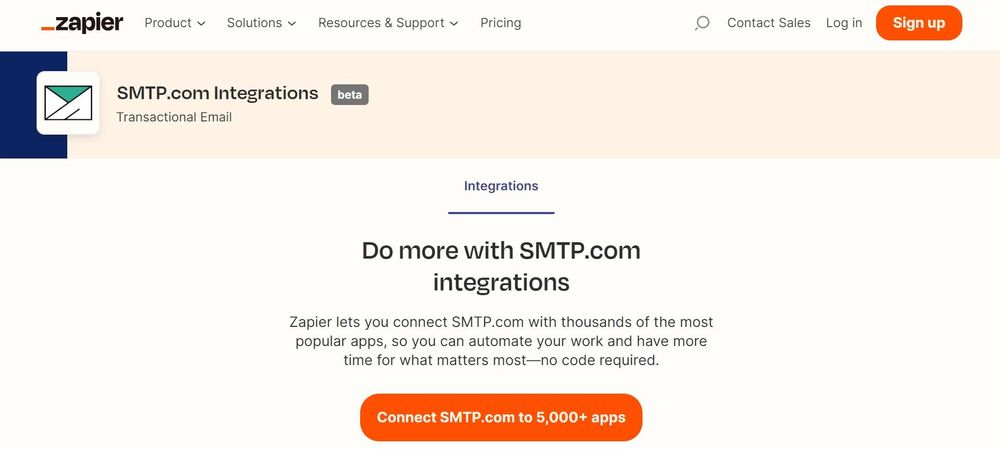 SMTP.com is a great email service provider for ensuring the highest deliverability levels. Hook it up to your online store to make sure your customers get the best experience, and you respond to their feedback.
Indy helps you manage email marketing
Indy is a digital toolkit built to help freelancers make things simple. It's not an email marketing service, but it is a great project management tool. Indy gives you the tools to track your contacts, organize your work into projects, tasks, and to-do lists, and manage payments. The real help for freelancers is how Indy can help you create a workflow with its simple Kanban-style task board. You can see all your work in one place and get through the most important tasks more efficiently.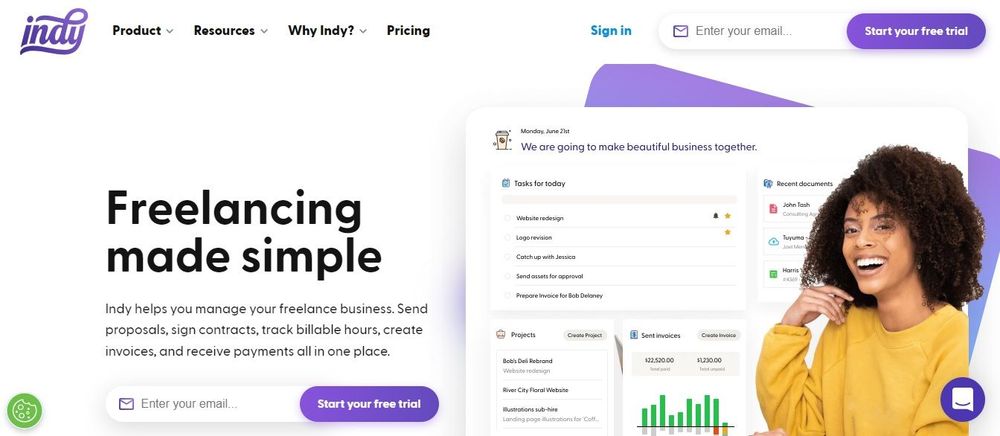 Start using email marketing tools as soon as possible
Now that we've shared a list of the 8 best email marketing platforms to help you crush your email campaigns, take a closer look at these options and see which one will make the best fit for you. Email marketing services can help you fill up your customer funnel. This means you'll have work every time you want it. With the right email marketing tool, you'll be able to send messages to your contacts to nudge them towards the next purchase. Once you get your marketing and workflows dialed in, your new customer list should just keep growing.
As you gain more work, Indy can help you manage your tasks and follow-up, so nothing falls through the cracks. And if you're looking for more email marketing tips, check out our helpful tips for how to get started in email marketing and how to write a business proposal email.