Airtable is a cloud-based project management solution that will let you store all the data you need in whatever way you choose. It uses relational databases that are easy to put together. And you can organize data in the way that is most relevant to the task at hand.
Airtable is known for its ease of use. With just a few clicks, you can create a relational database that can easily be shared. You can collect related data in ways that work best for you and easily communicate with the rest of your team.
The best thing about Airtable for many is that it has the basic building blocks you need to get started right away. You do not need to know a single line of code to use this software, and an Airtable database can be easily put together by someone with no technical expertise. However, this may also mean it is more limited than other software. How much of a problem this is will depend on what you need to use it for.
Let's take a look at Airtable's main features.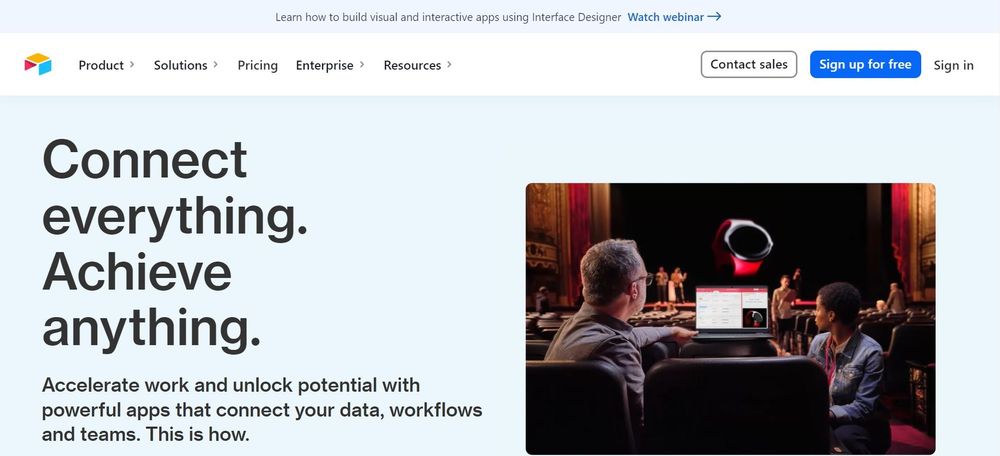 Airtable main features
One of the best features of Airtable is that it has hundreds of ready-made templates to help you get started. Task management can be intimidating to begin with, but Airtable will allow you to automate different data types and link records through this simple spreadsheet software.
Interface designer: Turn your base into a working product
You don't need to know how to code to make interfaces right from your Airtable bases. Even your most complicated data can be accessed, used, and shared with Interface Designer.
Views: Explore different ways to view data
Imagine how the different parts of your work will come together to form the whole. On a schedule that's tailored to your specific requirements, you can monitor resources, events, projects, and more with a custom view.
Automations: Simplify and streamline workflows
You can develop a multi-sequence process using triggers and actions in Airtable, or you can just create a single notice to send out.
Sync: Sync data across teams and tables
Align your teams around a single source of truth that has data from multiple sources updated in real-time. Airtable lets different teams work together on a shared view of table data. You can easily pull data from multiple sources into a single view, so you can look at data from more than one source at the same time.
Reporting: Visualize impact right in Airtable
Use the extensions that come with Airtable to make dashboards with charts, graphs, and top-line metrics that your team can use for reporting. Use Airtable's flexible user interface to group or sort your data to show progress. Do you code? You can make your own reporting systems by scripting, using the extensions SDK, or building on top of the APIs.
Unique selling points
Airtable is a versatile project management software that can be used for pretty much anything. There are pre-built templates for many functions grouped in 20+ categories available. These templates give users a great place to launch a new project without designing everything from scratch.
Airtable may not have as many team collaboration features as some of the other platforms, but you can still share files with multiple sources. This can be done even with the free plan. You can embed an Airtable base onto your website, allow different viewing permissions for a file, or integrate with third-party apps. Which of these methods you employ will depend on your individual needs. Airtable helps you to share all the information you need with anyone who needs to see it.
Target audience
Although Airtable's ease of use means almost anyone can use it, there are still certain target markets. It is designed with advertising agencies, in-house marketing teams, and software developers in mind because of the way data is presented. It can bring consistency so Airtable bases can be easily adapted for the different adverts needed.
This can work well for you as a freelancer. Until you have a solid client base, and even afterward, you will need to make sure people know about your services. This is how you get more work, and Airtable can certainly help in this way. However, Airtable wasn't designed specifically with freelancers in mind, and we'll get to more on that in just a bit.
Pricing
Airtable has several pricing plans available with different features depending on your needs.
The free plan offers unlimited bases, up to 5 creators or editors, 1,200 records per base, 2 GB of attachments per base, and 1 sync integration.
The Plus plan comes in at $10/month and offers 5 GB of attachments per base as well as 5,000 records per base, 3 sync integrations, automatic table syncing, and a 6-month revision that will help you plan going forward.
The Pro plan comes in at $20/month and offers 20 GB of attachments per base as well as 50,000 records per base, 7 sync integrations, and Gantt and Timeline views. There are also more sharing options, plenty of integrations, and field & table editing permissions.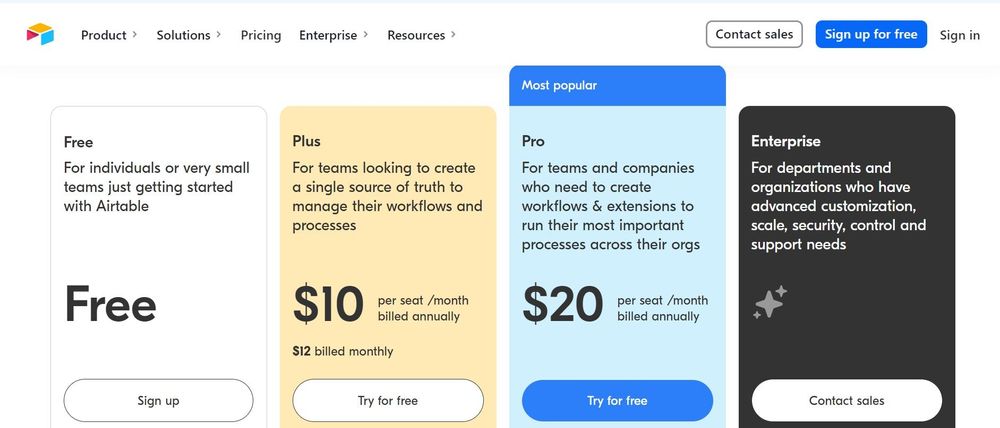 Disadvantages
The disadvantages of Airtable are mostly centered around its limitations. Airtable uses a spreadsheet approach to project management, which means the interface isn't as modern as other project management software.
This makes setting up tasks and subtasks complex, which isn't ideal for freelancers looking for a quick way to set up and start organizing projects.
There's also a lack of organized commenting, making collaboration challenging if you want to communicate with a client or collaborator on a project.
Finally, Airtable doesn't have a native time tracking feature in its free plan, meaning you'll need to pay at least $20/month for one of the more important features a freelancer needs. Without time tracking, you won't know how long tasks and projects take you to complete, which is crucial to know how much to price your projects, how much to invoice clients, and to optimize your future workflows.
Airtable vs. Indy
Although Airtable is easy to use once you get the hang of it, a number of users have reported it can take a bit of time to get used to its spreadsheet-style approach. Indy was designed from the ground up for freelancers and is known for being easy to use straight away.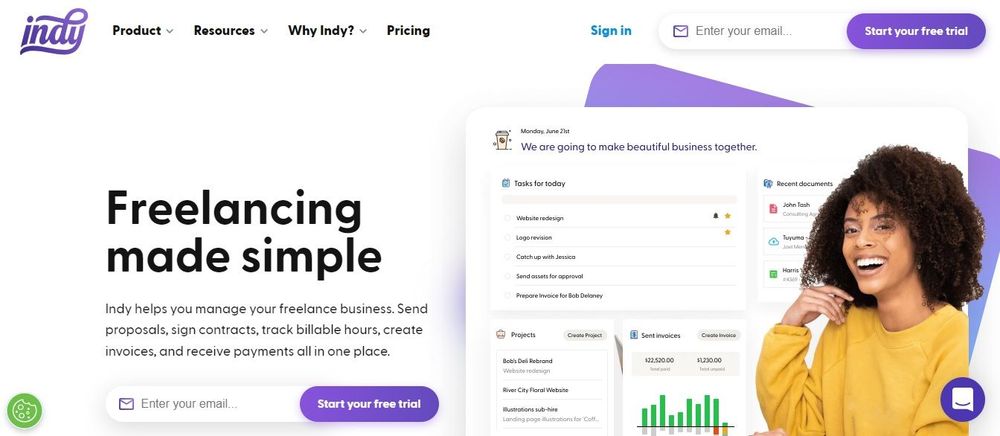 And unlike Airtable, Indy has automatic time tracking that makes it easy to know exactly how long projects take and how much you should be paid. What's more? With just a couple of clicks, you can turn time tracks into an invoice to be sent off to clients.
Indy has plenty of features for freelancers to take charge of projects and administrative tasks, including proposal and contract templates for lead generation and client onboarding, task management, file storage, chats, and an intuitive calendar app to get a bird's-eye view of what things are due or overdue.
Indy also comes in at half the price of Airtable to give you all the features you need as a freelancer, costing just $12/month. And Indy also offers a free forever plan with unlimited access to all the basic tools you need to manage your business.
Indy and Airtable score very similarly in customer surveys when it comes to customer satisfaction. It all depends on what works best for you, but it is hard to ignore the amount of freelancer-specific features on offer through Indy.
Final thoughts
Airtable offers a vast array of free templates to help you get started in this spreadsheet-style project management software, but it not being a traditional project management tool may make it a turn-off for freelancers looking to make freelancing simple.
So if you are intimidated by the idea of project management and your technical skills are limited, then Indy offers easy-to-use tools you can take advantage of as soon as you sign up.
Indy also offers time tracking for half the price of Airtable, giving you a complete tool suite that helps you manage a freelance business from beginning to end. Get started today with Indy for free.