When Facebook was launched in February 2004, few would have guessed it would have 182.3 million active users in the US today. Did you know that there is a project management solution designed by one of the key players in that social media platform? Dustin Moskovitz, Mark Zuckerberg's college roommate, along with Justin Rosenstein, launched Asana in April 2012. Within six years, it had 35,000 paying customers, including IcelandAir, eBay, and Uber.
Project management platforms provide an alternative to lengthy meetings, email chains, and other outdated methods. Asana does this for projects that are big and small. No matter how complex a project is, you will be able to carry out effective task management. And if you are a freelancer who works alone or is part of a team, Asana can work well. Let's take a look at some of Asana's features.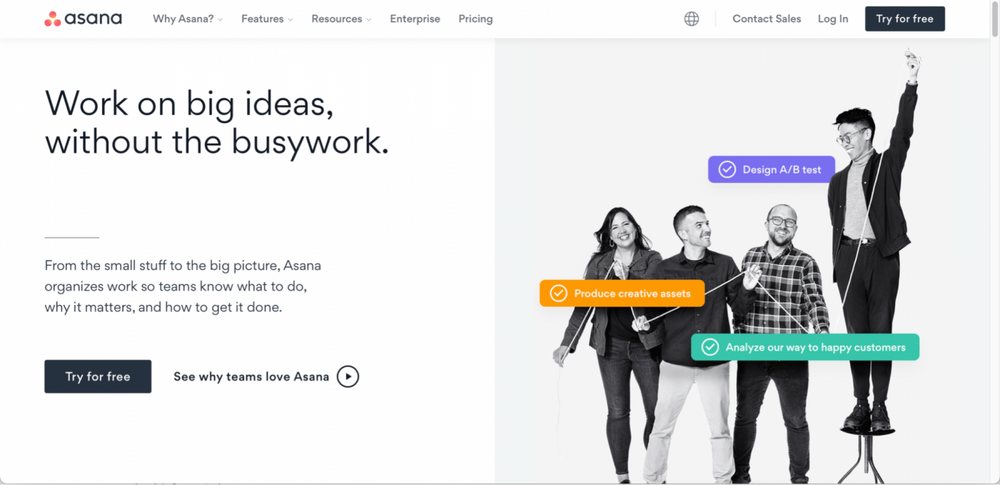 Main features
Asana has a lot of features. They are all listed on the website, broken down into different sections. But let's hone in on a few of the biggest features:
List view: Assign tasks and organize them. Teams can quickly understand what has to be done, what needs to be done first, and when tasks are due by using lists.
Timeline: Watch how the work develops over time. Manage overlapping, dependent, and erratic tasks, and develop reliable strategies for your team.
Boards: Make it simple for your employees to concentrate on their present duties. Define each step of the project to determine what is crucial and where problems are occurring.
Single platform with integrations: You can assemble everything your team needs to connect, collaborate, and organize work from beginning to end with more than 200 integrations.
See the big picture: Keep an eye on the workload and development of your team. To convey progress, identify possible issues, and keep work on track, get real-time charts and other visual highlights.
Unique selling points
Asana's free plan has definitely helped it to become a popular project management software. Members of a team are able to try it without any cost, with more features available if you upgrade to Asana Premium or Asana Enterprise.
Asana has custom templates that help speed up different processes, while the color coding feature is a great way to make data easy to understand.
Asana was started by the former CTO of Facebook, who works on Buddhist principles of ease, focus, and flow. This sets Asana apart from some of its competitors. It feels more person-centered than some of the other platforms out there due to its ease of use.
Target audience
Asana makes no secret of the fact that they are aimed at teams. They want to help people manage projects effectively together. Both small teams and larger corporations can make great use of the features available. Companies that have been known to use Asana include Spotify, Airbnb, Pinterest, and NASA.
Pricing
Asana has several different levels of pricing based on your needs:
Asana Basic is the free version. You can collaborate with up to 15 team members at once. There are unlimited tasks, projects, and storage, and also time tracking (through integrations with other platforms).
Asana Premium costs $10.99/month and has various extra features that will help with workflow, reporting, and task management. It is slightly cheaper per month if you pay annually, and you will also be able to set up private teams and projects.
Asana Business costs $24.99/month. It allows you to create portfolios and set rules, but perhaps the best feature is integration with Salesforce, Adobe Creative Cloud, and other platforms.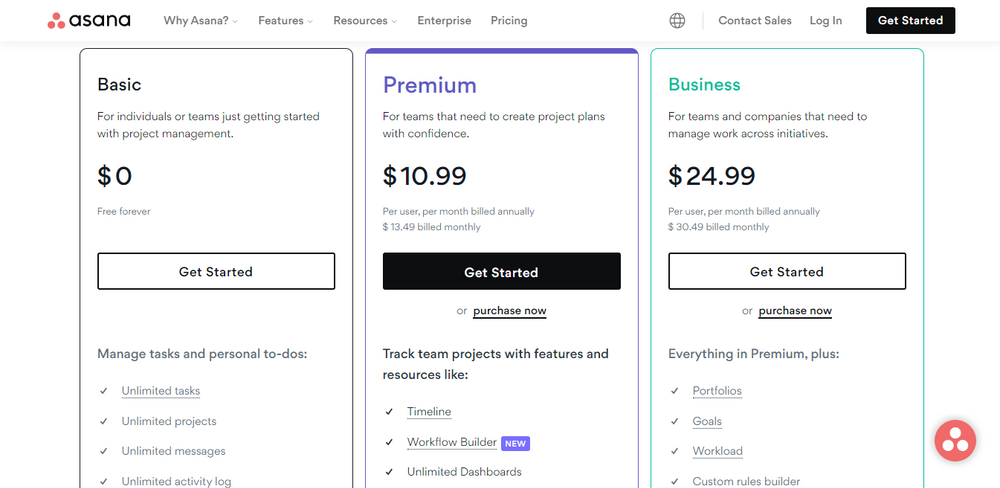 Disadvantages
Asana isn't the most difficult project management tool to use, but at the same time, it isn't ideal for complete beginners. It helps to have some level of experience in this kind of software before you get started with Asana.
Also, one of Asana's biggest assets is also one of its biggest drawbacks. There are a huge amount of features available. Of course, this can be seen as a good thing, but it can also feel completely overwhelming. You'll need to invest time learning about these new features and how they can help you, which can slow down progress on your projects.
For an enterprise solution with so many features, you may be surprised by how limited some of them are. There are no native time tracking features, which is one of the more important tools for freelancers to track work hours and know how much to bill clients. Also, the task assignment tools have been said to be limited by several users.
There are excellent collaboration tools, and you can manage tasks effectively. However, there is a feeling that time should have been spent perfecting a smaller number of features rather than ensuring there are so many.
Asana vs. Indy
Asana is supported by a wider range of platforms and offers more in terms of training, but the amount of time you will have to spend learning about Asana and its features may be counterproductive. On the other hand, Indy doesn't require any training because of its easy-to-use tools and intuitive interface.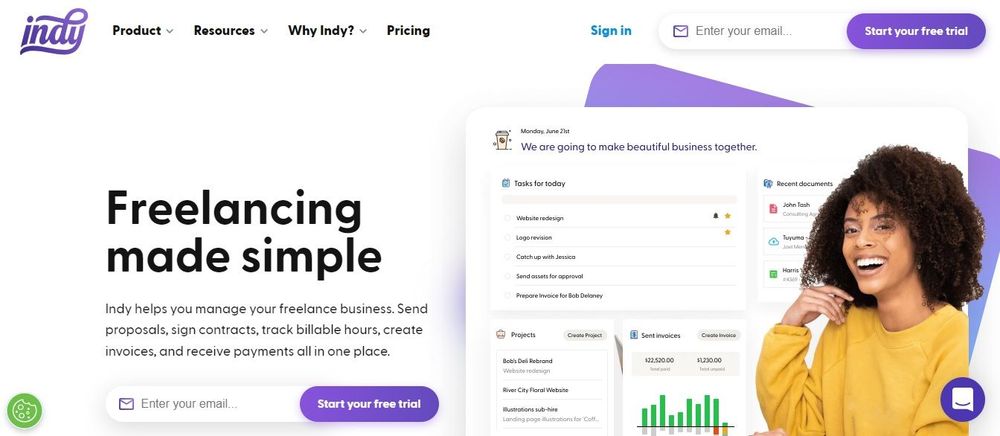 As a freelancer, your time is like gold dust, so you don't want to be overwhelmed when choosing a project management solution. That's why Indy has been designed specifically for freelancers to make freelancing simple.
Indy has many of the features Asana has, including ready-made templates for proposals, contracts, lead generation forms, invoices, and task management, and even includes an important feature that Asana doesn't have natively—automatic time tracking.
You also won't get access to Asana's custom forms unless you pay for the $10.99/month Premium plan. As a freelancer, having lead generation forms is critical to onboarding new clients and getting the information you need to start projects.
Indy has all the tools freelancers need, including lead generation forms, for just $12/month (and a free forever version if you want to see what Indy can do for you!).
Summary
Asana is an intriguing platform for project teams to collaborate and streamline their workflow. And since it was co-founded by Mark Zuckerberg's college roommate, Dustin Moskovitz, there's a heavy social aspect involved. With that, it helps teams work more effectively together. However, there is a chance there are too many features that are team-oriented and not geared toward freelancers.
If you're looking for a solution that makes freelancing simple and has just the right focus on a freelancer's needs, check out Indy as an alternative to Asana. Indy has been designed from the ground up for freelancers to manage their business from beginning to end. And not only is it less expensive, but it's also much easier to get started with for beginners and includes all the tools you need in one place. Get started today for free.