As an event planner, you regularly have to deal with the many moving parts of organizing an occasion and make sure that everyone is also having a good time! As a result, many event organizers choose to use event management software to coordinate their activities, as the event planning process can include multiple steps to ensure things go smoothly.
Having access to good event management software can help you plan and execute an event from beginning to end. For example, it can help you choose a location, hire caterers, florists, and photographers, contact vendors and plan entertainment more effectively. Of course, you can choose to do all these and use emails to keep track of things - but we all know at some point, things can get a little out of hand.
There are several advantages to using event management tools instead of relying on spreadsheets and emails. So let's take a look at the tasks you would typically face as an event planner and how management software can help your business.
What is it like to work in event planning?
Event professionals are in charge of coordinating every detail of an experience. The type of events they organize can include conferences, business conventions, weddings, hybrid events, and any other occasion that brings people together.
The job of an event planner is very rewarding - but it's also quite involved and fast-paced. Planners need to follow each step of the process that results in successful events, beginning with meeting with potential clients but also handling logistics and surveying attendees after wrapping up.
Event organizers spend a lot of time visiting clients and venues in person and also work a lot on-site. For example, at convention centers and hotels. If you are a planner, being able to collaborate with others effectively will be an essential skill. You will need to communicate with hospitality workers, entertainers, etc., regularly, face numerous deadlines, and coordinate with several different groups of people.
This is why it's essential for them to be able to orchestrate a variety of activities effectively. Event management software can help you keep track of everything that's going on and make your event planning job a little easier.
Event planning skills and competencies
Event planning professionals have a well-developed set of skills. Of course, an understanding of the hospitality industry is a must, but the following competencies are also helpful:
Attention to detail: It's essential to be able to notice the small details that can make or break an event - and those that can help things look nicer, too. This can include, for example, being aware of all allergens in the food being served or choosing the correct typeface of the printed invitations to a wedding.
Communication and interpersonal skills: The best event management professionals have excellent communication skills to connect better with clients, vendors, attendees, and staff. They can also establish and maintain long-lasting relationships to cover future event management.
Problem-solving: It is unlikely things will always run smoothly. Event planners need to react quickly to any issues and make sure they remain composed while doing so. In recent years, it's also become essential to understand the evolving health and safety requirements of in-person events.
Coordination: Events are usually made up of many (moving!) pieces. Coordinating places, drinks, and entertainment is paramount, and so is the ability to adjust your actions to those of others.
If you're a freelancer looking to get into event management, it also helps if you enjoy bringing people together and collaborating with very diverse teams and businesses. After restrictions were lifted and spaces began opening up, there has been an increased interest in attending in-person events. This means the demand for the industry has grown, and it's an excellent time for small businesses and contractors interested in an event planning career.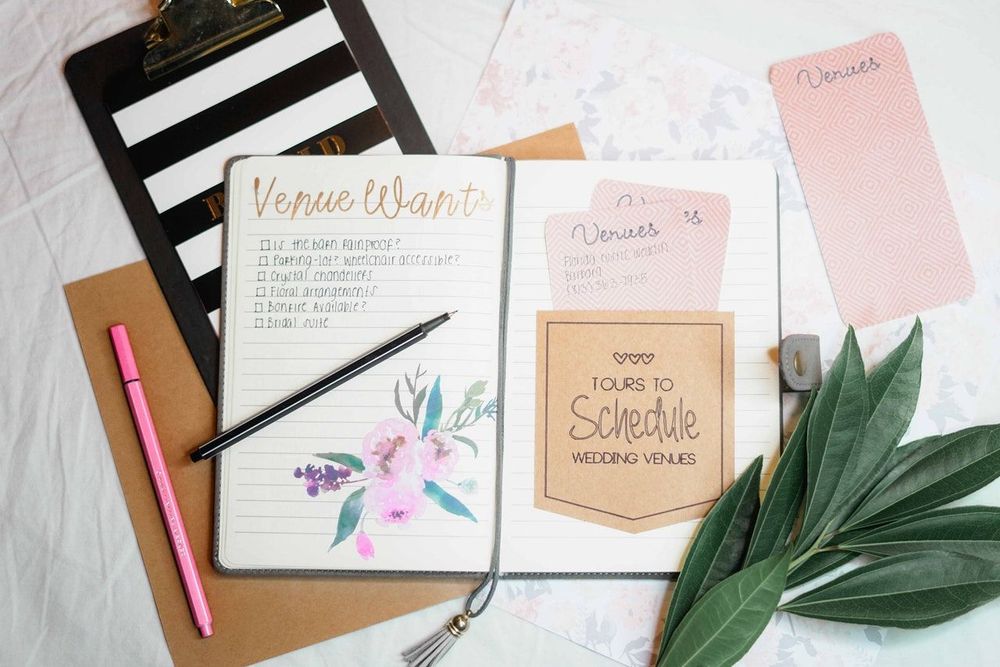 Event planning most common activities
Event planners need to plan and coordinate all aspects of a meeting, convention, festival, or party. What that includes will depend on the type and size of the event. However, if you work in event management, you will surely perform some of the following duties that form part of the entire event lifecycle:
Meeting with clients and stakeholders to better understand what's needed for a particular event.
Plan the details of the occasion, for example, the location, time, event registration needs, and overall program.
Estimate the costs for all related expenses and solicit bids from service providers like photographers or florists to compare and find the best offers.
Visit places to evaluate and choose the one that fits the clients' requirements.
Coordinate transportation, food, drinks, lodging, etc.
Negotiate and manage different proposals, estimates, contracts, and agreements.
Ensure the budget stays within guidelines and that everyone is paid promptly.
Work with on-site staff to ensure the event goes smoothly - even if that means plugging the equipment yourself!
After the event, review how everything went and approve all payments.
As you can see, there is a lot you will need to keep track of when you work in event management. Luckily, where there's a need, there's a great product. And event management is no exception.
So let's look at what exactly is out there in terms of event management software and how a good event management platform can help your job.
What is event management software?
Many event management software solutions offer a variety of helpful event planning tools. For example, some platforms are robust enough to handle the industry's most prominent conferences and trade shows. Some of their features can include:
Dynamic online registration and ticketing.
Secure payment processing.
Global venue sourcing.
Targeted email marketing and profile management.
Exhibitor and speaker management.
Real-time dashboards and event reporting.
Several integrations for CRM, expense reporting, systems, etc.
Live surveys and polling.
However, if you are an independent event manager, you might not need such extensive (and usually expensive) event management software. Instead, it could be more valuable and cost-effective to use event management tools specifically designed for small businesses and independent contractors.
Choosing the best event management software for your business
As we mentioned, the events industry is quite varied. No matter the size of your company, though, there is one thing all event management professionals have in common: You need to keep all your contacts, dates, and venues well organized. The success of a wedding, conference, or party could depend on it!
So how do you pick the event management software option that is best for you? Well, there are a few different options out there. One of the things that will determine which event management tool you go for is cost. Most of the big software has a steep price - one you might not be able to afford if you're an independent event planner or you have recently launched your company. While some of these event management tools are extremely powerful, you probably won't use all the features they offer. So it's worth looking into solutions that are more tailored for freelancers and small firms.
We have developed an all-in-one platform with small businesses and independent contractors in mind: Indy. We know what it takes to run your own business, so our event management tool is specially designed to make your job a little easier. Let us explain how.
Using Indy as your trusted event management software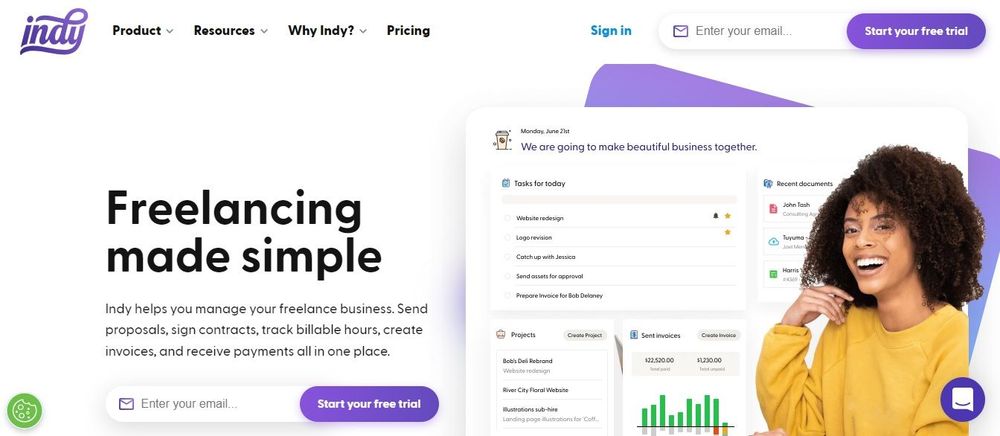 Indy is a freelancer platform ideal for managing all the needs of your small business. With Indy, you can send proposals, sign contracts, and receive payments all from the same dashboard.
Indy can make the event planning process more accessible by simplifying and streamlining some of the most common event planning activities. There is only one subscription and one website you can access from your computer, phone, or tablet. It doesn't matter if you're visiting venues or stuck in an office; our event management software can help you contact clients, send communications, negotiate contracts, and keep an eye on your calendar wherever you are.
Indy includes nine tools for all your important tasks. Let's take a look at them and how each can help your event management business.
Calendars for event planning
As an independent event manager, you need to always stay on top of all your work. The best way to do this is to have a robust calendar as part of your event management tools, so every step of your event planning is easy to see and keep track of.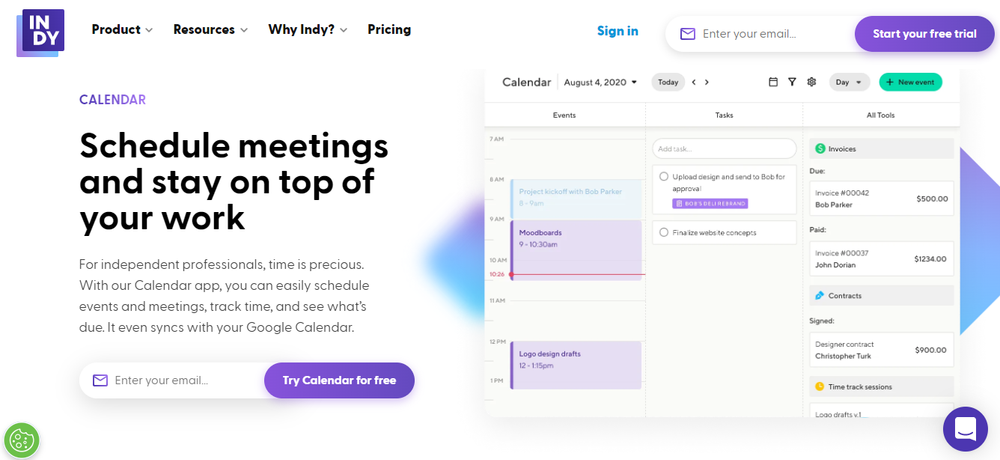 Our calendar will help you schedule meetings, see what's due and when, and make sure you never miss a commitment. It can sync with Google and with the rest of our tools (like invoices, contracts, tasks, files, and proposals) and help you manage all your connected responsibilities from one easy-to-use, beautiful-looking place.
You can use our calendar alone or invite guests to add their own events and details. Creating Google Meet links is also just one click away. And if you add your tasks to your calendar, you can record your time and automatically add it to an invoice as well.
Proposals and estimates for event planning
It all begins with a proposal. Our engaging, professional-looking estimates and proposals can help you secure new events and start working on your planning faster than ever.
Our proposals are a perfect combination of features and functionality. You can start with an event management template and just fill in your client details and update all information as needed. And the best part: Once your estimate is accepted, you can automatically turn it into an invoice!
Indy's event planning software tool can help you monitor all your interactions and mark your proposals and estimates as drafts, sent, read, and approved. Creating them using the proposal builder is very easy, as it allows you to drag and drop elements, include your logo, and download the document as a PDF.
Invoices for event planning
You can get paid quickly and easily using our powerful invoice tool. Indy allows you to create these documents using your logo and brand colors for a more personal touch. You can also add your line items and any unpaid time tracks and set the tax rate and taxable elements. We're currently working on automatic sending options to make getting paid for your event management even more straightforward.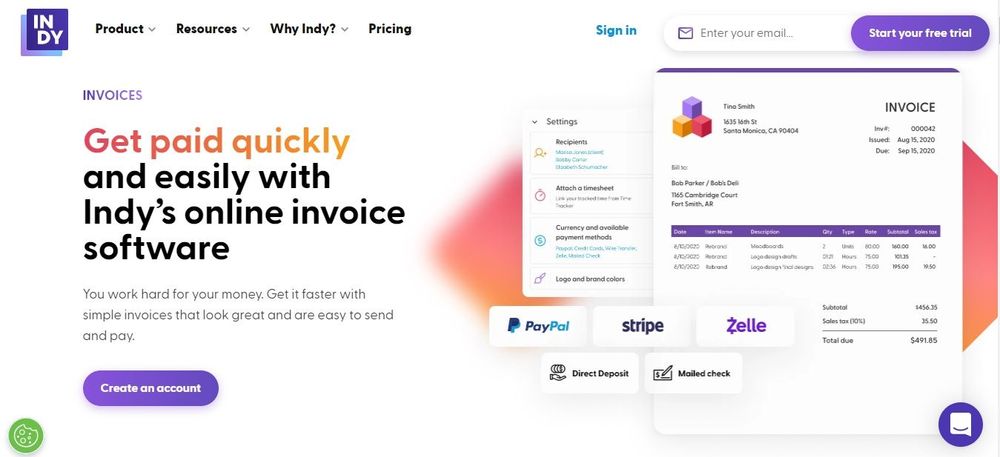 We accept the most popular payment options, so your clients will be able to pay for your event planning invoices using credit and debit cards, wire transfers, direct deposits, checks, and more. We don't charge any additional fees and can also work with Stripe and PayPal.
Getting paid is made easier than ever with Indy's Invoices tool. You don't need to manually create and follow up on all your invoices. You can also just send them in a few clicks, monitor their status, and watch the money roll in!
Contracts for event planning
The ability to create and follow up on contracts is an essential tool for any good event planning software. With Indy, you can create, send, and sign contacts with just a few clicks.
Many newcomers to event planning are not sure how to write a contract. There's a lot to consider, and chances are you're not a lawyer as well as an organizer. Worry not. With Indy, you can choose from a variety of legally-sound event planning contract templates.
Indy contracts are easy for you and effortless for your clients. Just add yours and your client's information, project details, and payment terms, sign, and send. We support electronic signatures and won't even ask your customer to create an account with us.
Chats for event planning
We created chats to strengthen the communication with all your clients. When you're planning an event, it's essential to keep the conversation flowing. You want to make sure every step of the way is well-discussed and all agreements documented.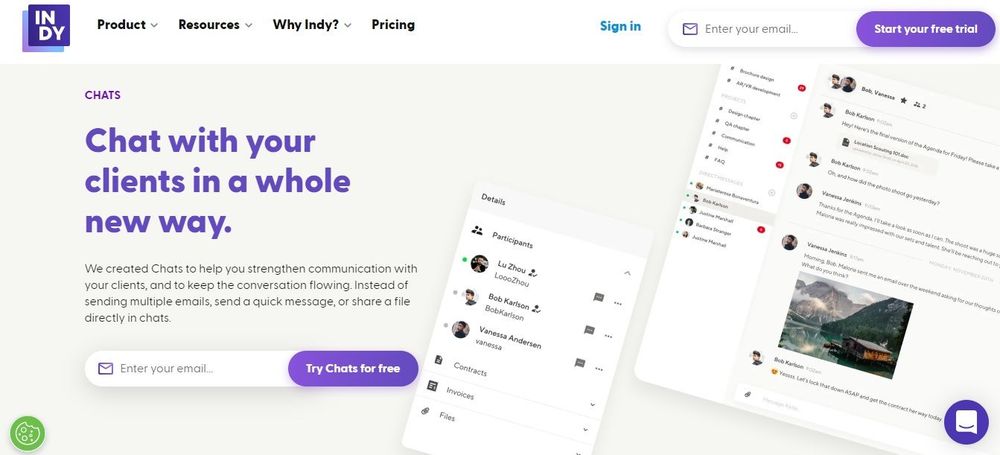 Our tool supports file sharing, instant messages, and group chats. Plus the ability to send responses directly to your client's inbox. Keep all your communications in one centralized place and spend less time buried in endless email threads.
Files for event planning
You can simplify sending and receiving files and getting approvals using our file sharing feature. As an event manager, you're likely to have to discuss different documents, images, audio, or videos with clients and service providers—for example, wedding invitation or poster designs, event music, or spreadsheets.
You can upload any file type to our platform - all is fair game. Clients can then see and approve files and leave their feedback (they don't need to create an account to do this). If you need revisions, you can also upload new versions, and the system will automatically organize all variations so you have a proper paper(-less) trail.
Forms for event planning
Growing your contact list is definitely a must-do for any event planner - and form tools are something many event planning software platforms simply don't offer. With Indy, getting and saving information is easier than ever. We can help you capture leads and receive feedback with our easy-to-create forms.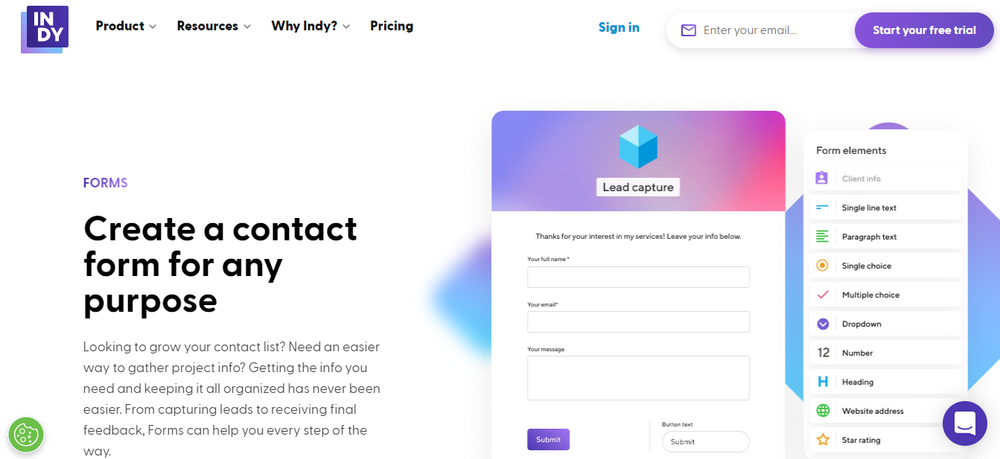 We work with a flexible template system so you can choose from many available forms ready to use right away. You can share your Indy-hosted forms on social media, email, etc (every form you create generates a link) or embed them on your website. And, of course, you can also get notified about new responses and add leads to your contact list with just a click.
Tasks for event planning
With Indy, you can use our integrated to-do list app to manage all your event planning tasks more efficiently. The tool will give you a perfect overview of what's ahead and what you have achieved - all through our calendar tool, which offers different views for more clarity.
Our tasks tool is a hub for all your project steps. You can create one from anywhere on the platform, set a due date, link to your existing (or new) projects, and add tags to make things easier to follow. We also offer a board view designed as a workflow with columns. You can give each customizable column a name and color and drag, drop, and rearrange all your tasks easily.
Time Tracker for event planning
Many event managers prefer to estimate and invoice clients for entire projects. However, it's amazing what you can find out when you measure your own time. We are often doing tasks that, although we consider menial, can take hours to complete.
Our time tracker can help you stay focused on your tasks and ensure you're aware of how much time you are actually spending on each. Recording your time is as easy as clicking on a button. Time is precious. Our time tracker helps you manage it more wisely.
We designed Indy specifically to help freelancers and small enterprises run their businesses. The platform is free to try (you can get a feel for Indy with a free trial or sign up for the Pro Bundle, which gives you unlimited access to the app for just $4.49 a month). Our event management solution has some of the most effective, friendly event management tools in the market.
Try Indy today and discover how the platform can boost your business and make you and your event attendees happier.