A solopreneur is an individual who sets up and runs a business without the help of others. It can be a rather challenging role, as the individual has to manage projects and all their aspects without the help of a team of staff. This might include working with other freelancers or working in collaboration with clients. That is why many need to use project management software.
Project management software is a tool that is there to help team leaders in complex projects to complete all the tasks, assign tasks to others, communicate with others involved, and other aspects that can help complete contracts. In this article, we're going to look at the important criteria for project management software and five excellent project management tools, including Indy, which can help you.
Key Features to Consider
Numerous key features are required in the best project management software for solopreneurs. These are noted below.
Task management tools
The first of the most important tools is the ability to manage tasks on a project. From creating to-do lists and assigning priorities for the work, you need to look at ways to assign tasks to other freelancers/those working in the clients' organization and then track progress.
For complex projects, you might need to include task dependencies and subtasks to ensure everything is completed on time and to the best ability of your project development teams.
Project management solutions can be based on a text version, but some of the best are visual.
Time tracking and scheduling
When you're a solopreneur, funds can be limited and you might also be paying some others based on their time. In addition, you might be paid based on the number of hours you put into a project. Therefore, project management software tools should include time tracking. This way you can prove what is being done.
But there are other features that you might want to include, such as Gantt charts. Gantt charts are a project management tool that illustrates the workflow over the project length. You also should have timelines to show how long projects should take.
And managing your time can be difficult. So many project management software options include integrations with calendars such as Google Calendar.
Communication and collaboration
Communication is the cornerstone of the best project management teams. You need to have team collaboration on projects, from how to design a proposal to how to complete the project. Therefore, the best software options often include communication channels where you can send messages to those you're working with, whether they are other freelancers or clients.
You should also check for the ability to share files. User permissions should also be included to prevent unauthorized people from accessing files you don't want them to.
Document collaboration could also be something that you need. If you can all work on a document that is online, it prevents mistakes from being made when people are working off different versions of a document.
Some project management software also includes a chat function where groups can discuss the projects and provide feedback. This feature can help improve future workflows.
Reporting and analytics
A business that is not looking at how to improve is going to stagnate and is less likely to survive. As a solopreneur, completing reports and analyzing the workflows can make a difference in improving your performance and profit margins. Therefore, you need to look at what reporting is available.
You might want reports detailing how much time is spent on certain aspects of the project, which third-parties team members are more efficient, and how long it takes to get a response from a client.
These little details can improve project management in the long term. For example, you can improve project planning, resource management, and other aspects of project management.
Additional Factors to Consider When Choosing Project Management Software
There are numerous factors that you might want to consider when you're doing project management software reviews. Here are some of those features for you to consider. You might also want something that is designed specifically for the niche you work in.
Some apps are more suited for large project teams. Some online project management tools can be used for those on the move with desktop and mobile apps.
You might also want to have a tool that allows you to build project plans, track users, and also bill clients. Be sure you're also looking at what data is collected and used. Privacy for clients can be very important, and clients want to be sure any project data is secure in the system.
Budget and pricing options
There are numerous project management tools on the market, each with different pricing plans for their users. Sometimes it can be based on the user per month capacity or the number of available features.
When you're small, you might prefer a smaller package with a lower cost. Or you might want to choose a package that is affordable, regardless of the number of team members that you have.
Scalability and flexibility
Scalability and flexibility are important for project managers. You need to ensure your project management software can grow as you do. Therefore, when you have more contracts, there is the chance to use the same software for managing projects.
However, some project management tools don't limit the number of users or contracts but have one price regardless of usage.
User interface and ease of use
You want to make sure that any project management software you use is easy to use. You don't want to be wasting time on your platform working out how to get from one screen to the other. It is going to eat into your profits.
Each project management app is different, and some cater more to those who have better IT skills. Others are better for those with software development skills because they allow for customization of the software.
But remember it isn't just you that will be using the software. Everyone that you work with—freelancers, clients, and others—will also be using the software.
Integration with other tools and platforms
The best project management software always links and integrates with platforms and tools. For example, you can often link to Google Calendar, payment gateways, and even accounting software. Sometimes you might need some help with API information.
If you're already using other software, then you might need to check that the project management software you want to use can integrate.
Customer support and user reviews
Another factor to always consider is the reviews for the project management software options. The advantage of the niche is that there are plenty of project managers who will use the software and review it. Therefore, you can find the project management solution that has worked best for others.
Top Project Management Software for Solopreneurs
Here is a list of the best project management software options available on the market. Included are the pros and cons of each, pricing, and other details for you to consider.
Monday.com
Monday.com is a well-known project management tool. It features heavily on television and has lots of digital campaigns. It allows for multiple projects to be managed in one go through the tool. There is workflow automation and integrations that help improve productivity and the successful completion of projects.
The color-coded aspects allow project managers to see instantly where the contract is at. There are also options to use project templates to set up new projects with your team. There are also advanced features that can enhance the management of projects.
While Monday.com is one of the most popular project management software options, it isn't perfect. It has been designed for larger teams than solopreneurs, so a lot of the features are going to be wasted for those who are working alone.
Pricing
Pricing for Monday.com is very simple; the cost is $8 per user per month. This is billed annually, and it is required. There is also a 14-day free trial.
Pros
A helpful visual/color customization option.
Customize workflows or the board.
Has numerous integrations.
A significant focus is on large collaborations.
Cons
Designed more for large teams.
Gantt charts are locked for high-level plans.
Pricing can be rather complex.
ClickUp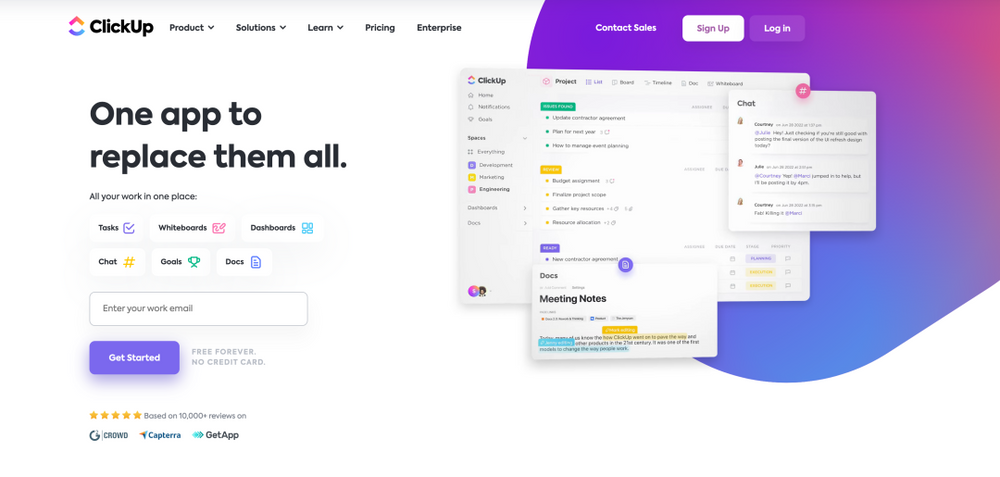 Those looking for good project management software will probably look at ClickUp. It has a unique approach to project management software. It is a piece of software that replaces all the others and is best suited for those teams that are remote. You can tag people in conversations to collaborate on tasks, use whiteboards to co-create documents, and more.
There are also in-app conversation apps that allow you to communicate in real-time with those working on client work. And there are proofing features that can help streamline approvals. There are numerous integrations as well with lots of great tools such as Slack, HubSpot, TogglTrack, and 1000+ other apps. Plus, software developers can make this tool their own with custom integrations. There are few customizable project management software that match the versatility of this app.
Pricing
There are several pricing tiers, which start at free, which is great for solopreneurs that don't need to collaborate. However, some tiers can cost $19 per user per month.
Pros
Can create a task from Microsoft Outlook.
All paid plans have unlimited file storage.
The free forever plan does include unlimited users.
Cons
It is very time-consuming to set up everything for individual needs.
Reporting suite is limited to paid plans online.
Some limitations on user access for free accounts.
Microsoft Project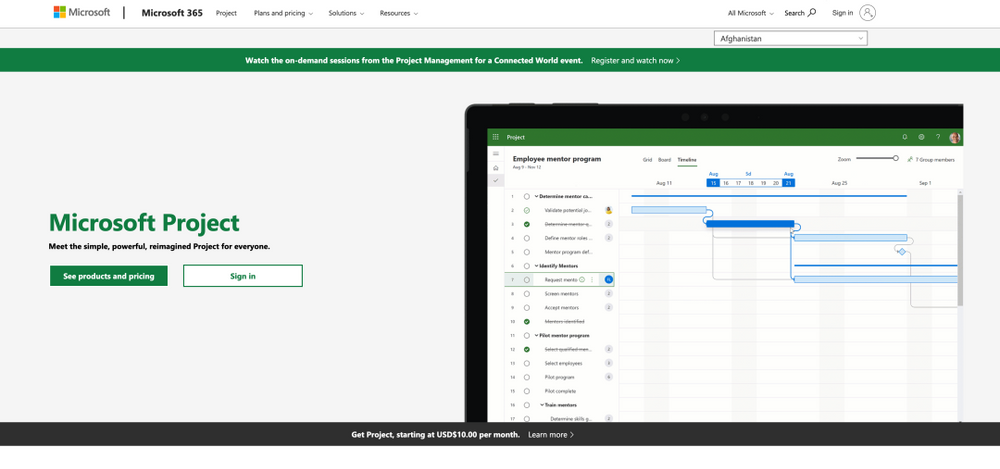 For those that constantly use Microsoft software, then Microsoft Project is a great project management solution to use. The project management software is easy to use and learn, especially if you are familiar with the Microsoft family of products. And there are integrations with lots of Microsoft software, including Outlook, Word, and Excel.
Other features make it a good project management tool; for instance, there are Kanban boards, timeline milestones, Power BI dashboards, resource management options, templates, reporting, and portfolio management.
Pricing
The cost for Microsoft Project starts at $10 per month. Therefore, the cost can be relatively high.
Pros
Integrates with other Microsoft software and Skype.
Prioritization functions on task management that allow team members to see what is most important and when.
A simple-to-use project management tool.
Use a spreadsheet to generate a Gantt chart.
Cons
Some of the worst customization options that are available for project management software.
There is a steep learning curve that prevents some people from getting the most from the software.
Limited collaboration elements prevent large teams from working on projects.
PayMo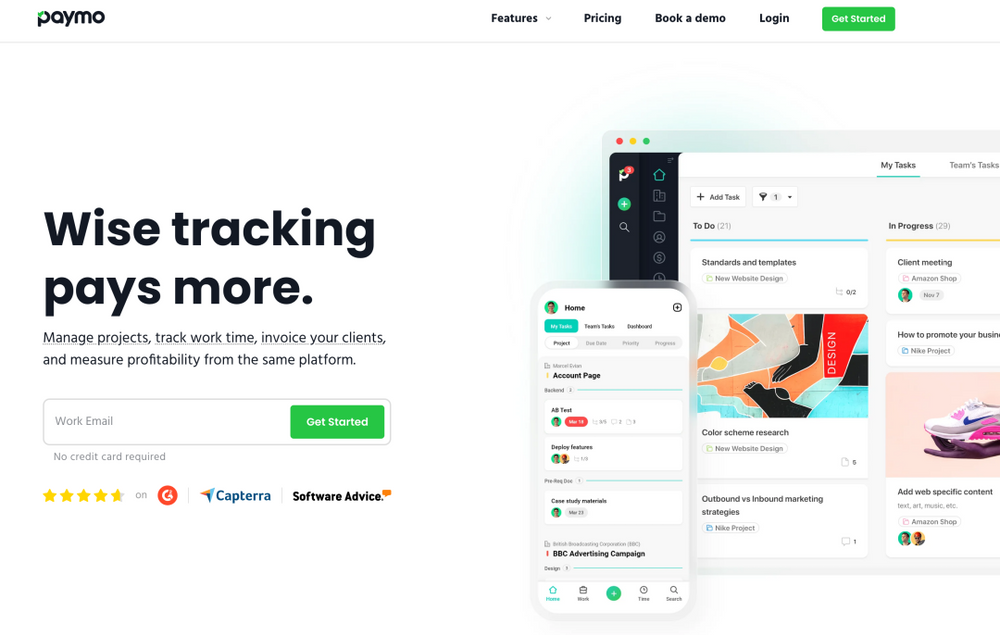 For those that want to work on creative or consultancy projects, then PayMo is one to consider. It is a free project management software for those that only want one user; therefore, it is a rather cost-effective project management tool. It is a great project management software for solopreneurs to manage their workloads, automate project tasks, and keep track of their time.
At the same time, you can bill clients from the same platform, allowing you to continuously work from one dashboard, never getting lost between different apps that you might want to use.
Payment options are varied. You can use payment gateways like Stripe, PayPal, and others, allowing customers to choose how they want to pay.
And with Paymo, you can manage everything on the mobile app.
While there is a free plan, there are also paid plans that allow you to collaborate with others in the team in real-time, proof submissions of work, get notifications of new actions, and see a stream of recent activities on a project. There is also a resource scheduling module and resource allocation and management (which can include booking in leave days, so you're not overwhelmed and you can get a break yourself).
There are also integrations with Zapier, Google, and Slack.
Pricing
There is a free plan that is best suited for a solopreneur. Other paid plans range from $4.95 per user per month to tiers that are $20.79 per user per month.
Pros
Free for one user.
Easy to use the project filter to find projects when there is a lot on the go.
Time tracking is really easy to use and doesn't slow down the computer.
All projects can be viewed on a single Kanban board.
Cons
There are some export limitations on all plans.
Cannot invite others to collaborate/review work.
Best suited for those with a smaller number of projects at a time.
Indy

Indy is an all-inclusive project management system designed for all businesses but is perfect for solopreneurs. It utilizes some of the best task management features to help you keep on top of your project progress and allows you to assign tasks to individuals for the entire project. There are a host of communication options that allow you to keep in touch with clients and team members to help progress the project further.
When the project progress is near the end, there is an excellent invoicing system that allows you to send invoices directly to clients. Invoices can be customized so you are sending a clear branded message. And invoices can be paid faster through numerous payment gateways that help you maintain an excellent cash flow for your business. There are several other advantages as well, including:
Indy also has numerous integrations with several apps and other software that allows you to never leave the dashboard as you complete tasks. You can also get new clients with detailed proposals, showing potential clients your professional services with project portfolio management features to showcase past work. Integrations via Zapier are also available.
Pricing
There is a free plan for this online project management tool. You get access to all the features, including task management and invoicing, but you are limited to three contracts per month. The paid plan is only $9 per month, which makes it one of the most cost-effective project management software options available.
Pros
The free plan has access to all features, just limits the number of documents you can create per month.
Highly competitive pricing.
Integrates with numerous payment gateways for effective payment solutions.
All the task management software tools you need for your business.
Cons
The free plan is limited to just three contracts per month.
Conclusion
Finding the right project management software for your solopreneur business can be difficult. You have to carefully consider what you need for your business and what your clients are going to need as well. You can go for a more visual project management software option or choose something more cost-effective.
We highly recommend that you use Indy. It has all the features you need to ensure your business can work with clients, use time tracking with ease, and has more project management features than other options on the market. Why not give Indy a try for free now?