Being a freelancer can feel a lot like being a juggler. You have to manage your own business, along with dozens of projects and tasks for your clients. Keeping track of everything on your to-do list can be time-consuming, which is why you need to leverage whatever tools you have at your disposal to make things faster and easier. That's where tools like Zapier come in. Zapier helps you automate many of the tasks that take up your time unnecessarily. Zapier can integrate with more than 5,000 apps, including Webflow.
In this article, we'll take a look at how Webflow, Zapier, and the right integrations can save you time and effort.
What is Webflow?
Webflow is a cloud-based website-building platform that enables its customers to build their own website or online store. It runs in a web browser, and you can pay a monthly or yearly subscription for it. You can design and host a CMS website on Webflow and edit it using the Webflow editor or export the site's code and host it on your own server. Even if you have no coding experience, Webflow makes it easy to edit and manage your website. There is a huge selection of highly customizable templates, widgets, and themes that you can use to create the perfect website for your business.
You can use Zapier to extend the functionality of Webflow. Every automation, known as a Zap, consists of a trigger and an action. You can connect Webflow to any one of the 5,000+ popular apps supported by Zapier. For example, you could set up a Zap that adds a line to Google Sheets or Airtable every time someone places an order in your e-commerce store or raises a support ticket every time someone completes the inquiry form on your website.
The best Webflow integrations for freelancers
If you love building websites with Webflow but also have several other tools and sites to track, these integrations can save you a lot of time and effort. Here are just a few of our favorites:
Mailchimp is an email and marketing automation tool that you can use to keep in touch with your contacts and customers. Mailchimp-Webflow integrations are extremely useful if you run a web-based business. For example, you can use a Zap to automatically add a new subscriber to an email list if they complete form submissions built into your websites. There's no need to manually add every contact; Zapier will do the task for you. It's a great way of converting casual web visitors to customers using email marketing.
HubSpot is a CRM platform that connects virtually everything that a growing company needs to serve its customers. HubSpot covers operations, content, customer service, sales, and marketing in a single platform. You can mix and match the tools and payments to grow your business and move forward, even as a small business (or freelancer). You can use HubSpot with Webflow to manage customer support requests, email marketing, or other useful features. For example, you could create a HubSpot ticket automatically whenever you receive a new order submission through your Webflow website.
Gmail is a popular free email platform. Gmail and Webflow integrations make perfect sense. You can link form submissions or orders that occur on your Webflow sites with Gmail in order to send an automated mailer to every customer that reaches out with an inquiry. You can use this to send a thank you mailer every time someone buys an item off your Webflow site or respond to leads that complete inquiry forms.
Slack is an internal communication, instant messaging site. It's popular with many freelancers who use Slack to keep up to date with their various clients. If you spend a lot of time in Slack, you can still keep an eye on orders or queries that come through your Webflow websites by linking Webflow with Slack. Every time an order is placed or a query is completed, Zapier will send a notification to a channel of your choosing.
Facebook Lead Ads enables you to collect information from prospective clients from mobile ads. Instead of sending traffic to a landing page on your Webflow website to fill out a long form, Facebook ads collect all of your customers' details automatically. All they have to do is hit submit. You can link the Facebook collection list to your Webflow sites and automatically update orders or items accordingly.
Intercom is a Customer Communications Platform that shows you who is using your Webflow site. It makes it easy to communicate with your clients through targeted content or messages or conversational support. You could update a user within Intercom if they provide their details via a form on your website or update a company based on orders they've placed on your site.
Klaviyo is a growth marketing platform that helps deliver personalized experiences across channels like email, in-app messages, or SMS. Klaviyo is a perfect integration for your Webflow project. For example, you could instantly add a new subscriber to your list if they complete a contact form on your site so that you can further nurture your leads.
Twilio is another handy customer engagement tool. It uses communications APIs to enable voice and video messages within the web and mobile apps. You can use a Webflow integration with Twilio to send SMS or video messages to potential customers who contact you via your Webflow site, answering their query with a short video introducing your services or just sending a message asking them how you can help.
ConvertKit is an email service provider with great features and automation, along with customizable sign-up forms and landing pages designed to bring in email subscribers. ConvertKit is an excellent companion to Webflow because you can use it for drip campaigns. It's even easier to do with Zapier. When a user completes a form or places an order, you can add them to the ConvertKit sequence to prompt them to leave a review, re-order their items, or just ask them if they are still happy with their purchase.
Notion is a useful project management tool where you can leave notes, collaborate, or just work through a list of daily tasks. You could use a Zap to integrate Notion and Webflow for a number of different use cases, e.g., creating a database of past and present customers or customer queries to nurture or convert further down the line.
Final thoughts
The real beauty of Zapier is that you can use it to connect many different, disparate tools in a simple way, which saves you from jumping from platform to platform to manage your tasks. Indy is another useful platform that combines several tools that every freelancer will need.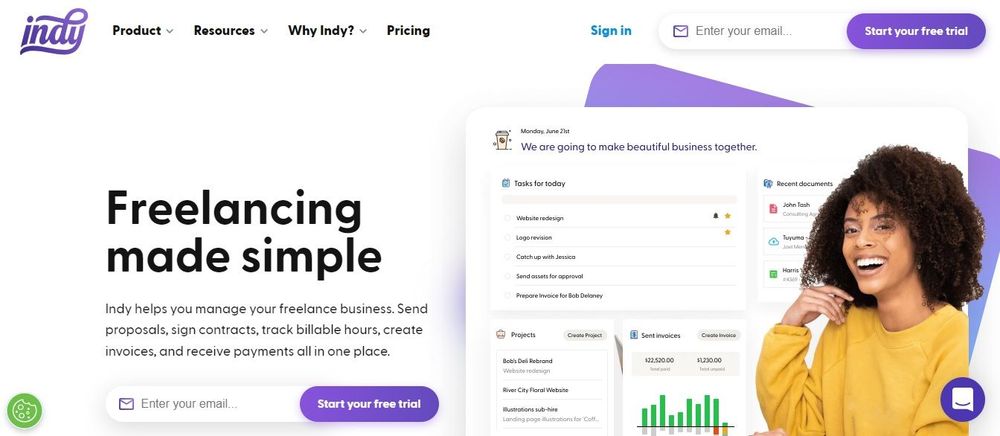 It's a comprehensive business suite with tools for invoicing, task management, client relationship management, and more, as well as useful resources for improving your business.
The good news is that Indy integrates with Zapier, saving you even more time and effort so you can focus on your business. And when you connect Indy to Zapier, you can automate your tedious tasks to get more work done in less time. Check out how Indy can streamline your freelance business today.