If you're a freelancer looking for an alternative to Zoho CRM, you're in the right place. Customer relationship management (CRM) software can be a game-changer for small businesses, allowing them to manage customer interactions, optimize marketing strategies, and streamline workflow processes. And with the average return on investment for CRM software being $8.71 for every dollar spent, it's clear that it's a smart investment.
In this article, we've compiled a list of the 7 best Zoho alternatives for freelancers. Keep reading to find out more about the benefits of the best CRM+ software for freelancers, some interesting CRM statistics, and our top picks for Zoho alternatives.
What is CRM software?
CRM software is a tool that businesses use to manage customer interactions and relationships. Some of the key functions of CRM software include organizing customer data, automating repetitive tasks, and providing insights into customer behavior and preferences.
Benefits of CRM for freelancers
As a freelancer, you may wonder if CRM software is really necessary for your business. Here are five reasons why freelancers should use a CRM software:
More optimized marketing strategies: CRM software can help freelancers optimize their marketing strategies by providing insights into customer behavior and preferences.
Increased workflow efficiency: CRM software can help freelancers increase their workflow efficiency by automating repetitive tasks.
Better customer relations: CRM software can help freelancers improve their customer relations by providing a centralized platform for managing customer interactions.
Easier customer data access: CRM software can provide freelancers with easier access to customer data, allowing them to make informed decisions about their business.
Streamlined invoicing: CRM software can help freelancers streamline their invoicing process by automating the creation and sending of invoices.
These aren't just made up or imaginary benefits. Let's take a quick look at some real statistics produced by businesses that use CRM software.
CRM statistics
You may be wondering if the benefits of CRM software are backed up by data. Here are some CRM statistics to consider:
CRM software can boost sales by 29%, productivity by 34%, and forecast accuracy by 42%.
Productivity for sales reps increases by 26.4% when adding social networking and mobile access to CRM applications.
The average ROI for CRM is $8.71 for every dollar spent.
By exploring Zoho alternatives, you can find the CRM software that's right for your freelance business and start reaping the benefits today. Before we get into them, though, let's look at what Zoho is and why you might want to use it or look for an alternative.
What is Zoho?
Zoho Corporation is an Indian multinational technology company that makes computer software and web-based business tools. It is best known for its online office suite offering Zoho Office Suite. Zoho offers a range of products for businesses, including CRM, project management software, invoicing, and more.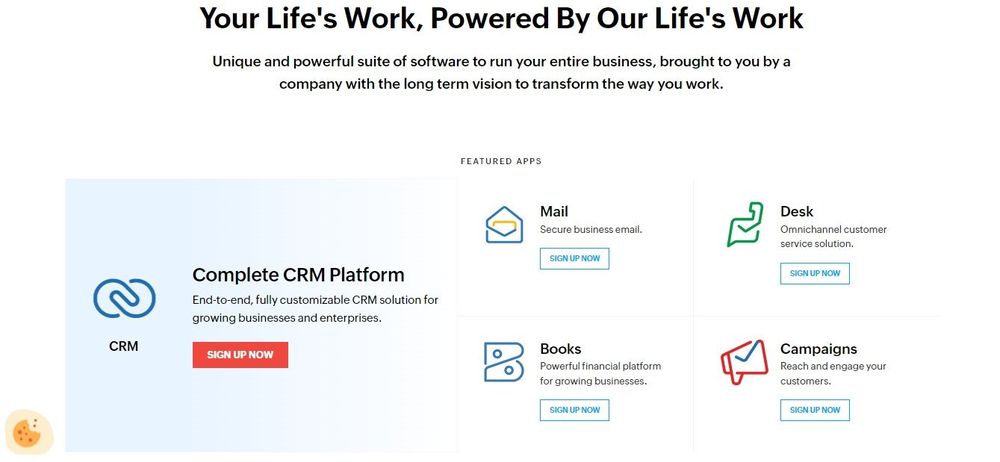 Advantages of Zoho
Zoho has many advantages for businesses. Some of these include:
A user-friendly interface that makes it easy to use.
A 360-degree view of customers which helps businesses understand their needs better.
The ability to track and monitor customer interactions effectively.
Scalability features that help businesses expand their customer base without any hassle.
Automation of processes and workflows.
Reasons to look for Zoho alternatives
While Zoho does offer many functionalities, its best features for freelancers are spread across multiple different plans, meaning you'll have to pay for several plans at once to get all the features you need. This can get pricey, giving users a great reason to look for an alternative. Additionally, customer support is another big factor that makes users pursue other opportunities. Some users may also find the platform overwhelming with its pool of options and steep learning curve compared to other CRMs.
With this in mind, let's take a look at Indy, an app designed for freelancers. Then we'll review 6 other alternatives to Zoho.
Indy: The freelancer toolkit that does it all
If you're tired of juggling multiple tools to run your business, then you're gonna want to check out Indy. It's the one-stop-shop for managing your freelance business, with all the tools you need in one place. From sending proposals and signing contracts to tracking billable hours and creating invoices, Indy has you covered!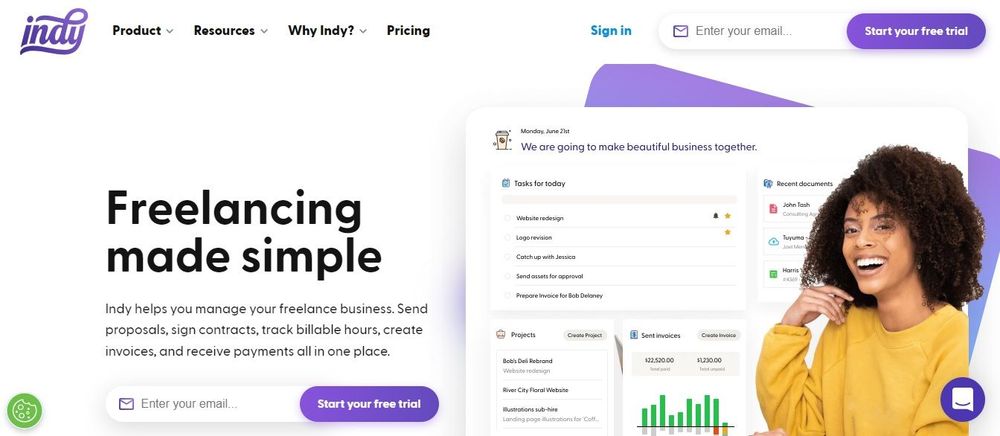 Advantages:
Using Indy comes with a bunch of advantages that will make your life as a freelancer so much easier. You'll save time and money by having everything you need in one subscription and one website, including Proposals, Contracts, Invoices, Forms, Files, Calendar, Tasks and a Time Tracker. Plus, Indy has advanced features like workflow automations and integrations to streamline your workflow and boost productivity.
And the best part? You can use Indy's core tools for free with the Free plan! For advanced automations and integrations, you can sign up for Indy Pro for just $12/month, which is half the cost of most project management software!
Disadvantages:
While Indy is a great CRM option for freelancers, it may not be the best choice for those looking for team management features. While Indy does offer project and task management tools, it lacks some of the more advanced features required for larger teams, such as employee time tracking and advanced reporting options.
Another potential drawback of Indy is that while it offers simple and straightforward invoicing capabilities, it doesn't have a bank connection feature to track payments automatically. This means that freelancers will need to manually update payment statuses in the system.
6 more Zoho competitors with similar products
Now let's look at the rest of the competition. These are all great products. However, if you're a freelancer, they might be just a bit too much. We'll tell you about each one and give you their advantages and disadvantages.
1. Salesforce
Salesforce is a widely used and trusted CRM software platform that caters to businesses of all sizes. One of its main USPs is that it offers customizable dashboards and advanced sales forecasting, lead management, marketing automation, and mobile app functionalities. Its intuitive and user-friendly interface allows you to organize your full sales funnel, pipeline, and customer data efficiently. However, it has a steep learning curve and can be expensive, and the limited storage capacity can be an issue for businesses with large data requirements.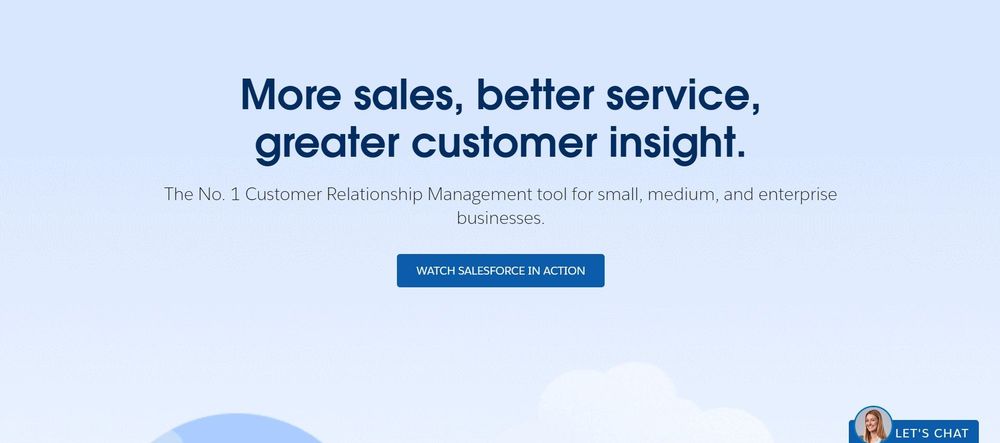 Advantages
Salesforce has been around for a long time and has established itself as a reliable and scalable CRM solution. Its robust features for lead management, marketing automation, contact management, and mobile app functionalities make it an attractive option for businesses looking to streamline their sales processes. It also offers a wide range of integrations, including social media and email marketing platforms, making it easier to connect with your customers and prospects.
Disadvantages
Salesforce may not be the best option for freelancers as it can be challenging to navigate, has a steep learning curve, and may require a dedicated team to manage it effectively. It is also expensive and has limited storage capacity, which could pose problems for businesses with large amounts of data to store and analyze.
2. Microsoft Dynamics CRM
Microsoft Dynamics CRM is a CRM software platform that integrates well with other Microsoft products. It has robust sales automation, customer service, marketing automation, social listening, and mobile app functionalities. Its main USP is its seamless integration with other Microsoft products, allowing for streamlined workflows and easier collaboration. However, it can be expensive and complex to customize, and the limited third-party integrations can be a drawback if you rely on external tools.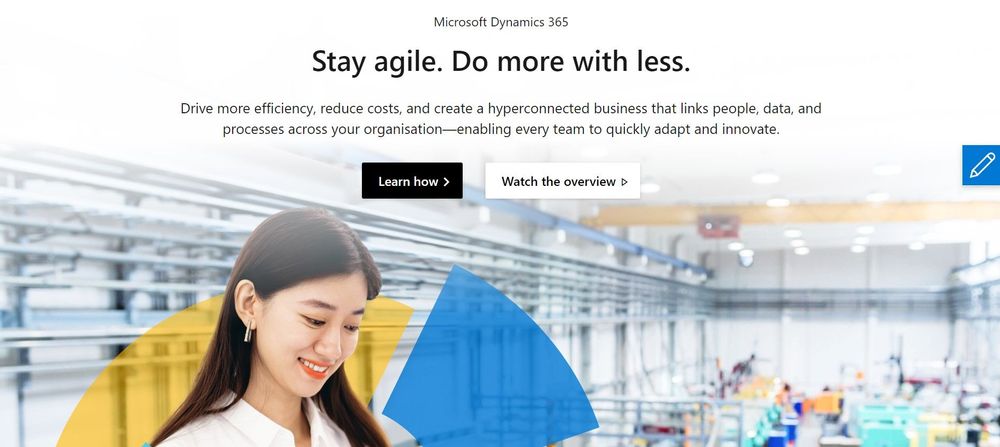 Advantages
Microsoft Dynamics CRM's integration with other Microsoft products is its standout feature, allowing independent businesses to use a familiar interface (reducing the time it takes to learn how to use the tool). It also offers a range of automation features, including sales and marketing automation, which can help to increase productivity and streamline workflows. The mobile app is also highly rated for its usability and functionality.
Disadvantages
Microsoft Dynamics CRM may not be the best choice for freelancers as it can be costly and may require a dedicated IT team to manage it effectively. It can also be complex to customize, which can lead to frustration and delays in implementation. Finally, its limited third-party integrations can be a drawback for freelancers who rely on external marketing tools to manage their sales processes.
3. Hubspot CRM
Hubspot CRM is a well-known name in the outbound marketing automation arena. It's a marketing, sales, and customer service platform that offers anything and everything related to marketing and sales in one place.
It's an all-in-one platform that includes free CRM software for your sales cycle, inbound marketing automation software, email marketing, social media management, and customer service tools. Additionally, HubSpot is easy to use, and you can even use it as a CMS for content marketing or to build your website. Overall, Hubspot CRM is a comprehensive tool that can be a perfect fit for freelancers that need an all-in-one marketing and sales platform.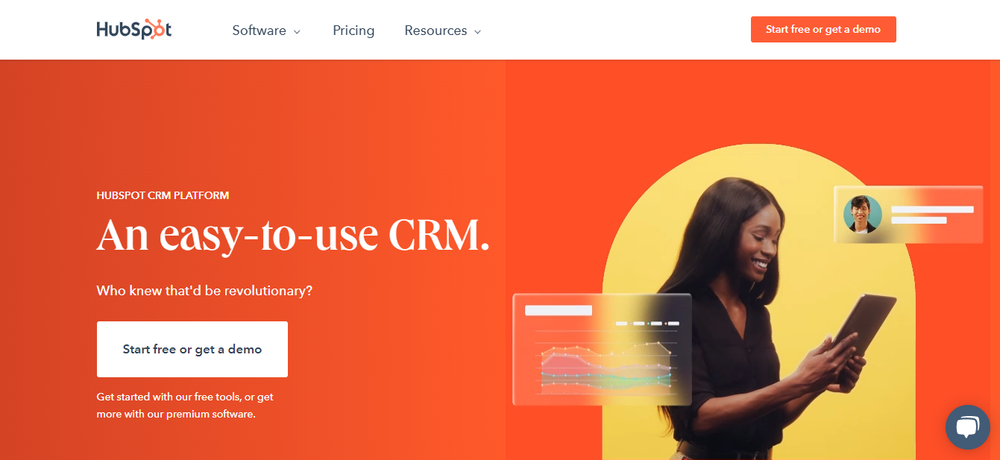 Advantages
One of the significant advantages of Hubspot CRM tool is that it's a truly all-in-one marketing, sales, and customer support software. It's easy to use, and its user interface is one of the best among CRM software, which makes it easy for users to use and navigate. Moreover, it's an all-in-one solution, which means you don't have to worry about multiple tools or systems for different tasks, making it a valuable time-saving tool. Additionally, HubSpot CRM offers free CRM software, and it acts as a marketing platform, data warehouse, and communications tool at the same time.
Disadvantages
Despite its advantages, Hubspot CRM has some drawbacks, especially for small businesses. One of the significant disadvantages of Hubspot CRM suite is that it can get expensive really quickly. While its starter plan is only $50 a month, you only get limited features in the free version.
Moreover, as your business grows, the prices you will need to pay will also rise, and quite steeply. It's also not very effective when you don't use it as an all-in-one tool. Additionally, Hubspot does not offer A/B testing on lower plans, and you have to pay for additional technical support (and the mandatory onboarding service is expensive). Finally, the templates are hard to modify, and there are more affordable alternatives that will essentially do the same thing.
4. Infusionsoft
Infusionsoft by Keap is a robust all-in-one CRM and marketing automation platform. Its key selling point is its ability to integrate various CRM tools and marketing automation functionalities within a single interface. With Infusionsoft, freelancers can manage their customer relationships, automate marketing processes, and send email campaigns from a centralized location. Its standout feature is the Pipeline, a lead management tool that enables business owners to customize sales stages, prioritize next steps, and follow up with leads. Another useful feature is the My Day dashboard, a task-oriented workspace that helps business owners focus on their daily to-do list.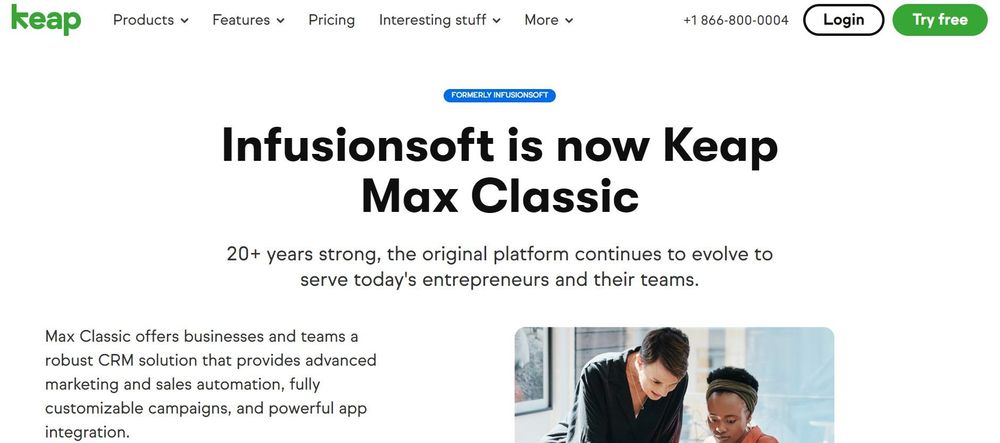 Advantages
One of the main advantages of Infusionsoft is its flexibility in managing the CRM system and marketing solutions stack from a single interface, making it a compelling option for freelancers and managers who have to wear multiple hats. It also offers unlimited hosted web forms and allows users to customize the layout and styling of their forms and landing pages. Infusionsoft's real-time alert dashboard and personalized campaign workflows make it easy to manage contacts and automate marketing tasks. Additionally, Infusionsoft integrates with popular apps like QuickBooks Online, Gmail, and Outlook, making it a convenient solution for freelancers who rely on those tools.
Disadvantages
However, Infusionsoft's pricing is relatively high compared to other CRM solutions on the market, which might deter newer freelancers and business owners from investing in its features. Its reporting capabilities are also limited, with straightforward charts and graphs that lack additional metrics, which may not meet the needs of those who require more advanced reporting. Additionally, Infusionsoft's client management software is designed for smaller-scale deployment and may not be the best fit for freelancers who require more extensive features and scalability.
5. 17hats
17hats is an all-in-one client on-boarding software designed to make the process of quoting, contracting, invoicing, and time tracking a breeze. With 17hats, you can send quotes, contracts, and invoices to clients in a seamless manner, allowing them to navigate through the process with ease. 17hats also offers the ability to add optional add-ons to quotes and provides links for quotes and questionnaires, giving you the flexibility to communicate with clients through their preferred means.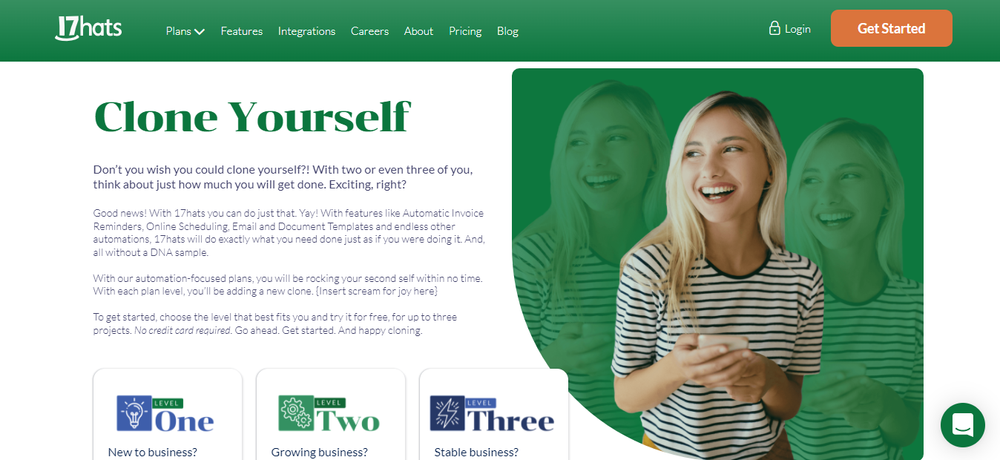 Advantages
One of the advantages of using 17hats is its seamless quote, contract, and invoicing feature. This feature alone can help increase client bookings by reducing the friction in the on-boarding process. Another advantage is the ability to add optional add-ons to client quotes, which can lead to increased revenue per client. Additionally, 17hats offers time-tracking features that allow you to track your time and add it to client invoices. The software is also easy for clients to use and offers great customer service and many third-party integrations.
Disadvantages
However, 17hats has a few disadvantages for freelancers. The software doesn't provide an at-a-glance view of your projects, so you might need to supplement it with an external project management tool. Also, the design could be improved, especially in terms of typography. Despite these disadvantages, 17hats is a great all-in-one, client management and on-boarding software that can help streamline your workflow and increase client bookings.
6. SAP CRM and Sales Cloud
SAP Sales Cloud is a cloud-based solution that helps business owners streamline their sales force automation, collaboration, sales enablement, and predictive analytics processes.
One of its unique selling points is its ability to integrate with SAP's online and on-premise business solutions, including SAP ERP and SAP CRM, and is built on SAP's HANA Cloud platform. SAP Sales Cloud supports industry-specific editions ranging from the tech industry to insurance, manufacturing, utilities, and banking.
It also has a marketing automation application, which allows users to monitor customer and sales force activities. With mobile apps available for Android and iOS, users can easily access customer data and make sales while in the field. SAP Sales Cloud boasts over 417,000 customers worldwide, making it a reliable and efficient tool for operating businesses.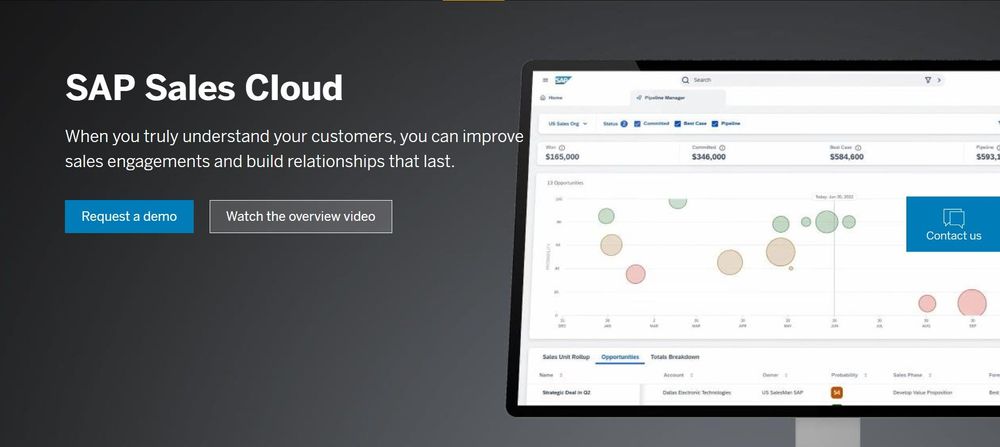 Advantages of SAP Sales Cloud
SAP Sales Cloud offers several advantages to users.
It is cloud-based, which means users can access it from anywhere, anytime.
SAP has an easy-to-use interface, making it simple for even non-technical users to navigate.
Customer support is readily available via online forums, chat, email, and phone.
SAP provides quarterly updates to the platform, ensuring that the system remains up-to-date and relevant. Lastly, the marketing automation features are excellent, allowing users to monitor and track customer behavior and salesforce activities.
Disadvantages of SAP Sales Cloud
Despite its numerous benefits, SAP Sales Cloud has some limitations. Firstly, it lacks integration with third-party applications, which can be a challenge for freelancers who rely on several applications. Secondly, it lacks offline capabilities for order management/capture, which can be a problem for users who need to access data while in areas with no internet connectivity. Lastly, its pricing structure may not be affordable for small business owners or freelancers.
Conclusion
Those are our picks for 7 of the best Zoho alternatives for freelancers. As you can see, there's a range of features these platforms offer. The best choice for you will come down to which features you need the most. As a freelancer, your requirements are different from traditional employees who work with larger teams. You have to be able to manage projects, client onboarding, time tracking, invoicing, and file sharing, all on your own.
In conclusion, if you're a freelancer looking for a budget-friendly, all-in-one CRM software, Indy is a great choice. You can manage Tasks, Invoices, Time Tracking, Contracts, Proposals, and more. With a user-friendly interface, affordable pricing, and robust features, Indy is an excellent alternative to Zoho and other CRM software. So why not give Indy a try today? Sign up for a free trial and see for yourself how Indy can streamline your workflow and help you grow your business.