Client management is all about building client relationships, managing client projects, and overseeing a team. When you work in client management, you're responsible for making the client's business grow. The client trusts you to handle their project from the project planning stage to the final success. Clients pay you to manage a project team and keep them updated on everything they need to know.
You need some essential skills to work in client management, but these are tools freelancers need. The top skills are communication, managing risk, setting expectations, and networking. Having good communication is especially important, as part of being an effective freelancer involves passing along sensitive information accurately.
We've looked at what it takes to be a client manager and what useful client management tools you can use to support you in this competitive line of work.
What is client project management?
Client project management refers specifically to the client management services side of project management. So when a client hires a company to complete a project for them, the client will want regular updates to ensure the project is efficiently completed.
Any project will have clear expectations, and the team will have to meet deadlines. The client will expect the whole process to be transparent, so they can understand the project's scope and ensure it's headed in the right direction.
What does a client project manager do?
A client project manager is a person who liaises between the client and the project team. Their main job is to communicate ongoing project progress with the clients, listen to concerns, and make them aware of any roadblocks. They still have the primary purposes of a project manager, but it's more focused on the client-side.
They will work with the clients, discuss probabilities, provide support, and discuss a reasonable timeline. But they're not just there for good news. Their job is also to inform the client of any impossibilities on the project and set them right if they have unrealistic expectations. They manage the relationship between the client and the team they've hired for the project. Essentially, they're there to keep clients happy.
Let's look at the essential skills a client project manager needs.
Communication
One of the essential skills for anyone working with clients is good communication. Client project managers are well placed because the client trusts them to give the good and bad news. They are responsible for passing on all client feedback to the team and managing client relationships.
Communication skills don't just come in the form of talking. You also have to be an active listener too. It's important to note all points of relevance in a conversation and pass on information accurately.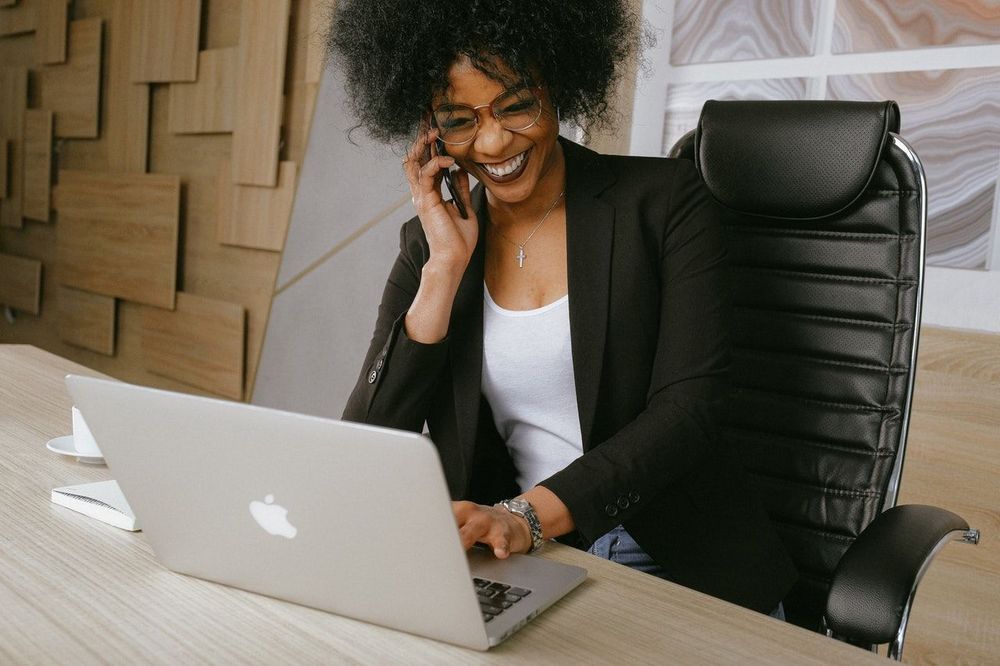 The client project manager is responsible for ensuring the project team and client are both on the same page, which is a lot of responsibility. Their communication skills need to be excellent to ensure they give correct information.
It doesn't just mean communicating at client meetings, either. In client management, you should make small talk, recognize birthdays, and build rapport so they like who you are. People buy into people, so you want your clients to have a friendly relationship with you.
Networking
As a freelancer, networking is a skill you need anyway, but it's even more critical when working in client project management. You might be working with multiple clients across different projects, and it's essential to keep all your clients happy. But you are also marketing yourself well to get new clients and new jobs.
That's done by working well, meeting deadlines, and always going the extra mile so that when your clients speak about you, they have good stories to tell. So you can use word of mouth as a marketing tool. But it's also important to put yourself out there, go to networking events, and meet people.
Managing risk
Working in client management doesn't always mean telling them what they want to hear. It also means passing on the correct information. Sometimes projects don't run to plan. There are problems, and unexpected issues crop up.
Being a client manager also means giving the bad news if a project has been delayed or there aren't enough resources. For instance, you would need to inform the client of any extra cost while discussing the project milestones.
Doing so can be a delicate process. It's also where communication skills come in handy as they have to phrase it to convince the client that additional resources and costs are needed.
Setting expectations
Managing clients' expectations is another vital skill for someone working in client management. Again, this isn't always an enjoyable part of the job. Sometimes clients have ideas for projects with no understanding of how long it will take to complete and can have unfeasible proposals or unrealistic timelines.
It's the job of the client project manager to iron out these issues before the project begins, so they have a clear understanding of the project timeline and can get updates on all the project milestones as they occur.
How does client project managing apply to freelancers?
Freelancers who work in project management can often end up in client management services. Many of the skills necessary to be a freelancer can also tie in with client project managers. Freelancers also need to be excellent at communication, liaising with clients, networking, and setting clear expectations with their clients. So their skill base lends themselves to the role perfectly.
A freelance project manager will generally work on behalf of the client to lead the project. To do this successfully, you can use various client management tools.
Project management involves juggling many balls at once, so having project management software to help keep track of things can help manage the whole process more efficiently.
What to look for in project management software for client projects
We're going to look at what features you would expect in good project management tools. There are plenty of different apps available to support people with the project management process. Still, before you start looking into what's out there, it's essential to understand what functions they should have.
Here are some of the top functions you want in a project management tool.
Timeline planning
An effective project management software will show a complete timeline from the start to the end of the project to allow for project planning. This allows the team to understand the entire task list and estimate how long these jobs will take.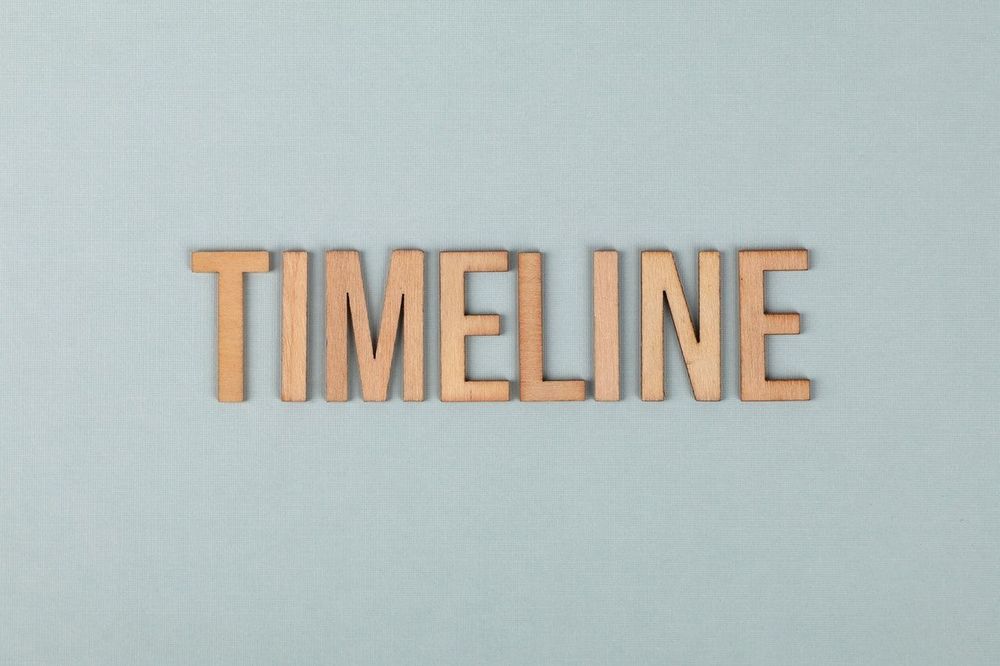 You can use Gantt charts to help with estimating a project timeline and assign tasks to team members. This allows everyone to understand precisely what's involved in making this project a success. The client will appreciate organization, and it would be helpful to go through the whole project plan with them before starting.
Client communication
When using project management tools, you'll want a client portal where you can communicate directly with the client and give them real-time updates. Think of them as a business partner. While they might not have all the technical knowledge of the project team, they'll want access to the tasks to understand what's going on. They're heavily invested in this project and want to see it succeed.
As a client project manager, when you're speaking to the client, it can be helpful to avoid technical jargon and industry-speak. Make everything more general and easy to understand when you're explaining the process, and come at it from different approaches if you need to.
Another valuable tool for client communication is secure file sharing, as you'll want to send reports, plans, and finished pieces of work to them as the project is ongoing.
Task management
An excellent task management tool is crucial to project management. As the project manager, you'll want to keep on top of all the ongoing tasks, see what is assigned to which team member, and understand how far along the project is. Gantt charts are a practical way to measure this, but many project management software have their own versions or integrate with other task management apps.
Having an extensive to-do list allows you to understand what tasks are the most crucial and which ones are the most time-consuming. You'll be able to organize the task list and decide which ones need to be focused on first.
Best project management tools for freelancers
We've compiled a list of the best project management tools for freelancers who work in client management. These tools have excellent communication portals, task management, and project timeline functions. But there's also a lot more to them than that. If you're working on client projects, these are the tools you'll want to use.
Indy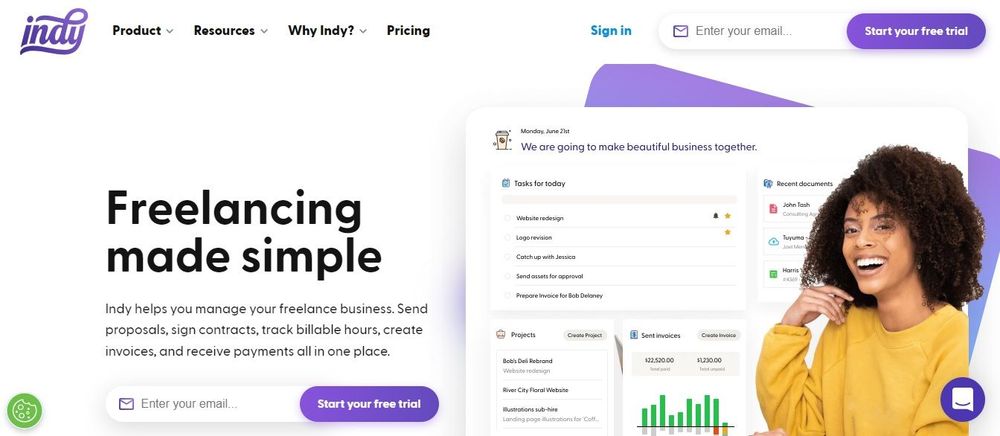 First up is Indy, a versatile project management tool suitable for client projects. Indy is a new and affordable project management platform built for freelancers. It has a range of helpful features:
Communication: A centralized chat function allows you to create group chats, give real-time updates to clients, and communicate with project team members.
Calendar: Indy's calendar lets you schedule meetings and events, track time, manage deadlines, and integrate with other apps like Google calendar.
File storage: They have a section for storing files and documents to share files with clients and the project team. You can also have clients approve files and add revisions.
Forms: Indy also has an area for creating forms. You can send contact forms to generate new leads and help with your networking.
Invoices: They have a professional invoices function, allowing you to invoice clients on time and ensure all the essential information is there.
Tasks: Indy has an excellent task management section which means your project team can keep on top of all your upcoming tasks, understand what's due, and manage a to-do list.
Time tracker: There's also a time tracker to help you bill clients with your billable hours. You can track and manage how much time you've spent on each task.
Pricing
Indy's Free plan is an excellent way to get a feel for the project management tool and see if it suits you. It gives you free unlimited access to all the basic tools you need to manage your business.
Their paid pro plan is much more comprehensive and only costs $12 per month if you bill annually. It's got unlimited invoices, contracts, and proposals, a 1 TB file storage section, and full access to customized profiles and the opportunity to brand invoices. You also get all the same features as the free plan.
Indy is affordable and has a comprehensive offering perfect for working in client management compared to other project management tools.
Wrike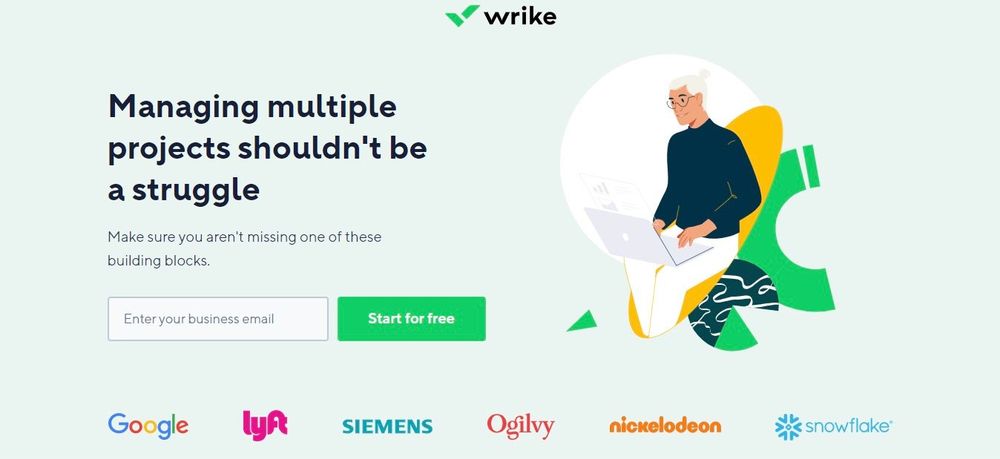 Wrike is another project management tool about the customer and working with the rest of the project team. They have a range of features that streamline the process and make client management easy.
Charts and boards: Wrike uses interactive Gantt charts and Kanban boards to create agile teams and monitor tasks through an easy drag-and-drop interface.
Workflow templates: They have templates to help make projects go faster, like onboarding and product delivery. Users can access their range of templates and select the most suitable.
Collaboration tools: They have digital publishing and visual proofing options, so people can approve as they go. There's a shared team calendar so you can monitor everyone's tasks and deadlines.
Time tracking: You can use a timer or track time manually to reflect accurate billable hours. These can directly make up the bulk of your invoices.
There are other valuable features like to-do lists, analytics for detailed reporting to monitor progress and performance, and invoicing software. Wrike markets itself as an all-in-one toolkit for the project manager.
Pricing
They have a free plan that gives users access to the web, desktop, and mobile apps. There are work schedules, collaboration tools, task management, activity streams, and cloud storage with your Google Drive, Dropbox, and Microsoft Office.
Their professional plan is aimed at growing teams and costs $9.80 per user per month, including extra features like Gantt charts, shareable dashboards, and MS Project and Excel integrations.
Wrike has a business plan with a customized platform and offers lots of customized features in workflows, fields, a branded workplace, project and task approvals, real-time reports, and time tracking and timesheets. It integrates with Salesforce and gives each user 5GB of file storage. This comes in at $24.80 per user per month.
Their top two plans, enterprise and pinnacle, are quoted depending on the scale you need them for. They are for a business with complex needs and give access to the most extensive range of features Wrike has, like single sign-on and two-factor authentication, audit reports, admin permissions, budgeting and billable hours, and job roles.
HelloBonsai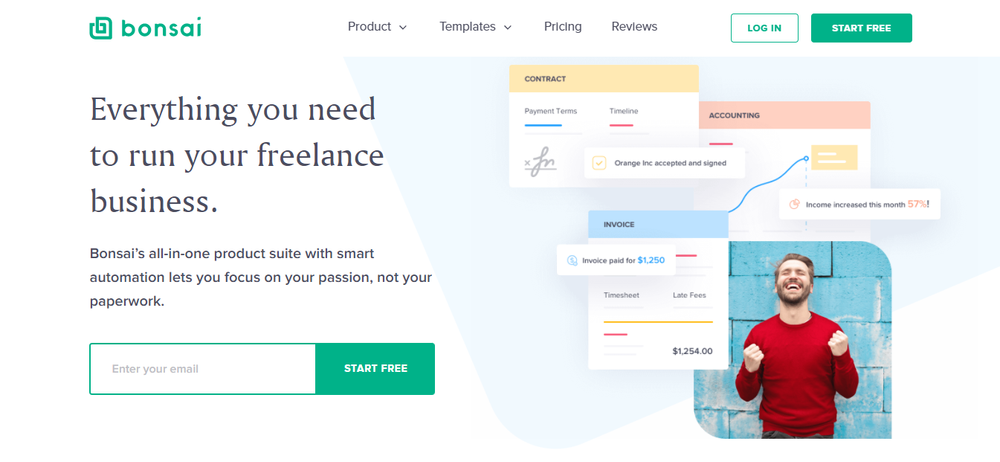 HelloBonsai is another client management tool with excellent dedicated features for managing client projects. These include:
Client CRM: A dedicated portal for client management and project organization. You can manage a client list, organize to-do lists and tasks for each client, share files and documents, and add team members.
Task tracking: You can add new tasks, have timers for the task list, assign tasks to team members and integrate them with billable hours to keep on top of the many tasks in a singular project. You can also create templates and reuse them on future projects where necessary.
Contracts and proposals: You can create proposals and contracts for clients and have them electronically sign the documents to save time. These templates are legally vetted, and you can send reminders for client signatures.
HelloBonsai also gives users access to tax forms, professional invoices, time tracking, and a forms and automations section. There's plenty to allow you to manage projects from one helpful interface.
Pricing
HelloBonsai is one of the more expensive options on this list, with their monthly starter plan costing $24 per month. This gives users access to unlimited clients and projects, the proposals and contracts function, a client CRM, expense tracking, tasks and time tracking software, and all templates on the website.
The professional plan is advertised as their most popular and aimed at small businesses. It comes in at $39 every month and has all the same features as their starter plan. People also get additional features like custom branding, forms and questionnaires, workflows, a dedicated client portal, integration to Calendly, and can have up to 15 team collaborators.
Finally, their most expensive business plan is $79 monthly. It has all the previous features, alongside hiring templates, access to a talent pool, and the ability to connect multiple bank accounts and unlimited subcontractors and project collaborators.
Monday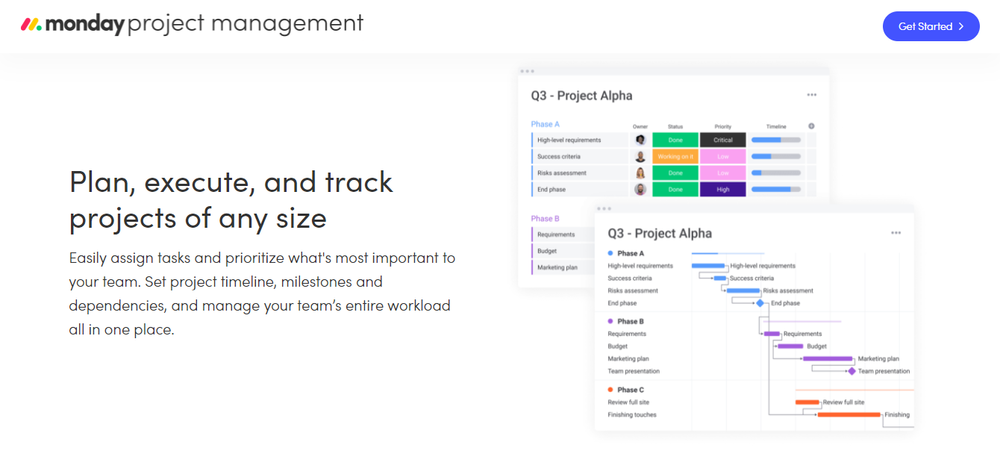 Another client management tool, Monday, boasts plenty of features suitable for managing client projects.
Dashboards: The dashboard function allows you to get a birds-eye view of all the project deadlines and tasks and manage KPIs from one easy interface.
Docs: They have an online word processor that allows collaboration within documents. You can create to-do lists, assign tasks, add comments, and drag-and-drop text.
Integrations: Monday integrates into plenty of other tools like Microsoft Office, Google Drive, Dropbox, and Slack.
Automation: You can set up many automated functions to save time, like sending emails to remind people of due dates, giving updates when tasks are completed, and changing to-do lists. This ensures everyone is on the same page.
There are many other useful features such as Kanban boards and Gantt charts, a canvas tool that allows the team to collaborate on the project over one helpful screen, and templates for proposals and contracts.
Pricing
Monday has five pricing tiers. The first is free, allows for up to two team members, and has 500MB of file storage. It is limited but best suited for an individual freelancer who wants to manage tasks. The basic plan is $8 per member per month when billed annually and has a minimum of three users. The storage is up to 5GB and has prioritized customer support, unlimited items, and dashboard options.
The next plan up is their standard plan, costing $10 per member per month when billed annually. The file storage is up to 20GB, and users get a timeline and Gantt charts, a calendar, guest access, up to 250 automations every month, and integrations into third-party apps.
Their pro plan adds in time tracking, formula columns, more integrations and automation, and a dashboard with up to ten boards. It costs $48 per member per month when billed annually. Finally, they have an enterprise plan suitable for a larger business that is individually priced when you contact their sales team.
Hectic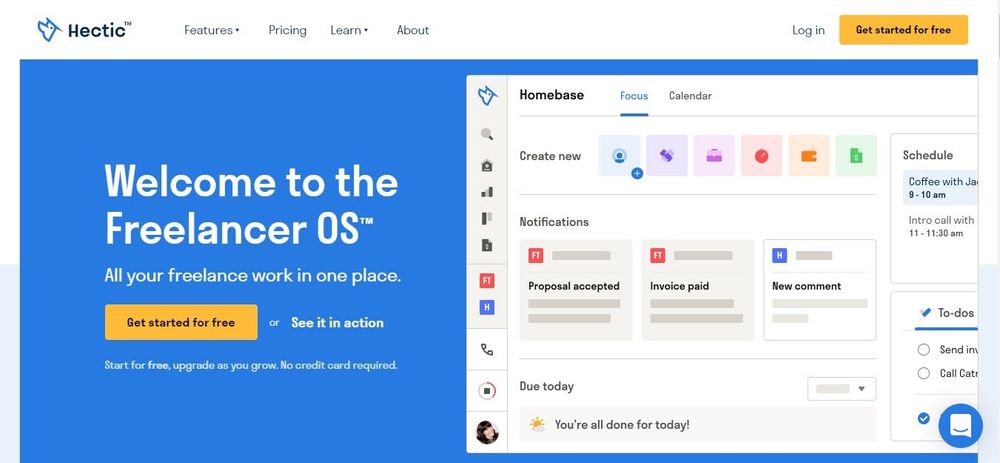 Hectic is a project software built for client management. They have an extensive client portal and everything you need to manage a project. Their comprehensive range of features includes:
Client management: Hectic has an excellent client management system to help build client relationships, allowing you to see an entire task list, percentage of tasks completed, estimated time left, invoice history, next due date, and view a full list of completed tasks, in-progress tasks, and tasks not started.
Project management: Their project management section has Kanban boards, and you can decide how to make your workflow work for you. You can calendar view your tasks, know precisely when all the deadlines are, handle deliveries, collaborate with other team members and clients, and organize your work.
Dedicated client portal: They have a specific client portal you can personalize, schedule meetings, manage project progress, send contracts and proposals, and clients can pay invoices, all from one user-friendly dashboard.
Proposals and contracts: A drag-and-drop proposal building feature allows you to create professional and accurate proposals and win more clients. They have a contract function so that you can write the complete project's scope into your contract. There's also the opportunity to create comments and send notes to clients.
Hectic also has an accounting section to keep on top of your business accounts as a freelancer. There's also a calendar that fully integrates with your Google drive. They've got a meeting schedule, time tracking software, and collaboration tools too.
Pricing
Pricing at Hectic starts with their free forever plan, which has the client relationship management sections, full access to their mobile apps, time tracking software, calendar, and forms. Users can also manage their expenses and accounting, proposals and contracts, and accept online payments from clients. You still get access to unlimited clients on the free plan, too, so it's the perfect way to start.
The pro plan starts at $11.99 per month. Users on pro will get the dedicated client portals and more customization options, like custom domains. They can also manage a sales pipeline, access the meeting scheduler and automated expense tracking tools, and collaborate with teams. They have another plan aimed at teams of five or more people, which has all the same offerings but is $19.99 monthly.
Wrapping up
Working in client management is all about communication and managing the project team while managing client expectations. Remember, when building client relationships, it's about more than just talking about the project. It would help if you created a rapport, remembered their birthday, made small talk about their lives, and showed a genuine interest. If your client buys into you and likes you as a person, they'll be more likely to keep working with you.
There are plenty of project management tools on the internet to support people when working on client projects. The features you want to see in a good client management tool are communication options, collaboration tools, task management software, and file sharing. These are all essential criteria when working on client projects to ensure you can deliver while meeting deadlines. There are other excellent features you'd like to see, like a calendar that integrates with Google or invoicing and proposal support so you can give clients professional invoices.
You should now have everything you need to build relationships with clients and manage projects. If you're looking to try client management software, we'd recommend Indy as the most affordable option with a comprehensive package suitable for freelancers. It is the all-in-one freelancing toolkit you need to have success.