Confluence and Jira aren't competitors. They are really siblings from one parent company: Atlassian. However, the two of them together provide many of the functions you'll need during the project management lifecycle. Jira software focuses on software development projects as an issue tracking tool. Confluence is useful for project management as a wiki collaboration tool. Project managers can combine these two to manage projects and all the information they create.
If you're a freelancer or run a small business and want to find a place where you can get all the tools you need to run your business in one place, we'll also talk about a great option for you to think about: Indy.
Let's compare these two tools and see which one might be most useful for you as a freelancer.
Confluence: What is it?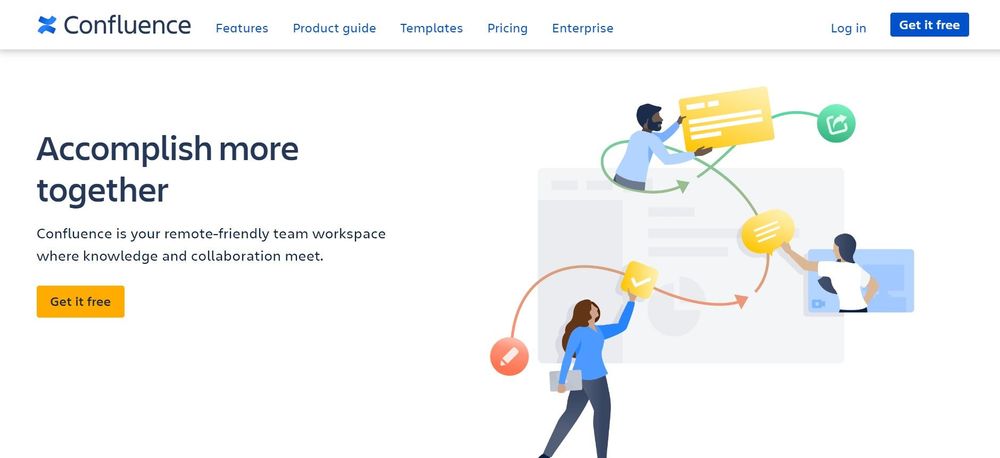 Confluence is an online platform for collaborative work, ideal for teams working on crucial projects together. Meeting notes, strategy papers, design documents, and information technology documentation may all be easily written using this wiki-based content management solution. Teams can make better judgments quickly and accurately because of the increased efficiency with which they produce, store, and communicate information.
Confluence is unique among the many accessible collaboration and content management tools because of the features it offers. Because it is written in Java and built with a number of open standards and libraries, it can quickly access and work with a wide variety of databases and application servers.
Confluence allows businesses to facilitate teamwork by allowing members to share ideas and information, manage and monitor projects, divide up duties, and more. In addition, HR and legal regulations, how-to manuals, troubleshooting, and standard operating procedures may all be documented in Confluence.
Confluence features
Have you read anything interesting recently and want to talk about it with a teammate? Then, you may use a Confluence Page to get the job done. You may use @mentions to let others know about the project. For larger organizations, mentioning someone while sharing material may be tricky and time-consuming. They've found great success with the aid of Confluence.
Just enter the person's name in the field provided to make special notice of them. The details of the person you haven't tagged yet are also provided. As a result, it's simple to identify each team member's specific function inside the organization.
Capabilities for searching
A notable feature of Confluence is its enhanced search capabilities. The more specific filter allows you to narrow your search to specific locations or media categories. It's a huge boon to the staff's quality of life and productivity when dealing with large quantities of project documentation.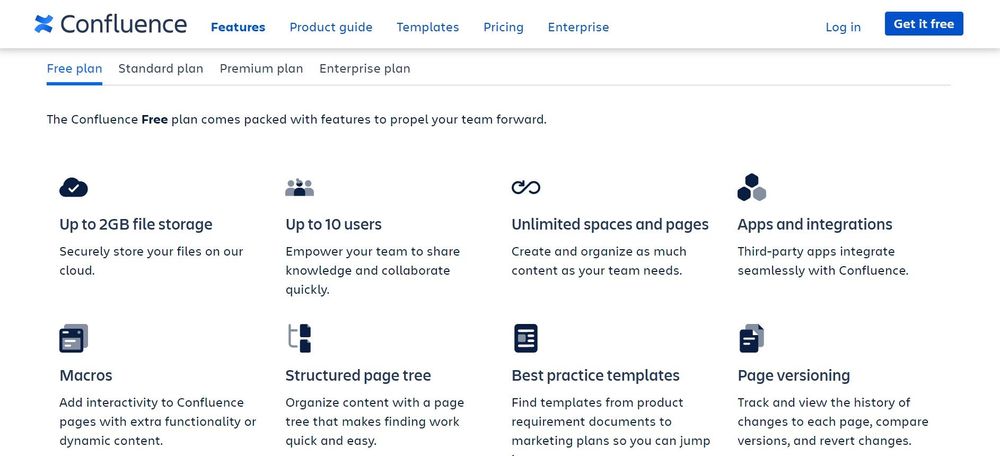 File modifications
One of Confluence's most popular features is the software's capacity to facilitate painless file exchange and discussion. It used to take a lot of time and energy on the part of the employees to edit attachments. Confluence makes it simple to modify any file or document. There's no need to re-download anything after making changes since they're saved immediately.
Collaboration scheduling tools
This function allows you to incorporate the shared team calendar into your own personal calendar. You save yourself the time and effort of having to add the appointment to the team members' calendars, as well as the inconvenience of having to schedule the meeting from two distinct calendars. Confluence, on the other hand, automatically adds the meeting to the group's shared calendar. This keeps everyone on schedule during mission-critical projects.
Apps for mobile devices
On occasion, you may need to put in some time away from the office, but maintaining a connection with your team is always a must. In light of this need, Atlassian developed the Confluence App, which provides mobile access to your team's workspace. As a result, you and your team will be able to develop work, revise all your project documentation, get alerts, and maintain constant communication.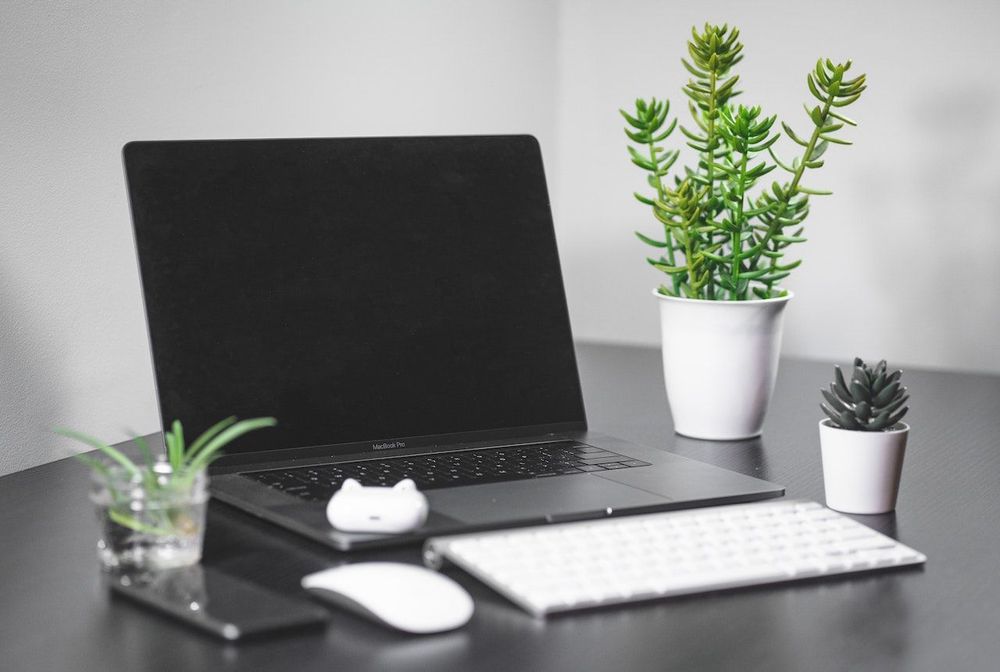 Confluence's pros and cons
Pros
You may work together on a shared knowledge base using Confluence Pages. Version Control also allows you to monitor who contributed what and when. It also alerts you whenever you change the time. In this way, you can be confident that the Confluence Space you build will be complete, up-to-date, and accurate.
Through Confluence's built-in Analytics feature, you can keep tabs on which pages are the most popular among readers. It's vital for figuring out how information is being put to use inside your company and tracking projects.
Integrations—Confluence offers a robust marketplace for third-party integrators in addition to its direct connection with other Atlassian products. You may use these plugins to improve your charts, link your papers to the Google suite of apps, and even include GIFs in your writing.
Cons
One of the most troublesome aspects of using Confluence is the search function. The search tool has been revamped, but it can still be difficult to use. The search function doesn't always respect exact match queries, doesn't have autocomplete, and struggles with document permission levels.
Confluence's core functionality is strong, but many Confluence users require plugins for additional functionality. However, it is not always easy to integrate Confluence with these plugins.
Jira: What is it?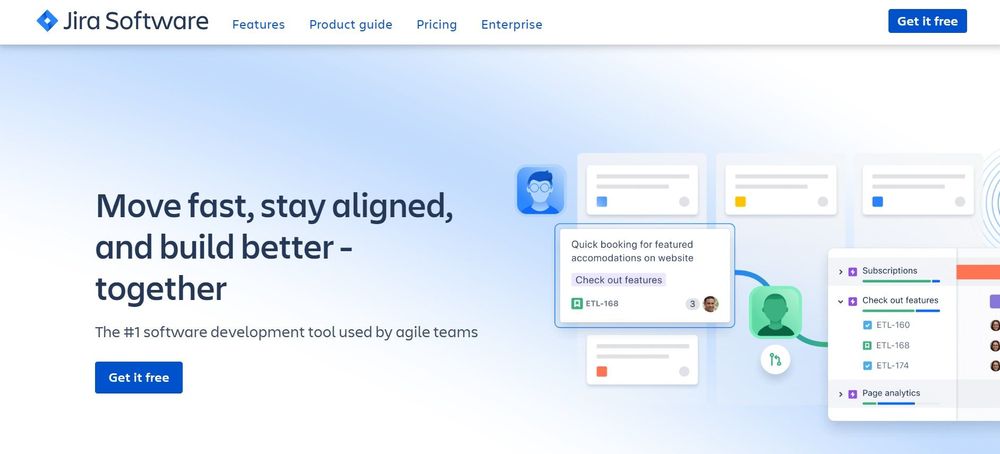 Jira, created by Atlassian, is a popular choice among business teams. Its primary goals are defect management, problem fixing, and project management. About 65,000 businesses are presently making use of Jira project management. It can be tailored to meet your needs in any way you see fit, and it comes equipped with a variety of tools for managing projects from start to finish and offering full visibility into the status of each stage.
Jira may be customized to meet the unique demands of each enterprise. The project management lifecycle is simplified with the ability to create, modify, and deploy a wide range of workflows, reports, and tasks. It's a collaborative workspace like Confluence that facilitates information sharing and issue tracking within the team. Through this method, the teams incur less expense and have fewer delays.
As a result, you may network with resources, people, and pursuits that aid in product quality design and join forces with others that share your goals.
Jira features
Jira has a host of features that will help you take control of the project timeline—from project management to reporting and security features.
Agile
Jira's most important application, Agile, makes use of the scrum and kanban board capabilities to improve productivity. Agile methodologies are fairly common, and the Jira software can improve project management for teams using this method.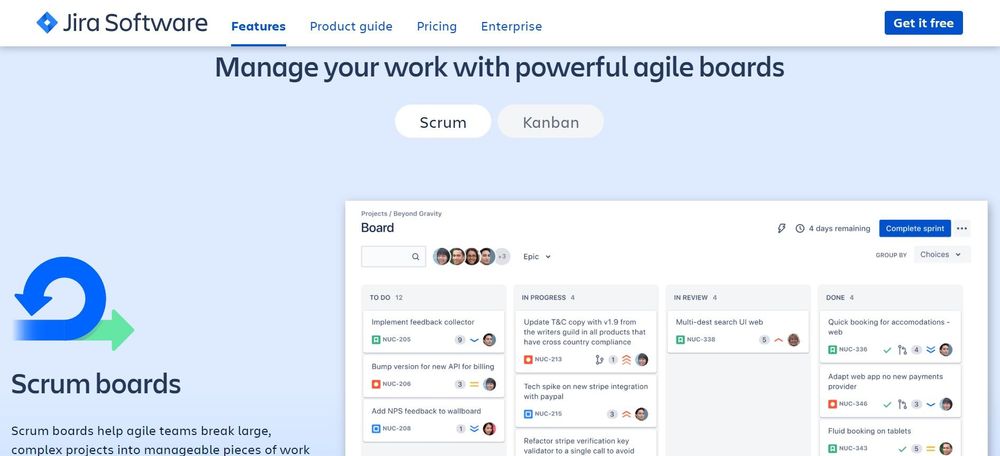 Project Tracking
Using Jira, users can keep tabs on their projects at any time, thanks to the software's issue-tracking capabilities. The Jira Query Language is a flexible query language that may be used to filter and resolve problems in a variety of ways.
Reporting
Jira reports allow you to get the information you need. The user is given a clear picture of the situation thanks to these reports.
Security
Jira's security configuration restricts access to individual bugs to just those who are authorized to work on the affected team member. Default permissions and other security measures are built in.
Real-Time Alerts
With Jira's aid, you can get the data you need right away, thanks to its real-time notification system. Issue updates trigger customizable email notifications. Optionally, it may send an email to remind you of pending work.
Jira's pros and cons
Pros
Jira lets its users make big pictures, share their intentions and plans, and establish links to the larger project roadmap and strategy documents.
Jira facilitates many sprints by providing a unified perspective on all user stories.
Integrating Jira with many different software packages and operating systems is simple, and many integrations already exist.
Jira workflow allows for the creation of unique processes that can be adjusted to meet the needs of any Jira software project.
Developers, project managers, engineers, managers, and even non-technical business people may all benefit from using Jira.
Cons
Mobile app users are less happy than those who use Jira on the web.
It is difficult for users to switch to new application lifecycle management systems or integrate these with Jira.
Jira does not support re-downloading reports as pictures.
Jira has a complicated user interface.
Confluence vs Jira: Pricing
At this point, we know that Confluence and Jira are two of the most popular tools on the market. But it's vital to ask yourself a few questions before deciding which one is best for you.
How does their pricing compare?
Which tool gets you the most for your money?
How much will it cost you in the end?
Keep these questions in mind while taking a closer look at the pricing of Confluence and Jira.
Confluence pricing
Confluence offers four different pricing plans:
1. Starter Plan
Small teams of up to 10 users
Issue tracking
Basic reporting
Cost: Free version
2. Standard Plan
Teams of up to 50 users
All features from the starter tier
Advanced reporting
Workflow management
Integration with third-party applications
Cost: $5.50/month per user
3. Premium Plan
Large teams of up to 500 users
Priority support
Unlimited storage
Advanced security
Custom branding
Cost: $10.50/month per user
4. Enterprise Plan
Advanced workflow
Larger object storage
Enhanced search
Premium integrations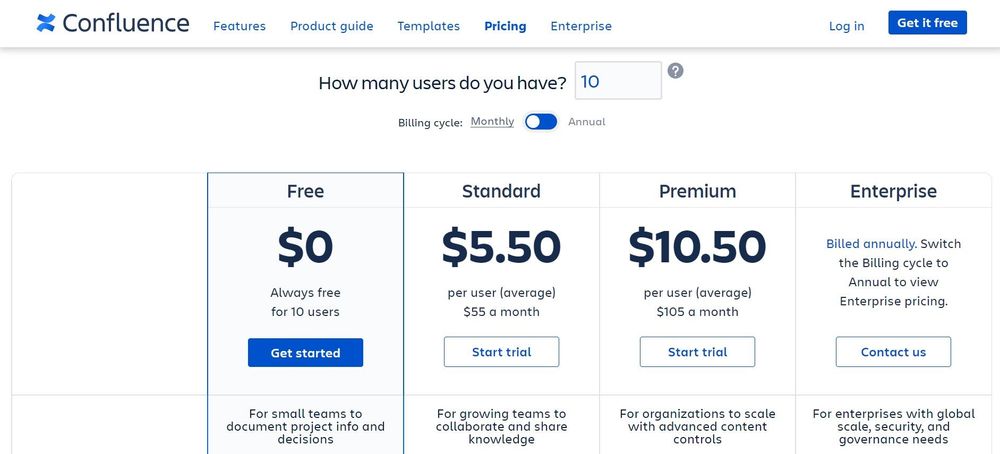 Contact Support - Billed Annually
Jira pricing
There are four different pricing plans for Jira:
1. Jira Free
Supports teams of up to 10 users
2 GB of storage
Unlimited projects
Kanban boards
Cost: Free version
2. Jira Standard Plan
Issue tracking
Integration with popular development tools
Unlimited projects and users
10 GB of storage
Cost: $7.50/month per user
3. Jira Premium Plan
Project templates
Time tracking
Unlimited storage
Field history tracking
Auditing
Extended security
Cost: $14.50/month per user
4. Enterprise
All of the above features
Atlassian Analytics
Atlassian Data Lake
Data connectors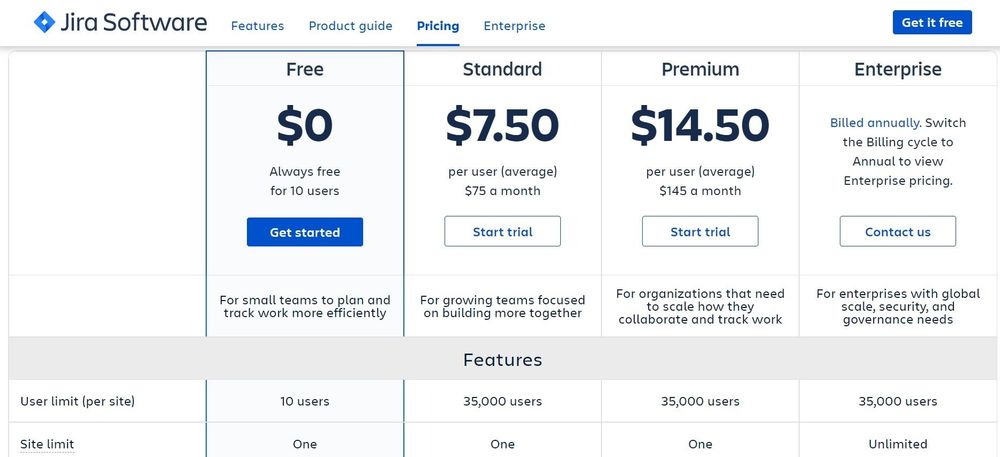 Contact Support - Billed Annually
Confluence vs. Jira: Differences
Functions
Confluence is a wiki-collaboration application that helps companies manage and store project-related information. Jira, on the other hand, is an issue and bug tracking platform that facilitates effective management of project functions, problem resolution, and bug tracking.
Role
As was previously stated, Confluence is a content management system built on top of a knowledge base. It makes it easier for the group to produce, coordinate, and archive work. It also facilitates effective information sharing, which aids in making choices and responding to consumers' demands in a timely manner.
Jira, on the other hand, belongs to the Jira family and is based on Agile practices for managing software development projects. Any number of activities, processes, and reports may be created, monitored, and altered by groups. Many companies successfully deploy Jira service management and issue tracking software.
Use
Confluence is used by businesses to provide monthly highlights, monitor difficulties, and keep track of basic information about all activity. Human resources and legal policies, best practices, operational procedures, and reference materials are also written in this format.
Jira is the greatest option for a dev team because of its superior bug tracking and problem resolution features. Tickets are assigned to Kanban boards so that team members and anybody else interested in the progress of a project may see where things stand at any given time. Moreover, team members may use the feature to "tag" one another if they need input or reviews from other members.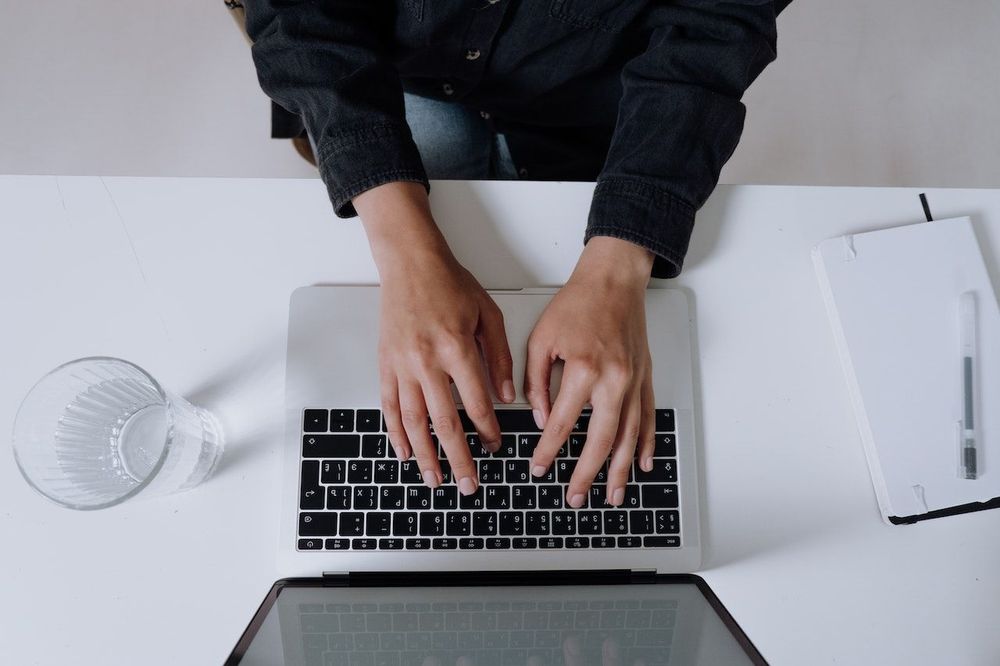 Final score: Confluence and Jira work together
Both Confluence and Jira have their uses that may help with project management, but in different ways. However, organizations that successfully combine Confluence and Jira reap the benefits of each tool's complementary nature and see a rise in productivity, collaboration, and information sharing.
Jira is great for keeping track of tasks and issues, but Confluence is where any new material from the project may be stored. Confluence material is organized hierarchically, making it easy to locate when needed.
They're easy to set up, and their unified interface makes working a breeze. They form a powerful combination that may help the company reach its goals.
If you're a freelancer, these tools might simply be too much. You might not need a fully customizable platform. You probably won't publish monthly highlights. And you're probably not going to track issues with an entire system.
This means you need a simpler option: Indy.
Indy: A freelancer's alternative to Confluence and Jira
Independent contractors can use Indy to organize their projects. Users can oversee their projects from proposal to payment because of the software's intuitive design, effective task management, and built-in time monitoring.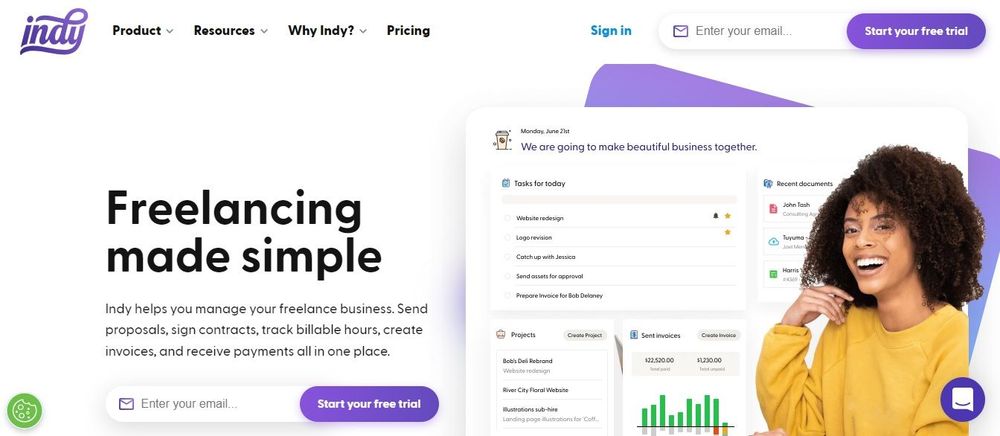 Managing invoices and contracts
Powerful tools for handling proposals and contracts are available on Indy, beginning with ready-made templates that make it easy to create legally-vetted contracts, proposals, and lead-generation forms. You can also customize templates by adding your branding, including logos, colors, and different fonts. The ability to electronically sign documents makes it easy to get the signature you need from clients to start projects quickly.
Complete project management solution for independent professionals
To guarantee the smooth running of your projects, you can use Indy's built-in project management module in conjunction with its other capabilities. The lightweight CRM system supports chats with clients, task management, file storage, automatic time tracking, and an intuitive calendar app to get a bird's-eye view of everything that's due.
Documentation and billing for completing tasks
Using Indy's invoicing system, you can generate a template, fill in your details, and send it off in minutes. Accept multiple payment methods, including PayPal, Stripe, Zelle, wire transfer, and more. When you're done, you can start collecting success stories by using Indy's Forms tool to send surveys to your happy clients.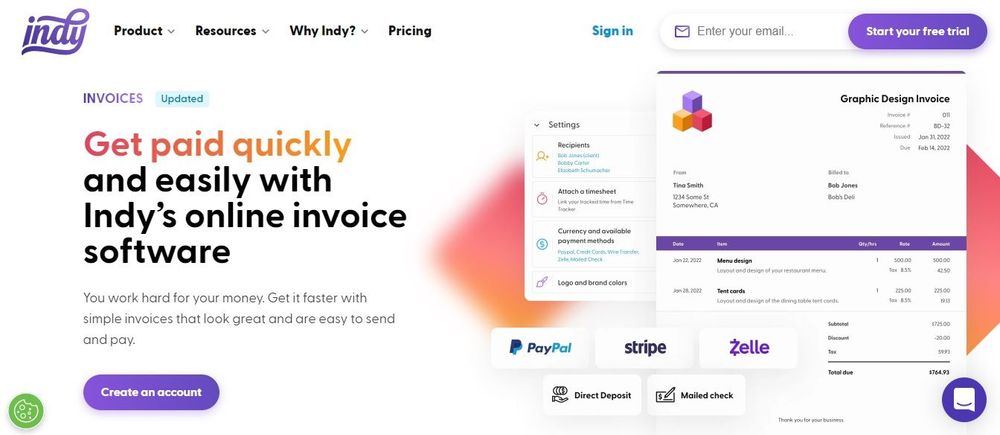 If Jira and Confluence seem like too much, then check out Indy. It's a simple yet powerful freelance project management tool that comes at a great price.