Jira uses agile project management, which in simple terms, means breaking down a project into smaller steps. It is frequently used by software developers but has become a popular project management tool over the years.
The way Jira software works for project management is pretty simple. Agile teams can use it to track workflow with different sections to show what is 'to do,' 'in progress,' and 'done.' This is what Jira agile is all about; issue tracking allows development teams to stay on top of what needs to be attended to.
Jira is most frequently used by software teams, but as a freelancer, you may need to keep track of multiple tasks at once. Jira work management will allow you to add project milestones and break down projects into each sub-task to help you complete the whole thing.
The principle behind the Jira methods comes from kanban, which is a Japanese word that roughly translates to 'signboard.' Kanban boards display workflow information in a way that helps you analyze your methods and find ways to become more efficient. Each project is broken down into smaller tasks through kanban cards that provide more detailed information.
Kanban and Jira have many similarities, but Jira isn't just a kanban tool. It is much more. Let's look into how Jira helps teams manage their projects.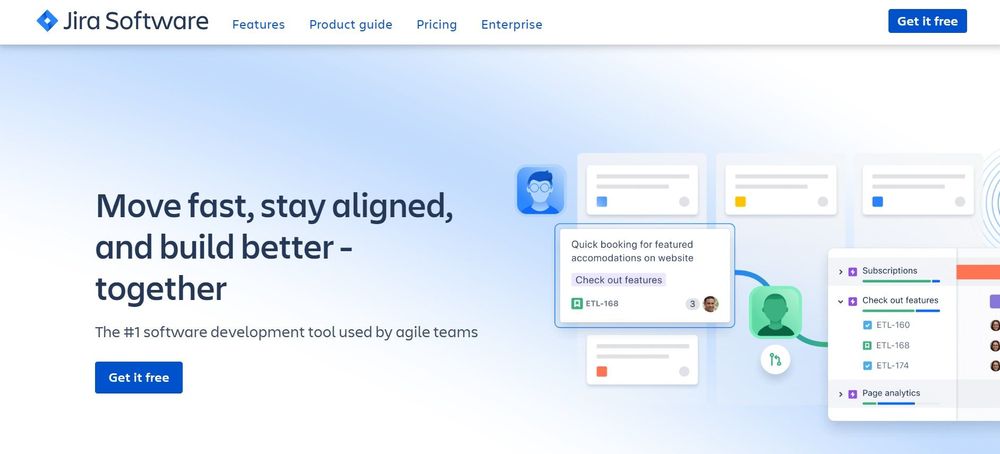 Jira versions
Jira comes in three main versions:
Jira Core: The most basic project management software offered by Jira.
Jira Software: Additional Agile functions added to the Core software.
Jira Service Desk: Mainly used by IT pros and help desks.
Main features
Jira has a number of key features. Let's highlight the main features of the platform used by teams for many functions.
1. Project roadmap
This is one of the most important things that software and product development teams can do with Jira. The project roadmap lets you make a clear picture of the product you are making, including a schedule, direction, list of tasks to do, and both short-term and long-term goals.
This roadmap is a work breakdown structure that your team can read and reorganize at any time during the project. It is the most important part of your Jira project management plan.
2. Detailed reporting
Jira has great reporting tools that are detailed but easy to use and understand. The standard reporting system for Jira includes everything you'd expect from a platform for managing projects, such as:
Created vs. completed tasks
User workloads
Task conclusion times
Time since issues
Average age of issues
Jira tracking also covers Agile metrics and formats, such as:
Scrum board tracking
Control charts
Cumulative flow charts
Burndown charts
And sprint reports
Jira's add-ons include more reporting tools that you can use if you want to do more with your reports.
3. Time tracking
Any manager needs to know how much time is spent on tasks and problems so they can plan for future sprints in the project life cycle. Jira lets you keep track of time using a number of different views and parameters.
If Jira's time tracking isn't enough or you already use a third-party time tracking program, the Atlassian Marketplace has a lot of integrations with more advanced time tracking programs.
4. Mobile application
The Jira mobile app is very helpful for project managers who are always on the go and don't have time to sit in front of a computer for hours.
Using the mobile app, you can keep track of your projects and backlogs, create and edit tasks or issues, and get updates on your projects.
Also, the Jira mobile app is available for both iOS and Android phones and tablets, so no matter what device you use, you won't miss out on anything.
5. Application security
Jira is a great choice for people who want to protect their project plans in more ways than just with usernames and passwords. Jira has many security features, such as integrations with Okta and OneLogin for single sign-on, two-factor authentication, account permissions, and controls for password policy.
Using these features will help you keep track of who can see what so that your private information is never left out in the open.
Unique selling points
Jira is unique in that it was not initially developed for project management purposes, but it has since become a respected platform. Starting off as an issue tracking tool favored in the field of software development, it has developed into a tool now used by project managers.
Jira automation allows you to break complex workflows down into simpler tasks. You can prioritize issues to help with overall work management. It is highly customizable, meaning it is adaptable to a lot of different working methods.
Even as a freelancer, Jira could help you manage your workflow. Although Jira has a pretty steep learning curve, making it a challenge for freelancers to use the basic features they need like templates and time tracking.
Target audience
Jira software is used by a number of well-known companies worldwide, including Dominos, Audi, and Cancer Research UK. For instance, Dominos has adapted its ordering and delivery services through Jira so that customers can receive their orders faster.
Jira is designed for software teams, but being highly customizable means it can mold to the needs of many different fields of work. That being said, it's a tool that won't be as easy to use as other platforms that are designed specifically for freelancers.
Pricing
There are several pricing plans available through Jira, depending on what you need to use it for.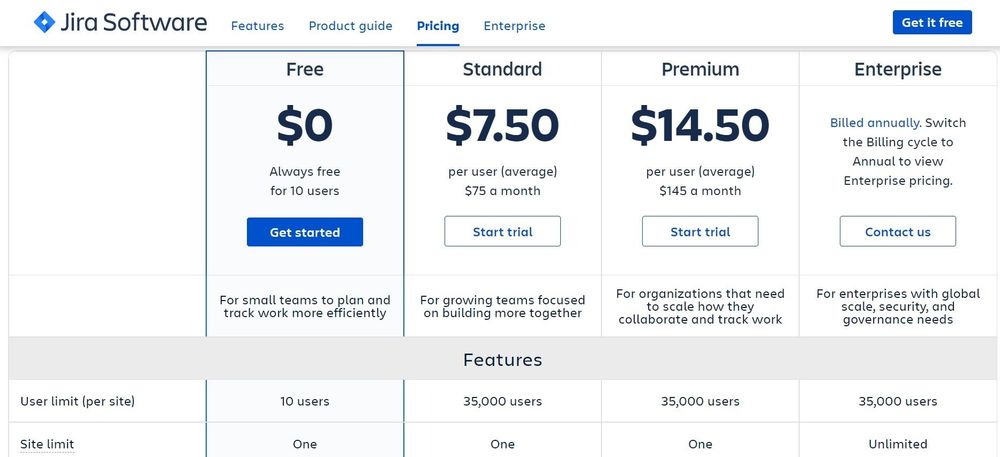 Free Version: Allows for up to 10 users and has the basic features you will need for a small operation, including scrum & kanban boards, backlog, agile reporting, customizable workflows, apps & integrations, basic roadmaps, single project automation, and 2 GB file storage.
Jira Standard: Costs $7.50/user/month and is good for teams who are starting to grow. This plan includes everything from the free version plus session duration management (desktop), project roles, advanced permissions, audit logs, anonymous access, and 250 GB of file storage.
Jira Premium: Costs $14.50/user/month and is used by organizations that need to scale how they collaborate and track work. This plan includes everything from the Standard plan and provides more advanced features such as global and multi-project automation, advanced roadmaps, advanced dependency management, capacity planning, project archiving, admin insights, sandbox, release tracks, and unlimited file storage.
Jira Enterprise: For the enterprise plan, you'll need to contact Jira for the pricing. This plan includes everything from the Premium plan with added support features for organizations with global scale, security, and governance needs.
Disadvantages
Since Jira was initially set up as an issue-tracking tool for software development, Jira does have certain limitations. For one, the project management side of things hasn't caught up quite yet. Users report that Jira project management is hard to set up and requires a steeper learning curve before you can start to use it effectively.
Jira also has a complicated user interface, so unless you really know what you are doing, task management can be a difficult process.
As with a number of project management solutions, there is no built-in timeline, which means tracking the progress of your projects isn't as easy as it could be.
And finally, a lack of collaboration features makes communication with the rest of the team less straightforward when a chat function would make things simpler. Most of these issues may be due to the fact that Jira wasn't originally set up with project management in mind.
Jira vs. Indy
In the easiest way to compare the two, Jira was set up first of all for project teams to deal with software management, while Indy was set up to help freelancers. With that in mind, Indy's intuitive interface makes it easy for freelancers to get started right away with little to no learning curve.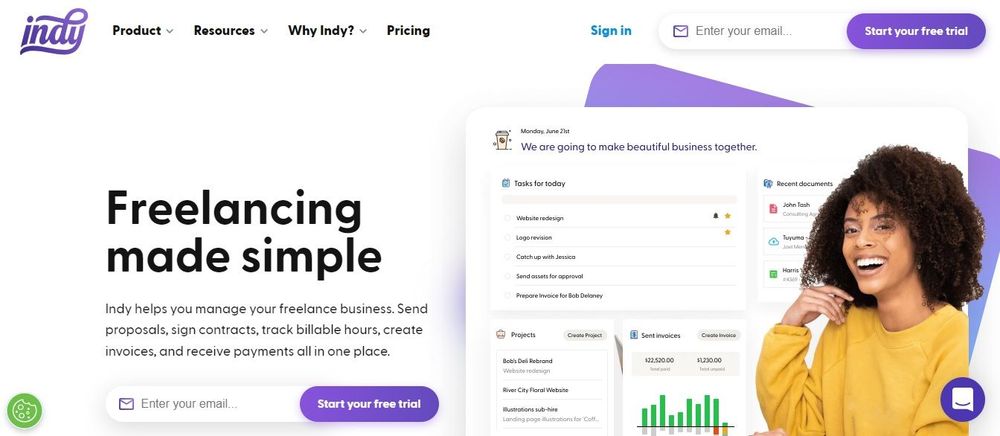 Along with project management, Indy also offers all the tools you need to manage the administrative parts of your projects, such as invoicing, contract management, lead generation, and time tracking.
With Indy, you can manage the project workflow with both board views and lists, giving you a clear view of what needs to be done each day. Tasks can be rearranged with drag-and-drop ease. And when you need to look ahead at what's in store for the rest of the month, Indy has a simple calendar app that gives you a bird's-eye view of which tasks, proposals, contracts, and invoices are due.
For unlimited access, Indy Pro costs just $12/month (although you can have unlimited access to all basic tools with Indy's free forever plan!).
Summary
Jira is used by some of the leading companies worldwide, but using project management software that isn't originally designed for freelancers can make managing projects a bit of a challenge. This will put a lot of people off, as Jira may lack some of the features that are useful within project management.
If you work with project teams, you'll find some of Jira's more advanced features useful, but for most freelancers, you will need to do more than Jira offers.
That's why Indy is the perfect alternative. Indy offers the tools you need to manage every aspect of your work.