There's a reason why successful businesses keep coming back to the same contract management solutions over and over again. These tools are proven to make businesses more efficient, productive, and profitable by streamlining processes that were previously fragmented and taking up far too much of an operator's time.
That said, not all software solutions are created equal. Some may cater to certain niches, while others offer more versatility in terms of supporting different business types and functions.
Contract management software streamlines your purchasing processes and optimizes the performance of your team. By automating mundane tasks and streamlining processes, this software enables you to get visibility into spend, monitor contracts, and streamline procurement processes across your entire organization.
These tools help you uncover hidden cost savings by eliminating redundant contracts, standardizing procedures, and identifying contract terms that could be revised for greater efficiency. Discover how contract management software can become a valuable asset in your organization.
What is contract management software?
Contract management software is the technology that helps businesses organize and manage their contracts more effectively. Simply put, CMS solutions help organizations streamline their processes by storing all related documents in one place instead of numerous email inboxes, Google Drive folders, or Dropbox accounts.
When you use contract management software, your team has easy access to all relevant contract details from a centralized location. This not only helps them complete tasks more quickly but also reduces the risk of human error when looking for specific documents.
What are common features of contract management software?
There are several features that make contract management software an attractive option for organizations. Some of the most popular features of CMS include:
Version control - This allows your employees to easily and quickly access previous versions of the same document without having to search through multiple files.
Document sharing - Provides your team members with easy access to all relevant documents from one location.
Collaboration - If you're using a CMS, your employees can quickly share content as well as outside parties.
Compliance management - Provides businesses with visibility into what contracts they have signed and whether they're up-to-date.
Customer service portal - Saves time by giving customers a central location where they can see any open cases, past interactions, and recent activity.
Contract templates - Automatically creates the templates your employees will need for various situations.
What does contract management software cost?
A CMS can be a worthwhile investment, but you should know what it will cost you. Many factors contribute to the cost of contract management software, including contract volume and average document size.
As contracts increase in number and size, so does the amount of storage space needed for your documents in the CMS solution.
The cost for contract management software also varies depending on which type of online storage system is being used.
Basic contract management costs up to $25 per user per month. Low-cost plans, on the other hand, are frequently missing features like extensive customization, detailed reporting, customizable branding, or unlimited users. For AI technology, automation, and ultimate customization, you'll spend up to $1,000 a month.
What is the contract management process?
1. Create
Contracts are one of the most important parts of any company. They are also one of the most important parts when it comes to solving disputes with vendors.
It is best if everyone has a contract. It is especially important for businesses that do not meet face-to-face.
For example, if you are hiring a freelancer to build your website and you live in different states, you will both want to sign a contract before you start working together.
Contract creation ensures there is no confusion about what needs to be done and what your expectations are for the work. The contract creation process can also be lengthy, so having the right contract management software to manage contracts can make doing business easy.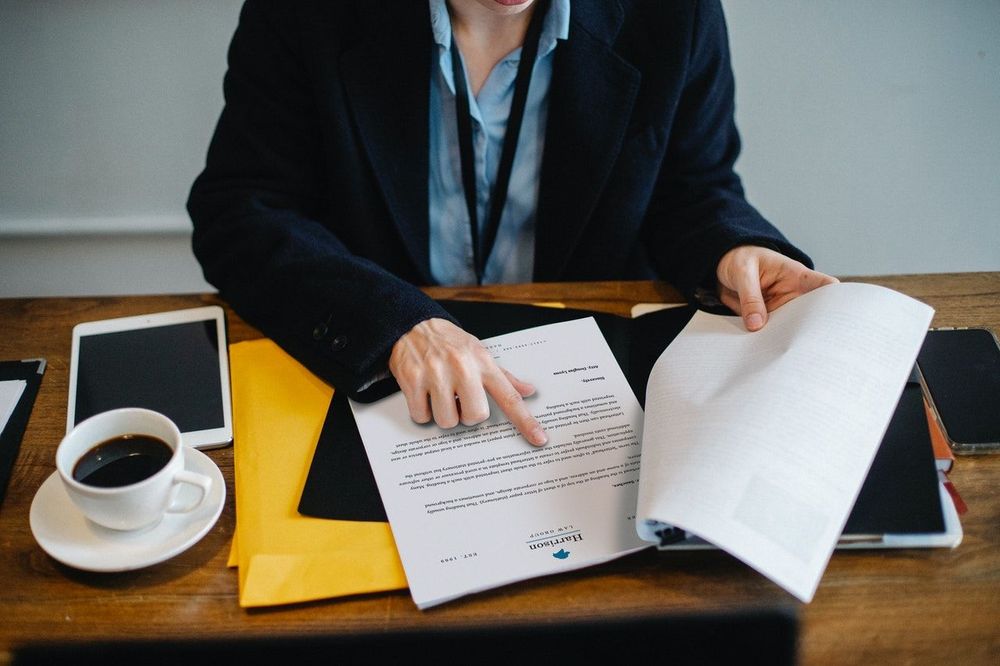 2. Collaborate
One of the most popular benefits of contract management systems is that it allows you to easily perform contract collaboration. When your team is working on a project, you'll find it easier to come up with contract terms and agreements with the right contract management system.
A great contract management tool can also help you stay organized. You'll be able to see all contract-related files in one place so that co-workers don't have to do a contract search for specific information.
3. Negotiate
One of the best ways to negotiate agreements is by using contract management software. When you have all the relevant information from your negotiation in one place and it's easily accessible, it will be easier for you to go through the contract creation process.
For example, if a client requests a last-minute change on a contract, you can refer to your contract software and see how similar requests have been handled in the past. Pre-approved templates will provide you with an accurate estimation of what can be expected as far as cost or time commitments are concerned.
Negotiating agreements with contract management software also makes billing more efficient and less complicated. 81 percent of organizations that used a CMS were able to save over two hours per month because they didn't have to find and copy contracts across various systems - or worse: multiple emails, Google Drive folders, Dropbox accounts.
With this process streamlined, clients get billed faster, and employees spend less time tracking down documents for invoicing purposes.
4. Sign
The contract management system is a great way to ease contract signing in the digital age. When it comes to legal agreements, you'll want to make sure that all of your contract terms are agreed upon before signing. With detailed reporting, your legal teams will have the possibility to effectively manage any problems with the relevant stakeholders and gain a strategic advantage.
With a contract management solution, you can upload all of your new contracts and have only one contract storage. This way, you won't have to worry about misplacing or losing any of your legally binding documents.
Another benefit of CMS is the ability to track changes throughout the entire contract lifecycle. You can see who made what changes and when they were made. This helps you keep better tabs on your agreements. Additionally, it also ensures that no conflicting edits are being made, which could lead to problems down the road (such as revisions not matching up).
And if there is ever a disagreement on a set of edits between business teams, contract management systems enable business teams to identify key features and agree on the correct version.
5. Track
There is no reliable way to search for inside contracts if you are using manual contract tracking. The workflow automation features of the best contract management solutions give you the ability to find and review contracts as needed.
Manually entering contract data makes it impossible to track the length of time it took for the contract negotiation, the changes made, and the number of individuals who read it. Additionally, you will not be able to see the number of people who used it as a foundation for subsequent contracts and the important enforcement dates.
Contract analysis in a CMS:
You can access contract data since your contract was structured data
You may use it to make better judgments about when to renew, how much to charge, and how long of a notice period to specify
You can also use it to decide which key provisions to hold, and if there is room for risk mitigation
The modernization of legal departments, especially in-house, is followed by an increase in the use of data monitoring systems. The companies are creating an intuitive user interface where they can check the success of in-house legal teams in a variety of areas - including contract automation. These automated workflows store all your contracts and make document management a breeze.
6. Renew
Contract renewal is an important part of contract management software. When you renew a contract, you are extending the terms and conditions of that contract for another period of time.
To do contract renewals, you could update the details on your current contract or create a new one altogether. However, contract drafting a new one is pointless when you already have key contract details in the original contract.
You can also choose to terminate the agreement. If you terminate the agreement, you will not be able to renew it within the same contract management software. You will be able to draft a new contract should your business resume in the future.
While there are many benefits to using contract management software, this feature is especially helpful in minimizing the risk of important agreements or legal documents being terminated unexpectedly.
The 6 best contract management software for 2022
Not every contract management system is good for every type of business. Some have great features for smaller businesses, while others are perfect for enterprise-level companies. Let's see the 6 best contract management software for 2022.
Best for freelancers: Indy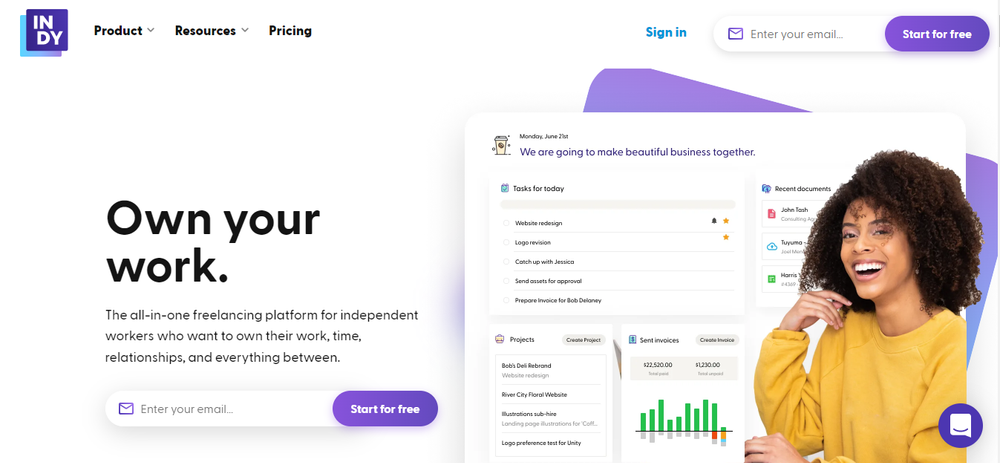 Indy is a contract management software that delivers an intuitive and robust solution for freelancers. The goal is to help freelance business owners automate their contract workflow by storing all related documents in one place.
Indy combines the simplicity of Microsoft Office with enterprise-grade security and control, providing an ideal contract management solution for small and medium-sized companies.
It's much easier to run a freelance company with Indy's one-stop platform for submitting proposals, signing contracts, monitoring billable hours, issuing bills, and collecting money.
Indy offers nine solutions in one platform to help freelancers save both time and money:
Use it as an all-in-one solution
Send prospective clients your ideas and proposals
Manage contracts and invoices
Organize and complete tasks
Use the integrated chat software
Create a wide range of different contracts
Use it as a document management system
Keep track of billable hours
Organize your business relationships
This platform has a collection of proposal, contract, and form templates that make it easier to acquire new clients. Individual jobs can be assigned to bigger projects or categories using the task tracking system.
For ongoing management, the time tracker tool tracks the time spent on each job and categorizes it.
Get paid quickly and easily by sending thorough invoices to external parties with Indy. Your customers will appreciate the ease of payment that comes with using Indy's leading payment options, such as PayPal and Zelle. Indy is a flexible and dependable addition to any creative team.
The Pro plan price starts at $12 a month per user. And with the Free plan, you'll always have access to the tools you need to make freelancing simple—free forever!
Best for small businesses: DocuSign
DocuSign is popular because it's easy to use. DocuSign's e-signature plans are suitable for small organizations, but end-to-end solutions are available for contract-heavy operations.
You may sign contracts online or with DocuSign's Android and iOS apps. e-signature and CLM software features:
Reused templates
Reminders
Receiving funds
Real-time comments
Secure contract repository
Customize contract emails with a logo, color theme, and sophisticated forms.
Prices:
Personal: $10 for a single-user package with five e-signature documents and contract fields
Standard: $25 per month per user for up to five people, adds email reminders, deadline alerts, customizable branding, and comments.
Business Pro: $40 a month per user to collect payments, use advanced fields, and bulk-send contracts
Best for large businesses: Concord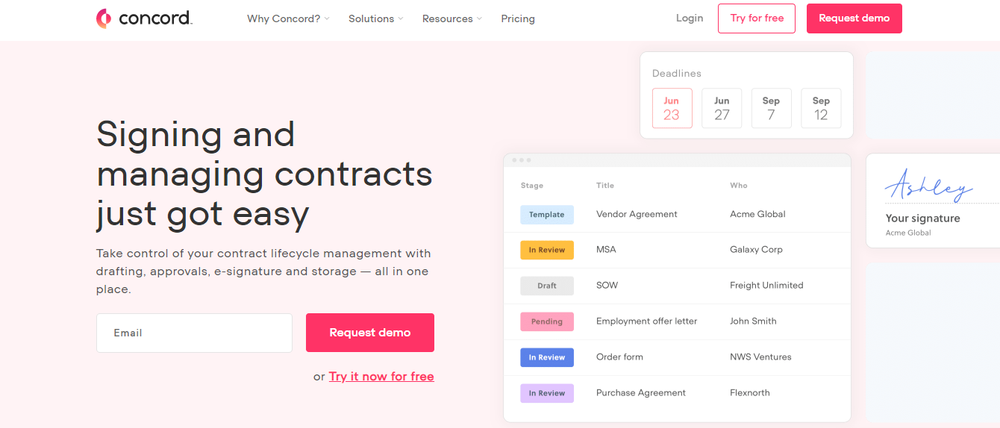 Large enterprises choose Concord.
Concord initially resembles Gmail. All programs include complete setup and onboarding help. You may use Concord's dashboard or Google Drive. CLM highlights include:
Live-editing
Comment and redline
Templates
Smart-field autofill
Full-text OCR reminders
Built-in e-signature function
Concord's custom approval process, reports, insights, and user groups provide flexibility.
The company has secure data centers and bank-standard encryption. You also get the benefit of strict versioning rules. Every time a field is added or changed, a new log is created, giving you a consistent audit trail.
CLM packages offer clear, transparent pricing based on user count and yearly contracts.
Annual packages for five users:
Free: Unlimited documents, e-signatures, and templates for up to three users.
$115/month for bulk-send and amendment management
$295/mo for all integrations
Best for customization: Agiloft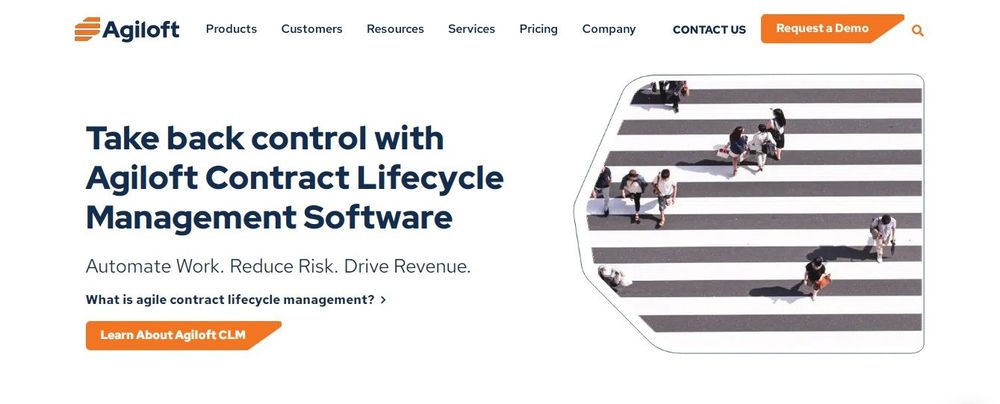 Use cloud-hosted Agiloft on any computer.
Agiloft offers:
Free online training
Contract authoring
Clause library
Contract template print
E-signature with DocuSign or Adobe Sign
Contract repository
Its code-free settings let you create custom workflows, routing procedures, reports, and a dashboard to manage KPIs and alarms. Agiloft interfaces with Google and Microsoft to swiftly upload documents.
Agiloft provides an audit trail for every document and Sarbanes-Oxley, GDPR, and HIPAA compliance.
Agiloft offers customized pricing. Pay monthly, quarterly, or yearly. All plans start at $65 per user per month, dependent on user count.
Free: Administrator, five power users, and five end-users with standard integrations.
Professional: Adds phone assistance and five-minute intervals for timer-based rules.
Professional Extended: Get vendor and customer portals, multi-language support, and connectors with Salesforce and Jira.
Enterprise: AI modes and in-house deployment
Enterprise Extended: Includes limitless custom models and 24/7 support.
Best for reporting: Outlaw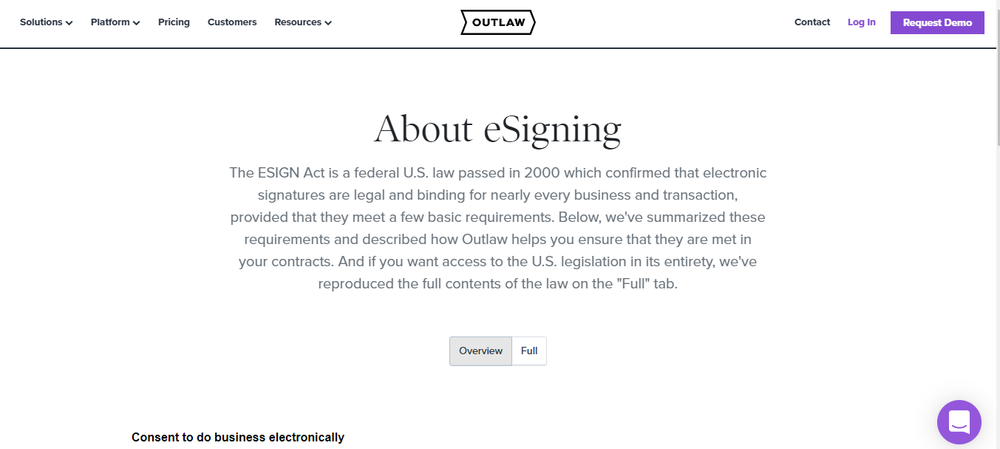 Outlaw's limitless cloud storage, contracts, and e-signatures fit most enterprises. Best features:
Built-in e-signature
Redlining cloud-based
Stripe secures payments
Instant alerts
Full-text search
Self-service templates
Dynamic contracts
AI analytics allow you to conduct timetable, contract, and continuous activity reports. Outlaw integrates Salesforce, HubSpot, Zapier, Slack, and QuickBooks.
Outlaw specifies two user roles for payment bundles, but adding collaborators requires five core users.
Price:
Core User: $125 a month per full-control account owner
Collaborator: $60 per month per user for active users without administrative privileges
Best for automation: ContractWorks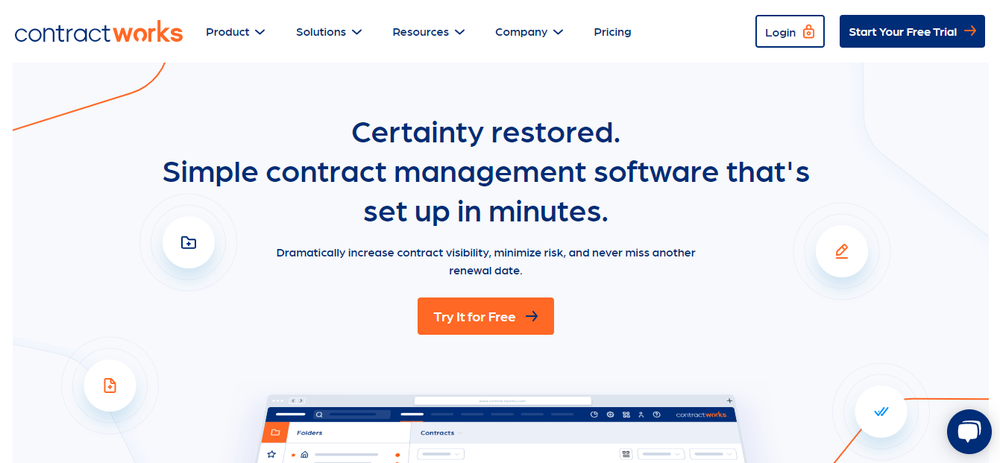 User-friendly features like drag-and-drop downloads and an OCR text-based search system reminiscent of Google's browser make it a popular choice for many.
Popular features include:
Automatic smart contract outlines
Stored contracts
Milestone alarms
Auto-recording
Easy-to-read document annotations
OCR/advanced search
Reminders
Built-in e-signature
ContractWorks offers branding and reports that let you evaluate every data piece. Save, schedule, distribute, and export reports simply. Professional and Enterprise plans incorporate Salesforce.
This CLM system offers audit log reporting, 256-bit encryption, and safe storage.
All plans are yearly and volume-based. High-volume discounts are available. Plans:
Standard: $600/month for 2,500 documents and 5 e-signature licenses
Professional: $800/month for 10,000 documents and 10 e-signature licenses
Enterprise: $1,000/month for limitless documents and 20 e-signature licenses
Conclusion
Freelancers can really benefit from the simple contract management Indy provides. Protecting your work with legally binding contracts makes the project clearer for you and your client. It will also make it more likely you will avoid any issues when it is time to get paid.
Check out Indy's Contracts tool for more information.