Photoshop freelancing is a competitive business, but it's also an excellent way to make some extra money or forge a full-time career as a freelancer. If you're particularly good at editing pictures and are skilled at Photoshop, why not get paid for it?
As a freelancer, it's up to you to source your Photoshop jobs, liaise with clients who have ordered, market yourself, network with potential clients, build up your portfolio, manage your projects and tasks, and complete your work to deadlines. It seems like a lot and can be overwhelming, especially if you're starting your freelance Photoshop career.
In this article, we'll discuss everything you need to know about how to start working as a Photoshop freelancer and how best to pitch yourself to prospective clients to stand out from the competition.
Source: WebsitePlanet
What is a Photoshop freelancer?
A freelancer doing Photoshop jobs has the freedom to pursue their own opportunities and work with a network of clients. You're not working for another company when you freelance, so you're responsible for generating your income. That could mean periods of no work. It can also mean you have times with lots of deadlines at once, so it's essential to have a flexible schedule.
Freelancers who specialize in photoshop can find themselves having a varied workload. Photoshop jobs include simple image editing like removing backgrounds, touching up photos, and color correction. But there are other jobs related to Photoshop, like doing product images for an e-commerce brand, creating a banner, or working as a freelance image editor for a company.
You could also find jobs in photo editing for landing pages and web copy, making vector graphics, logo design, and high-resolution infographics for marketing.
To be successful in freelancing, you need excellent communication skills and attention to detail. For Photoshop jobs, you also need to be creative.
Do I need qualifications to be a freelancer in Adobe Photoshop?
You don't need any official qualifications to freelance in Photoshop. As long as you're good at Adobe Photoshop, clients will take notice. Many Adobe Photoshop experts are graphic designers, but that's not a necessary part of the role. The best way to prove yourself is to have experience and show a photo editing portfolio to prospective clients. Other useful programs for a Photoshop career include Adobe Illustrator and Adobe InDesign.
You can take many different Photoshop courses to improve your skills, which could be a way to show people at a glance how advanced your photoshop skills are. Adobe does its own certification courses which allow you to become an Adobe Certified Expert. But officially, there are no necessary degrees or college courses specializing in photoshop.
However, if you want to earn more at freelance Photoshop jobs, you could pursue a degree related to it. These would include Graphic Design, Web Design, or Multimedia Design courses.
Source: The Verge
How much can I earn as a freelancer in Photoshop?
How much you earn in freelance Photoshop jobs depends on your experience and negotiation skills. Clients will always want to pay less, so you need to negotiate with them to ensure you're not being charged less than you're worth.
Beginners will earn less, and as you develop and grow, you'll have the option to increase your rates. Sometimes, when you start freelancing, you have to accept lower rates than you'd like to get your foot in the door and gain experience. But the minute you've got a few Photoshop freelance gigs under your belt, you should increase your rates.
Upwork, one of the popular freelance job boards, has a good guide for how much freelance photoshop workers can earn. They state that beginners usually make $9 per hour, whereas someone with experience can expect to earn around $23 an hour. Adobe Photoshop experts who have advanced Photoshop skills and have been freelancing for a while can look at charging around $50 per hour.
Sometimes clients want to pay a fixed price for the whole project, which is where the ability to negotiate comes in handy.
Source: ArtisanTalent
How to find freelance jobs for Photoshop
There are lots of places online to find great Photoshop gigs for freelancers. Here are some of the best places to get started:
Find a freelancing platform
There are several platforms online that advertise freelance jobs in a variety of niches and industries. So if you're starting a freelance career, you first want to get yourself signed up on the leading platforms.
Upwork is one of the most popular online freelance platforms. Freelancers set up a profile, and then you can browse and search for Photoshop gigs. Many projects are posted daily, so it's wise to look regularly.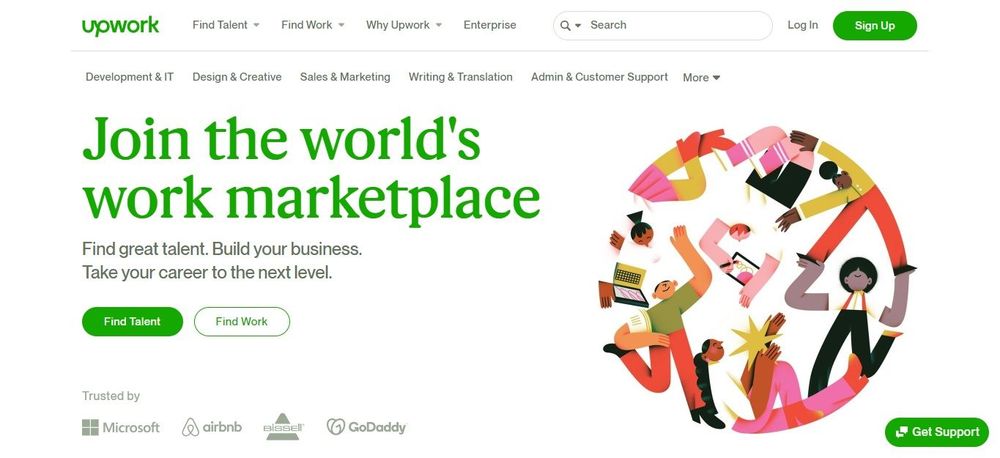 Fiverr is another popular freelancer site that works opposite to Upwork. Instead of browsing for jobs, you can set yourself up with a Photoshop gig, and potential clients find you instead. When you're setting up a gig, we recommend looking at other people already selling in your niche so you can understand what is successful on the website.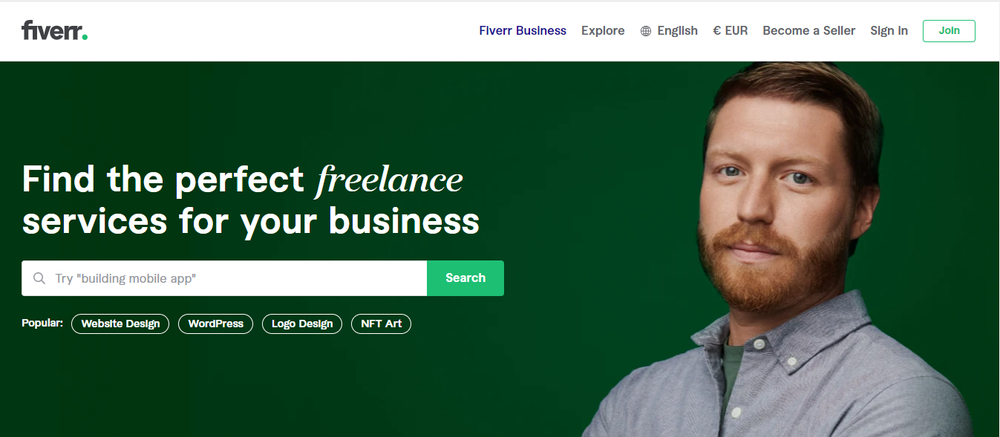 Other websites like Freelancer also advertise freelance Photoshop jobs. It's worth building up a network of websites and checking them regularly.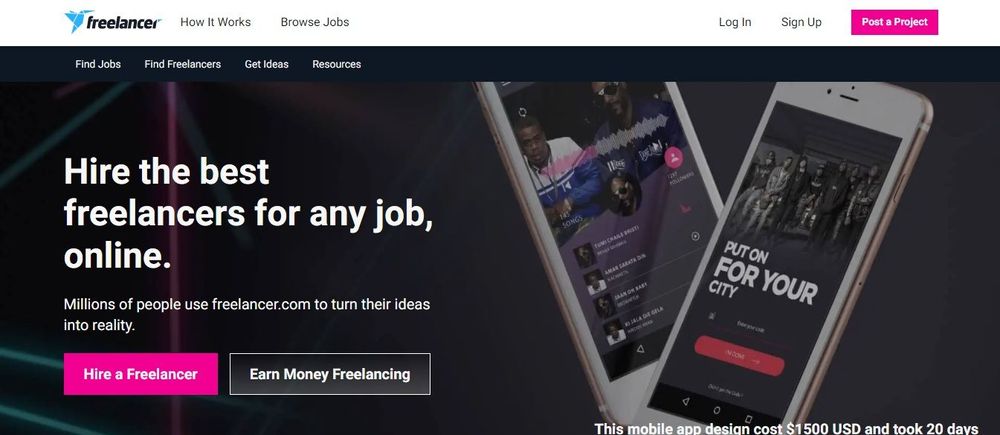 Build your portfolio
When starting your freelancing career, it's the perfect opportunity to build up a portfolio. The beauty of Photoshop jobs is that you don't need to have landed a specific client before you create a portfolio. You can create your portfolio using spec pieces. Spec pieces are designs that you weren't hired to create, but are a great example of what you can do for clients. For instance, if you're applying for a logo design job, you can create a spec logo to show an example to the client. Be creative. You can invent your own company and create a logo for it.
You can create your graphics too. That way, even if you're only beginning as a freelancer, you have a variety of examples to show people. The same applies to photo editing. You can take some pictures and edit them, showing prospective clients your specific set of skills.
Create a website
Once you've got a portfolio of logos and graphics that showcase your range of skills, create a website so that you can easily direct potential clients to it, and they'll see everything in one place.
The website itself is another opportunity to highlight your expertise. If you've got programming knowledge, use it to make a creative and innovative website that engagingly outlines your portfolio. Be unique. Make it something you're proud to show future employers to persuade them to hire you.
Your website should explain your background and your entire range of experiences and services. It's a virtual resume and business card all at once. If you're interested in a career in Photoshop, programming, or as a graphic designer, it's the best way to show potential employers what you can do.
Source: FreedomIsEverything
Write proposals to land new clients
When browsing for freelance jobs, you'll always need to create some form of a proposal to send to potential businesses with your details to sell yourself. Proposals should be engaging and help you to stand out. When employers look to hire a freelancer, they can get anywhere from five to fifty proposals, more if the job is particularly sought after.
To make your proposals unique and professional, you can use a proposal tool with your logo and branding to grab an employer's attention. A proposal tool is there to support you, giving you templates to work on and a proposal tracker so you can monitor the status of your sent proposals. Indy provides all of this and more as part of their freelance management tools.
You'll be able to measure your proposals' success rates and track what's successful with potential employers, saving yourself time and money in the long run when you get hired, thanks to your excellent proposals.
Conclusion
As a Photoshop freelancer, you need to be on the ball. It doesn't matter if you have a degree in graphic design or not. As long as you are skilled at Adobe Photoshop, you can start looking at a potential Photoshop freelancing career. As a beginner, you'll earn a bit less, but as you build your portfolio and grow, you'll have the chance to increase your rates and work competitively.
First, sign up for freelancing websites and start looking for Adobe Photoshop projects. You can do a few small jobs to start getting noticed and earn some good ratings on your profiles. Then you can create a website showcasing your varied portfolio.
There are many Photoshop projects advertising on the top freelancing platforms daily, but there are also many potential freelancers out there seeking these projects. To help yourself stand out from your competition, you can use a professional proposal tool that encompasses your logo and branding while also providing employers with all the information they need to hire you.