Are you spending way too much time on non-billable work? Sadly, that's what most freelancers are doing nowadays. An average freelancer spends at least 30 minutes a day on administrative work, with some freelancers even spending 1.5 hours.
Freelance management tools like Hello Bonsai have emerged as an effective solution to streamline redundant tasks. If you are looking for an online platform like Hello Bonsai, stay tuned. We have picked the eight best Hello Bonsai competitors for you.
What Is Hello Bonsai?
Hello Bonsai is a freelance business management application that allows freelancers to send proposals, create contracts, generate invoices, and more. It also comes with expense tracking and financial management features to help you monitor your expenses.
As the gig economy is booming, many people have taken up full-time freelancing. Freelancing for a living has many benefits, with the biggest benefit being that you're your own boss. However, it also comes with a small drawback. You need to manage everything associated with running a business.
This includes keeping track of multiple projects, overseeing team members, sending customized invoices, and more. Performing all these tasks by yourself can be tedious and prone to errors.
Here's where Hello Bonsai comes into the picture. This freelancing management app offers a wide range of features and functionalities needed to manage all aspects of your freelance business.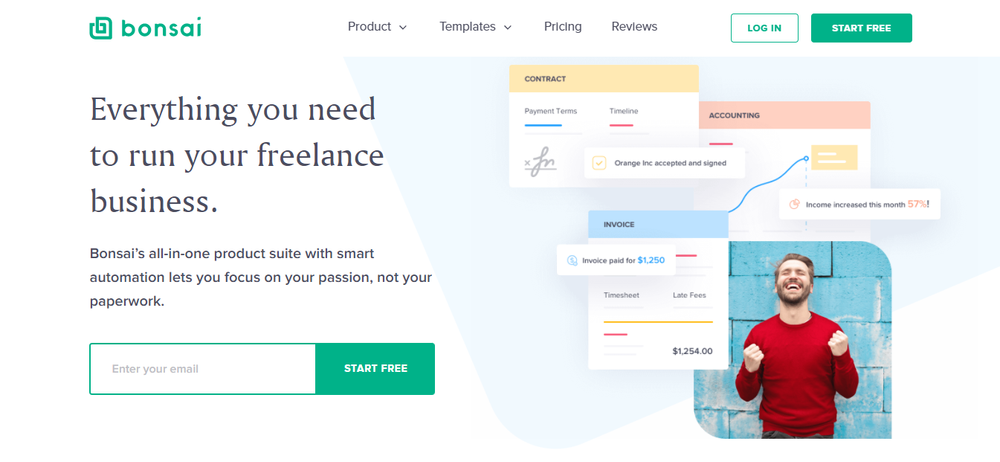 Some key features of Hello Bonsai are:
Create and send proposals, invoices, and contracts
Client CRM to create strong client relationships
Task tracking, time tracking, and schedule management
Forms and automation
Accounting and financial management
Coming to the pricing, Hello Bonsai has two plans: Workflow and Workflow Plus. The Workflow plan is available for $19 per month and Workflow Plus for $29 per month. There is no free plan, though Hello Bonsai offers a free trial for both plans.
Furthermore, you can add collaborators for free and partners for $9 per month. You can also add the Bonsai Tax feature for $10 per month.
Best Hello Bonsai Alternatives to Manage Projects and Clients
Indy is not only one of the closest Hello Bonsai competitors but also the best business management tool for freelancers. Like Hello Bonsai, Indy is an all-in-one freelancing management platform that offers a comprehensive range of features. With Indy, you can facilitate contracting and invoicing processes, create detailed financial reports, set up recurring payments, and accept multiple payment options.
Indy
Indy ensures you don't need any other tool to run your freelance business. With nine powerful modules, Indy allows you to do everything in one place. Let's look at the key features of Indy.
Calendar integration and schedule management
Live chat and communication tools
Create and send contracts
Store and share files
Create forms
Generate and send invoices
Send proposals
Manage all your projects and tasks
Track your time and schedules
Hello Bonsai lacks some essential features available in Indy. For instance, it doesn't have dedicated file storage and sharing system, while Indy does. Indy also has calendar integration support, which is missing in Hello Bonsai.
Indy has an edge over Hello Bonsai in pricing as well. Hello Bonsai has no free plan, and the two paid plans are available for an expensive price tag of $19 and $29. In contrast, Indy has a generous Free plan that gives you free unlimited access to the core tools, and the paid plan — Pro Bundle — is available for only $12/month (or just $9/month with the annual plan). Hence, Indy offers better value for money.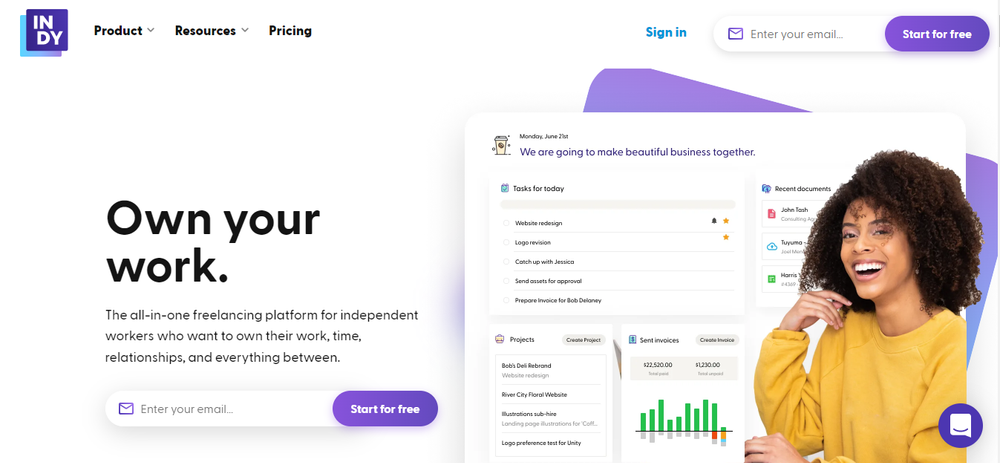 There are other alternatives to Hello Bonsai than Indy. Let's look at some other great Hello Bonsai alternatives you can use to manage projects, accept payments, and collaborate effectively with your clients and team members. Here are the eight best tools to use in place of Hello Bonsai.
Freelancify
Freelancify is a business management suite used by creative freelancers to manage multiple teams, projects, and clients. It comes with a built-in time tracking feature that allows freelancers to stay on top of their projects and the time they are spending on each task. Freelancify also allows you to track project progress and set up automatic reminders.
Key Features:
Find freelance projects online
Collaborate with other freelancers
Connect with clients
Share files and get approvals
Send invoices and get paid
Pricing: Freelancify is a type of social platform that connects freelancers with clients. It's currently free to use.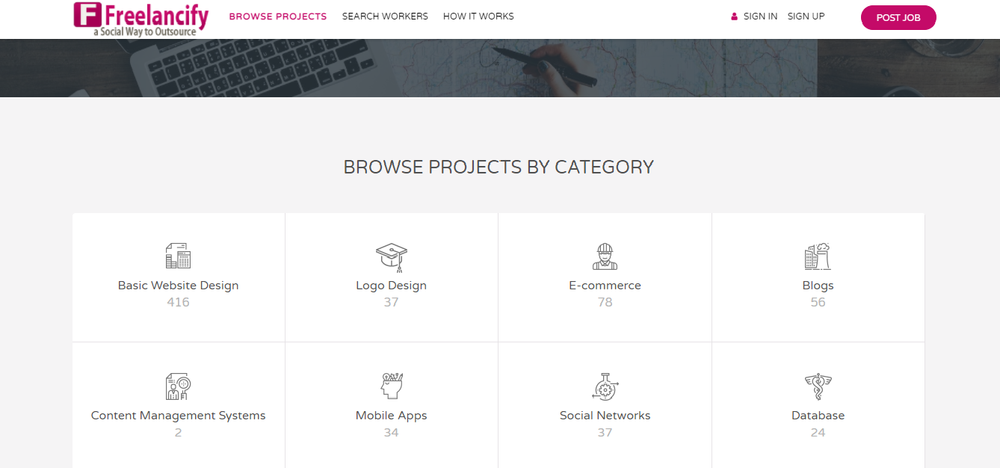 Hiveage
Hiveage is a comprehensive invoicing and freelancing management tool that comes with all the tools needed to manage your freelance business. The primary purpose of this tool is to send professional invoices to clients. However, Hiveage comes with additional features that allow you to track time, create and manage projects, and oversee your expenses.
Key Features:
Create and send invoices online
Generate quotations and estimates
Accept payments using multiple payment gateways
Create financial reports
Track time and project progress
Pricing: Hiveage has four plans: Free, Basic, Pro, and Plus. The Basic plan is available for $16 per month, Pro for $25 per month, and Plus for $42 per month. All paid plans come with free trials.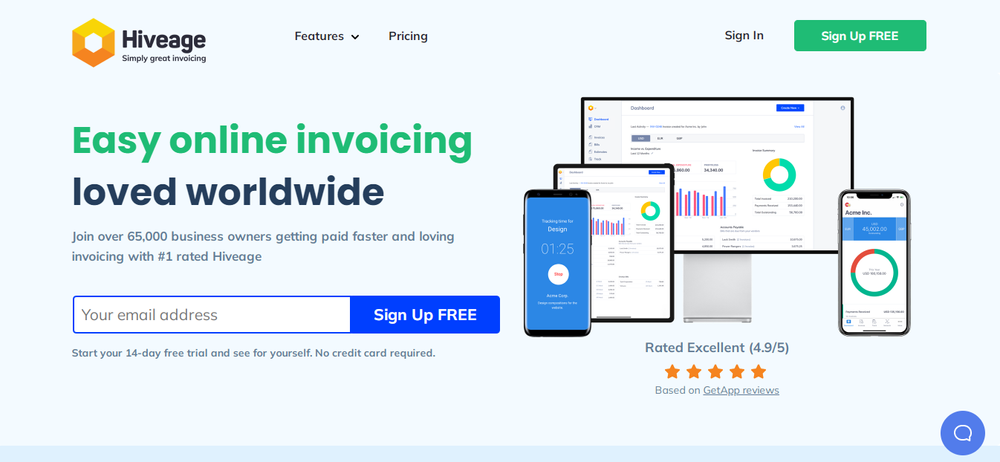 Agiled
Agiled is an excellent Hello Bonsai alternative if you're looking for a tool that enables seamless project tracking and management. This online software helps you create projects, track project progress, set recurring payments, receive payments, and more. It comes with a client portal where you can invite your clients and interact with them.
Key Features:
Create and manage projects
Create and send invoices
Collaborate with team members and clients
Onboard clients to a client portal
Create proposals and contracts
Pricing: Agiled has four plans: Solo ($7/month), Starter ($15/month), Premium ($45/month), and Business ($79/month). There is no free plan, though every paid plan has a free trial.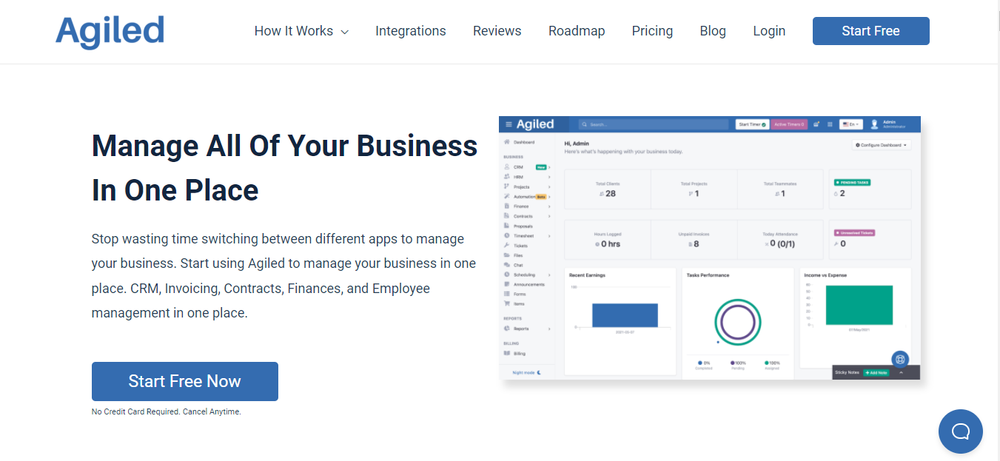 Honeybook
Honeybook is an invoice and proposal creation tool for freelancers and small businesses. It allows you to create invoices with a single click. You can also manage payments and invoices from a single dashboard. This cloud-based software offers multiple payment options. You can also set up reminders for overdue invoices.
Key Features:
Invoices and proposals
Task automation
Contracts and agreements
Project creation and tracking
Integrations with various other apps
Pricing: Honeybook has three plans. The Starter Plan is available for $9 per month, the Unlimited Monthly plan for $39 per month, and the Unlimited Annual for $390 per month. There is no free version, though you get a free trial for all plans.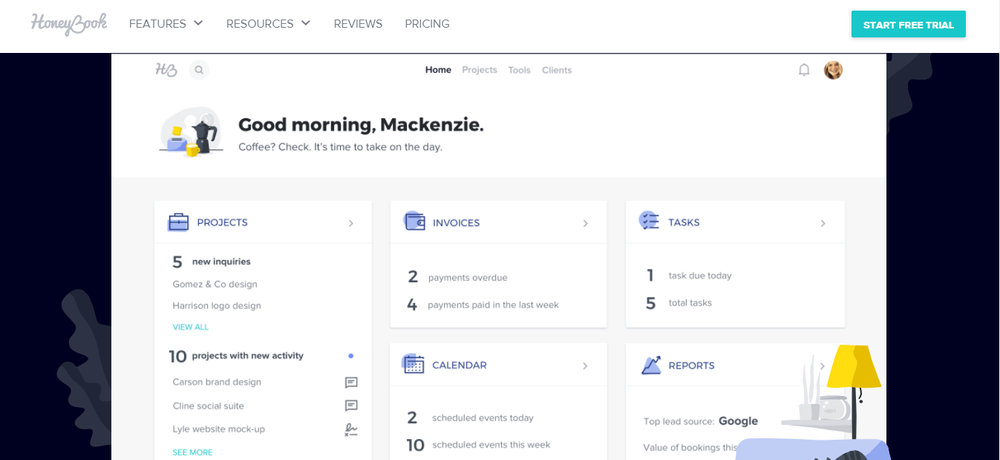 InvoiceNinja
InvoiceNinja is another freelance business management app focusing specifically on invoicing and payments. It helps you send invoices, receive payments, and track your expenses in one place. The tool comes with all the features needed for managing freelance projects, such as proposals creation, Kanban boards, client portal, and more.
Key Features:
Create and send proposals and invoices
Manage clients using a client portal
Time tracking for tasks and projects
Accept and manage payments
Collaborate with multiple clients
Pricing: InvoiceNinja has three plans: Forever Free, Ninja Pro, and Enterprise. The Ninja Pro plan is available for $10 per month, while the Enterprise plan is available for $14 per month.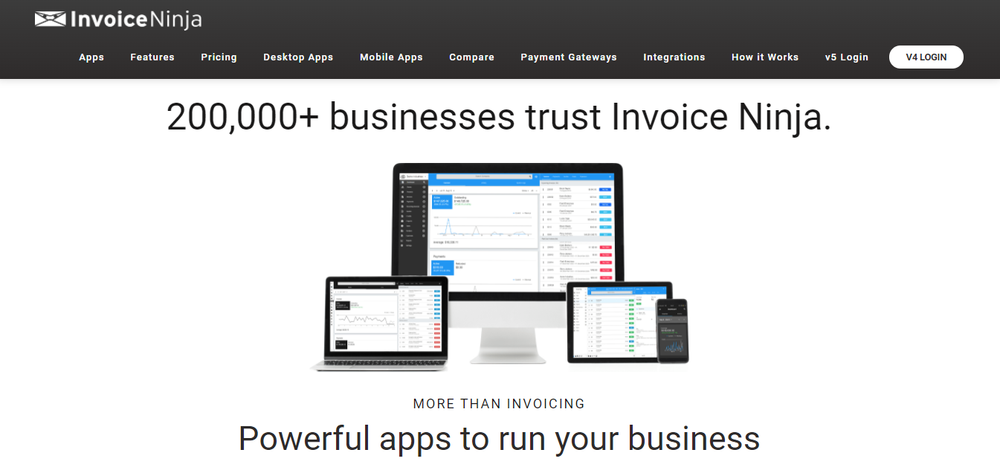 FreshBooks
FreshBooks is one of the leading alternatives to Hello Bonsai. It is an invoicing and accounting solution for freelancers and small businesses. This cloud-based solution comes with an array of freelance business management features, like time tracking, task management, and more. FreshBooks allows you to automate several administrative tasks, so you can focus on your actual job.
Key Features:
Invoicing and accounting
Expense tracking and management
Project creation, tracking, and management
Time tracking and schedule management
Accept payments online
Pricing: FreshBooks has three plans: Lite ($6/month), Plus ($10/month), Premium ($20/month).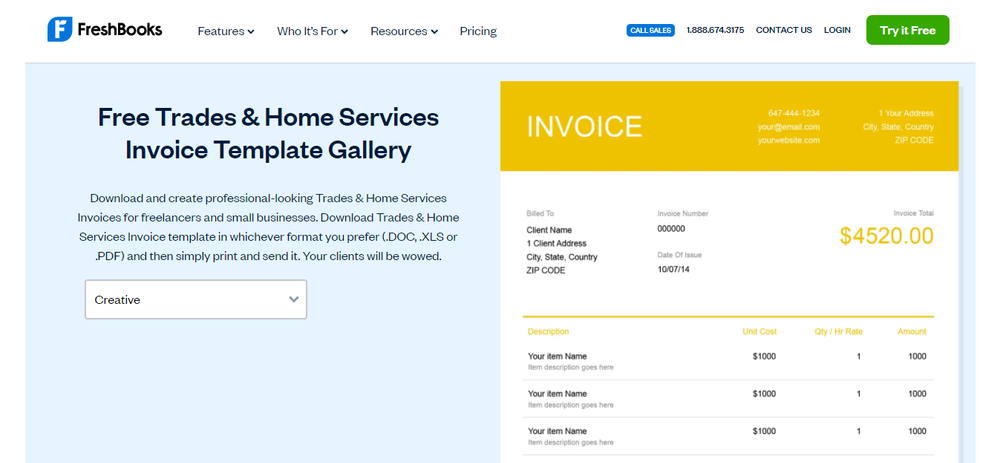 AND.CO
AND.CO (now Fiverr Workspace) is another popular freelance business management tool that enables freelancers to manage their projects, track income and expenses, and accept payments. It comes with various unique features, making it an excellent alternative to Hello Bonsai, Invoice Ninja, and other freelance business management tools. It also has various plans dedicated to the type of users and their preferences.
Key Features:
Invoice tool for creating invoices
Time tracker and schedule management
Online payment for setting up recurring payments
Create and send contracts online
Generate in-depth reports
Pricing: AND.CO has two plans: Free and Unlimited. The Unlimited plan is available for $18 per month.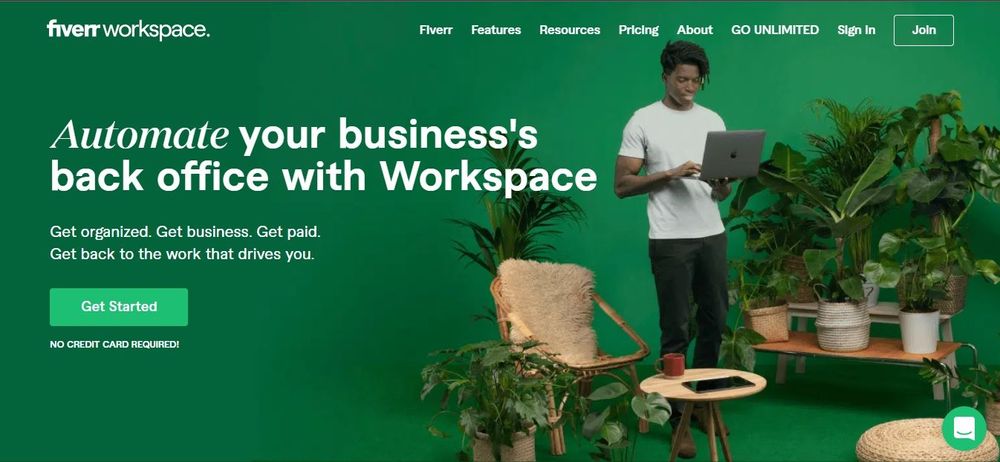 Clarrow
Clarrow is a fantastic alternative to Hello Bonsai. It comes with advanced features and helps freelancers streamline their day-to-day tasks. It's ideal for busy freelancers and small teams who need more free time to work on actual projects. Clarrow allows you to send estimates, enter due dates for invoices, send quotations, and more.
Key Features:
Create and send proposals and contracts
Send invoices and accept payments
Track time and manage projects
Track and manage expenses
Integrate with 3,000+ tools
Pricing: Clarrow has three plans: Self-Start (Free), Scale ($9/month), and Growth ($19/month). However, all the plans are free until December 31, 2021.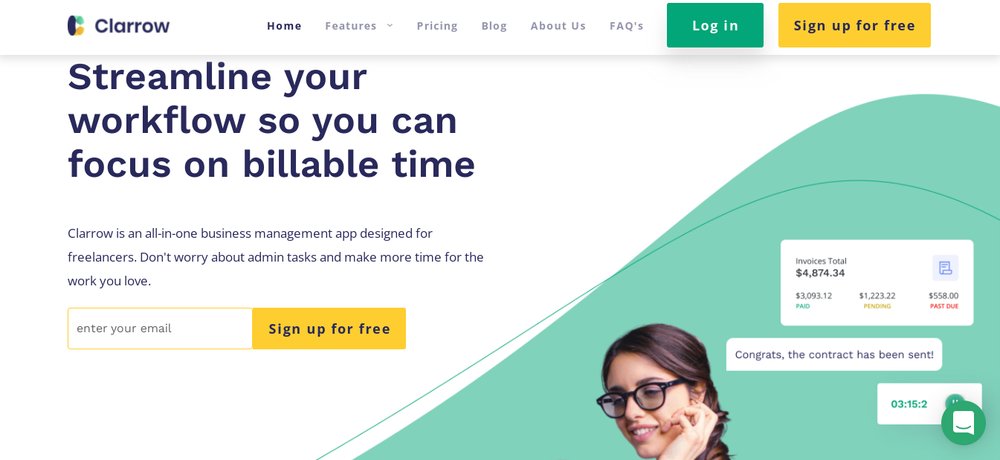 We recommend Indy as an alternative to Hello Bonsai. Indy is a complete freelance business management solution that offers every feature you'll need as a freelancer. Plus, it's easy to use and affordable, and it also has a generous free plan, while Hello Bonsai doesn't.
Importance of Task Management Tools for Freelancers
Almost all full-time freelancers manage multiple projects and work with various clients simultaneously. Hence, they end up spending several hours every week on unbillable hours like sending proposals, creating contracts, generating invoices, managing tasks and projects, and more.
If you, too, are spending your valuable time on non-billable hours, a freelancing management tool can help. These solutions come with project management, task management, collaboration, and invoice management capabilities, allowing you to handle all your freelance operations in one place.
You should use a freelance business management app for the following reasons:
Plan and track projects/tasks effectively
Spend more time on work that matters
Track time and stay on schedule
Communicate with clients and team members
Send timely invoices and get paid on time
Create contracts and get them signed
Build long-term relationships with your clients
Conclusion
Dozens of Hello Bonsai alternatives exist, and you can find one as per your individual requirements. Indy is one of the best alternatives to Hello Bonsai. It's a full-fledged freelancing management app with all the features needed to streamline your freelance operations. Also, feel free to check out other solutions we listed above to find the best software for your needs.