Freelancers and small business owners know that a crucial element of success is the ability to keep track of all your projects, clients, payments, and expenses. But finding the perfect productivity and management app can seem a little daunting, as there are several platforms offering what seem to be comprehensive and easy-to-use solutions. Two popular (and smaller) options with a proven track record of success are Hello Bonsai and Honeybook.
Their claimed goal is simple: They both help freelancers and companies improve business processes and relationships, and interactions with potential and existing customers and suppliers. Which, in turn, can increase productivity and profitability.
In this article, we will compare the main features of Hello Bonsai vs. Honeybook and explain how they can suit your needs as a freelancer or small business owner - and show you another excellent option that you should consider if you're looking for a powerful and user-friendly freelancing platform.
What Is Hello Bonsai?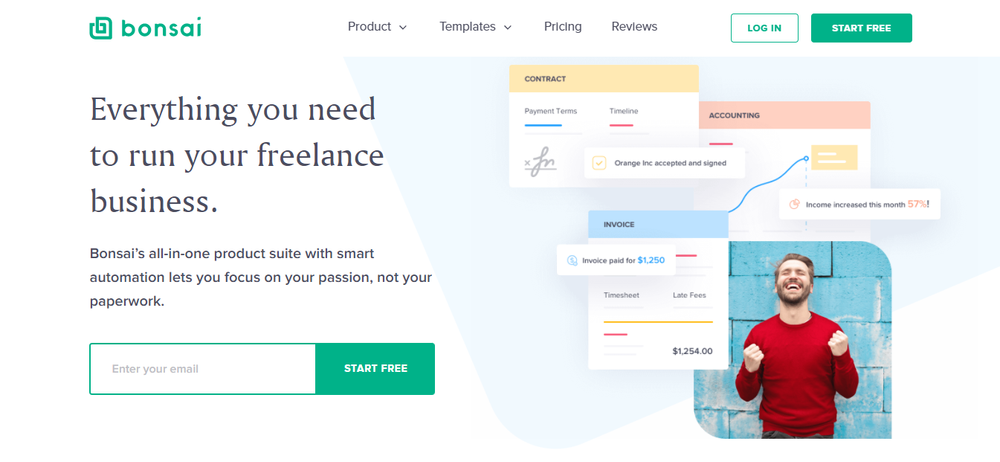 Hello Bonsai is a product suite that integrates and automates several business tools to help you focus on your workload - and not your paperwork. Hello Bonsai includes, for example, solutions for proposals, contracts, projects, and invoices, as well as time trackers, task managers, and tools for doing your accounting and taxes. Hello Bonsai also has good lightweight CRM capabilities as the platform can help you organize all documents, payments, and files from one place. Bonsai supports various types of businesses and has coverage across the United States, Canada, the United Kingdom, and Australia.
What Is Honeybook?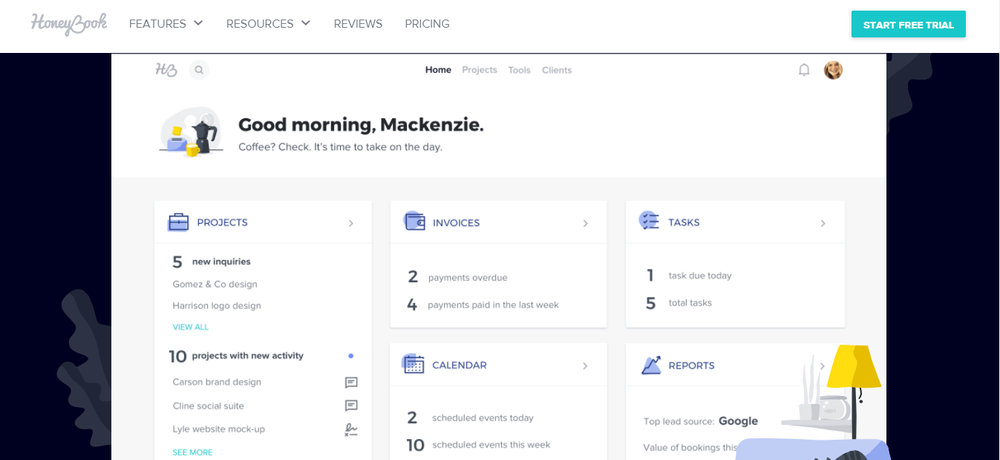 Honeybook is an all-in-one platform that streamlines all your business needs and gathers them in a single place. Their main goal is to help you keep track of your projects and clients and stay on top of all your files and documents. Additionally, Honeybook simplifies client communication, invoicing, scheduling, and tasks and can integrate with several popular tools like Zoom, Zapier, Gmail, Google Calendar, and others. The company was founded in 2013 and helps service-based small business owners keep track of all their projects, customers, contracts, and payments.
How Does Bonsai Compare to Honeybook?
If we compare Hello Bonsai vs Honeybook, the first thing to mention is that both these platforms can help freelancers and small business owners with productivity and project management. These two platforms include access to valuable tools to organize your proposals, invoices, and payments. They also have good CRM capabilities and can serve as client portals.
In addition to managing leads and projects, Hello Bonsai and Honeybook have become popular choices for freelancers and independent contractors because they are flexible, lightweight, and very affordable. The platforms have some similarities but also a few differences that make them appropriate for various scenarios. For example, Bonsai doesn't have a fully-fledged project management tool and instead focuses on task tracking, where you focus on tasks and follow their progress within a project. But let's go through Hello Bonsai vs. HoneyBook in a little more detail.
You could say that Bonsai and HelloBook were designed to help freelancers 'handle the things they don't like doing' (or those nobody wants to do). The main advantage of using business and client management platforms like these is that you can leave the repetitive tasks (like proposals, contracts, time tracking, or invoices) to the system and focus on what you do best: your job.
Size
Both Bonsai and Honeybook are better suited for freelancers or small businesses that don't have a large number of employees. This doesn't mean you can't use them for your startup; their tools are just designed and better suited for independent contractors.
These two platforms keep things relatively simple and can make your projects easier to track. If you are an agency with many complex projects, though, you should look into other apps (or many, as you might want to have more powerful capabilities like invoicing in a separate system).
When comparing Bonsai vs. HoneyBook, both platforms give you access to all their tools online. You can access most of them from your smartphone, too. This is because they are both developed as web apps that live in the cloud, as opposed to in one machine or device. So you will always be able to access your files, documents, and tools regardless of where you are.
Main Features and Tools
These are Bonsai's features:
Proposals: You can craft, send, and track structured proposals that integrate with your projects and payments and can be viewed on any device. Bonsai also offers proposal templates and branding customization options. When a client views the document, the platform sends you a notification.
Contracts: Bonsai helps you create and e-sign contracts. Like with proposals, you can use templates vetted by other freelancers and lawyers to customize various fields. There are also auto-reminders for when someone signs a contract.
Project and Client CRM: You can manage your clients and projects, as well as files and payments, from one dashboard. Additionally, you can invite other contractors to track time and manage tasks together. The client tool also supports notes and tags.
Time Tracking: Manage your hours and timesheets with a time tracker. This tool is project-based (linked to your project and collaborators) and can integrate with the billing system. You can use the time tracker on the web, from a mobile app, in macOS, or as a Chrome extension. Set up your hourly rate, track the time, and bill with a click.
Invoices: With Bonsai, you can create and customize invoices, keep track of payments, and send and receive automatic reminders. Bonsai supports various payment options like credit cards, PayPal, and ACH.
Task management: You can organize your projects into tasks, adding or reusing them as necessary. The tasks can integrate with timers, and you can use them as collaboration tools as well.
Accounting and Taxes: Bonsai includes income reports, tax reminders, and expense tracking. Like with several other tools, you can also set up reminders to make taxes a little more stress-free.
Forms: Bonsai offers a form builder to create intake and feedback forms or project-ending surveys, among others. The fields are flexible, and you can reuse the same forms for multiple projects and clients.
HoneyBook has the following features:
Invoices: With HoneyBook, you can create and send custom branded invoices easily. The platform makes it quite easy for clients to pay you, as they can do so from any device and plan auto-pay future invoices. The platform supports all major credit cards and bank transfers and can send automatic reminders and show real-time notifications on Android and iOS.
Proposals and Contracts: HoneyBook offers proposal and contract templates that you can modify to fit your needs. Clients can review, sign, and pay them in one place - and you also get notifications when they do so.
Scheduling: You can set your availability and share a link to your calendar with your clients, so they know when you will be available. Bookings are also made easier with scheduling; you can get meeting links and share session details and types (for example, photoshoots, discovery calls, mini sessions, business coaching calls, etc.)
Contracts: HoneyBook's contracts are secure and legally vetted. You can use a template to get started, import one, or write your own from scratch. The details to fill in your contract are automatically pulled in from your client list. The platform also supports electronic signatures, multiple device access, and notifications for when a contract is signed.
User Experience
If you are a freelancer, you might have to handle many accounts and clients - not to mention countless invoices and expenses. All of this can add up quickly. Both Bonsai and HoneyBook can help you streamline your processes with straightforward and beginner-friendly interfaces.
These platforms don't overcomplicate things; their dashboards are easy to understand at first glance. However, we should mention that their lightweight characteristics can translate into some more advanced functionalities being a little limited.
Bonsai's interface is very simple (so simple that users have actually called it a little monotonous). Things are, however, very easy to find - if not particularly inspiring. When you look at HoneyBook's interface, you can instantly notice it's very clean and looks easy to use, too. Users have consistently reported that the platform doesn't have a steep learning curve, which is an advantage for new solopreneurs.
In short, both Bonsai and HoneyBook are easy to use even if you have never tried project management software. Their color palettes are relatively muted and won't make you feel visually fatigued, but Bonsai's green low-contrast light-green can be a little difficult to read if you have low vision.
Mobile Access
They also have a powerful mobile app that can help you manage things on the go with real-time notifications and access to all the platform's tools like contracts and invoices.
Automation
Bonsai integrates with Zapier, a management tool that lets you create automated workflows. Zapier acts as a bridge between Bonsai and other apps, letting you create workflows inside Bonsai that will automate changes and updates to your other apps.
HoneyBook also integrates with Zapier, and has an automation tool that can help you plan tasks, messages, and files, and send them when the time is right. For example, you can set up a trigger based on your client's behavior or a determined date to get an email or reminder sent. You can also integrate this type of automation with your templates (contracts, invoices, and more).
Installation and Scalability
Both Bonsai and HoneyBook are very easy to deploy; all you need to do is sign up and login into the app. From there, you will need to load your contacts, projects, and files to begin to take advantage of the tools. If your business is new, you can do this from day one. If you have your projects and documents stored somewhere else, you will need to migrate them.
Honeybook offers a free account migration service that can help you set up things more easily.
Integrations
One advantage of Bonsai and Honeybook is that they both centralize various tools and capabilities in a single place. For example, they have templates to write contracts, proposals, and invoices. They can both also integrate with a variety of other tools and platforms. However, HoneyBook offers some integrations that Bonsai doesn't have. For example, HoneyBook has email, QuickBooks Online, and Zoom integration.
HoneyBook has an integrated payment processor that requires no additional third party or fees (you pay 3% on credit cards and 1.5% on ACH payments). Their team can also help you build a case to win credit card disputes and prevent fraud.
Price
Bonsai plans start at $19 a month. This makes it the most affordable of the two. The smallest plan is called "Workflow" and gives you access to unlimited clients and projects, proposals, contracts, invoicing, tasks, and time tracking, among others. Their Workflow Plus plan costs $29 a month and adds client forms and questionnaires, workflow automation, subcontracting, Calendly integration, and priority support. For both plans, collaborators are free to add, and partners cost $9 a month.
HoneyBook plans are much more expensive. Their unlimited monthly plan (which includes access to all features and no limits on transactions or team members) is $39 per month ($390 if you pay annually, excluding sales tax). The platform offers a free trial that lasts seven days. After that, you will still be able to log in and see your projects but not send new files or start new ones.
In short, Bonsai is the cheaper task management and client management platform. But if you're looking for a product with the same functionality but costs half of that, you might want to read the next section.
Is Indy a Better Alternative?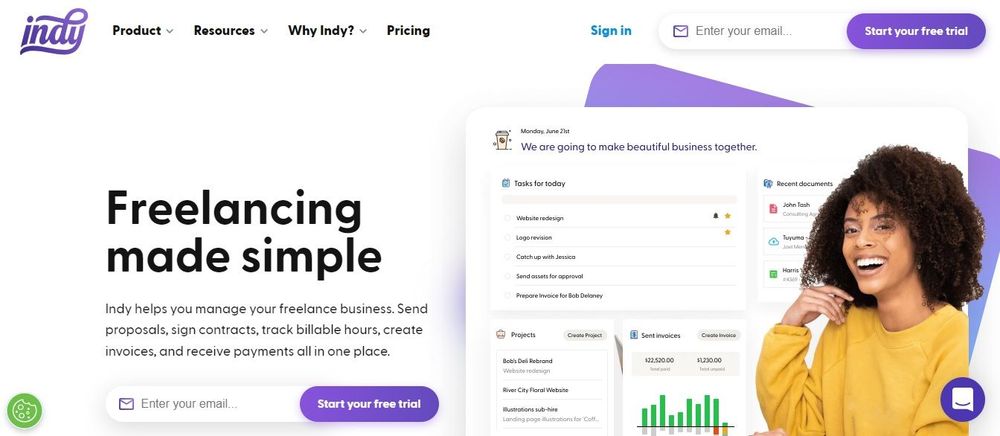 Indy is an excellent third alternative if you're looking at Bonsai vs. HoneyBook comparisons. Indy is, after all, built with freelancers and small business owners in mind - but has learned from other platforms and made their tools even more powerful.
Main Features and Tools
With Indy, you'll get many of the same productivity tools like:
Proposals: Create, edit, and send proposals in minutes with Indy's proposal templates. There's plenty of ways to customize each proposal, from the branding options to the ways you can directly embed YouTube videos, Spotify music, social media profiles, Soundcloud songs, and more. Unsplash integration lets you customize the banners to add that final personalized touch.
Contracts: Editable contracts have been legally vetted and are equipped with e-signatures to help you seal the deal with clients fast. Automated workflows let you send contracts the minute a client approves of your proposal.
Forms: Generate new leads with intake forms, gather feedback, and send surveys. The flexibility of Indy's forms builder lets you create and customize forms fit for any need. Use drag-and-drop content blocks to add questionnaires, multiple choice options, and more.
Tasks: To-do lists and Kanban boards help you balance multiple projects at once or break down large projects into smaller tasks. Tasks can be arranged by priorities. Add milestones and tags to further set priorities.
Invoices: Generate an invoice template, customize it with your logo and branding, and get notified the minute a client views the invoice. You can accept multiple payment methods, including automated payments with PayPal and Stripe. Recurring invoices make billing even easier, with a "set it and forget it" way of collecting payments.
Time Tracker: Track time automatically with the push of a button or add time manually. A time tracking widget shows you the number of hours you worked in the previous days, weeks, and months, and you can view how many of those hours have been paid and still need to be billed. You can also add time tracks to an invoice for easy billing.
But Indy also has a couple of features that can't be found on Bonsai's platform, such as a dedicated file storage and sharing system. You can store up to 1TB with zero file size limits, gather feedback from clients, add revisions, and get approval all in one place. Indy even has calendar integration support, which is missing in Hello Bonsai.
With Indy's Calendar, you can get an overview of everything that's due each day, along with the status of your proposals, contracts, and invoices.
It also integrates directly with Google Calendar for easy scheduling.
User Experience
Indy is known as being one of the easiest and most intuitive productivity platforms to use, giving you value from the moment you sign up. Each tool is straightforward to use and simple to find, which is important when using software to manage your business. Nobody has time to hunt around for the tools you need, which is why Indy has each tool clearly labeled within its clean interface.
Mobile Access
Indy has limited mobile access. You can view dashboard insights and create invoices. For the rest of Indy's tools, you can view them in a read-only version of the app, with more mobile support coming.
Automations
Like Hello Bonsai and Honeybook, Indy connects to Zapier and lets you create custom workflows that trigger actions in your favorite apps. Indy also has native workflow automations that automate the repetitive daily administrative tasks that come with freelancing, like sending contracts, invoices, proposals, and follow-up emails to clients.
Integrations
Indy integrates directly with Google Calendar, Zapier, PayPal, Stripe, and Zelle. With these app integrations, you can schedule meetings, create custom workflows, and set up automated payments that streamline your business processes.
Price
Indy is a one-stop shop for freelance businesses that is easy to learn, fun to use, and costs less than half of its competitors' subscriptions at just $12/month for the Pro plan (and if you are just getting started, you can use a version of Indy entirely for free and get unlimited access to Indy's core tools!).
Summary
As a freelancer, independent contractor, or small business owner, you will find many benefits to working with business management software. When we compared Bonsai vs. HoneyBook, we saw many similarities in their tools, templates, and general capabilities. However, there is a third alternative that offers the same powerful integrations for half the price.
With Indy, you can manage your proposals, contracts, tasks, clients, files, documents, and calendars from a single easy-to-use and well-designed dashboard. This platform has several unique features that place it above both Bonsai and HoneyBook. Check out how Indy can simplify your independent business (for half the price of Bonsai and Honeybook), and get started today!