Working from home has become increasingly popular over the last few years. With so many of us now having a remote work environment, having the right tools and resources to make it a productive experience is essential.
In this lesson, we'll be taking a look at some of the most important items that you should have in your home office to make sure that you get the most out of your work day. If you are searching for ideas of how home office setups should look, keep on reading!
What do you need for your office setup?
If you work from home, then you know how important it is to have a productive home office setup.
It's no surprise that working eight hours a day on video calls without a proper office setup can cause serious health problems. If you don't have a desk or a chair to sit in but work from your couch, you might experience some back problems after a while. The same goes if you use an old chair without proper back support or a desk that is disproportionate to your size and cannot be lowered to fit your height.
Installing quality office furniture ensures that your home office is fun and doesn't cause back problems or backaches or distract you from staying focused when you're surrounded by distractions. That's why we've put together a list of home office essentials that will help you stay on task and get the most out of your work time.
Office desk
Your desk will be a crucial part of your home office setup. Depending on the type of work that you do and the amount of space you need, choose a desk that will best suit your needs.
Your desk should be the right size for your needs and should be positioned in a way that is ergonomic for you. For example, if you have dual monitors, try to get an L-shaped desk or have one of the monitors up on the wall and out of the way. Additionally, if you work with a lot of paperwork, make sure you have enough storage for all of your supplies.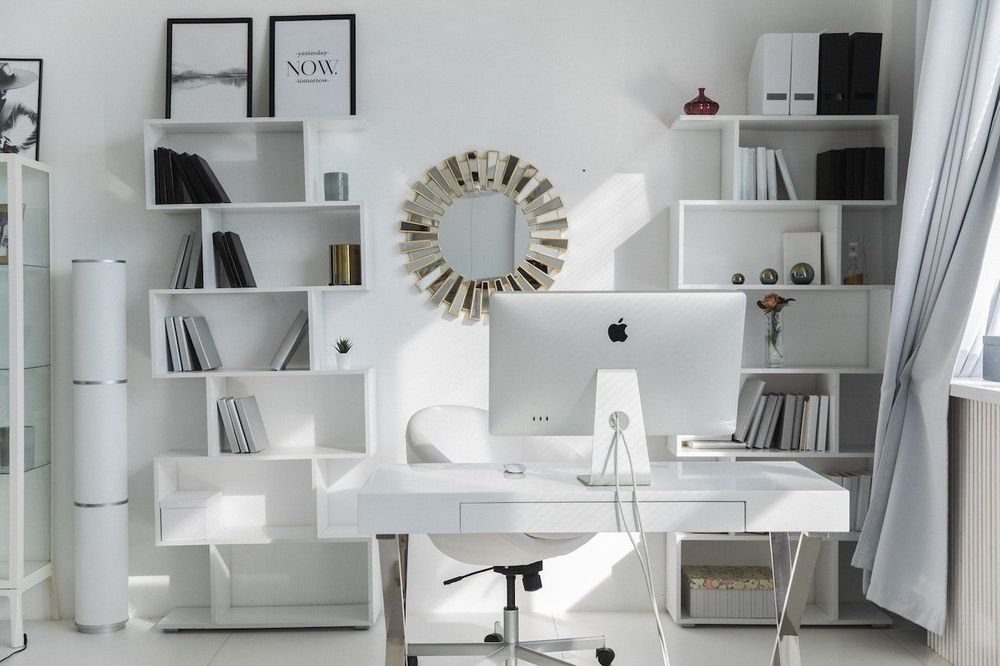 Even if you prefer to sit while you work and make frequent breaks to move around, an ergonomic and adjustable workstation is recommended for remote work. Using a standing desk to set up your workspace will benefit your health. Your chair has to be low enough for you to sit comfortably while you type. Your elbows should be open between 90 and 110 degrees to support. When the table is too high, the elbows can get stretched, which can put a strain on the wrists and shoulders.
Standing desks gained popularity as more research highlighted the health issues, such as back discomfort, linked to prolonged sitting. Regardless of your desired setting, an adjustable work-from-home desk may be used to get the appropriate workstation height.
A standing desk (especially an electric standing desk) allows you to move over the course of the day. You can choose to start your day by sitting while you sip on your coffee, and then elevate the adjustable desk to a bit higher and elevate your office chair, and then end your day standing. You should try to find an adjustable standing desk that gives a lot of opportunities.
An ergonomic office chair
One of the most important decisions you can make when creating your working space is undoubtedly a chair that is ergonomic. Ergonomic chairs are made with your health in mind, just as standing workstations. They are designed to fit your body and provide you with the support you require.
In a home office arrangement, your desk and office chair both need to be flexible. When you sit properly, your feet should be flat on the floor, and your knees should be bent 90 degrees. With a desk chair that cannot be adjusted, it might be challenging to sit in the optimal position. You should also make sure your workplace ergonomic chair offers lumbar support to avoid back strain.
These office chairs frequently provide lumbar support in addition to adjustable height, depth, and breadth, a headrest, and reclining capabilities.
You spend a significant amount of time each day in your seat. As a result, you want to make sure that you are comfortable.
A super-fast computer
When it comes to your home computer, a laptop provides far more freedom than a conventional desktop PC. With a laptop, you may switch up where you work at home and even work from a coffee shop or when traveling.
Storage capacity and RAM, two crucial laptop specifications, are more than enough on today's market to manage your commercial activities.
Choosing a light and good laptop allows you to work remotely while traveling if you want. Although they are exceedingly light, these portable computers may nonetheless provide necessary support in your home workspace.
A laptop is a purchase that will last. Before you make a purchase, be certain that you are entirely aware of the requirements of your job or business.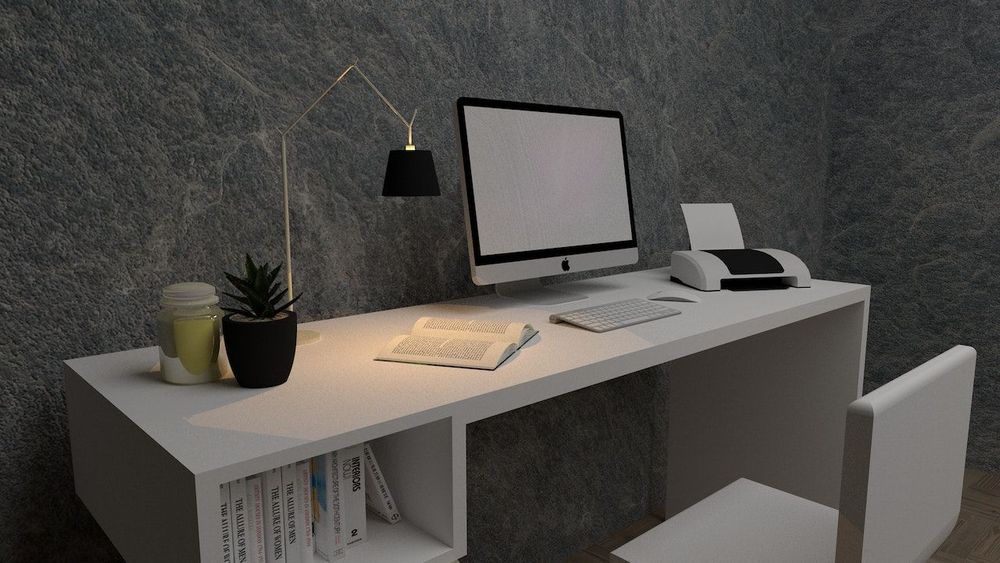 A laptop stand
Where there's a laptop, there should be a laptop stand. Instead of slouching over your laptop, resembling a question mark in your position, treat yourself to a nice laptop stand that will allow you a more ergonomic position of your hands and eyes.
Long-term laptop use without a stand leads to a postural issue that causes neck and shoulder pain. And the longer this continues, the tighter those muscles get.
It may take years of physical treatment and purposeful adjustments for some people who ignore the issue to get the pain under control and rectify the imbalances.
A dual monitor
Instead of using just your small laptop screen or having to use multiple devices, you should purchase a larger monitor to put on a monitor stand next to your laptop. If you plan to spend a significant amount of time staring at the computer screen, you might as well do it on more screen real estate.
An external monitor can significantly increase productivity and shorten the length of your workday. Switching back and forth between multiple programs and displays while working on them simultaneously can be tedious, confusing, and error-prone. And don't forget the conference calls and the video quality.
Your tabs and apps can be better organized if you have a second screen next to your laptop. Additionally, having two screens open will save you time and irritation if you need to cross-reference, which makes the expense more than worthwhile.
A lap desk
Working from a kitchen chair or the sofa may be a better alternative if you have a less-than-ideal home office setup with space for additional desks and chairs.
However, it is neither ergonomically sound nor healthy to spend the whole day with a heated, radiation-emitting laptop sitting on your stomach or legs.
A lap desk is a straightforward, creative necessity for home offices that allows you to work comfortably from any chair or couch.
With lap desks, you are separated from your laptop. They are cushioned to provide excellent comfort, are safer, and are healthier for your posture.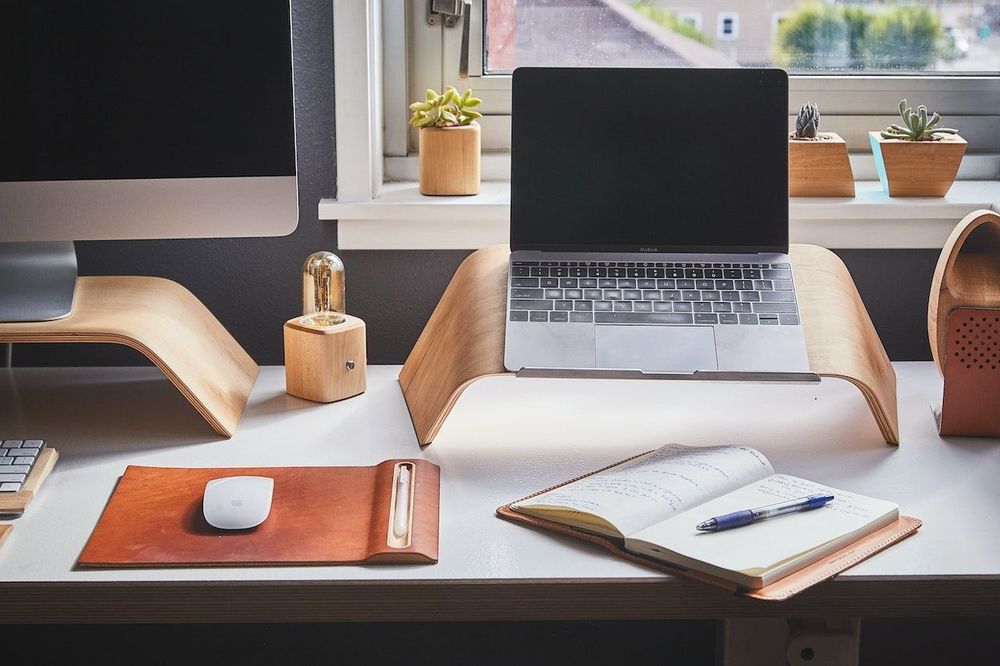 USB surge power strip
Your home desk setup will undoubtedly grow with time and with the growth of your needs. You'll keep adding better features as you get more accustomed to it for the best office setup. Naturally, a lot of those sophisticated devices will require a source of electricity.
Power strips are an essential component of any home office setup (or simply, work setup). Make sure you choose one with surge protection for extra peace of mind. When you have numerous gadgets plugged in, this will aid in maintaining power at a safe level.
Worrying about several gadgets running out of charge (even if they have a great battery life) will be a thing of the past with a power strip that contains both a socket and USB docks.
High-speed internet
Many people who are new to working from home overlook how much more quickly work tasks must be completed than regular web surfing and shopping.
You'll probably need to do video conferences with your clients and coworkers.
When designing or developing for a customer, you'll need to send back and forth enormous files that are larger than what an email can manage.
These activities require high-speed internet. The last thing you want is for a video conversation to lose connection or for a file transfer to take hours rather than minutes.
It might be wise to upgrade to a speedier plan after considering your provider's possibilities. This can help you save a ton of time and stress in the long run.
Keyboard and mouse
Almost everyone who uses a laptop or computer also uses a mechanical keyboard and a mouse. These desk accessories, sadly, have zero positive effects on the health of your wrists. Having the right office accessories is crucial to not only maintain your home setup but improve your overall ergonomic setup.
Although there are many manufacturers of keyboards, choosing wireless models is recommended because of their greater flexibility. Additionally, wireless alternatives provide a more aesthetically pleasing workspace arrangement. You don't want to be reminded of the cords that are twisted. Improving your cable management with a wireless mouse and an ergonomic keyboard will make your space feel like new.
Also, by switching to an ergonomic mouse, your wrists will thank you during those extended work sessions. Long periods of misuse can cause serious health issues.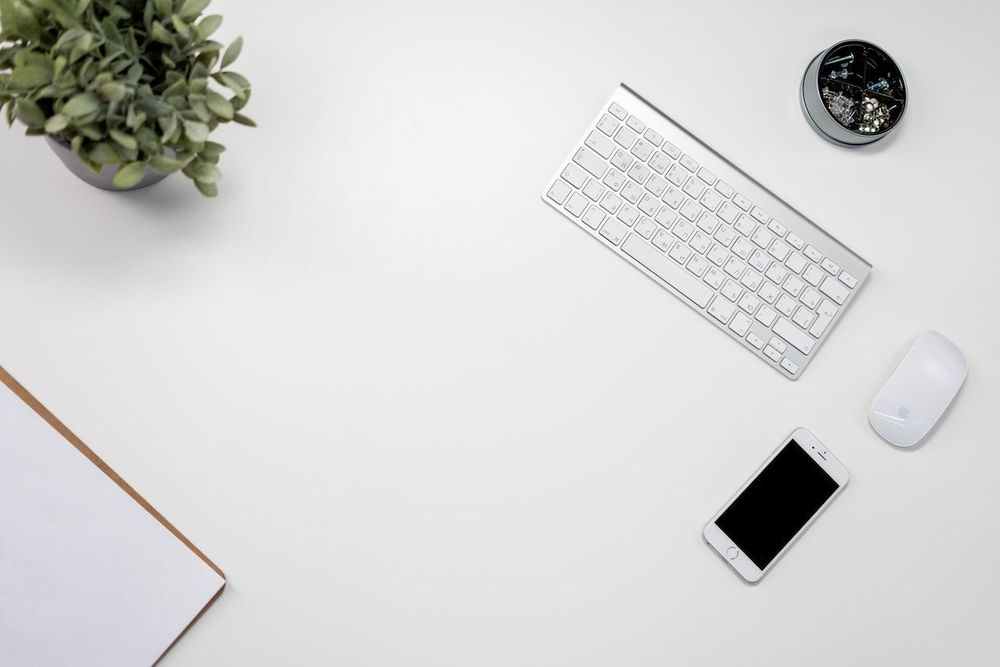 Speakers
A fantastic approach to concentrating and staying focused is to listen to music. You can play music over speakers listening to whatever pleases your ears, filling the space with sound, and not worrying about disturbing anyone.
Speakers may make the space seem as though you are still at the workplace by filling it with sound. Some people find great benefits in these ambient sounds.
Headphones
If, however, you are the opposite of the person who likes to listen to music out loud or you like to work from a coworking space, you might benefit more from investing in good wireless headphones.
Noise-canceling headphones might completely affect how you use your dedicated home office. With these headphones, you can block out any other disturbances. Headphones reduce noise, effectively increasing productivity, so they should be a crucial part of your setup.
Desk lamp
It's crucial for your health to have good lighting at your home office. But it's a component of the work-from-home arrangement that's commonly neglected.
If you don't have plenty of natural light, you could think that simply the existing room lighting will suffice, but workstations with poor lighting can cause headaches and eye strain (and even cause you to sit in uncomfortable postures if there is too much glare).
With a desk lamp, you can choose the direction and intensity of your light source.
Light intensity and tones have varied effects on people. Because of this, a desk lamp is extremely useful.
To prevent having too much light on your screen, experiment with the placement of your light until you find the ideal setting.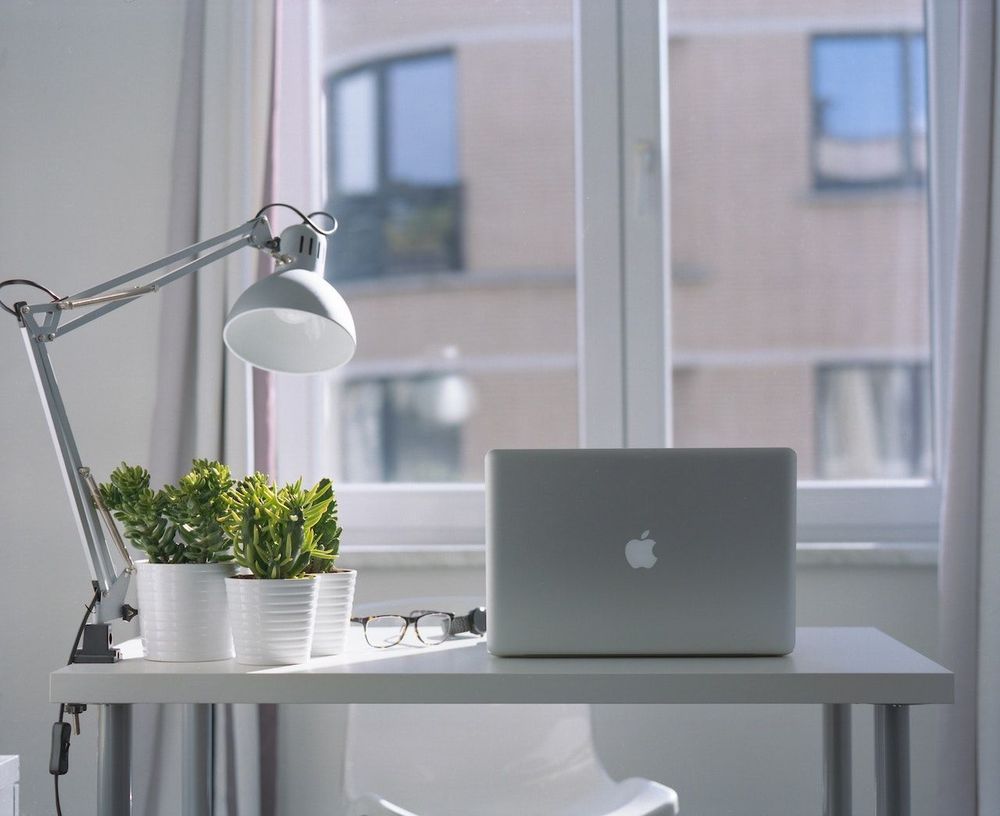 Coffee station at home
There are plenty of possibilities to get yourself a cup of one of the most popular drinks in the world to start your day, whether you're in the middle of your commute or at the workplace.
But wouldn't it be wonderful to be able to get a cup of truly brewed coffee multiple times a day on your own kitchen table from the comfort of your home, saving valuable time? It sure is a hassle to have to leave the house multiple times just to go get coffee when you could be doing it in a matter of minutes.
A coffee maker is fantastic if you prefer freshly brewed coffee but don't want to constantly visit coffee shops to buy takeaway coffee.
Work-from-home software
When done properly, working from home may completely change how you approach your weekday. It does have its difficulties, though, just like everything else.
When you work from home, you are frequently alone and immersed in the conveniences and distractions of your own home. Finding structure and maintaining discipline may be quite difficult as a result.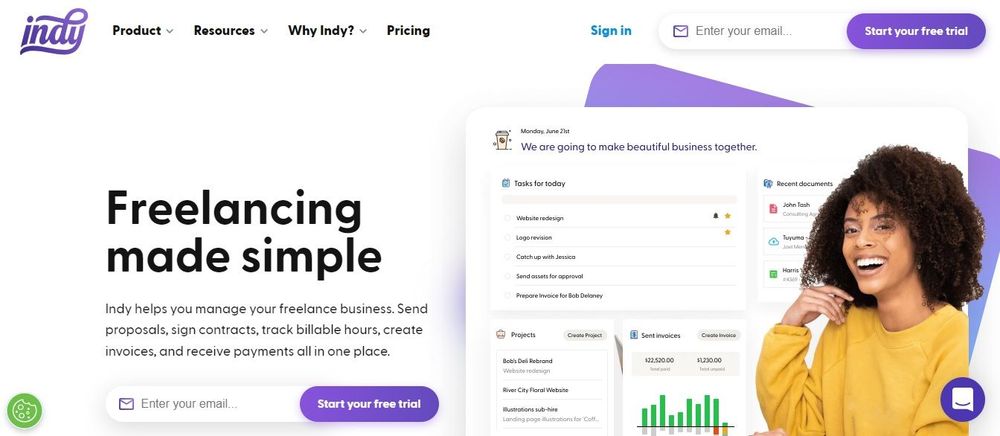 Online tools come in both free and paid varieties, which is a blessing. Tools like Indy can handle various issues that remote employees encounter, such as:
Time management
Productivity and time tracking
Project and task management
Integrated calendars
Security
Additionally, with Indy, you don't have to worry about having multiple apps or programs because it is all in one place!
Storage solution
A home office is only as productive as its storage solutions. An effective storage solution will help organize your space, making it easier to find what you need when you need it. It can also help if you declutter your work area, making it more conducive to concentration and creativity.
There are a few key things to keep in mind when choosing storage solutions for your home office:
First, consider what kinds of things you need to store. Do you have a lot of paperwork? Are you constantly losing pens and other small office supplies? Make a list of the items you need to store, so you can choose the right type of solution for each.
Second, think about how much space you have available. If you have a small office, you'll need to be more creative with your storage solutions. Wall-mounted shelves and cabinets can help to save space while still providing ample storage for all of your needs.
Third, consider your budget. There are many different types of storage solutions available, from simple plastic bins to elaborate custom-built shelving units. Choose the option that fits both your needs and your budget.
Conclusion
It takes a special kind of skill to work from home. It could be challenging at first. But over time, with effort and some foresight, you may establish a very effective and delightful working environment that is just a few steps from your place of rest.
No one says you need to splurge and spend a lot of money on an office setup the minute you switch to working from home. There are other solutions. But, you could invest little by little every month and watch how your home office transforms into a safe haven.
As you begin thinking about your office essentials, it's important to remember the software that will transform your freelance business. Indy has all the tools you need to send proposals, create contracts, manage projects, keep track of time, share files, and send invoices with just one platform. Check out how Indy can set you up for success today!