When it comes to invoicing and billing software, both HoneyBook and FreshBooks offer compelling features. However, they cater to slightly different user bases and have unique strengths. Let's have a look at its reviews based on Indy's research.
HoneyBook and FreshBooks are two popular accounting software solutions that serve the needs of freelancers, small business owners, self-employed professionals, and entrepreneurs. In this article, we will delve into the key features, pricing, user-friendliness, desktop and mobile access, and customer reviews of both platforms to help you make an informed decision about which software is the best fit for your business.
FreshBooks vs. HoneyBook General Comparison
HoneyBook
HoneyBook is a comprehensive business management CRM platform designed to streamline tasks such as invoice management, accounting, contracts, payments, and client communication. It primarily caters to creative professionals like photographers, event planners, designers, and consultants. HoneyBook offers a suite of applications that enable you to manage clients efficiently, automate workflows, and maintain a centralized database of contacts. The platform's emphasis on client communication and collaboration makes it a popular choice for those in the creative industries.
FreshBooks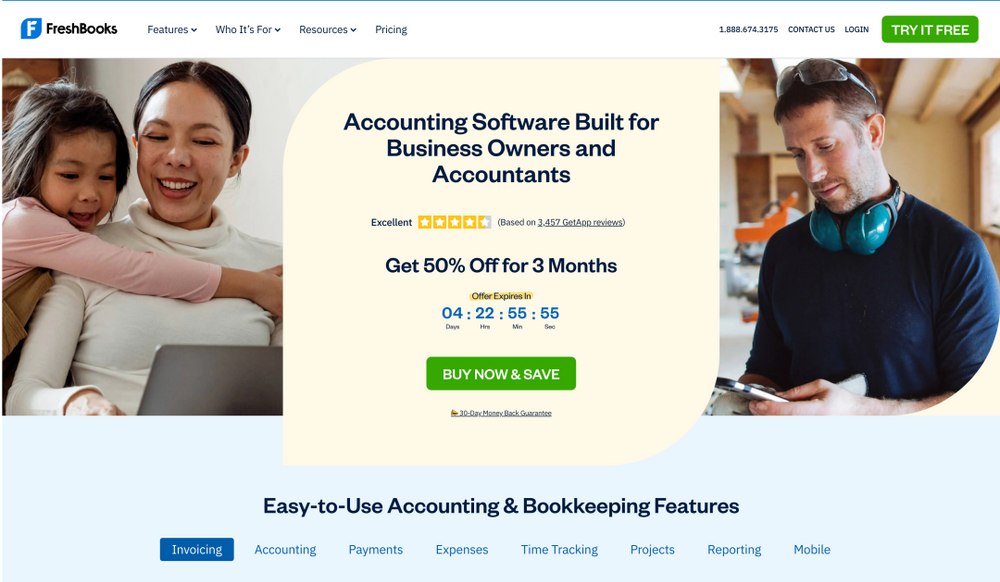 FreshBooks, on the other hand, focuses primarily on accounts, billing, and invoicing. It aims to simplify financial processes, making it suitable for small businesses, freelancers, and service providers. FreshBooks offers a user-friendly interface that allows you to create and send professional invoices, track expenses, accept online payments, and manage time effectively. While it doesn't offer the same breadth of features as HoneyBook, its simplicity and intuitive design make it an attractive option for those seeking a straightforward billing SaaS.
Key Features and Details
HoneyBook


Client management
HoneyBook was created to manage client information, track communication history, and create a centralized client and vendor database.


Invoicing, billing, accounts, and payments
The platform enables you to create professional, customizable invoices, accept secure online payments, and automate payment reminders.


Contracts and proposals
HoneyBook provides customizable contract templates and proposal forms to facilitate smooth client onboarding.


Project management
You can set up and manage projects, assign tasks, and track progress through HoneyBook's project management features.


Integrations
HoneyBook integrates with various third-party applications, including Gmail, Google Calendar, and QuickBooks.
FreshBooks


Accounts, invoicing, and billing
FreshBooks offers an intuitive accounting and invoice management system with customizable templates, automated invoicing, and recurring billing options.


Expense tracking
You can track expenses and taxes, attach receipts, and categorize transactions to manage your finances effectively.


Time tracking
FreshBooks includes time-tracking features that allow you to monitor billable hours and generate accurate invoices.


Client page
Clients can access their invoices, estimates, and project details through the FreshBooks client site.


Integrations
FreshBooks integrates with G Suite, Trello, and Stripe.
Pricing
HoneyBook
HoneyBook offers subscription-based pricing, with three plans to choose from:


HoneyBook Plan
This plan costs $40 per month and includes features like unlimited projects, client communication, and basic automation tools.


HoneyBook + Rising Tide
Priced at $47 per month, this plan offers all the features of the HoneyBook Plan, along with access to the Rising Tide community for networking and support.


HoneyBook + Squarespace
At $400 per year, this plan includes all the features of the HoneyBook Plan, plus a one-year subscription to a Squarespace website.


FreshBooks
FreshBooks offers tiered pricing based on the number of clients:


Lite Plan
Priced at $15 per month, this plan supports up to 5 billable clients and includes essential features like invoice and expense tracking.


Plus Plan
At $25 per month, this plan accommodates up to 50 billable clients and includes additional features like time tracking and team management.


Premium Plan
The Premium Plan costs $50 per month and supports up to 500 billable clients. It offers advanced reporting and online payment processing options with security.
User-Friendliness
HoneyBook
HoneyBook is known for its user-friendly interface, making it easy for new users to navigate the platform. The dashboards are intuitive, and the drag-and-drop functionality simplifies creating different types of contracts. However, some may find the learning curve for advanced features a bit steep.
FreshBooks
FreshBooks prides itself on simplicity and ease of use. Its UI is clean and straightforward, making it suitable for those without extensive accounting experience. You can quickly set up a project, time tracking, and generate invoices without any hassle.
Customer Reviews
HoneyBook
Customer reviews often praise HoneyBook for its outstanding customer online and phone support they can rely on, streamlined workflow, and professional-looking templates and customizable invoices. Some appreciate the community aspect offered by the HoneyBook + Rising Tide plan, which allows them to connect with other professionals in their industry. However, a few users have reported occasional glitches and performance issues they dislike.
FreshBooks
FreshBooks garners positive reviews for its invoicing capabilities, ease of use, and robust reporting features. Users also appreciate the mobile app, which allows them to manage their finances on the go. However, some customers have mentioned that the reporting features could be more customizable to suit their specific business needs.
Support and Customer Service
HoneyBook
HoneyBook is widely recognized for its exceptional customer service and support. The platform offers various support channels, including email, phone support, live chat, videos, and a comprehensive knowledge base. Users often praise the responsiveness of the support team and the willingness to address any issues promptly.
In addition to standard customer support, HoneyBook's Rising Tide community provides an extra layer of support and encouragement. This community allows them to interact with other professionals in their industry, share experiences, and seek advice, further enhancing the overall user experience.
FreshBooks
FreshBooks also provides strong customer support through multiple channels. You can access email support, a toll-free phone support number, a live rep, and an extensive help center that includes articles, guides, and videos you can watch on your computer (Windows desktop or Mac desktop) or via mobile access. The responsive support team is generally commended for their helpfulness and willingness to assist with any inquiries.
However, it's important to note that FreshBooks' support does not include a dedicated community or networking platform like HoneyBook's Rising Tide, which may be a significant factor for those who value a collaborative community.
Additional Functionalities
HoneyBook
One significant advantage of HoneyBook lies in its diverse range of features beyond billing and invoicing services. The platform's project management tools allow you to create tasks, set deadlines, and track project progress, making it a comprehensive solution for managing entire projects from start to finish.
HoneyBook's contract and proposal features streamline the client onboarding process, enabling them to spend less time and effort on administrative tasks. You can customize contract templates, ensuring that they reflect their brand identity and meet the specific requirements of each client.
Additionally, HoneyBook's analytics and reporting capabilities provide valuable insights into the performance of the businesses, helping to make data-driven decisions to optimize their operations and expenses (for example, you can check how much you paid for the ad annually).
FreshBooks
While FreshBooks is primarily focused on billing and invoicing, it offers certain functionalities that enhance its capabilities. For instance, the time tracking feature is especially useful for businesses that need to bill clients based on billable hours. You can easily track the time spent on tasks, associate time entries with specific projects or clients, and generate an accurate invoice based on the number of hours worked.
Furthermore, FreshBooks' project management capabilities allow you to create projects and associate billable hours with specific tasks, providing a basic project management solution for small businesses that primarily require billing features.
FreshBooks vs. Honeybook: Which Accounting Software Is Better?
Both HoneyBook and FreshBooks offer valuable solutions for managing billing and invoice management processes. HoneyBook's comprehensive features, emphasis on client communication, and additional functionalities make it an excellent choice for creative professionals, small business owners, and businesses who seek an all-in-one business management platform. Its integration options and supportive community further enhance the user experience.
On the other hand, FreshBooks' simplicity, user-friendly interface, and focused approach to billing and invoicing make it a strong contender for small businesses, freelancers, and service providers who prioritize streamlined financial management. Its time-tracking feature and client portal contribute to improved efficiency and client communication.
The best choice for your business will ultimately depend on your specific needs, budget, and industry. Whichever platform you choose, investing in billing and invoice management software will undoubtedly enhance your efficiency and contribute to greater success in the long run.
How Can Indy Help?
If you are comparing FreshBooks vs. Honeybook, why don't you try Indy? Indy is a powerful and easy-to-use tool for freelancers and small business owners. What can you do with Indy's help?
Use invoice, contracts, and proposal templates for free
Sign documents with e-signature (when it's impossible to sign them in person)
Manage projects and task
Track time
Make secure online payments
Centralize all necessary company data (customers, vendors, other businesses, contractors)
Manage clients with Client Portal
Spend less time on billing, tracking, and accounting
Save money on accounting services
Automate recurring tasks
Indy is getting positive reviews from freelancers worldwide. Now you can try it for free! Indy has a special free plan for new freelancers and small businesses.
Wrapping Up
When choosing between HoneyBook and FreshBooks, it's essential to consider your business's specific needs and priorities. HoneyBook stands out as a comprehensive business management CRM platform, ideal for creative professionals and businesses seeking an all-in-one solution. On the other hand, FreshBooks offers simplicity and user-friendliness, making it an attractive choice for small businesses, freelancers, and service providers primarily focused on streamlined billing and invoicing processes.
However, for freelancers and small business owners, we recommend Indy. It's been designed specifically for business owners, offering powerful features like free invoice, contract, and proposal templates, e-signature capabilities, project and task management, time tracking, online payments, and a centralized database. Indy has everything you need to manage your business, from proposal to payment. Get started today for free!