Working as a freelance content writer is an amazing home job opportunity for professionals who want to earn by helping companies create content for the online world. It can be done in several forms: blog posts, emails, product reviews and product descriptions, website pages, writing assignments, and white papers.
The demand for good quality content doesn't seem to slow down any time; hence, it is a great time to start!
What is content writing?
With the advancement in technology, various job opportunities have made their way. Content writing first gained popularity at the end of the 1990s when the internet witnessed an exponential rise.
It is a self-employment form that allows the creation of web pages, product descriptions, blog posts, and such. Your success depends on how far you are ready to take up your writing career.
The online world is constantly growing, and the possibilities of writing jobs don't see an end.
Advantages of being a content writer
Freelance content writing is an amazing option to earn money in a flexible routine.
All you need is a reliable internet connection to be an online content writer.
It gives you the flexibility to set your working hours as per your comfort.
Writing is an amazing way to showcase your creativity on many topics.
Seeing your writing abilities appreciated, paid, and rewarded gives a satisfying feeling.
The best thing about your success and earning depends on how much time you dedicate to content writing.
Lastly, you have the choice to choose your employer. There are millions of websites for which you can enjoy writing.
Things you need to become a successful writer
First and most important, you should know how to write. When provided with a blank paper and sufficient details, you should be able to take charge and create engaging and high-quality content. You should also know how to research a topic, pen down the outlines, write it properly and review it to make it error-less.
As a writing job is paid by the hour, wasted time means earning less money. Hence, your goal should be to complete more and more projects in a short period without compromising the quality. If you cannot create loads of content in a limited time, then content writing is not for you.
While there are content writing courses, they may not be necessary for you. Usually, potential clients lookout for content writers who can write content, meet deadlines, review their work and create high-quality content.
Who will prove to be a good content writer?
Anyone with good writing abilities can become a successful content writer. However, they should be dedicated and motivated to succeed and be an amazing freelance writing candidate.
Students, parents, people who want additional income, and those who love to write can be freelance writers.
Skills and tools needed to be a content writer
Efficiently communicating a concept is the most basic skill needed to become a successful content or freelance writer.
Knowledge of spelling, proper punctuation, and grammar is essential when writing content. The intern is flooded with free content writing training guides and tutorials to help you.
A good internet connection is important for efficient content writing.
A computer, laptop, or other device to write the content is essential.
Spell checkers or grammar checking websites can be helpful to most writers.
The skill of keyword research to collect reliable information and cite sources is also essential to craft successful content.
The writer needs to have some technical knowledge. For instance, hyperlinking the sources, including HTML markers and more. Most content writing websites offer their guide to writers completely free.
Different content writing styles
Blogging: A blog post is an efficient way to communicate your ideas. Blogs aren't meant for sales; rather, they help create awareness and brand authority.
Emails: Another content strategy effectively used is email marketing. A well-written email is an efficient way to reach your targeted customers and create engagement.
Social media: Social media posts allow a writer to communicate to all types of audiences through different mediums. The writing style should be concise and stand out from the others.
Ads: Be it print advertisement or digital marketing, ads are made to persuade and convince potential clients. A professional content writer should have the ability to share a story and stir emotions.
Product description and review: Selling products and services need efficient writing skills. You should know how to make the right balance.
White papers: You need a deep knowledge of a particular topic to write a white paper. The writing process is all about educating readers on how a problem is solved.
Branding: This content involves sharing stories about a brand. It can include customer experiences, press releases, and internal reports.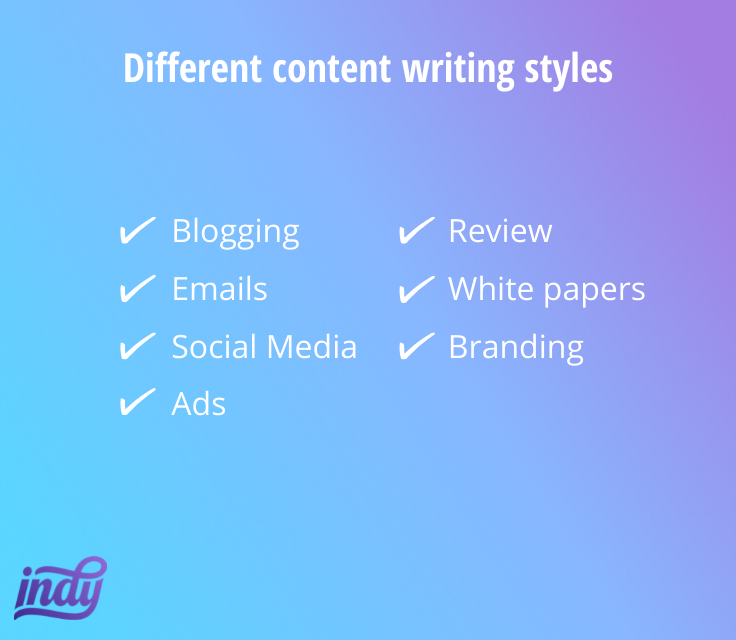 Steps to Become a content writer
If you find being a writer appealing, you must be wondering how to be a content writer. There are several routes you can take to become a talented writer. The guide to becoming a freelance writer may prove useful to you.
Here are some highlighted options to start your content writing journey instantly:
Write
Some people like writing; they find it appealing. However, some people don't like writing at all. Writing may take time, experience, and a reasonable level of proficiency.
You may feel the need to start your own blog about anything as long as you are regularly writing. You can also explore different aspects of digital marketing. There are many things to write online, and the choice is completely yours.
Choose your niche
Content writers can choose from various topics, collaborating with companies and marketing teams. A writer may choose a specific field of specialization or write for anything and everything.
Regardless of what niche you choose, creating compelling and interesting reading material is important.
Experience
You may not get a writing job without experience, but there will be no writing experience till you work. Hence, it would be best to create a portfolio for prospective companies and employers. It can include mock-up ads, articles written for yourself, social media campaign ideas, and more.
Many companies lookout for freshers, and it gives you a valuable experience to find your feet as a content writer.
Sharpen your skills
To get the best content writing jobs, you should work on your skills.
Communication: You should communicate your ideas to your targeted audience.
Problem-solving: Problem-solving abilities are important for all jobs.
Research: Most writing projects involve research. Hence, a good writer needs to have good research skills.
Adaptability: You have to be adaptable and resilient to work as a content writer. Make sure you can change your focus and work on several projects simultaneously.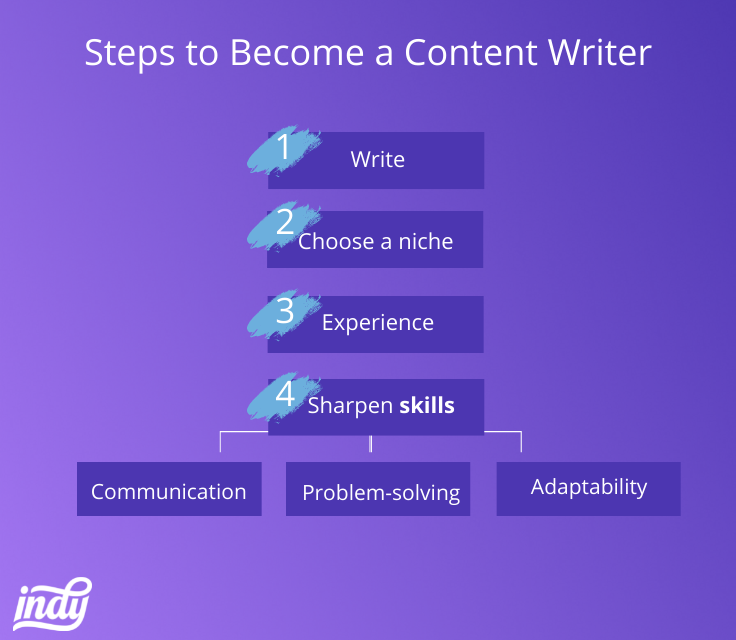 How much do content writers get paid?
Well, a lot of content writers are making a good living. They are paid in three ways: by word, hourly, or based on the project.
Payment per word
This is a normal payout for writers. The current range is from $.02 to $0.50 per word, and the client gives the number of words needed.
In this writing, you need to research a given topic and craft it into your own words. For fast writers, this is a great way to earn money. But, if you are a crisp writer, you may not earn well unless you get a client who is ready to pay a higher price per word for you.
Payment per hour
If there is content that needs a lot of research and freelance writing resources, and your efforts may not well be reflected in the word count, such as an academic topic, then you should charge on an hourly basis.
If you are a thoughtful freelance writer who loves researching, then payment per hour may be tempting.
Payment per project
Getting paid based on the project doesn't rely on the quantity and not word limit or time. You can take up any niche project you like. This allows your employer to see your specialization and separate you from other writers. It will also lower your list of clients. It would be best to have a good writing portfolio with reviews and stable networking to find such opportunities to get projects.
Final thoughts
Hopefully, you must have now gotten some hints about becoming a content writer and other relevant details. It gives you a chance to work in different areas, sectors, and niches and is greatly rewarding.
The goal to start is to focus on sharpening your writing abilities. Write blogs for yourself in the beginning and re-check your written content several times to know about your mistakes. The idea is to get as much experience and exposure as you can. So, go ahead and start writing now!