Social media management has become an important marketing tool for virtually every business, and there are plenty of companies looking for a marketing agency or freelancer to assist with their brand presence on various social media channels. However, this space is extremely competitive, and finding new clients isn't easy.
As an entrepreneur offering social media services, you need to become an expert at writing social media proposals if you want to grow your business and reach prospective clients. In this step-by-step guide, we'll show you how to create a winning social media proposal to send to your potential clients.
What Is a Social Media Strategy Proposal?
Social media proposals are documents used by social media marketing agencies or freelance social media professionals to communicate their services to their prospective clients. The best social media proposals outline exactly how the business will use its social media marketing services and expertise to add value to the business and how it will meet the prospect's business goals.
While we've included guidelines that will show you how to write a social media marketing proposal, each proposal should be modified according to the client. If you use a free template found online, consider it a jumping-off point. Don't copy it verbatim. Clients want you to show exactly how your past experience and expertise in the field will meet their needs.
It's a good idea to have a brief discovery session with the client before compiling your social media proposal.
Why Is a Social Media Strategy Proposal So Important?
A social media marketing proposal is your opportunity to establish your expertise and demonstrate why you are the right person (or agency) to complete the job. As a social media marketer, you need to convince the prospective client that they need to take action on social media—and that you are the right person for the job.
Your social media proposal will also set the stage for your relationship with the potential client. By outlining expectations, promises, responsibilities, timelines, and costs, unpleasant surprises and miscommunication can be avoided down the line.
How to Write an Effective Social Media Proposal
Before we can get into the contents of the actual social media proposal, there is some groundwork that has to be done.
1. Spend some time understanding the client's social media goals
It's important to understand your prospect's vision and social media goals before you start writing your proposal. You need to clearly demonstrate the way your strategy connects to their goals. If possible, schedule a short discovery call with the client to find out more about their business, its differentiators, customers, and current strategy. If possible, carry out a short social media audit to review past and current efforts.
2. Get to know the target audience
Once you understand the client's business goals, you can start working on the target audience. Their target audience will determine which social media channels will be used and which platforms are worth investing in. You could ask your client for some information, but it's a good idea to dig a little deeper on your own using public information.
3. Conduct competitive audits
You need to do more than reach your customers' target audience—you also need to beat the competition at the game! Look at the channels that competitor brands are using, what their key messages are, who they are targeting, and how often they are posting. This can provide important guidance as well as benchmarks to use in your social media strategy and proposal.
Now that you've done the research, you can start putting your insights together along with an action plan in your social media proposal. You can showcase your knowledge of the customer, industry trends, and the audience, and demonstrate how you or your agency will take action to achieve their business goals.
Compiling a Social Media Proposal
You can find fantastic templates for social media and business proposals on sites like WeAreIndy.com, but as we've already mentioned, it's a good idea to tweak templates according to the client and what they would like to see.
An effective proposal should contain the following:
1. Analysis
Start your proposal with an analysis or executive summary of your findings. This section should cover key areas explored in the research and discovery phase to demonstrate that you understand the client's needs, industry, and problems. You should also include the social media goals you'd like to hit and the project timeline for reaching the objectives.
2. Scope of Work
In this section, you'll include what you would do for your client. This may include a posting schedule, the networks you'll monitor, the content creation and curation process, a breakdown of keyword monitoring activities, analytics, and reporting. You should also detail the process for social media community management and how many hours of work the client will receive for the duration of the contract.
The scope of work should be the most significant portion of your proposal and should include items such as:
Social media campaigns: Detailing how social media campaigns will be developed, brief notes on the creative concept, and execution.
Social media monitoring: How comments will be measured, interpreted, responded to, and reported on.
Content promotion: This section covers how content will be promoted on social media and the budget allocation handled.
Social media engagement: This section will explain how engagement will be defined, reported on, and measured.
Social ad selling: This should detail the way ads will be created, promoted, and measured during the campaign.
The tasks should directly link to the client's business objectives, e.g., if the client wants to boost traffic to their site by 5%, explain exactly how you will use social media to get there.
You should also include some information related to responsibility. Will you log into the customer's social media accounts to execute the strategy, or work with an internal staff member to complete strategic tasks you've detailed for them?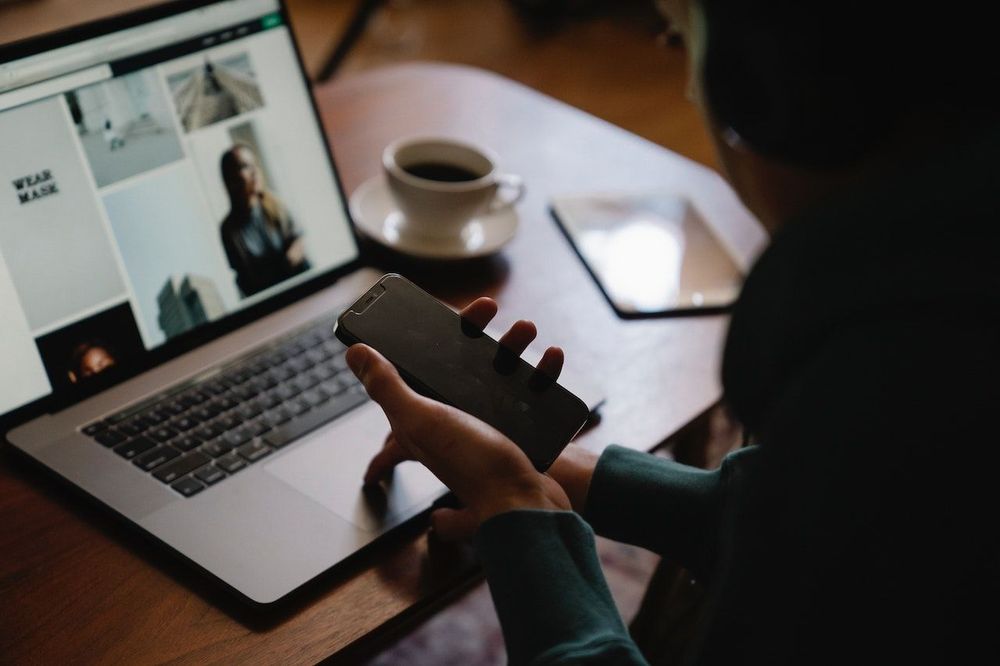 You may also want to include the elements that are not covered in your scope of work. For example, you may provide the written and visual content for social media ads, but the actual budget for promoting and launching the ads will not be included in the retainer or project proposal. By setting expectations early on, nothing will fall through the cracks when you begin working together.
3. Strategic Milestones
Next, start defining how you will measure the project milestones and success, e.g., impressions, sales, click-throughs, and other metrics that you may use to reach the client's goals. Include measurable, reasonable, numeric goals in your proposal.
You should establish a clear timeline of when tasks within the scope of work will be completed. This could be a high-level overview of the roll-out of the campaign, an agenda, or a calendar view.
Next, identify the strategic milestones that will help you and your client determine whether or not the project is on track and likely to achieve its goals, e.g., reaching one million Facebook followers or generating 2,000 click-throughs.
4. Proof of Work
The previous sections of your proposal have shown that you understand the client and the project requirements and how you will approach their goals. Now, it's time to back up your action plan and show the team that you have a proven track record and the right skills to make a success of the project.
In this section, include compelling reasons why the client should choose your proposal over that of your competitors. Explain why your experience meets their needs, how you've managed clients in the past, and, if possible, include testimonials. If you've worked on similar projects, detail what you have achieved for your other clients and what their goals were.
It's a good idea to gather recommendations from previous customers, pull quotes from online reviews, or write a detailed case study. Always substantiate your claims with data—including an overview of timelines, strategic goals, key metrics, and results.
5. Terms of Agreement
In this section, clearly communicate how you work and what your contract terms would be. This should include your fees (retainer, hourly, or per project), billing practices like your payment terms, and how travel to the client's office will be billed (if they are in a different city or country). You may even want to include some details about a kill fee and expenses that need to be settled in the event of a termination.
It may feel uncomfortable sharing this information since you haven't landed the customer's account yet, but it will help move the project forward and ensure that you and the customer are aligned from the start.
You can base payment terms on your typical fees, your budget, or a combination of the two. You may also want to include different payment options, e.g., hourly, monthly, per project, etc.
As a freelancer or solopreneur, there's always a concern that your proposed fees are wildly different from the fees that the client is expecting...but sometimes it's best to discover that you are out of someone's budget before progressing any further. If you are willing to consider a smaller fee for a smaller scope, make sure that the trade-offs are clear upfront.
6. Next Steps for the Client
Once you've sent your social media proposal...what should happen next? You definitely don't want to get involved in a continual back-and-forth email exchange or wait patiently for the phone to ring when you could have focused on getting more clients on board.
To avoid confusion, detail exactly what will happen after the proposal is sent. Will you follow up within a specific time frame? Will you set up a call to discuss revisions? Does the client have to respond by a specific day?
Some agencies include a short checklist to help the client make an informed decision and move forward. A checklist may include the following:
An opportunity to meet and identify adjustments to the agreement
Acceptance of the original or amended proposal
Request and sign a contract
The first payment/deposit due date
Give your client some time to consider your services by including a reasonable expiration date for your proposal. It will help you avoid potential negative exchanges, e.g., having to tell the client that you no longer have the capacity to complete their project.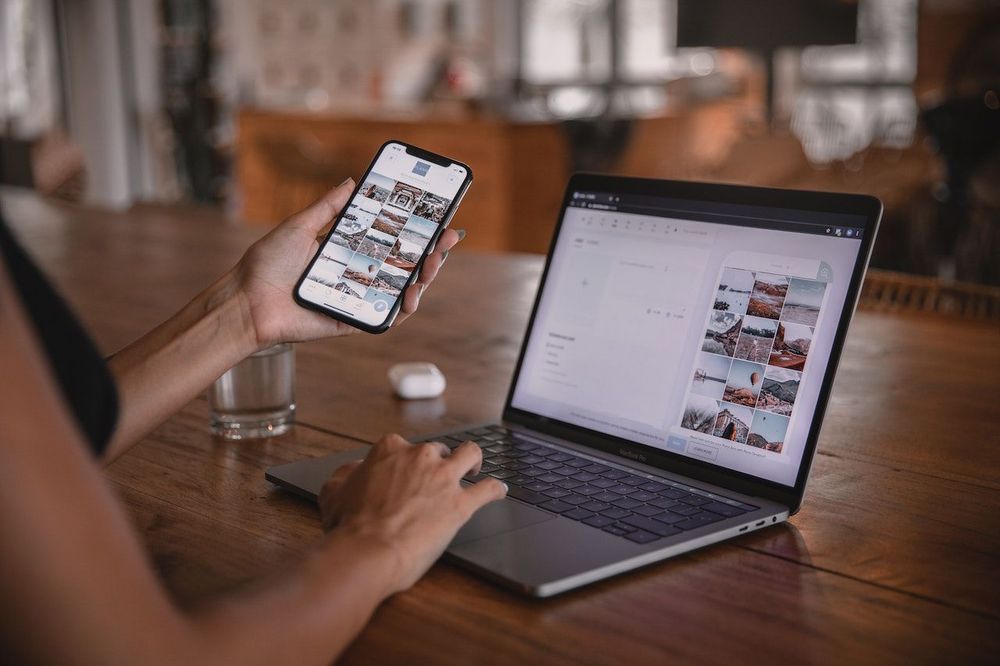 Creating a Social Media Strategy Proposal with Indy
Now you know the basics involved in crafting a social media proposal, but there are even easier ways to create, send, manage, and follow up on your proposals.
Indy offers a fantastic range of powerful proposal tools that will help you craft and submit your pitch to potential clients. There is a range of ready-made social media marketing proposal templates that can be customized and personalized for each client.
Designing your proposal
You can add your own logo and color and choose from more than 50 fonts to create a professional-looking social media proposal in minutes. Add text, images, embedded links, timelines, a cost estimate, and your signature to really drive your point home.
Manage billing
The best thing about Indy is that you can manage the entire social media pitch from start to finish. Any estimate that you create in your proposal can automatically convert to an invoice in the system when the proposal is accepted. (You can also use Indy to create an estimate without a proposal.)
With Indy's global currency support, you can choose your payment currency, making it suitable for solopreneurs and freelancers around the globe.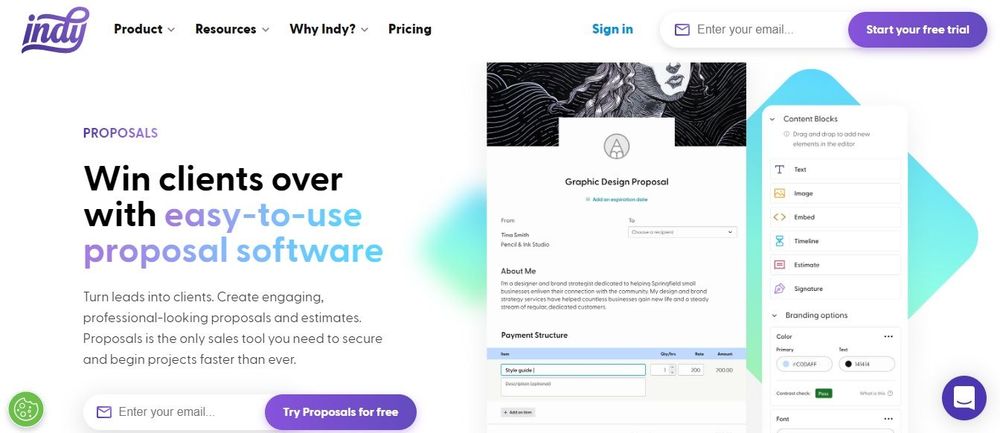 Track the status
You can track your proposal status easily through the Indy dashboard. Instantly check and see whether a proposal is in Draft, Sent, Read, or Approved Status. If you need to remind someone, you can simply resend and follow up. Proposals are automatically accepted when both parties sign.
You can download the proposal as a PDF for your records as well.
Final Thoughts
As a freelancer or social media marketing agency, the proposals you send to your clients are the key to your success. It's your best chance to make a positive impression on a potential client and seal the deal.
A winning social media proposal requires careful thought, research, planning, and revision, including analysis of the prospective client, their goals, their customers, and their competitors. Once you have a complete picture and overview, you can start crafting your proposal, including your scope of work, milestones, proof of work, deliverables, and next steps.
Fortunately, sites like Indy have everything you need to get started with a social media proposal. You can design, fine-tune, personalize, send, and manage your proposal throughout the entire process, including billing.
Visit WeAreIndy.com today and start sending professional social media proposals today.