How to find jobs as a freelance translator? Translation jobs have always been in high demand, and plenty of opportunities are available for those looking to work as a translator. However, finding freelance work can be difficult, especially if you don't know where to look.
We'll discuss different ways to find freelance translation projects, thrive in this gig economy market, and manage the business proposals without losing your sanity.
The benefits of working as a freelance translator
As the world becomes increasingly globalized, more and more people are looking for ways to freelance their services. If you are a translator looking for a more flexible and comfortable career, freelance work might be the right option.
When you are a freelance translator, you are essentially your boss. You set your own hours and can work at a convenient time instead of being bound to someone else's schedule.
You can choose from a wider range of projects and work with different clients. It's up to you what type of translation work you would like to do, from simple texts to more complex tasks.
Exposure to various projects and challenges enriches your portfolio and makes you more skilled in this field. You can choose the assignments or clients that interest you the most.
So, the perks of working as freelance translators are:
Working from anywhere in the world
Setting your own working hours
Scope for improving skills continuously
Working with different clients
Facing new challenges
How to find jobs as a freelance translator
When you are bilingual (a native speaker of English and another second language) and have professional experience as a translator, it's possible to make good money from the comfort of your home.
Try these following channels to land jobs as a freelance translator:
Contact translation agencies
Applying to traditional translation agencies is an excellent way to start your freelance career. The process is almost similar to applying for a regular job. You submit your CV and portfolio to a specific agency and then wait for a call from them.
The company will send you a test assignment if they like your profile. After passing the test, they will add you to their pool of translators. The problem is the primary selection does not guarantee a paid assignment. You may never hear from them again!
Approaching more established companies like TransPerfect, Lionbridge, and Dubbing Brothers could increase your chances of getting actual projects. These companies also pay much higher than smaller agencies.
Join a professional translation association
Consider joining an association for professional translators and interpreters. The American Translators Association (ATA) is the largest organization in this field, with over 10,000 members.
Some similar institutions operating in other countries are the Institute of Translation and Interpreting (United Kingdom), the French Translators Association (France), the Federal Association of Interpreters and Translators (Germany), and more.
These organizations offer membership perks, such as discounts on services and access to job listings specific to the industry you're interested in. They work as a mediator between potential clients and their members. Additionally, they can help connect you with other translators who might be looking for similar projects.
Online translation agencies
If you don't want to deal with the back-and-forth email interaction with traditional agencies, sign up with an online agency. The system is more automated here, and you may get onboard on the first day.
Once accepted as a member, you can bid on projects posted by various clients. After completing a project, you will be paid the agreed amount. The agency will charge a small fee for your earnings. You can withdraw the money through the payment method supported by the platform.
Different agencies may have different rules and regulations, so you should read them thoroughly before committing to any project.
Make sure that the agency has a good reputation. There have been cases where unscrupulous agencies have stolen translators' work or refused to pay them.
However, there are hundreds of online agencies out there. We've recommended five of them, but there are many other good options where you can try your luck.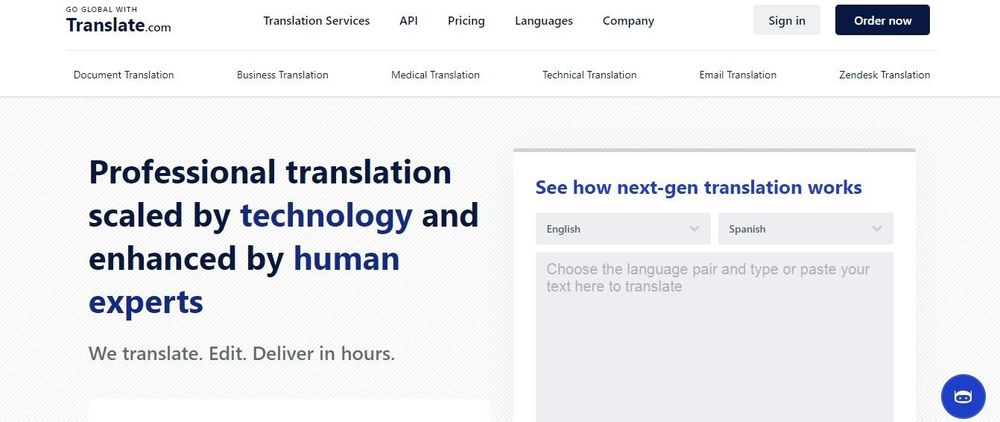 The website offers various jobs in translation, including document, business, medical, and technical transcription. There is also a list of language pairs on the website, so you can easily understand whether your skills match the job requirements.
Jobs are available worldwide, and there are plenty of opportunities for translators who want to work from home. You have to register with the website and take a test. After that, you will get access to a list of available jobs to choose from.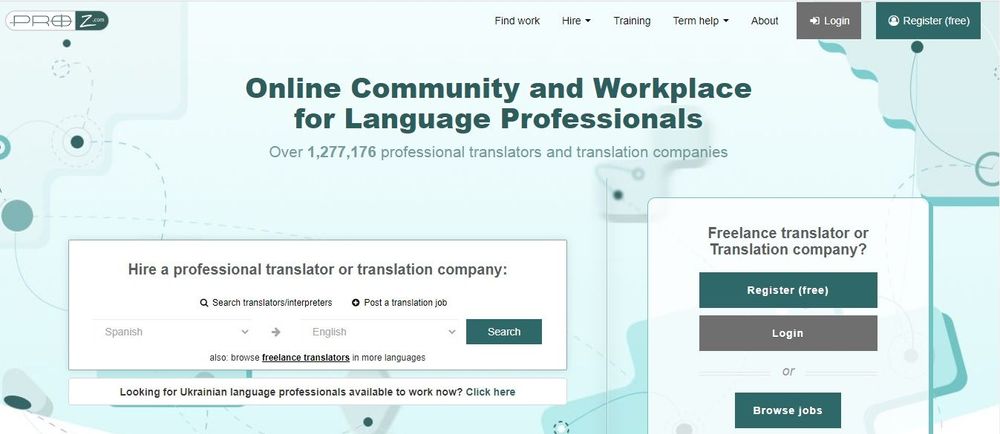 ProZ is a titan in the translation industry and has been running for many years. The platform rightly claims to be an online workplace and community for language pros.
Register free at the website and set up your profile to submit your quote for job posts. Successful completion of gigs will earn badges for your profile, and someone with a "Star" profile is likely to receive more job offers than others.
Establishing your profile and receiving lucrative job offers may take some time. But the website draws a massive number of clients. So, if you are good at your job, you will receive a steady influx of high-paying jobs.

The website offers more niche-specific online translation jobs. If you love mobile apps and love to translate texts related to app localization, try your luck at Tethras.com.
The platform serves mobile developers who want their apps translated into various languages. So, it needs translators who are skilled in that particular area.
You need to take a test after signing up, and your profile will receive a grade depending on your performance. You will receive job offers based on your skills and several other factors. It's up to you which project to take or reject.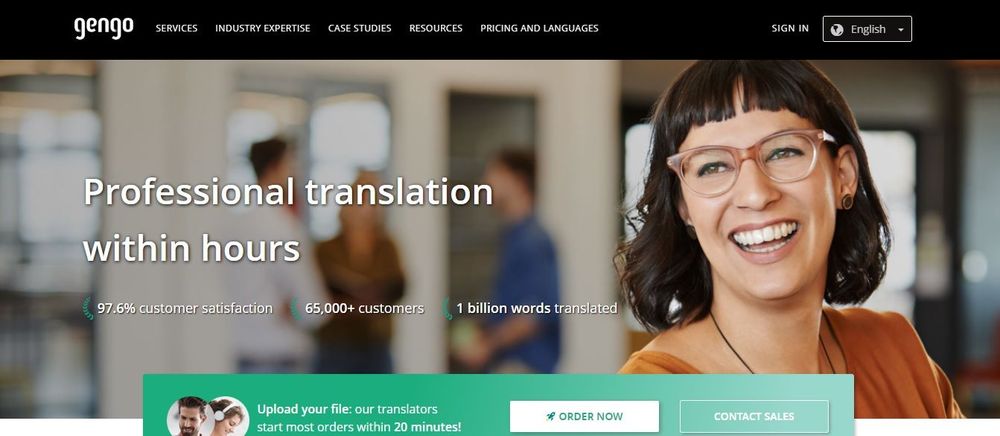 Widely popular among gig workers, Gengo.com is a reliable source of translated-related jobs. The platform is competitive, so you must bring your A-game to win the bidding race.
Also, most jobs posted there are related to particular language pairs, especially Japanese-English. So, it will be tough to earn a decent figure if you are not skilled in one of those popular pairs.
The platform is a suitable choice to improve your professional expertise. It provides educational materials and detailed style guides for registered users. You can use these premium resources for free to enrich your knowledge.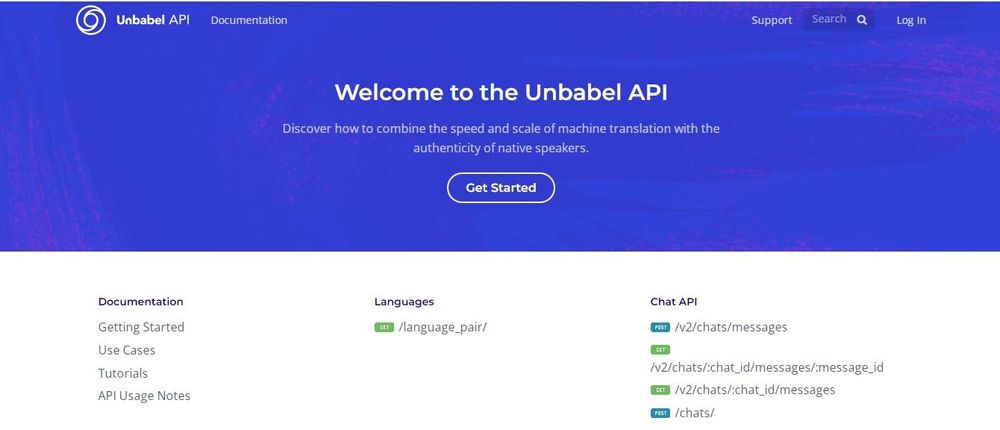 Unbabel is a good choice when you are just starting your freelance career. The translation jobs are simple, so newbies can use the experiences to gain confidence.
The platform pays you by hours, not words. Unbabel thrives on providing good services at low prices. The rates of some projects are meager, but decent-paying jobs are available too.
Since the agency is popular among newcomers, there is no direct sign-up option. You have to join a waitlist, and the Unbabel team will contact you when there is a suitable opening.
Look into general freelance marketplaces
Until now, we've discussed only those platforms dedicated to translation jobs. But some marketplaces deal with all types of freelance work, including translation and interpretation.
The projects available on these platforms require less critical translation work. However, the clients here mostly don't know about the translation industry and how it works. So, don't expect them to offer you standard rates.
Here are three of the most popular freelance marketplaces: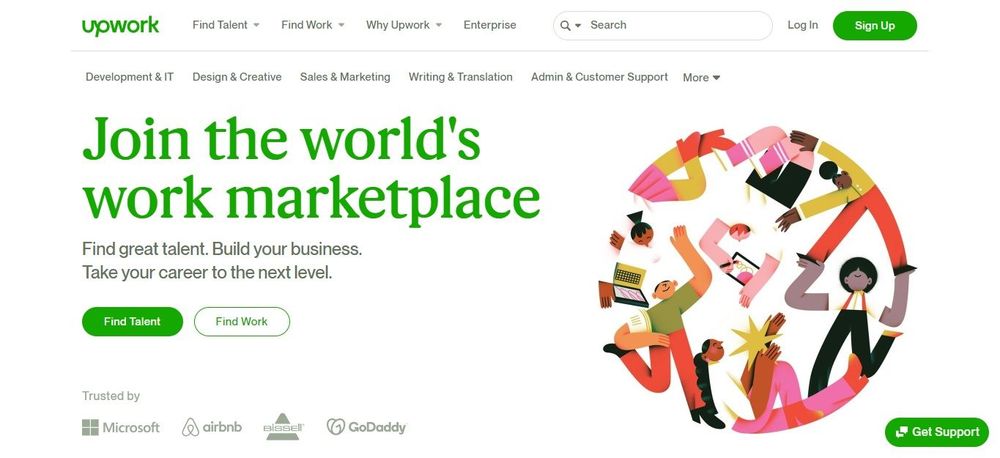 The marketplace is probably the first place anyone starting their freelancing career will check into. However, the incredible popularity also makes it relatively harder to get jobs on this platform. There are a decent number of translation-related projects but be prepared for a barrage of rejections when you are a newbie there.
The website has an intuitive user interface that makes searching for your desired jobs easier. You can choose the category or simply put some keywords to search for gigs that match your skills and experience.
You need to sign and set up your profile to get started. Upwork charges 5% to 20% of your earnings.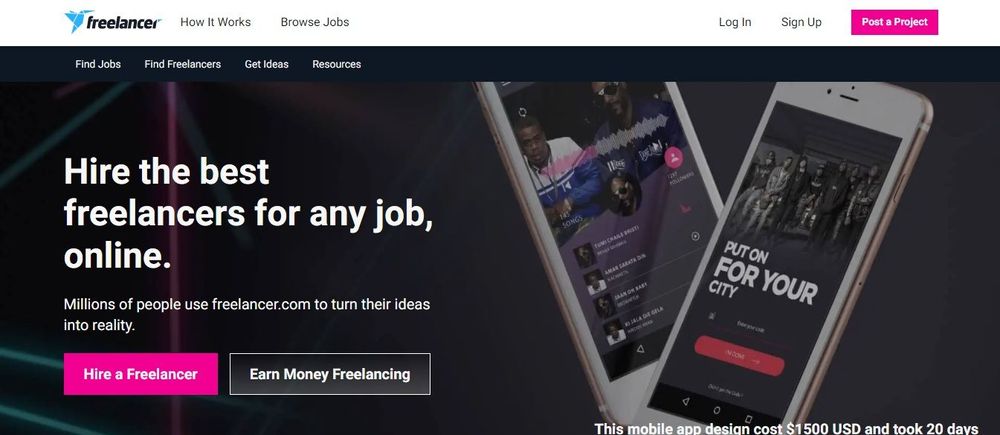 Like Upwork, Freelancer is another large marketplace that caters to a wide variety of freelance workers.
There are few translation jobs, but that does not make things easier for you. Each project receives 20 to 30 proposals on average, so the bidding war is quite intense.
Also, the rates are not up to the industry standard because most clients are just individuals, not an agency. The platform will take 10% of your earnings.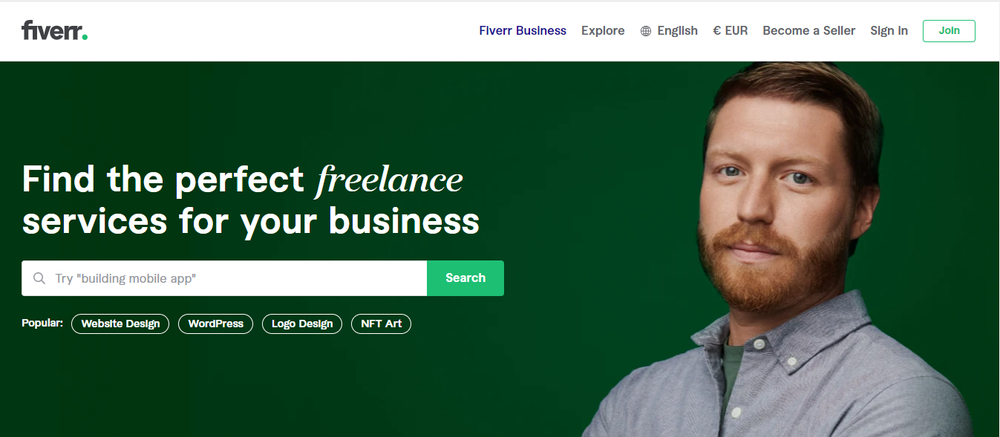 Fiverr works slightly differently than other marketplaces like Upwork and Freelancer. Instead of bidding on the projects clients posted, you will post your gigs, offering your service.
For example, you can create a gig, offering 1000-word medical text translation for $100 in 3 days. If a client orders through your gig, you need to deliver them the work according to their instructions.
The good thing is that you can set your price and deadline for the service you want to sell. However, high-priced gigs don't get sold often, and you need to build your profile to get noticed.
Fiverr charges a 20% commission from every project.
Check the popular job boards
Job boards mostly post long-term jobs, but contractual job offers aren't rare. Some popular platforms are Indeed.com, Monster.com, and Flexjobs.com.
The chance of finding freelance translator jobs is relatively thin, but it doesn't hurt to try, right?
To get started, type in the keywords "freelance translator" or "translation jobs" into the search bar on any of these websites, and you'll get a list of relevant results.
Read the job descriptions carefully to see if they match your skills. It's essential to write a well-written resume that showcases your experience. You can also post your resume on the job board so potential employers can get an idea of what you're capable of.
Reach out to businesses
Many online magazines and websites have clients and audiences from various countries. Some of these companies maintain multiple versions of their websites in different languages. The truth is most of these businesses don't have in-house translators and depend on freelance workers.
So, find such companies and reach out to their marketing/public affairs division, asking about opportunities.
Join social media groups
If you want to find online translation jobs, check out the related groups on Facebook, LinkedIn, and Discord. Plenty of them are out there; they're a great way to network and find work that's right for you.
Start by searching for relevant groups based on your area of expertise. For example, if you specialize in Spanish translations, you might want to look for groups that focus on Spanish translations.
Once you've found a few groups that interest you, introduce yourself in the groups and post your experiences and insights to make connections with others. You can also ask about freelancing or translation jobs in those languages.
Eventually, you'll likely get responses from some interested parties, or there could be job posts from potential clients. Don't forget to negotiate the terms of the project and use a secure payment channel to avoid getting scammed.
You can also network with other professionals by being active in these groups. Networking is an excellent way to stay up-to-date on industry trends and land new jobs.
Create your personal brand
If you can create a successful personal brand, you won't need to pursue the clients anymore. Instead, clients will approach you, and you will have the upper hand in negotiating the terms.
It can be a portfolio website that includes information about your experience and qualifications in translation. You should also list any past translation projects, both voluntary and paid work. This will give employers a picture of your work style and how well you handle deadlines.
You can also set up a blog where you can write articles, share your insights, and give valuable tips about translation work. The same website could have a page listing the translation services you offer. The main advantage of a blog website is that you can monetize it in plenty of ways.
Promoting your blogs on social media is a great way to get better exposure. Use Facebook, Twitter, and LinkedIn to network with other translators and publishers, share your work portfolio and introduce yourself as an expert in your field.
Streamline your projects with a proposal tool
A freelance worker has to deal with clients from all over the world. So, things can get pretty messy if you don't have a system to manage everything. And maintaining a system manually is quite draining.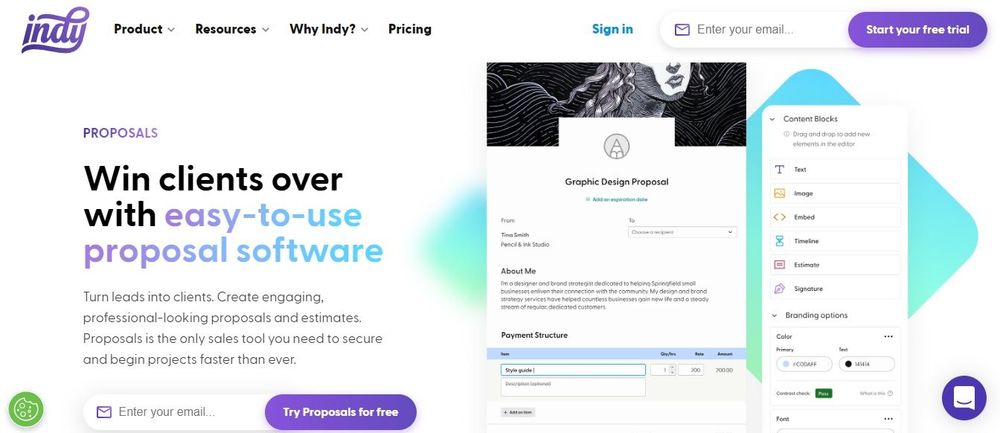 Indy's proposal tool can save you from all the hassles. It helps you to streamline your projects and invoices. Use premade templates to create impactful and persuasive proposals, and your proposed estimate budget converts into an invoice automatically when the client accepts your bid.
The tool makes it easy to keep track of your project progress and ensures that you're always billing for the services you've provided.
Tips to get more projects as a freelance translator
Freelance translating is an incredible way to make money. However, it can be challenging to break into this lucrative market. Here are a few tips that can help you get more projects and beat your competitors:
Pick a niche
Fit your translating skills into a specific field or topic area, and you'll be better positioned to compete for jobs.
If you are an expert in medical or legal translation, you have a better chance of getting hired in a related job than someone who does not have any area of expertise.
Be skilled in a popular language pair
In the translation job market, some language pairs have higher demand than others. If you are skilled in any of these pairs, you will get more jobs at better rates than other translators.
Some high-paying pairs are:
English-Arabic
English-Japanese
English-Chinese
So, if English is your native language, learn another from this list as your target language.
Improve your language skills
No matter what niche you're picking, ensuring that your language skills are up to par is critical for success. By becoming fluent in multiple languages, you'll be able to tackle more projects easily and reduce the amount of time needed to translate each document.
Get a professional certificate
A certificate from a reputable institute will show that you're an experienced and professional translator who understands the language pair well and has the skills necessary to produce high-quality translations. It will give you credibility and make potential clients more likely to hire you.
ATA is a reputable institution to get a translation certification. You can also complete a professional course or get a higher-education degree in this field.
Prepare a portfolio
Building a portfolio of your work will give potential clients an idea of what kinds of translations you're capable of undertaking. Make sure all your translations are properly documented and referenced. Showcase your skills, experience, and abilities in a way that can't be easily dismissed.
Wrapping up
With technological changes, the way a translation project is done also changes. It means staying current on all the latest trends is essential if you want to be successful as a translator.
You can do this by keeping up with industry journals and magazines and participating in online discussions about translation topics. This will give you an edge over other translators and ensure that your work conforms to current standards.
Now that you know everything you need to become a freelance translator, it's time to start hunting for your first translating gig. Good luck!