Content creators have to be expert multi-taskers. You need to balance creating content, editing content, and reaching out to brands with admin, finance, and regular planning and promotion. While there are hundreds of tools that can help you, multiple subscription fees can add up quickly and eat into your profit, and jumping from one tool to the next starts hampering your productivity and defeats the purpose.
Fortunately, Indy has all of the tools you need to manage your digital campaigns, writing projects, clients, and admin. There are also handy templates and advice you can access—for free—using one single platform designed for content creators and freelancers.
Contract management software
As a content creator, you will probably work with numerous clients on different projects. It's important to set expectations for deliverables, payments, due dates, and other terms and conditions early in the process so that you and your client start the relationship on the same page.
Contracts will legally define the terms and conditions of your work upfront, including ownership and usage rights, the compensation you are due, and any other agreements. These contracts protect your rights and ensure that you receive the due compensation and credit for your work. Contracts will also clearly lay out the expectations and obligations of both sides, reducing the risk of misunderstanding and disputes in the future.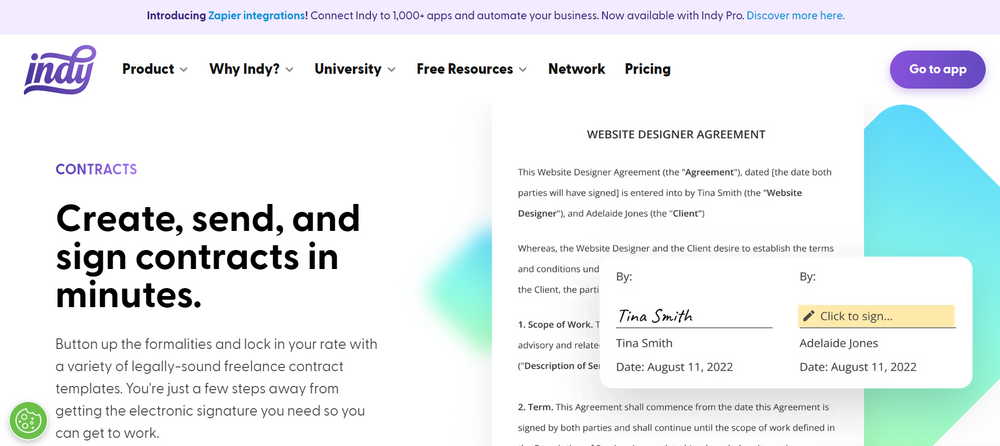 Indy provides a content creator contract template that will ensure that your agreement is legally sound and fully customized with your company information, project details, and payment terms. You can digitally send the contract to the client and get their signature at the same time. You can finish your paperwork in minutes and focus on what you do best: creating content.
Task management/project management tools
Content creators and content managers need the ability to work on multiple projects at the same time, often in collaboration with other team members, clients, or other creators. A project management tool can help you organize your tasks, set the deadline for each task, track progress, and work with others. Managing tasks in the cloud makes it easy and convenient to communicate with important stakeholders and team members, reducing the risk of misunderstandings and missed deadlines. At the end of the day, keeping track of the many tasks on your plate will help you work more effectively and efficiently so that you can deliver higher-quality work.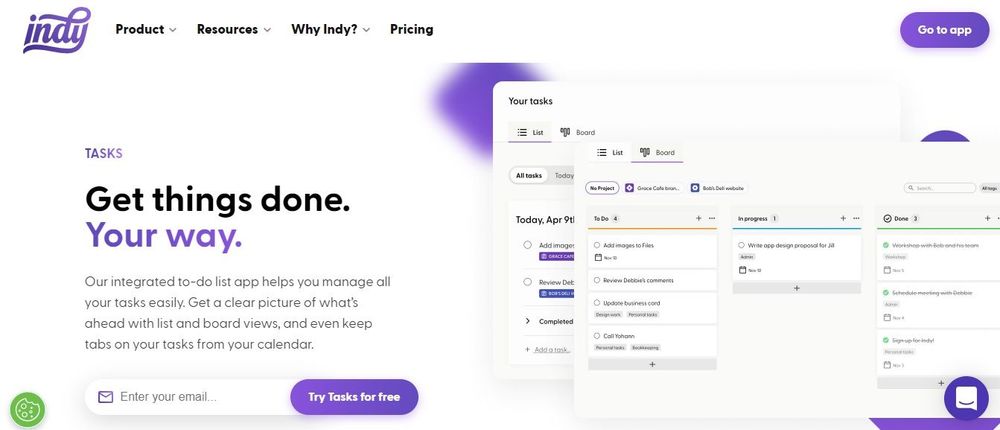 Indy has a number of useful task management features and project management tools (like to-do lists and Kanban boards) that will help you execute content strategies and keep track of your own marketing efforts and admin tasks. You can create unlimited tasks, assign tasks to other users, teams, or clients for simple and effective team collaboration, and stay on top of the various projects you need to manage.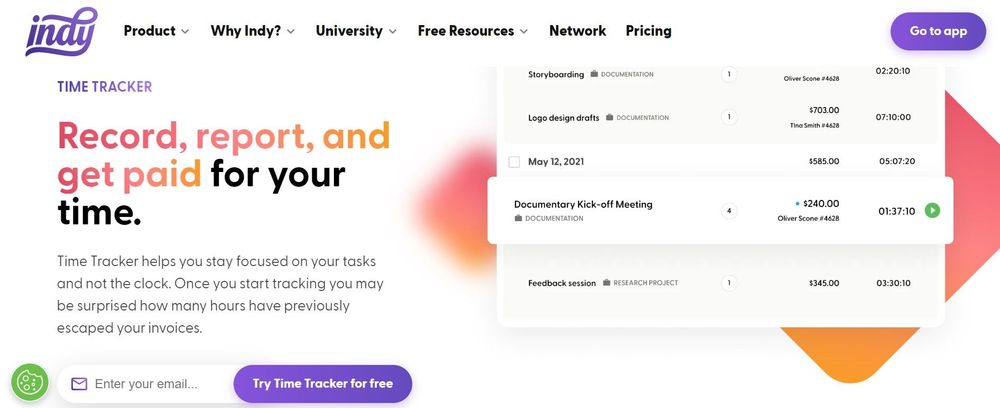 There are also useful time-tracking tools available that will help you keep on top of the time you spend on various projects so that you can bill with greater accuracy.
Invoicing and accounting tools
Developing content is a full-time job, but if you want to create longer videos, visit exotic locations to gather more engaging content, or improve the quality of your productions, you need to grow your finances year after year. When you are busy creating content and assembling digital campaigns, it's easy to lose track of payment dates and invoices. Managing your finances is one of the most important things you need to do as a content creator.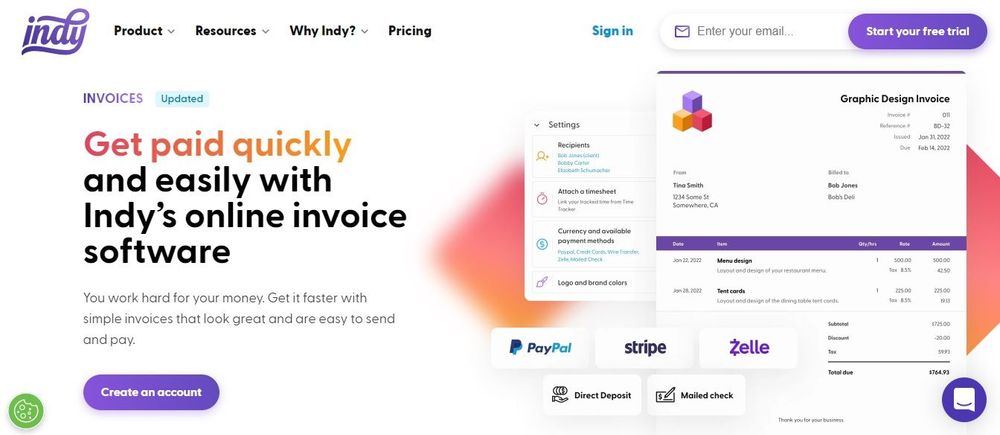 Indy has the right tools to create and send professional invoices, track payments, and manage your income and expenses. This will help you stay on top of your finances and ensure that you receive prompt payment for your work. Indy will also provide a clear record of financial transactions, making it easier to prepare taxes and manage cash flow.
Forms
Do you have processes in place to capture and document information related to your projects and clients? Creating forms that capture brand and user information is easy with Indy.
With Indy, you can create a process that helps you gather information from clients and collaborators in a more consistent and organized way. You can clearly define what you need from each client for each project, collect the information you need to create your contracts, and gather feedback that you can use as testimonials. You shouldn't spend your time collecting data—just use forms!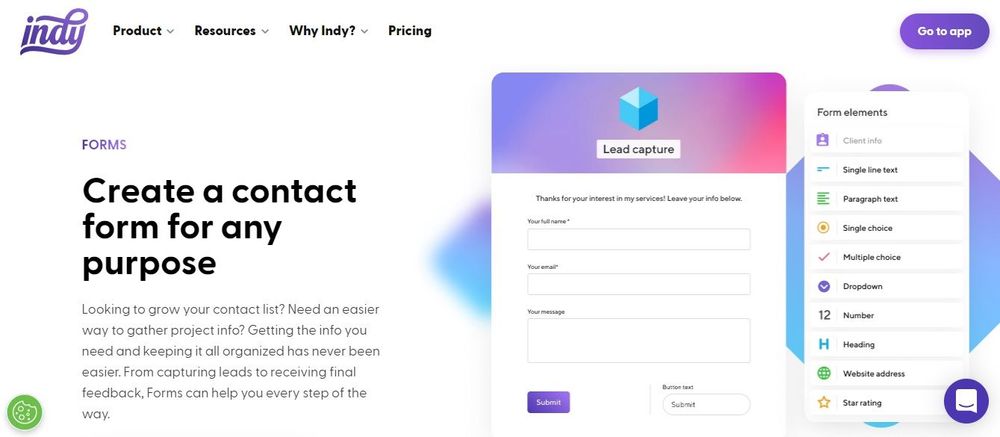 Proposals
Once you start working as a content creator, social media and content managers will start reaching out to you, asking for estimates and proposals. Are you ready? Writing a new proposal every time can be an impossible and time-consuming task, especially if you are proactively reaching out to a number of brands at the same time.
With Indy, you can create a proposal that outlines your capabilities, terms and conditions, fees, and proposed deliverables in a way that is easy for clients to understand, decide on, and agree to.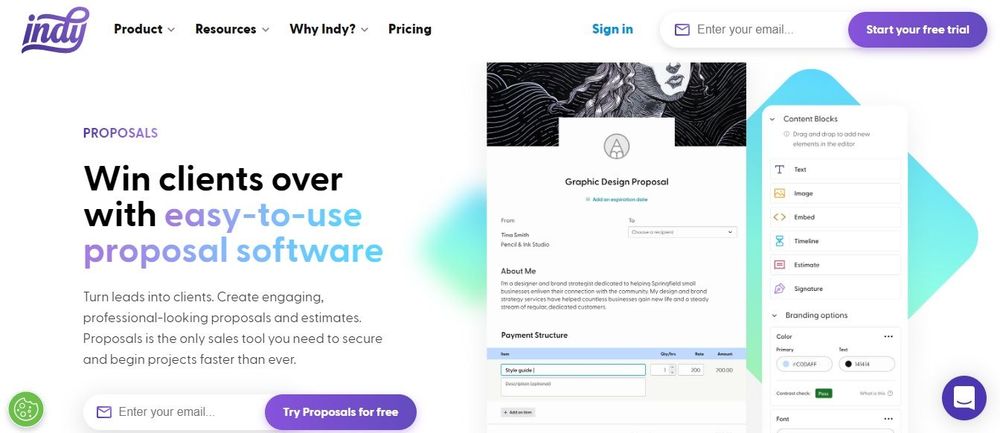 By using our proposal feature, content creators can increase their chances of winning new business and securing fair compensation for their work. The proposals provide a clear record of the content creator's commitments and obligations, which you can automatically convert into an invoice once the client accepts the proposal. Once it's been issued, you can track the proposal's status from Draft to Approved. You can also send reminders at the right time, guaranteeing a seamless and professional experience for all.
File storage
Creating videos, running campaigns, and posting photos on social media platforms generate a lot of files and data that are important to you and your clients. Aside from your original content, you'll need to find a way to back up project files, contracts, invoices, and other documents. Sticking everything on your Google Drive isn't necessarily the safest or most confidential way to treat your data.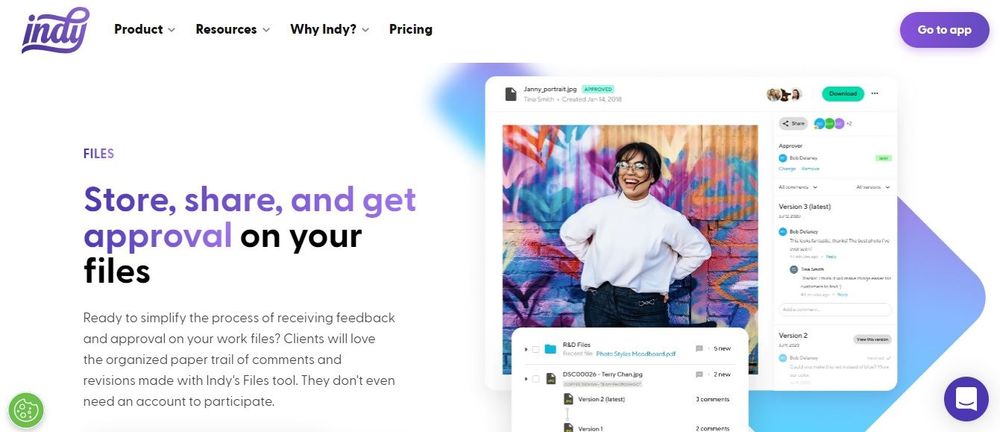 Indy offers a way for you to store your important files, collaborate with others, and obtain official approval on materials in a centralized, secure, and accessible manner. If a client contacts you after a few months asking for a copy of a file, or if you find yourself hunting for story ideas in your archive, the right file storage system will make a world of difference.
Calendar
There's one more tool you'll need to organize your time and schedule. A digital calendar will help you keep track of important dates, deadlines, appointments, and other events and ensure that you have enough time to produce your content. You can use Indy's Calendar to prioritize and manage tasks, avoid overcommitting yourself and reduce the risk of missed deadlines. If you are using Indy to manage different aspects of your business, having a centralized calendar and view in the same tool will make it easier to manage your schedule. Use it to set reminders and receive notifications and manage your diary on the go.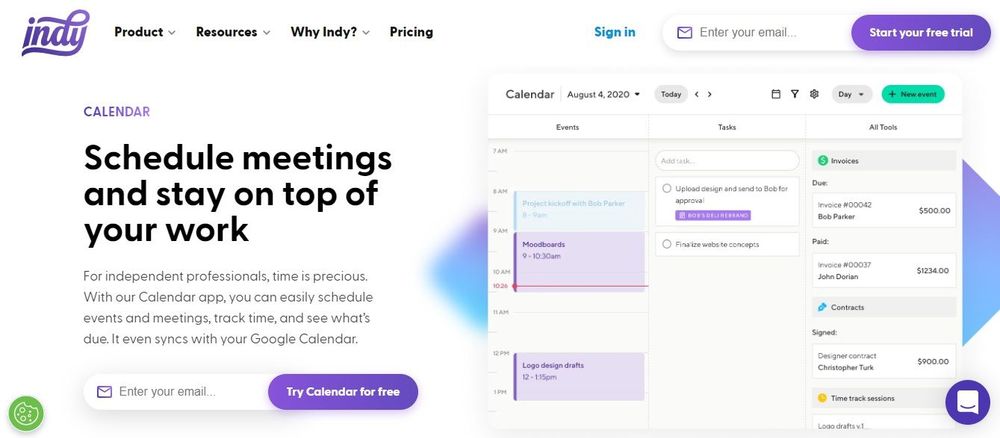 Final thoughts
These are just a few of the ways Indy can help content creators manage their business and keep their followers (and brand partners) happy. Indy is packed with resources, tools, tips, and advice for aspiring and professional content creators.
Most of these features are available for free when you sign up for Indy, but you can upgrade to a full pro plan for just $9 per month on the annual plan. If you need help managing your content creation business, get started at Indy today.